The 30 Best Things to Do in Nashville, Tennessee [Free Activities, Kid-Friendly, Events]
Nashville has quickly become one of the most popular city break destinations for solo travelers, couples, families, and groups. Known fondly as Music City, Nashville has had a huge influence on the rise of country music and is now popular for its diverse music scene.
Tunes will beckon you into the bars along Broadway, and when you're not toe-tapping to an up-and-coming band, you can explore the range of museums, art galleries, historic places, and parks that the city has to offer.
Whether you're visiting Nashville for the day or are lucky enough to stay for longer, there are plenty of activities and attractions featured below to keep you entertained.
Hot Tip: If you're flying into Nashville, take a look at our guide to Nashville International Airport (BNA) for information on the terminal facilities, ground transportation, and more.
The Best Music Venues in Nashville
1. See a Show at the Ryman Auditorium

Fondly known as the "Mother Church of Country Music," this legendary music venue is as much a historic landmark as it is a concert hall. The Ryman Auditorium was the birthplace of bluegrass music, and over time, saw many big names take center stage, from Johnny Cash to Elvis Presley.
It's curved walls and wooden pew seating makes for some incredible acoustics, and the auditorium was home to the Grand Ole Opry between 1943 and 1974. Check out the upcoming events to see a live performance or discover the history of the venue with a self-guided backstage tour.
2. Discover Up-and-Coming Songwriters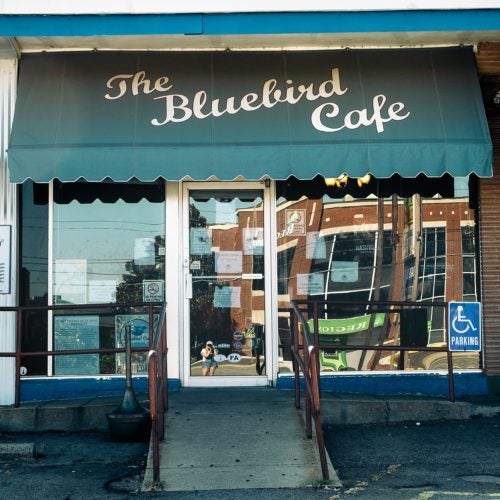 Nashville is packed-full of intimate music venues where you can kick back and listen to some of the city's finest up-and-coming singer-songwriters.
Enjoy brunch and some live music at The Listening Room off of vibrant South Broadway (or SoBro as it's commonly called), or check out where the likes of Garth Brooks and Taylor Swift were discovered at The Bluebird Cafe in Green Hills.
Hot Tip: These venues book up quickly when live music is scheduled. Although you can just turn-up, it's likely you'll be queuing for a while, so it's best to book in advance to avoid disappointment.
3. Enjoy an Evening of Live Music and Cocktails at Marathon Music Works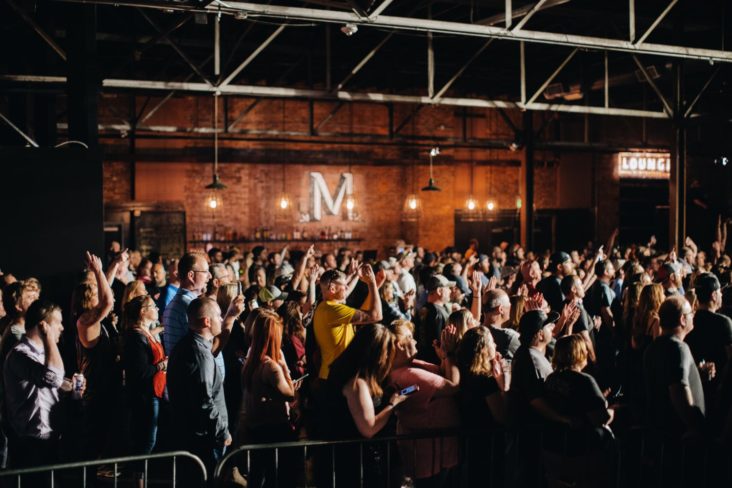 Marathon Music Works is a concert venue located in the creative neighborhood of Marathon Village. Unique independent shops, commercial artists, delis, and entertainment spaces are within the industrial-chic buildings that were once an automobile factory.
An eclectic range of bands and artists perform at Marathon Music Works, including hip-hop, rock, indie, and of course, country music. Enjoy a drink before the show at William Collier's craft cocktail bar, and be sure to sample a gourmet hot dog from Daddy's Dogs. Check out the calendar of upcoming events here.
4. Book Tickets to America's Longest-Running Radio Show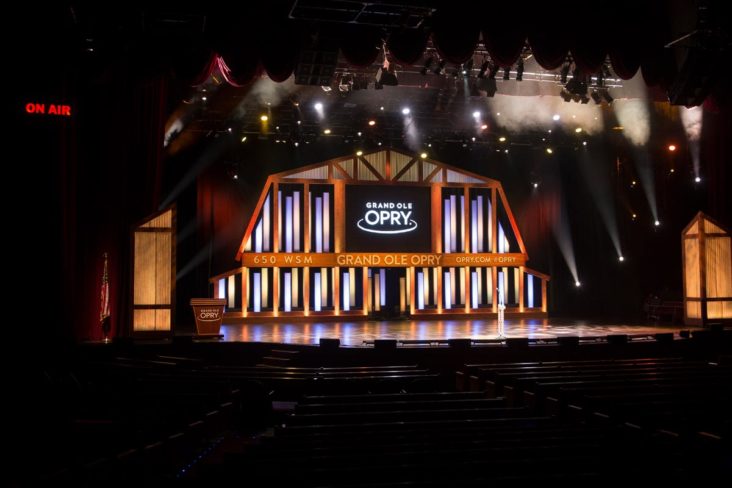 Enjoy the ultimate Saturday night in Nashville by booking yourself tickets to the show that made country music famous. The Grand Ole Opry is the longest-running radio broadcast, dating back to 1925, attracting some of the most talented singer-songwriters of all time.
If you can't get tickets for an evening show, it's worth taking the guided backstage tour, where you'll get to see the dressing rooms, learn about the history of the Opry, and even take center stage yourself for a photo.
Hot Tip: Redeem your Marriott Bonvoy points for a stay at the Gaylord Opryland Resort & Convention Center, located next door to the Grand Ole Opry. 
5. Party Outdoors at the Ascend Amphitheater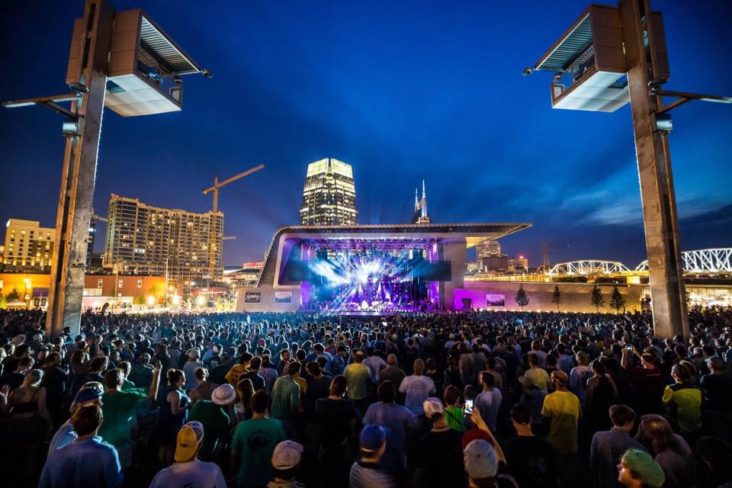 Ascend Amphitheater is a huge open-air music venue located at Riverfront Park. The amphitheater always has an impressive line-up, and with a capacity of 6,800, the atmosphere is pretty amazing. Reserved seating is usually available towards the front, and the lawn area is for standing or sitting on the grass.
Bring a picnic blanket and enjoy a beer and a burger from one of the many concession stands around the seating areas. Nothing really beats live music under the stars!
The Best Free Things to Do in Nashville
6. See the Stars on the Music City Walk of Fame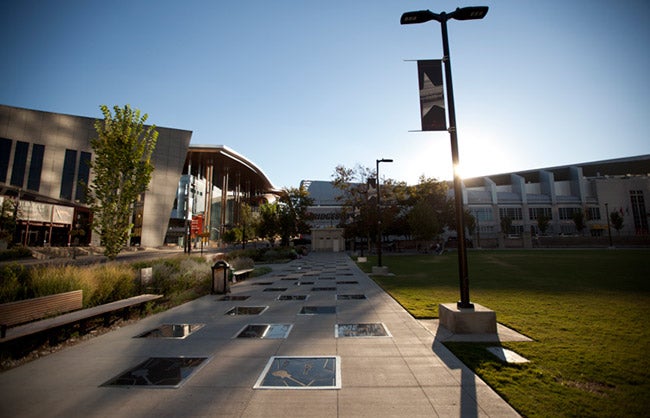 Nashville's Walk of Fame Park pays tribute to individuals or bands that have made a significant contribution to the music industry worldwide and to the Nashville music scene. The park is across from the Country Music Hall of Fame and has over 60 granite stars, including Dolly Parton, Jimi Hendrix, Loretta Lynn, and Kings of Leon.
7. Roam Around or Relax in One of the City Parks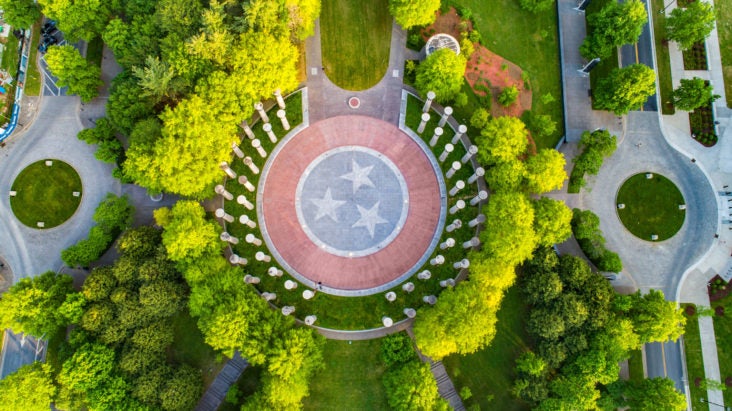 Nashville has an abundance of green spaces in and around the city. Downtown, the 11-acre Bicentennial Capitol Mall State Park is not just a lovely place to relax, but visitors can also learn about Tennessee's history with a World War II Memorial and a 200-foot granite map of the state.
Alternatively, hop over the John Seigenthaler Pedestrian Bridge to Cumberland Park, located along the riverfront. This space is great for children with a dedicated nature-inspired children's activity area, complete with a sandpit, bouncing pad, climbing wall, and green maze.
Hot Tip: The Tennessee State Museum overlooks Bicentennial Capitol Mall State Park, so it's a good idea to pair-up these attractions. 
8. Print Your Own Poster at Hatch Show Print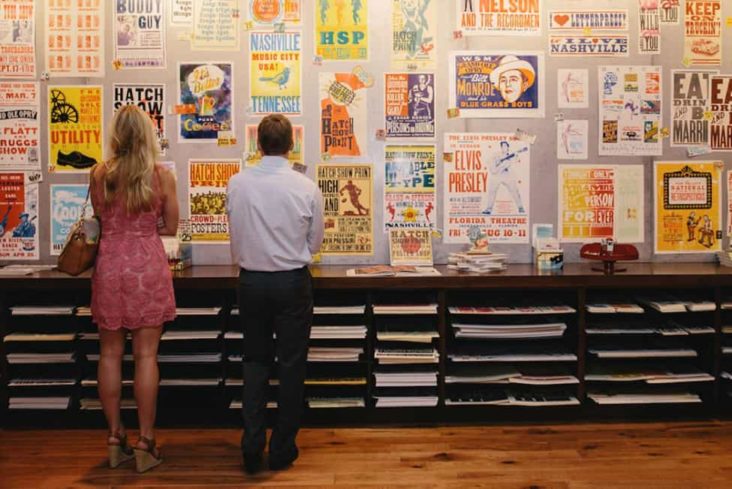 Hatch Show Print is one of the oldest operational letterpress print shops in the world and has many of the posters that advertised Nashville's golden era of music. As a print shop and working museum, you can watch the printing process and purchase your own souvenir posters.
It's free to enter the Hatch Show Print, but if you're keen to learn more about the history and have a go at printing yourself, book on to a 1-hour guided tour.
9. Admire the Parthenon and Its Collection of Art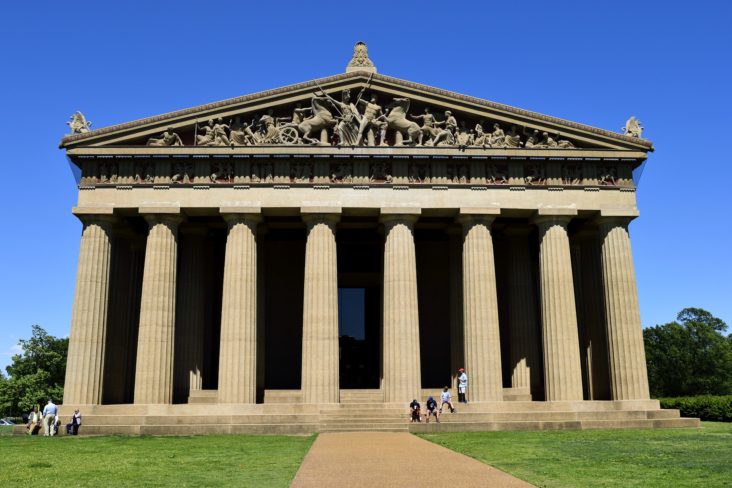 The magnificent Parthenon is located a couple of miles from downtown Nashville in Centennial Park. The full-size replica of the Parthenon in Athens was built as a monument to classical architecture, also boasting a 42-foot statue of Athena, as with the original.
Inside the Parthenon is Nashville's Art Museum, which displays 19th- and 20th-century art, as well as many temporary exhibitions.
10. Admire City Views From John Seigenthaler Pedestrian Bridge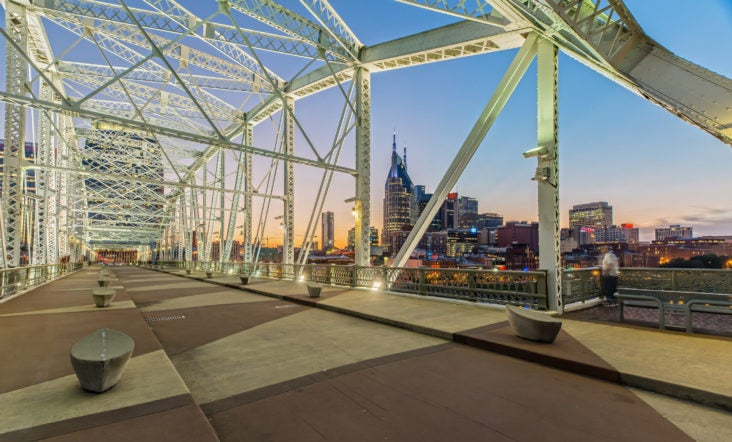 The John Seigenthaler Pedestrian Bridge crosses the Cumberland River, connecting downtown Nashville to the eastern suburbs. Brilliantly lit up at night, the bridge is a great spot to admire the city skyline with raised boardwalks and 4 pedestrian overlooks.
In 1998, it was added to the National Register of Historic Places as the first bridge in North America to have concrete arched trusses.
Hot Tip: Check out the best travel cameras to ensure you capture the incredible views from the John Seigenthaler Pedestrian Bridge.
The Best Museums in Nashville
11. Explore the Life of Johnny Cash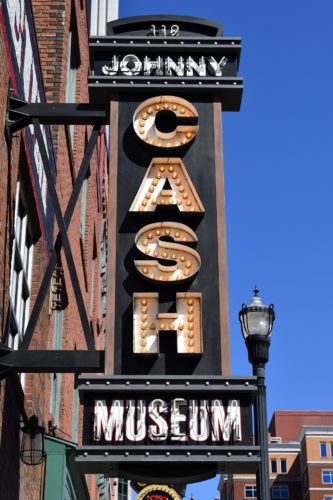 Explore the life of one of the most famous country music artists with exhibits depicting various periods throughout his life and career. The Johnny Cash Museum has the largest collection of his memorabilia, including instruments, artwork, stage costumes, handwritten letters, and lyrics.
The museum features a small theater playing clips of the films and TV shows that Cash appeared on, and there's an interactive exhibit showcasing his music in various formats. Be sure to book your tickets online to avoid the queues as the museum can get busy.
12. Learn All About the State of Tennessee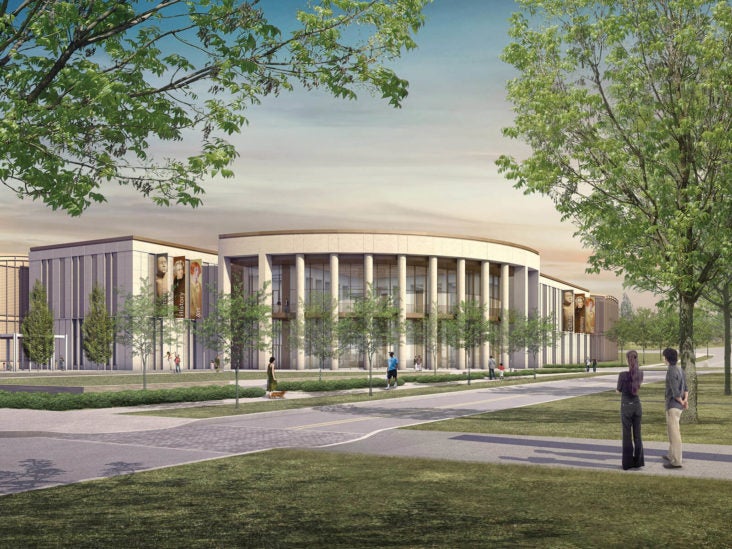 Delve into the history of Tennessee, from its natural beginnings and early inhabitants to its pivotal role in the Civil War and Reconstruction. The Tennessee State Museum features many important artifacts, including furniture, textiles, art, and photographs, and has permanent and temporary exhibitions.
The museum overlooks Bicentennial Mall State Park and has fantastic views of the Nashville skyline. Admission is free.
13. Journey Back Through the History of Country Music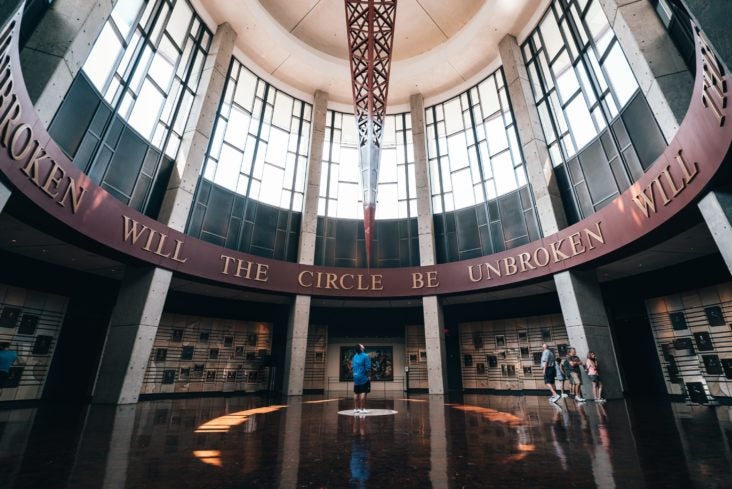 The Country Music Hall of Fame Museum consists of several permanent and temporary exhibits that showcase the ever-changing history of country music. Browse hundreds of stage costumes, instruments, photographs, and video footage or visit the museum on the weekend when it hosts songwriter sessions and instrument demonstrations.
Book your ticket for a self-guided tour through the museum galleries, including the Taylor Swift Education Center and Hall of Fame Rotunda.
Hot Tip: Save time and money by purchasing a Sightseeing Flex Pass that offers a discount on multiple Nashville attractions. 
14. Admire Changing Exhibits at the Frist Art Museum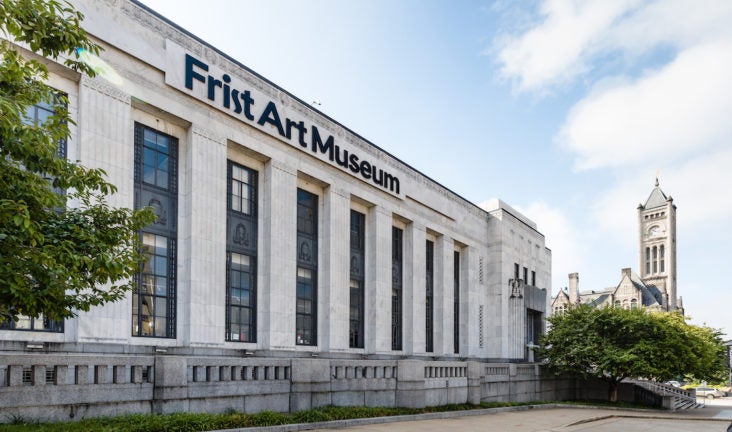 The Frist Art Museum is a non-collecting museum that features scheduled exhibits that travel around the world, as well as a showcase of local and regional pieces. Previous exhibits have featured an American flag installation by Mel Ziegler, photographs of the Nashville flood of 2010, and the Mellon Collection of French Art.
15. Ride Aboard an Old Steam Train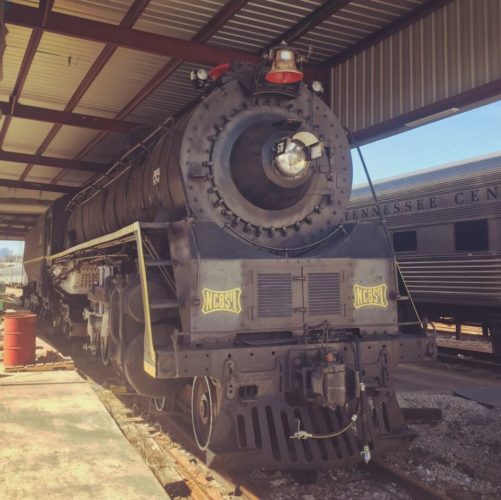 Train buffs will love a visit to the Tennessee Railway Museum, where they will find the largest collection of historic railroad artifacts. As well as admiring preserved locomotives, passenger coaches, cabooses, and freight cars, visitors can also book a train excursion through Middle Tennessee to destinations such as Lebanon, Watertown, Baxter, and Cookeville.
The Best Things to Do in Nashville With Kids
16. Learn to Line Dance at the Wildhorse Saloon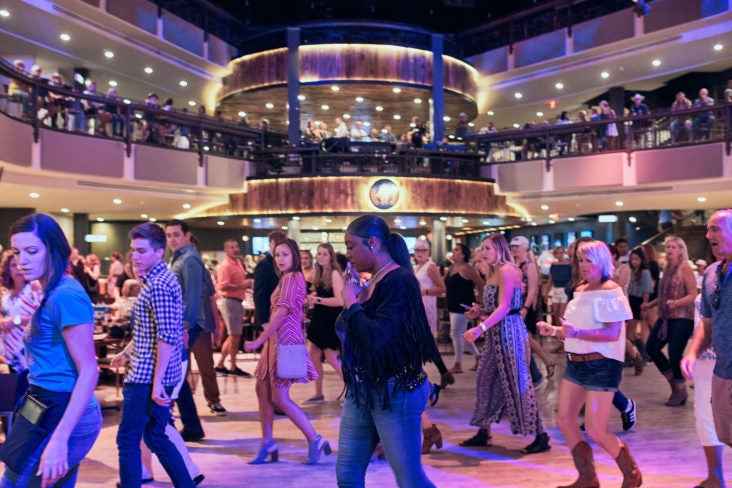 The Wildhorse Saloon is a huge music and dance venue in downtown Nashville, with some big names such as Ringo Starr, Foreigner, and Rick Springfield having taken to the stage. Adults and kids will love the free line dancing lessons that take place daily, and after you've worked up an appetite, you can enjoy some award-winning southern smokehouse cuisine. The BBQ sauce is legendary, so it's no surprise that the venue uses 3,000 gallons of it a year!
17. Rub Shoulders With Your Favorite Singers at Madame Tussauds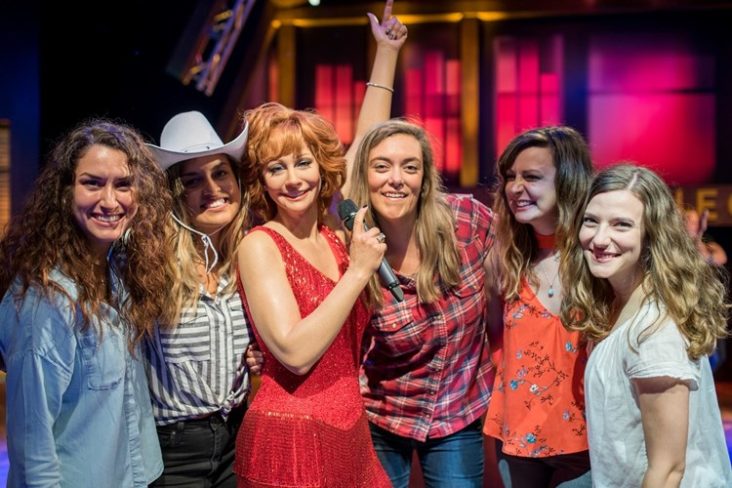 Snap a selfie with some of your favorite singers at Nashville's Madame Tussauds, with no roped-off areas or restrictions to rub shoulders with these lifelike replicas. The different zones and experiences will have you feeling like you're actually sitting in a bar with Ozzy Osbourne or in the recording studio with Elvis Presley.
Buy your admission ticket with 24-hour cancellation here.
18. Tour Nashville in a Golf Cart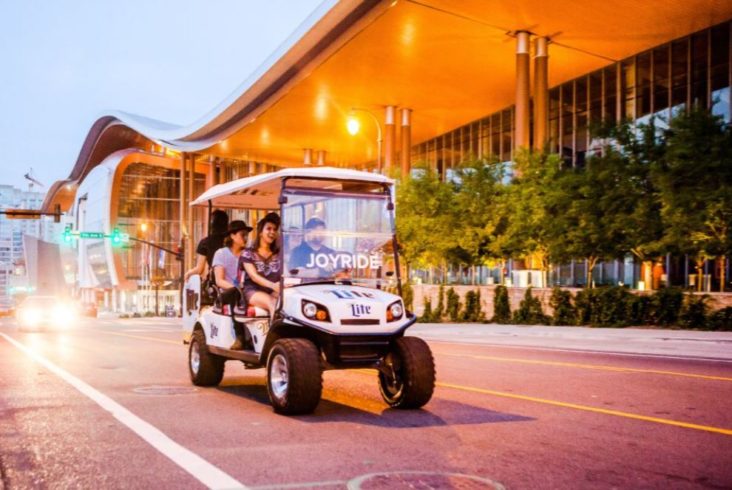 Tour the city in comfort as you cruise around in a golf cart with a knowledgeable Nashville local as your tour guide. You'll see over 35 of the city's most famous landmarks and locations, including the Parthenon, Ryman Auditorium, and Bicentennial Capitol Mall State Park. Learn about the history of Nashville and get tips on where to eat and listen to live music from someone who lives and breathes the city.
Hot Tip: Traveling with children is a wonderful experience, but it can come with its challenges. Take a look at our tips for amazing family travel to help things run smoothly. 
19. Learn and Have Fun at the Adventure Science Center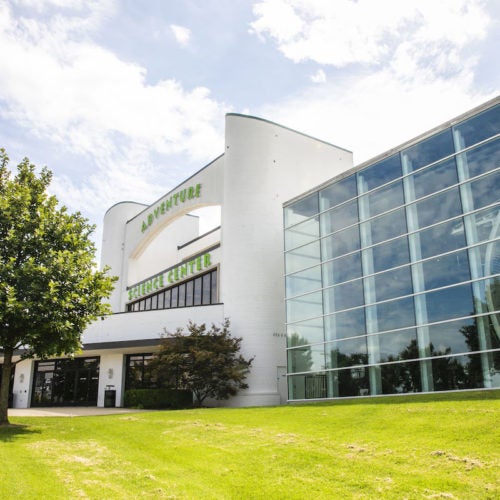 The Adventure Science Center is fun and educational for kids and adults, with plenty of interactive experiences. The center is split into different exhibits where visitors can learn about the human body, the universe, the physics of flight, earthquakes, and much more.
The 75-foot Adventure Tower has lots of exciting interactive features, climbing frames, and slides before you reach the top for views out to downtown Nashville.
20. Watch a Stage Classic at Nashville Children's Theatre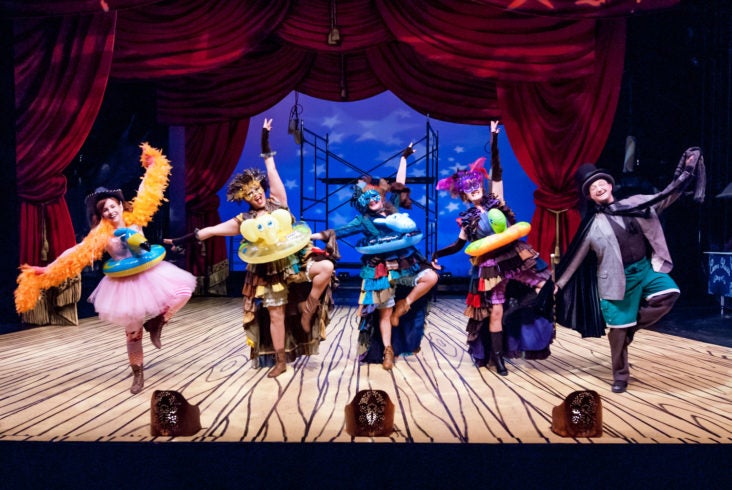 Nashville's Children's Theatre is a dedicated venue for families, offering stage productions and educational programs such as classes in drama, magic, shadow puppetry, and more. Founded in 1931, it's the oldest professional children's theater in the U.S. and has staged classics such as "Alice in Wonderland" and "Rumpelstiltskin." View the schedule of available shows here.
The Best Things to Do in Nashville at Night
21. Eat Some Delicious Hot Chicken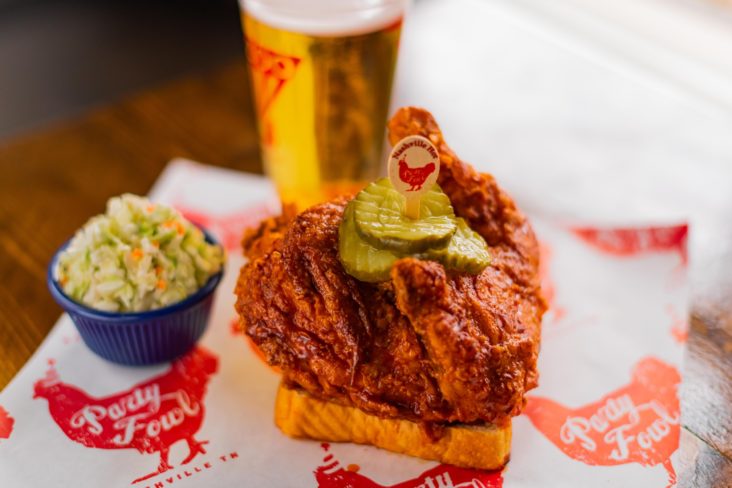 Nashville is renowned for its hot chicken. This simple and mouth-wateringly delicious dish is said to have originated when a local Nashville woman was seeking revenge on her cheating husband by dousing his chicken in hot pepper. Once a punishment, it's now a pleasure for many, as hot chicken joints have opened up all over the city.
Hattie B's and Prince's Hot Chicken Shack are 2 favorites to grab-and-go some fiery fowl.
Hot Tip: If you eat out regularly when at home or on your travels, you may want to check out the best credit cards to maximize rewards on restaurants and dining.
22. Take a Night Time Trolley Tour of Music City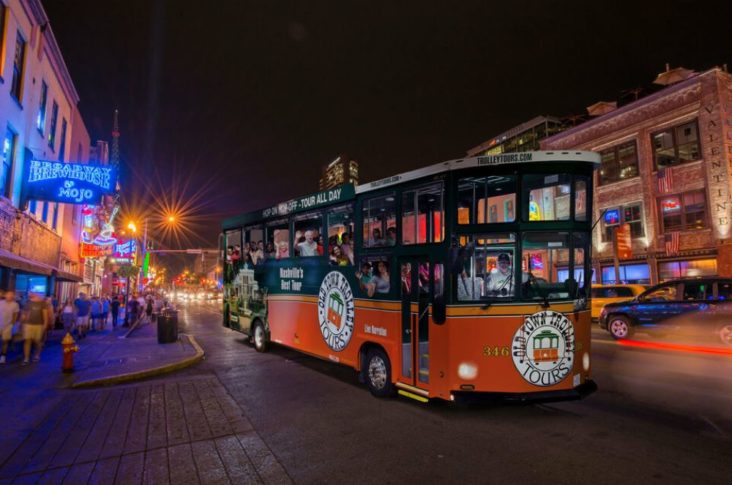 Certain areas of Nashville come alive at night, and you can take in the sights of the city from an open-air trolley tour. Cruise past the illuminated John Seigenthaler Pedestrian Bridge and listen to stories from your guide about the history of Music Row. The tour stops at a couple of bars to enjoy some live music with a complimentary drink.
23. Cruise Down the Cumberland River for Dinner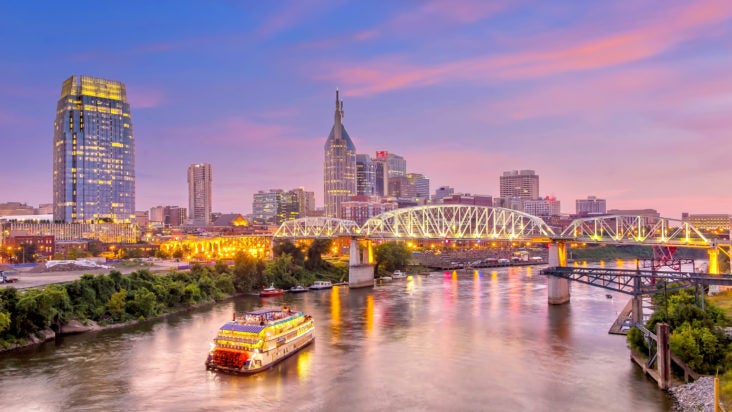 Hop on board a paddle-wheel boat and soak up the sights of the city skyline while cruising down the Cumberland River. The General Jackson Showboat is one of the largest showboats in the country with a 2-story Victorian Theater. While dining on a 3-course southern meal you can enjoy entertainment, including dancing, music, and comedy.
24. Join the Audience of the Midnite Jamboree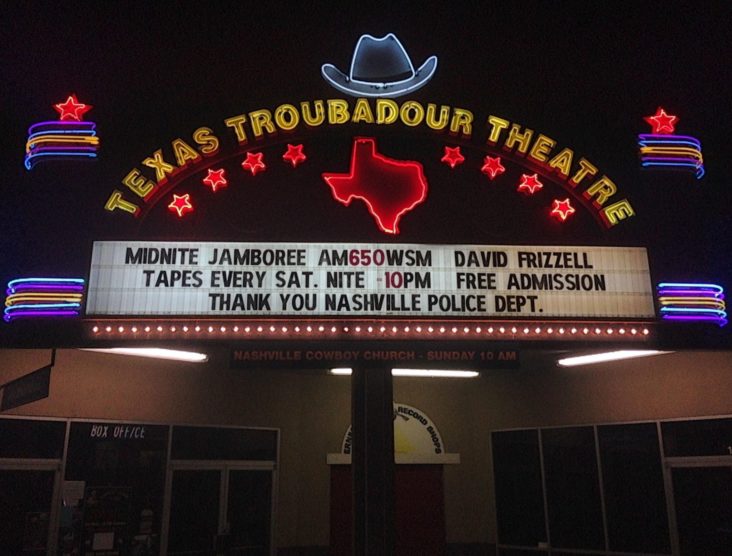 The Midnite Jamboree is the second longest-running radio show, formerly recorded at Ernest Tubb's Record Shop. The radio show is now broadcast from the Texas Troubadour Theatre on Saturday nights at 10 p.m., and admission is free. Each week the radio show focuses on a single guest act, and Marty Stewart and Garth Brooks are just a couple of big names that have performed over the years.
25. Party Along the Honky Tonk Highway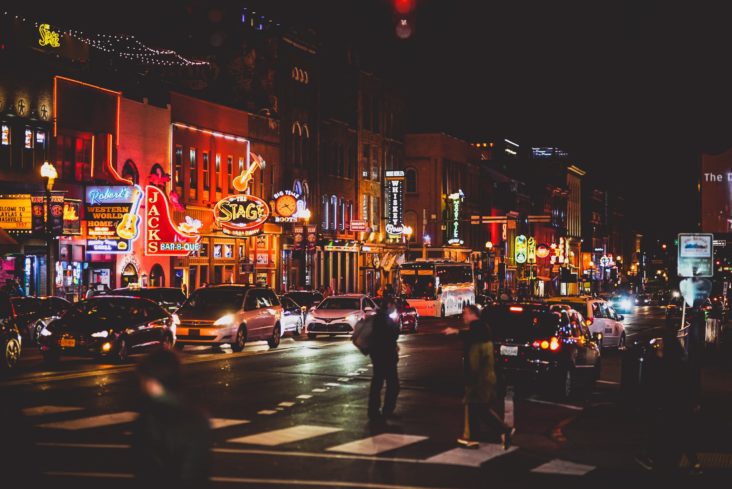 The Honky Tonk Highway is a stretch of bars along Broadway that play live music day and night. You won't get the crowds if you visit during the day, but the atmosphere is electric at night, partying into the early hours of the morning. There are many bars to choose from, including Tootsies Orchid Lounge, The Second Fiddle, and The Stage — all without cover charges — so be sure to bring cash to tip the band.
The Best Events in Nashville
26. Join the Biggest Celebration of Country Music at CMA Fest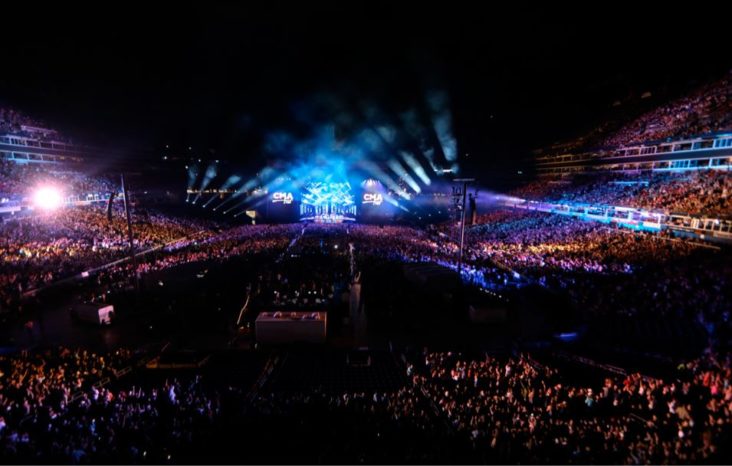 If you're visiting Nashville in June, check out the 4-day CMA Fest that takes place at several locations across the city, including the Nissan Stadium, Bridgestone Arena Plaza, Walk of Fame Park, and more. Many artists perform for free in support of the CMA Foundation, which strives to ensure every child has access to musical education.
27. Listen to Music Live on the Green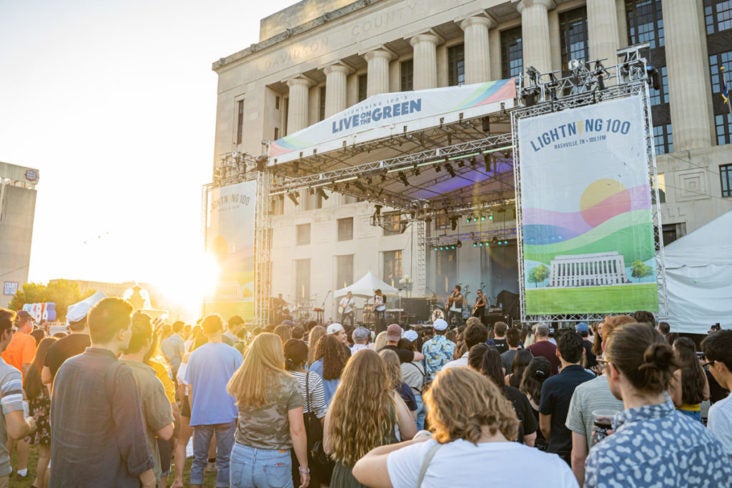 On selected dates in August and September, crowds gather in Public Square Park for Live on the Green — a festival attracting visitors from all over the world. An extensive line-up consists of up-and-coming musicians and well-known acts, with previous names including Jimmy Eat World, Sheryl Crow, Alabama Shakes, and Mumford and Sons.
The festival has a great approach to sustainability with a mission to become a completely carbon-neutral event. All merchandise is made from eco-friendly materials, waste is recycled and composted, and visitors are encouraged to shop locally for their festival-needs.
28. Sing and Dance at the Celebrate Nashville Cultural Festival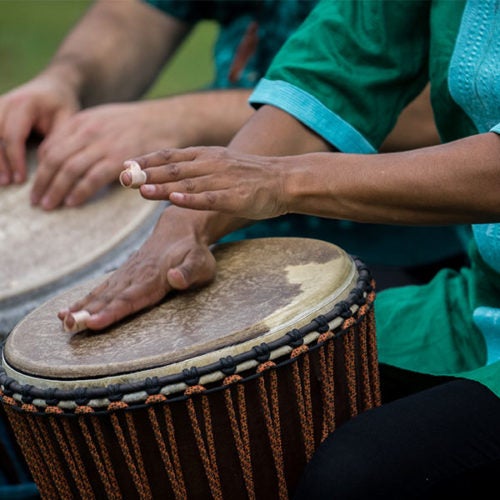 With 1 in 6 Nashville residents born in another country and more than 140 languages spoken in metro schools, Nashville is an increasingly diverse city. The Celebrate Nashville Cultural Festival celebrates cross-cultural integration through music, dance, food, educational exhibits, and children's entertainment.
This free event takes place in Centennial Park in October and attracts over 60,000 guests annually.
29. Pitch-up in the Park at Musicians Corner

Musicians Corner is a free event that takes place in Centennial Park every weekend throughout May and June. There's a pub, food vendors, artisans, and children-friendly activities. Emerging and established artists play a multitude of genres, with previous musicians including Chris Stapleton, Emmylou Harris, and Vince Gill.
30. Celebrate the Humble Tomato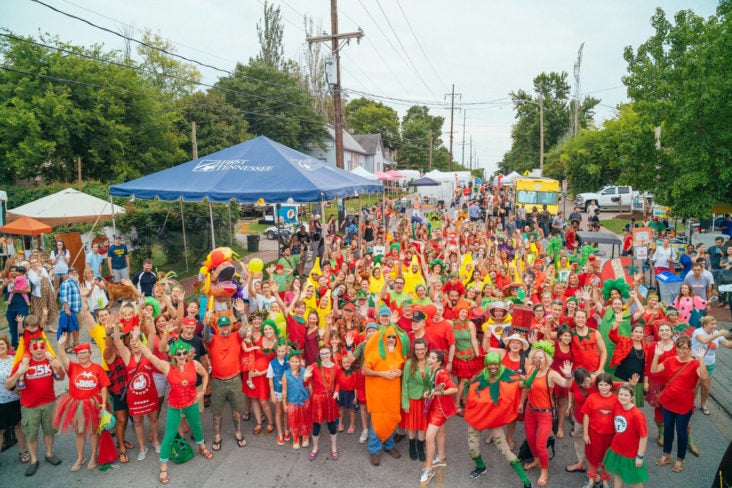 Every year residents and visitors take to the streets of the Five Points area to celebrate the humble tomato. Usually on the second weekend in August, the Tomato Art Festival has many tomato-themed activities and events, including a parade, Bloody Mary Garden Party, art show, and live music.
Hot Tip: If you're planning a visit to Nashville, check out the official events calendar to see what's going on during your stay.
Final Thoughts
Whatever the season, you'll never be stuck for something to do in Nashville. During the summer months, the parks and riverfront are packed full of festivals and outdoor activities, while the colder evenings can be spent listening to music indoors with a coffee or beer. With its varying cultural influences, the city is growing a vibrant food scene, while of course, still retaining its charming southern roots.