Immunity Passports – Are They The Key to Restarting Travel with COVID-19?
Experts are thinking about strategies for restarting travel once COVID-19 cases begin to slow. More countries are looking for a way that doesn't require waiting 12 to 18 months for a vaccine. Some options, like requiring a 14-day quarantine upon arrival, may make it difficult for many people to be able to start traveling again — but what other options exist?
A few countries have started considering issuing "immunity passports" or some kind of health certificate indicating a person has immunity to COVID-19. But how reliable would these immunity passports be, and how would you even get one?
We'll explore what exactly these immunity passports are, how countries might use them to cross their borders, and if they might the key to getting travel back soon.
What is an Immunity Passport?
An "immunity passport" assumes that once you've been infected with the virus that causes COVID-19 and make a full recovery, you will have immunity that will protect you from getting the disease again.
Theoretically, this means that whether or not you knew you were infected with COVID-19, if you possess the antibodies, you would not be able to pass the virus to anyone else and you would be free to move around in public without worry.
Unfortunately, what we don't know for certain with COVID-19 is whether people do have immunity once they've recovered — and how long that immunity might last.
Hot Tip: For a detailed look at how antibody testing works, check out this article from the Massachusetts Institute of Technology (MIT).
A coronavirus test, or a diagnostic test, looks for signs of active virus. It's simpler and faster than an antibody test but only tells you if you have the virus in your body at the moment when you're tested.
An antibody test shows that you had the virus at some point in the past. It could be gone, or you could still be contagious.
How Might an Immunity Passport Help With COVID-19?
At the center of the idea of immunity passports is the testing for antibodies. To be able to receive an immunity passport, you would need to know if your body has the antibodies specific to SARS-CoV-2 (the strain of the virus that causes COVID-19) present because you previously fought off the coronavirus.
Even if you weren't specifically tested for COVID-19, but you are tested for the antibodies, the results could indicate that you had the virus at some point. If you no longer have symptoms, then that could theoretically mean that you can go back to your normal activities.
People who have an immunity passport could safely return to work and travel because they would not get sick again or be able to pass the virus around. As enough tests become available and enough people get clearance, business and activity could slowly return to normal.
Bottom Line: If enough people are shown to have immunity, these immunity passports could help lift "shelter in place" orders and would make it possible for borders to reopen.
Obviously, there are some big considerations here. To start, something like this hasn't been done before, since we haven't had a pandemic of this scale or this level of shutdown in our lifetimes. Attempting to issue some kind of immunity certificate to millions of Americans would be unprecedented. We would first need these tests to be widely available.
This also doesn't take into consideration the quality of the tests themselves. The antibody tests will also need to go through testing to prove that they can effectively give correct results.
Bottom Line: If the antibody testing proves reliable and the assumption is correct that recovered people get enough immunity to not contract COVID-19 again, then immunity passports would grant the holder the ability to return to regular life without fear of infecting others.
Who Would Need an Immunity Passport?
Between 25-50% of people who become infected with COVID-19 may never develop symptoms, and some may become only mildly ill. Others may have known they were sick, but could not get tested. This means that it is important for every individual to be tested for antibodies to COVID-19.
This leads to some ethical issues. Would you need either the right connections or enough money to spend on the testing/certificate? Due to the limited access, it's unclear who will have access to antibody testing at first. Would it be essential workers? Those with pre-existing conditions? Those who have potentially been exposed to the COVID-19 virus? Those who have upcoming trips planned?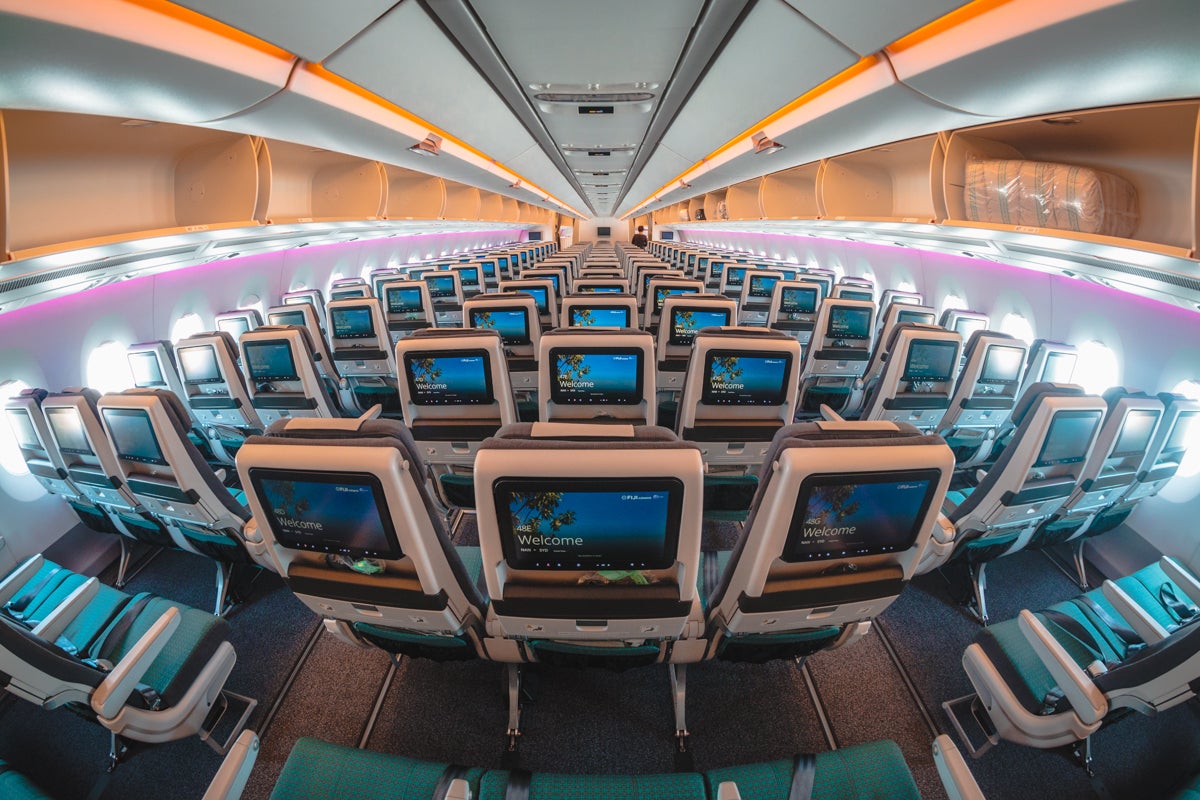 This could essentially create 2 different classes of people: those who are permitted to re-enter society (to work, take public transit, travel, go to church, etc.), and those who aren't.
Testing for Immunity Passports
To be tested for immunity, you'll have to give some blood, through something like a finger prick. Doctors will use your blood to test for 2 kinds of antibodies linked to COVID-19. Antibodies usually stay in your blood long after the infection goes away, but we don't know how long that is for COVID-19 specifically.
On May 9, 2020, the Food and Drug Administration (FDA) approved the emergency use of the first antibody test to Abbott Laboratories. Abbott said it planned to ship nearly 30 million tests in May and plans to ship 60 million tests in June. The tests can indicate whether a person has had COVID-19 (either asymptomatic or recovered).
Quite a few other companies are working on the antibody tests, but the results haven't been promising so far. Their accuracy leaves much to be desired — whether that is due to their poor quality or false positives. For example, some tests have falsely identified antibodies of different coronaviruses, like the virus that causes the common cold and severe acute respiratory syndrome (SARS).
Hot Tip: The vast majority of tests currently on the market are at-home test kits, which are not approved by the FDA. 
On May 23, 2020, the FDA actually blocked the sale of 29 unproven antibody tests currently on the market. Overall, it may be a while before we have enough reliable antibody tests for everyone who wants a test to get one.
How Would You Use an Immunity Passport?
It is unclear to what extent countries may recognize immunity passports granted in other countries. So while we don't know exactly how an immunity passport will be used, we do have some ideas of how this might look thanks to a few countries that are planning to introduce them.
Chile
Chile is so far the only country to launch an official immunity passport plan. This plan is primarily directed at those who are employed, in hopes that individuals that have recovered from the COVID-19 virus will be exempt from quarantines and other restrictions and can get back to work.
Other applicants may be tested for the presence of antibodies to determine eligibility. Details about a mass rollout have been very limited, but officials have promised a mass testing plan and say cards will be issued to people with a "very high probability" of being noncontagious.
Iceland
Iceland will start to welcome visitors on June 15, 2020. This is one of the first countries to reopen, so it will be a test case to see how this process works.
To enter the country, you must download the Rakning C-19 contagion tracing app, as well as one of the following:
Take a COVID-19 test upon arrival
Agree to quarantine for 2 weeks
Present documentation of a clean bill of health from your home country
Iceland is already running into shortages of testing supplies, so the latter 2 options may be more realistic. This last option is the most similar to an immunity passport, but basically just states that you are healthy at the time of testing. It also must comply with "government standards."
More information will become available as they move towards June 15, 2020.
Maldives
According to The Telegraph, the Maldives is set to reopen to tourists on July 1, 2020. "Visas will only be granted to those who have a confirmed booking for a minimum of 14 nights and sufficient travel insurance for the duration of their stay."
As a part of the procedures to enter the country, visitors must confirm that they are free from COVID-19.
In order to do this, they must:
Submit either a negative antigen test or a positive antibody test, up to a week before arrival
AND
Pay $100 for an additional PCR antigen test upon arrival in Malé and wait in their quarters until their test results are reported (3-12 hours)
While this sees to be a pretty thorough plan, we'll see how it plays out once tourists start arriving in July.
United Kingdom
The idea of issuing some form of certificates to people who have been sick with the COVID-19 virus has also been popular in the U.K. as authorities look for ways out of socially and economically devastating lockdowns.
The country has stockpiled over 17.5 million home antibody testing kits and has raised the prospect of sending out tests en masse, although this has come under major scrutiny from scientists who have raised concerns that the test may not be accurate enough to be useful.
Nevertheless, the National Health Service has begun rolling out a new app that could make immunity passports a reality.
United States
The Centers for Disease Control and Prevention (CDC) recently announced that it would begin using antibody tests to see what proportion of the population has already been infected. In late April 2020, the National Institutes of Health announced it would test 10,000 healthy volunteers around the country for the presence of antibodies.
Immunity cards could "have some merit under certain circumstances," Dr. Anthony Fauci, head of the National Institute of Allergy and Infectious Diseases, said on CNN in early April. "It's one of those things that we talk about when we want to make sure that we know who the vulnerable people are and not," he said.
These cards have been mentioned in especially hard-hit places, such as New York City and Los Angeles.
Airline Requirements
Some airlines, such as Delta, are floating the idea of immunity passports for passengers to be cleared for takeoff. Delta Air Lines' CEO Ed Bastian became the latest person to embrace the potential document.
Speaking on the airline's first-quarter earnings call in April 2020, he said the carrier was open to the idea if it helped passengers feel more comfortable onboard aircraft again.
What Are the Leading Authority's Opinions?
Individuals in possession of an immunity passport could be exempt from physical restrictions and could return to work, school, and daily life.
However, immunity passports pose considerable scientific, practical, equitable, and legal challenges.
In Favor of Immunity Passports
Overall, there are definite positives to the idea of immunity passports, but no real data of how exactly they would work.
Immunity Assumptions
Based on what scientists know about immunology, there is reason to assume that recovering from COVID-19 will provide some amount of immunity. Scientists have long known from other diseases, such as hepatitis and the common cold, that your body can protect you from contracting a disease that you've already had by producing antibodies.
Health Passports Already Exist
We already see a similar concept at work with the yellow fever immunization cards given to people traveling or living in Africa who have been vaccinated against the disease.
Similarly, while waivers do exist, U.S. university students at some states across the U.S. are required to have meningococcal and Hepatitis B vaccinations.
Other countries have similar rules in place for compulsory immunizations. For example, if you want to reside in Singapore long-term, the country mandates vaccinations for diphtheria and measles by law and no exemptions or waivers are available.
However, having documentation proving immunity would be more difficult than having proof that someone has been vaccinated.
Robust Contact Tracing is Possible
In China, QR codes have been used to loosen restrictions in Wuhan, where the pandemic originated. People assessed to be healthy have been given a green QR code, indicating they can travel within the province.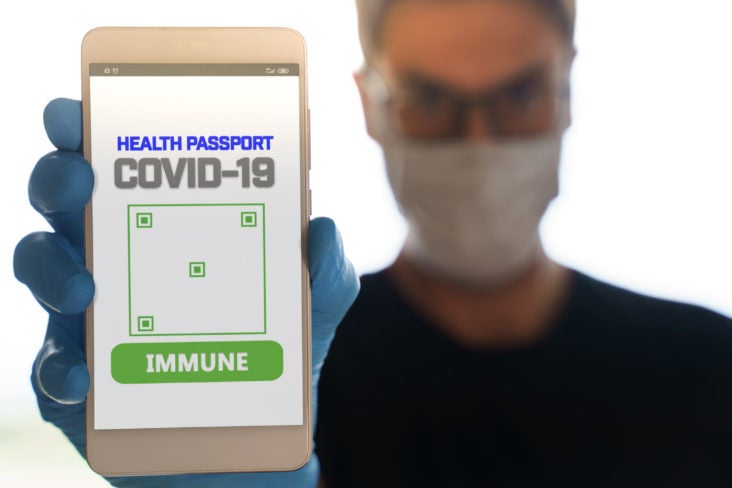 Countries like Iceland (noted above) are also requiring residents and visitors to download cell phone tracking apps to assist with contact tracing.
Enables Return to (Somewhat) Normal
And lastly, but maybe the most compelling reason, is that immunity passports allow the economy to open back up for those that have immunity.
Opposed to Immunity Passports
While the arguments in favor of immunity passports get the world's economy moving much quicker, unfortunately, they are more based on opinion. By contrast, the leading authorities seem to be unanimously opposed to immunity passports — at least for the immediate future.
Immunity Unknown
How long COVID-19 immunity lasts is unknown. The World Health Organization (WHO) said that "there is no evidence yet that people who have had COVID-19 will not get a second infection."
If it is similar to other coronaviruses like SARS and Middle East respiratory syndrome (MERS), then this study suggests the average length of immunity for SARS is 2 years.
The Smithsonian reports a similar finding, citing the fact that some coronaviruses (like those that cause the common cold) don't protect for life as "immunity against these viruses seems to wane in a matter of months or a couple of years, which is why people get colds so frequently."
We already have some evidence of this as some patients in South Korea, who got the infection once, tested positive again after recovery. As the Wall Street Journal reported, South Korean doctors believe that "these cases were not reinfection, but rather a reactivation of the initial virus."
So whether the virus is reactivated, the virus mutates, or an individual's initial immunity goes away, we still have a lot more to understand about COVID-19.
Antibody Testing Unreliable
As discussed above, there's also the issue of the quality of the testing kits to consider. False-positives (or negatives) can have a drastic impact on someone's life.
The WHO also warns that "people who assume that they are immune to a second infection because they have received a positive test result may ignore public health advice. The use of such certificates may therefore increase the risks of continued transmission."
Experts have also raised concerns that immunity passports could encourage people at lower risk or people desperate for work to try to deliberately infect themselves.
The CDC says in new guidance that decisions to return to work shouldn't be based on these antibody tests. This is because "the serologic tests…might be wrong up to half the time."
Ethical Concerns
There have been recent reports that immunity passports may violate U.S. law because they would "violate U.S. disability protections." The Americans with Disabilities Act is broad but could be interpreted to protect against workers being discriminated against based on whether they have or don't have immunity.
And there's concern that the policing of immunity passports would harm people of color in cities like New York City that have seen a higher percentage of African Americans and Latinos affected by the virus. The American Civil Liberties Union (ACLU) is opposed to the idea because it could "exacerbate racial and economic disparities, and lead to a new health surveillance infrastructure that endangers privacy rights."
Finally, it might encourage fraud, resulting in a black market for fake immunity passports.
Final Thoughts
So, are immunity passports the key to restarting travel?
The idea of immunity passports sounds very appealing — and like a light at the end of the tunnel. Unfortunately, there is just not enough evidence to support that the idea would work with the current limitations in place.
When antibody testing is reliable and readily available, there may be a way to successfully roll out immunity passports in the future. Once this happens, immunity passports would provide a level of security that many people want to feel before they starting traveling again.
What are your thoughts on Immunity Passports? Do you think they are a good idea?