Delta Promises Premium Select Cabin on All European Flights for Summer 2022
Delta Air Lines has made a promise to feature its premium economy product on all of its flights to Europe by summer 2022.
This is great news for travelers who want to jet off on their well-deserved vacations in the comfort of Delta's Premium Select cabin.
"With the lifting of restrictions to the U.S. and abroad, plus growing vaccination rates and tremendous pent-up demand, travel to Europe is expected to surge next summer — and Delta customers are assured to enjoy every moment from curb to claim," said Joe Esposito, Senior Vice President of Network Planning at Delta.
Delta is no doubt trying to make sure it can match its peers, including Air France, American Airlines, British Airways, and Virgin Atlantic (to name but a few), who also offer premium economy on transatlantic routes.
Fly Premium Select to 20 European Cities
Delta currently connects 10 cities in the U.S. to 11 cities across Europe from Reykjavik (KEF) in the northwest to Athens (ATH) in the southeast.
However, the number of European destinations served will soon reach 20 as the airline gradually resumes service to 9 previously served airports.
Returning soon to Delta's European network will be Brussels (BRU), Copenhagen (CPH), Edinburgh (EDI), Frankfurt (FRA), Milan (MXP), Munich (MUC), Prague (PRG), Rome (FCO), and Zurich (ZRH).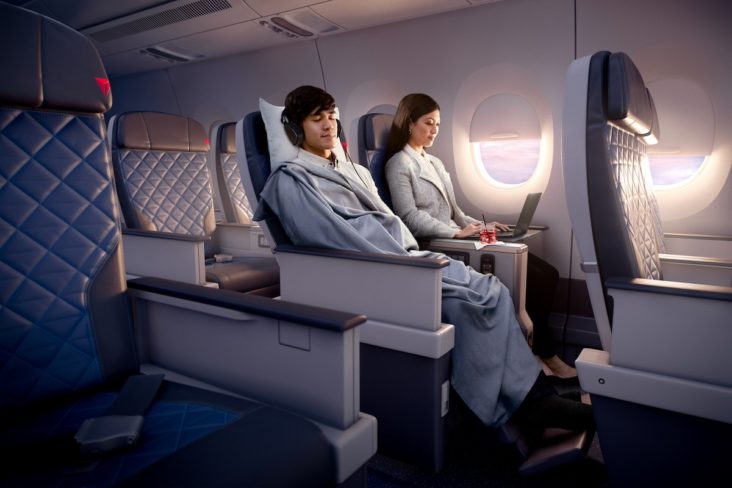 Delta maintains a close relationship with fellow SkyTeam airlines Air France and KLM, so it's no surprise that Delta's most-served European cities are Paris, which sees service from 9 U.S. cities, and Amsterdam, which has flights from 7.
By next summer, all round-trips to Europe from Atlanta (ATL), Boston (BOS), Cincinnati (CVG), Detroit (DTW), Minneapolis (MSP), New York (JFK), Portland (PDX), Raleigh-Durham (RDU), Salt Lake City (SLC), and Seattle (SEA) will feature Delta's Premium Select cabin.
In terms of pricing, you're looking at fares starting around $1,332 for a round-trip ticket in Premium Select from New York (JFK) to London (LHR). This price point is right in between the $498 you'd pay for the same flight in coach and the $2,446 you'd pay for Delta One (Delta's business class product).
There is 1 downside of this addition, particularly for Delta's top-tier Diamond Medallion elite members who have Global Upgrade Certificates (GUC) to use. On aircraft without the Premium Select cabin, you could apply a GUC to a reservation booked in coach and you'd be upgraded to Delta One, assuming the upgrade clears. Soon, though, a GUC will only move you from economy into Premium Select if the aircraft you're flying has that cabin.
Hot Tip: Want to know more about the differences between Premium Select vs. Delta One? Check out our detailed comparison of the 2 cabins.
What You Can Expect
Premium Select passengers can expect larger seats, amenity kits, and an improved food-and-drink offering than what you'd find in coach.
Seat pitch comes in at 38 inches, which is on average around 6 inches more than what you'd find in coach. And the seats are just over 1 inch wider than typical Main Cabin seats. There are slight variations in these measurements depending on the aircraft type.
In addition, passengers get the added comfort of an adjustable foot and leg rest, a larger inflight entertainment screen of up to 13.3 inches, as well as a Tumi amenity kit filled with Malin+Goetz goodies.
Premium Select also boasts smaller cabins that can feel less crowded and benefit from faster and more personal service than in coach.
Final Thoughts
Delta's promise to offer passengers the choice of booking Premium Select on all transatlantic flights to Europe by next summer is (mostly) a welcome one.
Whether it's Athens or Zurich, Rome or London, you'll be able to travel in more style and comfort than you would in economy, but you won't have to break the bank as you would for a Delta One ticket.