Lufthansa's Exclusive First Class Terminal Welcomes Passengers Once Again
After being closed for roughly 18 months since the start of the pandemic, the most exclusive scheduled airline terminal in the world is open once again.
As of September 1, 2021, Lufthansa's First Class Terminal (FCT) is welcoming back passengers at Frankfurt Airport (FRA), one of the German flag carrier's hubs.
Access to the lounge is restricted to both Lufthansa and SWISS first class flyers, along with any top-tier Lufthansa HON Circle members.
More Than Just a Lounge
Yes, indeed, a whole terminal (not just a lounge) is dedicated to the most elite passengers or those flying in first class. Within the terminal, passengers can expect the crème de la crème of first class ground experiences.
Completely separate from the main airport building itself, the first class experience starts the minute you arrive at the First Class Terminal.
Guests are able to breeze through the exclusive security checkpoint in no time, meaning more time to make the most of what the terminal has to offer.
Once inside, travelers are welcome to indulge in everything from cigar bars and bathtubs to nap rooms and à la carte dining. The extensive menu will have your mouth watering, but you should probably resist overindulging so you have enough room for your first class feast on board.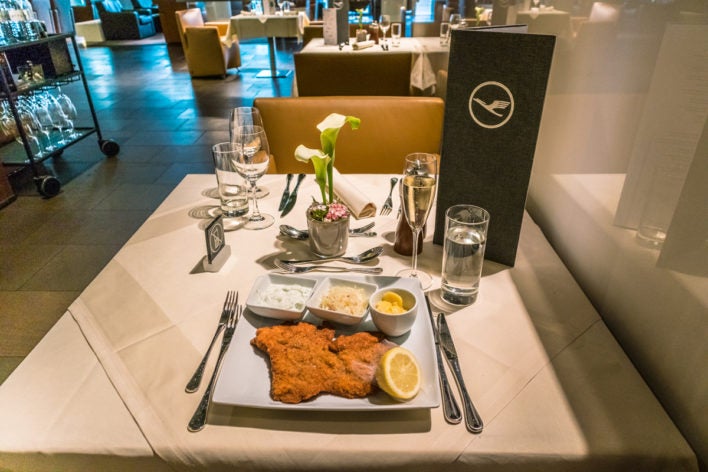 The terminal also boasts the most extravagant whiskey collections of any airport lounge in the world.
The exclusivity doesn't stop there, as passengers are then chauffeur-driven to their aircraft in one of Germany's most premium autos. This service was also temporarily removed and makes its return with the reopening of the First Class Terminal.
It's worth noting that the terminal's reopening coincides with the closure of Lufthansa's First Class Lounge that was open temporarily in the main terminal over the summer.
Hot Tip: See our firsthand review of Lufthansa's First Class Terminal and the experience aboard the A380 from Frankfurt (FRA) to Singapore (SIN).
What the Duck?
If you've flown Lufthansa first class before then you'll be most probably be in possession of one of the airline's famous rubber duckies.
To mark the occasion of the Terminal's grand reopening, Lufthansa has released a limited edition duck. This newest addition to the duck family is coronavirus-themed donning a face mask and even comes with some all-important hand sanitizer.
Final Thoughts
Some of the final elements of the flying experience to return are the most exclusive, like Lufthansa's First Class Terminal at Frankfurt. This is owing to a combination of fewer premium passengers flying and airlines trying to save as much money as possible.
However, as we navigate our way through the pandemic, we've already been reacquainted with many of our favorite elements of flying. In many cases, especially for economy flyers, the experience for most of us is as "normal" as can be.