Lufthansa Boeing 747-8 First Class Review (Boston to Frankfurt)
Airline: Lufthansa
Aircraft: Boeing 747-830 (D-ABYK)
Flight #: LH 423
Route: Boston Logan International Airport (BOS) to Frankfurt am Main (FRA)
Date: May 31, 2019
Duration: 6hrs 55min
Cabin and Layout: 8 open first class suites in a 1-1 configuration across rows 1 and 2 and a 1-2-1 configuration across row 3
Seat: 1A
Miles Used: 92,820 Avianca LifeMiles + $66.49 per person including taxes and fees for a mixed cabin redemption from Boston to Dubai via Frankfurt (BOS-FRA in first class and FRA-DXB in business class)
Fare Paid: N/A
Typical Retail Fare: $11,935.53 per person including taxes and fees for a one-way mixed first and business class ticket.
Introduction
Lufthansa, one of the founding members of Star Alliance, operates a mix of wide-body and narrow-body Airbus and Boeing aircraft and offers first class service on their Airbus A380-800, Airbus A340-600, and Boeing 747-8 aircraft.
I have flown Lufthansa in business class on their Airbus A330 between Dubai and Frankfurt. Having heard and read that their first class game was on a whole different level, I was keen to tick this one off the bucket list. However, for one reason or another, including the fact that they release first class cabin award space to Star Alliance partners only up to 14 days in advance, it seemed that this would be pinned on my bucket list for a while.
Booking
After a short stay in Boston, I was seeking the most direct and economical connection home to Dubai, as I had a family vacation planned in Sri Lanka. With no award space available on Emirates and full-fare tickets off the charts for both Emirates and Lufthansa, I resigned myself to either flying back in coach or forking out a fortune, as a detour was out of the question considering I was pressed for time.
However, the Points Gods decided to smile down on me, and a week before the trip, partner award space opened up at Avianca for a mixed cabin redemption from Boston to Dubai via Frankfurt for 92,820 Avianca LifeMiles + $66.49. Boston to Frankfurt would be in first class on the Boeing B747-800 and Frankfurt to Dubai would be in business class on the Airbus A330-300.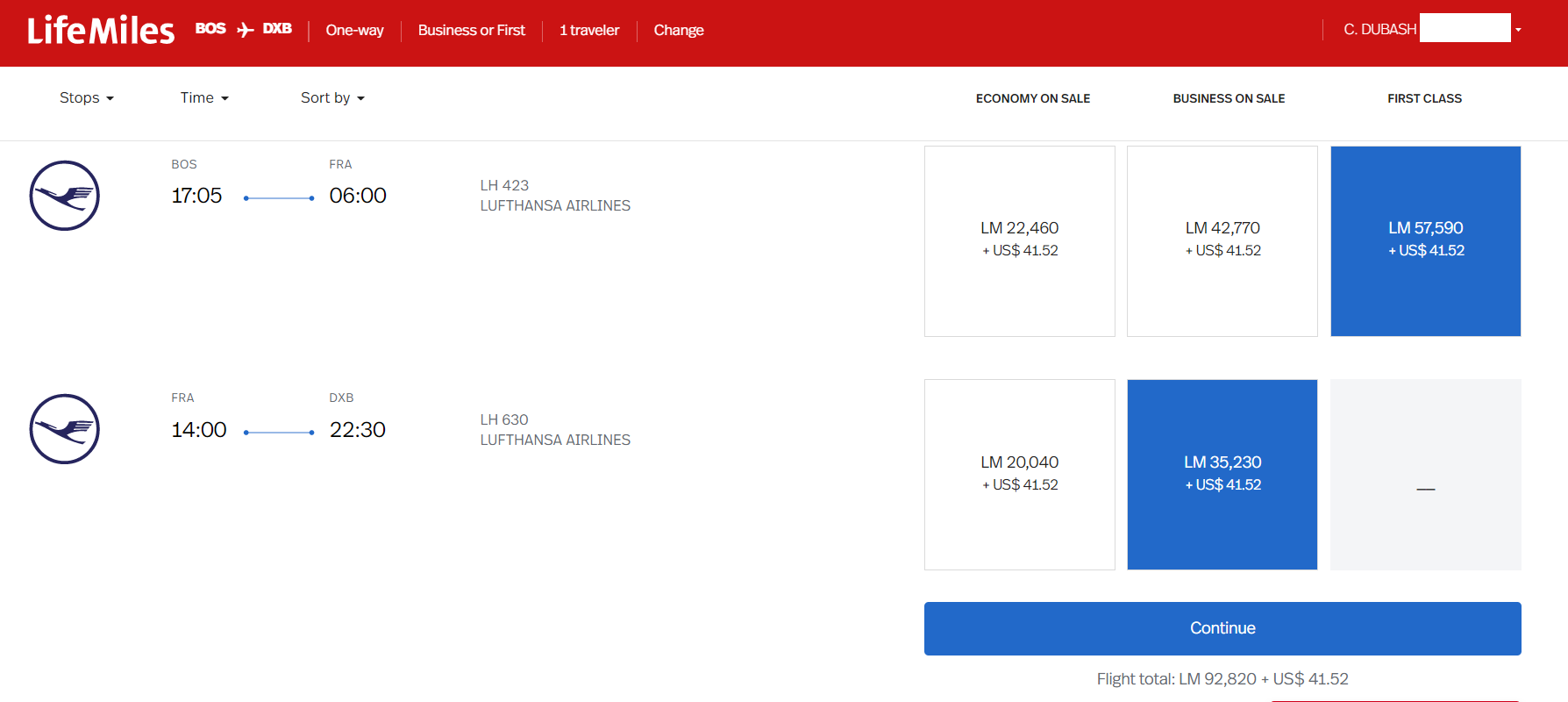 This was an absolute kicker considering that the Lufthansa first class redemption from Boston to Frankfurt alone will set you back 87,000 LifeMiles. For an additional 5,820 LifeMiles, I was getting a business class ride to Dubai. If I had opted for a cash booking, it would have cost me a staggering $11,935.53 including taxes and fees for a one-way premium class redemption to Dubai with 2 stops compared to the 1 stop that I managed to score with the award travel to cut down on my travel time.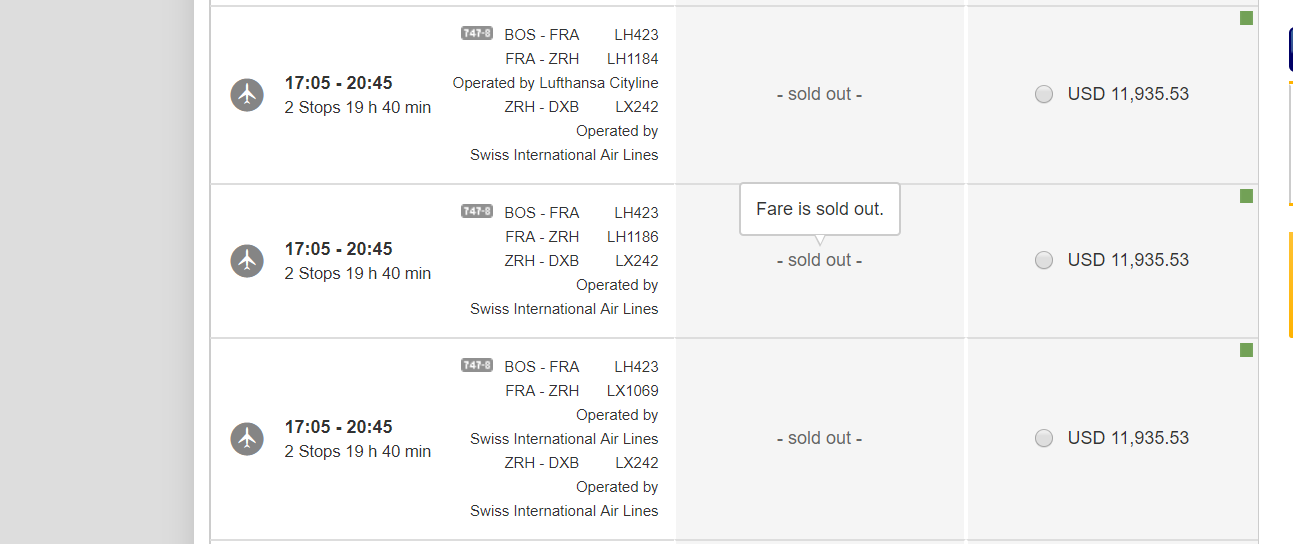 Being a member of Star Alliance, there are quite a few ways to book Lufthansa first class award tickets other than their frequent flyer program, Miles and More. Partner redemption can be availed through ANA Mileage Club, Avianca LifeMiles, United MileagePlus, and Air Canada Aeroplan.
At Boston Logan International Airport
Lufthansa, along with SWISS, SAS, and other Star Alliance airlines, operates out of Terminal E. I arrived at the airport at 4:00 p.m., only an hour before scheduled departure, and was the last passenger to check-in at the desk. Thomas, the check-in desk attendant, informed me that as I was running late, I would be escorted through immigration and security by Annabelle, who did a fantastic job navigating me through the long immigration line. Without her assistance, it would have been a struggle to make it through as surprisingly, there was no separate immigration and security queue for premium passengers.
Lufthansa Senator Lounge
Once immigration and security were cleared, Annabelle escorted me to the Lufthansa Senator Lounge in Concourse E. The lounge is located on level 4, across from gate E11 and is open daily from 1:00 p.m. – 10:15 p.m. This was convenient as our boarding gate was E10 which was right next door.
As we reached the lounge around 4:30 p.m., the lounge attendant informed me that the flight has been delayed by 50 minutes and our new scheduled departure time was 5:55 p.m., instead of 5:05 p.m.
The lounge is accessible to the Lufthansa Group's premium flyers and status holders, including eligible passengers and status holders traveling on SWISS. The facility is also available to premium passengers and status members from Star Alliance partners operating flights out of Terminal E (SAS, TAP Air Portugal, and Turkish Airlines). Premium economy passengers can also avail of the lounge facilities by purchasing single entry passes.
Lufthansa has a dedicated seating area for Lufthansa first class passengers and HON Circle members which offers expansive views of the tarmac. I plonked myself down to catch a breather and enjoy a glass of bubbles.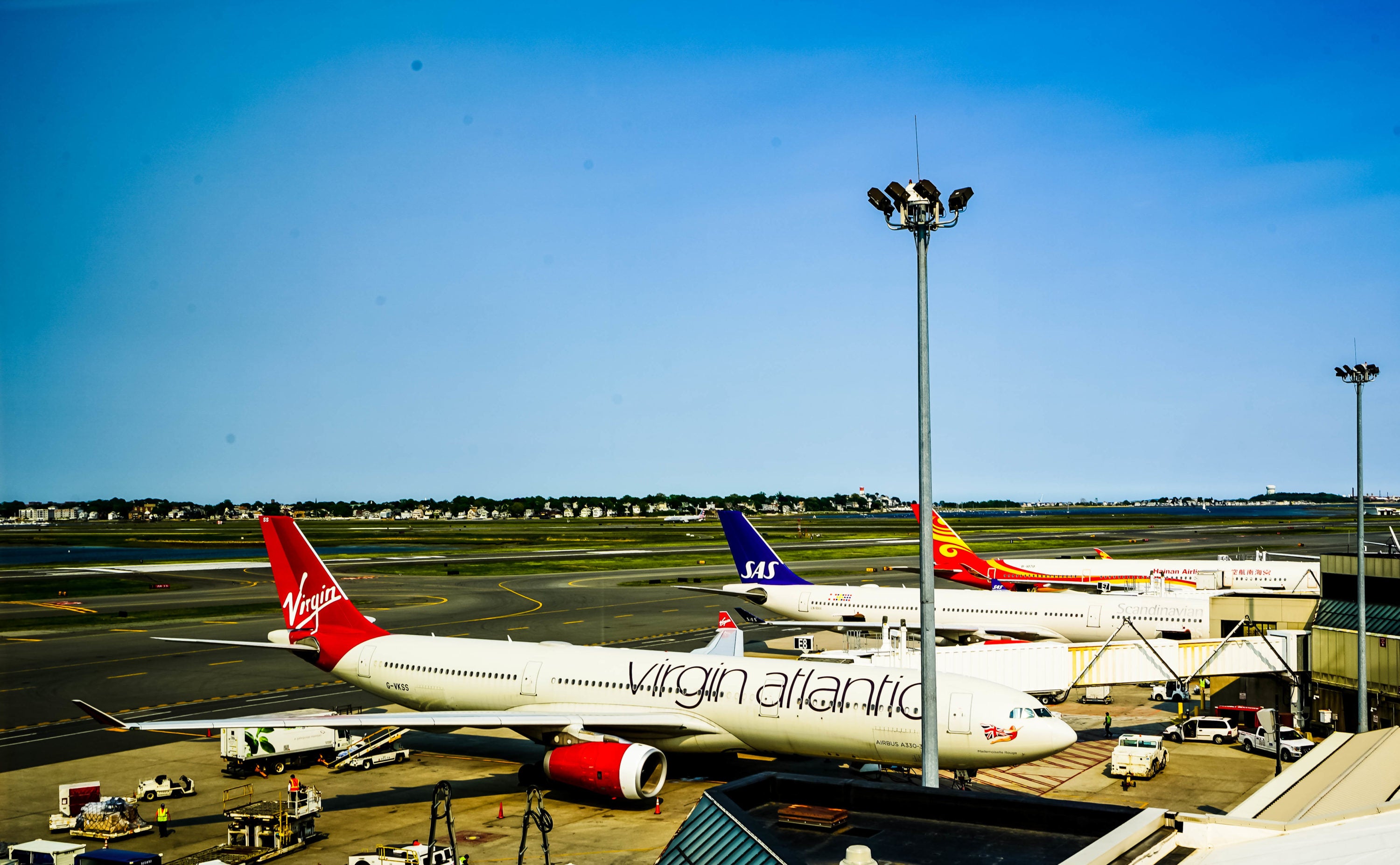 The lounge was absolutely crowded, so much so that there was hardly a spare seat in the general seating area. This was no surprise considering Lufthansa, SAS, SWISS, and TAP Air Portugal all depart back to Europe between the 5:00 p.m. – 6:20 p.m. time slot.
The decor was minimalist and the food selection was strictly OK, which consisted of hummus, salads, sandwiches, and cookies. I did not venture much into the general area, and before I knew it, at 5:15 p.m., Annabelle informed me that boarding was now commencing should I wish to board first, which I was more than happy to since I wanted to get some cabin shots. The lounge has direct access to gate E10, which offers a seamless transfer for first class passengers, and I followed Annabelle to the aircraft.
Flight
Aircraft
The aircraft, named Rheinland-Pfalz and registered D-ABYK, was delivered to Lufthansa in August of 2013.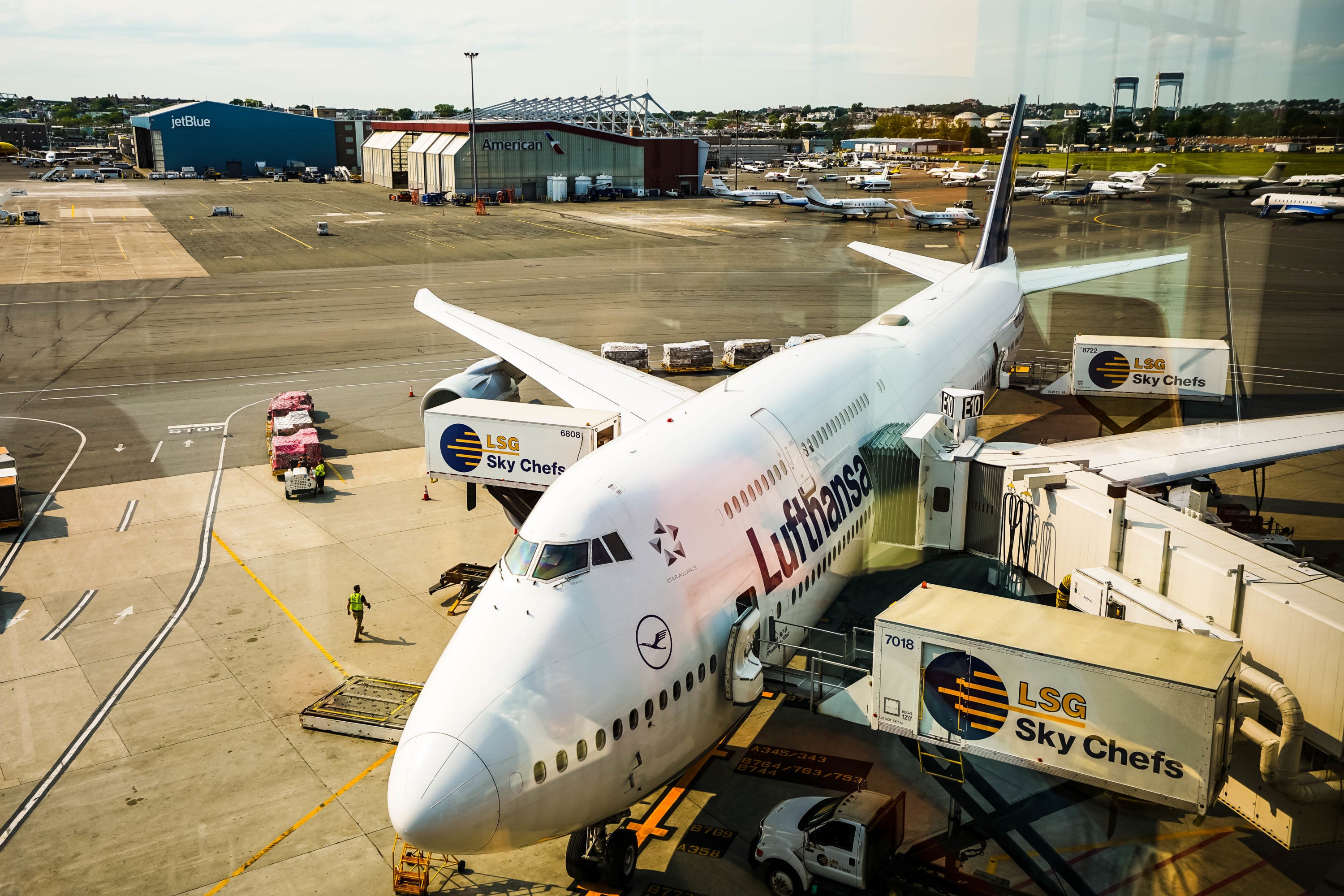 The aircraft is configured to carry a total of 364 passengers as follows:
First class suites: 8 open suites in a 1-1 configuration across rows 1 and 2 and a 1-2-1 configuration across row 3 on the main deck
Business class: 32 seats in a 2-2 configuration on the upper deck and 48 seats in a 2-2-2 configuration on the main deck
Premium economy: 32 seats in a 2-4-2 configuration on the main deck
Economy class: 244 seats in a 3-4-3 configuration on the main deck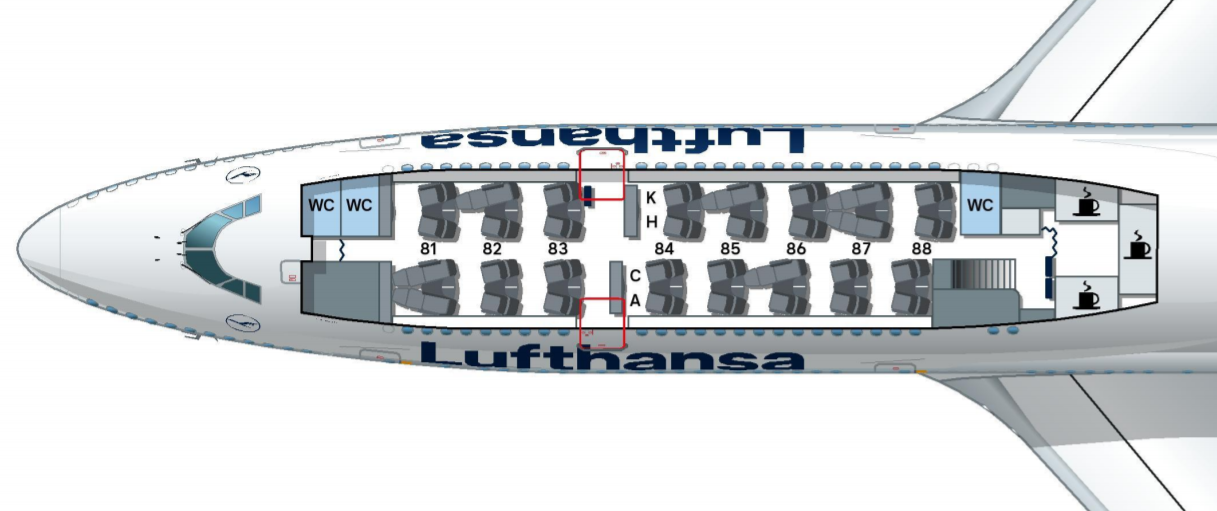 Cabin
For first class passengers, boarding was through the L1 door on the main deck and at the door of the aircraft, Annabelle handed me over to the cabin crew. I was greeted by the purser, Helga, who escorted me to my seat 1A, right upfront in the nose of the 747.
The Lufthansa first class cabin consists of 8 first class open suites: 6 single suites (3 suites in a single row on either side) and 2 middle suites for couples in row 3.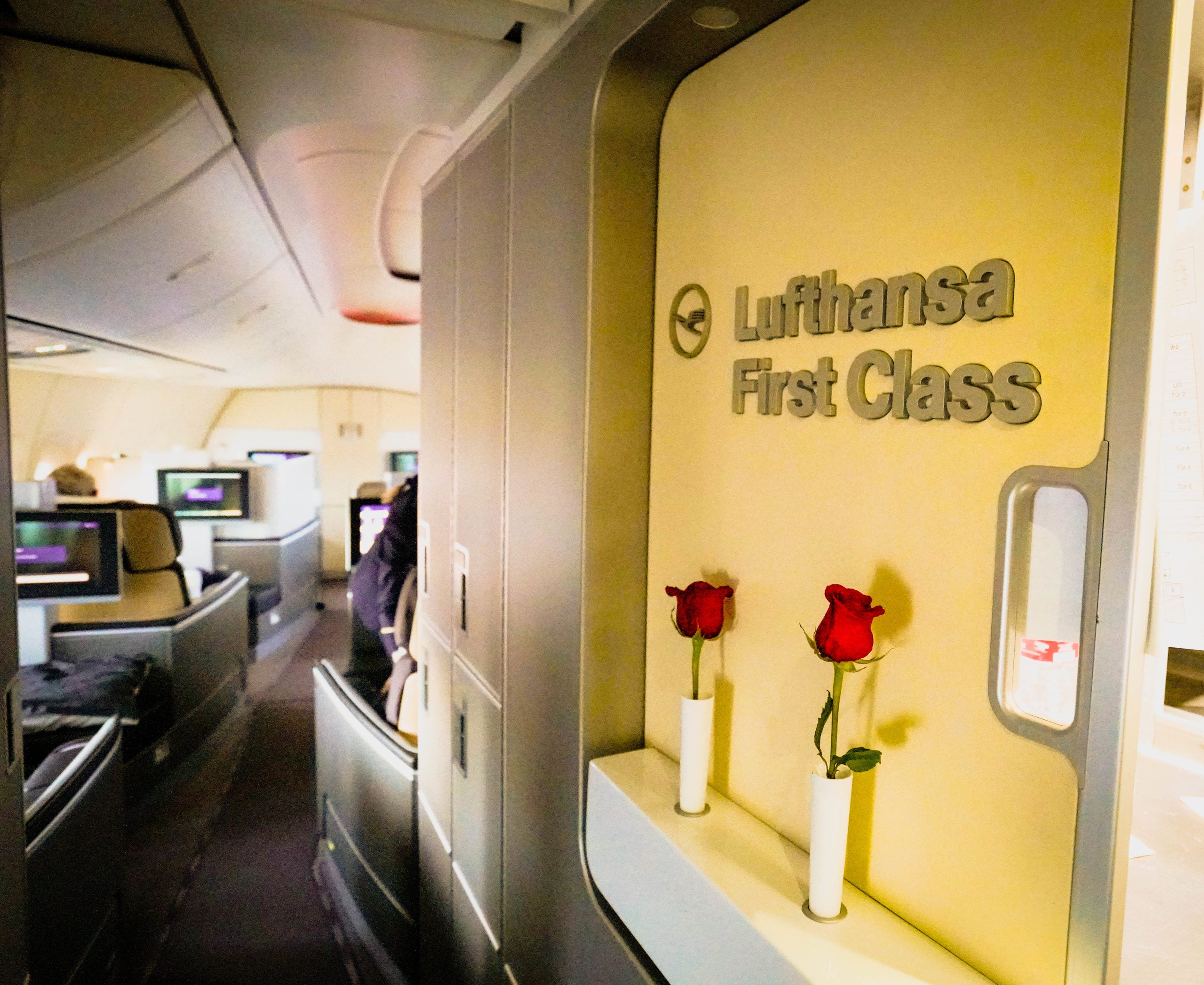 The cabin is classy with elegant undertones giving out an 80s "old school" feel with the beige and white interiors complementing the dark grey upholstered seats.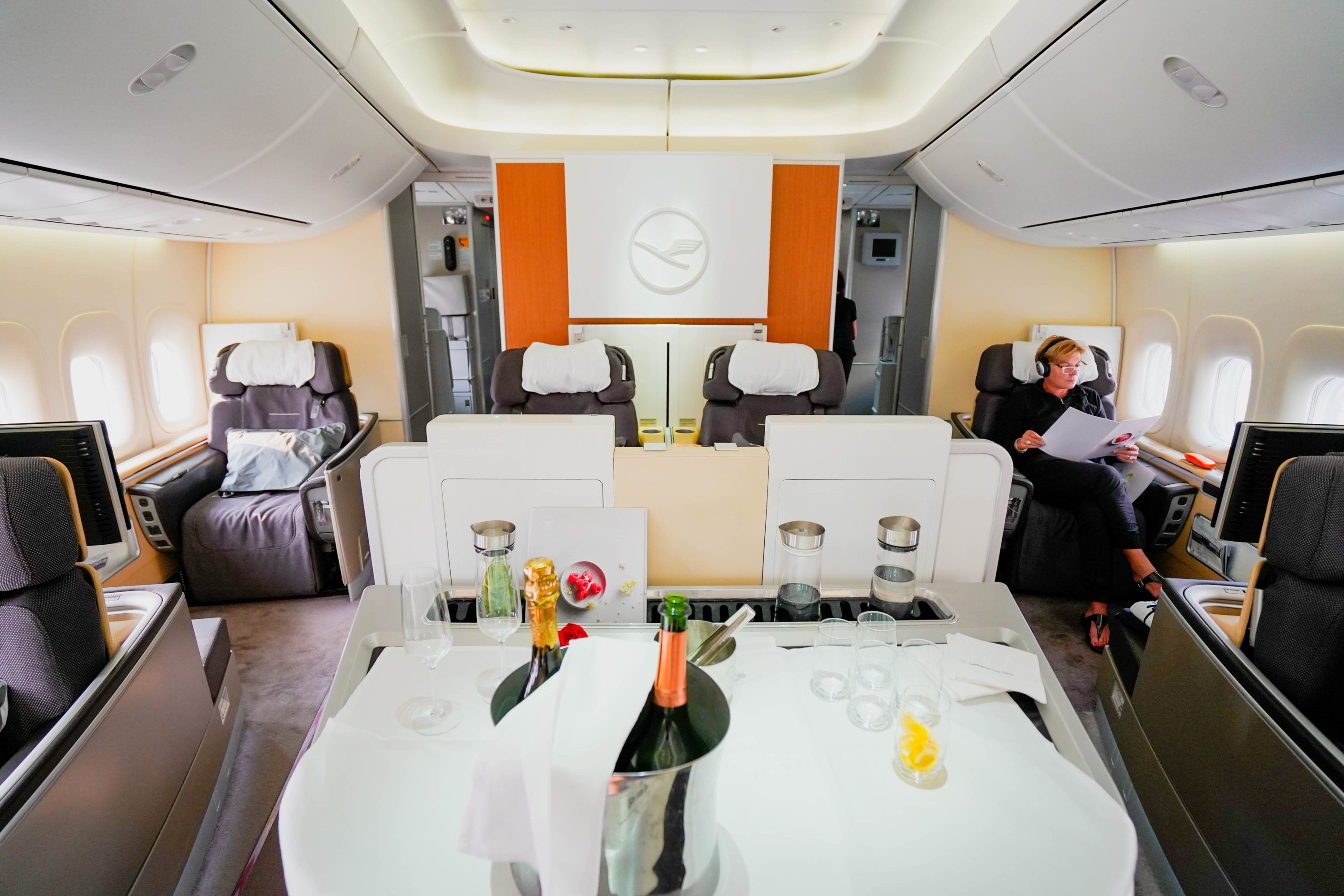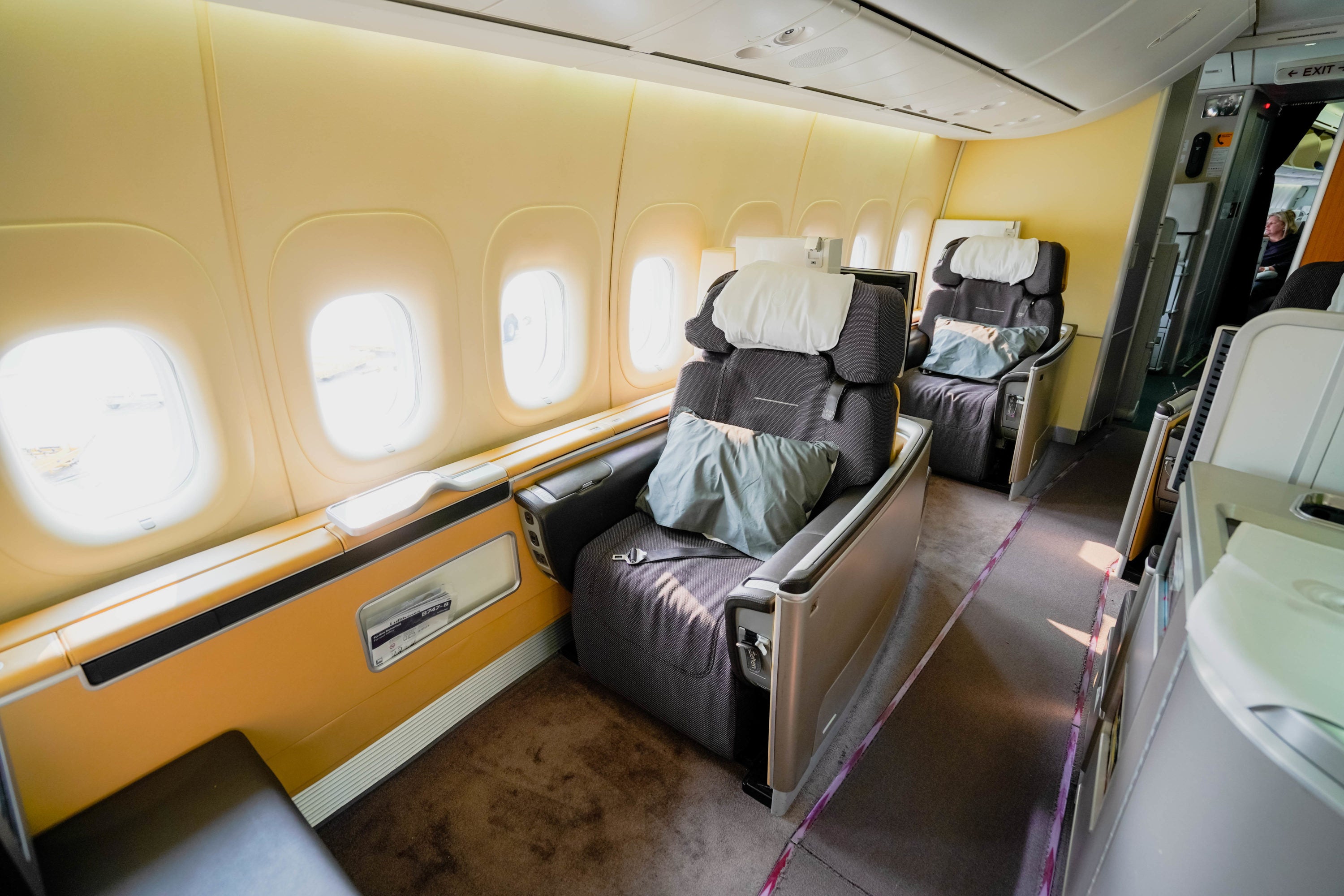 As a solo traveler and AvGeek, I prefer to fly right upfront in 1A or 1K on a Boeing jumbo. There is no better feeling than flying in the nose of the Queen.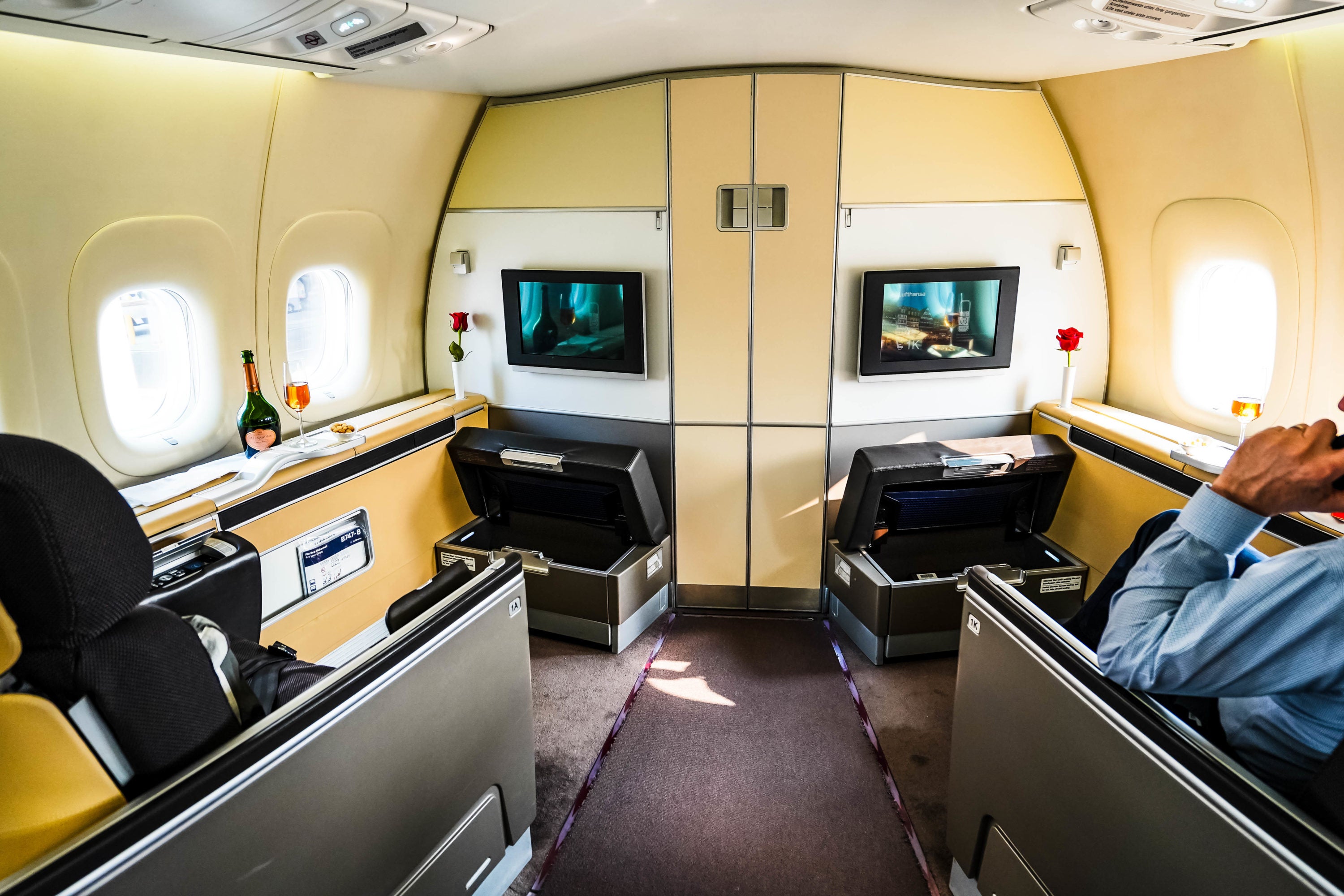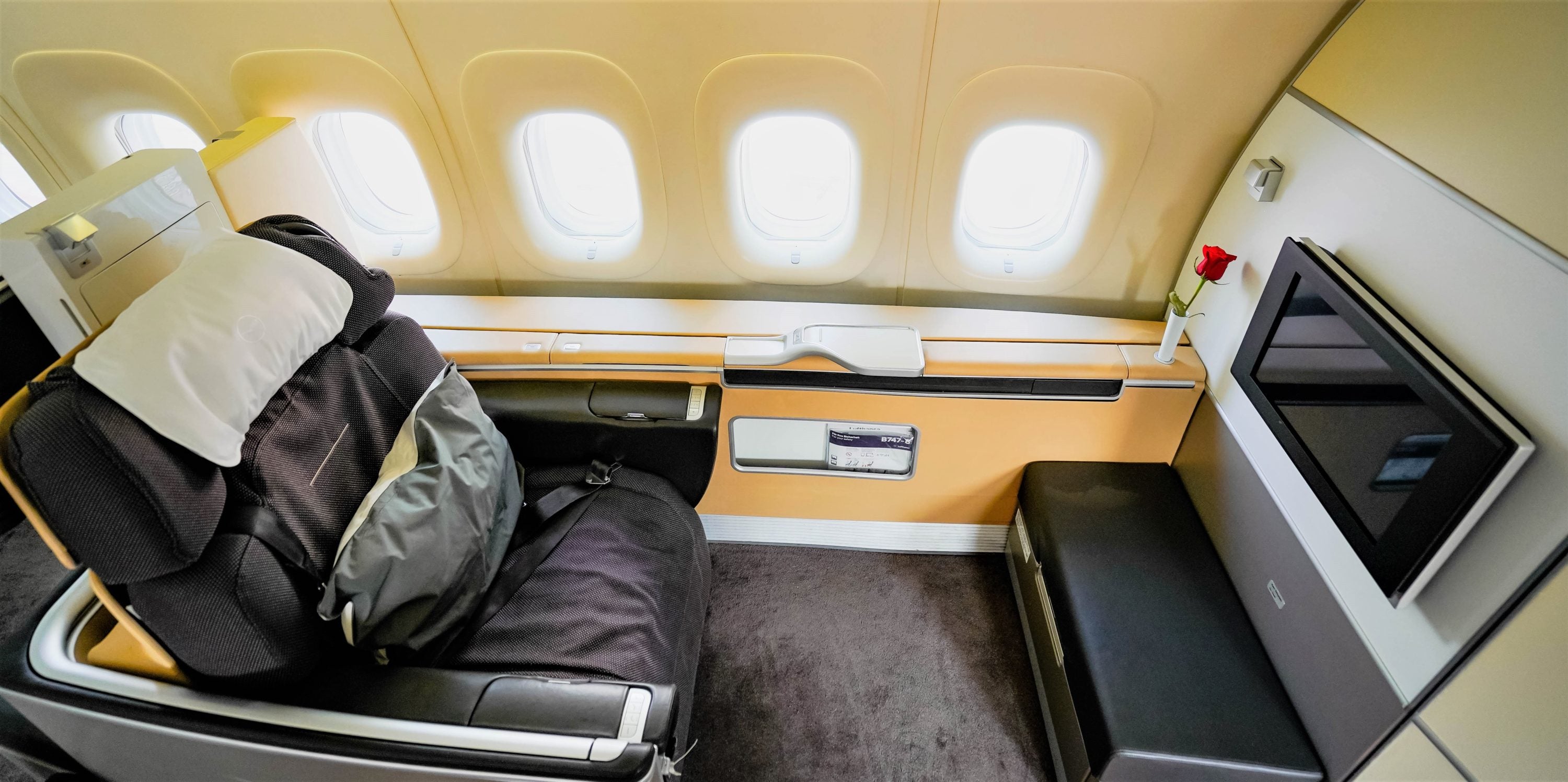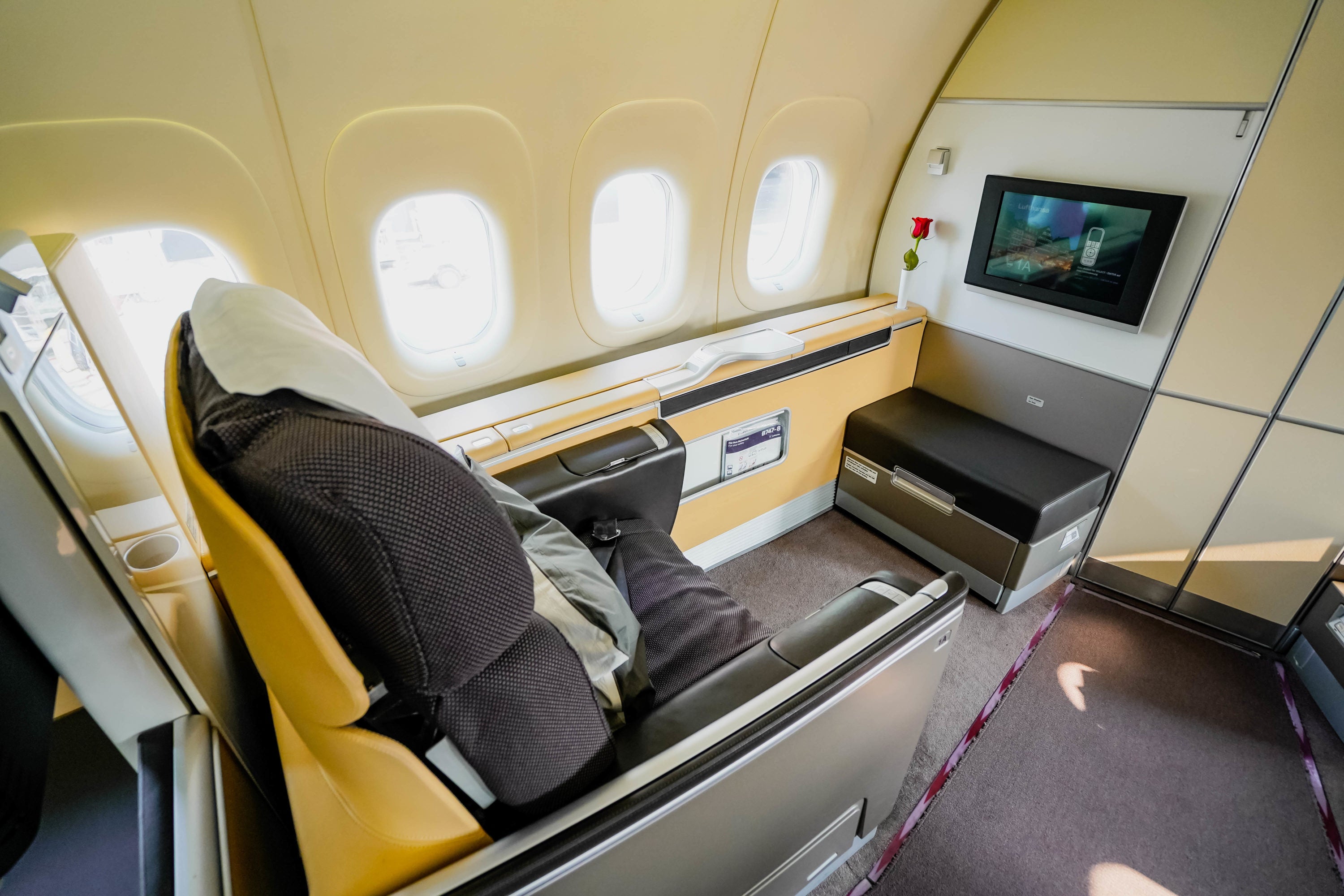 If you are looking for total privacy, then seats 2A and 2K are the ones to shoot for. You won't have anyone within sight or earshot next to you as there is a small bar/counter in the middle of the cabin which is used as a staging area.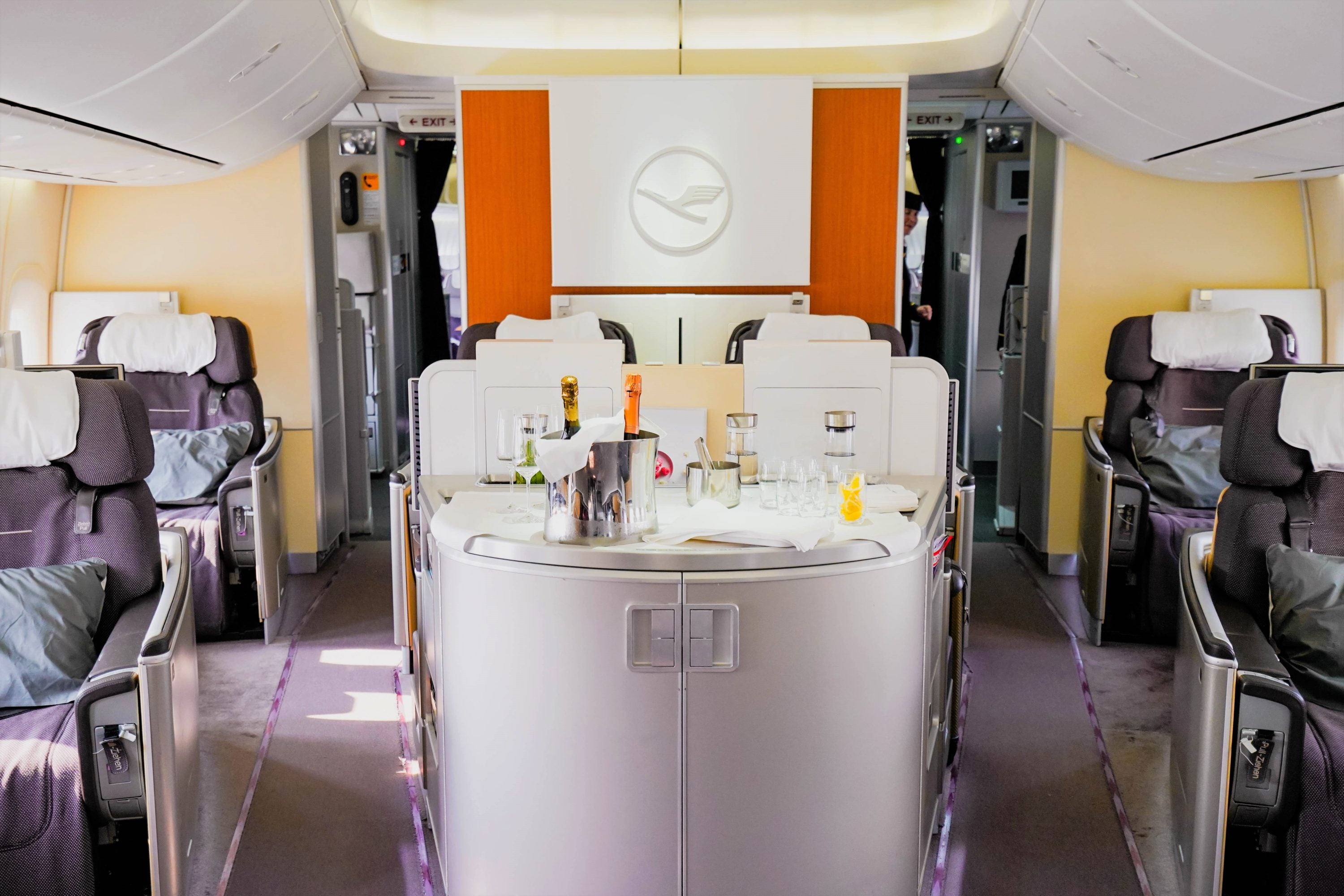 For couples, seats 3D and 3G are ideal.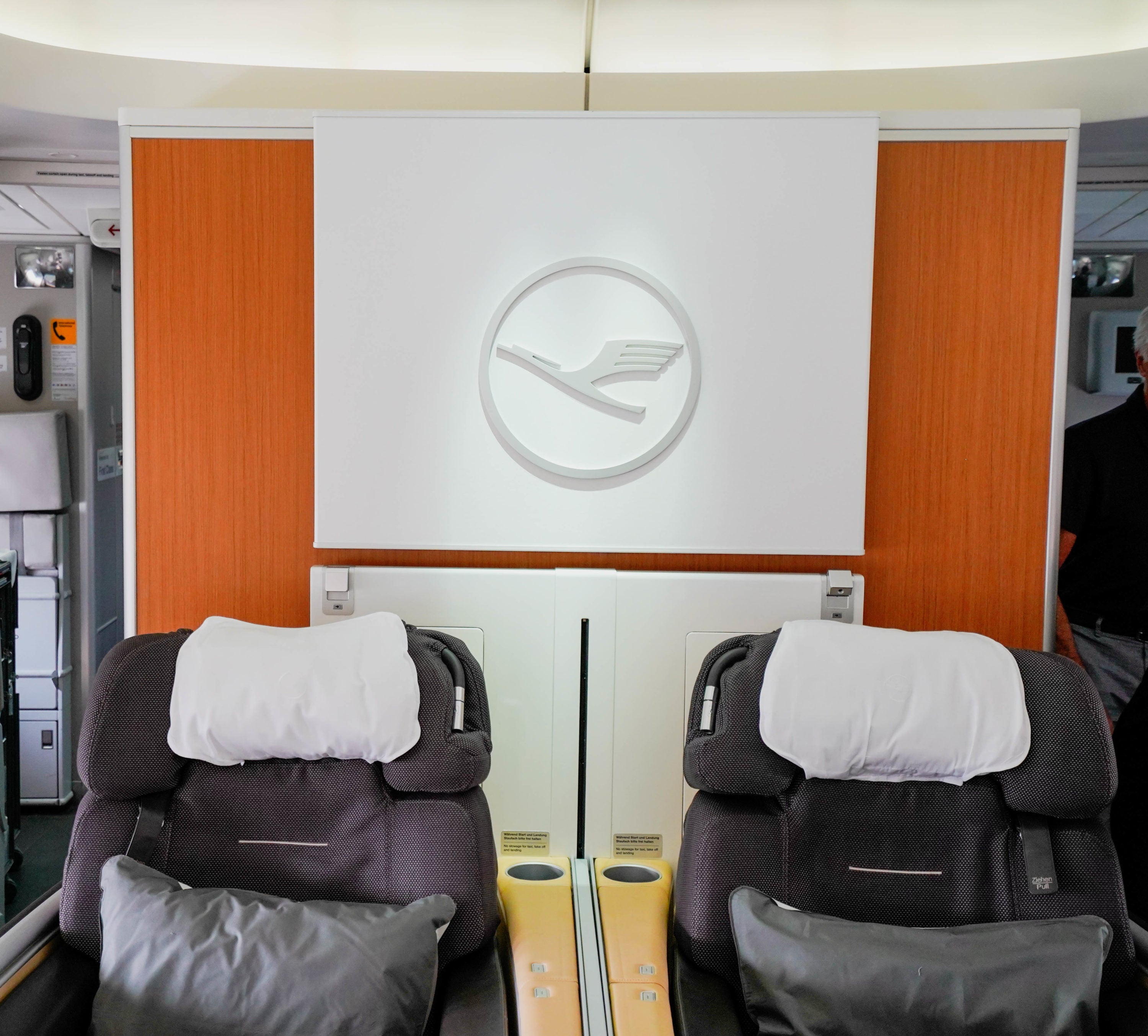 If you are traveling with a companion, but prefer window views and are not feeling too chatty, Seats 1A and 1K should do the trick. They are not too close to each other, but at just the right amount of distance to have the occasional chat.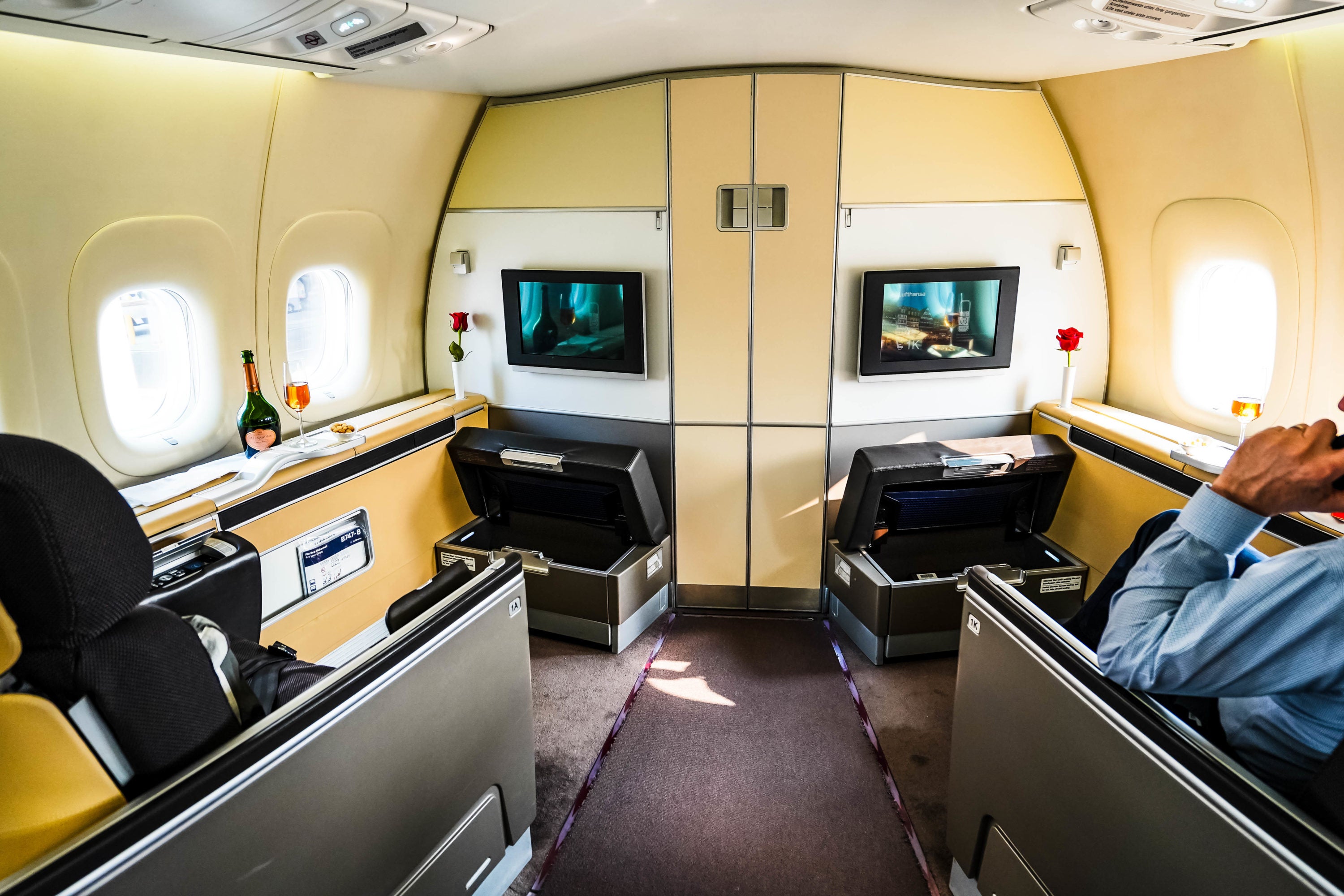 There are 2 lavatories at the back on either side, between the first class and business class cabins. They are equipped with Evian facial spray, mouthwash, and other toiletries.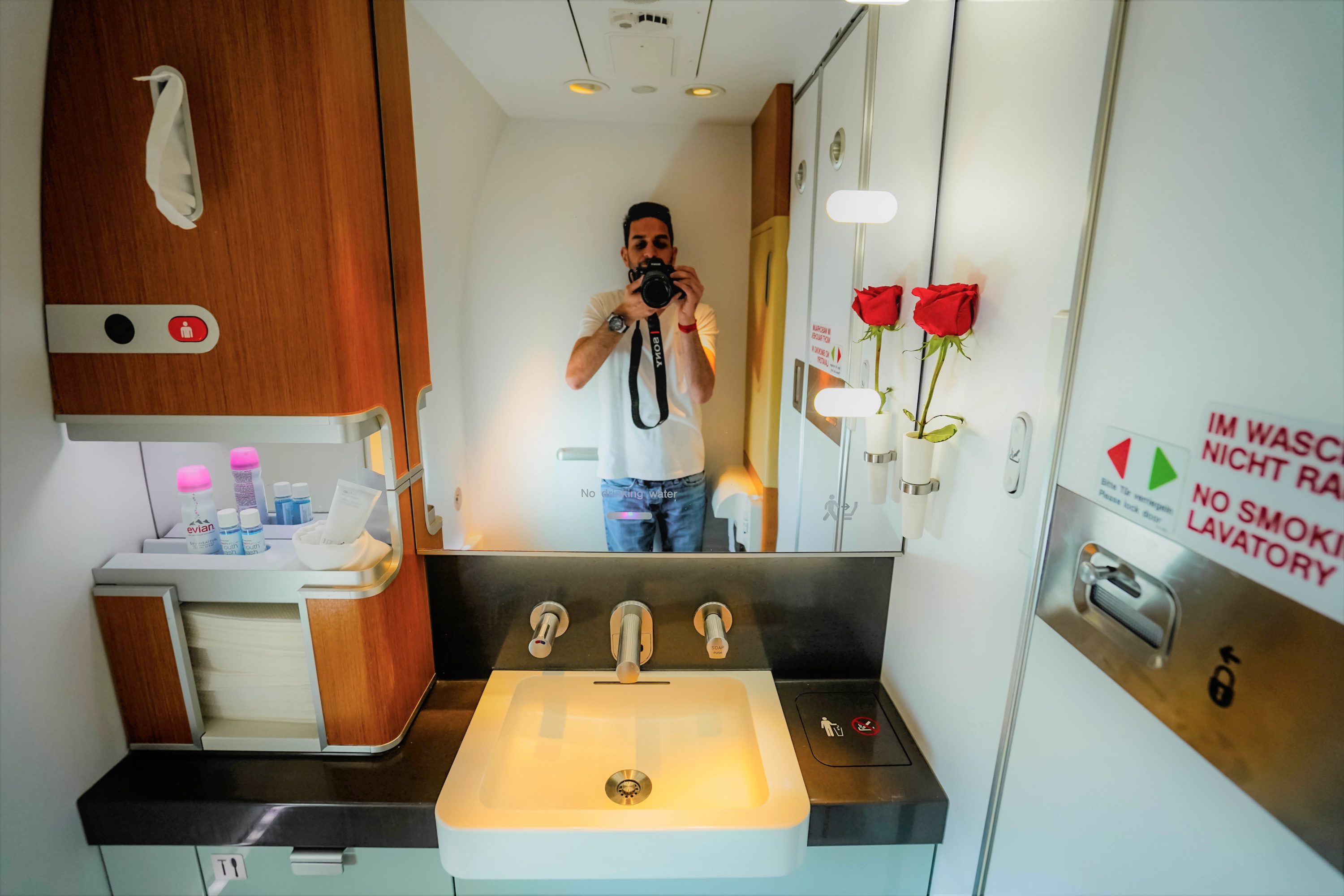 The lavatory has a cushioned seating area provided to sit and change your clothes at ease.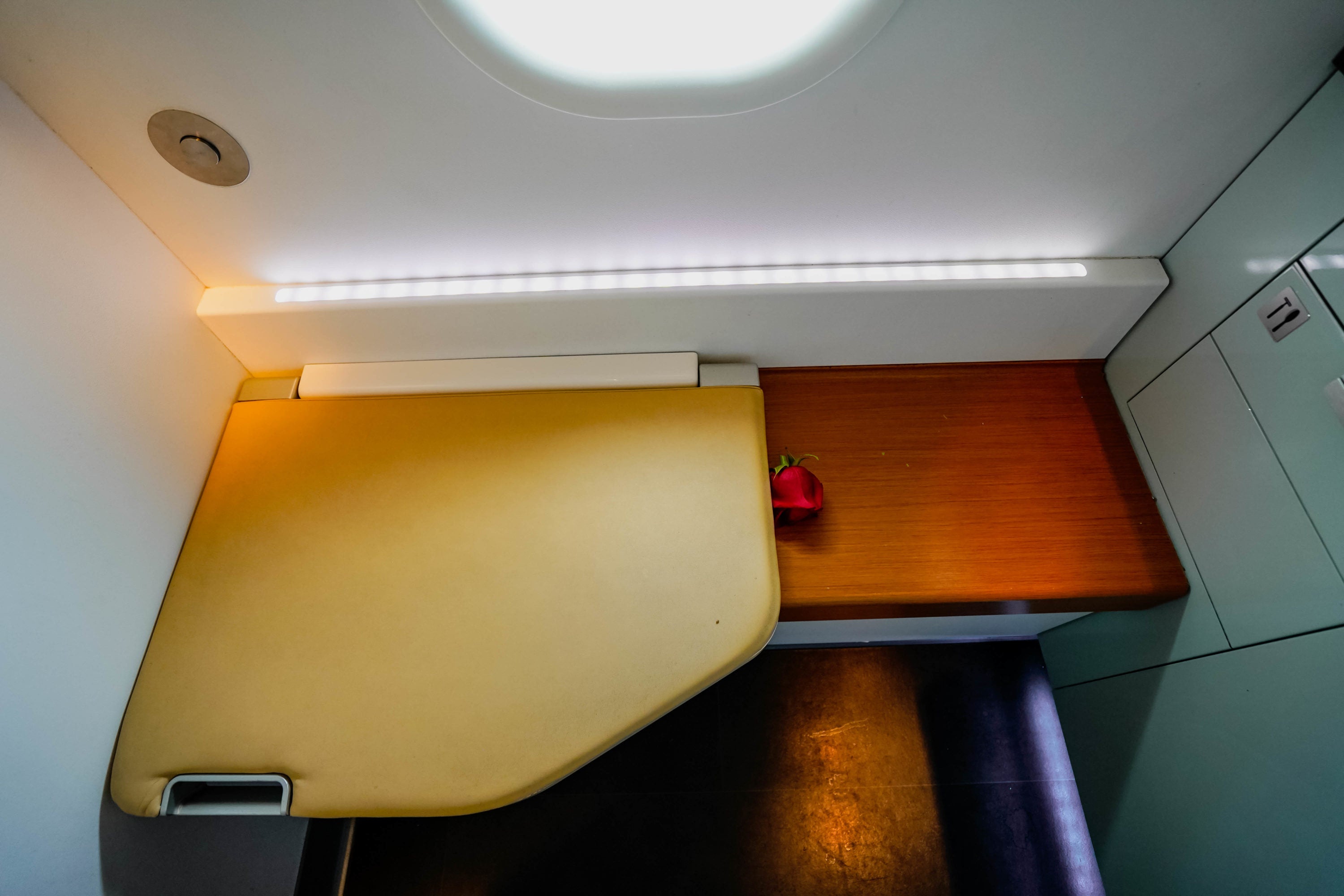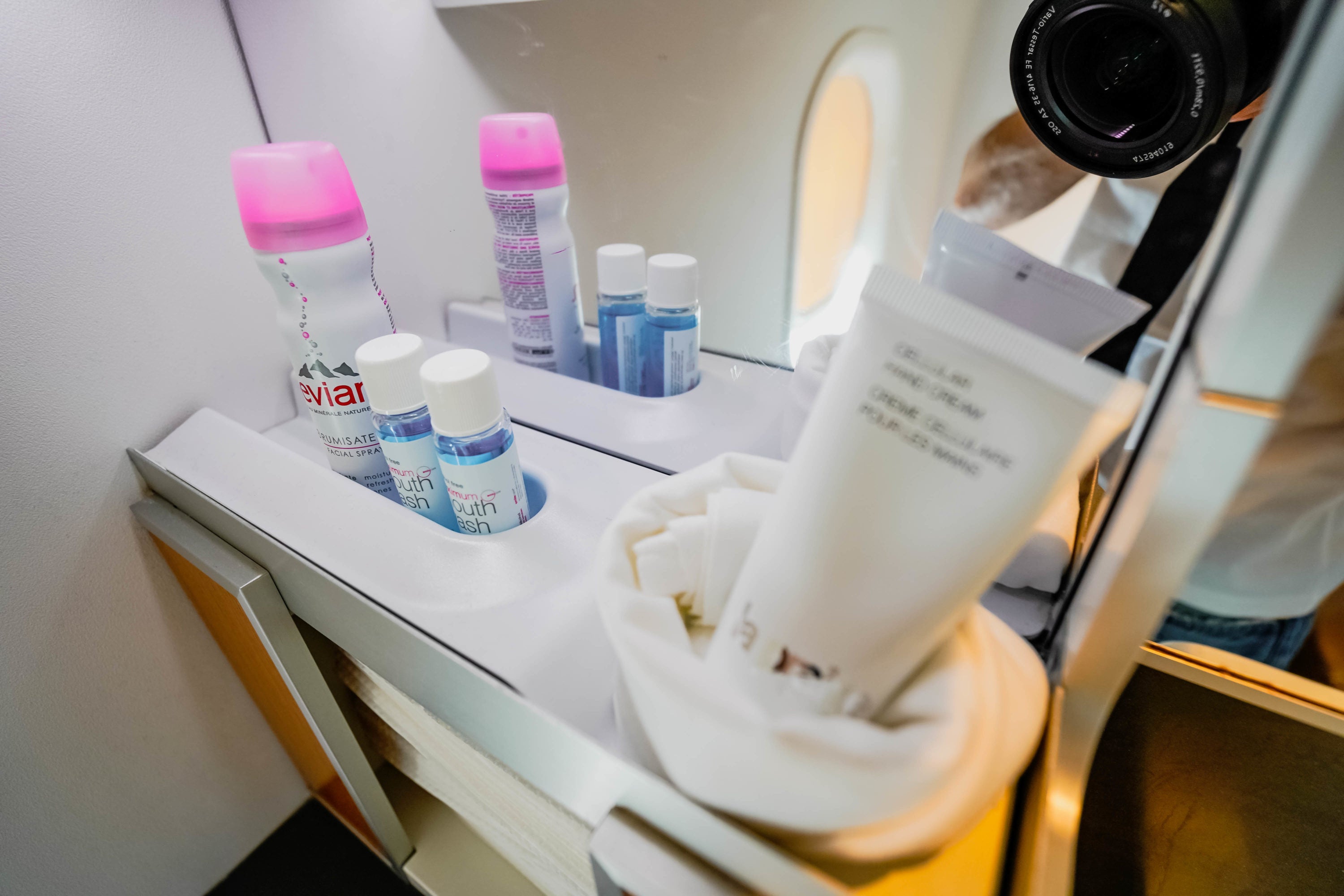 Seat
The seat, which is 22 inches wide, is well-cushioned, spacious and comfortable and converts into a 79-inch (2 m) flat bed.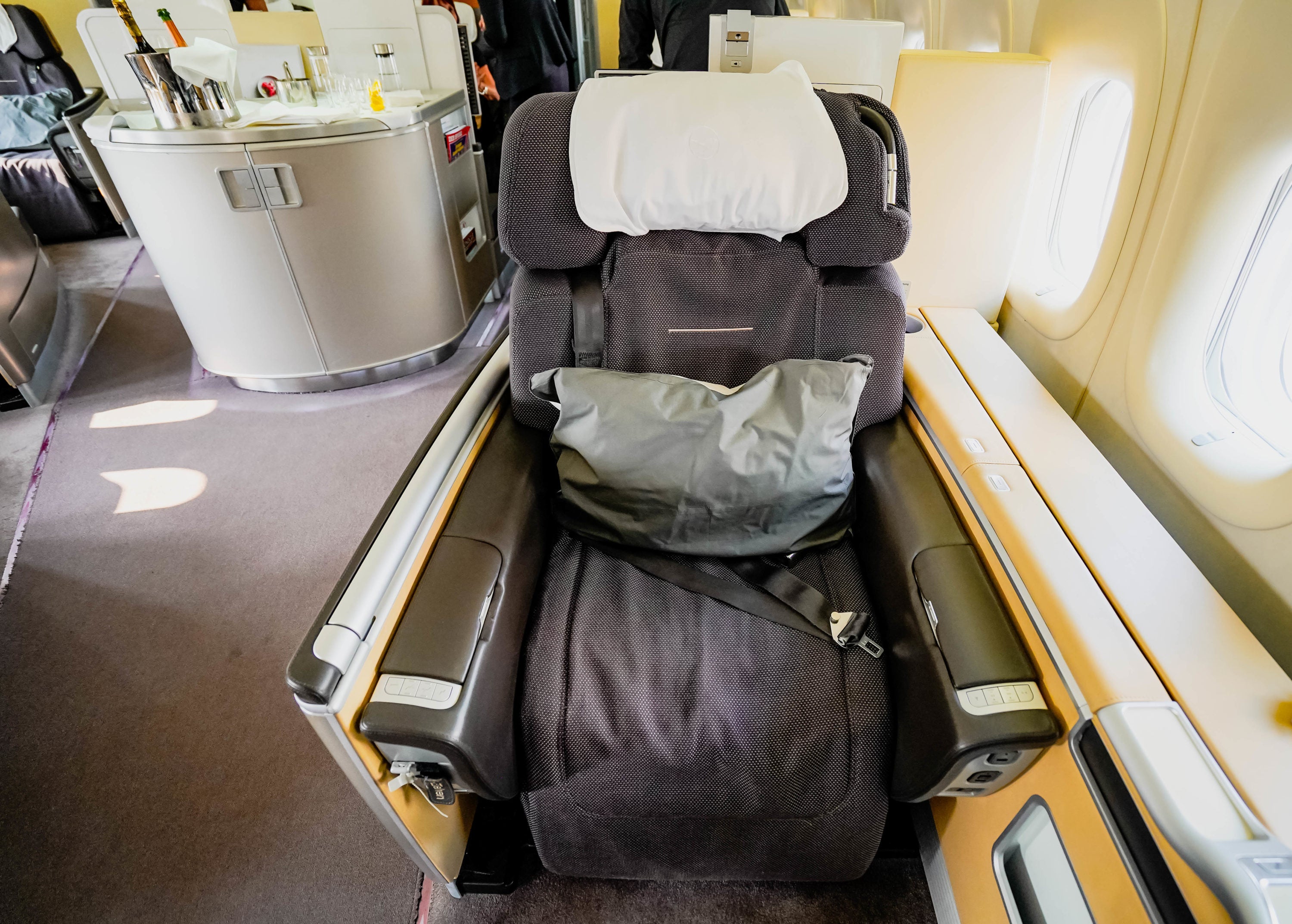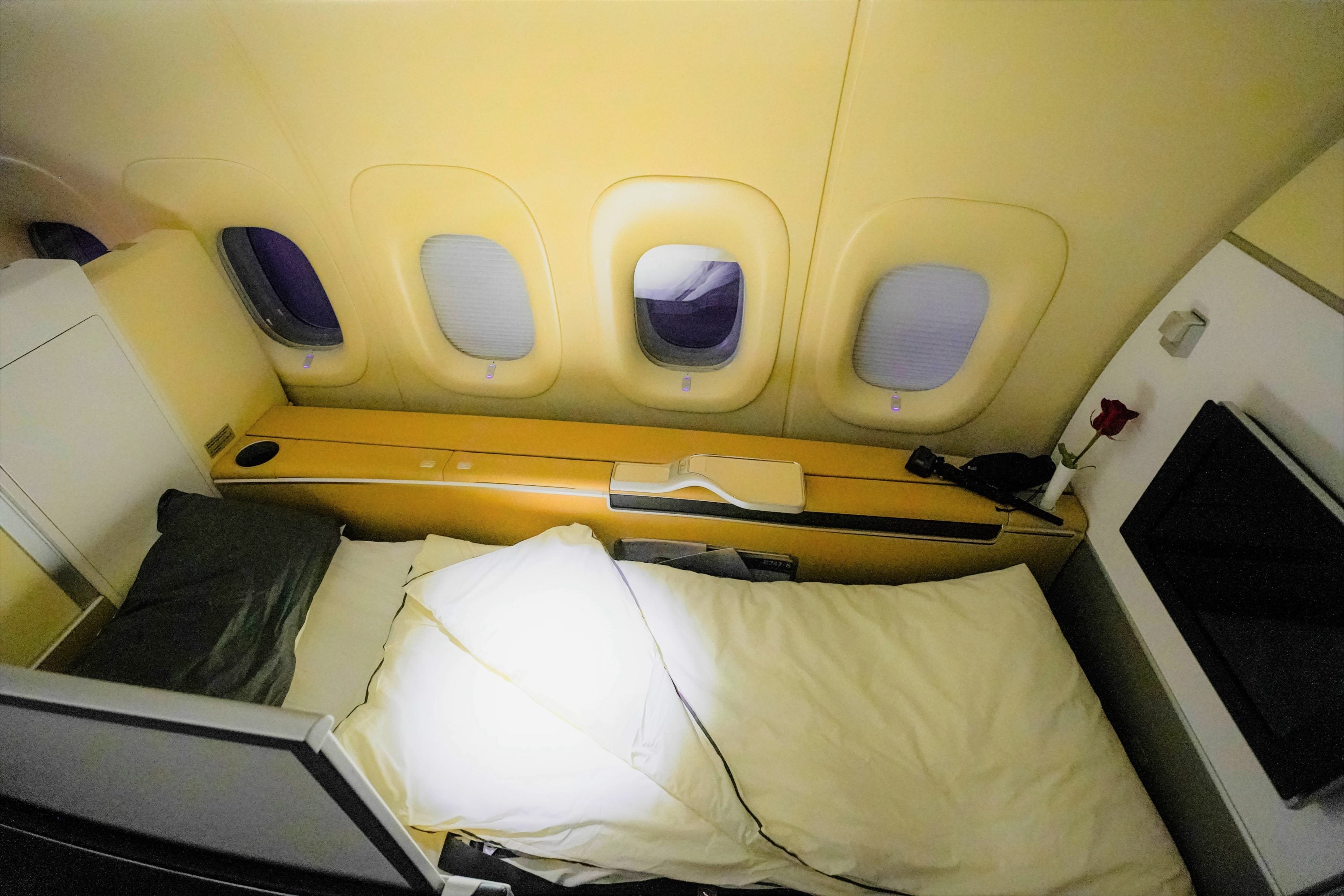 There are reading lights provided in the headrest and just above the headrest.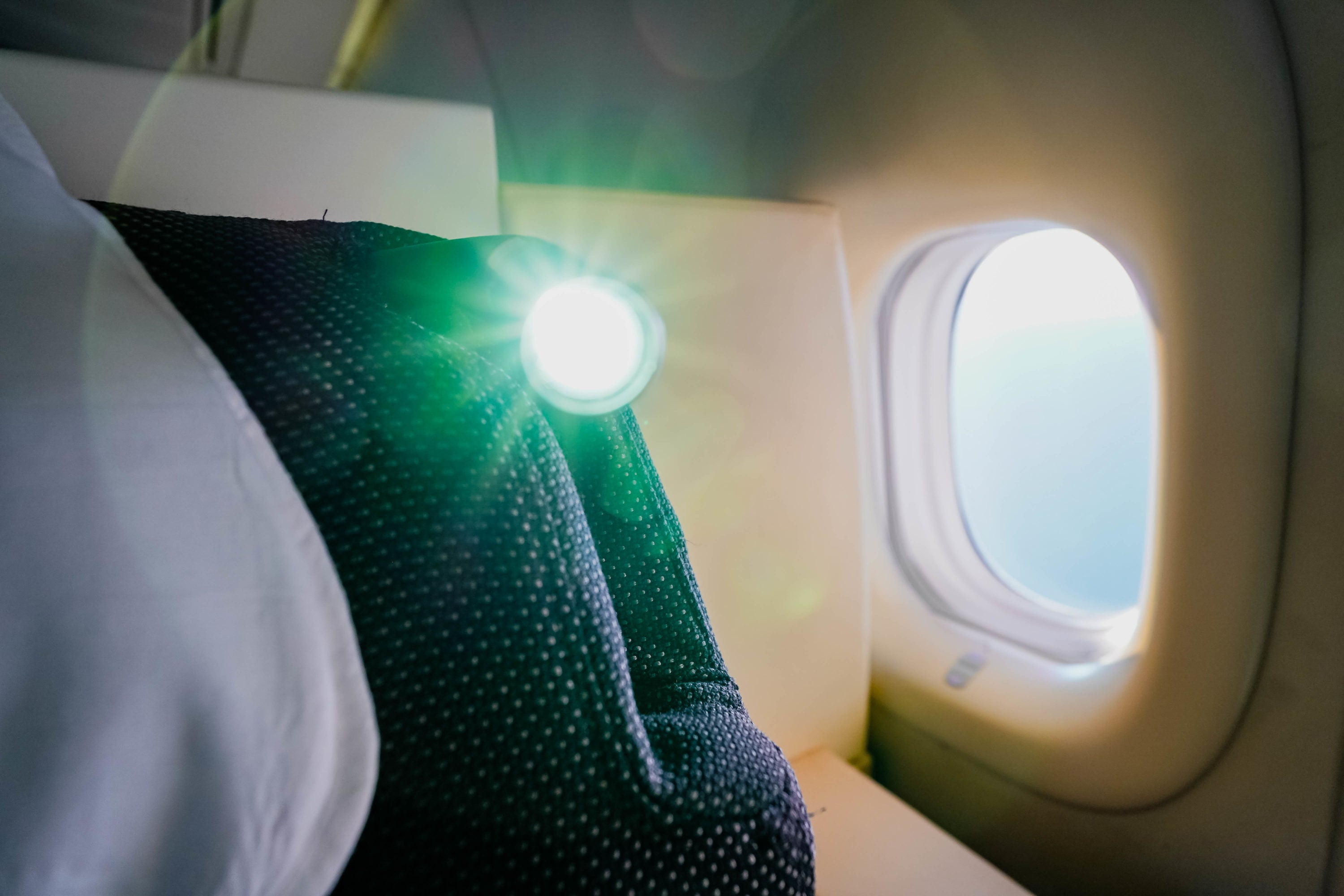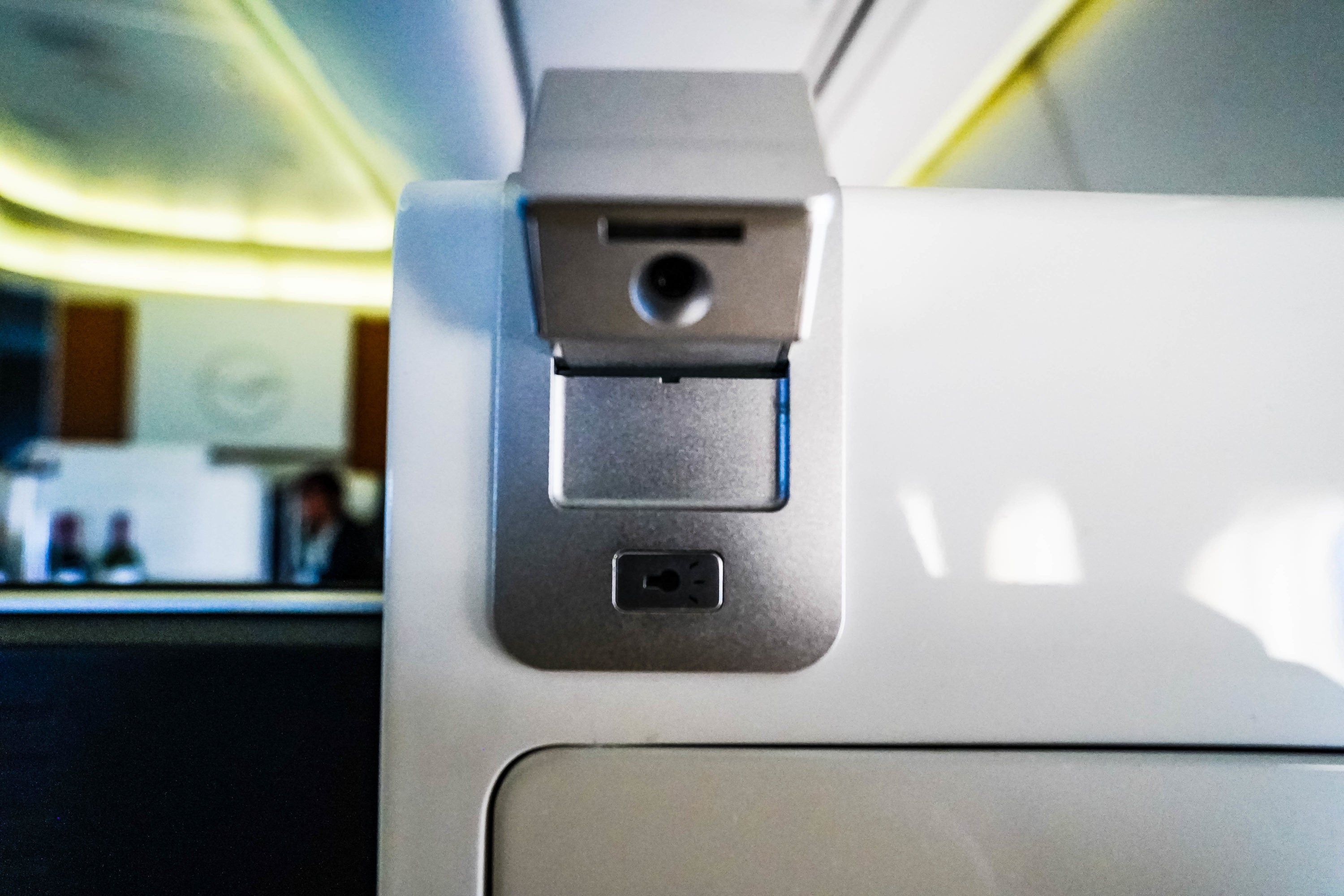 Opposite the seat is an ottoman to put up your feet. Unfortunately, since there are no seat belts provided, the ottoman does not offer a companion dining option.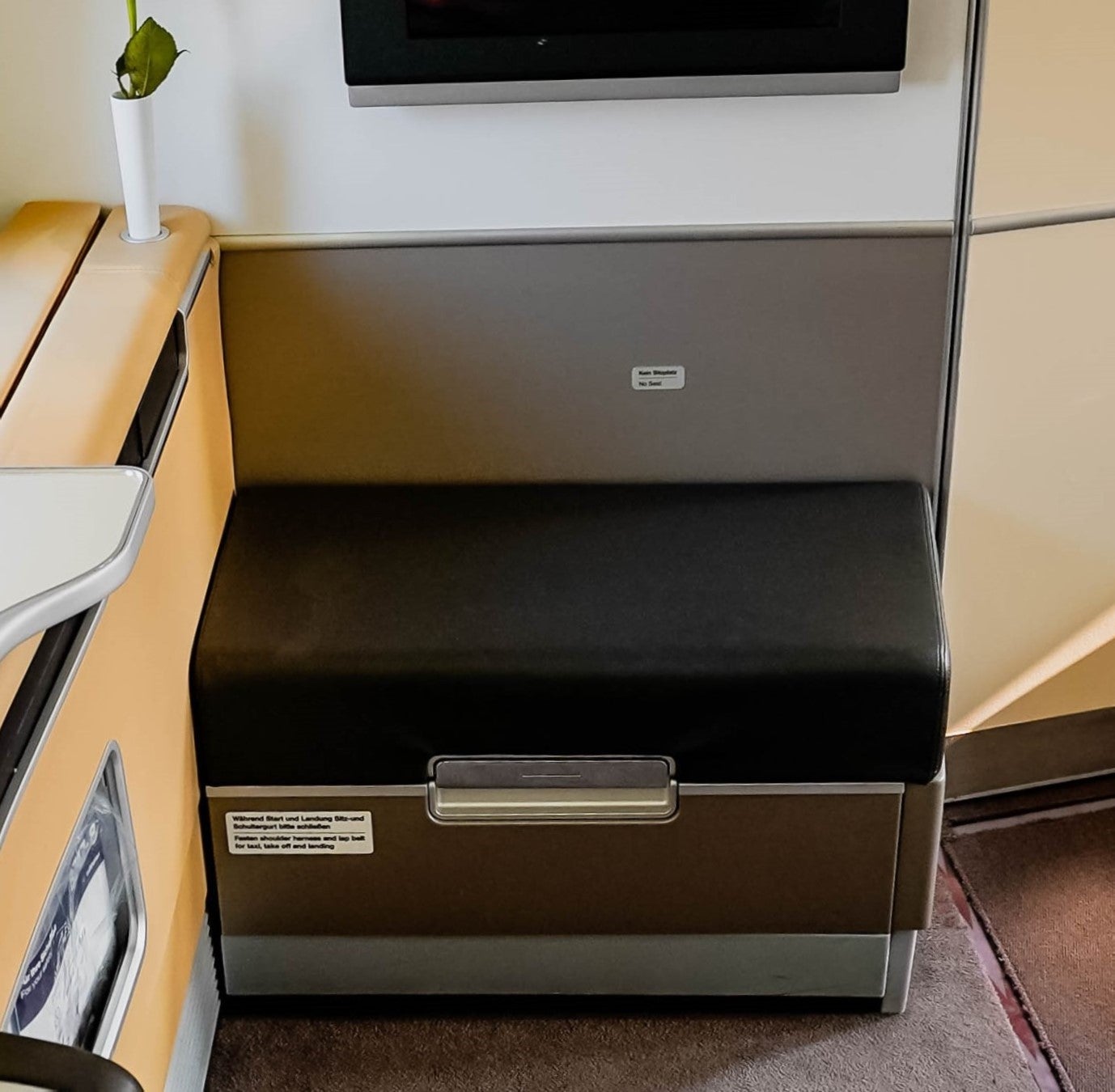 On the forward edge of the right armrest are 4 shortcut seat controls.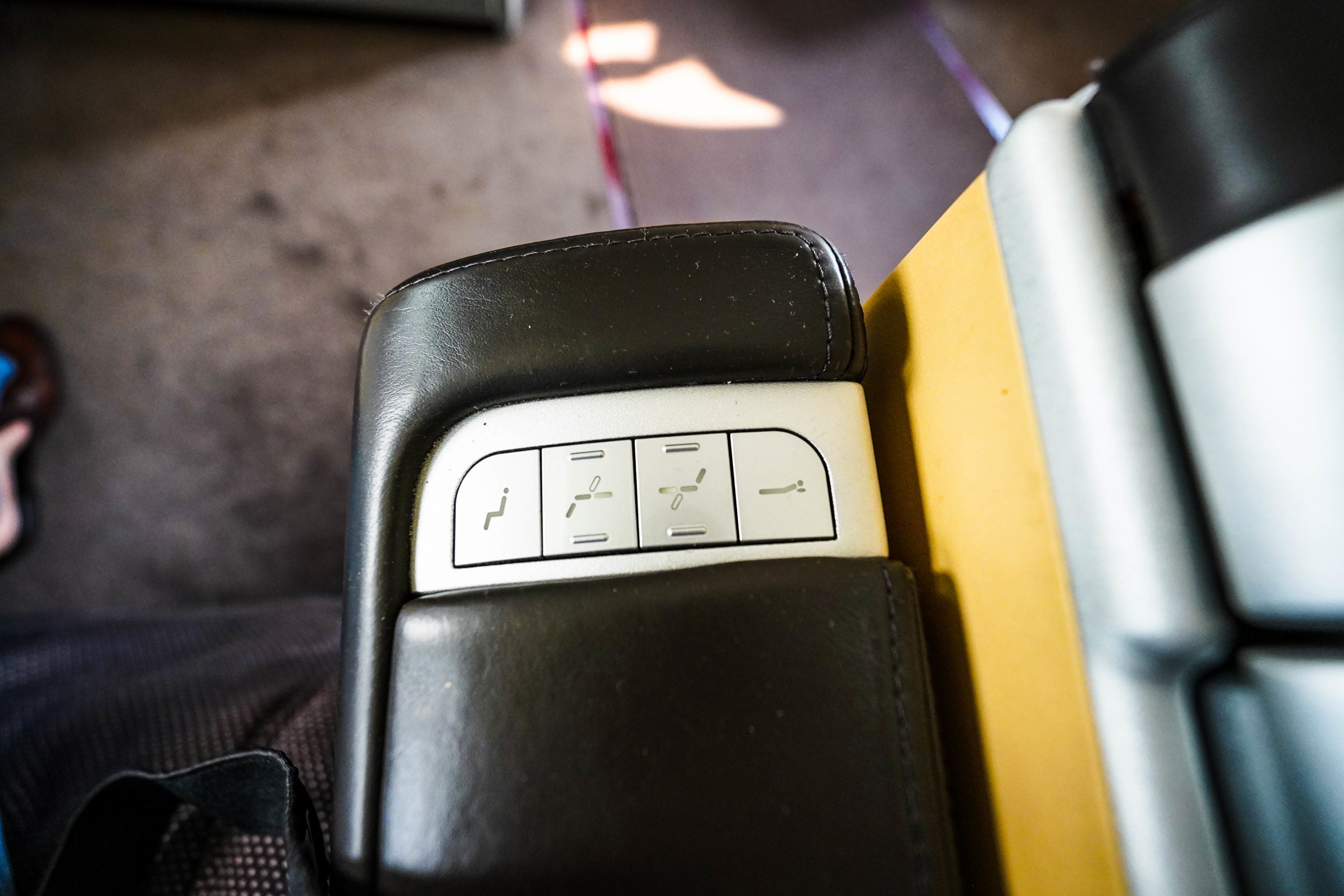 Further, under the right armrest are additional controls to adjust the seat, raise and lower the privacy divider, and move the ottoman back and forth.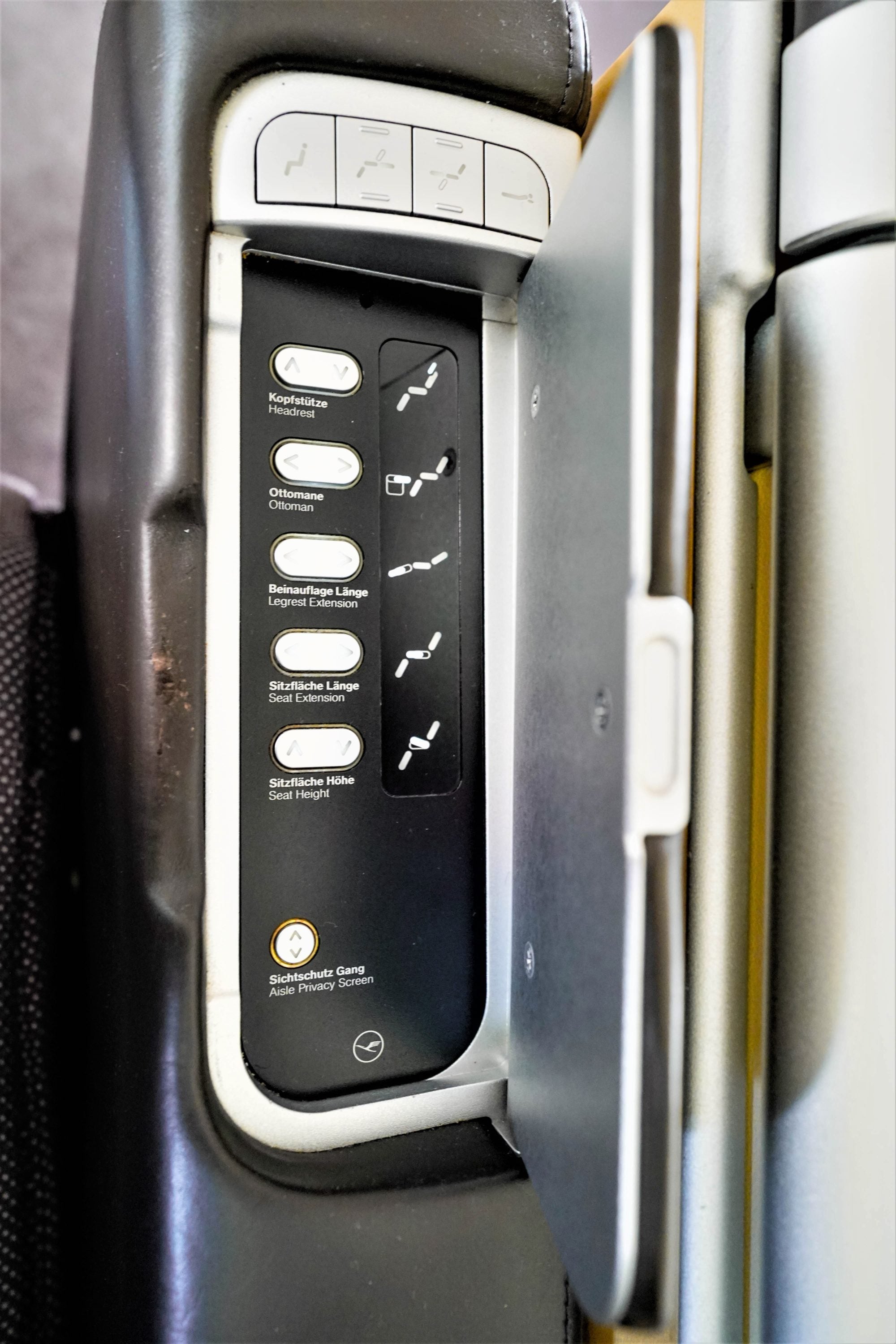 Storage Space
There is plenty of attuned storage space. There are 2 storage compartments on the left-hand side next to the armrest. The forward compartment stores the Bose headphones which are permanently connected to the jack, while the aft compartment can be used to store your phone and charger.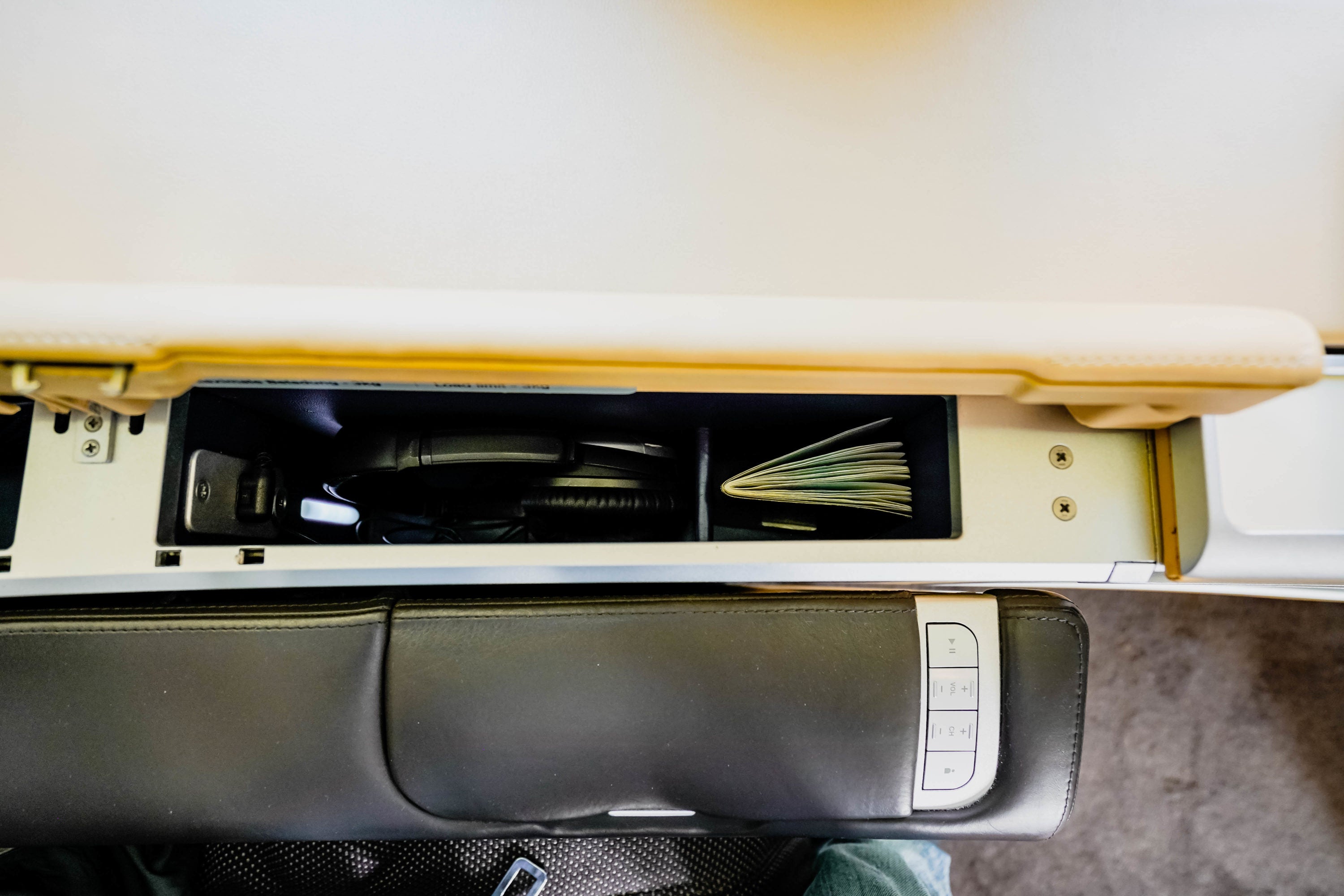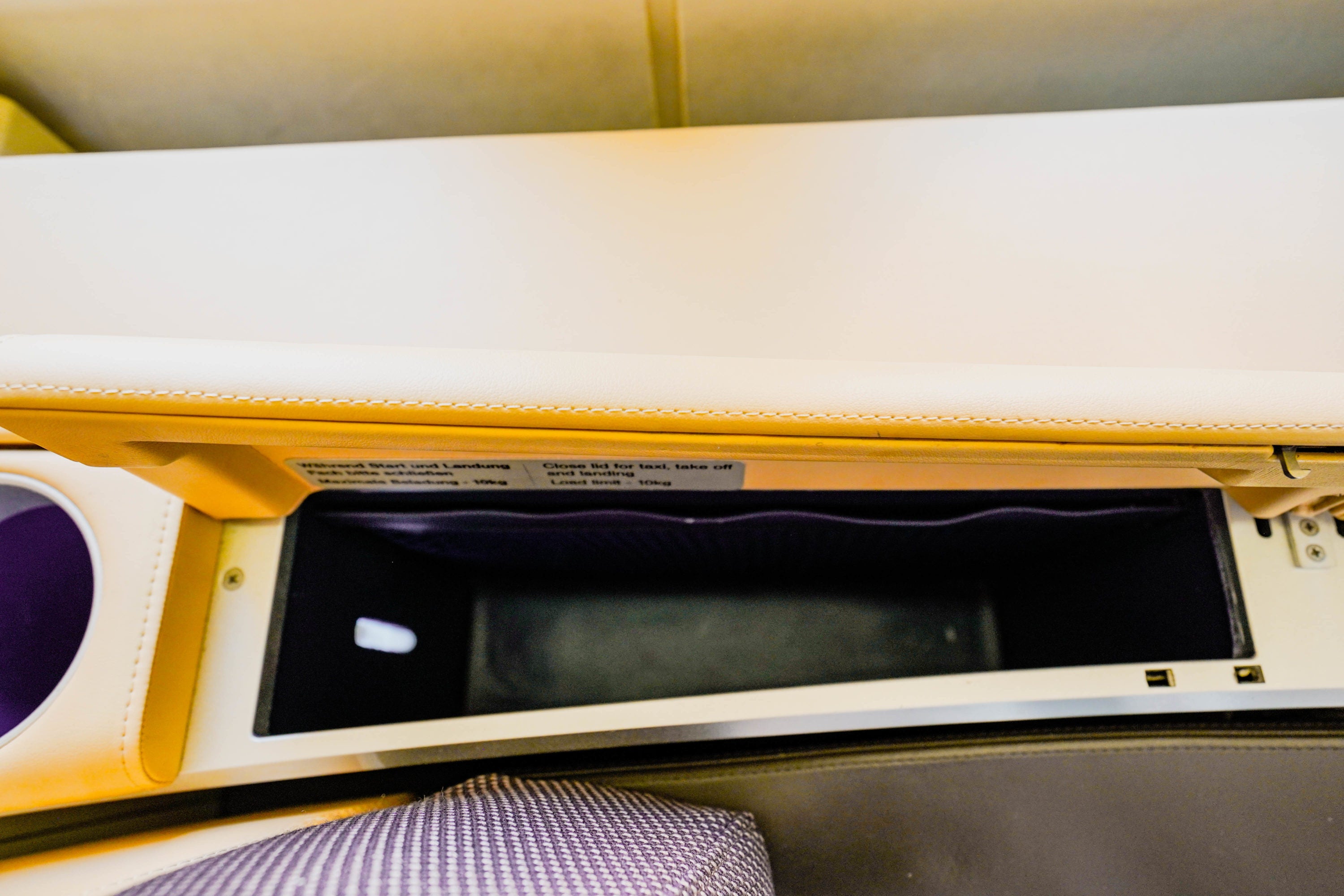 The ottoman has a decent storage area that can be used to store a backpack and/or your shoes.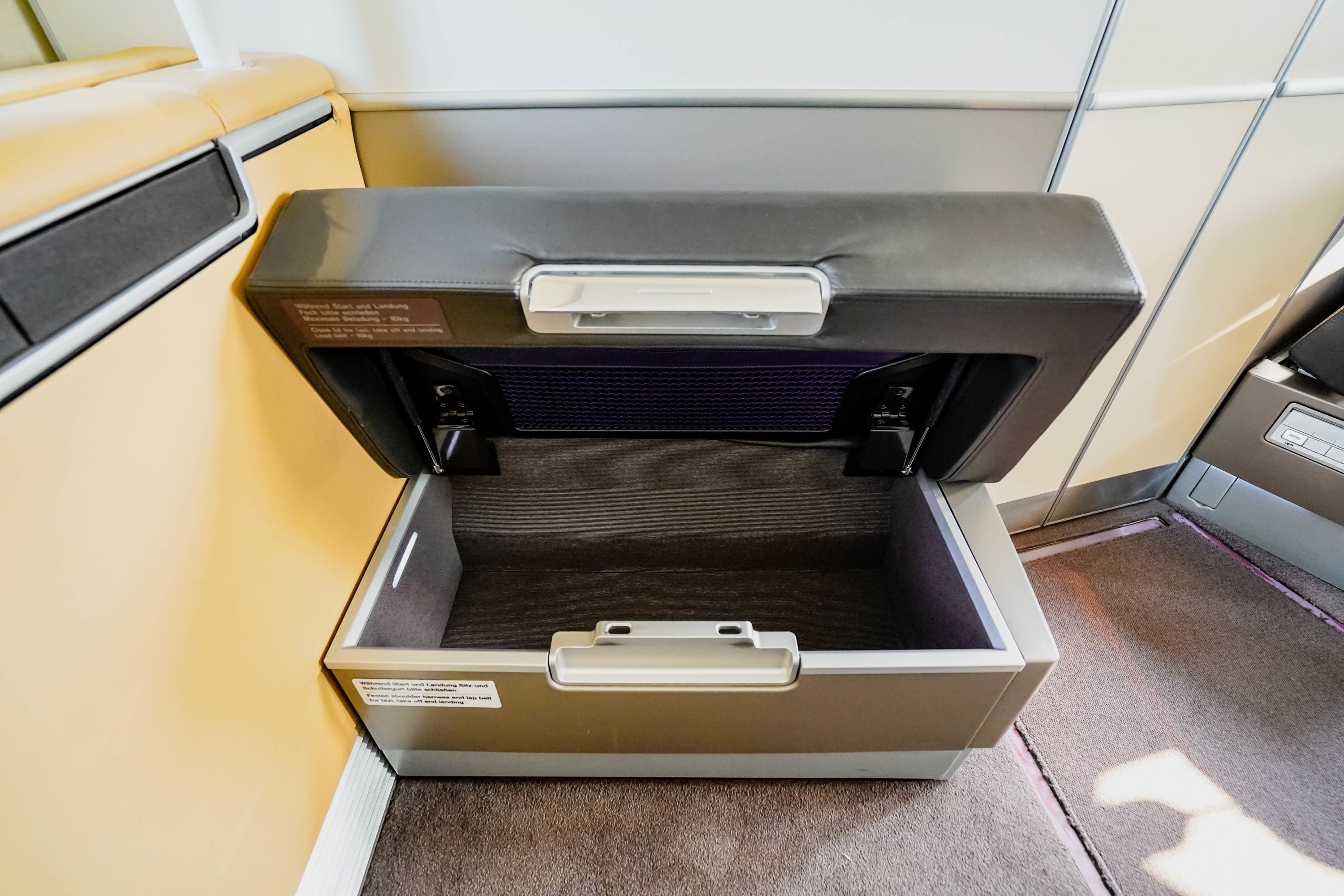 There are 4 overhead bins on the sides above seats 2A, 2K, 3A, and 3K. There are no overhead bins above seats 1A and 1K due to the bulkhead frames tapering towards the pointy end and above seats 3D and 3G. To compensate for the lack of overhead bins, there are lockers provided at the rear of the first class cabin. The lockers are quite spacious and both my Rimowa trolley case and my backpack fit in perfectly.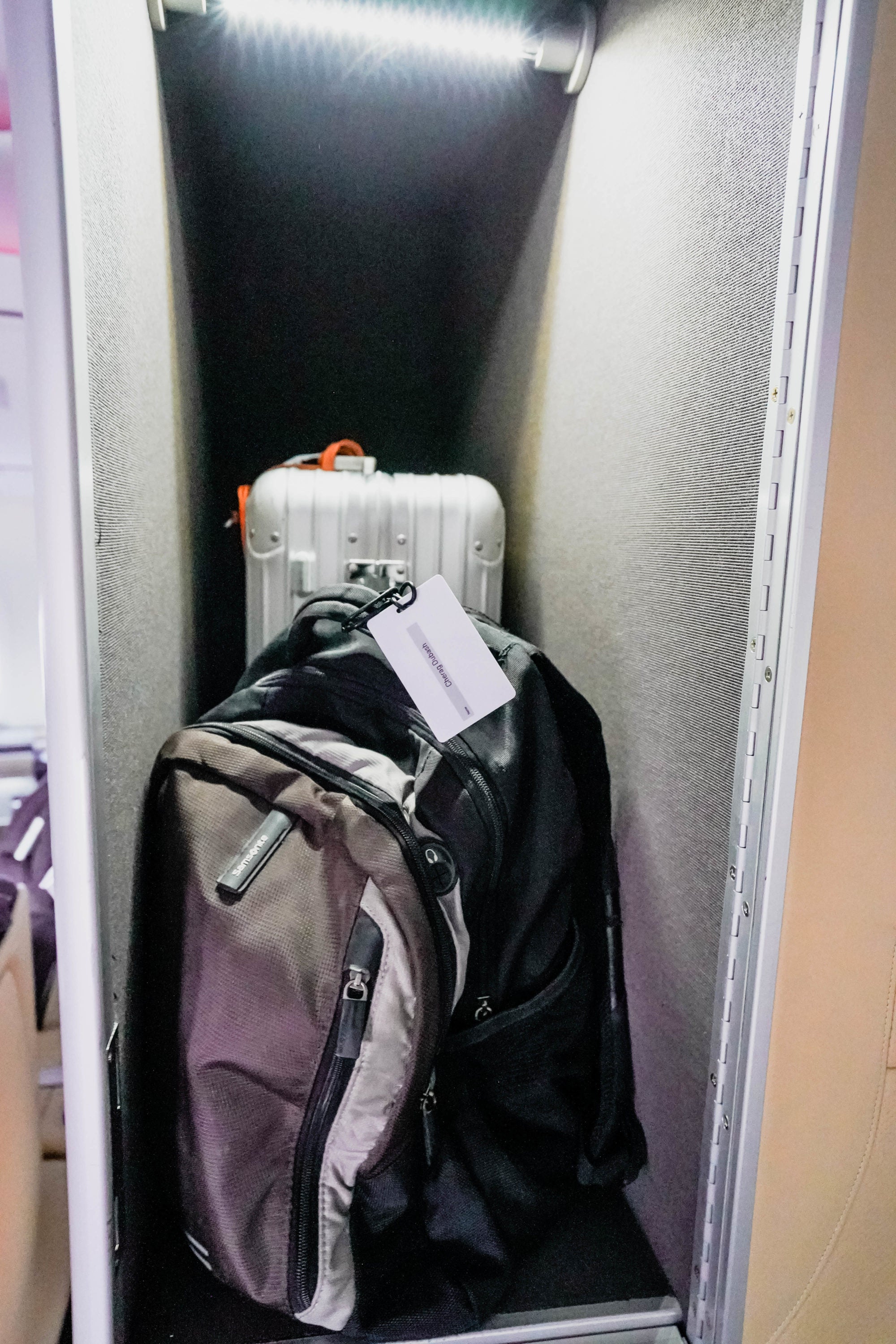 Inflight Entertainment and Wi-Fi
Lufthansa had a decent selection of inflight entertainment including the air show and 3 live TV channels: CNN, Euronews, and Sports 24. The TV monitor is a 17-inch display without touchscreen capabilities.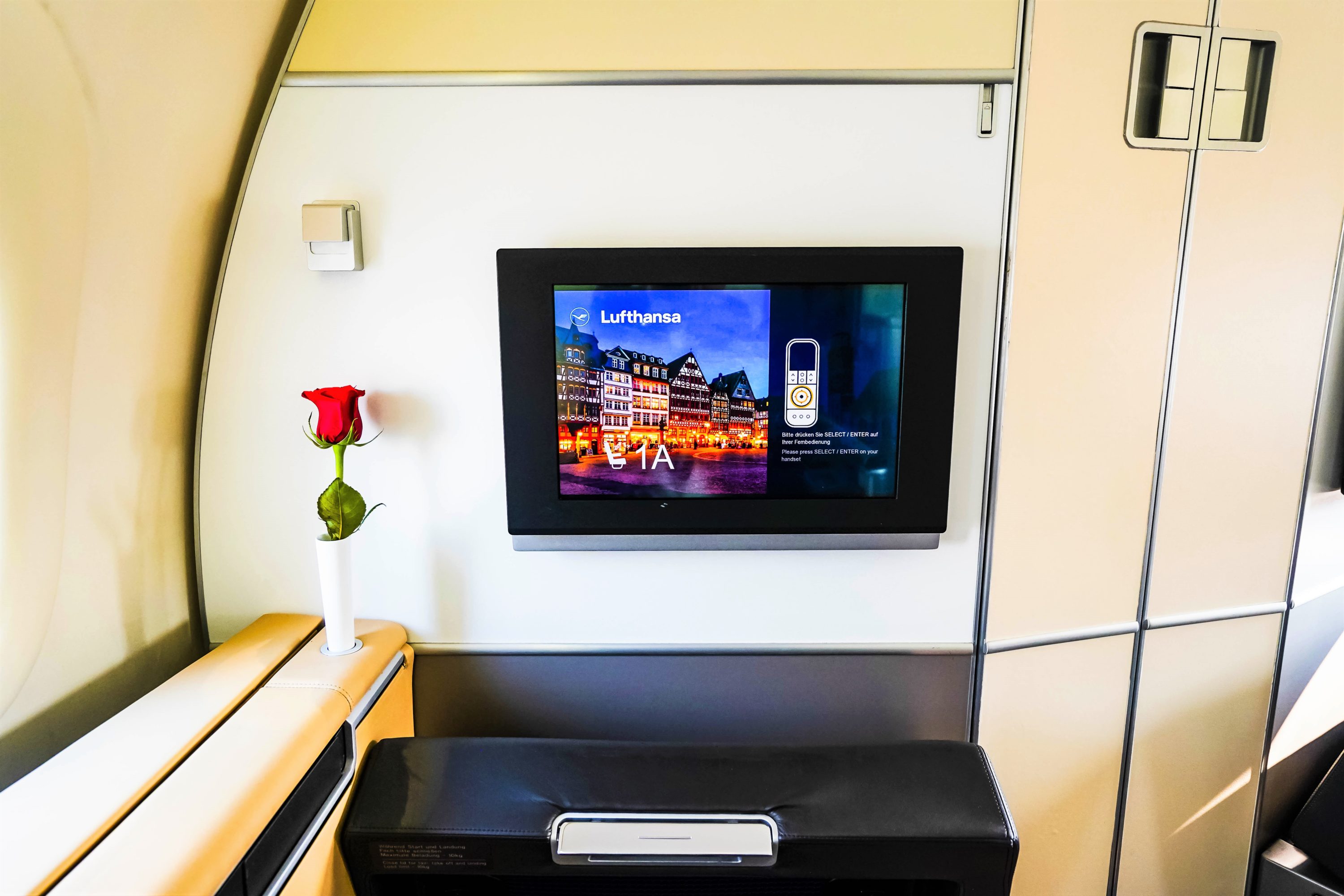 The IFE is controlled by the remote control under the left armrest.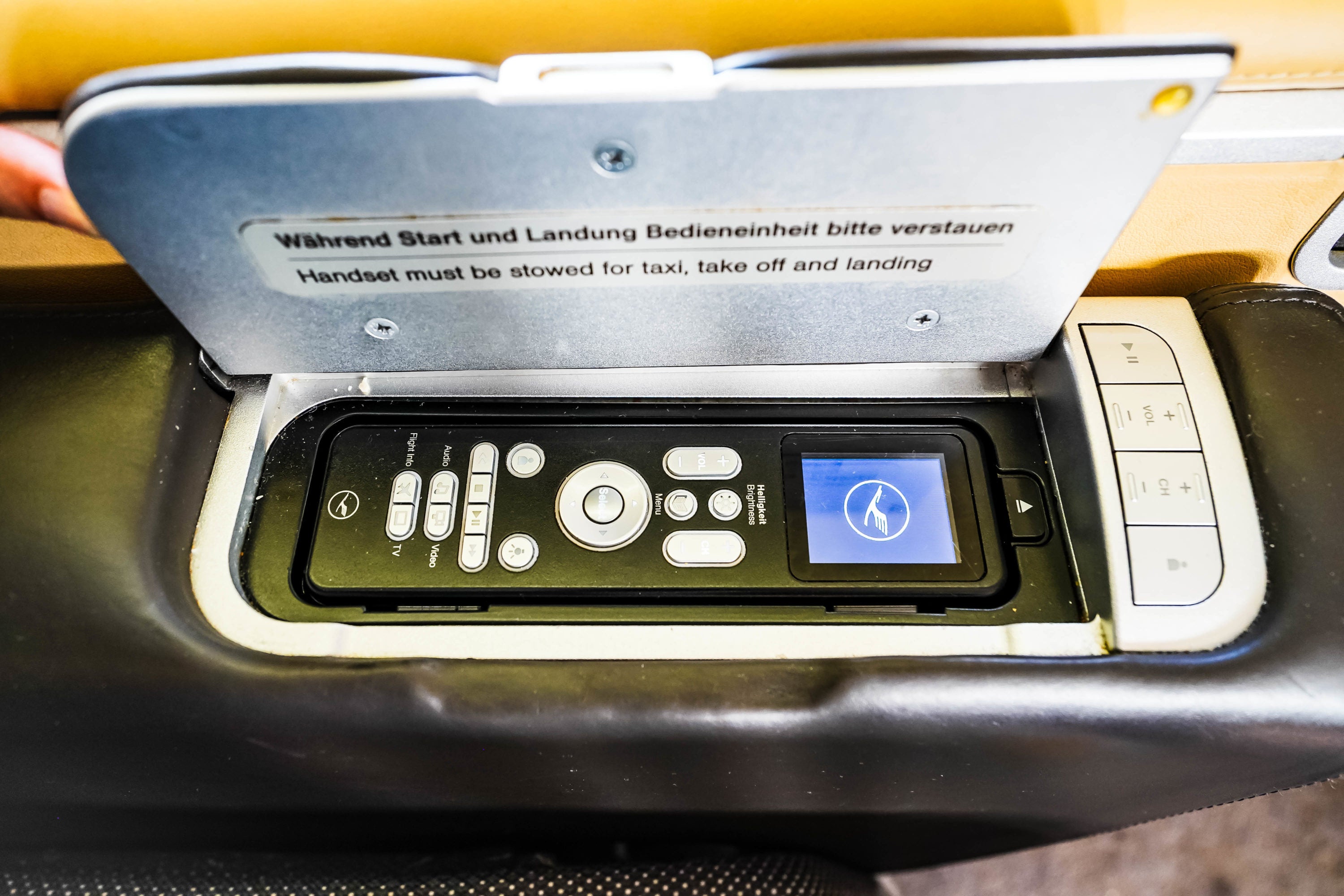 On the forward edge of the left armrest are 4 shortcut buttons to play/pause the screen, control the volume, sift through the channels, and a call attendant button.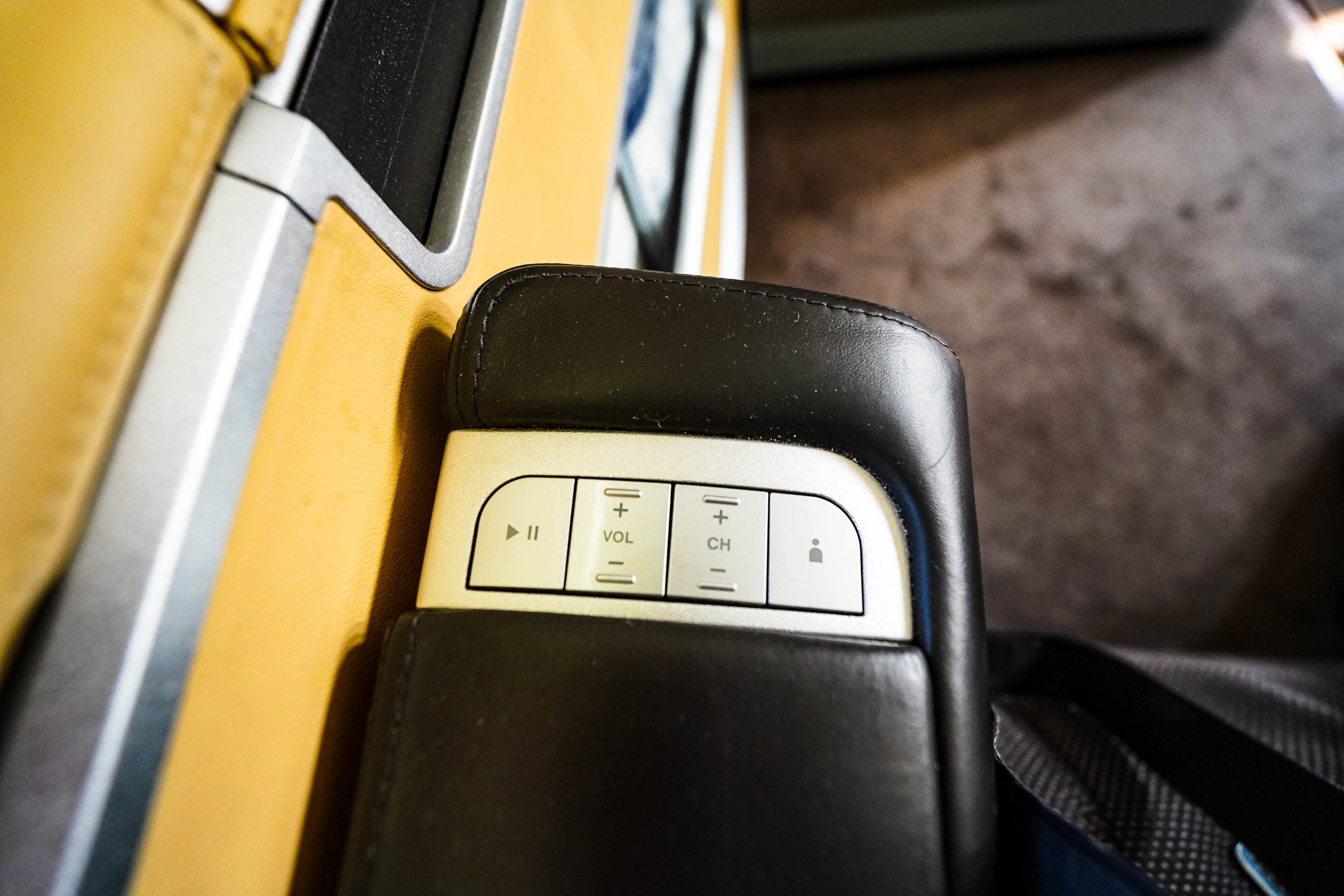 Lufthansa offers first class passengers noise-canceling Bose headphones to complement the IFE.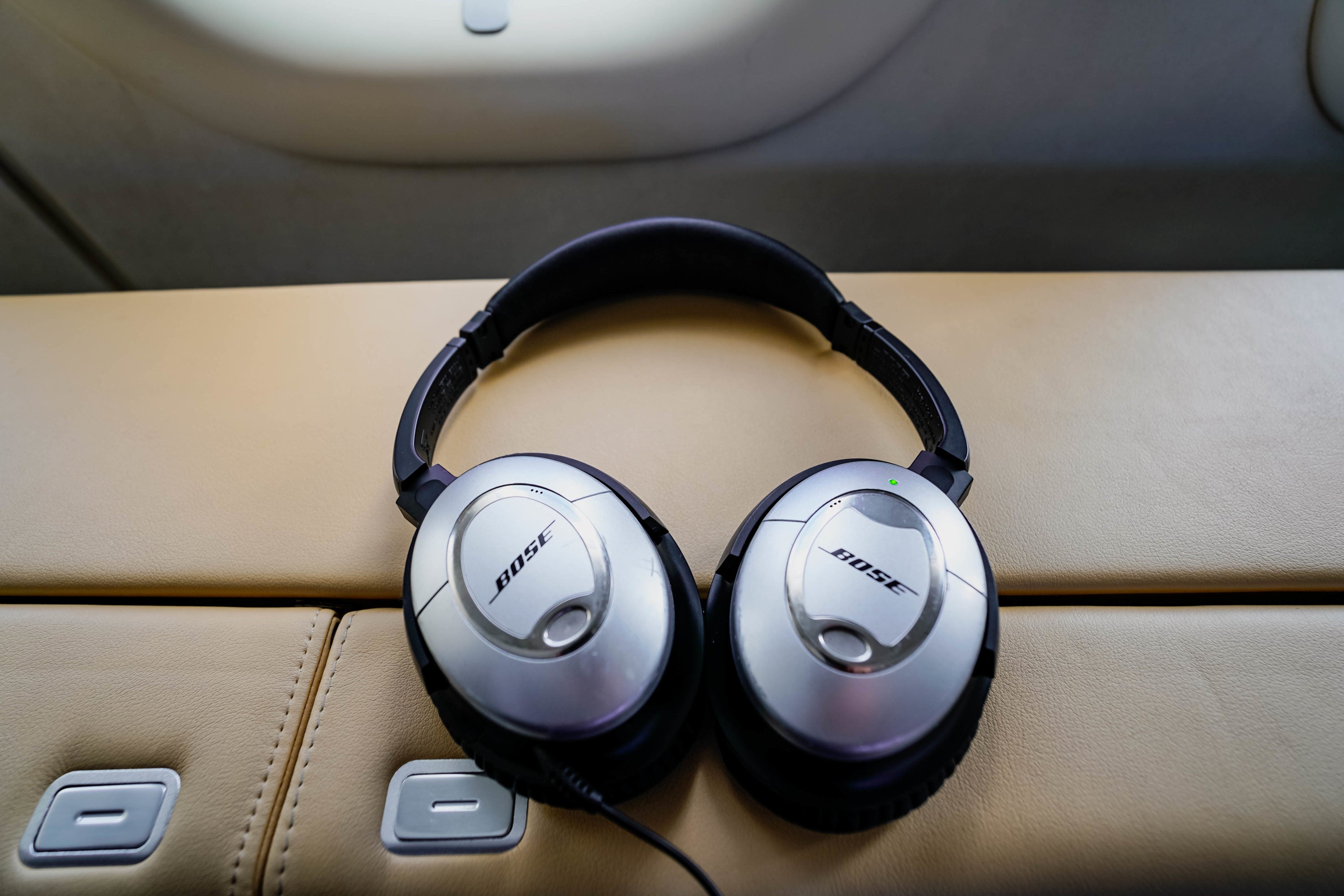 First class passengers are given a free Wi-Fi voucher worth €17 ($19).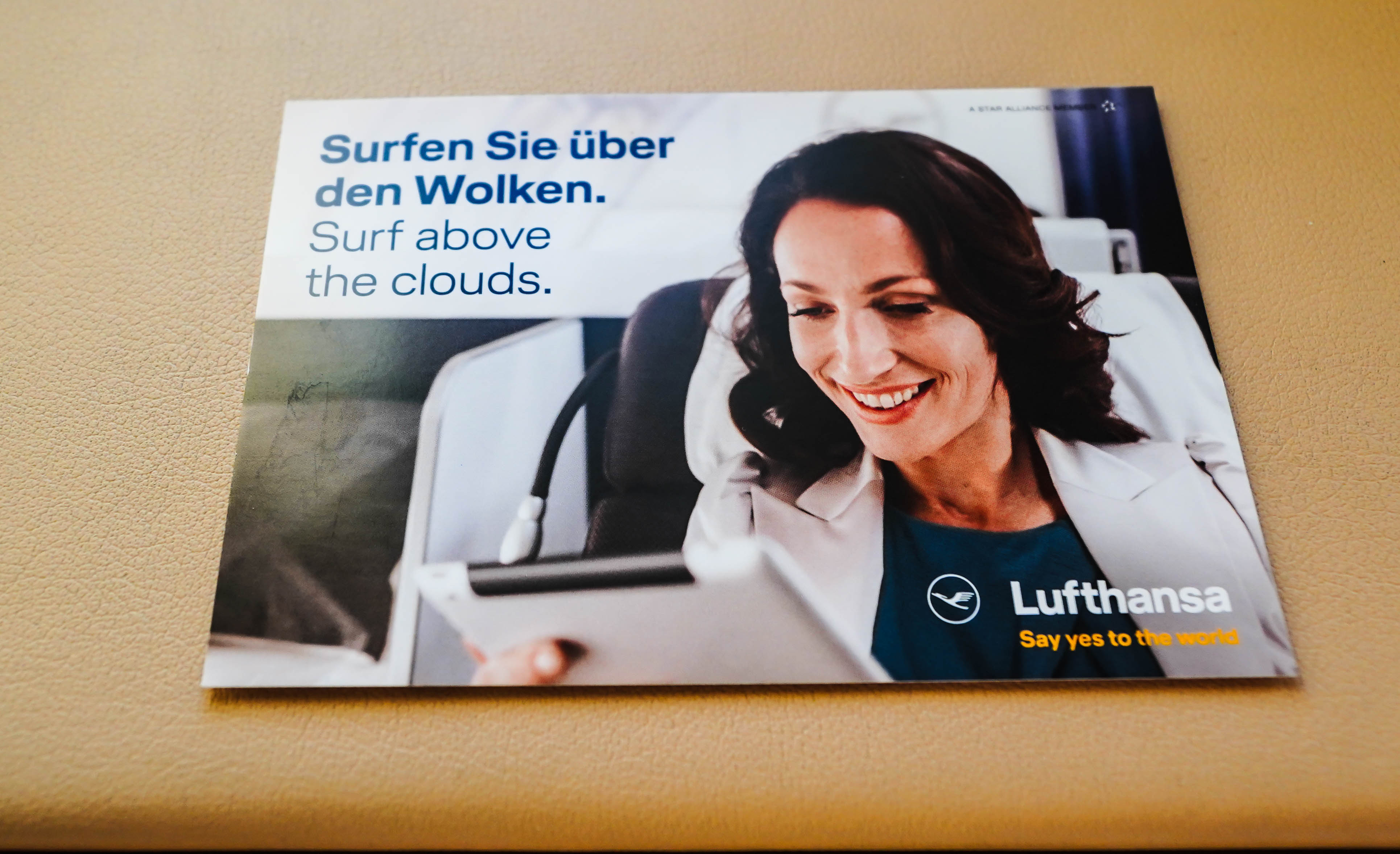 I did not watch anything on the IFE, nor use the Wi-Fi. All I wanted to do was enjoy the famed Lufthansa hospitality and get some sleep since I had hardly slept over the preceding 48 hours.
Plugs and Power Supply
On the front face of the left armrest, there is a conveniently placed universal power socket and 2 USB ports.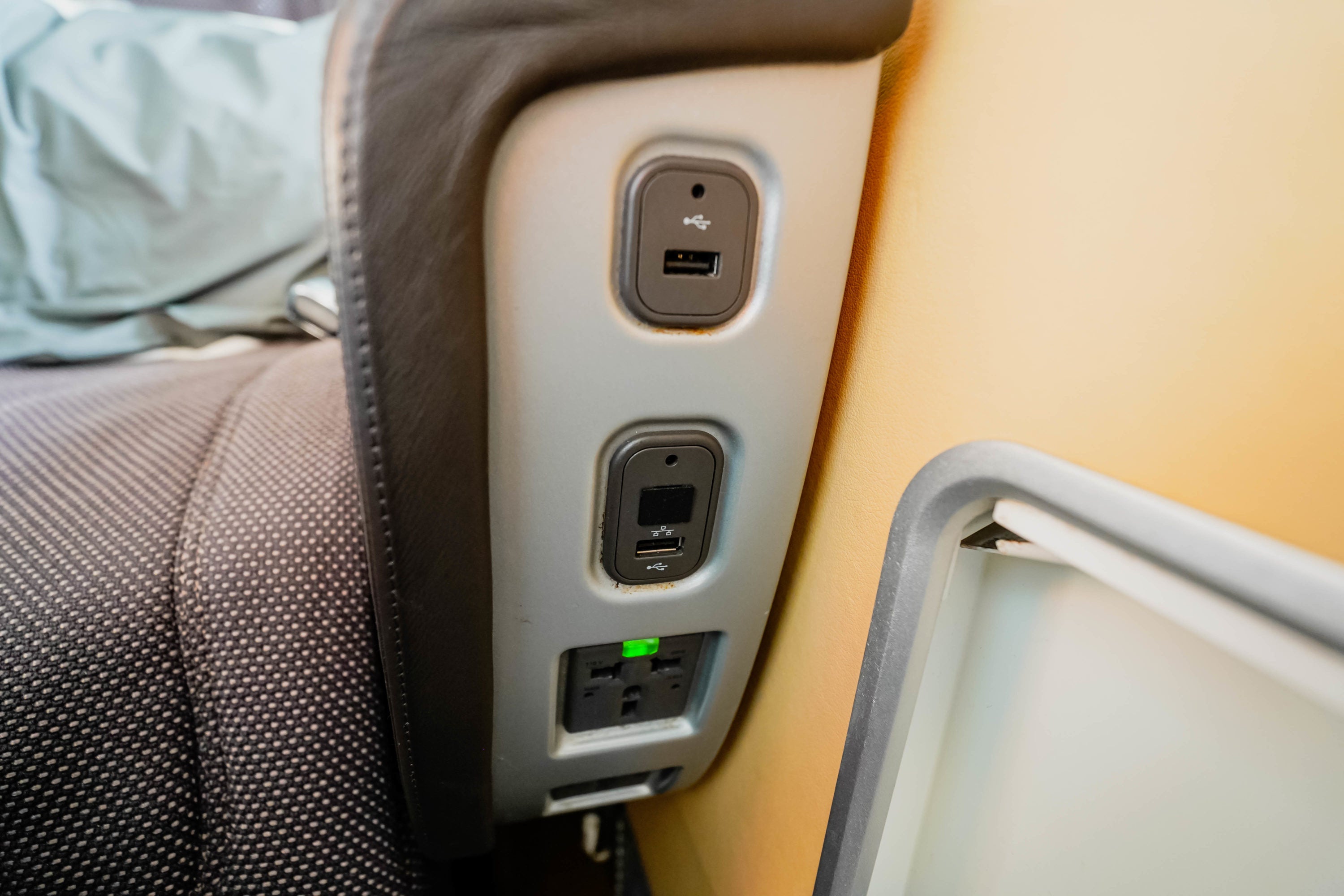 Food and Service
After I was escorted to my seat by Helga and had settled in, another flight attendant, Sarah, introduced herself and offered a warm towel and a selection of pre-takeoff beverages with macadamia nuts.
Of course, I opted for the Champagne, which is my go-to pre-takeoff beverage. This month, Lufthansa was serving 2 Champagnes on this particular route — the Pommery 2004 Cuvee Louise and the mild to full-bodied Laurent Perrier 2004 Grande Cuvee Alexandra Rosé, which I was particularly looking forward to.
Hot Tip: Lufthansa changes its Champagne offerings every month. Before traveling, you can check what they are serving on your flight that particular month.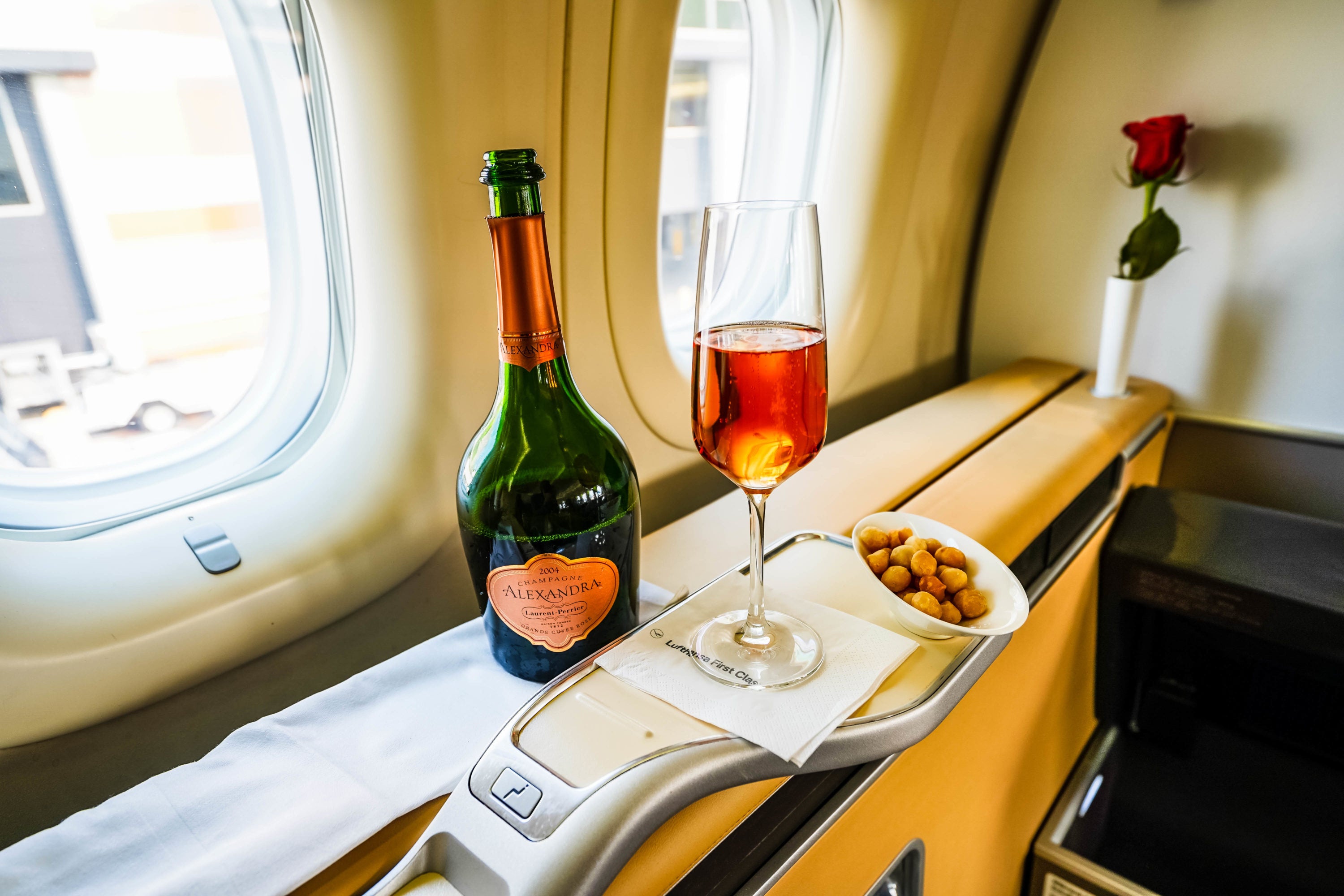 Shortly after, the usual amenities were offered which included the pajamas, slippers and amenity kit which are detailed in a separate section later in this review.
Boarding was completed at 5:45 p.m. I noticed that 6 out of the 8 seats were occupied with 2 couples, a gentleman, and myself.
Once we hit cursing altitude, the seat belt signs were switched off and the meal service began. The meal service was dine on-demand and as I was pretty hungry and sleepy, I decided to have dinner right away.
The wine and beverage menu was expansive with a selection of white wines, red wines, beers, and spirits on offer.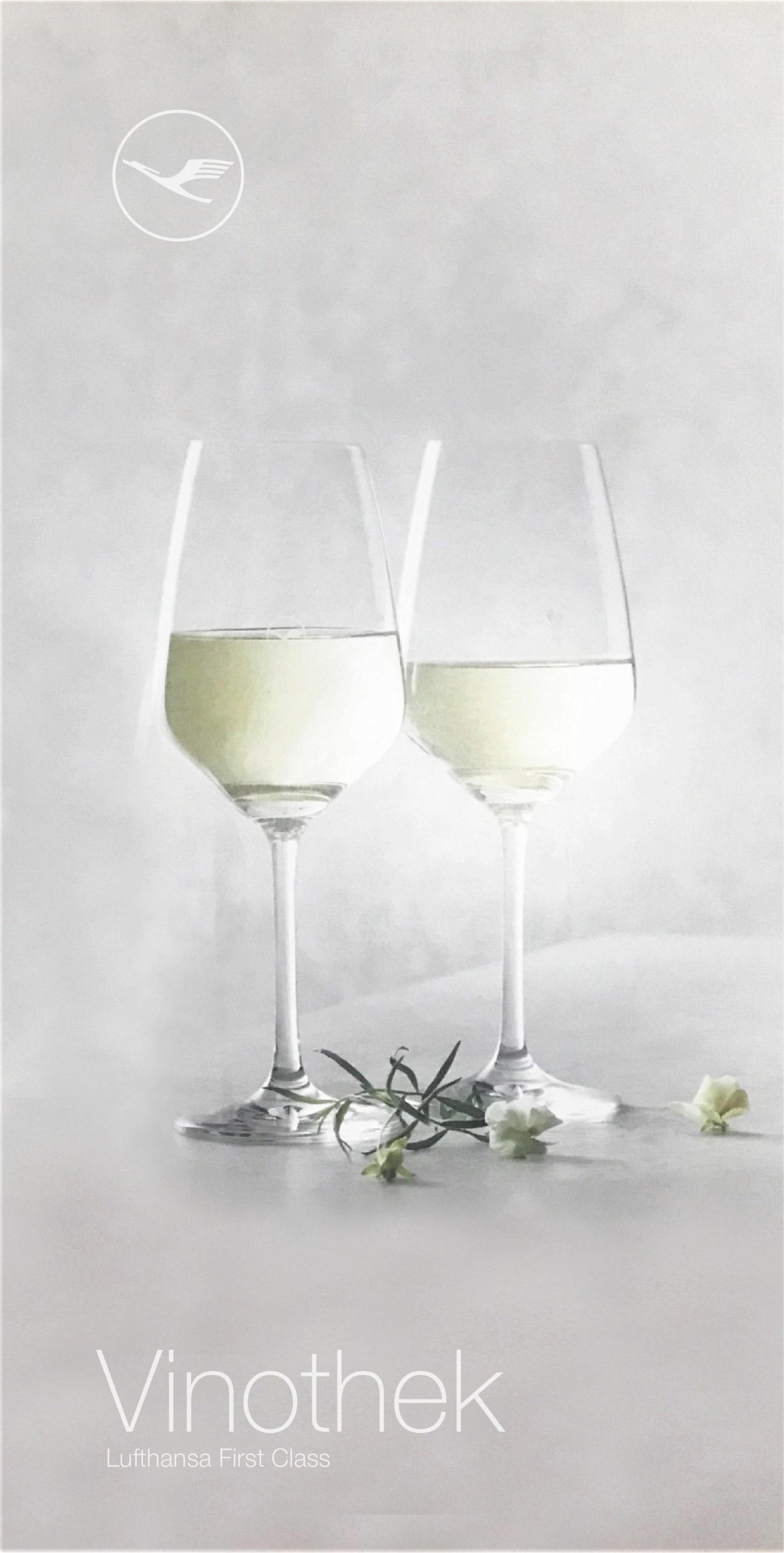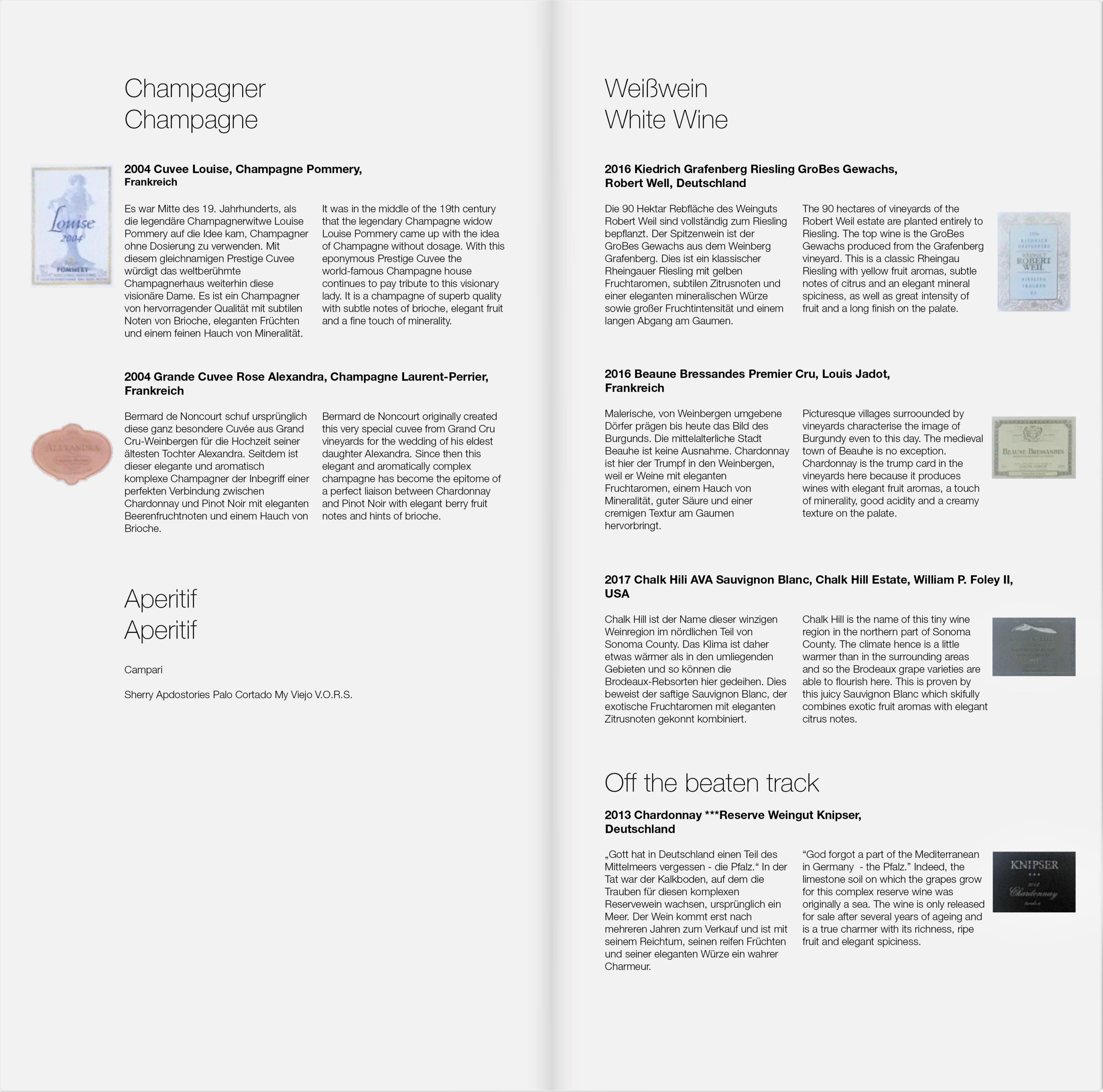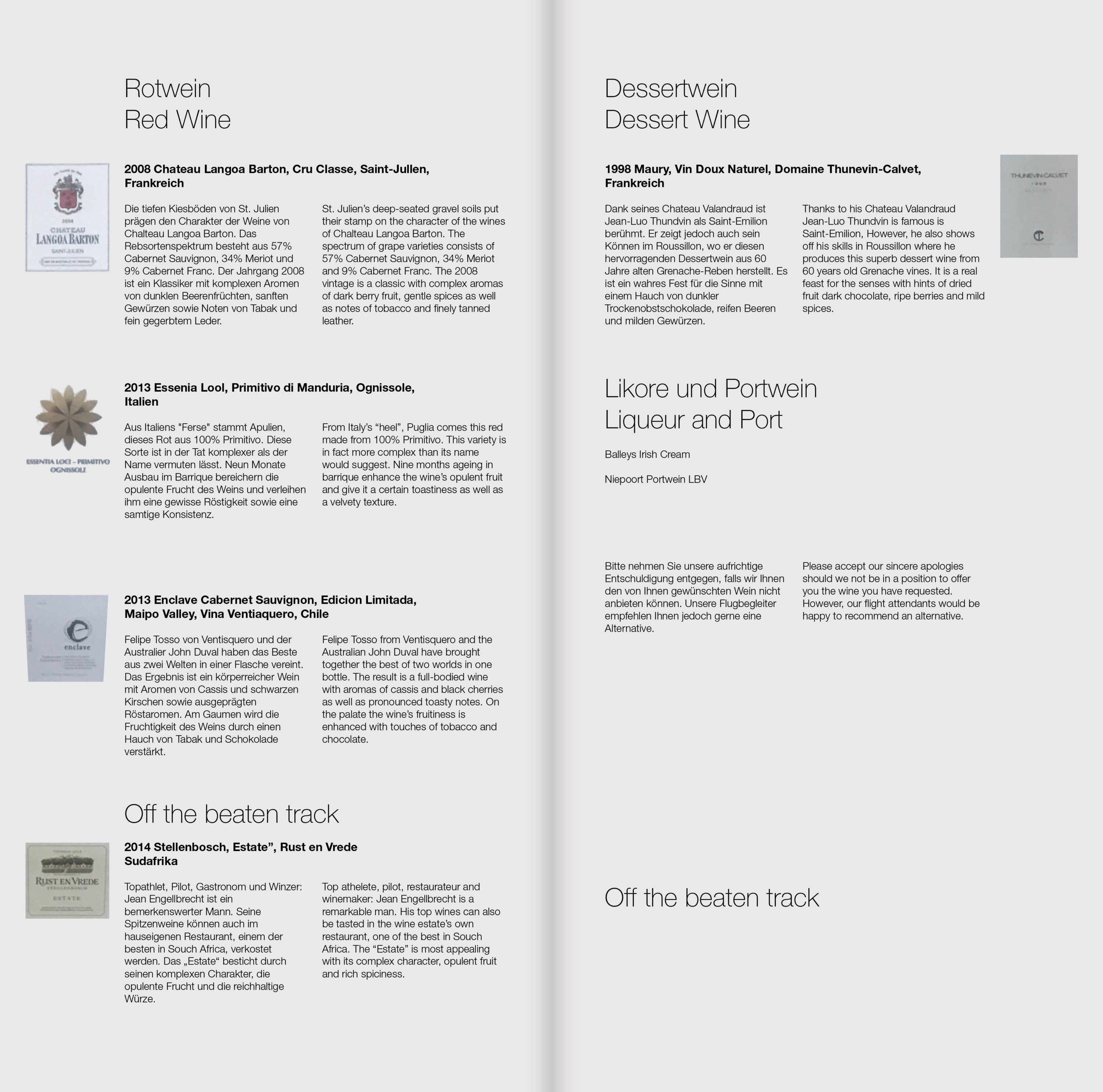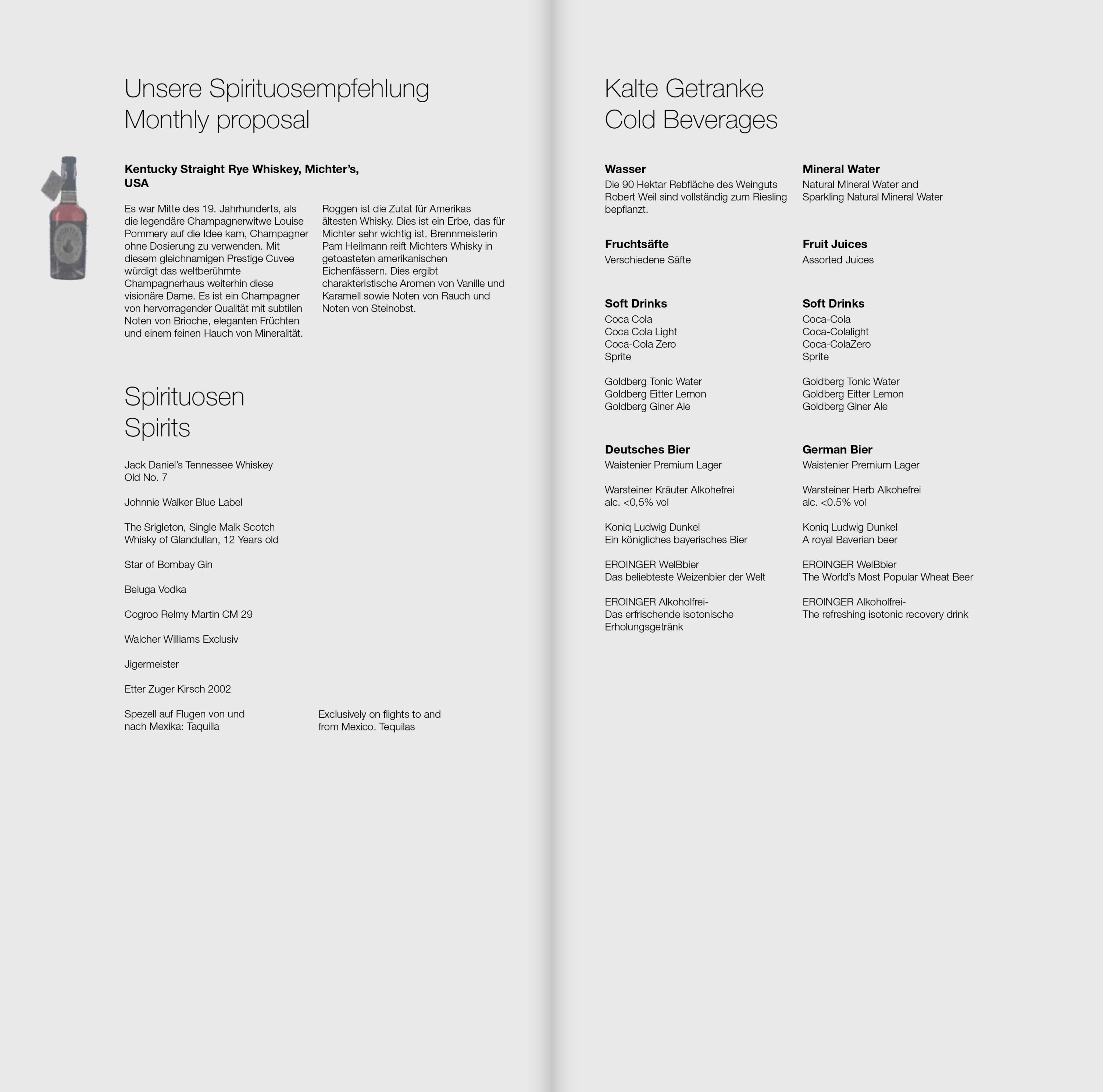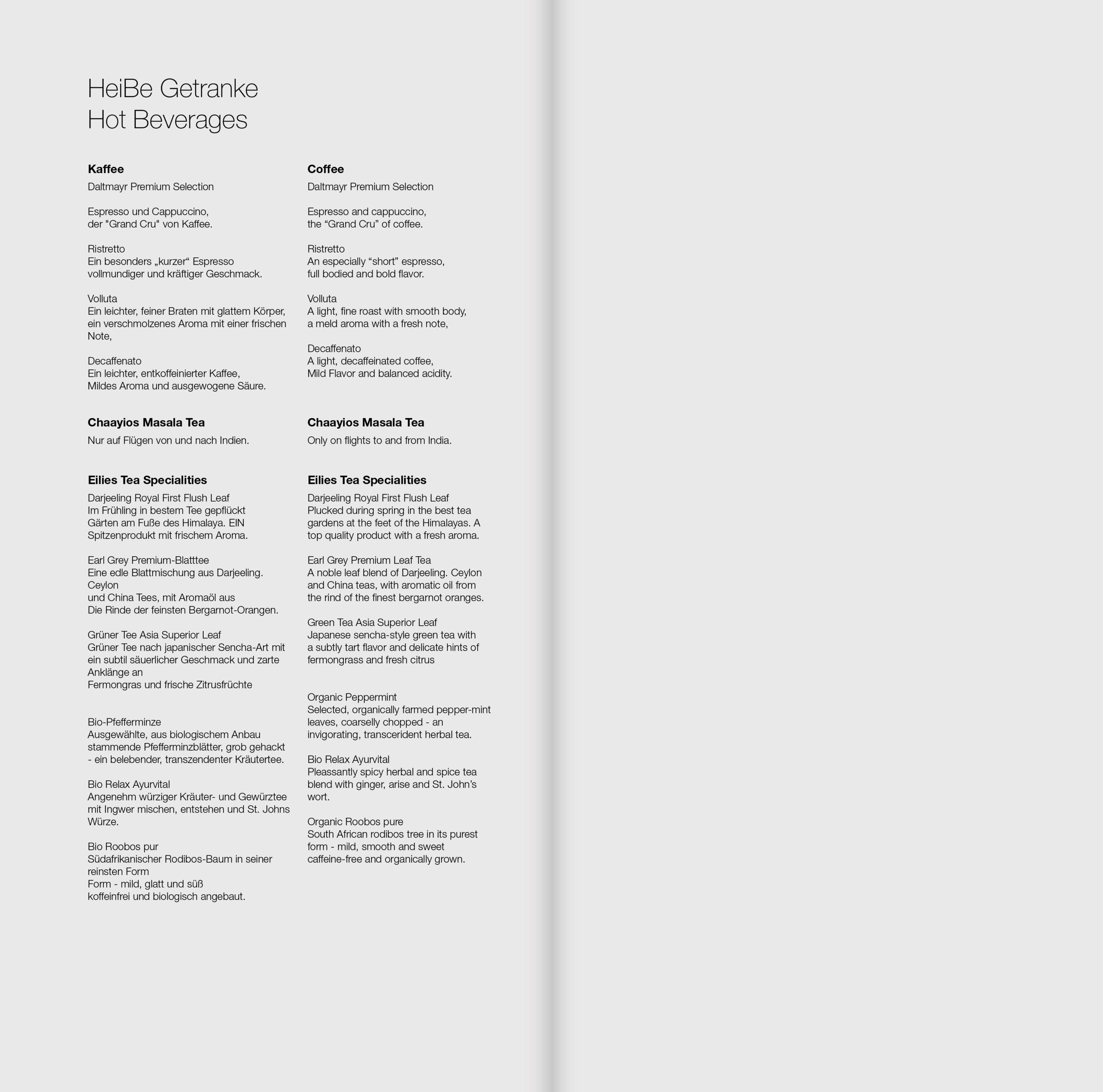 Lufthansa was offering 2 meal services on this red-eye across the Atlantic — dinner, which was dine on-demand, and breakfast, shortly before touch down in Frankfurt.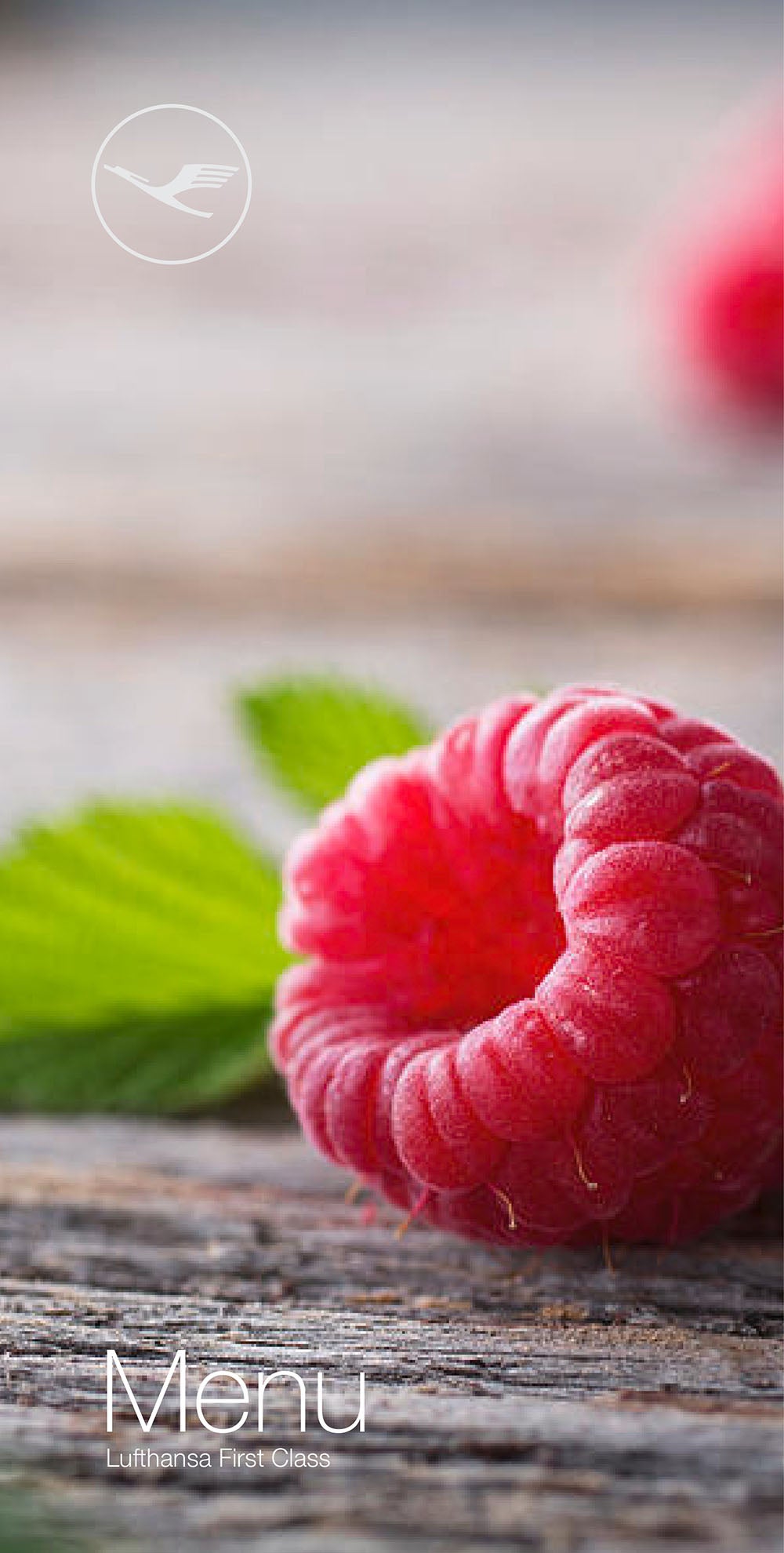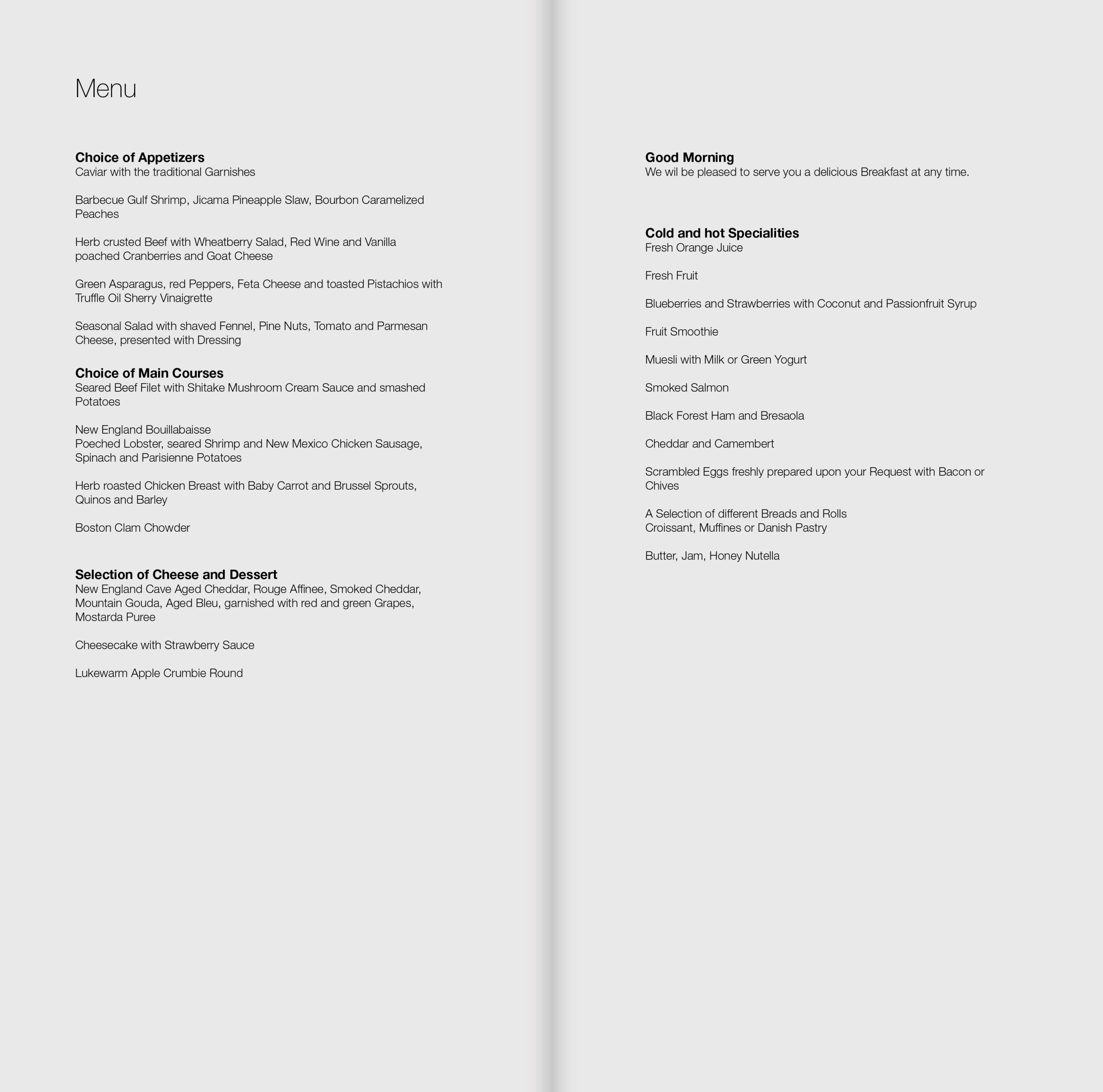 All 6 passengers in first class, including me, decided to have dinner almost immediately after take-off and Helga and Sarah handled the service beautifully.
Post-take-off, I continued with the Laurent Perrier 2004 Grande Cuvee Alexandra Rosé.
The meal service began with an amuse-bouche of feta cheese wrapped in cucumber with kalamata olives.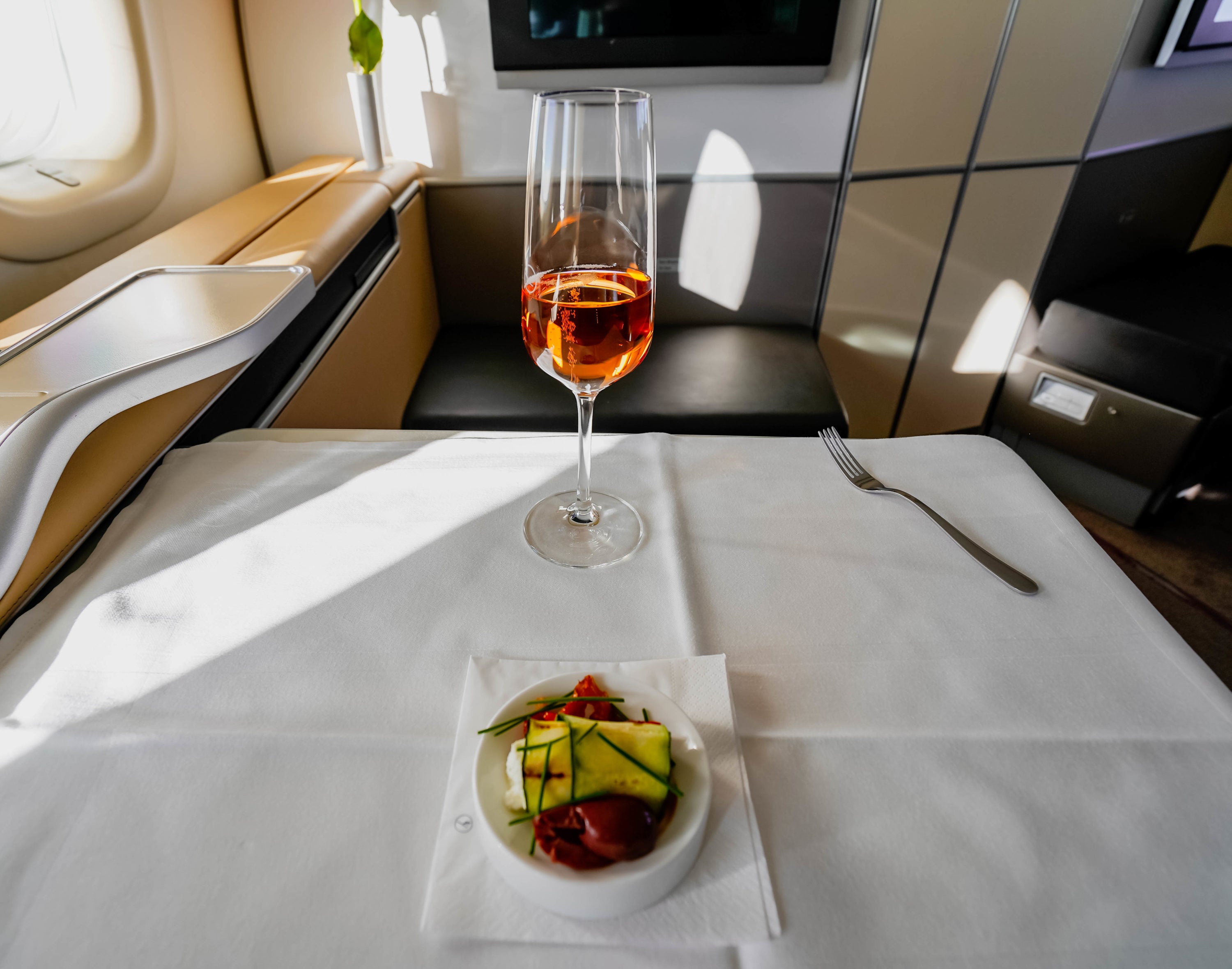 Once that was cleared, the table was set and Sarah rolled out the trolley with the caviar and a bottle of Beluga vodka. I am a fan of "old school" inflight service, where the food trolley is rolled out rather than the meals being individually served from the galley.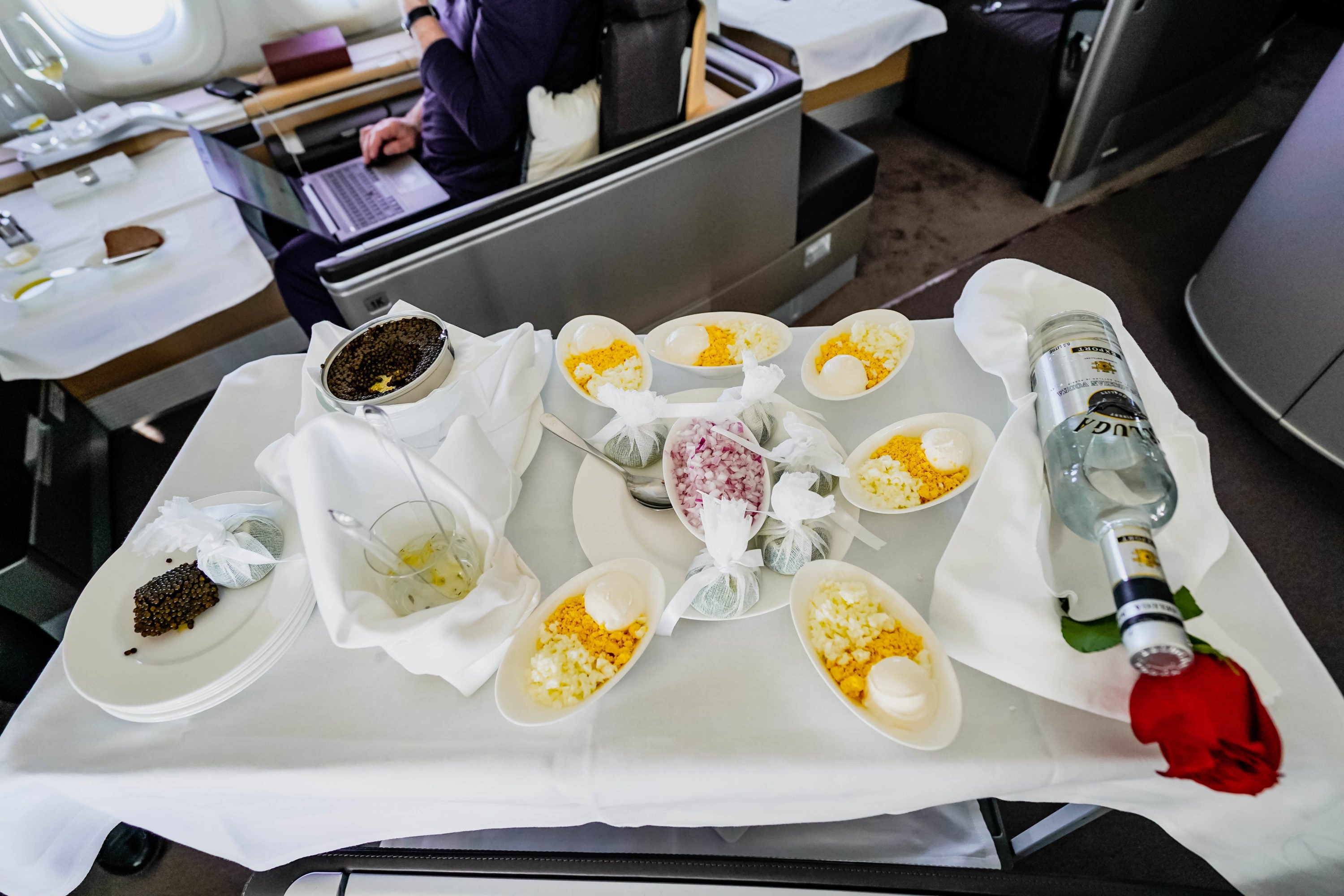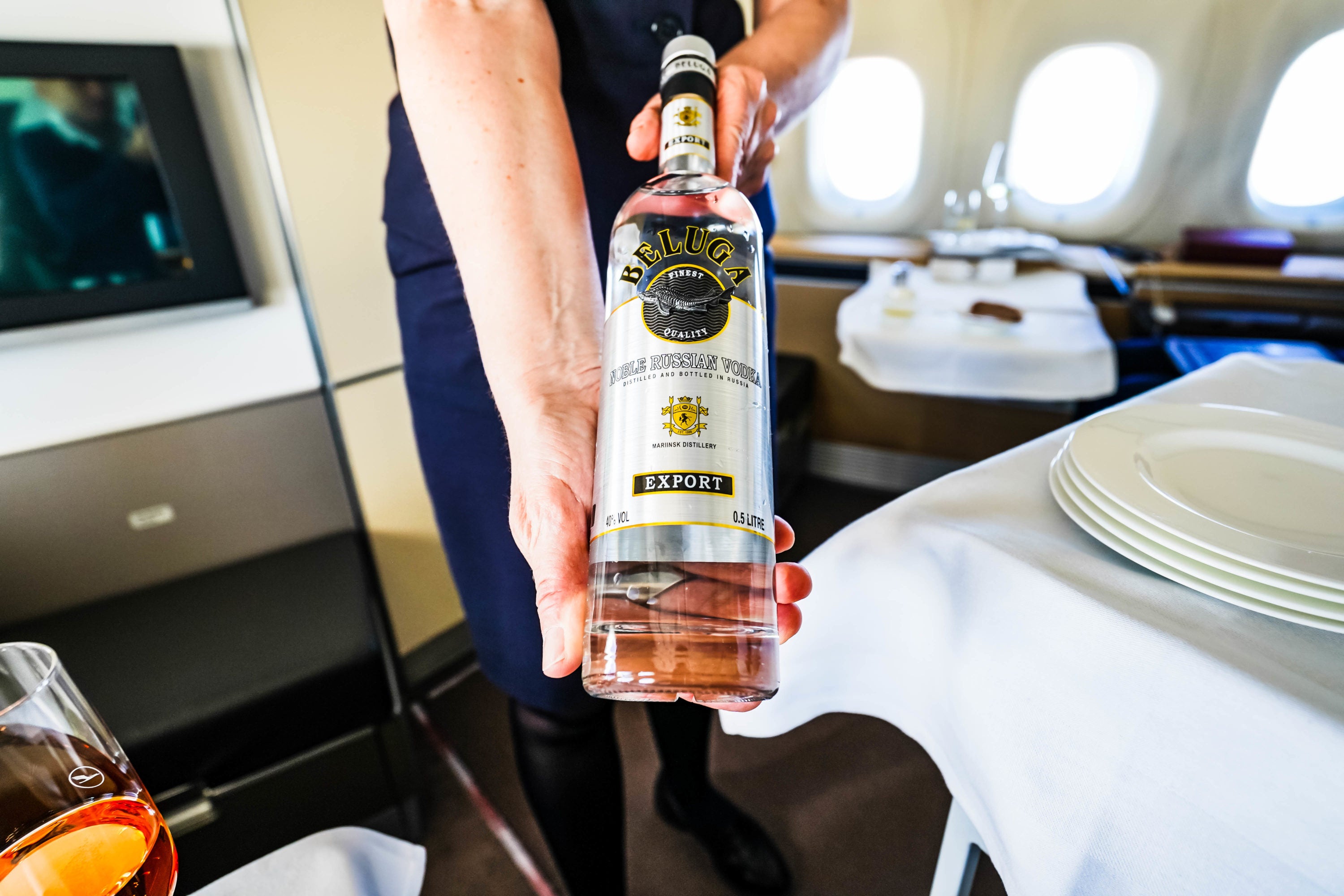 Unlike other airlines, who serve caviar in tins, Lufthansa serves hearty dollops of them. Not surprising considering Lufthansa serves 5% of the world caviar supply — now that is a whole lot of caviar.
I was plated a generous dollop of caviar served with toast, crème fraîche, eggs, and the traditional garnishes. I wasn't too fussed about being served caviar with toast, though my preference is caviar with blinis. I heartily devoured the caviar and washed it down with a shot of Beluga vodka, which went down quite smoothly.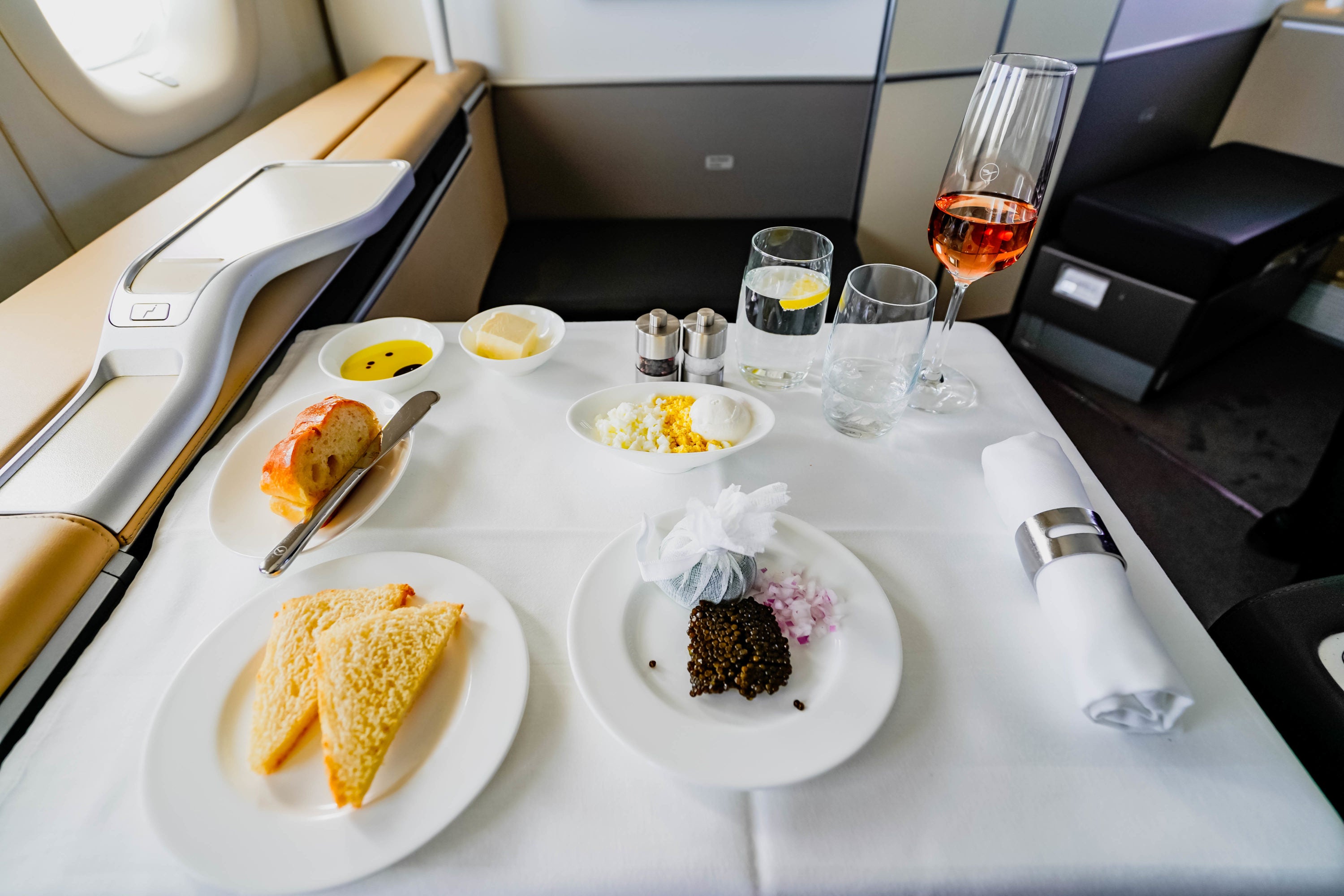 After the caviar serving, the appetizer trolley was rolled in.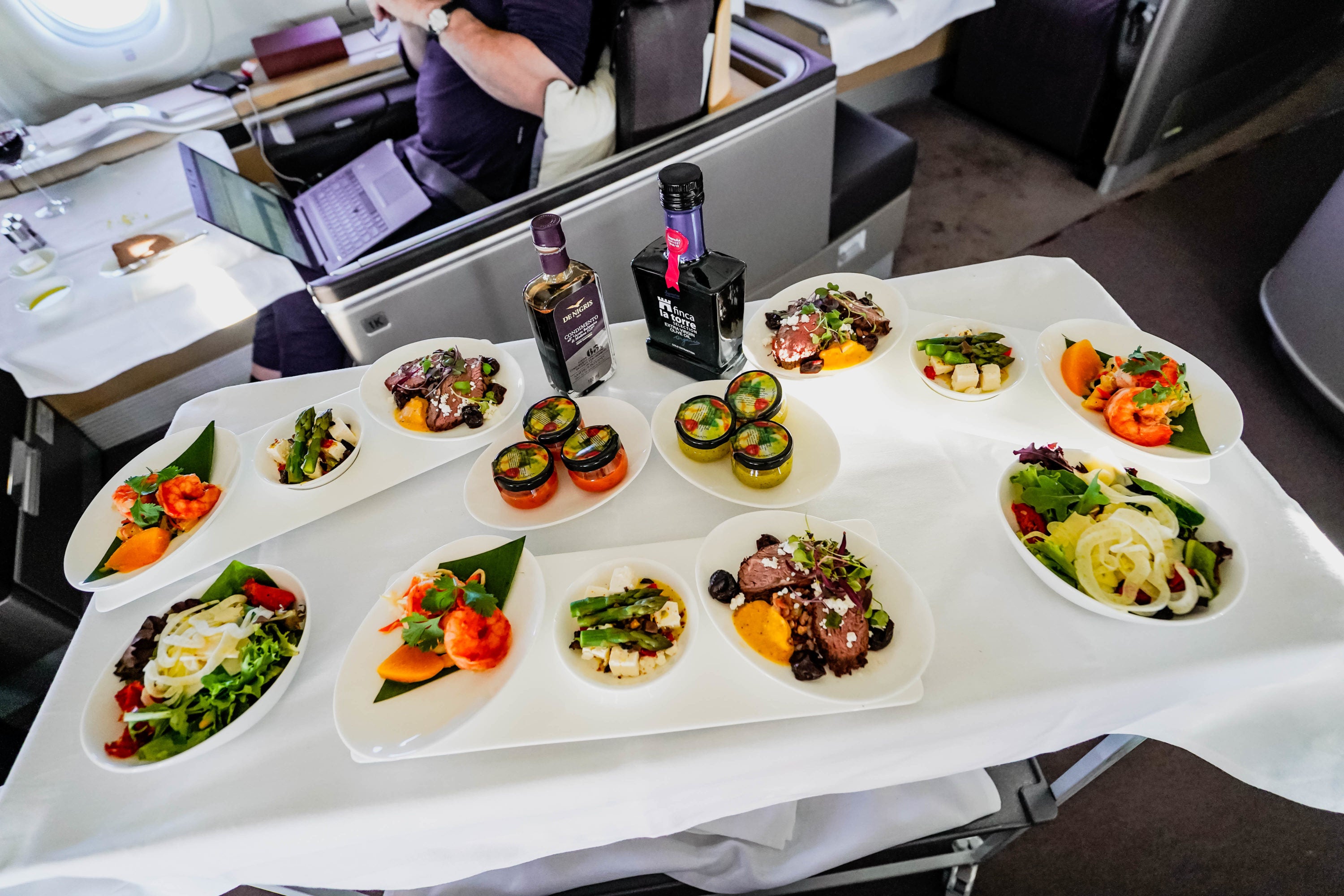 There were 4 appetizers on offer, including a salad. However, after 2 generous servings of caviar, I did not want to fill myself up and I also wanted to try 2 mains, so I chose only 1 appetizer — the herb-crusted beef with wheatberry salad, red wine and vanilla-poached cranberries, and goat cheese, which was delicious.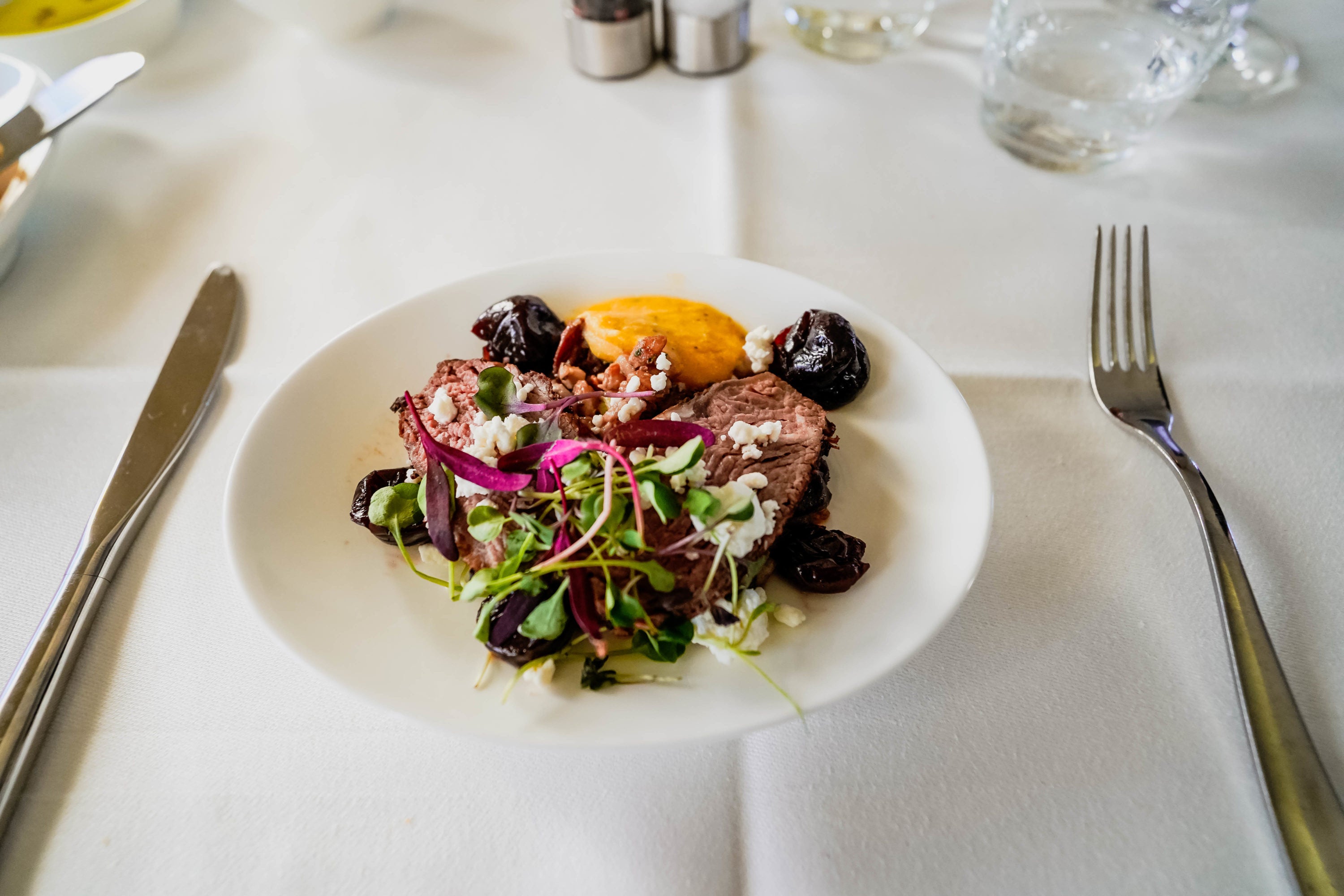 For the mains, I was a bit greedy and chose 2 dishes — the Boston clam chowder and the New England bouillabaisse which consisted of poached lobster, seared shrimp, New Mexico chicken sausage, spinach, and Parisienne potatoes. I chose the 2017 Kiedrich Grafenberg Riesling which was crisp and fruity to pair with both my main dishes.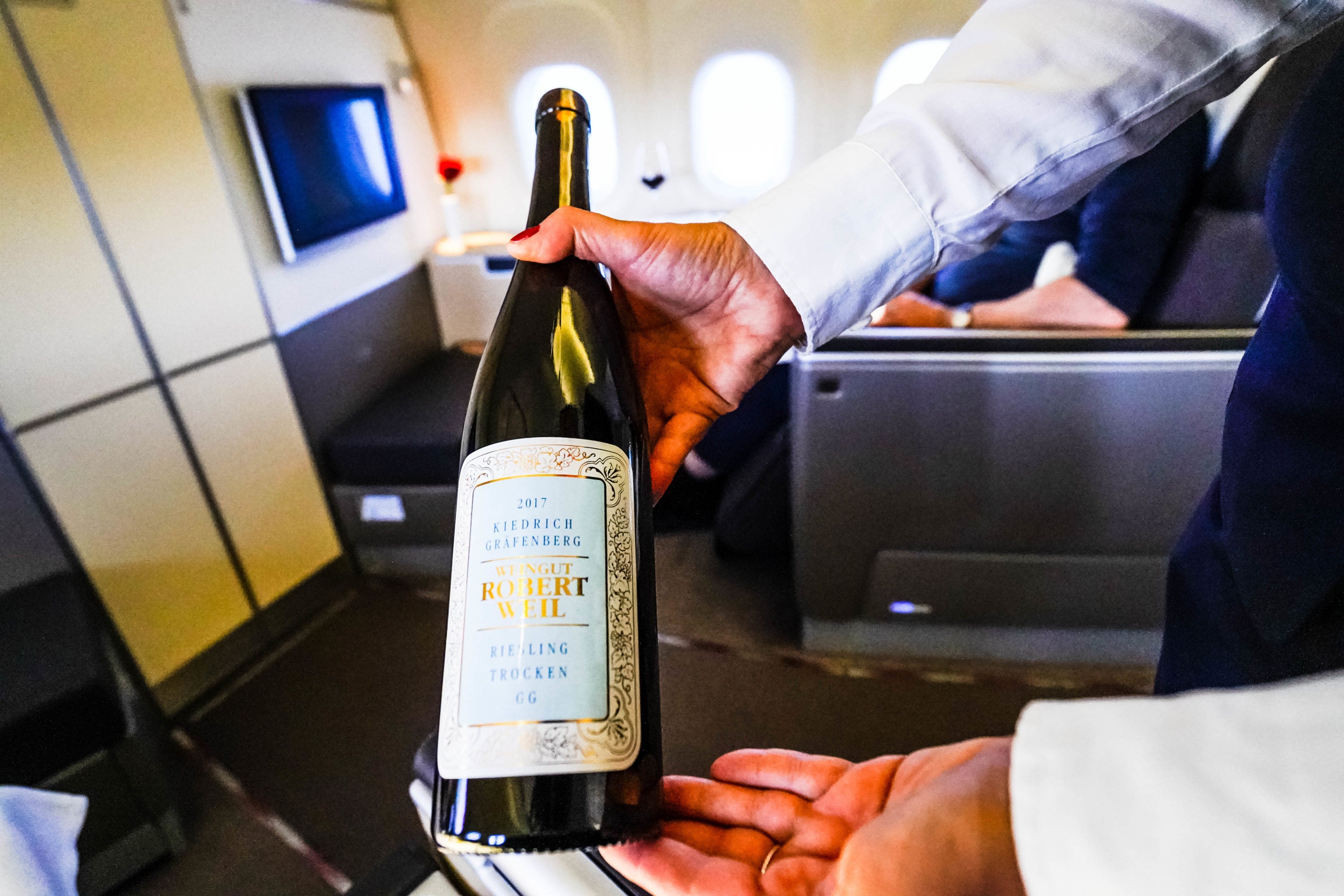 I really enjoyed both dishes. The chowder was creamy and rich and the bouillabaisse broth was consistent and not too fishy.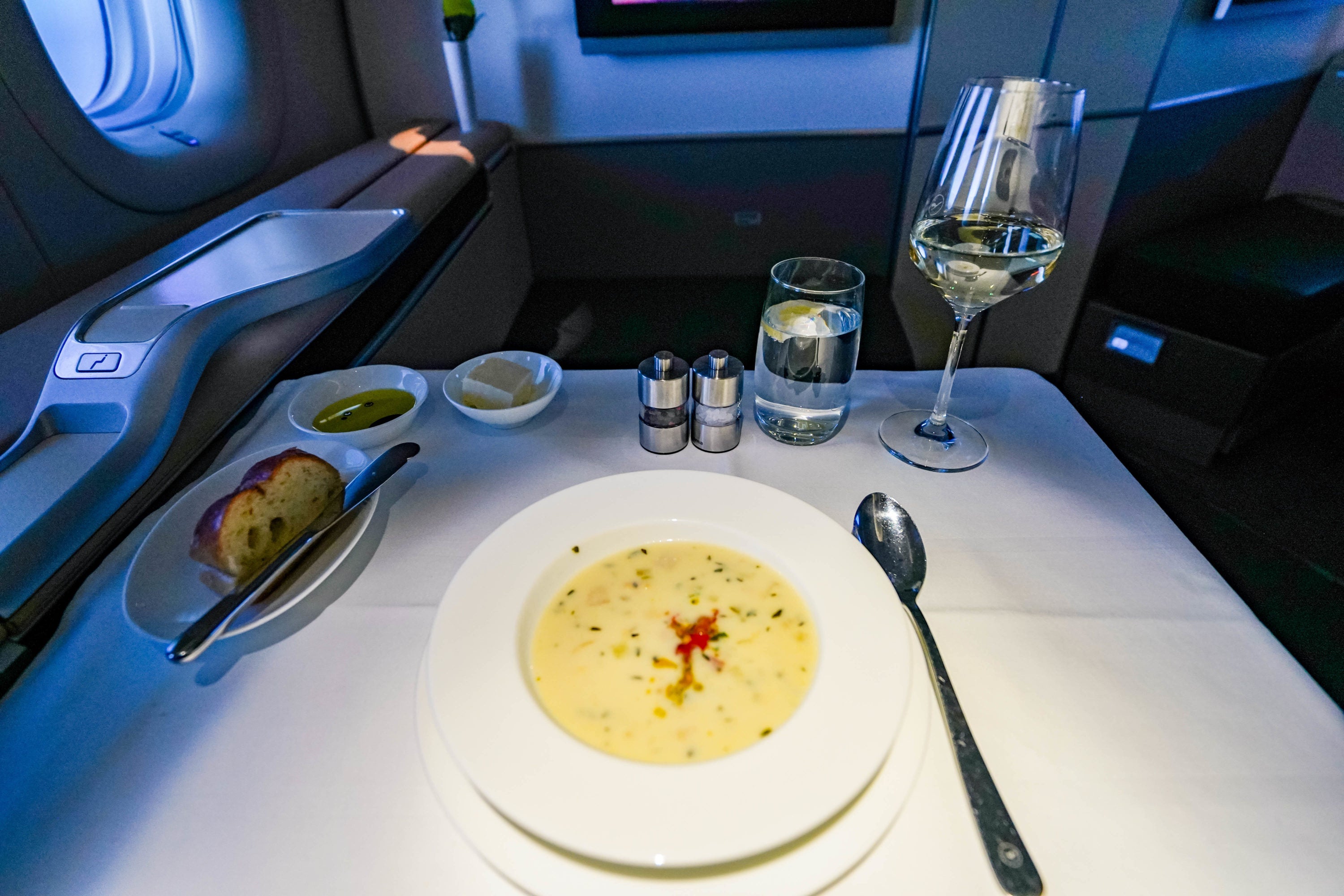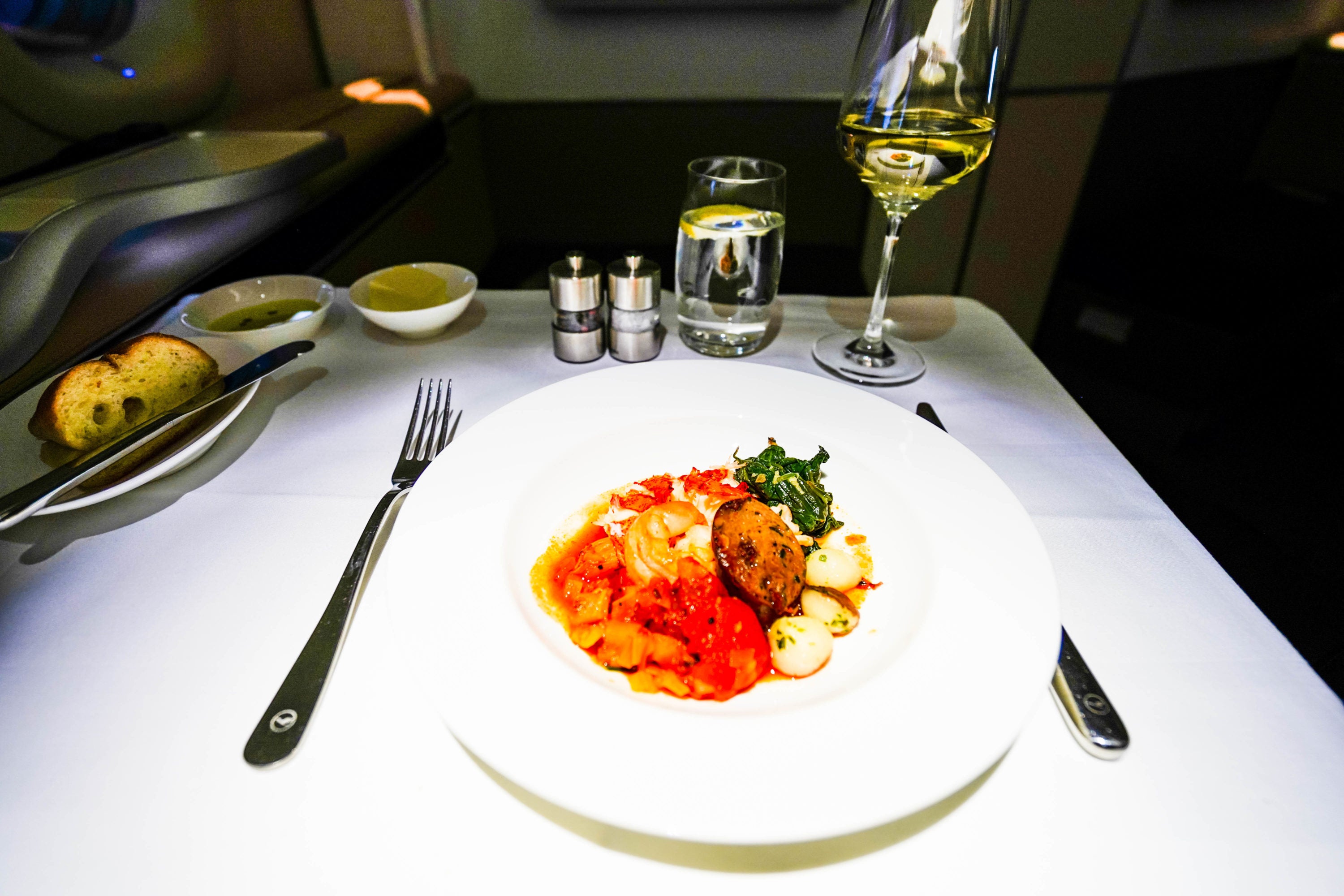 I skipped the cheese course and just opted for the dessert, for which I chose the delectable cheesecake with strawberry sauce.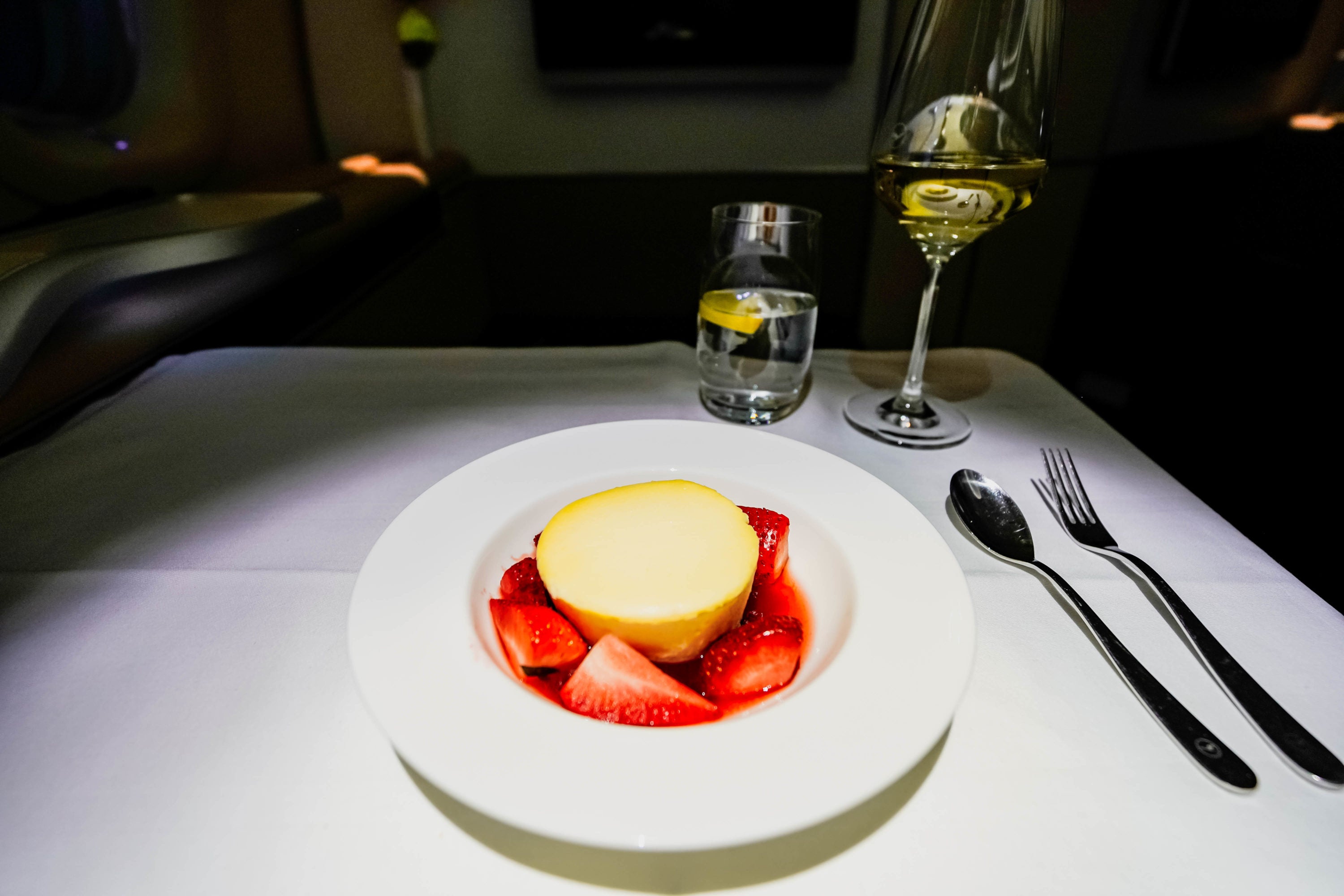 By now, I was ready to hit the sack and requested Sarah for the turn-down service. As I returned to my seat after freshening up in the washroom, the bed was prepared, privacy partition raised, window shades drawn, and a water bottle was placed. All I had to do was jump into bed and get some winks in. I requested Sarah to not wake me up for breakfast, as I was literally running on fumes and wanted to get in as much sleep as I could.
The 2-meter long bed was spacious and the firm mattress and temperature-regulating duvet made for one of the most comfortable naps I've had in the sky.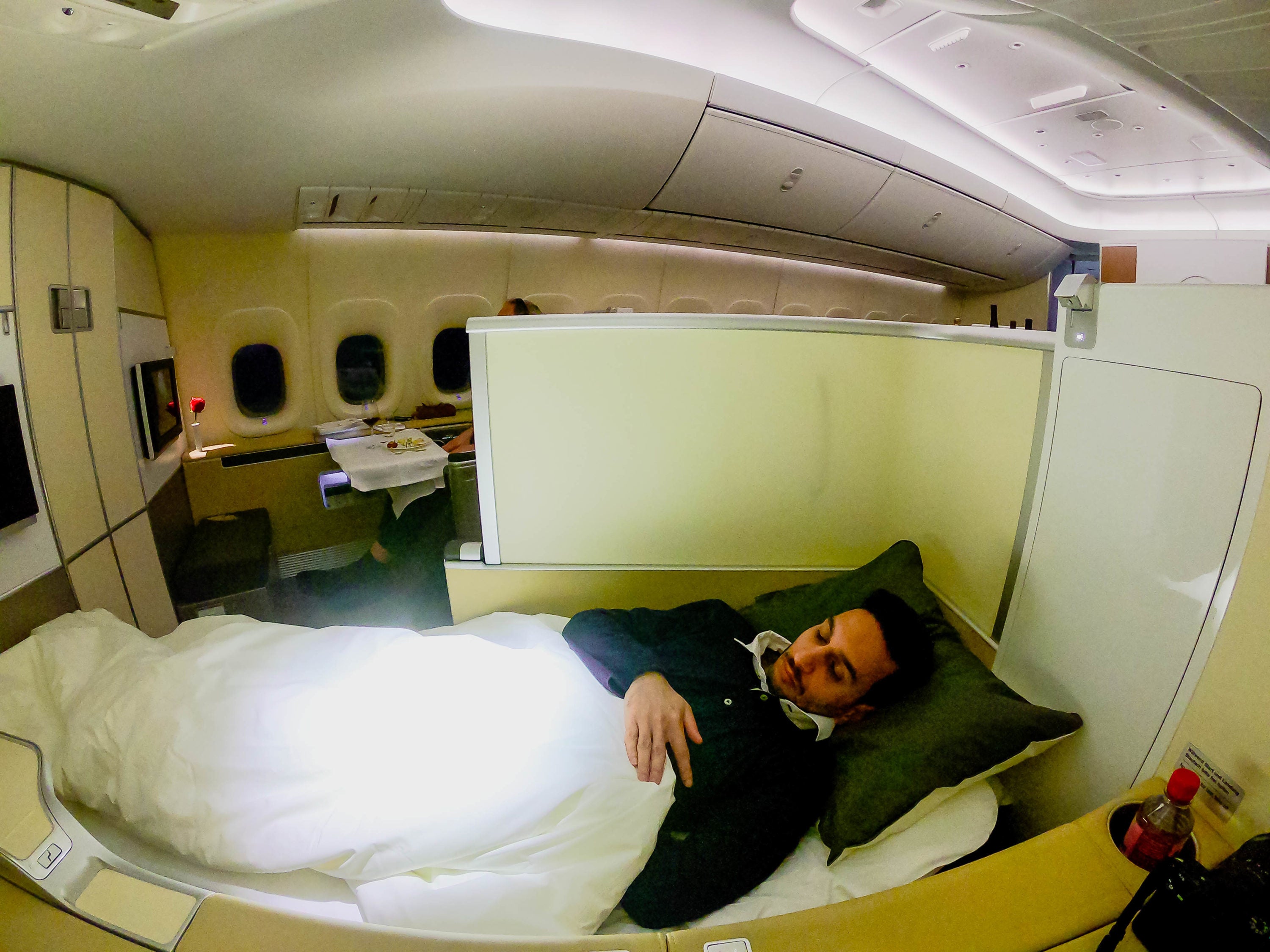 About 45 minutes before landing, Sarah woke me up and offered me a cup of coffee and breakfast croissants, which I went for. Both Sarah and Helga were extremely professional, courteous and provided a flawless service which was a testament to German ingenuity.
Amenity Kit
On this flight, Lufthansa provided first class passengers the Escada amenity kit.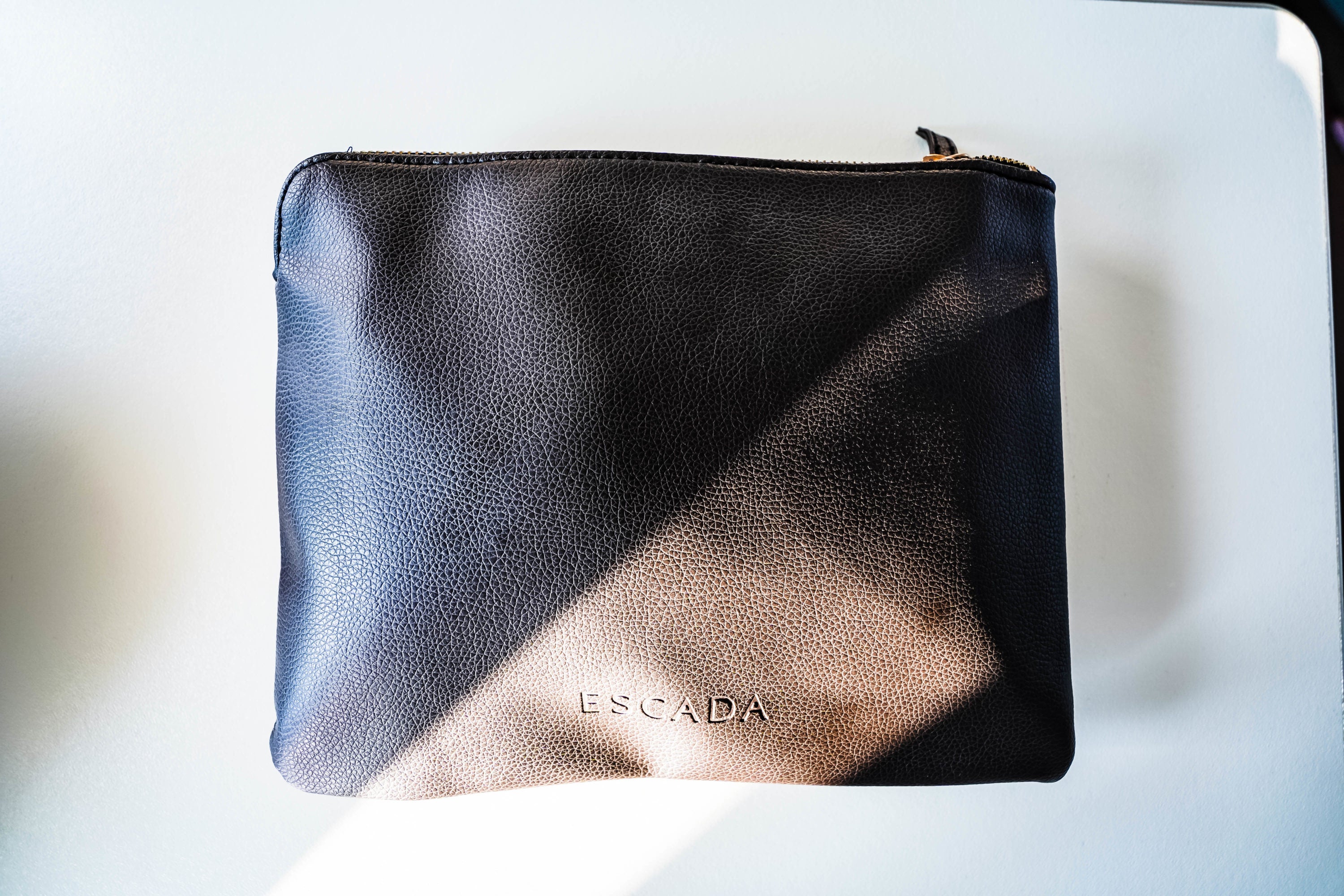 The kit contained La Praire-branded hand cream, eye cream, and lip balm, comb, earplugs, eye mask, socks, toothpaste, toothbrush, shoehorn, and a mint.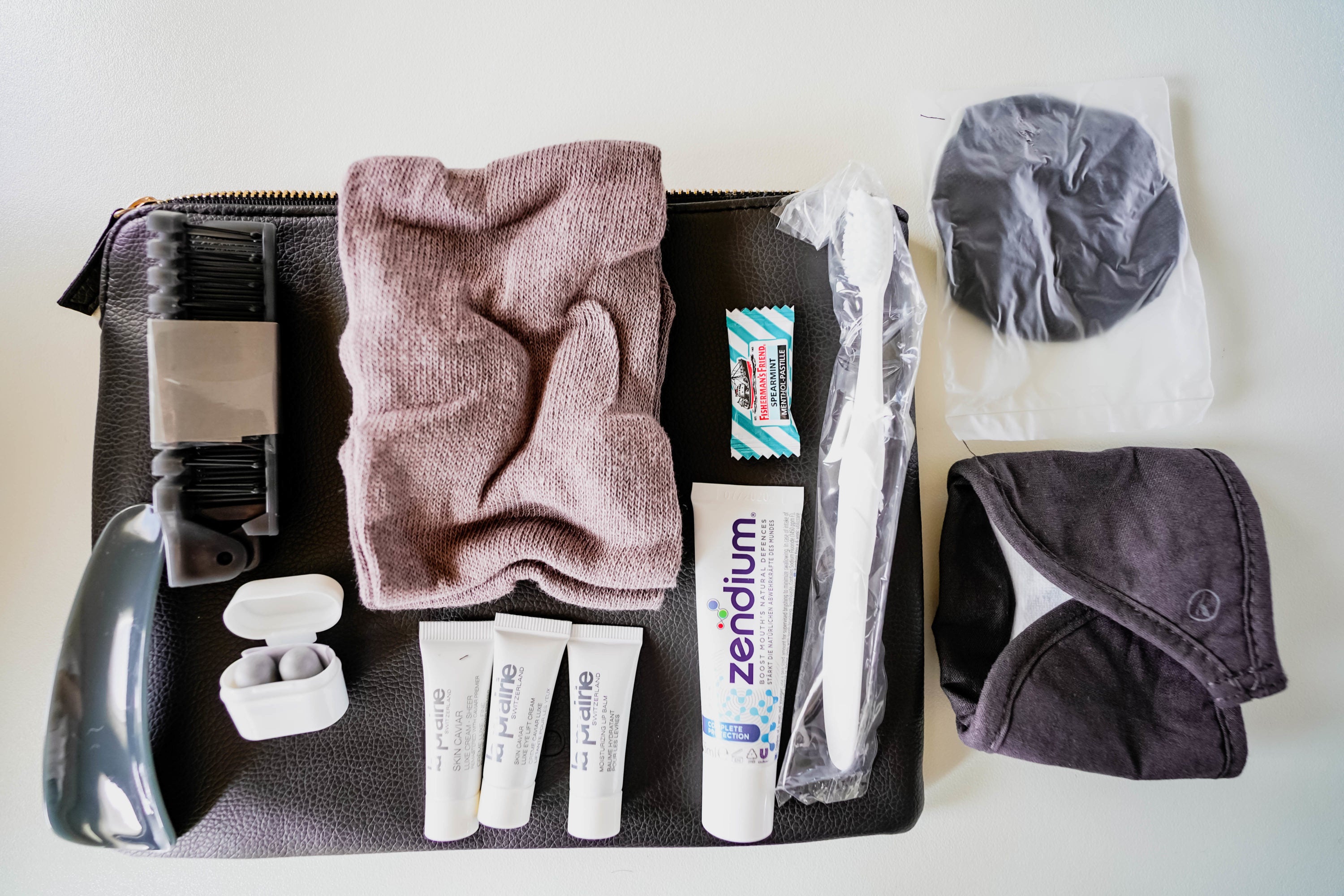 The German-designed Van Laack pajama suits and slippers are provided to first class passengers. The pajama suit fabric was soft and comfortable and one of the best I have worn in the air.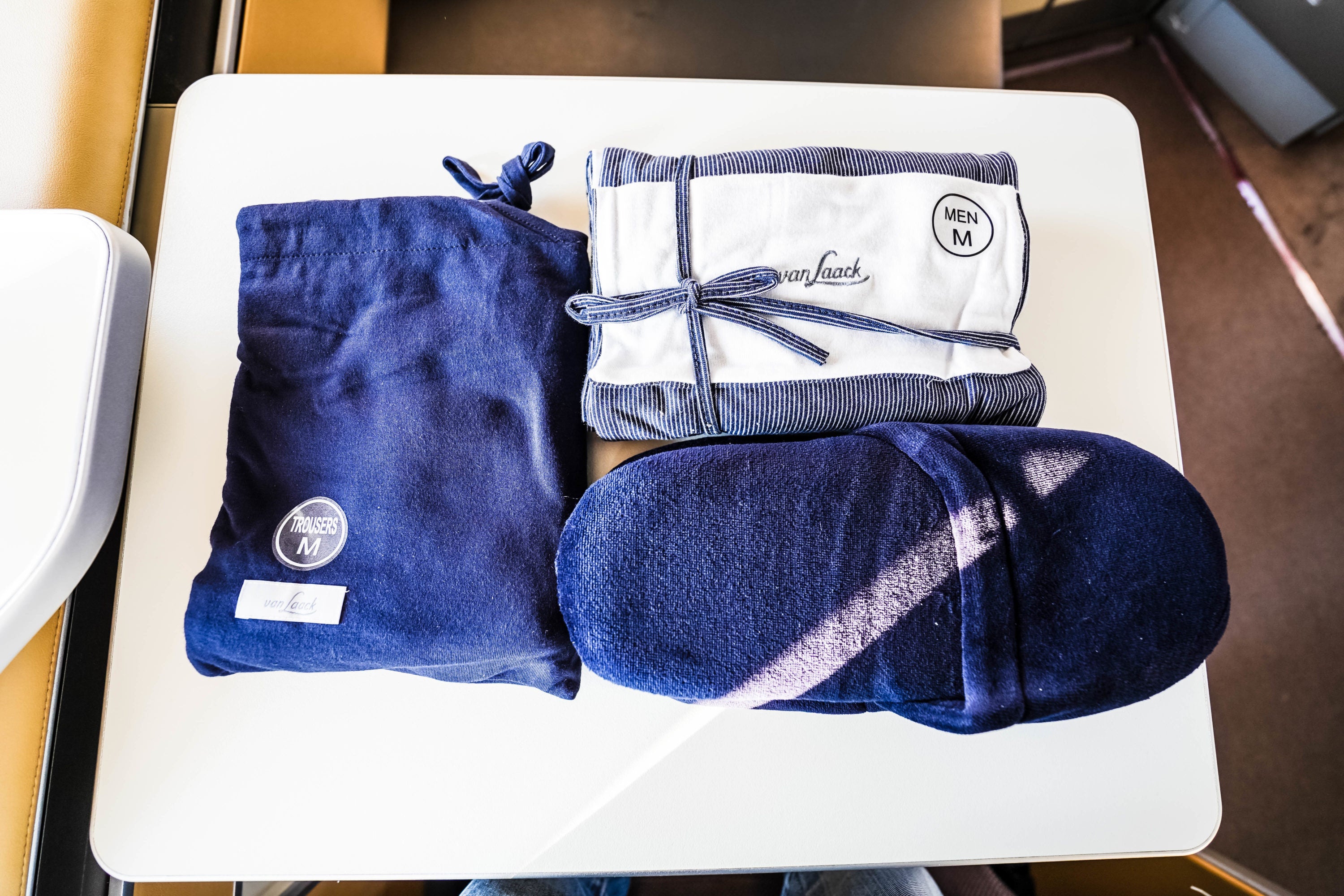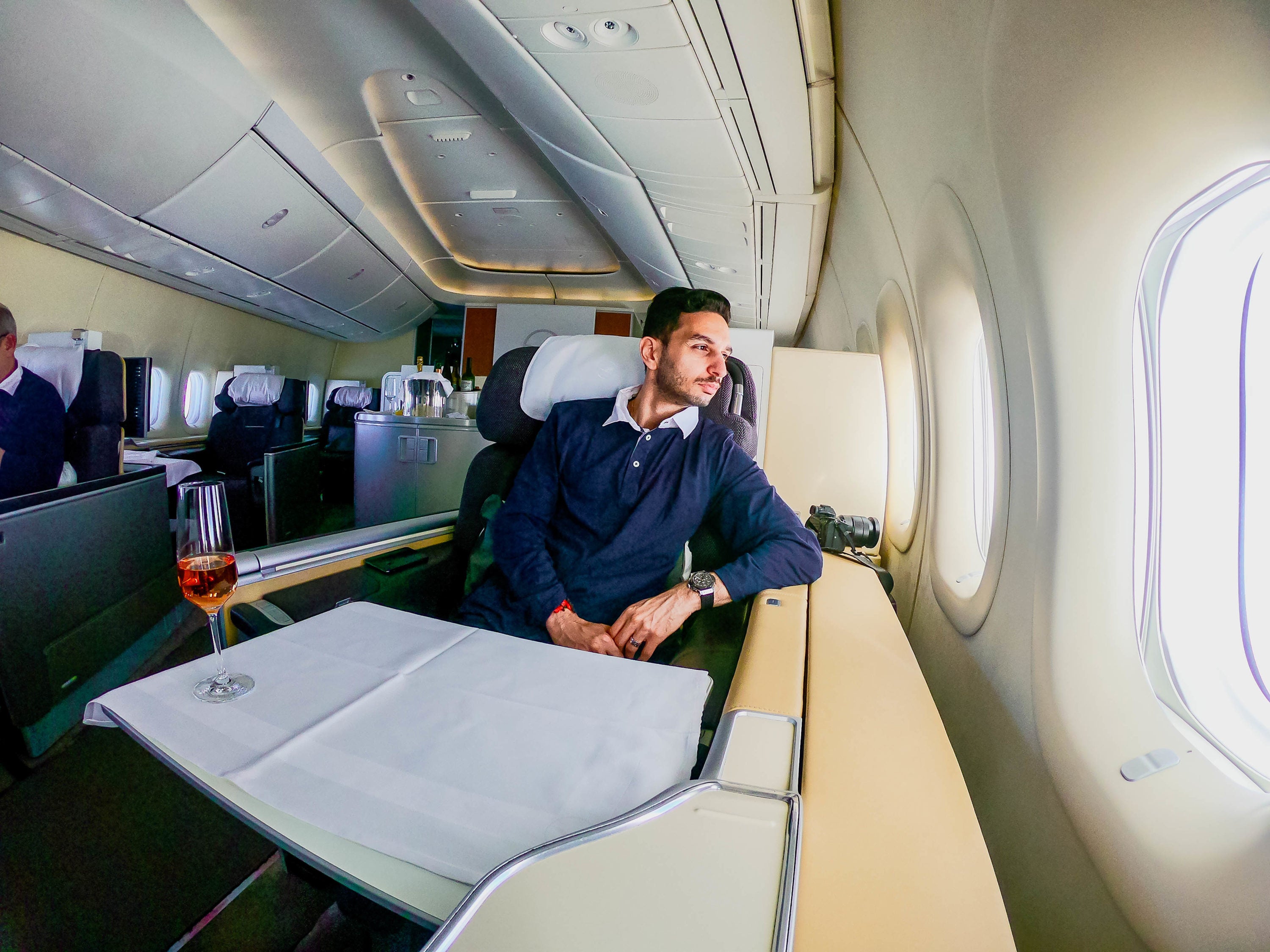 Final Thoughts
Sometimes when you so keenly look forward to something, it does not live up to the hype. However, that wasn't the case here.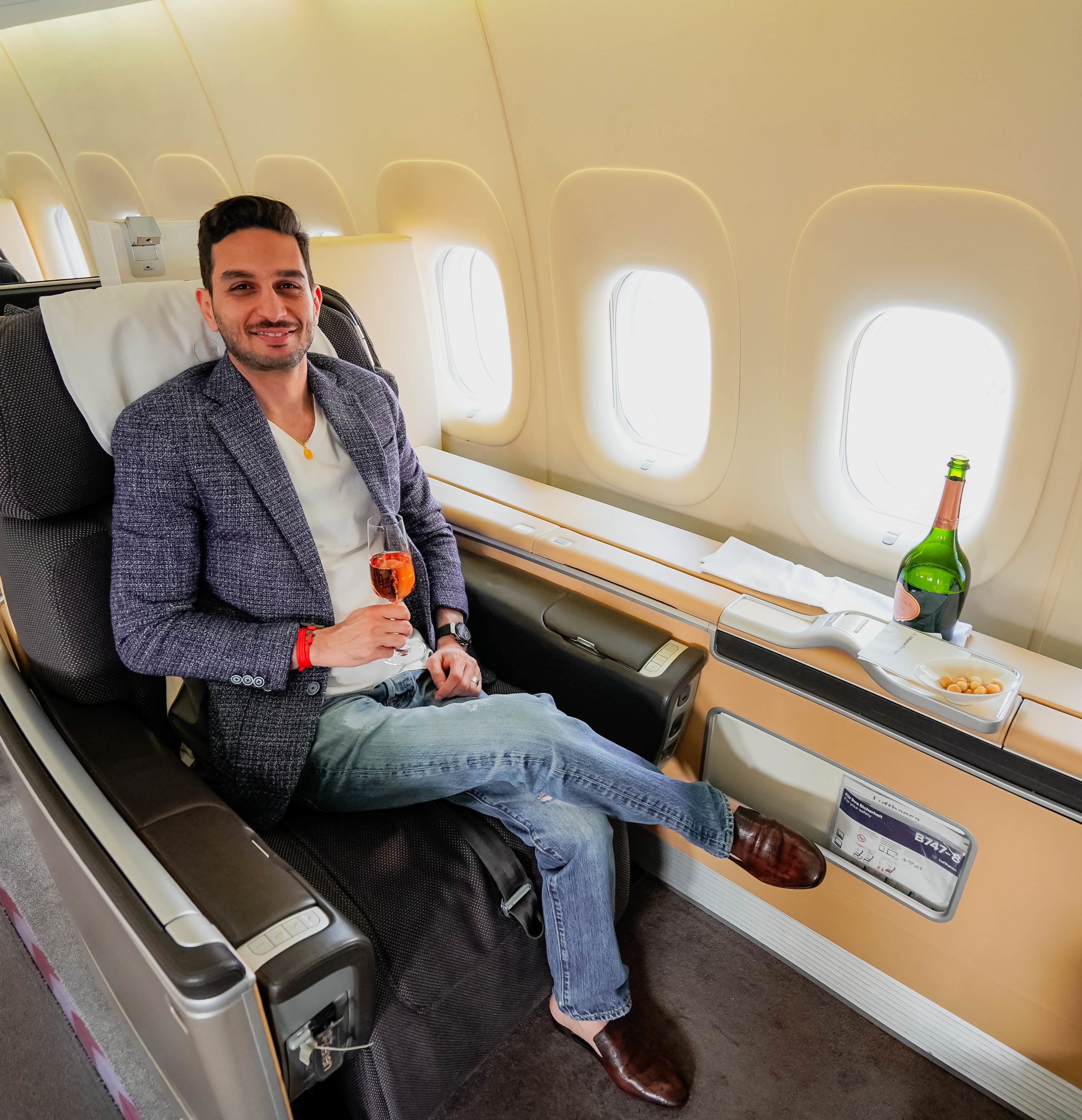 The flight experience was everything I expected. The cabin is classy with an old school feel to it. The crew and service were fantastic. They weren't shy of plating me generous dollops of caviar, unlike other airlines, and ensured if there was any whim or fancy of mine that needed taken care of, it was! And all this on an award redemption ticket without burning a hole in my pocket.
My next flight with Lufthansa is in January 2020 to Bogota on the Airbus A340-600, and am certainly looking forward to it, including the entire First Class Terminal ground experience which I missed out on this time.
Prost!