New Marriott Bonvoy Q4 Promotion: 1,500 Bonus Points per Stay
Have a Marriott stay coming up? Then we've got good news for you as Marriott Bonvoy has launched its latest promotion for Q4 2021. Though while other hotel chains have delivered lucrative options, Marriott Bonvoy continues to lag behind.
Offer Details
This isn't one of Marriott Bonvoy's most generous promotions, but it's still better than nothing. You'll need to register for the promotion first in order to qualify.
Let's take a look at the details.:
Earn 1,500 bonus points per stay, starting with your first stay.
Earn an additional 3,000 points per stay on all-inclusive properties.
No night minimum is required.
The promotion is not valid on award stays, only paid stays.
The offer is valid on stays from September 14, 2021, through December 12, 2021, even if you've already booked them before the promotion starts.
Registration for the promotion ends November 28, 2021.
This isn't nearly as generous as some other offers hotel chains are offering, like both Hilton and Hyatt's triple points on all stays. This is especially true since award nights at a Category 1 hotel are still 5,000 points on off-peak nights. The chart otherwise climbs to a max of 100,000 points per night for Category 8 hotels during peak periods.
So how do you maximize this promotion? Since you'll only be earning a maximum of 1,500 points per stay (or 4,500 at all-inclusive hotels), you'll want to limit your stays to a single night each. This isn't ideal if you've got a vacation coming up, but for, say, a city escape during a weekend, you'll do all right.
Since we value Marriott Bonvoy points at a rate of 0.7 cents each, you're basically earning a total of $10.50 on your hotel stays, or a total of $31.50 on an all-inclusive stay.
Hot Tip: Learn more about how to earn and redeem Marriott Bonvoy points for hotel stays with our in-depth guides, including tips on maximizing the annual free night certificates earned by your co-branded Marriott Bonvoy credit cards.
Other Ways To Earn Marriott Bonvoy Points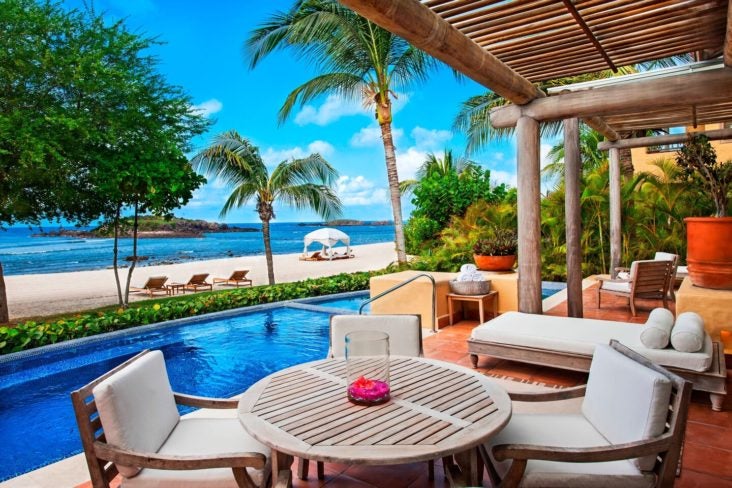 If you're looking to build your Marriott Bonvoy balance, there are better options than this newest hotel promotion. One easy way to do so is by transferring in via American Express Membership Rewards or Chase Ultimate Rewards at a 1:1 ratio, though you'll want to be sure to check whether or not it's worth doing since we value those points much more highly.
You can also opt to get one of Marriott Bonvoy's credit cards, such as the highly-rated Marriott Bonvoy Brilliant™ American Express® Card that features up to $300 in statement credits each year of card membership for eligible purchases at hotels participating in the Marriott Bonvoy program.
Final Thoughts
This is a middling offer from Marriott Bonvoy, but it's better than nothing. You could maximize the promotion on single-night stays at expensive locations, but you can easily earn more rewards elsewhere — either at Hyatt or Hilton.