10 Best U.S. Aviation Events of 2018
Whether you're an AVGeek, industry professional, or just love aviation in general, these 10 exciting events are sure to pique your interest in 2018!
(listed in alphabetical order)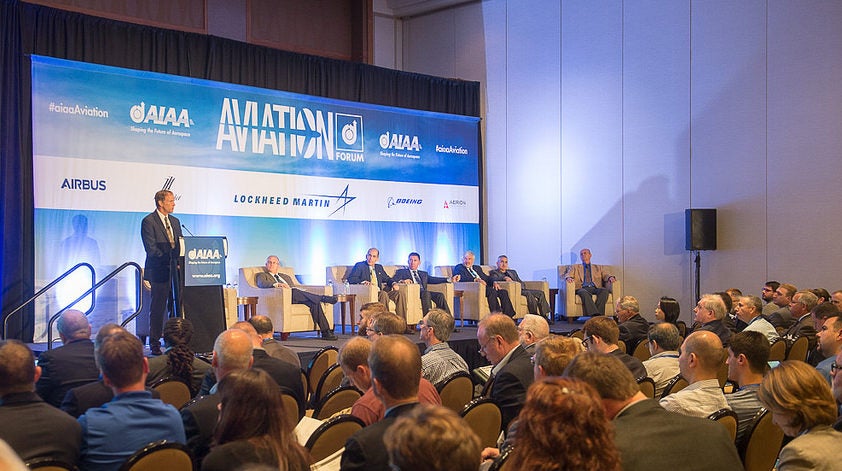 Location: Hyatt Regency Atlanta – Atlanta, Georgia
Dates: June 25, 2018 – June 29, 2018
AIAA & The Boeing Company hold this fantastic event for presenting information on and learning about the cutting edge of aviation. Presenters and attendees come from around the globe to mingle, educate, learn, network, and dream.
AIAA claims this is the only event in the world, that covers the entire integrated spectrum of aviation business, research, development, and technology.
"The objective was to develop the premier forum for presentation of both recent progress on aircraft design, air traffic management and operations, and aviation technologies as well as policy, planning, and market issues affecting the future direction of the global aviation industry. The goal was to offer a unique venue for interaction between researchers, system developers, product support personnel, managers, and business developers from throughout industry, government, and academia." -aviation.aiaa.org
With over 3,000 participants each year, this conference is certainly big and the breadth of topics is wide – think talks and presentations on innovations in aviation tech, cybersecurity, electric flight, unmanned aviation, the future of civil and military aviation, etc. You name it, you'll probably learn about it at this conference.
Pros: 
a HUGE range of topics, leaning towards progress and future development
tons of important AV influencers in attendance
thousands of tech presentations
Cons:
not for those looking for airshows, large aircraft displays, or tours
not for history buffs
can be a bit pricey (but cheaper if you're an AIAA member)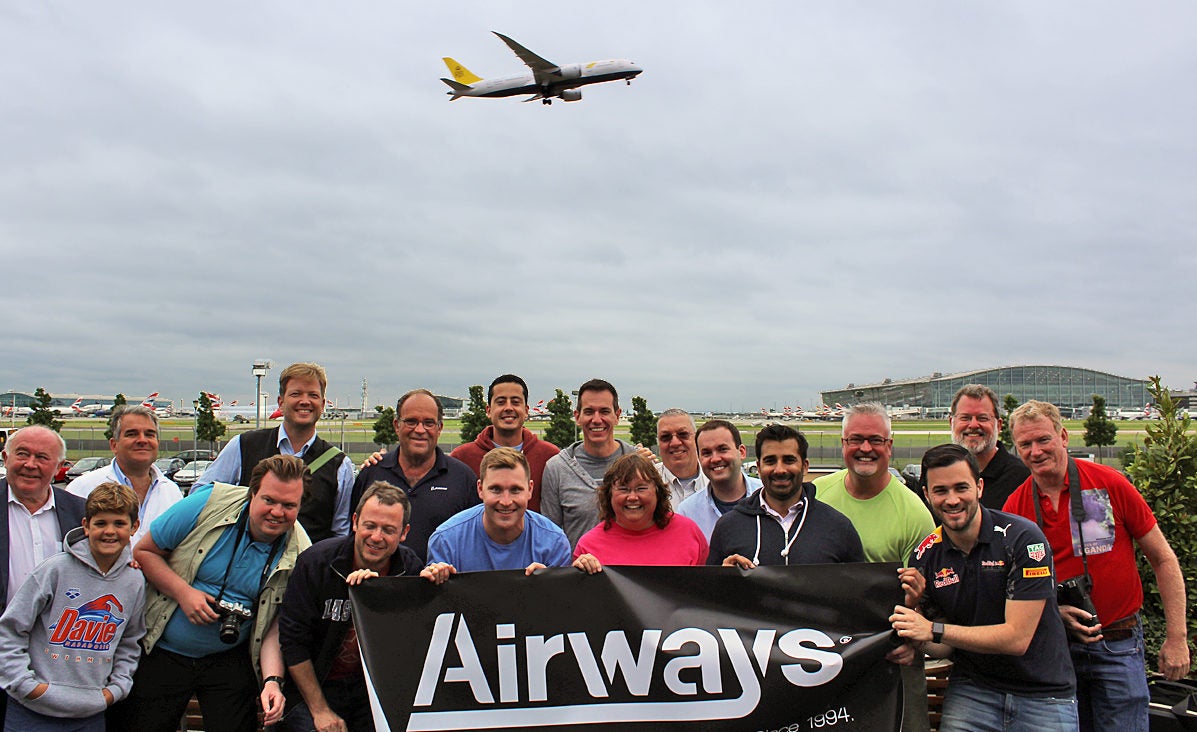 Location: TBD (insider tips reveal this will likely be Miami and/or Arizona)
Dates: TBD
According to Airways Magazine, Spot & Greet is two days of pure aviation madness including planespotting, museum tours, guest speakers, factory tours, chartered planes for private flights and dinners where participants can converse with other aviation enthusiasts.
While only 2 years in the running now, this event has already included some awesome opportunities such as a Concorde Experience at the Brooklands Museum in London and plane spotting at LHR, Boeing Factory Tours and seaplane rides around Seattle, and a DC-3 Joyride followed by a whale watching cruise in Cape Cod.
Pros:
great for more commercial aviation enthusiasts
event price includes private transportation, hotel, and events
awesome aviation centered opportunities not offered to the public
Cons:
not as alluring for fans of vintage, military, or homebuilt planes
not for enthusiasts that desire a free flow weekend vs. scheduled activities
can be a bit pricey (due to the great lineup of activities) & does not include airfare
Airways Cruise 2019
Location: TBD
Dates: January, 2019 (exact dates TBD)
While technically not scheduled until January of 2019, we also want to mention Airways' aviation centered cruise! This exciting adventure features an array of aviation activities as well as a roster of all-star pilots coming on board for special presentations.
2017's 8-day, Alaskan AV-venture (starting in Vancouver & ending in Seward, Alaska) on Celebrity Cruise Lines was a huge success, so they're really prepping big for 2019!
Pros:
getting to AVgeek-out while on a cruise with a fantastic itinerary
tons of AV-activities
an all-star lineup of pilots giving presentations
Cons:
not for those who don't enjoy cruises
can be a bit pricier than other events (due to the inclusion of accommodation, meals, etc)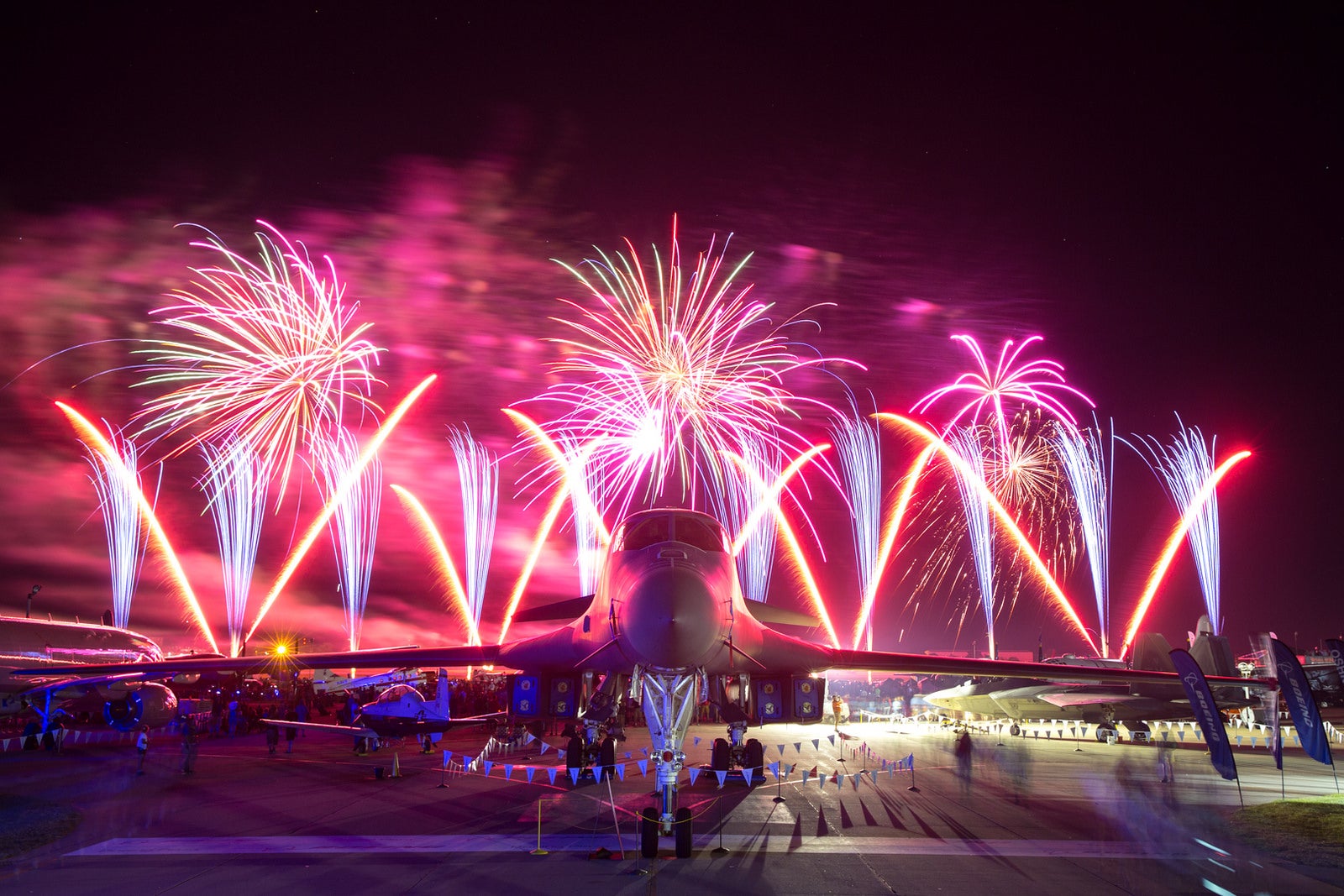 Location: Oshkosh, Wisconsin
Date: July 23, 2018 – July 29, 2018
EAA AirVenture Oshkosh has often been called the "mecca" of aviation events and lays its claim as the largest annual gathering of aviation enthusiasts in the country. EAA Air Venture advertises this event as a week full of action, entertainment, and education the that's fun for the whole family.
"Daily air shows. Aerobatics and pyrotechnics. Nightly concerts. Feature films at the Fly-In Theater. Forums, workshops, and demonstrations. KidVenture. Special programming at Theater in the Woods. All of this, plus much, much more is included with your daily admission. Add in the crowd-thrilling, show-stopping Night Air Show on Wednesday and Saturday night, and you have affordable fun for the entire family every day from sunup to well past sundown." – EAAair.org EAA AirVenture Oshkosh Overview
EAA Air Venture reports over 550,000 visitors travel to Oshkosh from over 80 countries. The time-honored tradition of the Fly-In to Oshkosh itself boasts well over 10,000 aircraft arriving at Wittman Regional (& close surrounding airports) for this one event.
What kind of planes are at Oshkosh? EAA AirVenture states "If It Flies, It's At Oshkosh." From vintage planes and warbirds to modern commercial types, aerobatic and even homebuilds, Oshkosh has got you covered. If you're not convinced, a quick look through their Flickr stream should do the trick.
Pros:
likely the largest aviation event in the country
a week in length provides a number of opportunities to attend
EAA Air Venture promotes this as an affordable, family-friendly event
Cons: 
as the largest aviation event in the country, crowds can become a bit large at times
not the best event for those who strictly enjoy newer, commercial aircraft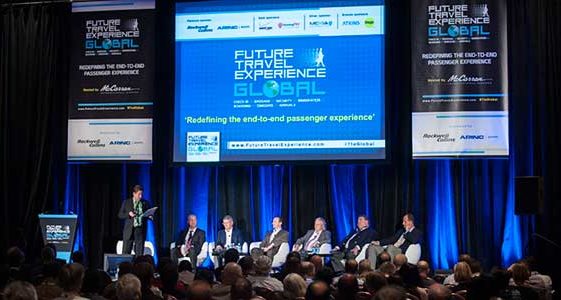 Location: The Mandalay Bay Resort – Las Vegas, Nevada
Dates: September 10, 2018 – September 12, 2018
Future Travel Experience hosts a number of events around the world, but their FTE Global Conference is a big one – and it's held in Vegas. FTE Global 2018 is set to include multiple conference tracks focusing on all areas of aviation: ground experience, in-flight experience, terminal design and digital transformation. As you can glean from the company's title, the focus is also on the future.
FTE also reports this show will feature a major exhibition hall of products and services as well as a revamped FTE Global Awards Ceremony, industry & government agency briefings, and an 'unforgettable' social networking opportunity.
"Future Travel Experience Global is firmly established as the world's leading meeting place where the most progressive airlines, airports, vendors, start-ups, OEMs, government agencies, destination partners and various other travel industry stakeholders come together to reveal their latest customer experience plans and visions, and collectively define the end-to-end passenger experience of the future." – futuretravelexperience.com
Pros:

great for enthusiasts looking to the future of aviation
a massive event with activities to keep you busy for days
best for industry professionals, airline/airport representatives & vendors/suppliers
Cons
focused on airline/airport reps & vendors/suppliers (some start-ups may attend by becoming vendors)
a bit pricey for small vendors/start-ups
may be tough to secure passes as part of the general public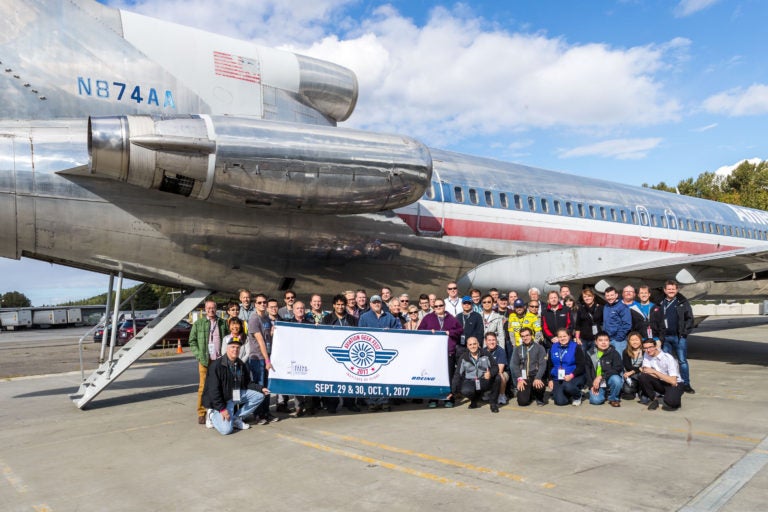 Location: TBD
Dates: TBD (historically, 2nd half of the year)
In 2017, the International Aviation Geek Fest billed itself as "the most important event for commercial aviation fans from around world". This event is an opportunity for AVgeeks to come together to experience some awesome "insider" opportunities. It includes three days to network with fellow enthusiasts as well as special speakers (many famous in the aviation industry) and VIP tours.
AirlineReporter tells us past tours have included: the Boeing wide-body factory floor, the Boeing 737 factory, the Dreamliner gallery, Seattle-Tacoma International Airport, Alaska Airlines maintenance, and much more.
The catch? This event is not open to the public, and tickets sell out almost IMMEDIATELY. Additionally, it isn't always clear just how many tickets will be available – this depends on the event's location and capacity the events/tours can provide. Last year the location & dates were announced in July, with pre-registration opening in August for a late September event.
While the event hasn't been confirmed for 2018, it's been held 8 of the last 9 years with huge success in recent years.
The only way to get access to this event is to sign up to the group with your e-mail address. But in our opinion? Even a slim chance at this awesome opportunity is worth it!
Pros:
3 days of networking with a small group of like-minded commercial aviation enthusiasts
special speakers (often celebrities in the aviation industry)
VIP tours and talks not available outside of this event
Cons:
not open to the public
limited capacity
undetermined date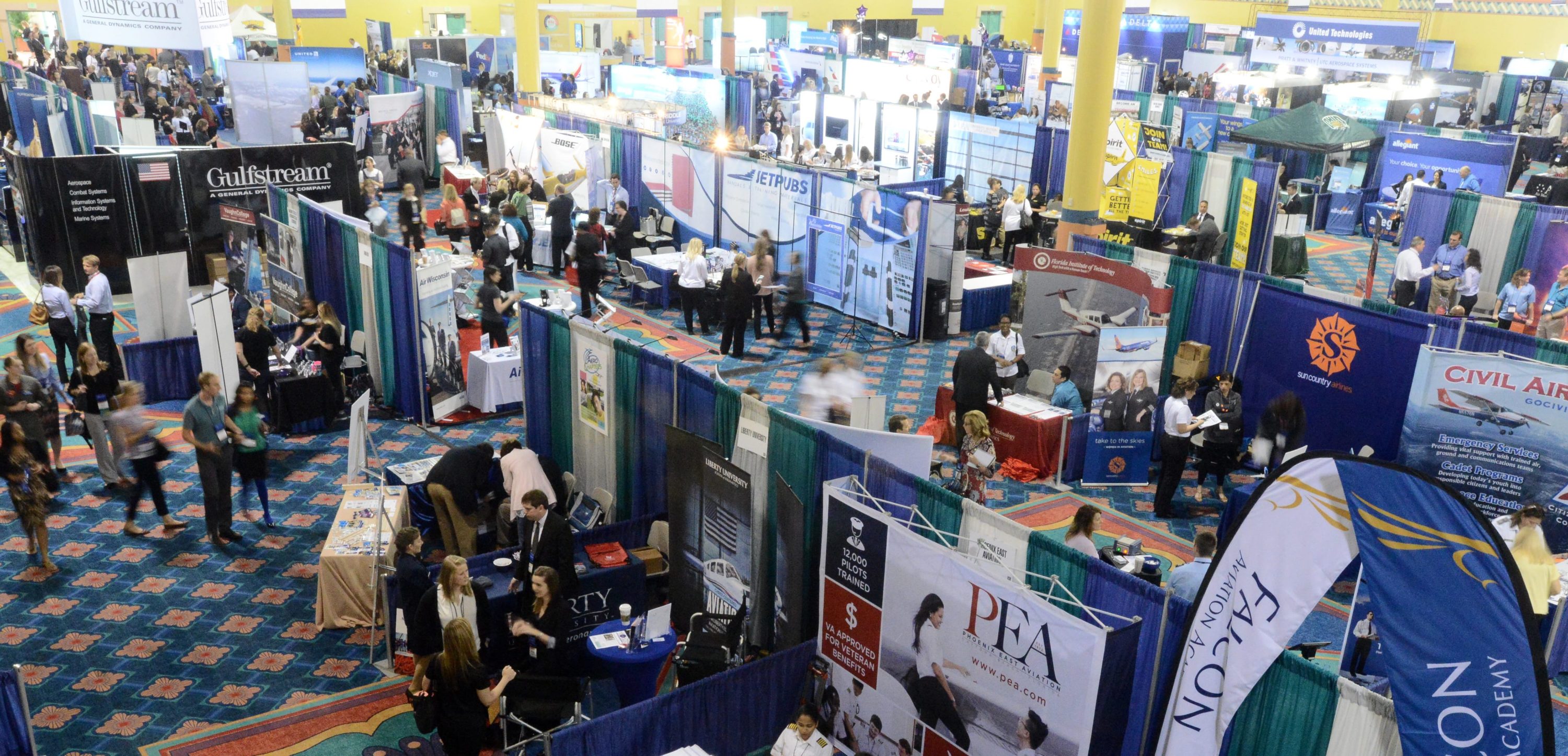 Location: Reno-Sparks Convention Center – Reno, Nevada
Dates: March 22, 2018 – March 24, 2018
This is the 29th annual International Women in Aviation Conference and it's bigger than ever. This conference is geared towards three principles: connect, engage, inspire.  It aims to bring people together to mentor, network and share in the positive energy that abounds while celebrating women in aviation.
There are prestigious keynote speakers, great educational sessions, a large exhibit hall, scholarship awards and opportunities to gather and chat with individuals across the aviation industry.
In 2017, over 4,500 individuals attended this conference, from 19 countries. Over $640,000 in scholarships were awarded. And the exhibit hall catered to 165 different companies and organizations. It's a big deal!
Pros:
great for anyone interested in aviation, especially those encouraging the advancement of women in all aviation career fields and interests
accomplished speakers, up-to-date educational sessions, networking opportunities
a pretty large conference, at a very decent price (even cheaper if you are a WAI member)
Cons:
not for those interested in fly-ins, tours, planespotting, etc.
less casual, more business style/geared towards personal and professional advancement (this might be a pro for some! :))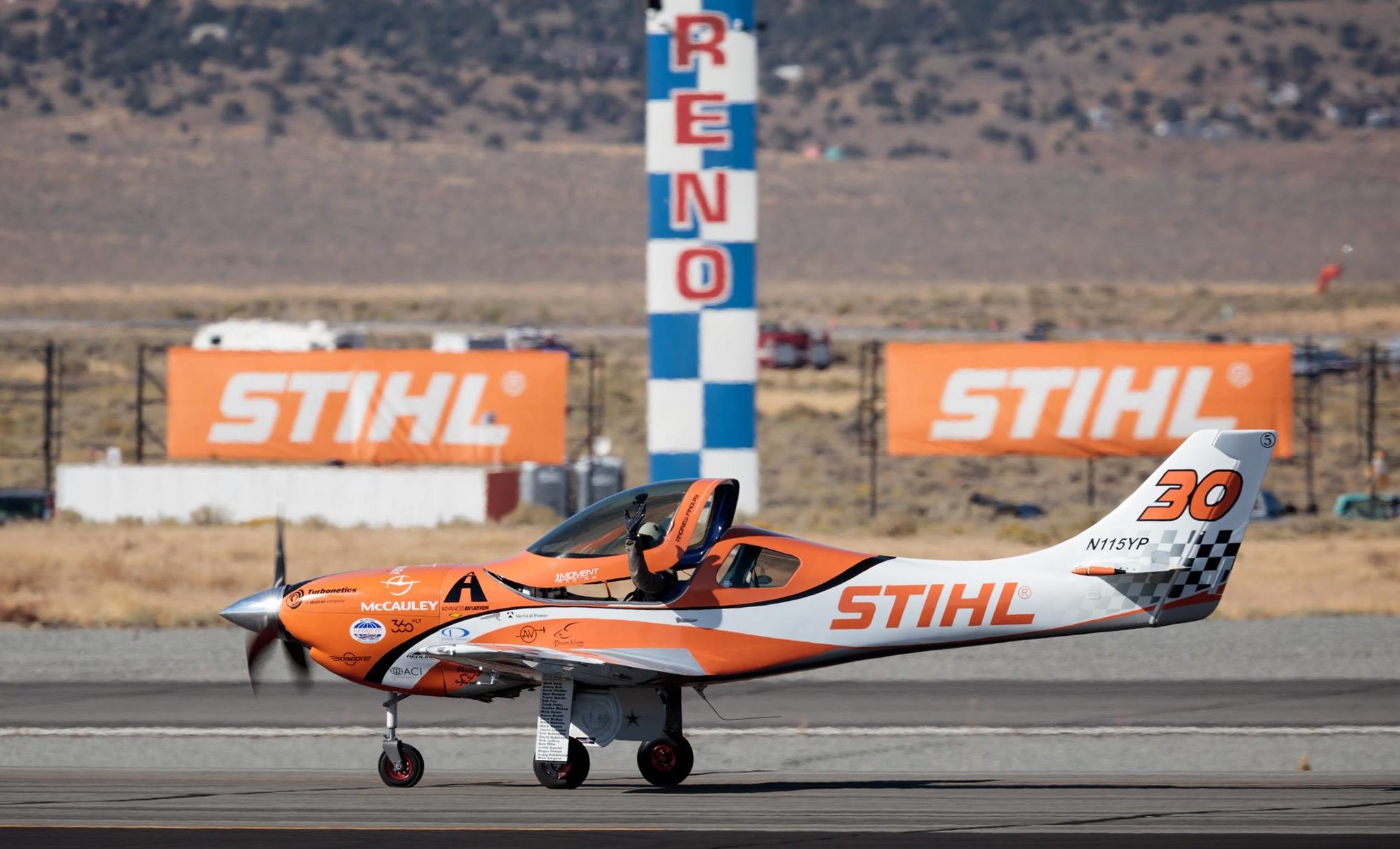 Location: Reno, Nevada
Dates: September 12, 2018 – September 18, 2018
The National Championship Air Races, also referred to as the Reno Championship Air Races, is holding it's 55th annual event in 2018. The Reno Air Racing Association bills this competition as the last event of its kind, carrying on the tradition of the Cleveland Air Races of the 1920s, 30s, and 40s.
This week-long event hosts over one million spectators who come to revel in the excitement in the high desert just north of Reno. Hundreds of aircraft, pilots, and their crews assemble to race head-to-head, perform civil and military flight demonstrations, and hold a large display of static aircraft. There's also a National Drone Racing Championship and drone displays for those interested.
"The National Championship Air Races combines the world's fastest motor sport with spectacular military and civilian air entertainment to offer the most unique air racing event in the world. This exciting, one-of-a-kind event showcases six different classes of race planes and up-close access to aircraft, pilots and crews in the "pits". Gather your friends and family and experience the roar of planes as they streak past you at just 50 feet from the ground." – visitrenotahoe.com
Pros:
high energy & tons of entertainment
general admission tickets are fairly affordable
a week-long event gives the opportunity to attend each day or attend just a few
Cons:
can get crowded with over a million spectators
less geared towards commercial aviation enthusiasts
not for those interested in seminars, talks or training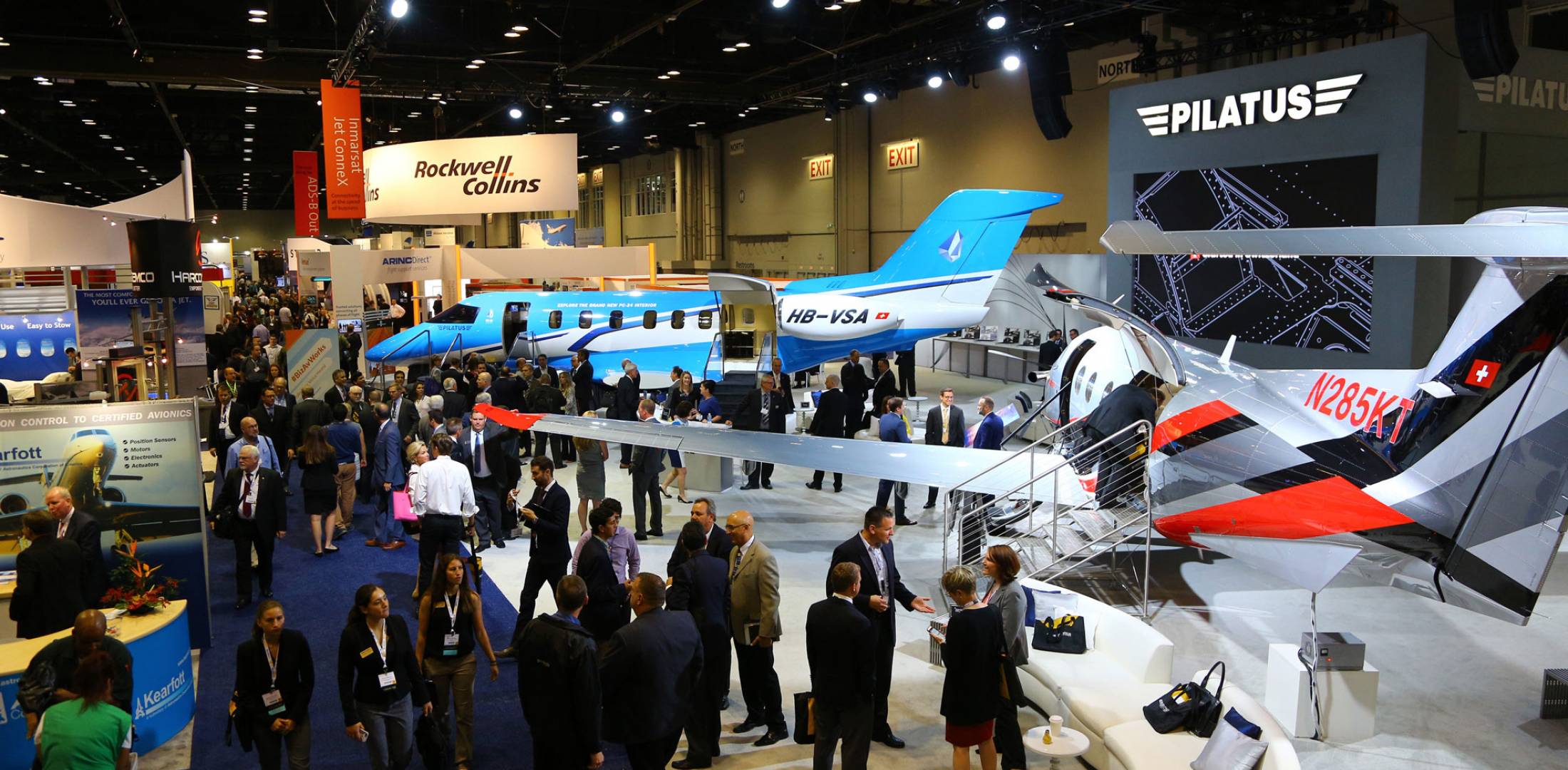 Location: Orange County Convention Center & Orlando Executive Airport – Orlando, FL
Dates: October 16, 2018 – October 18, 2018
While the NBAA-BACE is really more for the business aviation community/industry professionals, it's a big event we couldn't overlook. This convention is the sixth largest trade show in the U.S. with over 25,000 in attendance. Plus, The National Business Aviation Association bills it as 'the most important three days of the year' for pros in this sector.
So who attends NBAA-BACE? Business leaders, buyers, decision makers, government officials, corporate aviation department personnel, manufacturers, etc. come together to mingle over a thousand exhibitions showcasing all manner of products.
Attendees also have the ability to meander through static displays of more than 100 business aircraft and there are also dozens of educational sessions and networking opportunities.
Pros:
the largest business aviation event in the country
great for industry professionals in the business aviation sector
Cons:
not geared towards the general public – exhibitors expect you mean business
pretty pricey buy-in for smaller start-ups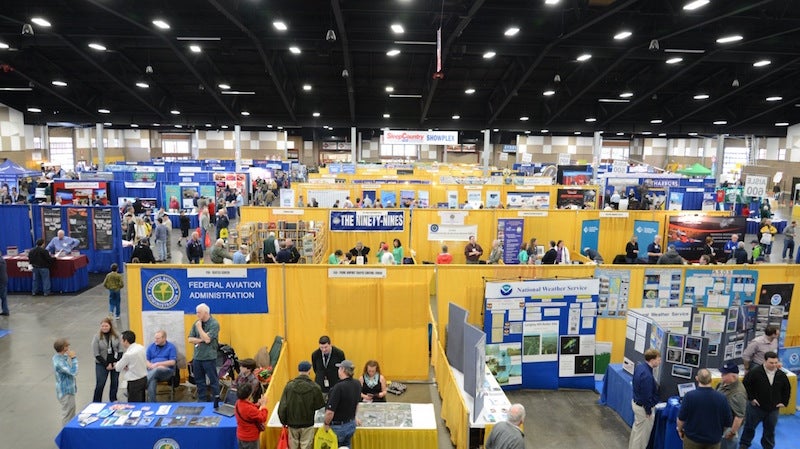 Location: Washington State Fair Events Center – Puyallup, Washington
Dates: February 24, 2018 – February 25, 2018
In just two days, this event provides over 75 hours of aviation seminars, 122,000 sq ft. of displays, and the opportunity to rub shoulders with fellow pilots, mechanics, aircraft owners and aviation speakers. Located just 35 minutes south of SEATAC (the birthplace of Boeing), the Northwest Aviation Conference & Trade Show has an annual attendance of 10,000+.
Previous talks, workshops, and seminars have included: Wilderness Survival for Pilots, Drone Operations and the Path to Remote Pilot Certification, Lessons from Mission Control, Seaplanes 101, Engine Failure: When you only have one, and many more exciting topics.
Plus, this event is extremely affordable at just $5 per day, with FREE admission for those 17 & under.
2018 NW Aviation Career Forum
On February 23rd, the NW Aviation Career Forum is held independent of the conference. This forum provides a 'unique opportunity for individuals, students, employers, and educators to network and share ideas and knowledge.' Individuals wishing to attend must register separately for a fee of $45 (which includes lunch & weekend admission to the conference).
Pros:
tons of seminars and exhibits
network with fellow aviation enthusiasts, pilots, & aircraft owners
VERY AFFORDABLE!
Cons:
not for those strictly interested in large-scale commercial aviation
crowds can get pretty large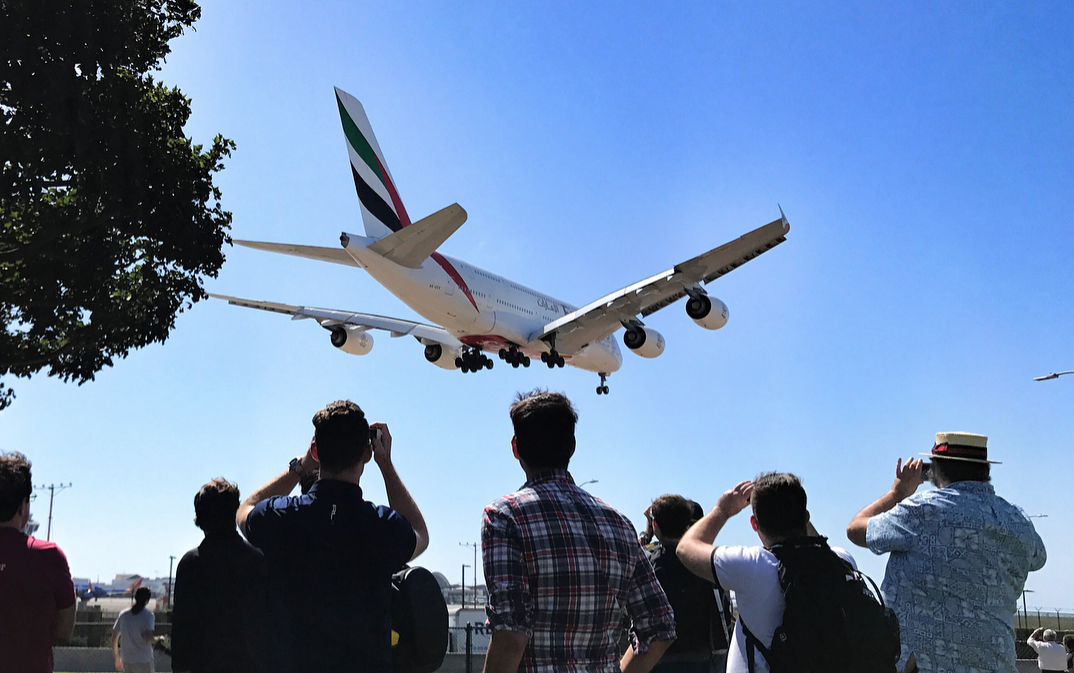 Location: Various spotting areas around Los Angeles International Airport, California
Dates: TBD (historically, 2nd half of the year)
While these certainly aren't the biggest events on the list, they're definitely generating some buzz among avid planespotters!
SpotLAX
SpotLAX is an annual planespotting meet-up put on by NYCAviation and PHX Spotters. This event brings together planespotting enthusiasts for a weekend of spotting (obviously) and general camaraderie surrounding the aircraft and aviation industry.
Last year this event was held at the end of September and included different spotting locations each day, a dinner event, and the option to hop on board with their hotel room block reservation (we told you this was a small event!).
Pros:
great for planespotters
laid back, meet-up atmosphere
low cost (the hang time is free; getting there is up to you, they usually reserve a hotel room block and have a dinner you can RSVP to for ~$30ish)
Cons:
a pretty small event with no reservations or schedule (is this really a con?)
not for those looking for seminars, talks, expos or displays
Dorkfest
Dorkfest is an annual meet-up organized by Brett Snyder, a.k.a Cranky Flier. There are no tickets, no sponsors, no scheduled activities, and no reservations needed (as of yet). The idea is you simply show up at the In-N-Out by LAX, at a certain time, on a certain day and get to hang with some fellow AVGeeks. There's planespotting and chatting, plus burgers, fries, and shakes – what more could you want?
Last year this event was held on the Saturday of the same weekend of SpotLAX which allowed some passionate spotters the chance to mingle en masse.
We don't know if these two events will coincide in the future, but we've got our fingers crossed! We should also note, we've cheekily added 2018 to the end of these event names as these two meet-ups haven't actually been announced or confirmed yet for 2018.
Pros:
great for planespotters
laid back, meet-up atmosphere
low cost (the meet-ups are free; getting there, accommodation & food is up to you)
Cons:
a pretty small event with no reservations or schedule (is this really a con?)
a fairly short event (a couple hours on 1 day) for those traveling from further out
---
Let us know which events you're looking forward to! Similarly, if we've left your favorite event off the list, we'd love to hear about it!