Turkish Airlines Lounge at Miami International Airport Concourse E [Review]
Last month I flew from Rio de Janeiro to Miami, and after rechecking my bags and making my way through security at 5:00 a.m., I was in dire need of some fresh coffee and a place to freshen up.
Although I was planning on heading directly to the Admirals Club in Terminal D, I decided to make a pitstop before the 20-minute walk between concourses.
Fortunately, the Turkish Airlines Lounge was nearby and easy to access thanks to my Priority Pass membership.
Here is a quick review of the Turkish Airlines Lounge in Concourse E at Miami International Airport.
What Are Priority Pass Lounges?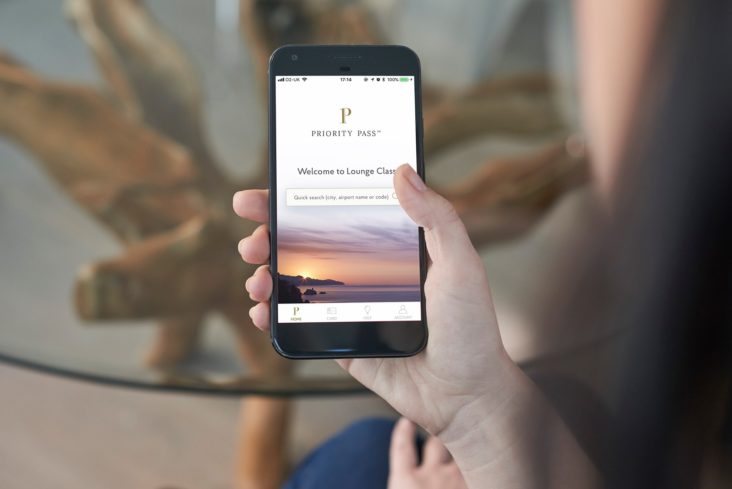 If you are not familiar, Priority Pass lounges are a group of independently owned lounges throughout the world that members have access to.
There are currently over 1,300 lounges and restaurants in over 600 cities worldwide. So almost anywhere you travel, there is a pretty good chance that there will be a Priority Pass location nearby.
The good news for travelers is that many travel credit cards come with free Priority Pass membership!
Turkish Airlines Lounge — Concourse E at MIA
Location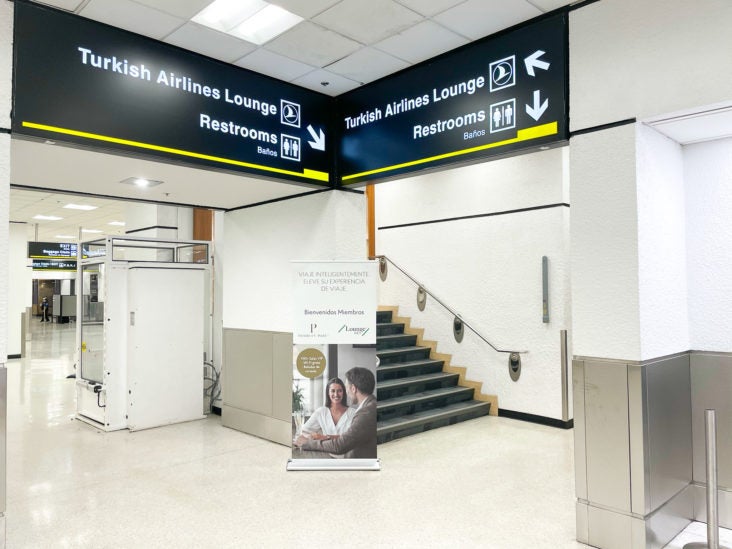 This Turkish Airlines Lounge is located in the Central Terminal immediately after security in Concourse E at Miami International Airport (MIA). There is also another Turkish Airlines Lounge in the South Terminal in Concourse H.
Once you pass through security you will be dumped into a rather desolate part of MIA, but immediately on your left will be a sign and a small staircase leading to the lounge.
Hot Tip: Unless you want to get stopped at security, make sure you know the 400+ items you can and cannot bring through TSA security.
Gaining Entry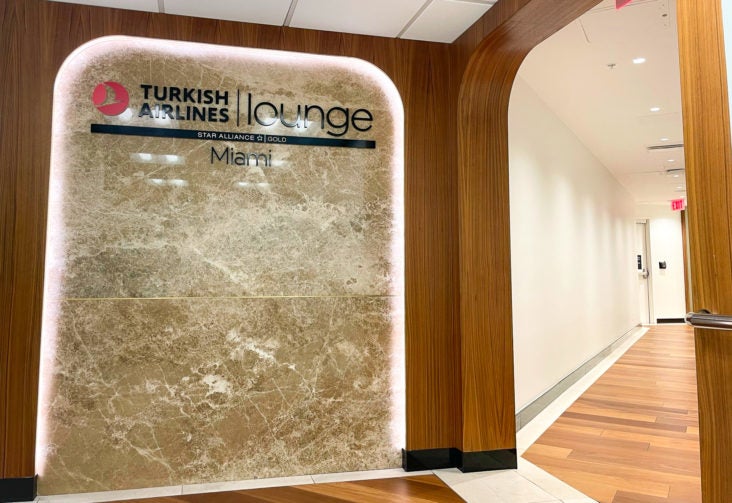 Getting into the Turkish Airlines Lounge was pretty easy — all I needed to do was scan the QR code from my Priority Pass app at the check-in desk and then walk in.
Priority Pass members have access when traveling on any airline; I was not asked to show my boarding pass.
Additionally, Star Alliance Gold members and passengers flying business or first class on same-day Turkish Airlines or Star Alliance flights (guests must be on the same flight) can access the lounge as well.
The Turkish Airlines Lounge in Concourse E at Miami International Airport used to be open 24/7 but is currently open daily from 5:00 a.m. until 10:00 p.m. due to COVID-19.
Hot Tip: Priority Pass members have access to 3 lounges and 1 restaurant at MIA. Find out more details at our full list of airport lounges at Miami International Airport [MIA].
First Impressions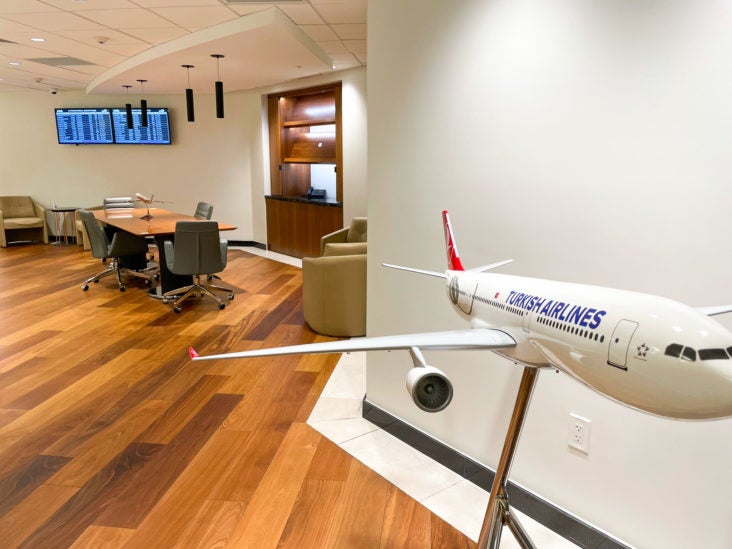 My first impression after entering the lounge is that it is pretty small, a bit outdated, and not nearly as nice as some of the photos I have seen of other Turkish Airlines lounges (like the spectacular Istanbul lounge).
I can't say that I was disappointed because I wasn't even planning on stopping by, but at least it was clean and not too busy.
Since I arrived early in the morning, it was still dark outside so there were no views of the tarmac, however, breakfast was being served and the smell of coffee was making its way through my mask, so I was happy.
Seating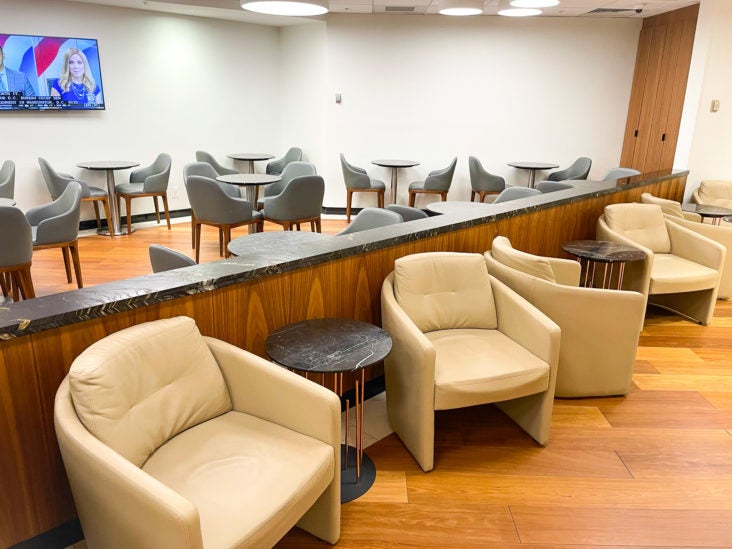 Despite being a pretty small lounge, there was plenty of seating available.
Fortunately, the lounge was pretty empty because the seats were very close together and none offered any privacy.
Since I was only planning on grabbing a cup of coffee and checking my email, this was fine.
Food & Beverage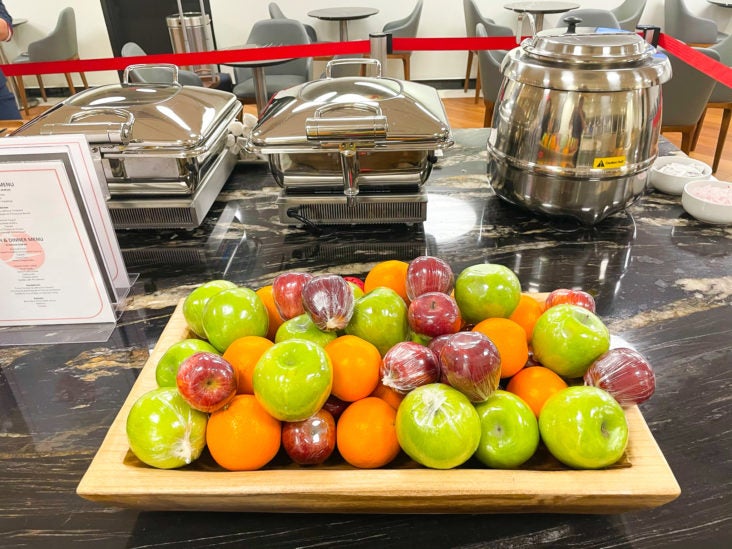 Despite limitations due to the coronavirus (COVID-19), the Turkish Airlines Lounge at MIA still offered a decent section of hot and cold food options throughout the day.
There were some prepackaged items that guests could grab, as well as some hot items that were served by staff.
Food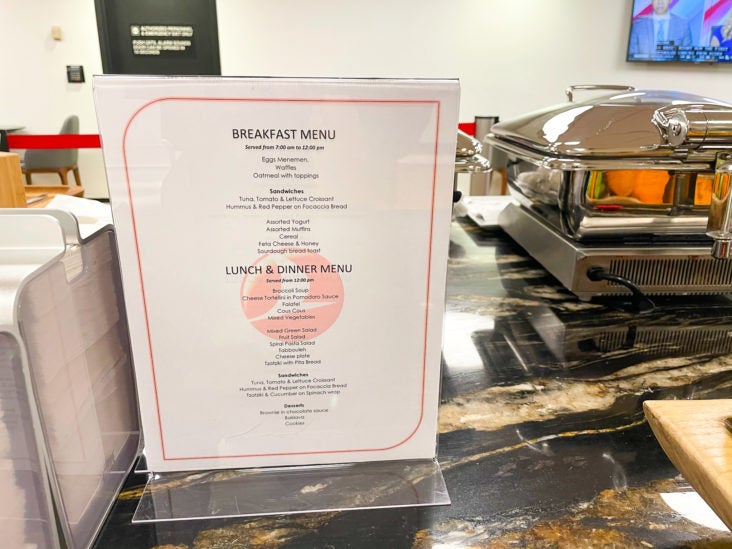 Although I was only in the lounge for breakfast, you could see that there was a set menu throughout the day.
Breakfast was served from 7:00 a.m. until 12:00 p.m. and the lunch and dinner menu was served from 12:00 p.m. until 10:00 p.m.
Breakfast Menu
Eggs Menemen
Waffles
Oatmeal with toppings
Tuna croissant sandwich
Hummus and red pepper on focaccia bread
Assorted yogurt
Assorted muffins
Cereal
Feta cheese and honey
Sourdough bread toast
Lunch & Dinner Menu
Broccoli soup
Cheese tortellini in pomodoro sauce
Falafel
Couscous
Mixed vegetables
Mixed green salad
Spiral pasta salad
Tabbouleh
Cheese plate
Tzatziki with pita bread
Tuna croissant sandwich
Hummus and red pepper on focaccia bread
Tzatziki and cucumber on a spinach wrap
Brownie in chocolate sauce
Baklava
Cookies
To be fair, those menus sounded really good, and I was surprised at how many options were listed for such a limited space.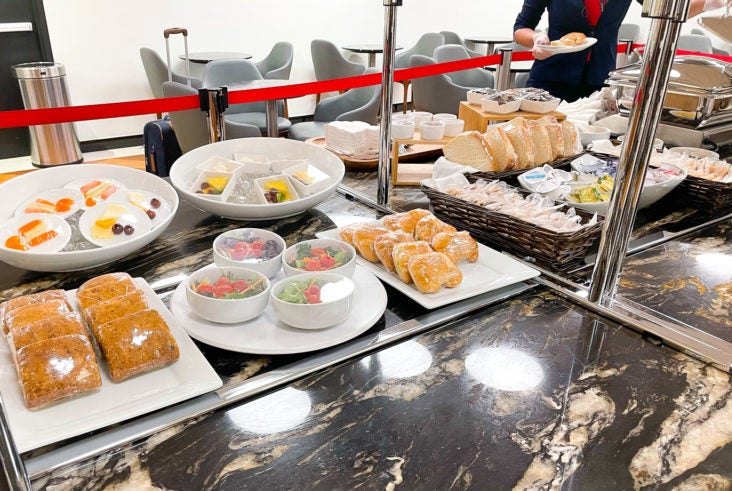 Since I was in a bit of a rush, I didn't try any of the food, but it was well-presented and the staff was eager to serve.
Beverages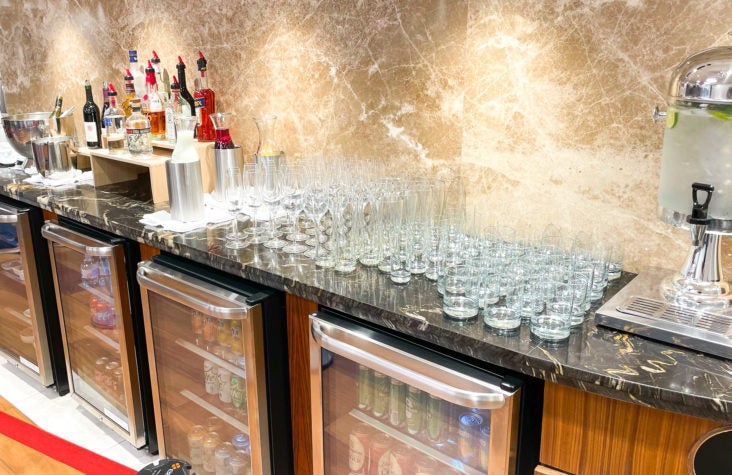 Another area that caught me by surprise was the relatively complete bar setup.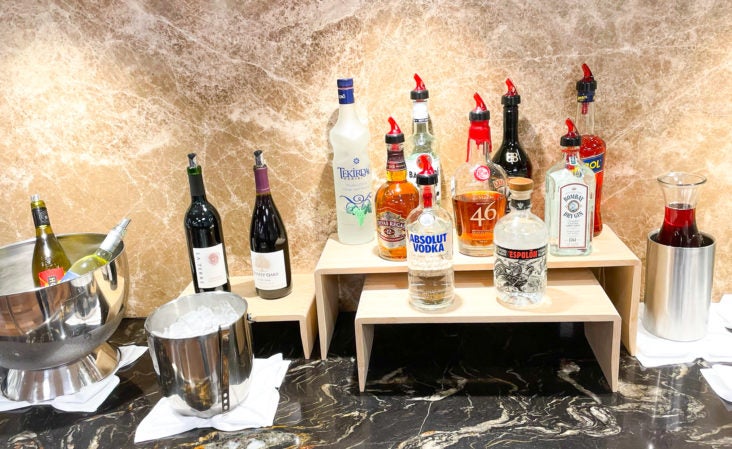 There was everything from juice and water, to beer, wine, tequila, gin, and more — all readily available.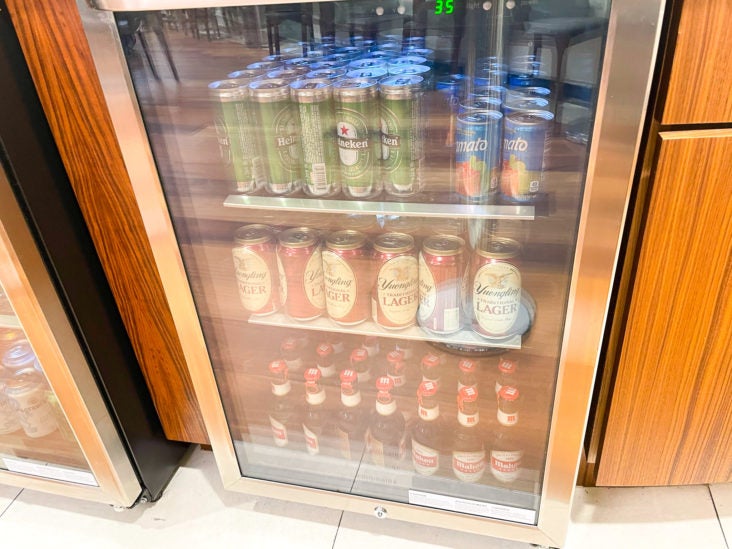 There are not many other lounges where you can get this type spread at 6 a.m., and again, the staff was eager to serve. I did not indulge as I was still in search of my coffee.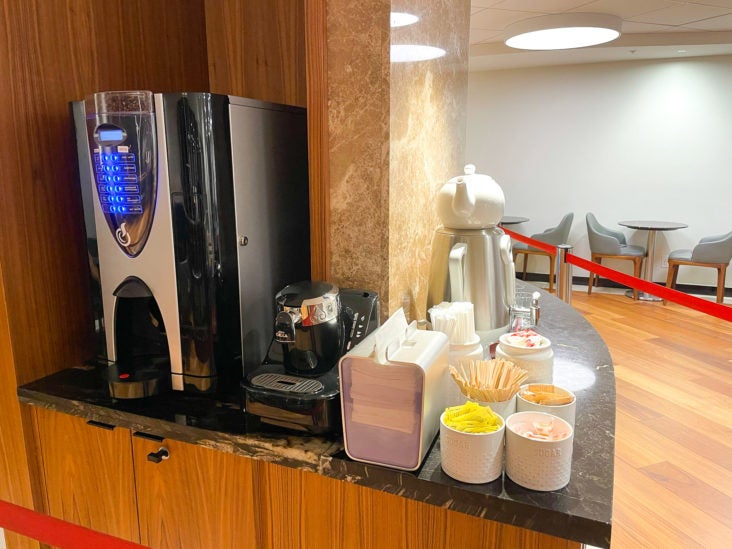 Fortunately, around the corner from the booze was this big, fancy coffee machine and a smaller espresso maker next to it where you could request your caffeine fix from one of the servers.
Amenities
As you have seen, this is a pretty small lounge, so amenities were scarce. However, there seemed to be a little bit of everything that you might need for a quick stop before or after your flight.
Wi-Fi
The Wi-Fi was strong, fast, and easy to connect to.
I needed to make a video call to my family, so instead of interrupting the few other guests in the lounge, I took the call in the empty terminal and remained connected to the wireless internet the entire time. Impressive.
Prayer Room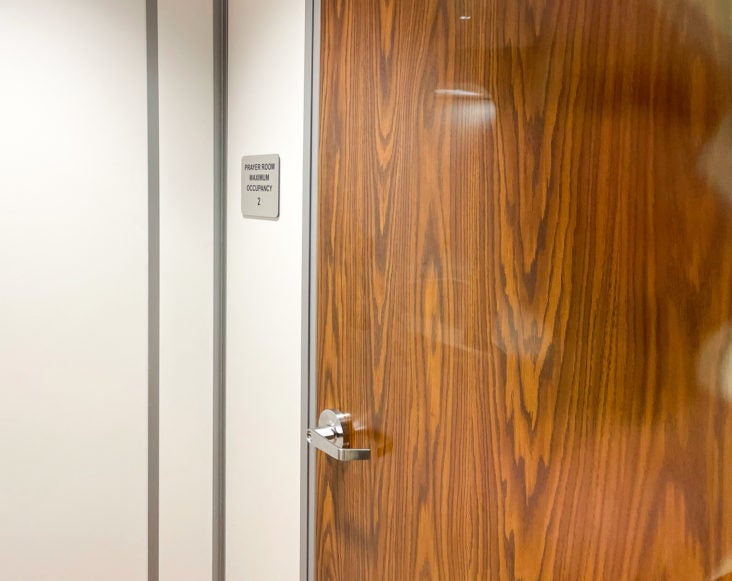 There was a small prayer room available for passengers to use with an occupancy limit of 2.
Workspace Options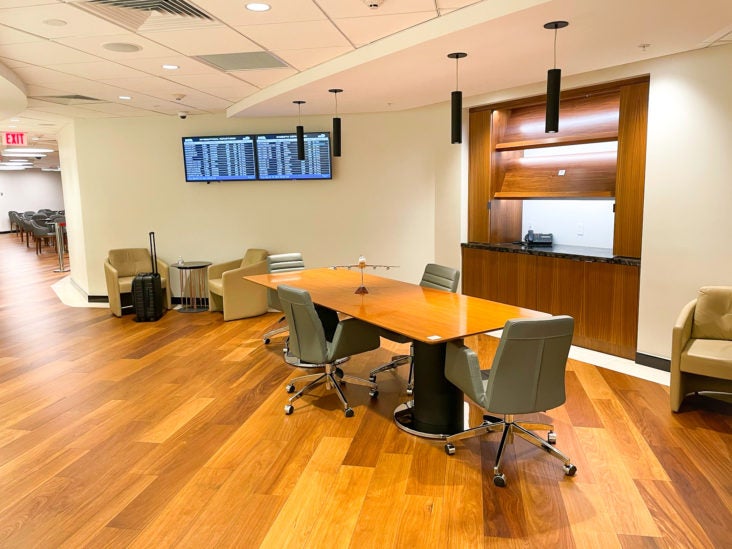 Despite being in the middle of the lounge where every passenger is forced to walk by you, there is a large meeting table to sit down at and try to get some work done.
Due to the location, you won't have any privacy, but it's a nice option to have if you want to have an impromptu meeting about which lounge you are going to visit next!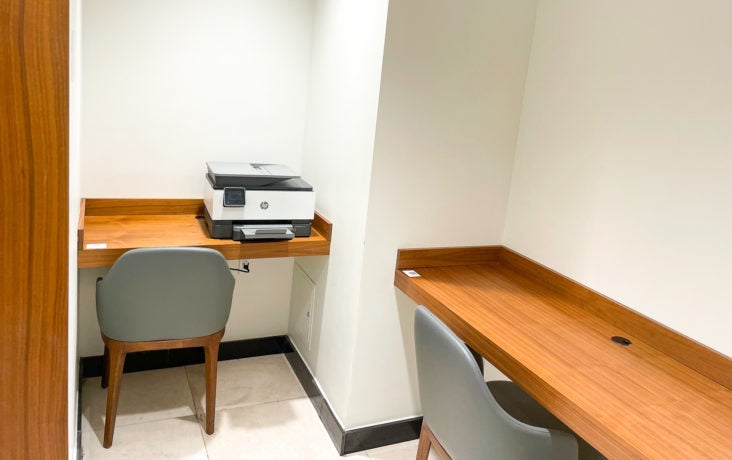 If you need a little more privacy, there is a little nook where you can sit down and print documents as well.
Showers
During my visit, showers were not available due to coronavirus restrictions.
Staff & Service
I had a very quick visit to the Turkish Airlines Lounge, but all of the interactions I had with the staff were great.
Despite being really early in the morning, every staff member had a smile on their face and genuinely seemed excited to welcome passengers into the lounge.
I mentioned it earlier when talking about the beverages, but the staff was really eager to make me a drink. I almost felt like I disappointed them when I said no… I may need to go back and rectify that situation!
COVID-19 Protocols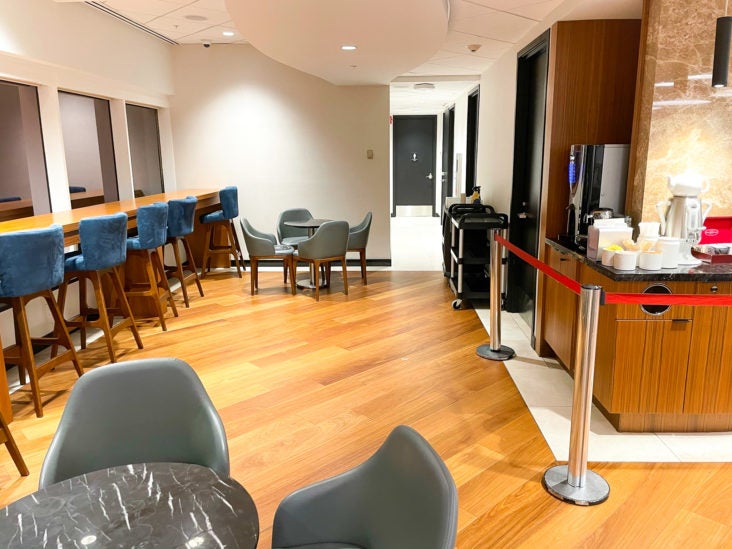 All things considered, coronavirus (COVID-19) protocols were pretty basic.
Masks were required when you were not eating or drinking, hand sanitizer was readily available, and self-service options were reduced or eliminated.
To be honest, that probably raised the level of service for this lounge because it gave the staff an opportunity to show off their hospitality skills.
Final Thoughts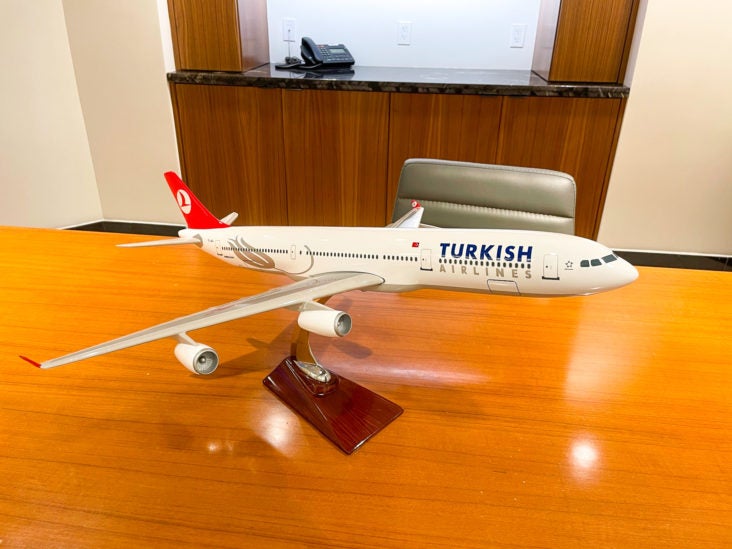 Overall, the Turkish Airlines Lounge in Concourse E of the Central Terminal at Miami International Airport (MIA) is a pretty basic lounge but has some decent food and beverage options that could make it worth a stop.
If you are passing through the nearby security checkpoint it is certainly worth a scan of your Priority Pass so you can grab a snack and something from the relatively impressive bar.
While I certainly wouldn't go out of my way to visit this lounge, the next time I walk by I will most likely pop in… and I think you should, too.