The 29 Best Disney Christmas Products [Ornaments, Decorations, Toys]
As we get closer to Christmas and the holiday season, searching for presents for our loved ones can become a full-time job.
Well, fortunately, we've put together the ultimate list of Disney Christmas products to make your life just a little bit easier.
Whether you are looking for classic ornaments to hang on your tree, stocking stuffers to impress on Christmas morning, or the perfect ugly sweater for your annual family photo, we've found the best of the best for you!
Let's go Christmas shopping!
The Best Disney Christmas Products
With many of us avoiding crowds and shopping malls, ordering Christmas presents online can be a great, safe, and convenient, option.
Fortunately, ShopDisney.com offers free shipping on many items and free returns on all orders (unless specifically stated), so you can order and test out gifts from the comfort of your own home with no risk.
If you are a fan of Disney, you probably already know that the company knows how to do Christmas right. With seemingly endless options of holiday-themed Mickey merchandise, it can be overwhelming to try and find unique items.
But don't worry — we've selected our top picks so that you look like a super-shopper on Christmas morning!
Disney Christmas Ornaments
A Golden Glamorous Ornament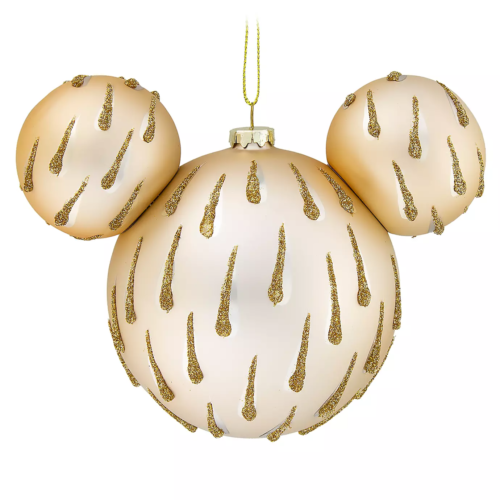 Add an iconic Mickey-shaped ornament to your tree this year.
The classic 3 balls covered in glittering gold will add some charm to your Christmas tree while subtly bringing in some of the Disney magic.
No matter your style, this beautiful ornament dripping in gold will be a conversation starter for years to come.
Trashy Trees Are The Best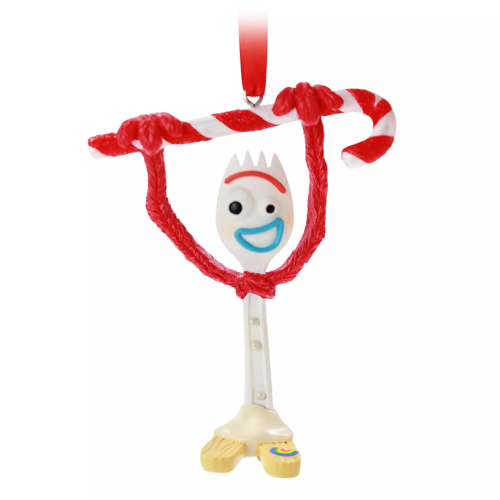 Your favorite piece of trash can now be part of your Christmas tradition!
Forky, from "Toy Story 4," may not understand why he is an ornament now, but he sure looks cute doing it!
Hanging from a candy cane, this lovable spork's smile will help light up your tree this year.
This Is the (Christmas) Way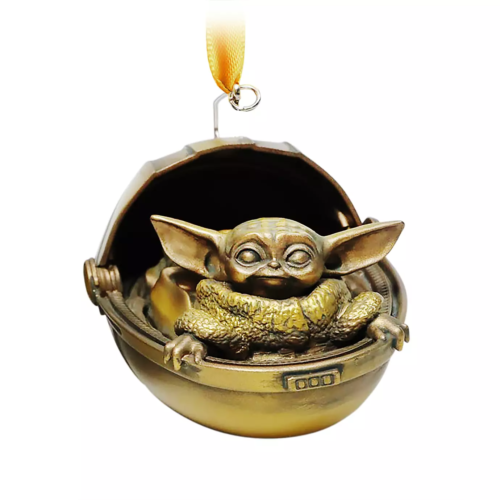 For fans of "Star Wars: The Mandalorian," having The Child (affectionately known as Baby Yoda) on your tree is a must.
He is used to hovering around the galaxy, but this year he can be hovering around your tree in his pram. While his bounty is quite high in the show, you can have your own bronzed version in just a few clicks — just be sure to keep him away from any frog ornaments!
Open Seas on Your Christmas Trees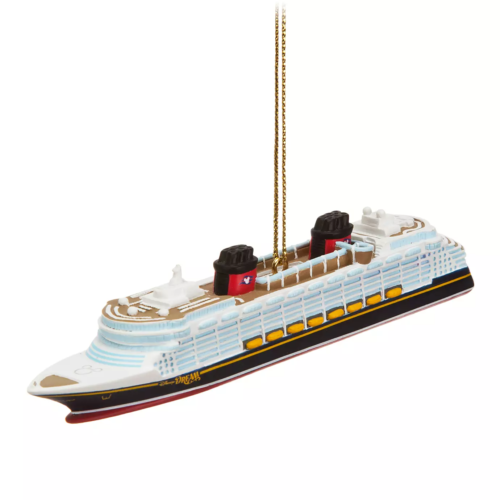 For those of us that are missing traveling, and especially cruising, there is no better ornament to add to your tree than this Disney Dream cruise ship replica.
Spark memories of trips past and start dreaming of future trips every time you see this ornament dangling from your tree this year.
If you don't want it to get lost in the branches, you can even remove the string and let it stand freely on a tabletop — really letting your loved ones know that you are ready to get back on the open seas!
Hot Tip: Sail away with Disney Cruise Line for a dream family vacation that combines the magic of Walt Disney World with the excitement of a cruise! Our review includes details on ships, destinations, dining, and more.
Add a Tree to Your Tree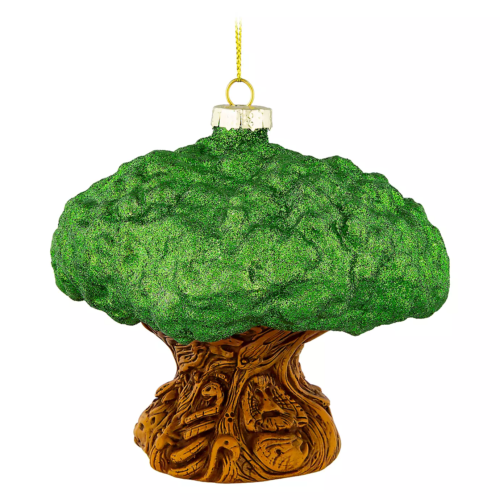 While it may get lost in the branches to some, Walt Disney World Animal Kingdom fans will instantly recognize the Tree of Life hanging on your Christmas tree this year.
With metallic green finishing, it will be sure to catch a sparkle and spark some wanderlust for your next trip to Orlando.
Hot Tip: If you get a trip to Disney this Christmas from Santa, read our post on what to expect with all of the new COVID-19 protocols. 
Hang Out With Minnie This Christmas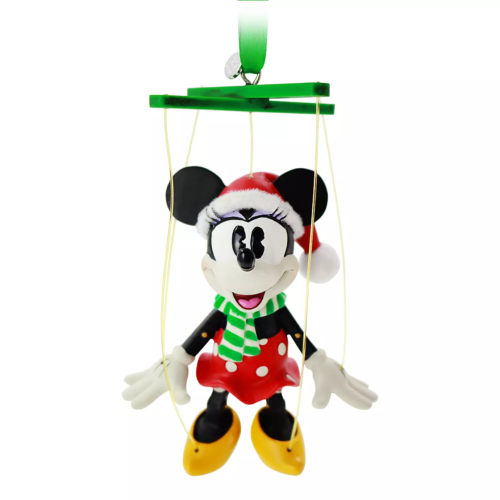 Minnie will be pulling on your heartstrings this Christmas when you see this cute marionette ornament hanging.
All decked out with her red Santa hat and green scarf, this fully-sculpted ornament will become an instant family favorite.
As part of the Disney Sketchbook Ornament Collection, you will probably want to add Mickey as well!
"Sandy Claws" Is Coming to Town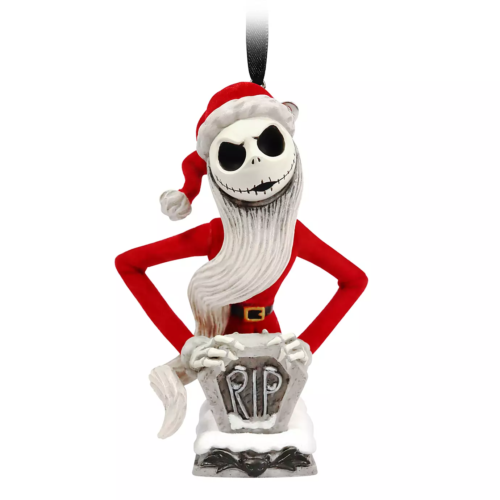 Add a little spookiness to your tree this year. The famous Jack Skellington from "The Nightmare Before Christmas" is the perfect addition for fans of the film!
Donning the Sandy Claws costume, unfamiliar guests will do a double-take and wonder if it is Halloween or Christmas at your house! A fun collectible no matter the season!
Disney Christmas Decorations
Shake Things up This Winter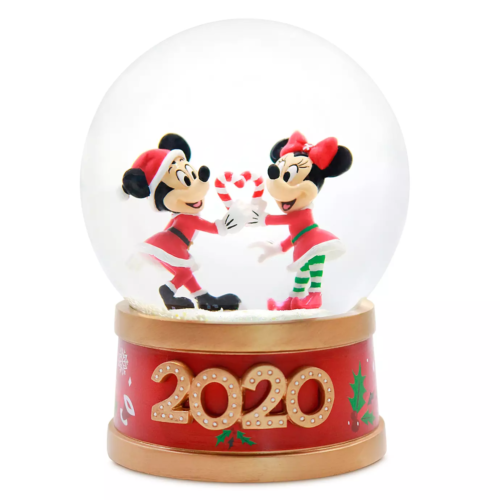 Winter romance is a beautiful thing —even more so when it's between Mickey and Minnie!
This charming snow globe features 2 of our favorite Disney characters holding candy canes that form the shape of a heart. Give it a shake and you will create a mini blizzard for the little lovebirds… err, mice.
The size is perfect as a paperweight or even out on the coffee table as a holiday decoration.
The Smell of the Holidays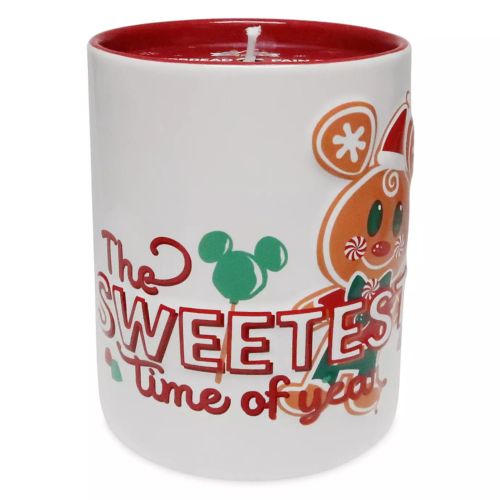 One of the most delicious scents of the holiday season is the smell of gingerbread cookies in the oven.
Well, if you don't feel like cooking, just light up this gingerbread scented candle!
Adorned with Mickey Mouse gingerbread and Mickey icon peppermint art, this candle is functional and decorative at the same time. It will surely help to make this the "sweetest time of the year!"
All Aboard the Holiday Express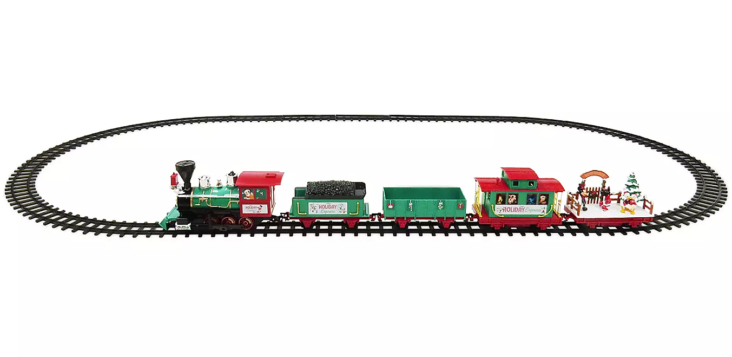 A train and 4 carriages will be chugging through your holiday season this year!
With over 22 feet of track, a remote control, and Christmas carols playing, the Holiday Express will quickly become a household favorite.
Watch as some of your favorite Disney characters make their way around the tracks in the caboose while others skate and sing on the skating carol car.
A Miniature Tree for Big Smiles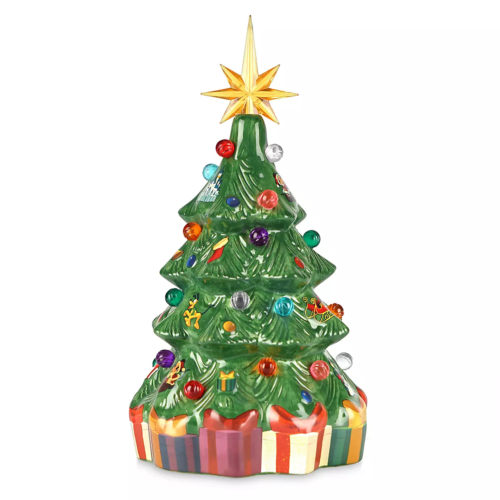 A vintage mini tree with Mickey and Minnie — how perfect!
This charming little ceramic tree will light up and twinkle your holiday season. Whether you leave it out in the living room or in the bedroom as a nightlight for the little ones, this beautiful light-up tree is a great addition from the Disney Parks Vintage Christmas Collection.
Cozy up With Mickey and Minnie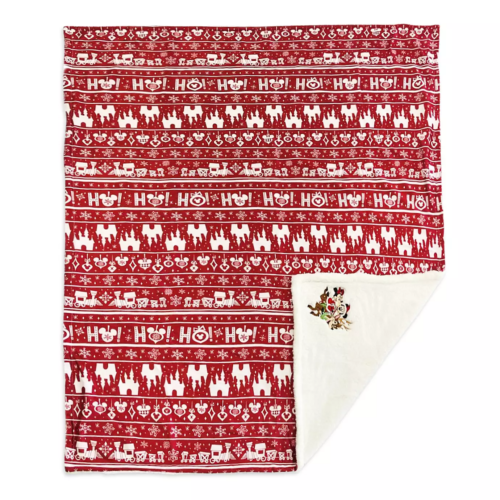 Curl up by the fire with this extra soft, reversible, furry fleece throw blanket.
On 1 side of the blanket is a holiday-themed pattern while on the other is a furry white fleece embroidered with Mickey and Minnie. No matter which side you choose, it is going to be comfortable!
The blanket comes wrapped in a bow, so it's ready to be the perfect gift — hopefully for someone in the same household!
Baby's First Stocking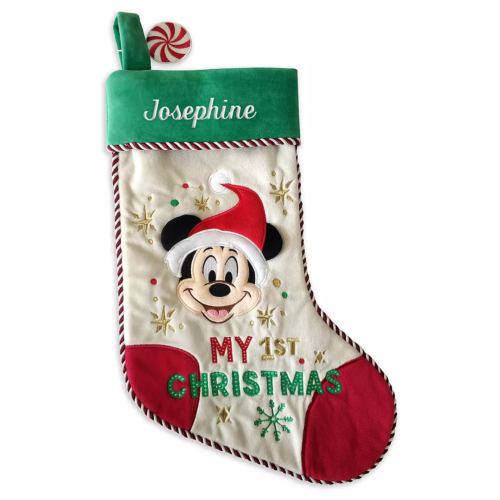 Hung by the fireplace with care, this is baby's first stocking… with a little bit of Disney flair!
Embroidered with Mickey wearing a Santa hat, "My 1st Christmas," and other holiday accents, this stocking is the perfect gift for the newborn Disney fan.
To make it even better, you can have it personalized for only an extra $5.95!
Disney Christmas Outfits
A Very Ugly Christmas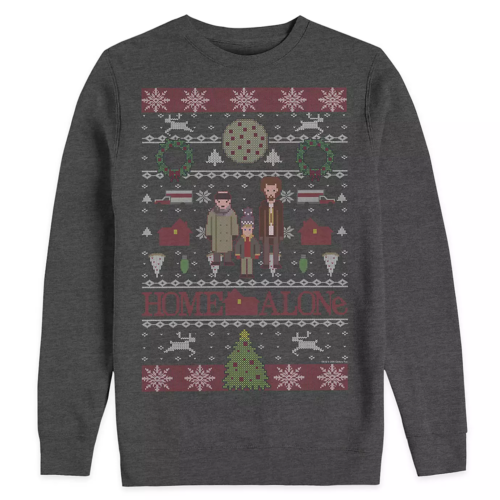 Hopefully, no kids get left home alone this year, but if you are looking for an ugly sweater, this "Home Alone" edition could be the perfect fit.
This nostalgic pullover is actually a comfortable sweatshirt with a fun 90s-feel screenprint of Kevin, Harry, and Marv. The inside is made of fleece, so not only will it be soft, it will be warm, too — perfect for eating a large cheese pizza by yourself in bed!
A Very Cozy Christmas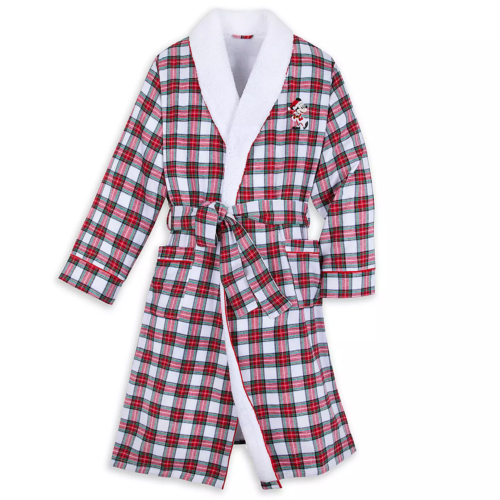 There is nothing like wrapping yourself in a big comfy robe on Christmas morning, especially one with Santa Mickey on it!
This plaid robe is full-length, has a plush collar, and most importantly… it has pockets!
The perfect gift for your lounging loved ones, especially the work from home ones.
Onesies for the Family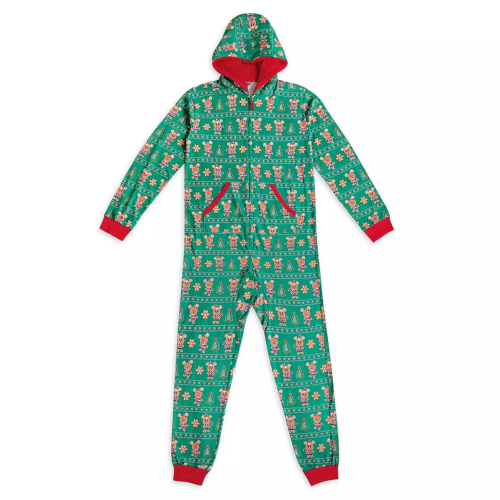 There are few things as comfortable as a soft, 1-piece pajama. A Disney version is sure to be cute and comfortable.
With long sleeves, a hood, and pouch pockets, this Mickey and Minnie bodysuit is perfect for anyone (or everyone) in the family.
And if you end up wearing it to run to the market to get cookie-making supplies, we won't judge.
Crawling Around the Christmas Tree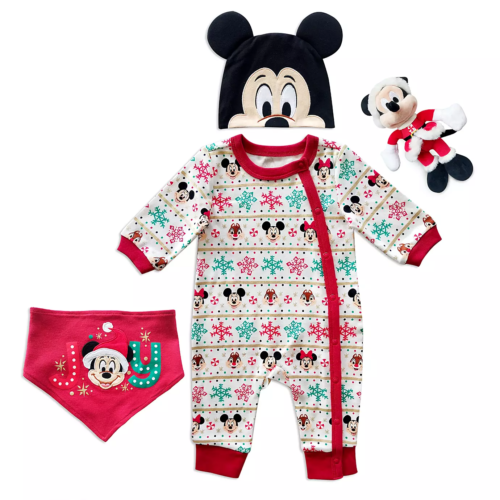 If you have a baby in the family, Christmas wouldn't be complete without a few adorable outfits. Well, we found at least 1 for you.
This kit comes with a romper bodysuit, hat, bib, and plush toy, all adorned with Mickey and Friends holiday designs.
The bodysuit is 100% cotton, so it will be comfortable, and the set comes in a window display gift box so it will make the perfect gift.
Matching Mouse House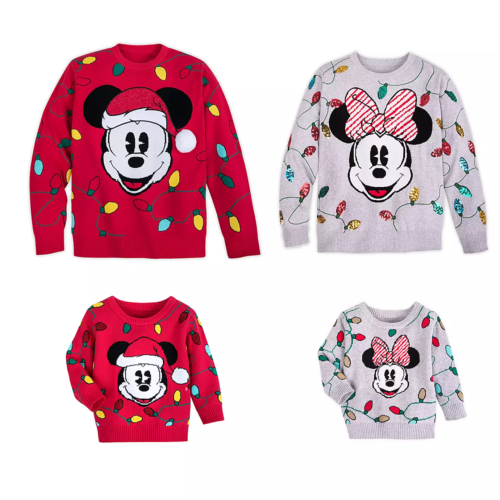 If you are looking for a fun way to celebrate with your family — or embarrass your kids this holiday season — look no further than this holiday sweater collection from Disney.
With options for men, women, boys, girls, and even babies, there is a look for everyone. Add on a light-up necklace to really brighten up the outfit.
A Doggone Delight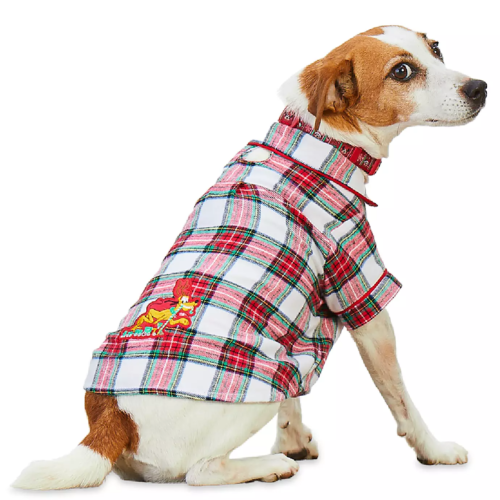 We love dogs around here, so you know we couldn't leave them off of this list. If you are planning on getting that perfect family photo by the tree this year, you can't leave your 4-legged family member out!
This plaid holiday nightshirt is perfect to dress up Fido. With a hole for the leash and a Pluto patch on the back, this could be the final touch your Christmas photo is looking for.
Disney Christmas Toys
A Winter Bubbleland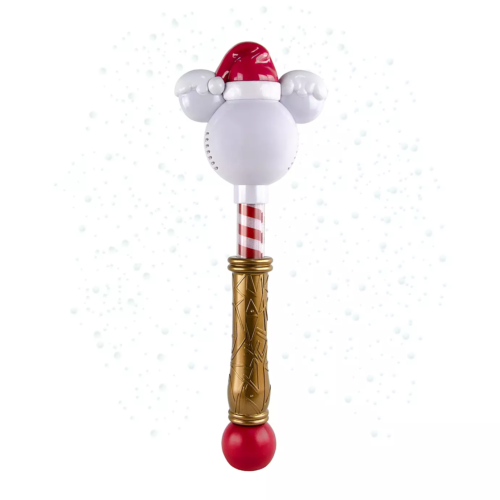 Mickey Mouse and bubbles? There aren't many kids that wouldn't love that combination!
This holiday edition features the iconic Mickey Mouse-shaped light with a Santa hat on top and a candy cane-striped rotating pole. A push of a button will start blowing micro-bubbles which creates a snow-like effect.
Although it is Christmas-themed, this toy will surely get used year-round.
For the Mini Fashionista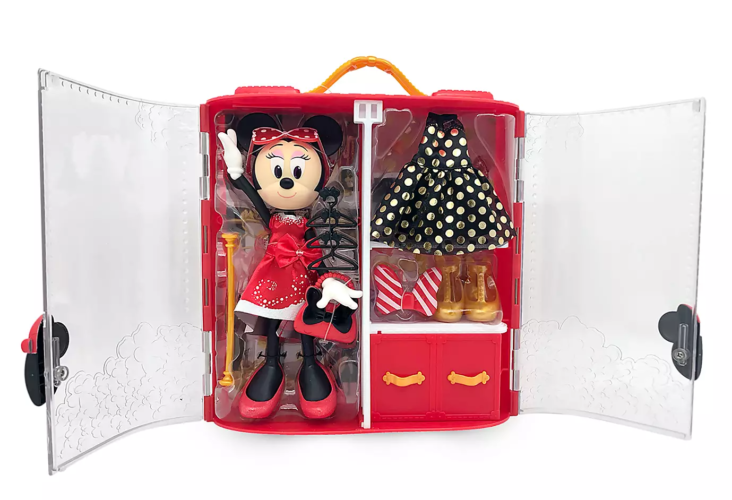 If you have a little one who likes playing dress-up, they will love this Minnie Mouse Doll Holiday Fashion Set.
Complete with a doll, wardrobe, multiple outfits, and accessories, Minnie will be ready for any holiday party.
The wardrobe also has a handle, so it is easy to close up and bring along to share the fun with friends and family.
Soft and Scented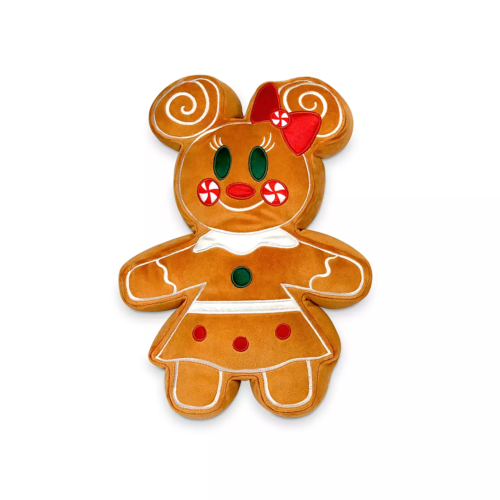 Super soft and with the scent of gingerbread, this Minnie Mouse version of the classic holiday cookie is sure to get squeezed a lot this Christmas.
This soft velour plush has embroidered "frosting" details and the unmistakable scent of gingerbread. There is also a matching Mickey version as these are part of the 'Twas the Night Before Christmas Collection.
So Ho Ho Huggable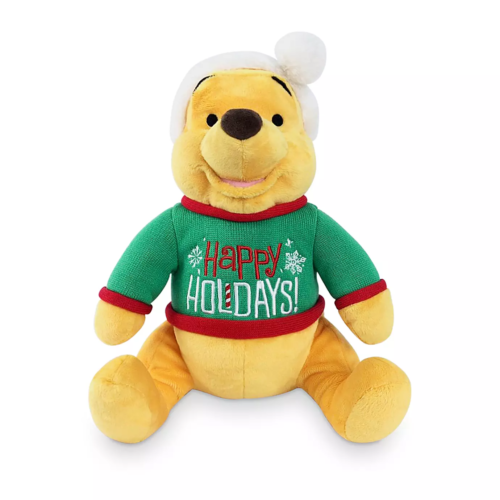 Winnie the Pooh is already one of the cuddliest of the Disney characters. Put him in a Santa hat and a matching holiday sweater and it will be hard to put down this plush doll.
His big smile, soft belly, and an embroidered sweater that says "Happy Holidays" will be spreading cheer throughout the holidays and more!
At over 14 inches, this plush is the perfect size for snuggling.
Build Your Own Railroad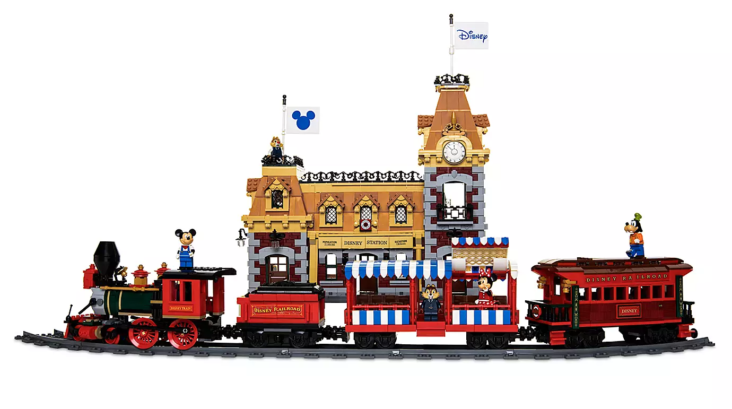 If you are looking for a fun toy/project, hop aboard this 2,925 piece LEGO set of the Disney Train and Station.
Complete with a locomotive, tender, passenger car, parlor car, and 5 Disney minifigures (Mickey Mouse, Minnie Mouse, Chip, Dale, and Goofy), hours of fun are guaranteed.
The 16-piece track can be built around the station (which is full of details inside), and the realistic sounds bring this iconic replica to life.
You can even use your smartphone or tablet to control the train via Bluetooth!
Disney Christmas Stocking Stuffers
The Piston Cup Champ Is Here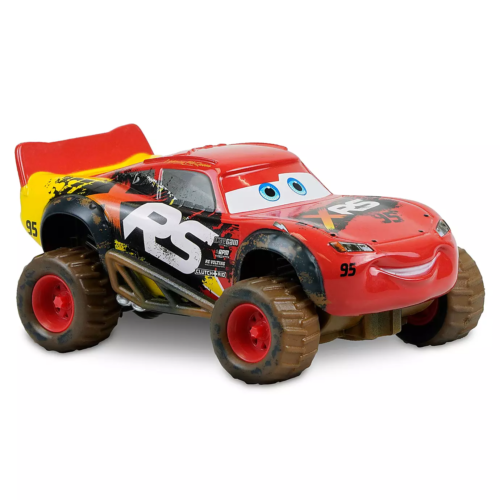 Fans of "Cars" will love seeing Lightning McQueen drive out of their stocking on Christmas morning.
This die-cast pull-back rendition of the famous racer is covered in mud, but when he drives through cold water, it disappears!
The off-road, modified McQueen is sure to bring miles of smiles.
Ready for Battle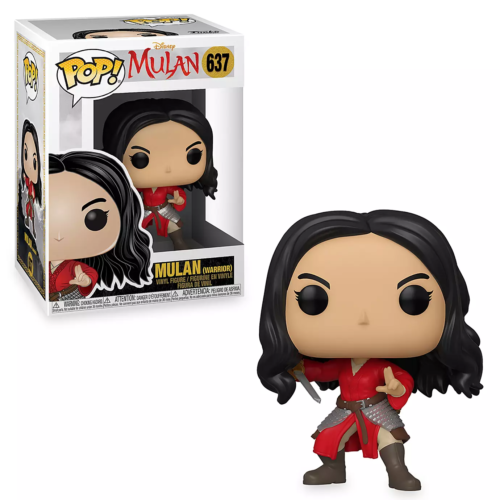 Few live-action films got as much hype as "Mulan" did. And now you can have your own mini Funko Pop! version at home.
Donning her warrior outfit, complete with sword in hand, she is ready for battle.
Fans will be excited to see this collectible in their stocking on December 25th.
Tropical Vibes Year-Round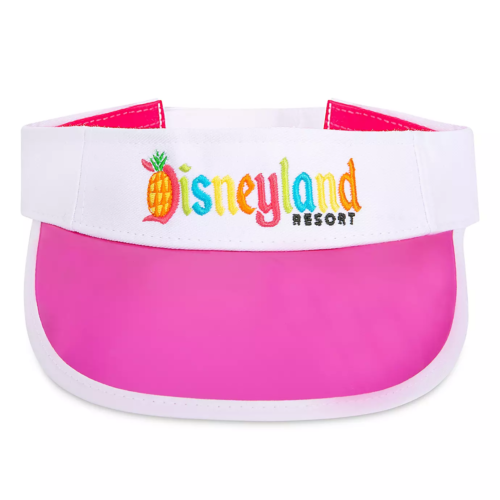 No matter where you are celebrating Christmas this year, when you put on this retro-feeling, neon visor you will feel like you are going somewhere tropical.
The vintage feel of the Disneyland logo exudes that Southern California vibe and slips perfectly into a Christmas stocking.
Mickey's Timeless Charm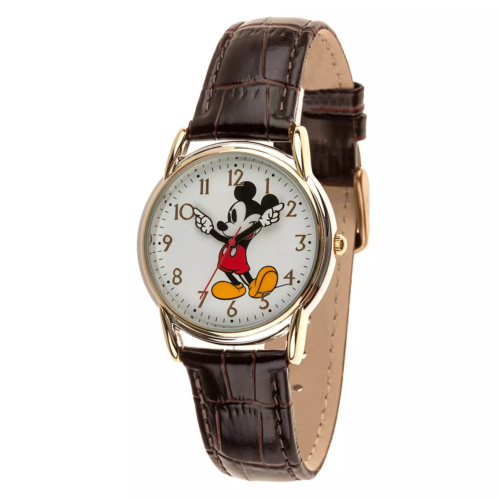 If you really want to step up your stocking stuffer game this year, check out this classic Mickey Mouse watch.
The croc-embossed leather band and Mickey's white gloves pointing to the hours and minutes will be a conversation starter for any Disney fan.
A Snowy Surprise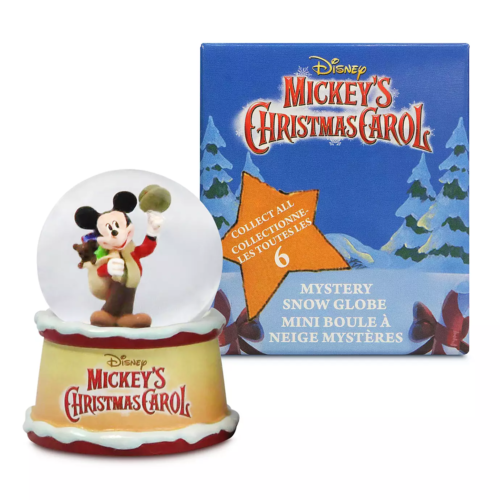 "Mickey's Christmas Carol" is a fun film to watch at any age. Relive some of those memories with this mystery snow globe.
Each box contains 1 randomly selected snow globe that could include Scrooge McDuck as Ebeneezer Scrooge with Tiny Tim, Mickey Mouse as Bob Cratchit, Minnie Mouse as Mrs. Cratchit, Goofy as Marley's Ghost, or 1 of 2 surprise mystery characters!
As one of the cheapest items on ShopDisney.com, this is a fun gift for every stocking on the mantle!
Final Thoughts
No matter who is on your Christmas shopping list, there is sure to be something on this list or at ShopDisney.com that will check off some boxes.
With everything from cheap stocking stuffers to high-end LEGO train sets, Disney has something for everyone and every budget.
It is no secret that we are big theme park fans around here, so bringing a little Disney magic into our home, especially during Christmas time, is a no-brainer.
Happy holidays!