The 17 Best Travel Baby Carriers in 2021 [Includes Wraps, Slings, and Backpacks]
Traveling with an infant can seem like an impossible task when you consider the vast amount of gear you will need to take with you. Cribs, car seats, and even strollers add bulk and weight to already tightly packed suitcases and carry-ons, so finding a way to keep your child close and your hands free is a sure-fire winner.
With this in mind, let us introduce the humble baby carrier.
Why Buy a Travel Baby Carrier?
Your travel stroller will be a key piece of your baby gear from the day your precious little one enters the world. But a baby carrier offers different kinds of benefits, and should definitely be a part of your baby traveling inventory right from the start.
Flexibility and Convenience
One of the very best reasons to use a baby carrier is the sheer convenience of having your baby close to you at all times. Forget about unfolding strollers with a baby in your arms, or hiking up and down cobbled streets or sandy beaches with wheels that won't work. A baby carrier makes light work of baby transportation.
Couple this with the fact that your baby is more likely to be soothed and sleep close to the warmth of your skin, and you are on to a winner.
Keep Your Hands Free
Grab your passport, open your purse, or even hold your toddlers' hand while knowing your baby is safely strapped to your body.
Having both hands free is an absolute luxury when you are a parent to young children, and the convenience it offers when traveling through airport security, or fighting the crowds on public transportation, will make your baby carrier worth its weight in gold.
Leave the Stroller at the Hotel
If you are venturing out to explore while you are on vacation, you may want to leave the stroller back at the hotel. Get out in the countryside, go explore historical ruins, or even hit that bustling city center without the worry of how to take your stroller with you.
Make Flying With a Baby an Absolute Breeze
Most air carriers will allow infants under 2 years old to travel for free when they are seated on the lap of an adult. While this is fine in theory, having an upset, hungry, or simply restless baby on a long flight can be frustrating for both you and your little one.
A baby carrier allows you to strap your baby in and let them rest on your chest while you are in the air. You can read, eat, and keep your baby calm for longer when they are held close to you.
They Offer Security Wherever You Are
If you are visiting somewhere where you are expecting large crowds, inclement weather, or just an environment that is very different from your home setting, you may feel more secure knowing your baby can be wrapped up close to you. Keep them warm and relaxed next to your heartbeat as you explore.
The Different Types of Carrier
Not all carriers are the same, and depending on the age and weight of your baby, combined with your own personal preferences, there are lots of different types of carriers to choose from.
Front-Facing Carriers
The most popular of all carriers, front-facing carriers are easy to load and unload and truly do keep your little one close to your heart. They are as easy to use with newborns as they are with older babies — you can carry your baby sleeping on your chest or turn them round to face the world for smiles and giggles.
These are particularly good for getting through airports as they are incredibly secure for babies, and once fastened properly, they should also be comfortable and practical for mom or dad to wear.
Made from cloth with soft linings and padded straps, this type of carrier can usually be thrown in the laundry when it needs a freshen-up and shouldn't take up too much room in your case or carry bag when you are not using it.
Bottom Line: While front-facing carriers are always popular, some parents can find the positioning of the baby uncomfortable for long periods of time.
Hip Carriers
These lightweight and minimalist carriers are useful for older babies and help to evenly distribute the weight while you carry your child. Most parents spend a vast amount of time carrying their children on their hips anyway, and these little cushioned slings simply help to accentuate what nature gave us.
Keep your hands free while your baby rests on your hip and maybe try using one of these around the house before you take them somewhere busier or use them for long periods of time. It's a useful addition for a trip to the grocery store, but it may not be so good for crowded public transport or long flights.
Backpacks
If you are a fan of the great outdoors and want to introduce your little one to the joys of hiking, biking, or just getting out there, these types of carriers are perfect for toddlers and older babies and are very comfortable.
Featuring a sturdy frame to keep baby well-supported, as well as padding, straps, and lumbar support to help balance the load and keep mom or dad comfy. You can also protect your little one from the elements with rain covers and sun shades.
Carrying your baby on your back will reduce your view of them, but they will have an incredible view of the world around them. These types of carriers can be a little bulky when not being used, but they usually come with their own carry bag, and the fabric parts can all be washed.
Slings
Traditional, inexpensive, and easy to take virtually anywhere with you, slings are an age-old way of keeping your baby close to you. Made from swathes of soft, often brightly colored fabric, they look super cute and are an inexpensive and versatile way to carry your child.
But, and there is a big but here, the reason moms switched from slings to baby carriers when they first became readily available is because there are some safety concerns related to sling-carrying.
If the sling tie comes undone, your baby could fall and hit the floor, or if your baby is too small to hold their own head up, a sling could pose the risk of suffocation.
Bottom Line: If you really want to use a sling, go ahead by all means, but really educate yourself on how to tie them and how to keep your baby safe before you carry your baby in one.
Wraps
Affordable, lightweight, and super easy to use, these wraps are comfortable for both parent and baby. Unlike a sling, wraps are available in different sizes and can be worn in various ways to suit the style you would best like to carry your baby.
Check out the different types of wraps available and educate yourself on the best way to wear one before you buy. Once you have found the right wrap to suit your needs, you will love the portability of wrap-carrying and how soft and washable the fabrics are.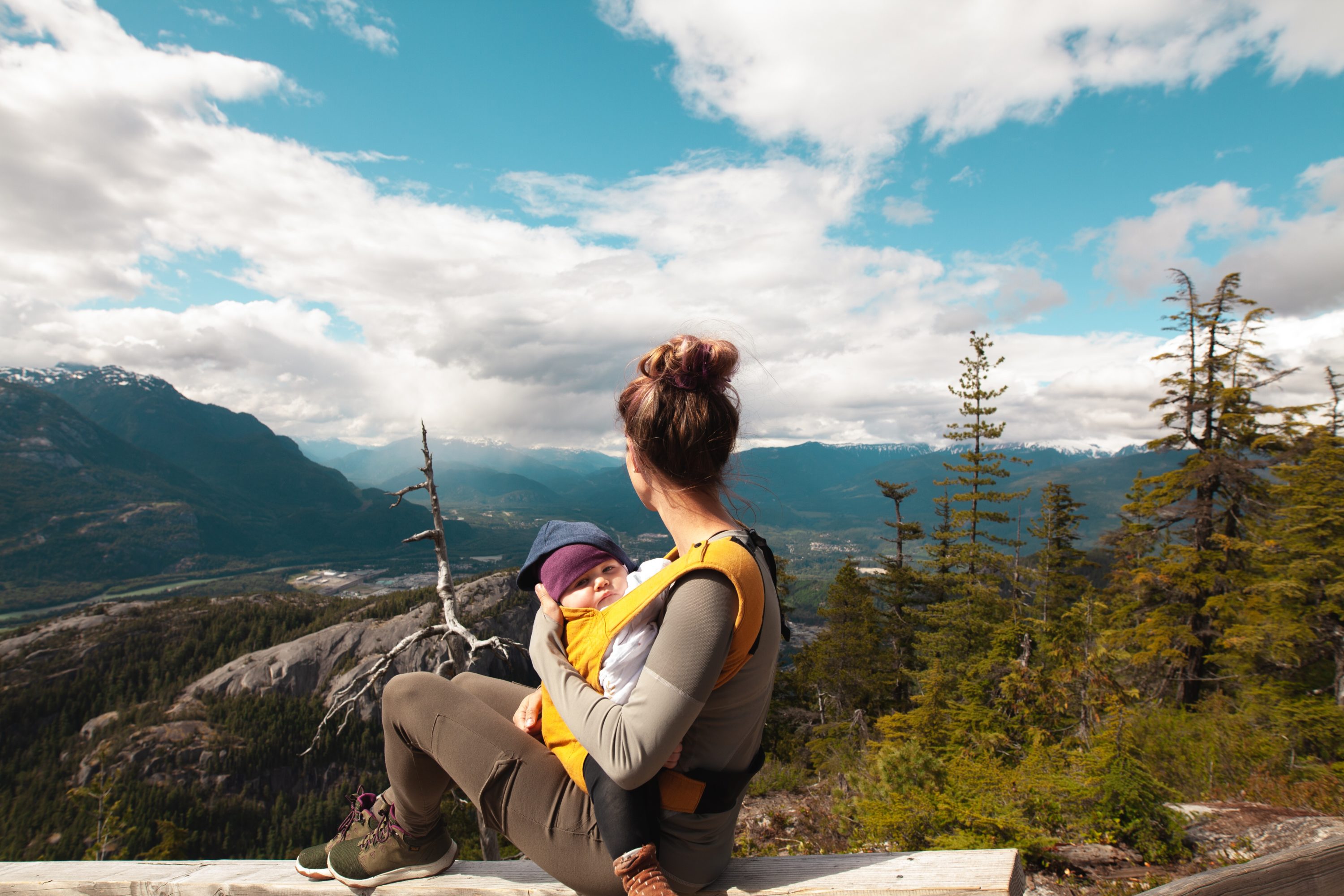 Things to Consider With Baby Carriers for Travel
In order to ensure that you have the right carrier to suit the age and developmental stage of your baby, as well as one that matches your own personal preferences, consider the following before you commit.
The Age of Your Baby
Baby-wearing can work well with infants of all ages, but the key to your success is knowing which kind of carrier works best for the different stages of your child's development.
Newborn babies, for example, should be held forward-facing and close to you and supported entirely by the wrap, sling, or carrier to keep them safe on the go. They may even need to use a newborn insert.
Once your baby can confidently hold their head up, you can consider facing them outwards in either a carrier, wrap, or sling. As they become confident little toddlers, you may want to consider something a little more sturdy, which is where the backpack-style carriers, hip packs and wide seats can become a useful component of successful outdoor pursuits and trips away from home.
The Safety of Your Baby
Being able to keep your baby safe and calm are usually the most important reasons why parents opt to use a carrier. Whether you use a sling, wrap, backpack, or carrier, there are a few basic safety rules that you should know:
Always keep your wrap, sling, or carrier held tightly against your body.
Be sure that you always have your baby in view at all times.
Your baby's back must be fully supported at all times.
Your baby's chin should be kept off of your chest at all times.
Ensure all harnesses are fully secure before setting off with your baby on you.
Is it Comfortable and Ergonomically Designed?
To ensure the comfort of your baby, the carrier you choose should have a cozy, warm, and breathable cocoon to help regulate the baby's temperature and keep them comfortable enough to be calm and relaxed throughout the journey.
For younger children, this will mean keeping their backs supported, while older children will benefit from additional features such as sun canopies, hip seats, and even stirrups.
For the wearer, the carrier has to be comfortable in order for it to be of any use to you. Padded and adjustable straps are a huge bonus, and even if you opt for a simple sling, the material will need to be stretchy enough to wrap baby up securely.
What Is It Made From, and How Durable Is It?
Most carriers are made from either the kind of tough and durable Ripstop nylon that you would expect to find on travel backpacks or soft and stretchy cotton on a traditional-style sling.
How Easy Is It to Clean?
Accidents happen, so having a carrier that you can wipe down or, better still, throw into the laundry is worth its weight in gold. Look for carriers with detachable bibs for very little babies and those that offer easy to remove covers for bigger babies.
The Best Baby Carriers For Travel
There are thousands of carriers out there for you to choose from. Here are some of the very best for travel.
Carriers
A Big Brand Baby Carrier That Is Hard to Beat
BABYBJÖRN Baby Carrier Original
This incredibly portable baby carrier is easy to put on and take off by yourself and takes up very little room in your suitcase when not in use. The simple 2-step design allows you to lift your sleeping baby in or out without waking them and makes this an excellent choice for keeping young babies close to you as you travel.
Your little one will be kept safe with the sturdy and adjustable head support, while the back support helps to keep legs and hips held in the most ergonomically sound position. Having your baby kept in an upright position, even when you are sitting down, will keep your baby's airway free and let you check on them as often as you feel you the need to.
Bottom Line: Made from breathable and machine-washable cotton material, and offering additional padding for extra comfort and protection, this is a brilliant offering from one of the biggest names in baby carriers.
A Convertible Carrier That Is Suitable From Birth
Infantino Flip 4-in-1 Convertible Carrier
Suitable for babies weighing between 8 and 32 pounds, this clever little carrier offers 4 ways to carry your baby while you are traveling. You can hold your newborn close to your chest, or turn them around to face outwards when they are able to hold their own head up. You can also adjust the width for a wider inward-facing position or wear the carrier on your back for older babies and toddlers.
Made from machine-washable material, this carrier also includes a 2-in-1 wonder bib to protect your carrier and clothing while in use, and it is incredibly lightweight to carry around with you when it is not.
The adjustable seat, leg openings, straps, and even the waist belt help you to find the most comfortable position for both you and your baby, meaning you are likely to be able to wear it for longer, wherever you are headed.
Bottom Line: Affordable, washable, and with clever little extras you would expect to find on more expensive models, this is a bargain baby carrier that is worth every last cent.
A Super Versatile and Ergonomic Carrier
LÍLLÉbaby The Complete All Seasons 6-Position, 360° Ergonomic Baby and Child Carrier 
With a choice of 6 different ways to carry your baby, this is the ultimate ergonomically sound baby carrier for complete 360-degree babywearing. You can choose from the fetal position, facing inwards, facing outwards, on the hip, on your back, and inward-facing for larger toddlers. You can use this carrier with babies that weigh between 7-45 pounds, from birth to much bigger!
The easy to wear backpack-style carrier is made from washable material and features breathable mesh to keep your baby cool. There is also a removable sleeping hood, an extendable torso section for larger babies, and a large storage pocket for keeping your essentials close by.
The carrier is designed to keep your little one's legs and hips in a comfortable position while in transit, which is important for promoting proper hip development from the very beginning.
Bottom Line: This little beauty is very comfy for moms and dads, too, as the unique lumbar support system relieves lower back pressure and distributes weight evenly. So much versatility in 1 product. Brilliant!
Basic Brilliance From Evenflo
Evenflo Breathable Soft Carrier
Suitable for babies weighing between 7-26 pounds, this basic but brilliant baby carrier is great for flying and traveling with your little one.
With just 2 carrying positions to choose from, your baby can face inwards towards you when they are little and then out to face the world as they get bigger. Made from a super-soft, breathable material, your baby will sleep soundly in this warm and cozy carrier that even comes with its very own removable bib for extra protection.
When your baby is able to hold their own head up comfortably for long periods of time, you can have them face out to see the world.
Bottom Line: A simple and budget-friendly travel baby carrier that is also highly effective.
Thoughtful Design and Comfortable for Parents
Ergobaby Carrier, 360 All Carry Positions Baby Carrier 
With an adjustable bucket seat, this travel baby carrier is suitable for little ones from 4-36 months old with an infant insert or from 12-33 pounds without an insert. If you wish to use it for your newborn, you will need to purchase the additional insert separately.
With a wide, wraparound waistband, this carrier helps to provide support for your lower back. The waistband can extend up to 52 inches and the shoulder straps to 48 inches, meaning this carrier can be worn by moms or dads of all shapes and sizes.
When it comes to your precious bundle, soft and breathable material makes for a cozy carry, and the tuck-away hood with a UPF 50+ rating will keep your baby's little head safe from the wind and sun.
Bottom Line: Face your baby in or out, or set them on your hip as they get older, with this great baby carrier.
A Cute and Comfy Way to Carry Your Little One
Infantino Cuddle Up Ergonomic Hoodie Baby Carrier
This carrier has been designed to feel exceptionally comfortable for the wearer and offers a safe and comfy ride for your little one. Suitable for babies from 12-40 pounds, it even comes complete with a super cute, detachable teddy bear hood to keep your babies head warm and protected in transit.
With adjustable shoulder straps and a wide waist belt, this carrier is well-suited to longer journeys and will help to evenly distribute the weight of your baby as you travel. The wide seat offers impressive knee support, and the carrier has a naturally rounded back, making it exceptionally comfortable for your baby, too.
Made from washable material, you can carry your baby facing towards you, facing outwards, or even on your hip.
Bottom Line: Lightweight and small enough to take anywhere with you, this is an affordable option for travelers on a budget.
Easy to Use Baby Carrier That Is Designed to Last a Lifetime
Boba 4Gs Classic Baby Carrier, Bear Cub
Designed to last a lifetime, this wrap-style carrier is easy to use and designed to offer optimum ergonomic comfort for your little one.
For the comfort of your baby, the wrap features a deep seat made from comfortable and washable fabrics, and the removable foot straps are there to support the baby's legs and hips while on the move. Suitable for babies weighing between 7-45 pounds, you can have your little one facing inwards or outwards depending on their age and weight.
Another great feature of this wrap carrier is the multiple pockets and even a purse strap holder that secures your bag so it doesn't slide off your shoulder, keeping it feeling comfy and your baby close by at all times.
Bottom Line: If you are looking for a high-quality baby carrier that focuses on ergonomics over and above fancy extras, then the Boba 4Gs could be just right for you.
Wraps and Slings
The Original "No-Wrap, Wrap" That is Easy for Everyone to Wear
Baby K'tan Original Baby Wrap Carrier, Infant and Child Sling
This quick and easy wrap will keep newborns and infants close to your heart for easy breastfeeding or everyday wear on the go. Made from 100% GOTS-certified cotton, this is the ultimate "no-wrap, wrap," which you simply sling over your head like a t-shirt. Suitable for newborn babies, the wrap can also become an upright seated carrier for infants up to 35 pounds.
Easy to wear, the K'tan Baby Wrap Carrier helps with even weight distribution that allows you to hold your baby close to your skin, and the unique double-loop design and one-way stretch will keep your little one securely in place.
As a naturally ergonomic alternative to formal baby carriers, the wrap offers a seated position that is approved as Hip Healthy by the International Hip Dysplasia Institute, while still being able to adapt and adjust positions to suit the age and size of your growing baby.
Bottom Line: Washable and effortlessly wearable, this is an impressive wrap with an affordable price tag.
Easy Babywearing and Discreet Breastfeeding With This Strong and Versatile Baby Wrap
Baby Wrap Carrier All-in-1 Stretchy Baby Wraps – Baby Carrier
Stretchy, simple and super easy to use, this baby wrap will keep your baby close while you travel. Sturdy, strong, and breathable cotton fabric will keep your little one safe and secure while also offering enough support to ensure an easy ride for your own back and shoulders.
Suitable for use from newborn up to 35 pounds, the baby wrap will soothe your baby as they are kept close to your skin, and makes for easy and discreet breastfeeding wherever you may go.
Bottom Line: This particular sling has a simple, easy to use design that is suitable for new moms and dads, and the washable design is lightweight and easy to carry with you even when not in use.
A One-Size-Fits-All Baby Wrap, Made From Soft and Stretchy Material
Boba Wrap Baby Carrier
As soft and supple as your favorite t-shirt, this baby wrap is made of 95% natural cotton fabric. Designed to stretch and flex, this wrap will keep both you and your baby comfortable as you carry.
Suitable for babies from birth to 35 pounds, this one-size-fits-all wrap is designed to offer a custom fit and has an easy to use configuration that will be able to hold your baby as they grow. Washable, breathable, and able to retain its shape, this wrap will cling perfectly to the contours of your body to keep your baby secure and supported, wherever you choose to carry them.
Bottom Line: The design of the Boba wrap offers the perfect ergonomic seat and the correct posture for your little one, while also evenly distributing weight for the comfort of moms and dads on the move.
Swaddle Your Baby Close With This Super-Soft Sling
Baby Wrap Ergo Carrier Sling
Made using a super-strong blend of soft terry cotton and stretchable Spandex, this wrap allows you to swaddle your baby close to you to help them feel calm and secure, taking away the stress of long-distance travel.
The Cuddblebug Baby Wrap can be used for babies from birth to 35 pounds, and it is easy to wrap and wear for parents on the go. This super soft and convenient wrap also makes for a convenient and discreet nursing cover allowing you to feed your baby wherever you are.
Bottom Line: The breathable construction also helps to regulate your baby's temperature to keep them comfortable at all times, and when you are not carrying your baby, you can also use it as a postpartum belly belt.
A Sling Designed for Use Both in and out of the Water
Vlokup Baby Water Ring Sling Carrier
Perfect for everyday use, on vacation, or even in the water, this 100% polyester jersey sling baby carrier is a lightweight alternative to heavy carriers and strollers.
Suitable for babies weighing between 8-35 pounds, the quick-drying, jersey mesh material is perfect for trips to the beach or the pool where you want to keep your baby held close to you. The unique aluminum ring design makes it easy for mom and dad to find the right carrying position, and when not in use, this little beauty folds up super small for taking everywhere with you.
Bottom Line: A great choice for babies on vacation, parents should be aware that the 100% polyester material does not offer any protection against the harmful rays of the sun, and that even when attached to you, you should still exercise caution when you take your baby into the water.
Backpack Carriers
An Adjustable Backpack Carrier for Those Who Like to Hike
ClevrPlus Urban Explorer Hiking Baby Backpack Child Carrier
With a sun hood, a removable wind and rain cover, a changing mat, and a hydration pack, it has everything your baby needs, whatever the weather.
The built-in adjustment system will help both you and your baby to find the most comfortable position, and the metal stand will easily transform your backpack into an upright baby seat on a flat surface. With lots of pockets to choose from and 2 side water bottles, you can keep all the stuff you need at hand on your next urban exploration.
Made from strong and durable, water-resistant fabric, this backpack carrier is perfect for little ones between 9 and 48 months old. The thick padded shoulder pads and bolsters also make it comfortable to carry.
Bottom Line: Offering the perfect blend of form and function, the ClevrPlus Urban Explorer Child backpack carrier has a light aluminum frame that will help keep your little one safe on the hardiest of outdoor adventures, while still being comfortable for mom or dad to wear.
Brilliant Backpack Carrier From a Big Name Brand
Thule Sapling Elite Child Carrier Backpack
Offering a fully adjustable back panel and a padded hip belt, your child can be carried comfortably around with you for hours on end. There are also removal stirrups to keep your little one better-supported while on the move. Designed to be just as comfy for mom and dad, too, the stabilizer traps will adjust the backpack's center of gravity for a custom-made carry. 
Made from Cordura Nylon and 420D Nylon, this backpack also has plenty of useful spaces for extra storage, including a hydration reservoir sleeve, a removable backpack, and a large zippered compartment for all of your other essentials. Suitable for infants who can hold their head up and weigh between 16-46 pounds, this is a great backpack carrier for outdoor enthusiasts.
Bottom Line: Made by one of the biggest names in outdoor adventures, the Sapling Elite by Thule is a child carrier backpack that is just as brilliant in the city as it is in the countryside and beyond.
Get out Exploring With This Highly Adjustable Backpack-Style Carrier
Kelty Journey PerfectFIT Signature Series Child Carrier
With padded shoulder straps, torso adjustment, an integrated 5-point harness, and even stirrups to keep little feet supported in transit, this is a great baby-carrying option for moms and dads who are looking for adventure. Designed for outdoor enthusiasts of all ages, the Kelty Journey PerfectFit has a cozy "cockpit" that offers a padded seat making this just as comfortable for your little one to sit in as it is for your to wear.
Made from tough and durable 420D polyester, the padded aluminum roll cage keeps the frame upright and secure without making it cumbersome to carry. There is also an integrated sunshade to protect your little one from the heat of the sun, and the additional large, zippered backpack pocket means you can carry everything you and your baby need for a day out in the great outdoors.
Bottom Line: Suitable for children from 6.6 to 48 pounds, this lightweight but heavy-duty carrier will grow with your baby for many years of adventures.
A Sturdy Backpack Carrier With a Range of Customizable Options
Deuter Kid Comfort 1 Lightweight Framed Child Carrier for Hiking
Featuring adjustable torso lengths, a spring steel frame, a padded hip belt, a tensioned mesh back, and pivoting hip fins, this is a finely-tuned backpack carrier that can be used to achieve a custom fit for your baby.
The 5-point harness will keep your child secure, and the wide seat with adjustable stirrups makes for a comfy ride. For the convenience of mom and dad, the carrier has a large storage area under the seat, and the VariFit system adjusts to make it quick and easy to swap the pack between parents.
Suitable for babies from 6-46 pounds in weight, this is a brilliant choice for families who love to be outdoors.
Bottom Line: Designed for regular use by parents who like to enjoy hiking and other outdoor pursuits, the Deuter Kid Comfort range is a lightweight, but incredibly sturdy backpack carrier that will last your child for many years of great adventures.
A Premium Backpack Carrier for Serious Outdoor Enthusiasts
Luvdbaby Premium Baby Backpack Carrier for Hiking with Kids
With a super cozy padded cocoon for your little one and adjustable straps and a load-bearing belt for mom or dad, this backpack is designed with everyone in mind.
Your little one from 15-40 pounds can stay well protected with safety straps, as well as a removable and stowable sun visor to protect against the heat of the sun. There are also multiple pockets that can be used to carry your phone, keys, water bottles, snacks, toys, and even extra layers for your little one, as well as a folder diaper pad for changes on the go.
Made from waterproof Ripstop polyester with a lightweight aluminum kick-stand, this backpack carrier is a premium product for serious adventurers.
Bottom Line: Designed to offer the optimum ergonomic experience for your baby, this backpack carrier is perfect for outdoor enthusiasts.
Final Thoughts
Baby-wearing is more popular now than it ever has been before. With a generation of new parents turning to safe, secure, and proven ways to transport their babies, simple slings, wraps, and carriers are very much back in fashion.
The benefits of baby-wearing are more obvious than ever when it comes to traveling as a family. Negotiate busy airports with your baby on your chest, or minimize disruption on long haul flights with a contented baby and more relaxed parents.
Want more information on travel products? Explore our best travel product reviews as well as our Family Travel section for more ways to travel with the little ones.