Silvercar Premium Rewards Review — How to Earn And Redeem Points
Silvercar is a revolutionary new rental car service owned by Audi. Since launching in 2012, it's expanded to serve most major U.S. airports and select city centers, offering users affordable rentals in its all-Audi fleet of cars.
As a part of its rapid expansion, Silvercar launched a new rewards program dubbed Silvercar Premium Rewards. Silvercar members earn Premium Rewards points on all Silvercar rentals which can then be redeemed towards free Silvercar rentals — and let's be honest, who doesn't love those?
Despite the loyalty program being labeled as simple, using points can be quite convoluted if you're a beginner. In this article, we'll give you the low-down on Silvercar's Premium Rewards program, showing you how to earn and redeem points for maximum value. Before we do that, though, we'll also get you up to speed on Silvercar, showing you the ins-and-outs of the premium rental car service.
Sound good with you? Let's get started!
Silvercar: An Overview of Audi's Car Rental Service
Silvercar is Audi's in-house rental car company. Unlike National and other more traditional rental car companies, Silvercar focuses on a premium experience. It only offers the latest Audi models to its customers and all cars in its fleet are equipped with ultra-premium features like Apple CarPlay and Android Auto, Bluetooth, Wi-Fi, Sirius XM radio, and more.
Plus, the rental car service offers other cool features, too. For example, you can request a free car seat for your kids or choose to rent a convertible when you want to enjoy the weather.
Hot Tip: Silvercar doesn't charge an underage fee for drivers under 25, however, you must be at least 22 years old to rent from the company. People 18-22 are able to rent in New York state with a $75 per day surcharge, though. 
As of December 2020 and as a result of COVID-19's effect on business, Silvercar's airport locations will close and transition their business to local Audi dealerships, though you can continue rent cars in city centers like downtown Miami, New York City (Brooklyn and Manhattan), and San Francisco.
We've found that Silvercar rates are a bit more expensive than a standard rental car, but they're not outrageous. In our research, we've found that a majority of rentals are between $60 and $100 per day, after tax. This makes Silvercar rentals comparable to renting a luxury or sports car from Avis, National, or another major rental car company.
In some cases, Silvercar is actually cheaper than the competition. For example, a 1-day Audi A4 rental in Washington, D.C. (IAD) is $93 after taxes and fees. On the same day, a "luxury car" rental from National is $117.55 after taxes and fees, making Silvercar the less expensive option for renting a luxury car on that particular day.
A Look at the Silvercar Fleet
Silvercar only offered Audi A4s when it entered the market, but that's since changed after the company was acquired by Audi. As of the time of writing this article, Silvercar offers 4 different types of Audi vehicles for rent. Many locations stock all 4 models, while others stock a smaller selection. Let's take a look at Silvercar's full fleet of cars.
Audi A4 — the Original Silvercar Sedan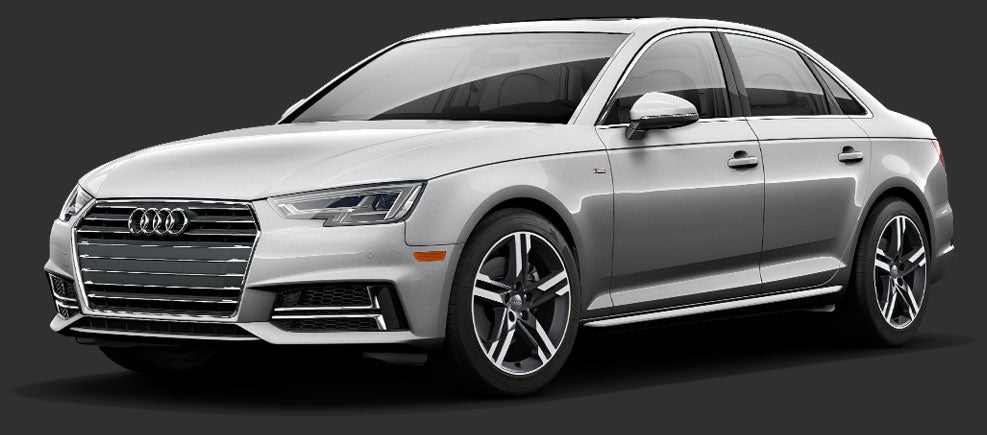 The Audi A4 is Audi's classic sedan. It offers comfortable seating for 5 passengers, has modern technology in its infotainment system, and boasts a 252-horsepower engine that makes driving fun. You can find Audi A4s at all Silvercar locations.
Audi A5 — an Audi Convertible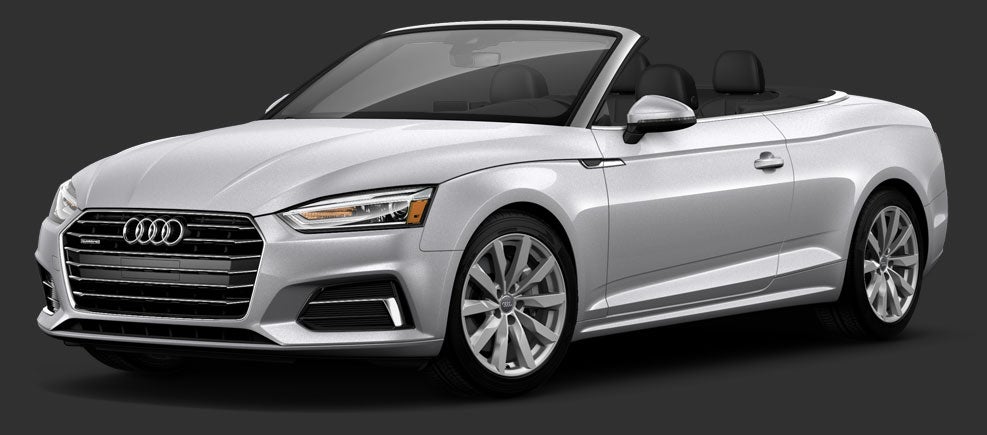 Recently, Silvercar added the Audi A5 to its lineup of vehicles. This car is a 2-door version of the Audi A4 with a convertible top, making it a good choice for rentals in Los Angeles and other sunny cities. It has a similar interior to the Audi A4 as well and is available at most Silvercar locations around the country.
Audi Q5 — a Luxurious Mid-Sized SUV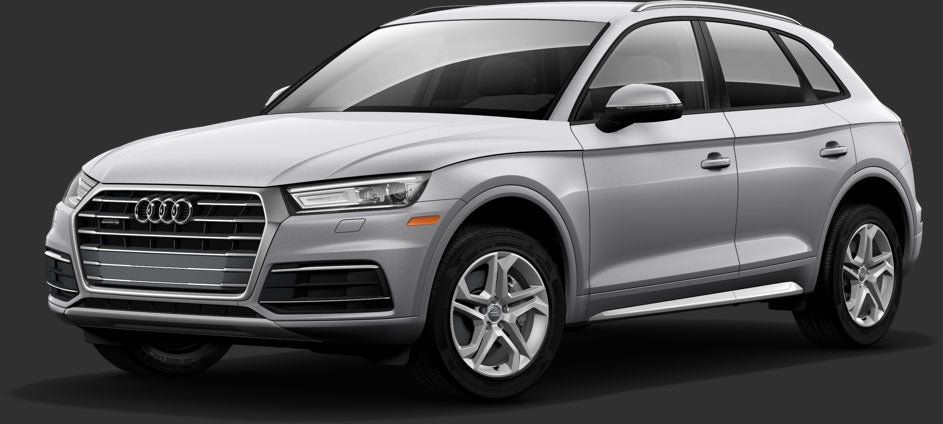 Moving on to SUVs, you can rent the mid-sized Audi Q5 at a majority of Silvercar locations. This vehicle is equipped with a large 14.2 x 35.7 x 69.9 cubic feet of cargo storage, so you can load the vehicle up with passengers and lots of cargo. This is ideal for transporting small groups or for trips where you'll need to make grocery runs. You can find the Audi Q5 at most Silvercar locations.
Audi Q7 — a Full-Sized SUV for Large Groups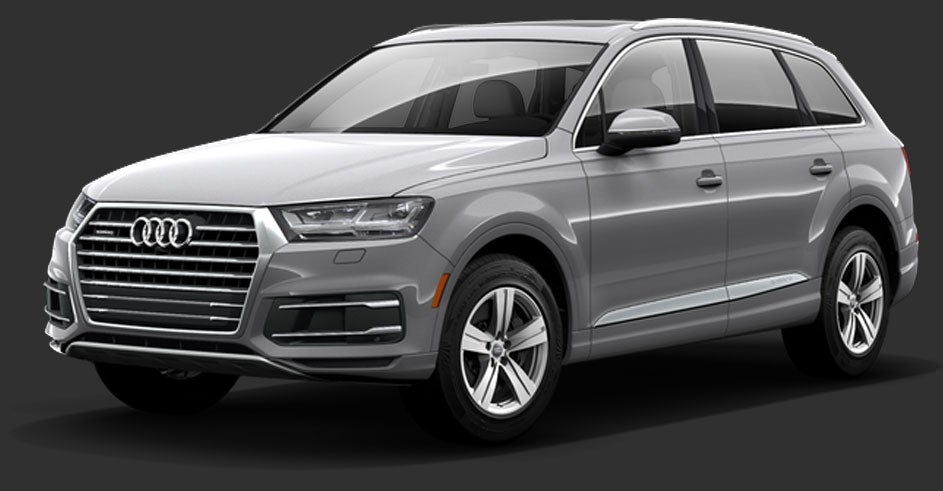 Need even more space? Check out the Audi Q7. This vehicle has the same storage space as the Audi Q5 but can haul up to 7 passengers at once. Plus, the car is all-wheel drive with a 248-horsepower engine, so you're not losing out on power. You can find the Audi Q7 at select Silvercar locations — namely, at Silvercar's locations at large air hubs like Chicago (ORD), Newark (EWR), and Seattle (SEA).
Hot Tip: See our list of the best credit cards for car rental insurance to make sure you're protected but without paying the notoriously high fees that rental companies charge you.
Booking a Silvercar Online
You can book a Silvercar online or through the company's mobile app. Both of these provide a seamless experience — all you have to do is select a location, pick a car, choose insurance options, and you're set. Here's a look at how to reserve a Silvercar on the company's website.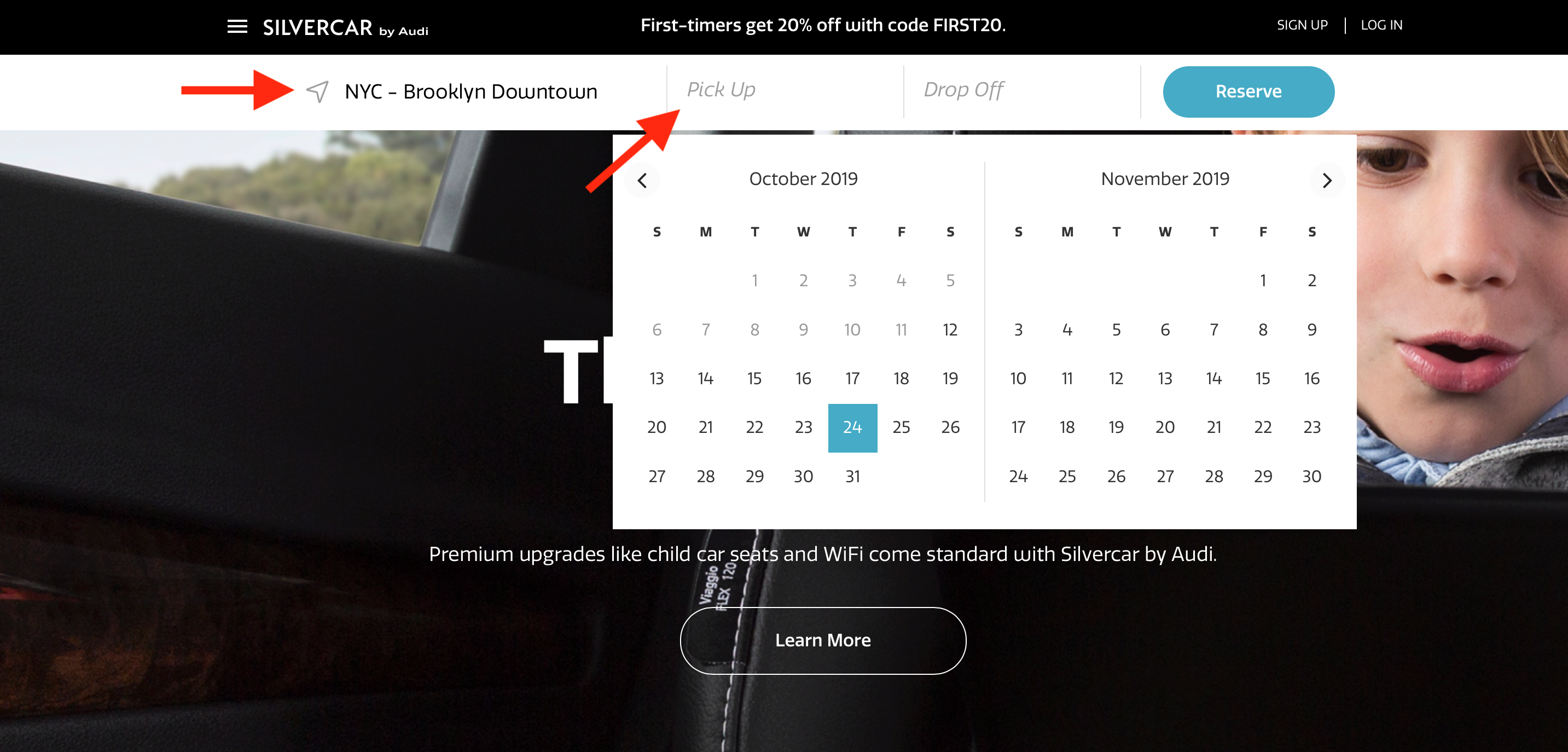 1. Head over to the Silvercar website and enter your pick up location and pick up and drop off dates at the top of the web page. Then, click the Reserve button to move onto the next step where you'll select the vehicle pick up and drop off times.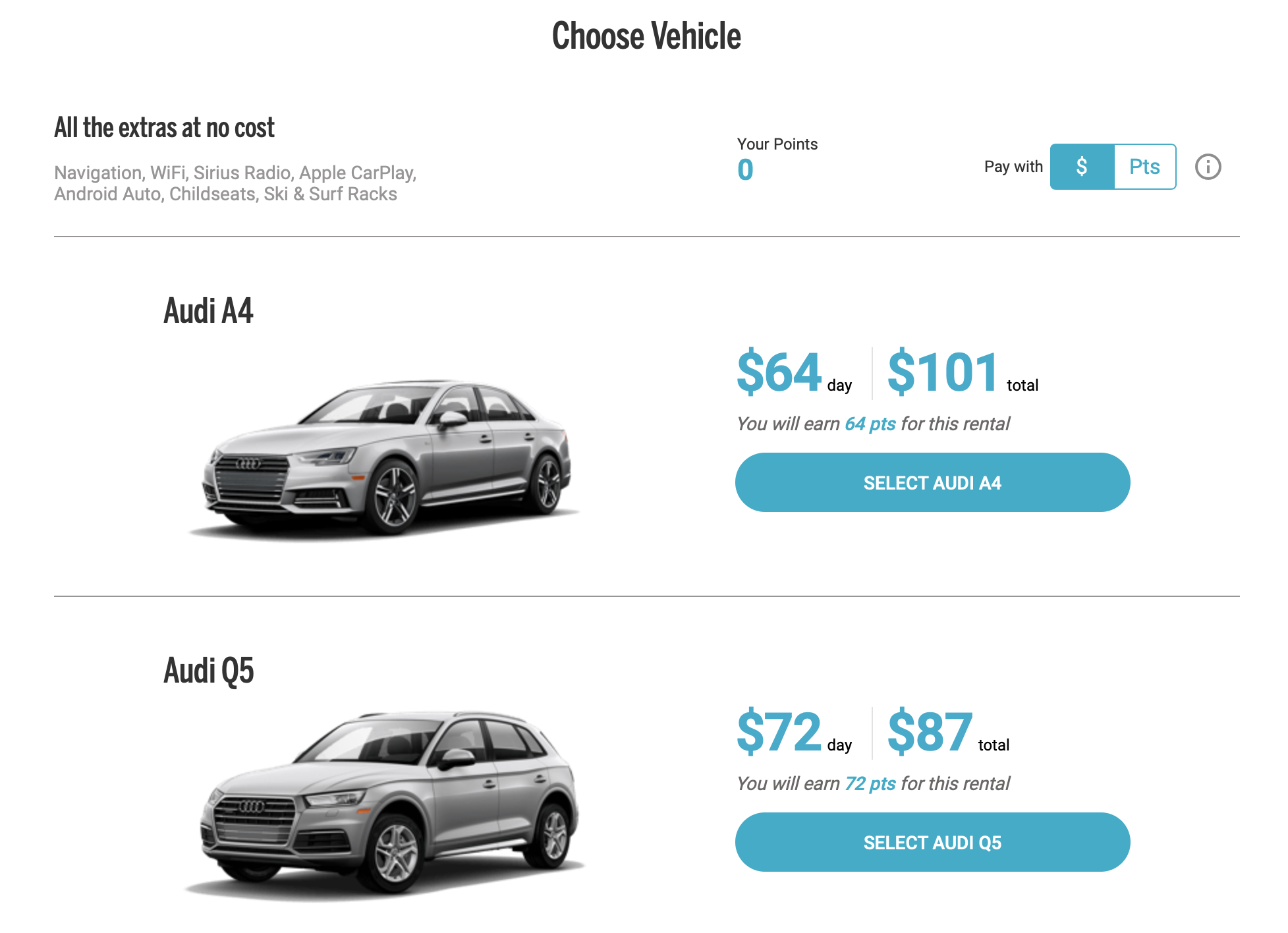 2. Now for the fun part: selecting a vehicle. You'll be presented with all of the available vehicles at your Silvercar location of choice alongside their prices — select the car you'd like to rent by clicking the select button to the right of your choice of choice.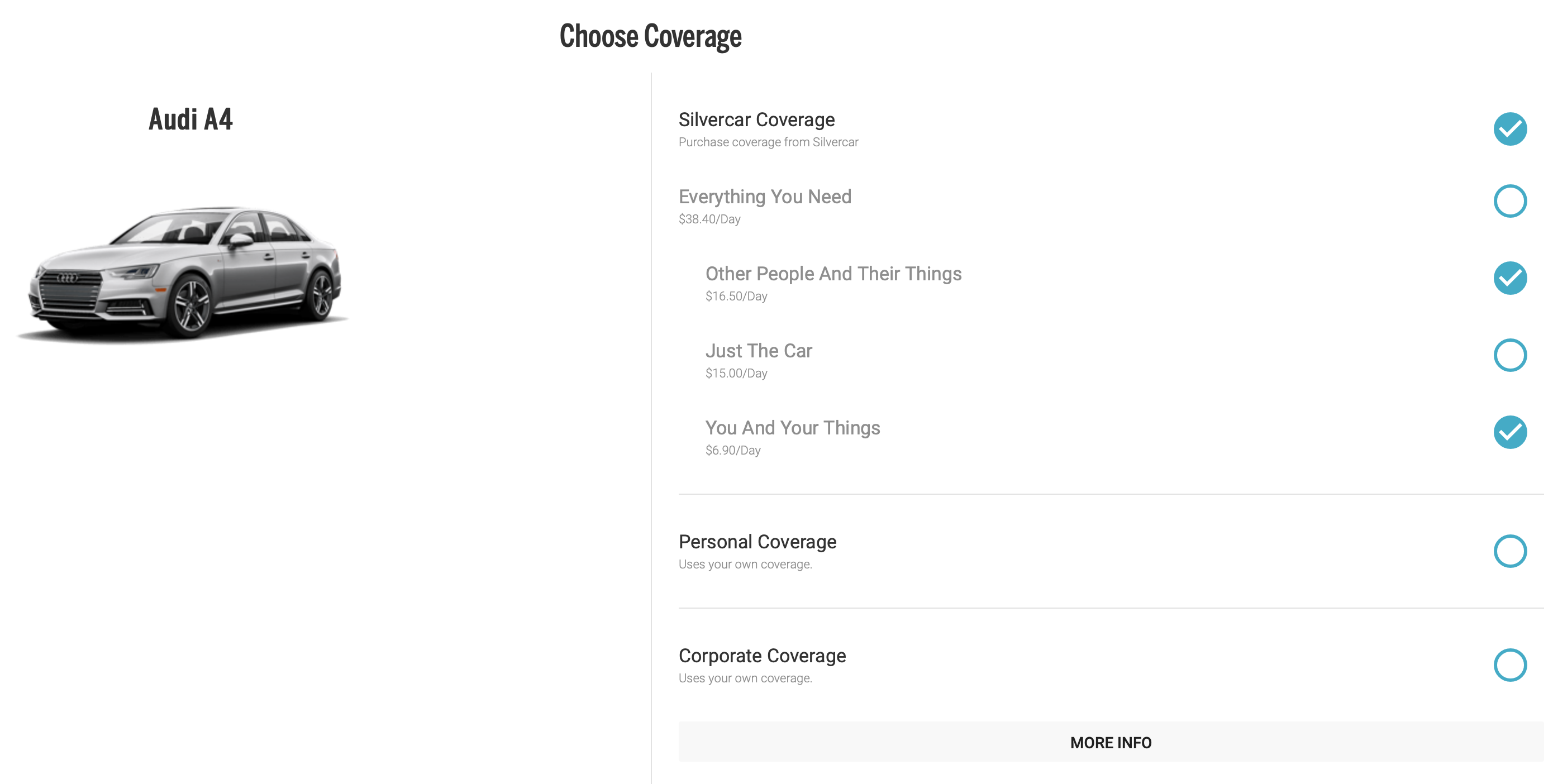 3. Now for the not-so-fun part: insurance. On this screen, you can select your insurance options. If you choose to purchase insurance from Silvercar, you'll be presented with the following options:
Other People and Their Things: Standard liability coverage covering damage to other vehicles, injuries or death of another driver, etc. This is especially helpful for those without standard car insurance.
Just The Car: Similar to a damage waiver, it covers damage to or loss of the car. Note that Chase will provide similar coverage if you rent with select credit cards — more on that later.
You and Your Things: This covers personal liability like injuries to or death of the driver and passengers as well as damage to personal property if you're in a wreck.
Everything You Need: This package includes all of the above.
Please note that the descriptions above are not an in-depth look at the benefits associated with each insurance package. Make sure to check out the Silvercar website for specifics like coverage limits and what exactly is included with each plan.

4. Look towards the bottom left-hand corner of the screen where you'll see an Add Promo Code box. If you have a promo code (more on that later), add it here. The price will automatically adjust to include your discount.
5. Now, look towards the bottom right-hand corner of the screen and click the blue Book Now button — you'll now be prompted to enter your contact info. Once that's entered, your rental is reserved and ready to go.
Save on Silvercar With the Chase Sapphire Reserve® Card
Chase Sapphire Reserve cardholders — and all other Visa Infinite cardholders — get a 20% discount on all Silvercar rentals. Just use the code VISAINF20 at checkout and pay for the rental with your Visa Infinite card. The discount will be automatically applied so long as you pay with a Visa Infinite card. Depending on how often you rent from Silvercar, your Chase Sapphire Reserve card could pay for itself with the Silvercar discount.
Hot Tip: Other credit cards that can take advantage of the 20% Silvercar discount include the Crystal® Visa Infinite® Card from City National Bank, U.S. Bank Altitude™ Reserve Visa Infinite® Card, and the now-discontinued Ritz Carlton Rewards® Card from Chase.
Remember, your Chase Sapphire Reserve card includes primary damage insurance, too, meaning that you'll be covered up to $75,000 if you incur damage or theft to a rental car paid for with your Chase Sapphire Reserve card.
Other cards that have similar rental car insurance include the Chase Sapphire Preferred® Card and the Ink Business Preferred® Credit Card (when traveling for business).
This benefit can save you a nice chunk of change too. In order to use the benefit, make sure to not select the Just The Car insurance on checkout. If you are liable for any damages to the car, call the number on the back of your Chase card to file a claim. See our article on credit card rental car insurance for more info.
Using Silvercar Premium Rewards
As discussed earlier, Silvercar launched a loyalty program called Premium Rewards in mid-2019. This program rewards frequent Silvercar renters with points that can be used towards future rentals.
To enroll in the program, just sign up for an account on the Silvercar website. Then, make sure you're logged into your Silvercar account when making new Silvercar rentals directly through the Silvercar website. You'll earn 1 point for every qualifying dollar you spend (excluding taxes and fees) on Silvercar rentals. The number of points you'll earn on a rental is shown before you book.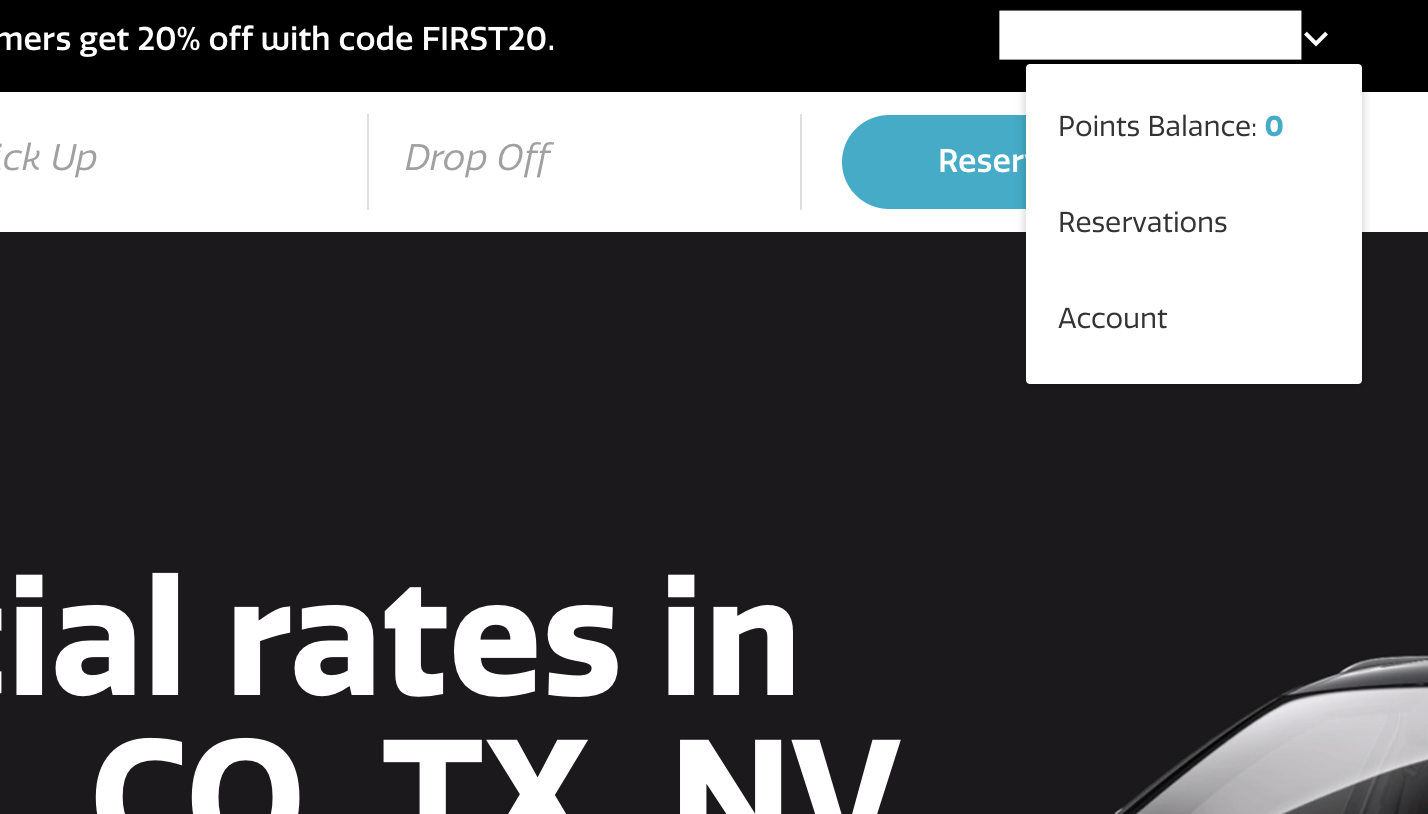 You can view your points balance at the upper by clicking on your account name at the upper right-hand corner of the Silvercar website. Your points balance will be shown right below your account name when logged in.
How Much Are Silvercar Premium Rewards Points Worth?
This is where things get confusing. Silvercar doesn't explicitly state how much Premium Rewards points are worth, so we decided to run some sample searches of our own to find an estimated value. To do this, we searched for 1-day Audi A4 rentals in 5 different markets and then averaged together the cent per point value.
Here's what we found:
| | | | |
| --- | --- | --- | --- |
| Location | Cash Cost | Points Cost | Cent Per Point Value |
| Boston (BOS) | $90 | 947 points | 9.50 cents per point |
| Chicago (ORD) | $80 | 842 points | 9.50 cents per point |
| Los Angeles (LAX) | $90 | 947 points | 9.50 cents per point |
| Manhattan – Columbus Circle | $180 | 1,894 points | 9.50 cents per point |
| Newark (EWR) | $90 | 947 points | 9.50 cents per point |
We value Silvercar Premium Rewards points at 9.50 cents per point. It's unclear why Silvercar doesn't publish this on its website, though not doing this leaves Silvercar Premium Rewards open to no-notice devaluations. We recommend using these points quickly in order to protect yourself from a possible loss in value.
Until this devaluation happens, though, Silvercar Premium Rewards points are an excellent value at 9.5 cents per point. For example, if you consistently rent $90 Silvercars, it will only take you 10 days to earn a free rental day at the same price-point.
One last thing: you still have to pay for insurance charges (if you choose to buy from Silvercar) and additional taxes when paying with points. Like points earning Premium Rewards points, you can only use points to cover the cost of the Silvercar rental itself — all other Silvercar charges are not eligible.
Redeeming Silvercar Premium Rewards Points for Free Rentals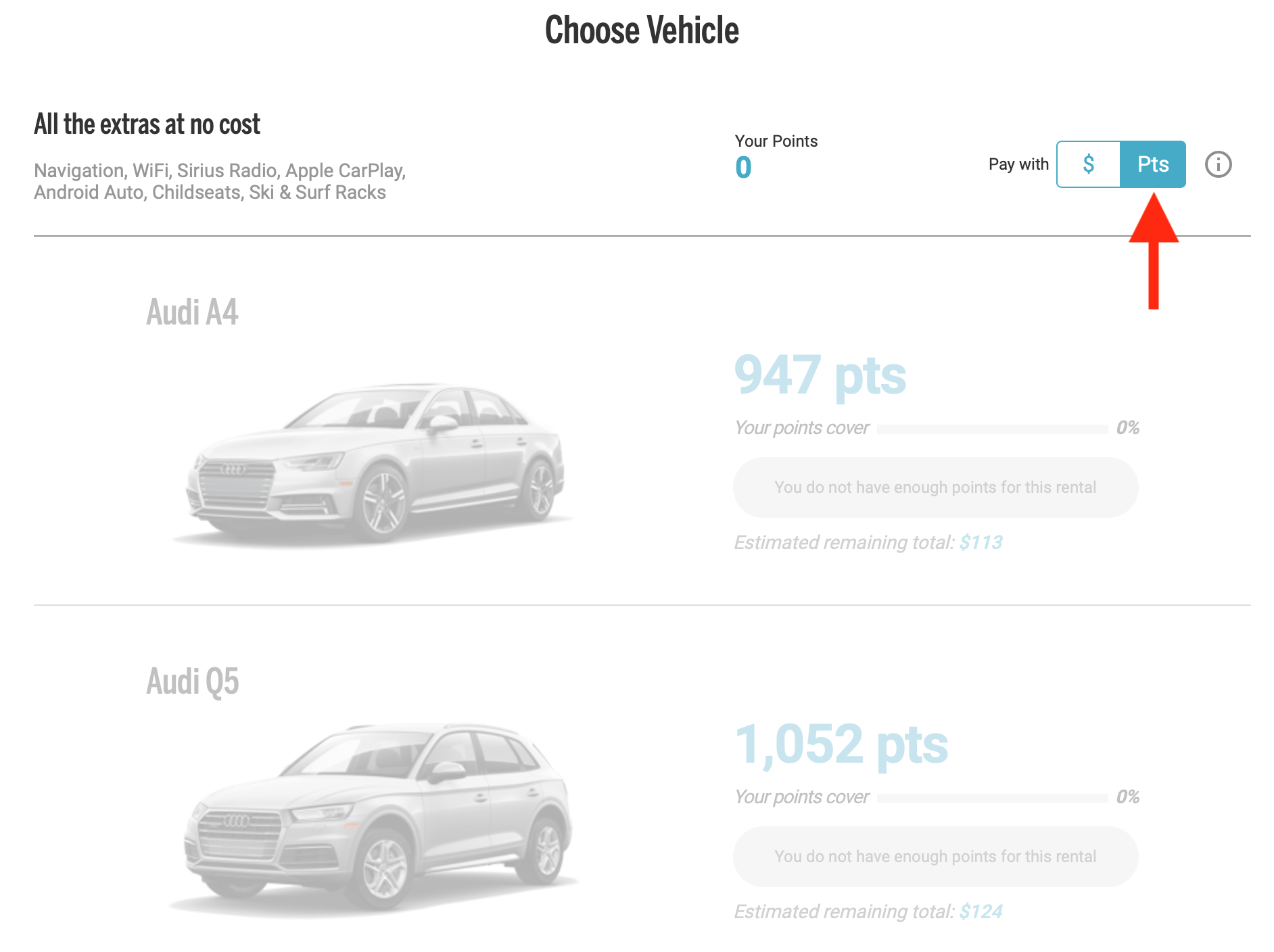 Thankfully, redeeming your Silvercar Premium Rewards points is quite simple.
Just go to the Silvercar website, sign in, and start to book a car as usual. Then, click the Points option at the upper right-hand corner of the screen on the Choose Vehicle page. All of the cash values will change to points and you can continue with your booking so long as you have at least 50% of the required points for a booking.
If you have at least 50% of the points required for a rental, you can use points to pay for a part of your Silvercar booking. An option to pay partially with points will appear on the Choose Vehicle page when you're within this threshold. You should still ideally get 9.5 cents per point in value when paying for part of a rental with points.
Now, you can move through the rest of the Silvercar booking process as outlined previously. Just note that paying for a rental car with points may make you ineligible for your credit card's damage waiver insurance, so make sure to call your credit card company before you rent with points to see if this is the case with your credit card.
Final Thoughts
All in all, Silvercar Premium Rewards is a positive addition for frequent Silvercar renters. Just remember, though: it's in your best interest to redeem your points as quickly as possible. This is due to Silvercar's lack of transparency around how much Premium Rewards points are worth, meaning that they could be devalued at any moment with zero notice.
Oh, and don't forget to pay with your Chase Sapphire Reserve card, too. Doing this will let you take advantage of a 20% rental discount and primary damage insurance — both of which can save you a pretty penny. Plus, you'll earn a cool 3 Ultimate Rewards points per dollar on the cost of the rental.