The Ultimate Guide to the Eurail Pass [Tickets, Reservations, Routes & More]
Thinking of exploring Europe?
The Eurail pass allows you to travel between over 40,000 destinations, across 31 different countries, all on just 1 single ticket. It is a flexible and affordable way to take in the varying sights, climates, and cultures of Europe at your own pace.
Why Travel Europe by Train?
There are several benefits to traveling Europe by train over other forms of transport.
Great Networks
There are several high-speed rail networks that crisscross the continent, making it incredibly easy to navigate from place to place virtually anywhere in Europe. They link with almost every major town and city and are a super fast and reliable means of getting around, while also giving you the chance to take in the stunning scenery and mix with the locals.
Unlike sweaty subways or jam-packed bus rides, a long-distance train journey also gives you the opportunity to relax and unwind along the way. Eat, drink, and even sleep your way from 1 destination to another.
Fast and Convenient
Trains travel all across Europe quickly and easily, and there are no 2-hour check-in times, no hanging around for hours on end in strange airports, and major stations tend to be close to other amenities like city centers. This all helps to cut down your travel time and reduce your travel costs.
Avoid Rush Hour
You never have to worry about traffic as most cities suffer from constant traffic jams, a lack of parking spaces, and extortionate parking rates. This is especially true in Europe's overcrowded city centers, and even the more extensive motorway networks can suffer from a heavy build of traffic that can severely delay your journey.
If you are hiring a car, you should also know that not all rental companies will allow you to drive from 1 country to another, meaning you will need to rejig your plans every time you cross a border.
Better Than Buses
The final reason why trains are the best way to travel in Europe is — let's face it — buses are basic. Long-distance bus travel is considered the poor relation of the railways. They can be cramped and uncomfortable, you are at the mercy of traffic conditions, and you can't eat, drink or wander around on a bus like you can on the train. A bus also has a higher environmental impact than a nice modern train does.
What is a Eurail Pass?
The Eurail pass allows you to visit thousands of destinations across Europe using a single ticket. You can travel on a network of high-speed trains that effortlessly cross borders and can deliver you directly to some of the most famous destinations in the world.
Anyone who lives outside of Europe is eligible for a Eurail pass — for example, residents of the U.S., Canada, Australia, New Zealand, Asia, or Africa. You must purchase your pass before you get there, and if you are already resident in Europe you'll need an Interrail Pass instead.
The Different Types of Eurail Passes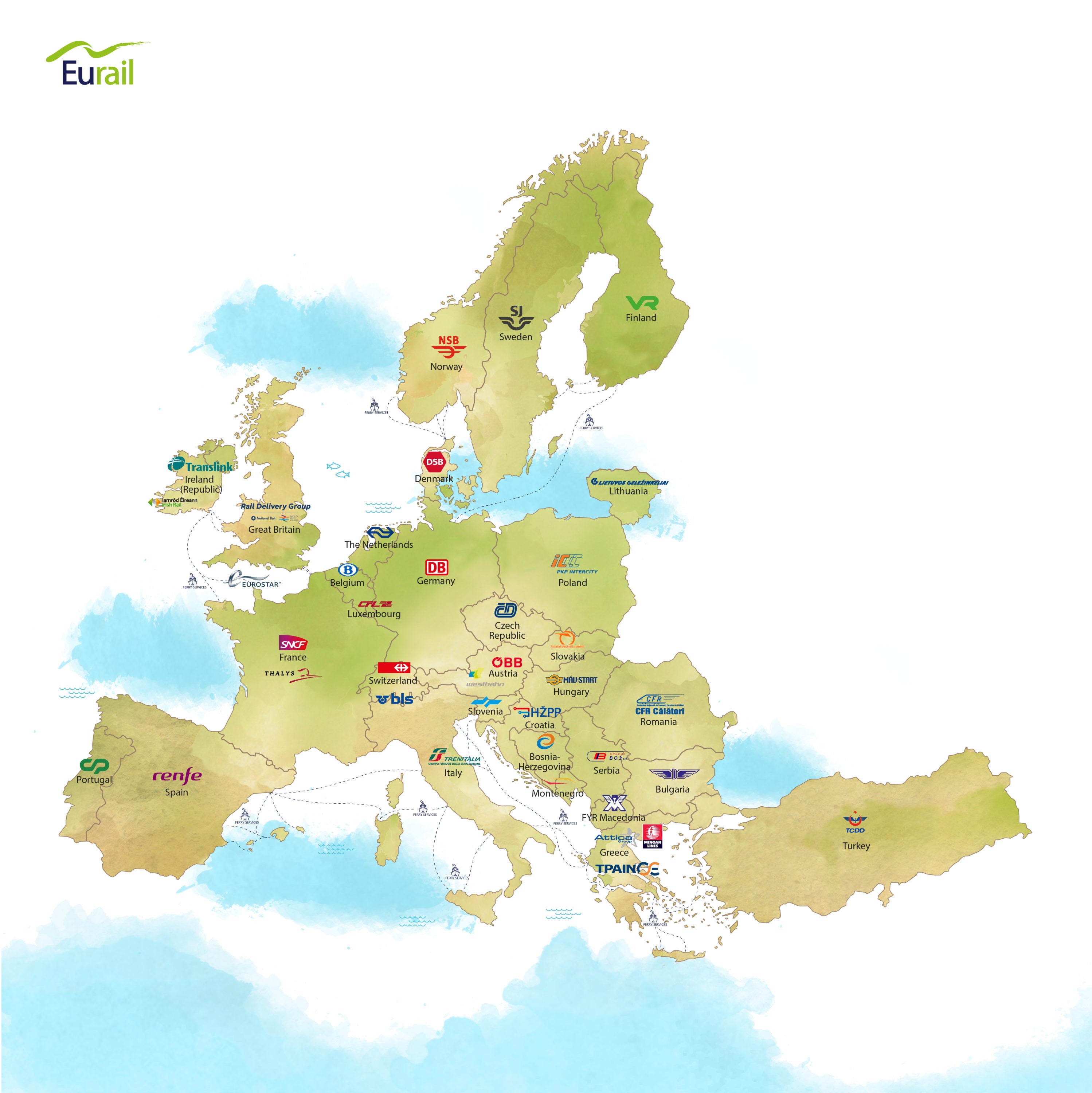 The Eurail is not a one-size-fits-all solution for the modern traveler. In fact, there are 2 different Eurail passes you can buy to best suit your own individual travel plans:
This is the ultimate rail pass that gives you the freedom to explore a wealth of European destinations across 31 countries for as long as you want to.
You can choose to travel for as little as 3 days in 1 month to a whole 3 months' worth of travel, taking in some of the most iconic sights and cities in the world as you go. The duration of your pass starts when you validate it at your first station.
Hot Tip: There are discounts available for travelers aged 28 and younger and those who are 60 or older.
If you are planning on visiting just 1 country, this ticket offers an affordable and flexible way to travel at your leisure. You can choose from 3 days travel in 1 month, right up to 8 days travel in 1 month, giving you plenty of time to really explore the towns and cities on your itinerary.
Who is Traveling?
Not just young people and students chose to explore Europe by rail — there are tickets available to suit all ages.
Adult tickets are for those over 18 at the time of travel.
Senior tickets are for those who are over 60 years old from the first day that the pass is valid. Seniors save 10% on the price of an adult ticket.
Youth tickets are for anyone aged under 28 on the first day that the pass is valid and you could save as much as 35% on the full adult fare price.
Children's tickets are for travelers under the age of 12. Children aged between 4 and 11 years get a free Eurail pass when traveling with an adult, but may still need to pay for any reservation fees where necessary.
Infant tickets are free for little people under 4 years old.
Things to be aware of:
It is important to note that with both passes, you may still need to reserve and pay for your seats on many of the high-speed services and night trains.
You can choose from a 1st class pass or 2nd class pass depending on your own preference, but prices will vary.
You will need to activate your Eurail pass within 11 months of the issue date.
Travel beyond trains as your ticket will also be valid for transit with ferry companies in some countries. See the terms and conditions of the Eurail pass for further details.
Different countries have different age limits for free child travel — check before you leave.
How to Buy a Eurail Pass
The easiest way to purchase your Eurail ticket is directly from their website. There are options available to suit the age of the passenger and how many people are traveling, as well as options for the type of pass you wish to buy and the duration of travel.
You can find everything you need at eurail.com to see a range of tickets including both types of Eurail passes. Rail Europe also offers country-specific websites across a range of territories. Remember to also look out for any delivery costs, too.

Eurail Pass versus Point-to-Point Tickets
While Eurail passes do offer exceptional value for money, they are not the only way to travel around Europe by train, and in some cases may not be the cheapest.
When is a Point-to-Point Ticket a Better Option?
There are no hard or fast rules on this, and every journey will be different, but there are some scenarios where simply booking a ticket to get from A to B may be the best way forward. For example, if you are only using the train for a couple of straightforward, short-distance train rides, point-to-point tickets may be cheaper.
The same can be said with some longer journeys where you may need to pay reservation fees before boarding. You may also find that you are able to source cheaper fares on expensive rail networks by booking in advance or traveling out of season.
The key to knowing exactly when to buy point-to-point is knowing how set in stone your travel plans are. If you need to be at a particular destination on a set date, and you know about it well enough in advance, it may be cheaper and more practical to simply book direct with the rail network or agent in advance.
Bottom Line: To put it in perspective, a 3-day Global Pass can cost you as much as $82 per day, with an additional reservation fee. The chances are that you will absolutely be able to find a single point-to-point ticket for a lower price if you book far enough in advance and know exactly where you are going.
When is a Eurail Pass a Better Option?
The truth is, there are lots of instances where an all-in-one ticket option will offer you much more flexibility and better savings in the long run.
If you are planning on visiting lots of different European destinations, and you want to be able to travel as, and when you fancy, the Eurail pass offers unprecedented ease of use and value for money. It is also a much better way to commute if you are unable to buy flexible fares in advance, as purchasing tickets on the day of travel can be an extortionate amount of money.
The Eurail pass also works on your time frame, though you can't just swan around when you feel like it. It is much more helpful when it comes to considerations that you can't control. Canceled services, bad weather, or other disruptions could lose you the use of a point-to-point ticket, but your Eurail pass will still be valid when you need it.
There are also better discounts available for certain Eurail passengers that you wouldn't find with normal point-to-point tickets.
For example, Youth Eurail tickets are designed to entice student travelers and those on a budget, often making them even cheaper than the very best advance fare booking. Children under the age of 11 also travel free on Eurail passes, so if you are adventuring as a family, that could definitely sway you.
Bottom Line: Of course, you can choose to use your Eurail for certain parts of your journey and point-to-point tickets at other times. While the pass on paper may not always be the cheapest option, it does afford you the flexibility that rigid point-to-point tickets simply cannot compete with. Your journey, your decision.
How Does a Eurail Pass Work?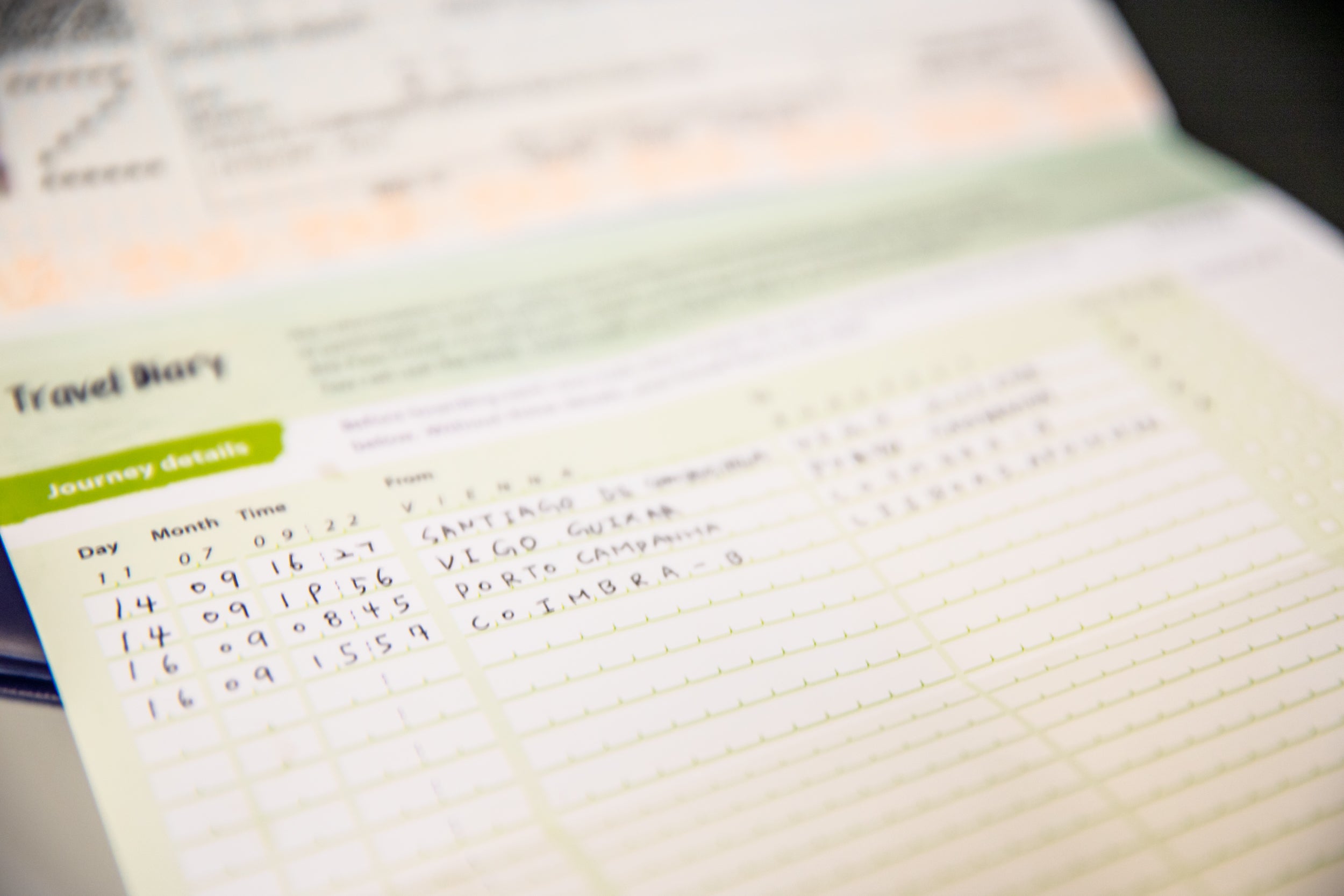 So, we know by now that Eurail passes offer a ton of flexibility to avid adventurers and can save you money on your train fares, but how exactly does this golden ticket to travel actually work?
First off, it is important to remember that you do not need to set specific dates to use your Eurail pass, but you must validate your pass within 11 months from the purchase date. You can easily validate it at any station before you jump on board.
Once you are up and running, the key to good Eurailing is marking off how many travel days you have left by simply ticking the boxes. Each pass will have empty boxes to represent the number of days of unlimited travel you have paid for; simply enter your travel dates as and when you complete them. You can take as many trains as you want from midnight to midnight on your chosen travel days.
Your pass also comes in a cover that has a handy travel diary printed onto it. You use this to record the date, departure station, and destination of each journey you take.
Hot Tip: These details are important, and if you fail to fill them in the conductor could issue a fine, so never forget to complete your travel diary on each journey.
Reservations
Some high-speed or overnight sleeper trains will require you to make a reservation before you travel. There may even be additional fees involved, so always do your research before you head on out to take the train.
When to Make Reservations
Different countries and rail networks have different requirements, but as a rough guide to reservations, consider the following.
Some countries require reservations before you travel. In France, Italy, Sweden, Spain, and Portugal you must make a reservation and pay an additional fee for inter-city journeys which can range from between €10-25 ($11-28) depending on the route and service.
Certain lines including the popular Paris-Brussels-Amsterdam route on the Thalys service, as well as the Paris-Turin-Milan TGVs and Paris-Barcelona TGVs only offer a limited number of pass holder seats which can sell out during busy times of the year.
Other countries, like Ireland, The Netherlands, Belgium, Luxembourg, Germany, Switzerland, Austria, Denmark, and most of the central and eastern European countries do not require you to reserve your seat to travel, but you can still do so if you want to.
There are no limits to the number of pass holder seats available and a journey on Germany's famous ICE or Austria's railjet trains is definitely worth a go if you really appreciate high-speed railways.
Hot Tip: There are some exceptions to the rules, however, and Thalys high-speed trains between Brussels and Amsterdam and between Brussels and Cologne have compulsory reservations and additional fees for rail pass holders. The Glacier Express and The Bernina Express also require reservations for a small fee.
Overnight Sleeper Trains
Traveling through the night is an excellent way to save money on hotel or hostels, and buys you back more daytime sightseeing hours. You will always need to make a reservation for a sleeper or couchette, across all countries and all services.
Most operators will charge around €35 (~$39) for a couchette in a shared compartment, and you could be looking at as much as €95 (~$105) for a more private 2-bed sleeper. These rates may be slightly cheaper across some of the Eastern European countries, but you will still need to pay to sleep.
Hot Tip: Some of the most popular routes like the Paris-Milan/Venice Thello sleeper train, for example, do not accept Eurail passes so you will need to buy a stand-alone ticket or explore other ways to complete this leg of your journey.
How to Make Reservations
There are various ways to make reservations, depending on where you are going and your own personal preference.
At the Station
If you want to practice the local lingo, you can speak to a member of staff at most major rail station ticket offices to reserve your seat. This can usually be done in advance or on the day of departure, in some cases right up until the time the train leaves the station. Some countries also offer self-service ticket machines for less human-based interaction.
On the Internet
If you would rather make your pass holder reservations online, there are plenty of websites available to help you do so. There is no "one-site-fits-all" solution, though, and you will need to Google which operators cover your journey and ensure that they will actually cover pass holder reservations and not just regular ticket options.
Not sure where to start looking? The Eurail reservations page lists major trains services in each country and will tell you how to book online if you can.
Using The Railplanner App
This timetable app covers the whole of Europe and works offline so you can check your train times while on the move. You can make pass holder reservations for Eurostar, Thalys, and Trenitalia high-speed trains and have your tickets delivered straight to your phone.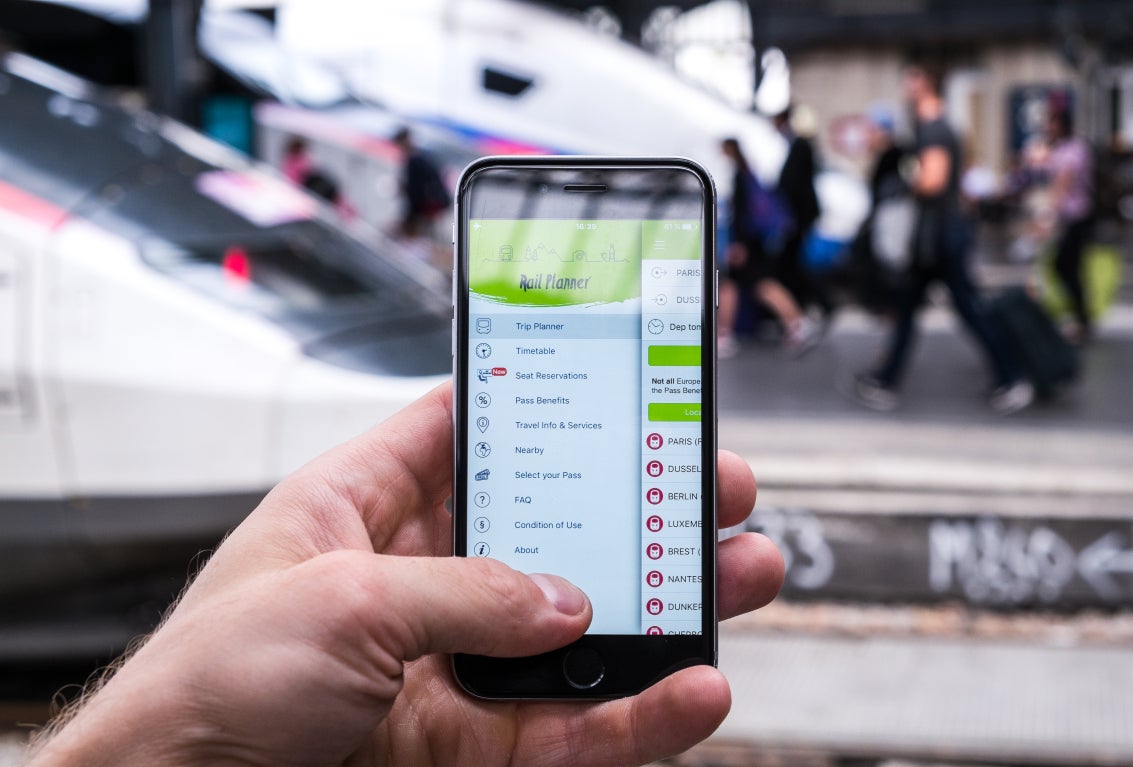 Sleepers and Couchettes on Overnight Trains
If you are planning on traveling overnight, is that a 1-day ticket or 2? This is an important question, especially if you have limited travel days left. Overnight travel is a great way to get from 1 destination to another without wasting any of your all-important exploration time.
You will no doubt be delighted to know then, that as of 2019, you only need to use 1 day on a Flexi pass to travel on an overnight service. The rule is simple: if you board a train before midnight, but do not change trains after midnight, you are technically on the same day service. This means no matter what time you arrive on day 2, you only need to make a note of your departure date in your travel pass diary.
Sleepers, Couchettes, and Cozy Overnights
There is a real sense of romance and nostalgia about taking a night train through Europe. As you whiz through silent towns and peaceful countryside, the motion of the train will gently rock you to sleep, to wake up refreshed and ready to explore your next destination.
There are different ways to hit the hay on the train, all available at differing prices.
Sleepers
If you like your privacy, you can book a 2, 3, or even 4-berth cabin that offers bunk-style accommodation and usually has its own sink and carpeted floor and comes with freshly laundered linens and super comfortable mattresses. If you want to upgrade even further, some operators offer deluxe compartments with private showers and toilets, towels, toiletries, and other luxury touches.
If you are traveling on your own, you can still share a birth with strangers, usually grouped by gender. Sleepers also offer decent-sized luggage racks with enough room to accommodate the number of guests sharing, as well as lockable doors and even room service.
Power sockets are also often available, and you will have stewards on board who will check your passes and tickets, and that will come to convert the seating area in your compartment into beds at a pre-determined time.
Bottom Line: Sleepers come with a premium price tag, but if you can stretch to it, a night in a sleeper is a wonderful way to travel. A single sleeper could cost you as much as €115 (~$127) on some lines, but a 3 person sleeper can be booked for a more affordable €50 (~$55).
Couchettes
If you don't mind sharing, these dorm-style rooms are compact but affordable. By day they offer ordinary seating, and at night they are converted to padded ledges with a folded sheet pillow and blanket for you and your fellow travelers to bed down with.
Couchette compartments are usually mixed-sex, but you can ask for a ladies-only compartment if you would feel more comfortable. Couchettes have luggage space both below the beds and in the overhead compartments, and there are usually attendants on hand to keep watch over your compartment as you sleep.
Bottom Line: Prices vary depending on the route and number of people sharing a couchette, but you may find you only pay a small premium for a 4-person couchette vs. a 6-person alternative, giving you more space to spread out for a just a few euros more.
Sample Eurail Itineraries
The possibilities are endless when it comes to planning the route for your next European adventure, but to get you started, here are 4 of the very best:
The Best for Culture
Amsterdam, The Netherlands
Berlin, Germany
Prague, Czechia
Vienna, Austria
Budapest, Hungary
Zagreb, Croatia
Lake Bled, Bled, Radovljica, Slovenia
If you want to take in the stunning architecture of some of the oldest cities in the world and learn more about the rich history and culture that made them the most sought after tourist spots in Europe, this is the perfect itinerary for you.
Starting in the "Venice of the North," in Amsterdam, you can take in the canals, cafes and crazy nightlife of this vibrant city before heading off to Berlin to experience the modern city with a dark past.
The next stop on your journey would be the beautiful city of Prague with its stunning gothic architecture before taking in the famous opera and quaint market squares in Vienna and the classical music of Budapest.
Finally, your journey will take you to the ancient, Adriatic jewel of Zagreb, before ending this leg of your journey at the breathtaking Lake Bled.
The Best for Beaches
Faro, Portugal
Lisbon, Portugal
San Sebastian, Spain
Monaco
Milan, Italy
Rome, Italy
Naples, Italy
Athens, Greece
This 8-stop trip is perfect for sun worshippers looking to surf, swim, and soak up the sun at some of the best coastal resorts Europe has to offer.
Starting off in Faro, you can explore the beautiful beaches of the Algarve and the cobbled streets and Moorish architecture of the ancient city. From here you can take a short 4-hour train journey to spend time in the coastal capital of Lisbon, with its Atlantic beaches, ornate architecture, and rich colonialist history.
Cross the border into Spain and take in the coastal resort of San Sabastian, with its picturesque beaches and tranquil waters, before hitting the high life in Monaco. This micro-state on the French border offers beautiful beaches, upscale living, and some of the best nightclubs in the world.
Carry on living the dream in the fashion capital of Milan where you'll eat, drink and dress like an Italian before chilling out on the beaches on Lake Como. From fashion to the Forum and the Colosseum as you explore the ancient history of Rome, before taking in the Mount Vesuvius and Pompeii on the way to Naples in the South.
Your final stop on this tour is Athens, where you can explore more ancient history including the Acropolis and the Parthenon, before enjoying the beaches of Attica on the Athenian Riviera.
The Best of the West
Lisbon, Portugal
Madrid, Spain
Barcelona, Spain
Lyon, France
Bruges, Belgium
Amsterdam, Netherlands
Starting in the Portuguese coastal capital of Lisbon, you can explore the famous São Jorge Castle, the photogenic pastel-colored buildings, and the amazing suspension bridges that connect the city to the municipality of Almada.
From here you can head to Madrid to take in the fabulous tapas bars, beautiful Baroque architecture, and repositories of modern European art and museums.
Continue to the beachside city of Barcelona with its famous Gothic alleyways, pedestrian walkways, modernist artwork, and electric nightlife, before crossing the border into France. Lyon is famous for its great food, great wine, and Roman-era architecture.
From mid-France head north to the cosmopolitan hub that is Paris. See the Eiffel Tower, the Louvre, the Champs-Elysées and a host of other iconic sights and landmarks in this global center for art, food, fashion, and culture.
After living the high-life in Paris, pop on over to beautiful Bruges to find a more genteel way of life that is nestled away in the canals, cobbled streets, and medieval buildings of the city. Enjoy some of the best chocolate in the world before heading on over to Amsterdam to explore the city's historic waterways and artistic heritage, then finishing off your adventure at some of the best cafes, bars, and nightclubs in the world.
The Best on a Budget
Kraków, Poland
Bratislava, Slovakia
Budapest, Hungary
Bucharest, Romania
Sofia, Bulgaria
Belgrade, Serbia
Sarajevo, Bosnia and Herzegovina
Dubrovnik, Croatia
If you want to make your travel money stretch as far as possible, Eastern Europe offers some of the most affordable cities, packed full of ancient history and fascinating culture.
Starting off in Kraków, you can explore the famous medieval architecture and the Jewish quarter, while enjoying hearty Polish fare and awesome beer. From here you can take a 12-hour train journey to Bratislava to discover an 18th-century old town that is famous for its lively bars and cafes.
From Slovakia, you can cross into Hungary and to the capital city of Budapest with its 13th-century churches, world-famous Opera Hall, and the ancient baths. From Budapest it is on to Bucharest — similar-sounding cities but both with a very different story to tell. The Romanian city is packed full of communist-era heritage and as well as some beautiful 15th-century architecture. It is also known for its thriving nightlife scene.
If you need a break after the nightclubs of Bucharest, the Balkan city of Sofia has a 2,000-year-old history with deep roots in its Greek, Roman, Ottoman, and Soviet occupation, and offer easy access to some of the best Black Sea beaches. From Sofia head on to Serbia to discover Belgrade, a fort city that has been of great importance to the Roman, Byzantine, Ottoman, Serbian, and Austrian empires.
Finally, take the train to Sarajevo to explore this thriving city that offers great food, craft beer, and lots of nightlife. Finish off this tour with a stop in Dubrovnik with its distinctive old town, before relaxing on the beautiful Adriatic coastline and islands beyond.
The 10 Best Scenic Train Routes in Europe
There is a multitude of different routes and train lines you can take to capture the real essence of Europe, but when it comes to the scenery, some journeys are just hands down much better than others. Here are 10 of the very best.
The Golden Pass, Switzerland
With picture-perfect mountains views, pristine vineyards, tranquil lakes, and pretty little villages, there is nowhere more beautifully recognizable than Switzerland for a real taste of Europe. The Golden Pass starts in Lucerne and ends in Montreux, and you can take a regular train or choose the Golden Pass Classic or Golden Pass Panoramic train services.
The Golden Pass is not serviced by a direct train. You will need to switch trains in Interlaken and Zweisimmen, where you can breathe in the fresh mountain air and enjoy the magical era of the mountain railway.
Both Golden Pass services are covered by the Eurail pass, and you will need to make a reservation to ride.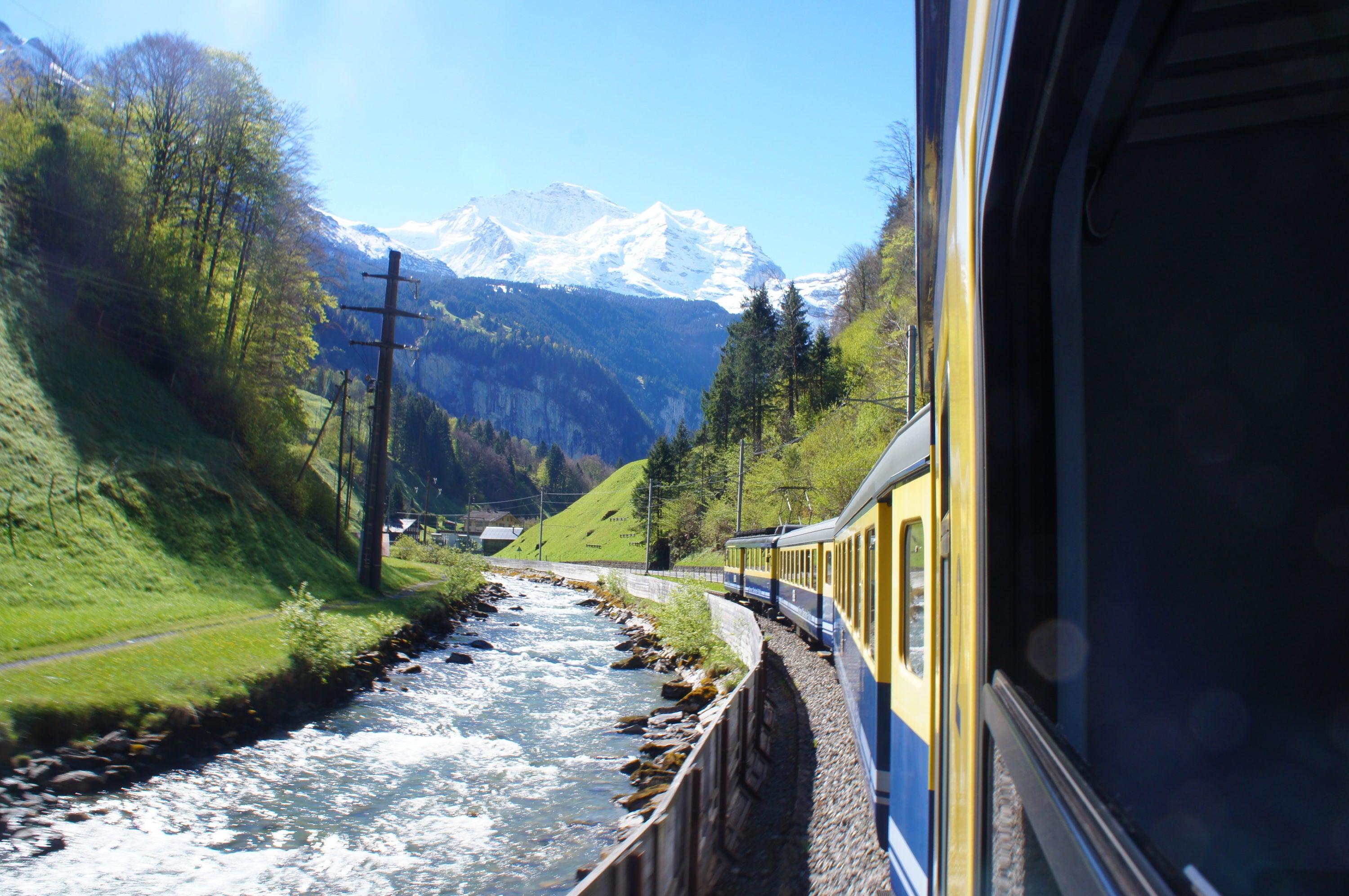 The Semmering Line, Austria
This is a short but incredibly dramatic ride is so gorgeous that it has earned UNESCO World Heritage Site status. As the trains speeds across stone bridges, through long dark tunnels, and over dramatic-looking viaducts you will take in mile upon mile of spectacular mountain landscapes.
Considered to be one of the greatest feats of civil engineering and railway building ever known, The Semmering Line is part of the Südbahn railway that runs between Vienna and Graz before continuing on to Trieste.
Eurail pass holders do not need to make reservations on this line and there are no additional fees.
The Mariazell Railway, Eastern Austria
Running from St. Pölten through to the pilgrimage destination of Mariazell, Austria's longest narrow-gauge railway passes through 21 tunnels and crosses 19 viaducts, taking in breathtaking scenery along the way.
The first-class panoramic carriages are available on a seasonal basis and offer panoramic windows and onboard catering service — a must-see if you are visiting the region.
You can use your Eurail passes to travel on the Mariazell Railway and you only need to make a reservation if you wish to upgrade to the first-class carriages.
The Montenegro Express, Montenegro and Serbia
Take the train from Belgrade to Bar to witness some of the most spectacular scenery Europe has to offer. Traveling over 435 bridges and through 254 tunnels, this route is also a feat of engineering and a testament to the golden age of the railway.
As you head down towards the Adriatic, you can remain on the train or take a break for an overnight stop in the capital city of Podgorica with its historic old town and captivating modern architecture.
This route is covered by the Eurail pass, but you will need to make a reservation before you travel.
The Rauma Line, Norway
If you are heading north, the Rauma Line that runs from Åndalsnes to Dombås, taking in 78 miles (114 km) of world-class Scandinavian scenery is a must-do. Running through the Romsdalen Valley, the train quietly passes by some of the most spectacular mountain formations in Norway as well as the tallest vertical rock face in Europe, the Trollveggen wall.
From the train, you can also see the Kylling Bridge and take in the natural wilderness of the Reinheimen National Park.
The Rauma Line is fully included in your Eurail pass, and you do not need to make a reservation to ride.
The Rhine Valley Line, Germany
This gentle railway route takes a scenic meander along the Rhine for 115 miles (185 km) starting in Cologne and traveling via Bonn, Koblenz, and Bingen to end in the town of Mainz. Running through the heart of the German wine country, you can enjoy mile upon mile of riverside vineyards, castles, and picturesque villages from the comfort of your carriage.
A Eurail Pass that is valid for Germany can also be used for travel on the Rhine Valley lines. Reservations are not necessary. Your Eurail Pass also offers a discount on boats operated by Köln-Düsseldorfer Rheinschiffahrt AG (KD Rhine line). Keep this in mind when traveling to and from the Rhine Valley railway.
Gotthard Panorama Express, Switzerland
Combine the best of both worlds with this train and boat journey across the Swiss Alps. The 5-hour trip offers a diverse range of scenery and the famous Gotthard line is a testament to some of the most impressive pieces of railway engineering, loops, bridges, and tunnels in the world.
Travel from Lucerne in central Switzerland to Lugano in the south, watching the scenery change from snow-capped mountains to palm trees and lakeside beaches.
A journey on the Gotthard Panorama Express is not included in your Eurail pass, and you will need to pay a surcharge to travel on this train. You will, however, get a 50% discount on the fare for your boat trip across Lake Lucerne.
The Inlandsbanan, Sweden
Travel up as far as the Arctic Circle on this amazing railway route that takes you through magnificent forests and past towering peaks. Running from Kristinehamn in central Sweden to the depths of Swedish Lapland at Gällivare, this slow ride across the Land of the Midnight Sun takes in snow-capped peaks, tranquil lakes, herds of reindeer, and perpetual daylight in one of Europe's most original, untouched landscapes.
Unlike some of the other scenic routes, the Inlandsbanan train is a simple, local affair that stops for breaks along the away to allow passengers to experience traditional Swedish food and meet the locals.
The Inlandsbanan is fully included in your Eurail pass, but you should book your seats in advance to avoid disappointment.
The Centovalli Line, Switzerland and Italy
Running between Locarno, Switzerland and Domodossola, Italy, the Centovalli line takes you through the 'Hundred Valleys," affording first-class views of some of the most beautiful mountain ranges in Europe.
The train ride is only 2 hours long, making it easily accessible for all, and during its 32 mile (52 km) duration it climbs the slopes to Trontano at about 1640 feet (500 meters), and further up to Santa Maria Maggiore before slowly descending past the beautiful scenery of the Valle Vigezzo and on to Locarno on the shores of Lake Maggiore.
A journey on The Centovalli Railway is fully included in your Eurail pass.
The Glacier Express, Switzerland
As perhaps one of the most famous railway lines in the world, the Glacier Express runs some 186 miles (300 km) across the Swiss Alps, taking in the stunning scenery between Zermatt and St. Moritz.
This railway line offers a relaxing service with the 8-hour journey being taken on the world's slowest express train. It offers a comfortable way to see 3 cantons of Valais, Uri, and Graubünden, as well as breathtaking views of the Matterhorn and The Rhine Gorge, the "Grand Canyon" of Switzerland.
This panoramic journey through the heartland of Switzerland is a truly memorable way to see this part of Europe.
The Glacier Express is fully included in your Eurail Pass, but you should reserve your seats in advance to avoid disappointment.
Eurail and Europe Travel Tips
Traveling around Europe by train is easy to do, but there are some tricks that can make your adventure even more successful.
Prepare for ETIAS
U.S. passport holders can currently travel to Schengen countries for up to 90 days. From January 2021 the process is changing slightly and you will also need an ETIAS.
ETIAS stands for the European Travel Information and Authorization System and you will be required to complete an online form and receive authorization prior to travel. The fee will be €7 which is just under $8.
Be Flexible
Make your plans, but be prepared to be flexible when necessary. There are literally millions of amazing places to visit across the continent, and you will never find the time to see them all.
So, put a rough plan in place by all means. Jot down the places you really want to see how you intend to get there, and how long you want to stay, then go right ahead and go with the flow. Your Eurail pass will give the flexibility to jump on most trains as and when you want to, meaning that poor weather in 1 city or a delay in another won't derail your plans completely.
Know Your Money
Europe is, for the most part, an affordable place to visit due to the sheer number of cheap transport options and budget-friendly accommodations. That said, big cities and major tourist areas will be just as pricey as anywhere in the U.S. or the rest of the world. Knowing how to make your money go further is vital for a successful trip.
Backpackers, youth hostels, Airbnb, and basic budget B&Bs can be found all over the place, so skip the brochures and find an affordable place to stay.
Another great way to make sure you always spend your money wisely is to educate yourself on the exchange rates. While the currency of many European countries is the euro, there are still those outside of the eurozone that use their own currency. These are:
Bulgaria: Bulgarian lev (BGN)
Croatia: Croatian kuna (HRK)
Czech Republic: Czech koruna (CZK)
Denmark: Danish kroner (DKK)
Hungary: Hungarian forint (HUF)
Macedonia: Macedonian denar (MKD)
Norway: Norwegian krone (NOK)
Poland: Polish zloty (PLN)
Romania: Romania leu (RON)
Serbia: Serbian dinar (RSD)
Sweden: Swedish krona (SEK)
Switzerland: Swiss franc (CHF)
Turkey: Turkish lira (TRL)
United Kingdom: The Great Britain pound (GBP)
Hot Tip: In general, Eastern European countries offer the very best value for money, while Scandinavian countries can be some of the most expensive places to visit if you don't dig deep for money-saving opportunities.
Research Festivals and Holidays
Europeans love a good festival, and with so many countries to choose from you are never far from a fun-filled celebration. Whether you choose to run with the bulls or throw squishy tomatoes in Spain, watch yacht races in Croatia or drink beer at Oktoberfest, there are always plenty of unusual occasions to join in with.
Do your research before you depart, as many of these festivals attract visitors from all over the world, meaning you should book tickets and accommodation well in advance.
Knowing what's going on at your chosen destination works well in reverse, too. If you are looking for a quiet, romantic break, for example, you would be better to avoid some of the bigger, rowdier festivals as they may not be quite what you are looking for.
Know Where to Stay
Whatever kind of accommodation you are looking for, you can be sure to find it in Europe. From cabins in the woods to tents in a field, 5-star hotels to youth hostels, luxury house rentals to flat-shares in the city — Europe has no shortage of excellent accommodation to suit every budget.
You can use hotel booking sites, websites for backpackers and budget-wary travelers, travel agents, internet forums, and even social media sites like Facebook to find accommodation all over Europe.
There are always ways to save money on your stay, even if you can't bag accommodation as cheaply as you would like to. For example, European cities can be very expensive, and sometimes staying a few miles outside of the center can save you valuable euros.
Hot Tip: Your Eurail pass can also save you money on overnight stays. If you are traveling a long distance, why not book a couchette on the sleeper train — a cheap, fun, and excellent experience on your European adventure.
Know the Culture
One of the very best reasons to travel the world is to get to know, understand, and appreciate other customs and cultures different from your own. In Europe, it is the norm to greet each other with a single kiss on the cheek in some countries, and a kiss on both cheeks in others.
Some countries operate on different timescales to others, often dependent on the climate and location. In Spain and Italy, for example, it is not unusual for shops and businesses to close during the heat of the afternoon, only to open again later into the evening. In France, it is normal to enjoy your evening meal quite late into the evening, and these family affairs often include children joining the adults to eat, too.
Bottom Line: While it is fun and interesting to see how customs and cultures change from 1 country to another, be sure that you know when shops are open, if you are expected to tip, or even local holidays, so as not to impact your travel plans in any way.
Learn Key Phrases in the Language of Each Country You Visit
There are 24 different official languages spoken across Europe, with even more regional variations thrown into the mix still. You would have to be super clever to be conversationally fluent in all of them, but you could still get to know some of the key phrases for the individual countries you intend to visit before you leave.
Knowing how to say "please," "thank you," "how much," and "can I have" are all incredibly helpful anywhere in the world. Not only will you gradually start to learn the local lingo as you listen to replies, but you will also be showing respect for your host nation by trying to speak to them in their own language.
Bottom Line: Whether you read a book, download an app or even go to night school, there are plenty of ways to learn any European language available to you before you set off, or even while you are traveling.
Stay Safe
Europe is mostly a very safe place to visit, but as with everywhere in the world, some neighborhoods in large towns or cities can be risky for tourists after dark. Here are a few basic tips to remember:
Keep your wits about you and watch out for pickpockets in big cities.
Keep belongings close by at all times.
Don't flaunt cash or expensive equipment.
Be aware of the good old distraction technique when exploring on your own.
There is no reason to feel unsafe, even if you are traveling alone — just use your street smarts and read up on no-go areas or general safety tips for each destination you are planning to visit.
Finally, Enjoy Your Trip!
Traveling in Europe is an exciting adventure. With so much to see and do, places to visit, and people to meet, a Eurail pass will allow you to move quickly and easily from 1 city or country to another, in the most stress-free and enjoyable way possible.
Take in the sights, meet new people, and make time to make new memories that will last you a lifetime.
Eurail Pass Alternatives
If the Eurail doesn't feel right for you, or if indeed you aren't planning on traveling extensively through Europe but rather staying in 1 single country, there are lots of other travel passes that can also save you money and offer you more flexibility than regular point-to-point tickets. Here are a few that are worth knowing about:
The Swiss Travel Pass
Switzerland is a great country to explore by train, and unlike some other European countries, there are virtually no extra supplements or reservation fees to worry about. You can hop-on and hop-off as often as you like, and take in some of the most beautiful mountain scenery right outside your window.
You can choose between a Swiss Travel Pass that offers continuous free travel, or a Swiss Travel Pass Flex that offers a fixed number of days travel in any 1 month period. Passes start from €220 (~$243), with discounts available for travelers between 16 and 26 years of age. Children under 16 travel free with a paying adult.
You can use the Swiss Travel Pass on a variety of trains, buses, and boats throughout the country.
Paris Visite Card
The Paris Visite Card offers unlimited travel on the Paris Metro, tramway, bus, RER, and SNCF Transilien networks. You can use the pass between zones 1-3 which covers all of central Paris and 84% of all Paris attractions are included free in the Paris Pass.
If you want to travel further out to zone 4 and 5 (to visit the Palace of Versailles for example or travel to Paris Charles de Gaulle Airport) there are small supplements you will need to pay.
Your Eurail card will cover you for wider use of the SNCF network, but if you are planning on spending time in Paris, these passes start from as little as €12 (~$13) depending on the zones covered and the number of days you intend to use it for.
The Benelux Tourrail Pass
Covering The Netherlands, Belgium, and Luxembourg, this pass offers you the freedom to take multiple train journeys on a daily basis and offers discounted rates for travelers under 28 years of age and over 60. You can also choose between a first or second class pass for the duration of your stay. Full price adult passes start from €179 (~$198) for a 3 day travel period over 1 month using a Benelux Saver Pass.
Portuguese Rail Pass
Discover the beaches of the Algarve and the medieval cities of Lisbon and Faro using this handy travel pass, designed to offer reduced fare train travel throughout the country. This pass offers you unlimited travel for 3 or 7 days in a month, and prices start from just €73 (~$81) for an adult 3-day ticket.
You can use your pass on Alfa Pendular, Intercidades, Regional/InterRegional, and Urban trains including the Lisbon Urban Line's very own Viva Viagem service.
German Rail Pass
The German railway network is one of the most efficient and advanced in the world, and the German Travel Pass gives you access to lots of different services without having to pay supplements or reservation fees.
There are lots of different options available, including discounts for younger and older travelers, and you can choose from flexible or consecutive travel days depending on your preference.
With typical German efficiency, your pass will offer you unlimited travel throughout Germany, even on the high-speed ICE trains, and you can even travel on selected routes outside of Germany, too.
Spain Pass
Renfe offers its very own Spain Pass that includes a discounted set number of journeys on 1 ticket. It does not, however, offer unlimited travel. You can pay for between 4 and 12 journeys in any 1 month period, and there are no hidden reservation fees to worry about. The pass is valid on all AVE Long Distance and Medium Distance trains, but you will need to reserve your seat before your travel.
The Balkan Flexipass
While this pass does offer unlimited first class travel on the national rail networks of Bulgaria, Bosnia and Herzegovina, Greece, Montenegro, Republic of Macedonia, Serbia, The Serbian Entity of Bosnia Herzegovina, and Turkey, rail travel in the Balkans is already pretty cheap, to begin with.
If you aren't planning on taking a ton of train trips during your visit, it would probably be cheaper just to book each journey direct. If you do want to go ahead and purchase a pass, you can also travel on certain Attica group ferries, but you will need to reserve your seat in advance.
Prices start from as little as €91 (~$101) for a 3-day pass within a 2 month period.
BritRail Pass
Travelers to the U.K. can hop on and off trains without reservations or extra fees, either with or without a dedicated rail pass. The public transport system in the U.K. is incredibly easy to use, and while inter-city train tickets can be expensive if purchased on the day of, there are lots of deals to be had if you book in advance.
The BritRail Pass offers travel throughout England, Scotland, and Wales. If you are planning on staying exclusively in London for a longer period of time, you can purchase a visitor travel card for discounted travel across zones 1-6 of the London Underground.
The Eastern Europe Pass
This pass covers Austria, Hungary, the Czech Republic, and Slovakia. It is even valid on all direct trains through Germany between Kufstein and Salzburg if the passenger does not change or leave the train. This pass has some neat little discounts attached to it, too, including money off Danube River trips and lots of deals on entrance tickets to well-known tourist attractions.
You won't have to pay any supplements, but reserving your seats in advance is recommended for long-distance journeys. Prices start from €190 (~$210) for 5 days travel in 1 month.
Final Thoughts
Heading out to explore Europe has been a right of passage for generations of students, backpackers, and budget travelers since the 1950s. The extensive rail networks that crisscross the continent make it super easy to move around freely, taking in some of the most iconic cities, breathtaking scenery, and historical points of interest in the world.
If you are considering heading over to Europe in the near future, a Eurail pass offers you maximum flexibility for an affordable price, meaning you can make plans, change plans, and go ahead and enjoy Europe by rail as much as you want to.