The Ultimate Travel Guide to Rome – Best Things to Do, See, and Enjoy!
The capital city of Italy is one of the most romantic and historic places in the world. Rome has a lot for you to explore and discover with its plethora of cobbled streets, beautiful architecture, Ancient ruins, and relics dating back over 2000 years.
Rome is packed with cultural experiences around every corner and is the home to some of the most awe-inspiring historical artwork in the world, including Michelangelo's masterpieces in the Sistine Chapel. Affectionately known as the Eternal City, Rome is situated within the 7 hills on the banks of the Tiber River.
Many visitors return to Rome time and time again as there is more to do than you could fit in 1 trip. When it comes to downtime, you'll be spoiled for choice with quaint restaurants and cafes serving delicious traditional Italian food and high-quality wines. If you want to dance the night away, Rome has a truly Mediterranean party scene that will suit all tastes.
A Brief History of Rome
Legend has it that the city was founded by twin brothers Romulus and Remus in 753 B.C. Raised by a she-wolf, the brothers fought over who should be ruler, and Romulus eventually killed Remus and named the city after himself. In the centuries that followed, Roman civilization shifted from a monarchy to a republic and then an empire.
The very first headquarters of the Roman Empire was based in the city of Rome itself, and the Roman Catholic Church was also founded here. Julius Caesar, the famous dictator of the Roman Empire, became Rome's first emperor (in everything but name) and one of the city's most historically important residents.
It is not just Italy that has felt the powerful force of Rome either, as the city has at times ruled over other countries such as Greece, and during the reign of Napoleon, it was officially part of France. Rome became the capital of the newly reclaimed Italian Republic in 1870 and is today considered to have been one of the most influential cities in history.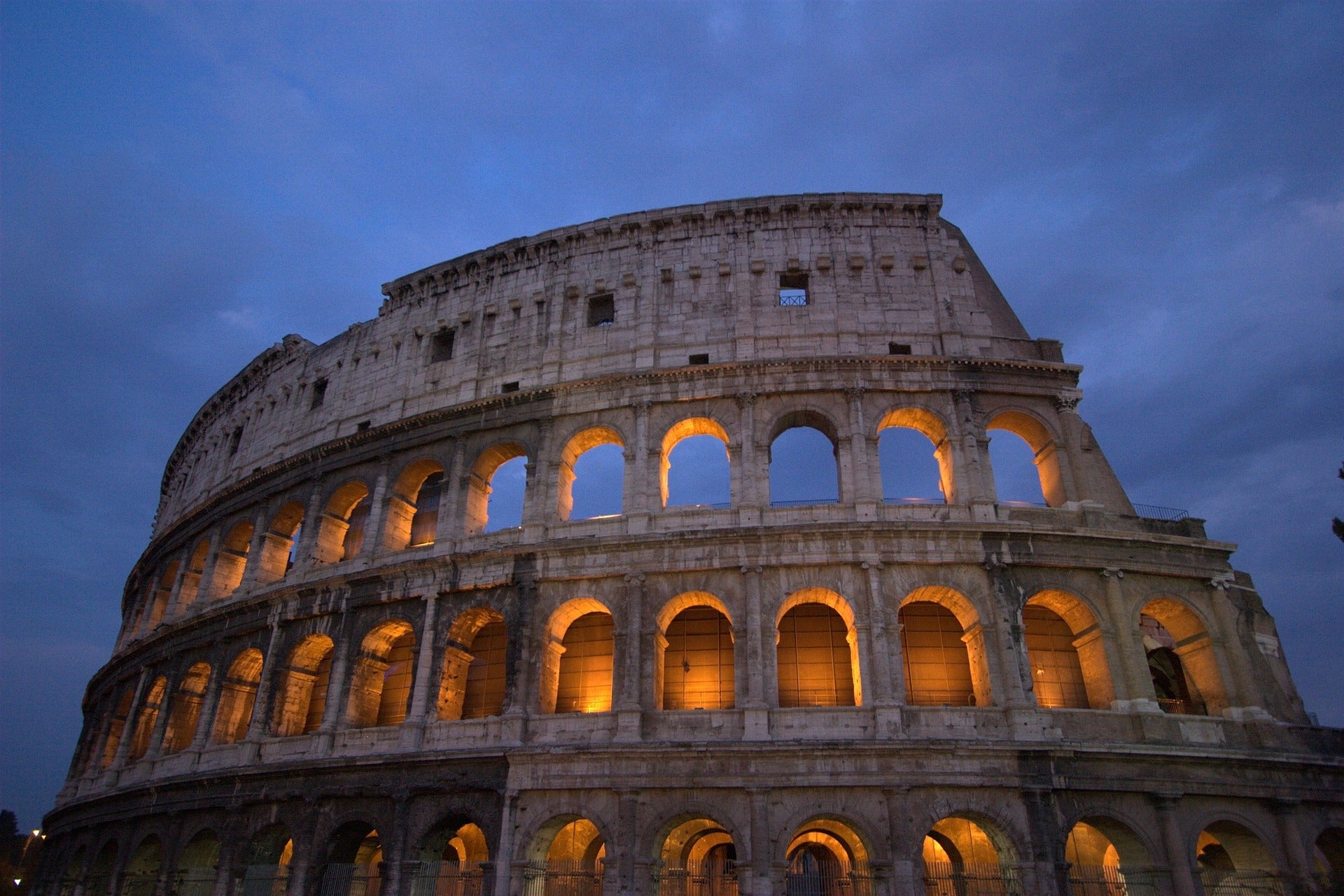 Fact File    
Rome has been the capital city of Italy since 1870 and is located within the center of the Italian Peninsula. Rome is around 15 miles inland from the Tyrrhenian Sea and sits along the Tiber River.
Population: 2.7 million
Population Density: 2.1 per km²
Area: 1285 km²
Official language: Italian
Rome has residents originating from many other countries, so a diverse range of other languages can be heard in the city including French, Greek, German, Sardinian, Albanian, Croatian, and Slovene.
Religion: The main religions in Rome are Roman Catholic and Christianity.
Current President: Sergio Mattarella
Patron Saints: Saint Peter and Saint Paul
Weather: Mediterranean climate with warm, dry summers (peak temperatures in August are around 82°F/27°C) and cold, humid winters (average of 37°F/3°C in January).
Time Zone: CEST + 2hrs UTC (Central European Summer Time)
Currency: Euro
Country Dialing Prefix Code : +39
Emergency Numbers: 113 for Police, 115 for Fire Department, 118 for Medical Emergencies
Green Spaces: Parks and gardens make up 3% of Rome
Churches: There are over 900 churches in Rome!
Getting There and Getting Around
Airports
Rome has 2 airports, Leonardo da Vinci Airport (FCO) and Ciampino Airport (CIA).
Leonardo da Vinci Airport, also known as Fiumicino Airport, handles mostly scheduled flights and is connected to the city via a direct train service, The Leonardo Express train. This train is a non-stop service which takes approximately 30 minutes from Fiumicino Airport into the central station in the city, Rome Termini, and costs around $16 (€14).
Alternatively, you can get a shuttle bus service from Fiumicino Airport into Rome's city center. These buses take on average 1 hour and tickets are available from $8 (€7). If you prefer to travel by private taxi, they are available outside Fiumicino Airport and charge approximately $49 (€44) to take you the half-hour journey into the center of Rome.
Hot Tip: See our in-depth guide on the best ways to fly to Italy, using points and miles.
Ciampino Airport mainly receives chartered flights and those from the budget European airlines. To get from Ciampino airport to Rome's city center, you can get a bus into Ciampino town center and then a regional train to Rome. In total this would only cost you around $3 (€2.50).
Alternatively, you can get the SITBus Shuttle service, which is a direct route from $6 (€5). Ciampino Airport is only 9 miles from Rome city center, and taxis are waiting outside the airport to take you privately for around $28 (€25).
Getting Around Rome
Once you are in Rome itself, your best travel options are to walk, use the ATAC buses, or the Metro.
On Foot
Many visitors choose to travel around the city on foot so that they can appreciate everything on offer. Many of the winding streets are cobbled, though, so be sure to pack proper shoes if you are planning to head from 1 attraction to another.
Bus
The bus service in the city is very reliable and offers excellent value for money with stops at almost all the major points of interest. There are also night bus services which will run to 5 a.m. The average single bus journey costs around $2 (€1.50) and bus tickets can easily be purchased from any Metro station, newsstand, and many convenience stores.
If you are planning to take several bus journeys during your stay, then you may wish to purchase a travel card which will save you money. There are also 3-day, weekly, or monthly tourist cards on sale for this bus network.
Metro
The metro is a useful way for tourists to travel around the city as it is predominately set up for commuters to travel in and out of the city. The metro system crosses the city in a big 'X' and has stops near most of the main attractions. From Termini, you can travel to some of the main attractions with train stations, such as the Colosseum, Piazza Barberini, and the Spanish Steps.
The metro runs from 5:30 a.m. to 11.30 p.m. and tickets can be purchased from metro stations, newsstands, or convenience stores. You will be able to save money by purchasing a travel card if you are planning to travel by train for more than a couple of journeys.
Taxis
Although private taxis are available to take you around the city center, these are not very popular with tourists as they are notorious for over-charging. If you plan to take a taxi, then it is advisable to discuss the cost of the fare with the driver before getting into the cab.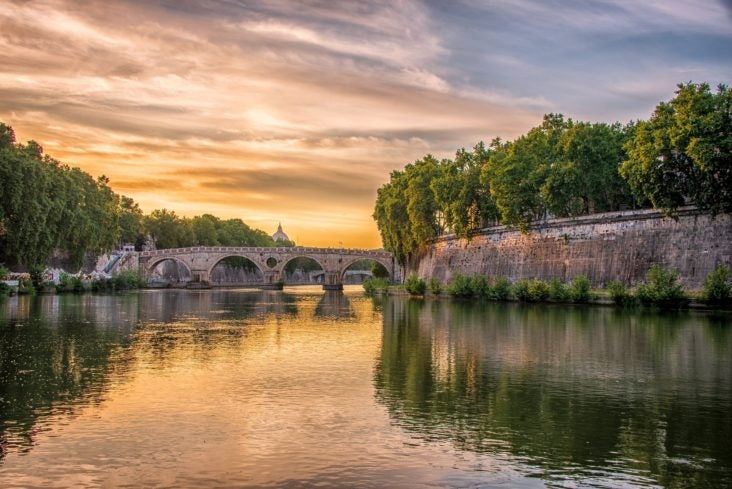 Top 10 Neighborhoods to Visit in Rome
Rome is a city that is spread across 22 different districts (known as "rioni") and made up of 35 urban quarters (known as "quartieri urbani"), each with a diverse community atmosphere.
Some are set just within the walls of the city and some just outside. The following is an outline of these 10 areas — some are well known on the traditional tourist routes, and others are more up and coming.
Trastevere
Sitting just across from the Tiber River is the area known as Trastevere (which means "across the Tevere"). This area has a trendy, student vibe with an array of restaurants, trendy shops, and lively bars. From Trastevere, you can access river walkways to the historic center that meet and cross at Ponte Sisto and Ponte Garibaldi.
The historic center has a main square which is home to Piazza di Santa, one of the oldest churches in Rome. Trastevere as an area is situated at the bottom of Gianicolo Hill (also known as Janiculum Hill), and from here you can take spectacular walks and hikes until you eventually reach Rome's largest park, Villa Pamphili.
Hot Tip: Along the way, you can see the 17th-century marble fountain Fontana dell'Acqua Paola, as well as breath-taking views of the Capitoline and Palatine hills, the imposing Vittorio Emmanuele II monument, and Pantheon's dome.
San Giovanni
San Giovanni is overflowing with beautiful Renaissance buildings and elaborately decorated cathedrals. Unlike other areas of Rome which have the cobbled streets and narrow winding pathways, San Giovanni is made up of modern avenues and is home to many of Rome's residents.
Although there are local restaurants, the majority of food is sold via community markets, and people sit in the parks for entertainment rather than bars. San Giovanni has brilliant public transport links and is also within walking distance of the Colosseum.
In this quiet, residential area of Rome stands the city's oldest major Christian basilica, intertwined with modern high street shops and department stores, as well as the popular bimonthly second-hand market.
Despite having a modern vibe, San Giovanni is still a great choice for visitors interested in ancient ruins, cultural city walks, and historic fountains.
Monti
Monti gives you a taste of an authentic classic Roman neighborhood. Nestled between the Roman Forum and Basilica of Santa Maria Maggiore, it has a relaxed, lived-in vibe where you can meet the locals and admire the stunning scenery. The beautiful hillside landscape is scattered with pretty historic buildings set in cobblestoned paths and streets.
There is a wide variety of hip restaurants and trendy cafes, and from the southwest side of the neighborhood, you can see across to the Colosseum. Many tourists love visiting Monti where they can sit back and enjoy chilling out around the fountain in the main square known as Piazza della Madonna dei Monti.
Monti was historically an impoverished slum that has evolved to become a picturesque area bursting at the seams with character, attracting young bohemian-type residents and travelers.
Aventino
Aventino is located on one of Rome's 7 ancient hills and is a beautiful, green area within the city. Wealthy Roman families own imposing villas in this area, and a wander along the prestigious tree-lined avenues is an experience in itself.
While you are in Aventino, be sure to visit the Bocca della Verita, the chariot track at Circus Maximus, and the historic ruins at the Baths of Caracalla. There are fantastic views of the Tiber River to be had from the hillside of Aventino, and many tourists choose to sit in the orange garden to soak up the stunning vista.
Hot Tip: If you get the chance to visit the Magistral Villa of the Knights of Malta, you will get the opportunity to view St. Peter's dome from a totally different perspective through the keyhole on the gate.
Centro Storico
The streets that make up Centro Storico are some of the most historic parts of Rome where tourists flock to see the Campo de' Fiori, the Piazza Navona, and the Pantheon. These areas are brimming with the charming narrow streets and ancient architecture that Rome is so famous for. In Centro Storico you will see some spectacular examples of classical Roman- and Baroque-style buildings.
The main square is busy every night and has a plethora of lively restaurants and bars, all of which serve up good quality Italian dishes and fine wines. The famous food and flower market at Campo de' Fiori is not to be missed and should be on every tourist's experience list.
Bottom Line: Centro Storico's location makes this a popular neighborhood, so be prepared for the crowds.
San Lorenzo
San Lorenzo is situated outside of the city walls and sits between Termini and Tiburtina stations. This area was traditionally a working-class industrial center whose roots remain today with plenty of warehouse buildings and factory-style architecture on every corner.
San Lorenzo has a young, hipster, and student vibe and is close to Sapienza University. As you wander around San Lorenzo you will be able to admire the creative and artistic murals dotted on the side of buildings.
The progressive alternative music scene attracts free-spirited hipsters to the many live music events which take place in the vibrant bars. There are also plenty of opportunities in San Lorenzo to purchase some of the best street food in the city.
Testaccio
Testaccio was historically a slaughterhouse and butchers' district up until the 1970s. These traditions are still active today, and many tourists enjoy a visit to the Testaccio Market to purchase gourmet street food and fresh meats.
Testaccio is an area is situated along the Tiber River, just south of Aventine Hill. The main attraction in Testaccio is the Pyramide of Cestia, which is the Protestant Cemetery where non-Catholics were buried.
Even though Testaccio is a trip away from Rome's center, many visitors report that it is well worth the journey. It is considered to be one of the prettiest areas in the city and is within walking distance of the Pirimide metro station and the Colosseum.
Bottom Line: Testaccio is a quaint and quiet area as it is off the tourist path, but has great restaurants and cafes for a relaxing day away from the main drag.
Tridente
Tridente is in the northern part of central Rome and gets its name from the fact it is made up of 3 main streets. These 3 streets (Via di Ripetta, Via del Corso, and Via del Babuino) all filter off from the Piazza del Popolo. This area is one of the most sophisticated parts of Rome and is home to designer boutiques, fine dining restaurants, and magnificent 5-star hotels.
In Tridente you can visit wonderful attractions such as the Spanish Steps, the Trevi Fountain, and the flagship Fendi store. This area is an iconic and popular destination for tourists and is usually on people's must-see tick list.
Tridente is a bustling area and one where you can experience the posh, high-end Italian lifestyle during your visit to Rome.
Pigneto
Pigneto is a diverse and artistic area of Rome where many locals live. The former working-class neighborhood on the outskirts of the city is now considered to be a trendy, up and coming area that attracts creative and free-thinking residents and visitors.
There's a plethora of trendy cafes, ethnically diverse shops, and vibrant bars, as well as an abundance of street art for you to admire as you wander around this unique neighborhood.
Pigneto has a market each morning in Via del Pigneto which is a pedestrian-only street with its own metro station. In this shopping part of Pigneto you have the chance to buy original artwork, street food, and cruelty-free, vegan-friendly clothing.
Bottom Line: Hipsters congregate in this area to enjoy the live music and art scenes which the colorful Pigneto has to offer.
Prati
Prati is the Italian word for "meadows" and is a charming, historic area of Rome on the west side of Tiber River. Here you can wander alongside elegant buildings in a quieter and calmer part of Rome. It is here in Prati that you can visit the elaborate Palace of Justice which has an expansive bronze sculpture on the rooftop of a chariot being drawn by 4 beautiful horses.
Other must-see things in Prati are the charming Piazza Cavour and Via Cola di Rienzo, which is one of Rome's most famous streets for high-end, designer shopping. Prati borders the north of the Vatican State, providing easy access to the Vatican Museum, St. Peter's Square, Vatican City itself, and Castel Sant'Angelo.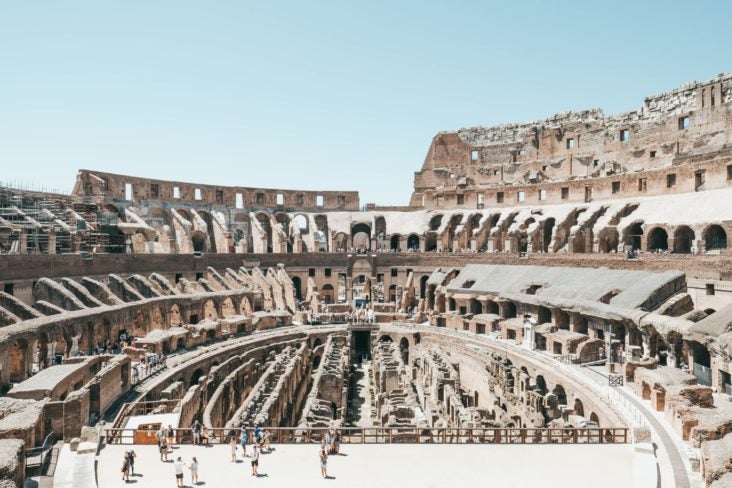 Top 10 Rome Attractions
Here are 10 of the best attractions to visit in Rome.
Colosseum
The Colosseum is usually the top of all tourists' must-see tick list. It is the largest amphitheater ever built and is situated in the center of Rome. This oval amphitheater is an imposing 157 feet (48 meters) high and is open from 8:30 a.m. – 7:00 p.m. every day. For a standard admission ticket costing $13 (€12), you can walk freely between the Colosseum, the Roman Forum, and Palatine Hill.
The nearest metro station is Colosseo on Line B.
Roman Forum
The Roman Forum is the central rectangular space surrounded by the ancient ruins of Rome's government buildings. This popular tourist attraction is open from 8:30 a.m. – 7:15 p.m. daily, and the admission cost is $13 (€12). However, this is the same ticket as the Colosseum, so if used on the same day, you can access both attractions for 1 ticket price. This is easily achievable as the entrance gate is very close to the Colosseum.
The nearest metro station is Colosseo on Line B.
St. Peter's Square and Basilica
St. Peter's Basilica is one of the most iconic landmarks in all of Rome. The Italian Renaissance church is situated in an expansive square in Vatican City that dates back to 1506. Tourists can visit St. Peter's Square and Basilica from 7:00 a.m. – 6:00 p.m. every day except Wednesday. Entrance is free, but if you wish to go to the dome at the top, it's $11 (€10) by elevator or $9 (€8) on foot.
Take Line A on the metro and San Giovanni station is only a 5-minute walk from St. Peter's Square.
The Pantheon
The Pantheon is now a church but was historically a Roman temple dedicated to all the ancient gods of pagan Rome. Admission to the Pantheon is daily from 8:30 a.m. – 7:30 p.m., except Sundays when the opening times are 9:00 a.m. – 6:00 p.m.
This is a public site that is free to visit and within walking distance of Barberini on Line A of the metro.
The Spanish Steps
The Spanish Steps were initially built to link the Trinità dei Monti church with the Spanish Square beneath in Piazza di Spagna. It is free to visit the Spanish Steps, and it is well worth the climb to view the spectacular church at the top.
You can use Line A of the metro and get off at Spagna station close to Trinità dei Monti church. From there you can take the steps down to the Spanish Square.
Trevi Fountain
The Trevi Fountain is possibly one of the most famous fountains in the world. It is Rome's largest Baroque fountain, and legend has it that you throw 1 coin into the fountain to ensure another trip to Rome, 2 coins for love, and 3 coins for wedding bells. It is free to visit Trevi Fountain, and it only a 10-minute walk to the Spanish Steps if you are looking to combine sightseeing experiences.
Alternatively, the nearest metro station is Barberini.
The Vatican and Sistine Chapel
The Sistine Chapel in Vatican City is the official residence of the Pope and is a must-see for all tourists when they are in Rome. The chapel dates back to 1473 and hosts the amazing artwork of Michelangelo on the ceiling. The opening hours are 9:00 a.m. – 4:00 p.m. every day except Sundays when the chapel is closed and is only around 5 minutes' walk from Spagna metro station.
It costs $16 (€14) to enter and visitors should allow 3-4 hours to wander around the rooms.
Piazza Navona is a square that was first built in the 1st century A.D. and is considered to be one of the largest and most beautiful piazzas in Rome. This is a very popular free tourist attraction with 3 stunning fountains, including la Fontana dei Quattro Fiumi and its imposing central obelisk.
The nearest metro station is Spagna which is just a 5-minute walk away from Piazza Navona.
Galleria Borghese
Galleria Borghese is a famous art gallery which is open between 9:00 a.m. and 7:00 p.m. every day except Mondays and costs $14 (€13) for a ticket. During your visit to Galleria Borghese, you will be able to see beautifully preserved sculptures, ancient mosaics, and paintings that date back to the 15th-18th centuries. The museum is set within the Villa Galleria gardens which are free to enter.
The easiest way to travel to Galleria Borghese is by bus which stops within walking distance.
Castel Sant'Angelo
Castel Sant'Angelo was originally built as a mausoleum for the Roman Emperor Hadrian and his family in 135 A.D. It has since been used as a fortress and castle by different popes over the years, but nowadays it is open as a museum. You can visit this amazing example of Ancient Roman architecture every day between 9:00 a.m. and 7:30 p.m., and admission costs $16 (€14).
The easiest public transport for this attraction is a bus from the main center of Rome or metro Line A to Lepanto.
Hot Tip: Looking for more tour and tour information? Explore our guide to the best tours in Rome. 
10 Unique and Quirky Things to Do in Rome
Outside of the usual tourist attractions, there are some unique things to see and do. Here are 10 to add to your list.
Pyramid of Cestius
The Pyramid of Cestius was built in 12 B.C. as a tomb for Gaius Cestius. This pyramid was sealed when built but has since had one of the entrances plundered. The Pyramid of Cestius is open to the public on Saturdays between 10 a.m. and 12 p.m. and only costs $6 (€5.50) to go inside.
The nearest station is Piramide, which is only a 2 minutes stroll from the pyramid — the only attraction of its kind in Rome.
Street Art in Ostiense
The Ostiense district of Rome is located just to the south of the city center. Here you can view some impressively creative street art across a plethora of urban contemporary artwork and spectacular murals. There are lots to see so allow plenty of time when visiting Ostiense if you want to stroll and appreciate the street art in this area.
The easiest way to travel to Ostiense is by metro and walk from Piramide station.
House of Owls
The Little House of Owls is a quirky museum that some visitors describe as the hidden gem of Rome. Nestled within the ground of Villa Torlonia is this little fairy-tale looking house dedicated to owls. The house is away from the usual touristy sightseeing lists but is well worth the entrance fee of $13 (€12).
The Little House of Owls, also known as Casina delle Civette, is open between 9:00 a.m. and 7:00 p.m. every day except Mondays, and can easily be reached by bus from the city center.
Largo di Torre Argentina
Largo di Torre Argentina is a square which includes 4 Roman Republican temples as well as the famous ruins of Pompey's Theatre. The excavation work is ongoing and is an inspiring discovery since the 20th century. It is within Pompey's Theatre in this square where Julius Caesar was thought to have been assassinated.
This is a public site that is free to visit. Although you can't directly access the ruins, you can closely view them from the street. There is no metro station nearby, but this attraction is within walking distance of bus stops which run from all main areas.
Catacombs
These ancient underground burial places, or catacombs, can be viewed for only $9 (€8) and there are around 40 catacombs to experience. Some of them were only discovered a few decades ago. Ancient Roman law stated that the dead must be buried outside the walls of the city and these catacombs were built so that Christians could be buried as Christian symbols could be used underground.
The nearest station to the Catacombs is Appia Pignatelli.
Teatro Marcello
Teatro Marcello is a stunning open-air theater which was built in 13 B.C. for Julius Caesar and Marcus Marcellus. In the summer, concerts are held within the ancient theater, and it is a truly magnificent setting which many visitors report to find as breathtaking as the Colosseum.
Ticket prices vary depending on the concerts being held. It is free to walk the perimeter of Teatro Marcello to experience the historic Roman site, which is 85 years older than the Colosseum.
This theater is only a 1-minute walk from Teatro station.
Capuchin Crypt
The Capuchin Crypt is a collection of tiny chapels that sit beneath the Santa Maria della Concesione dei Cappuccini church. Here is where the bodies of Capuchin monks were buried, and their skeletal remains are still held. The Capuchin Crypt is open every day between 9:00 a.m. and 6:30 p.m. and the admission fee is about $9 (€8.50).
The nearest station for visiting this attraction is Barberini.
The Appian Way
The Appian Way is a historic Roman road built in 312 B.C. Today this is one of the most famous ancient Roman roads where you can walk or cycle (bike hire is available at the site). On average, tourists spend around 6 hours traveling the length of the Appian Way and generally find it to be a peaceful experience just outside the city walls.
It is easy to travel to the Appian Way by bus from Piramide station.
Circo Maximus
Circo Maximus is an ancient chariot-racing stadium which would have been a major entertainment venue in its day. Situated between Aventine and Palatine Hills, this attraction is becoming ever more popular with tourists visiting Rome.
The remains of this inspiring Ancient Roman architecture form the archaeological site which stands today after fire and flood damage. Circo Maximus is open every day except Mondays and pre-booking is essential as it is for organized tour groups only.
Use Line B of the metro and get off at Piramide station for this attraction.
Vintage Fiat 500 Tour
This is a fantastic way to tour around the historic sites of Rome! These vintage Fiat 500 cars set off in convoy, and you will spend 3 hours driving around Rome. You'll travel where some larger tour buses cannot access and cruise along the Tiber River. For just $142 (€128) you can be seated inside one of these iconic open-top vintage cars. Tours start from just outside the Colosseum.
Hot Tip: Need a great place to stay? Check out these 15 great hotels in Rome.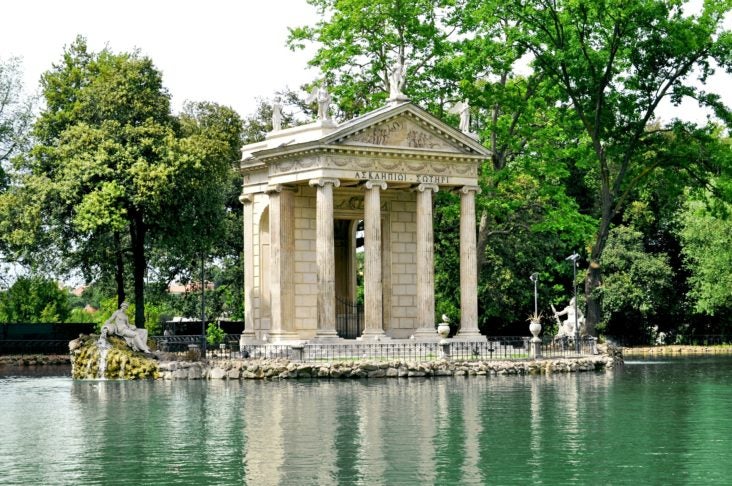 10 Green Spaces and Gardens in Rome
It's not just about the architecture in Rome. The city is also home to some beautiful green spaces and gardens. Here are 10 of the best.
Villa Borghese
Villa Borghese is the third largest park area in Rome. It is a landscaped area with English-style manicured gardens. Villa Borghese is open 24 hours a day and is free to explore. This park is situated on Pincian Hill, close to the Spanish Steps, and is known by locals as the "green lung" of Rome. It can be accessed from Spagna or Flaminio stations.
Villa Doria Pamphili
Villa Doria Pamphili is Rome's largest and most impressive park which was built around a 17th-century villa, now the sole location for the Italian government. This stunning landscaped park is free to visit and nearby to Termini station. Villa Doria Pamphili is thought to be one of the best places for walking in Rome.
Botanical Garden
The Botanical Garden, Orto Botanico, is situated in the Trastevere neighborhood. Visitors to these gardens can see over 3,500 species of plants. There is also a rock garden, bamboo grove, "Scent & Touch" visually impaired sensory garden, greenhouses, and the Japanese gardens.
A day spent strolling around Orto Botanico is definitely time well spent. This attraction is open daily from 9:30 a.m. to 6:00 p.m., the admission fee is only $9 (€8), and the nearest metro station is Piramide.
Vatican Garden
The Gardens of Vatican City are owned by the Pope, and there is public access from 9:00 a.m. – 6:00 p.m. every day except Wednesdays and Sundays. These beautifully manicured gardens can be toured by bus for $36 (€32). This may sound expensive until you realize that the admission ticket also allows you access to the Vatican Museum and Sistine Chapel.
You can take the train to Ottaviano-S. Pietro to access the gardens.
Orange Trees Garden
Savello Park, also known as the Orange Trees Garden, is on Aventine Hill, and from this garden, you have the most wonderful views of the city. You can wait in line to peek through the keyhole on the gate of Magistral Villa of the Knights of Malta and view St. Peter's dome from above. These gated gardens are free to visit and are open from 7:00 a.m. to 6:00 p.m. in winter and 7:00 a.m. to 8:00 p.m. in summer.
Piramide metro station is the closest to the garden gates.
Villa Torlonia
Villa Torlonia and its surrounding grounds are a hidden gem in Rome. You can see magnificent neoclassical architecture set within English-style manicured gardens. Villa Torlonia is open daily from 9:00 a.m. – 7:00 p.m. and admission tickets cost $11 (€10).
Guidubaldo Del Monte is the nearest station to the park.
Parco degli Acquedotti
Parco degli Acquedotti is a beautiful, expansive park within the Appian Way area on the outskirts of Rome. In this park, you can see the ancient ruins of 2 massive Roman aqueducts. This public park is open 24 hours a day, and entrance is free.
Capannelle is the nearest station.
Palazzo Venezia
Formerly the Palace of St. Mark, Palazzo Venezia is a spectacular example of Renaissance architecture. The gardens are pretty and open from 8:30 a.m. – 7:30 p.m. every day except Mondays. Admission is $9 (€8.50) and it's only a 10-minute walk from Termini station.
Villa Celimontana
The grounds of Villa Celimontana are considered by some visitors to be the prettiest hidden gardens of the city. Stroll through these immaculate gardens, which were once a vineyard, and discover the obelisk dating back to the mid-16th century. This free public park is located just above the Colosseum and is open from 7:00 a.m. until sunset.
Rose Garden
Rome's Rose Garden was formerly a Jewish cemetery that has been constructed in the shape of a menorah. This public park on Aventine Hill is open to the public from April to June, and there's no admission fee. Allow plenty of time when visiting these gardens as there's a huge area to cover.
The gardens are just a short walk from Termini station.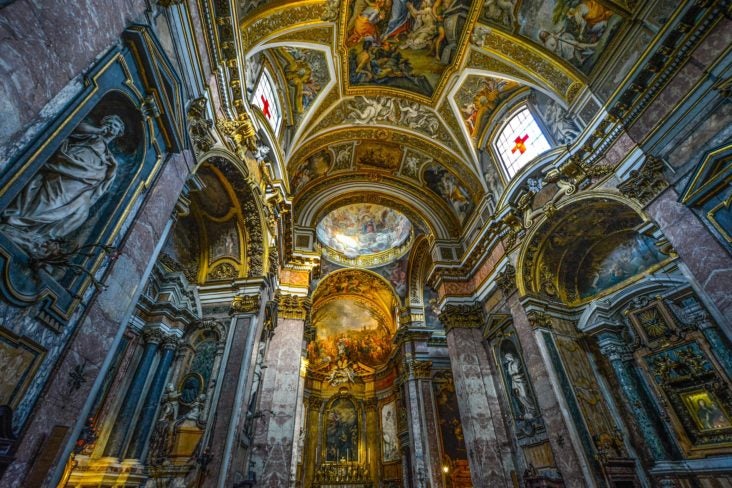 10 Churches You Should Visit in Rome
Rome is home to over 900 churches, so it is a challenge to choose a top 10. Nevertheless, we gave it a go and here are our top picks.
Basilica of Santa Maria del Popolo
Basilica of Santa Maria del Popolo is a 15th-century church which sits within Rome's famous square Piazza del Popolo. Visitors report that this tiny temple is unlike any other church in Rome, with its delightful Renaissance decoration inside. Basilica of Santa Maria del Popolo is open every morning from 7:15 a.m. – 12:30 p.m., then every afternoon from 4:00 p.m. – 7:00 p.m.
The nearest station to the Basilica of Santa Maria del Popolo is Civitavecchia.
Santa Maria in Trastevere
Santa Maria in Trastevere (Our Lady of Trastevere) is one of the oldest churches in Rome. There are beautiful mosaics on the exterior, and it is a dazzling sight to behold at night when the tower is illuminated. The church is open to the public from 7:30 a.m. to 9:00 p.m. daily and admission is free.
Santa Maria in Trastevere is only a few minutes' walk from Mameli station.
Basilica of Santa Maria Maggiore
Basilica of Santa Maria Maggiore is the largest Catholic Marian church in Rome dedicated to the Virgin Mary. It is breathtaking with a 15th-century wooden ceiling, a hidden spiral staircase, gorgeous mosaics, and a display of part of Jesus' crib brought from Bethlehem. It's open from 7:00 a.m. – 7:00 p.m. daily except Sundays and bank holidays when it is closed in the afternoon.
Basilica of Santa Maria Maggiore is only a short walk from Termini station and admission is free.
Santa Maria in Aracoeli
Santa Maria in Aracoeli was built in the 6th century and is still today the designated church of Rome's city council. It's a popular church, particularly at Christmas, as inside there is a wooden baby Jesus which is thought to have healing powers. The entrance is free, and the church is open from 7:00 a.m. – 7:00 p.m. daily.
Ara Coeli station is less than 3 minutes' walk away.
San Giovanni in Laterano
San Giovanni in Laterano is open to the public from 7:00 a.m. – 6:30 p.m. daily. This impressive monumental church was the most influential building within the Christian faith for over a thousand years. Visitors always report that they are amazed by the rich history, art, and architecture of this church.
Use Lines A and C of Rome's metro for the nearest station, San Giovanni.
Santa Maria Sopra Minerva
Santa Maria Sopra Minerva is a popular church for tourists to visit to take in the heady blend of Gothic and Medieval architecture. It is still one of the major churches in Rome's Catholic Order of Preachers and this 13th-century attraction is open from 7:30 a.m. to 7:00 p.m. daily with free admission.
Santa Maria Sopra Minerva is a 20-minute walk from Termini and around the corner from the Pantheon.
Basilica di San Pietro in Vincoli
Basilica di San Pietro in Vincoli is a Renaissance-style church and basilica that is famous for being home to Michelangelo's statue of Moses. This Roman Catholic church is open in the mornings from 8:00 a.m. – 12:30 p.m., and then in the afternoons from 3:00 p.m. – 7:00 p.m.
Entrance is free, and this is only a short walk from the Colosseum for tourists wishing to combine experiences.
Santa Maria in Cosmedin
Santa Maria in Cosmedin is a minor basilica built in the Middle Ages which attracts visitors wanting to see the "mouth of truth" inside the porch. There is also plenty of medieval art to admire throughout the church. The church is open from 9:30 a.m. to 6:00 p.m. daily.
Bocca Della Verita' station is only 1 minute away and admission is free.
San Clemente
San Clemente is a minor basilica dedicated to Pope Clemente I. This church is considered significant among religious scholars as it outlines the history of Christianity right from the beginning of the faith through to the Middle Ages. This temple is decorated internally with old mosaics and is open to the public from 9:00 a.m. – 12:30 p.m. and then 3:00 p.m. – 6:00 pm.
The church is a short walk from either Colosseo or Manzoni stations.
Saint Paolo Fuori le Mura Basilica
Saint Paolo Fuori le Mura Basilica is one of Rome's 4 major basilicas and is located outside the city walls. This 9th-century church with Neoclassical architecture is a popular year-round tourist attraction. Saint Paolo Fuori le Mura Basilica is open daily from 7:00 a.m. – 6:30 p.m.
Saint Paolo Fuori le Mura Basilica is easily reached via the bus network service.
10 Shopping Areas & Markets in Rome
Rome is a fashionista's dream, but it's not all high-end fashion. The city is home to some great markets, too. Here are 10 of the best places to shop.
Via Condotti
Packed full of beautiful designer big name brands including Gucci, Dior, and Dolce & Gabbana, Via Condotti is the place to be for the largest selection of designer outlet shopping in all of Rome. It is an absolute must for lovers of designer Italian leather handbags and upscale fashion and accessories. The pedestrian walkway is also dotted with cafes and restaurants for regular shopping breaks.
This retail heaven can be found close to the Spagna metro station.
Via del Corso
As one of the most popular shopping spots in the city of Rome, the Via del Corso is home to designer dresses and big brand fashion. Offering affordable fashion at its finest, you will find some of the most highly regarded names in Europe here including H&M, Zara, and Sephora.
You can easily walk to Via del Corso from the Spagna Metro station, or bus lines 170 and 175 both stop close by.
Via Cola di Rienzo
The Via Cola di Rienzo is the main thoroughfare that cuts through Rome's Prati neighborhood. It is also one of the very best destinations in the city for laid-back, leisurely shopping with fewer crowds than some of the more upmarket areas. The Via Cola di Rienzo offers an impressive blend of international brands like Coin, Tiffany's, Kiko, and Diesel, as well as a wide variety of bars, cafes, and restaurants.
Close to the Cola Di Rienzo/Terenzio subway stations, the Via Cola di Rienzo is a great place to explore after visiting the Vatican.
Porta Portese
Porta Portese is the biggest flea market in Rome and is the perfect place to enjoy a lazy Roman Sunday strolling through the ancient streets of the Trastevere district. Cheerful vendors offer a wide selection of secondhand clothing, antiques, brand name knockoffs, bric-a-brac, household products, vinyl records, and much more. The market is just as popular with the locals giving it a truly continental feel.
The nearest station is Porta Portese.
Via Sannio
Tucked away behind the city gates close to the cathedral of San Giovanni in Laterano lies this enchanting outdoor market that is perfect for those who are happy to rummage for bargains. Vendors show their wares on old tables and tatty looking stalls, but for those who have the patience to sift through the piles of stock, the rewards can be incredible. Secondhand and vintage designer gear by the bucketload is here — you just need to find it first.
Surrounded by super cool cafes and record shops, the nearest subway is San Giovanni.
Via del Babuino
Via del Babuino is a historic cobbled street that connects Piazza di Spagna and Piazza del Popolo. Chock full of beautiful old buildings, it is also one of the city's premier upmarket shopping districts. This elegant pedestrianized thoroughfare is dotted with luxury brands including the likes of Armani Jeans, Tiffany, Tory Burch, Gente, Maison Margiela, and Valentino.
This is a great place to have a latte while enjoying a spot of people-watching; the nearest station is Spagna.
Via Giulia
Via Giulia has some of the city's finest examples of authentic Roman architecture and is an utterly enchanting place to spend the day. Via Giulia is also a residential area for rich Romans, meaning that there are plenty of fantastic independent shops that line the cobbled street. These include art galleries, antique shops, and quirky homeware stores, as well as fashion boutiques, bars, and cafes.
You can reach this part of town using the Circo Massimo station.
Via del Governo Vecchio
Just off the Piazza Navona, the Via del Governo Vecchio offers something for everyone. From the super cute secondhand book stores and biggest vintage clothes shops in the city to the modern-day fashion boutiques and grocery stores, this a popular part of town with a great atmosphere. Take a stroll along the cobbled street until something takes your fancy, then sit back and relax in one of the many coffee shops and bars.
The nearest subway station is Chiesa Nuova.
Flaminio Market
Set at the heart of the Piazza del Popolo, Flaminio Market is packed full of cool market traders selling pre-owned and vintage clothing, accessories, and jewelry. This is one of those flea markets similar to those you find in many European cities, but this being Rome, you are likely to come away with a pair of pre-loved Gucci sunglasses or a Fendi bag.
Set in a bus station, there is an entrance fee of $2 (€1.60), and you can get there using the 88, 204, or 231 buses or trams 2 and 19.
Fontanella Borghese Market
Nestled between the Tiber and the Via del Corso, the Fontanella Borghese Market is a gorgeous piazza market that offers a selection of bijou box shops. These sell a variety of small antiques including antique maps, etchings, posters, books, photographs, and even cameras. The area is always popular with tourists, as the wares on sale are usually just the right size to bring home.
The nearest station to the market is Spagna.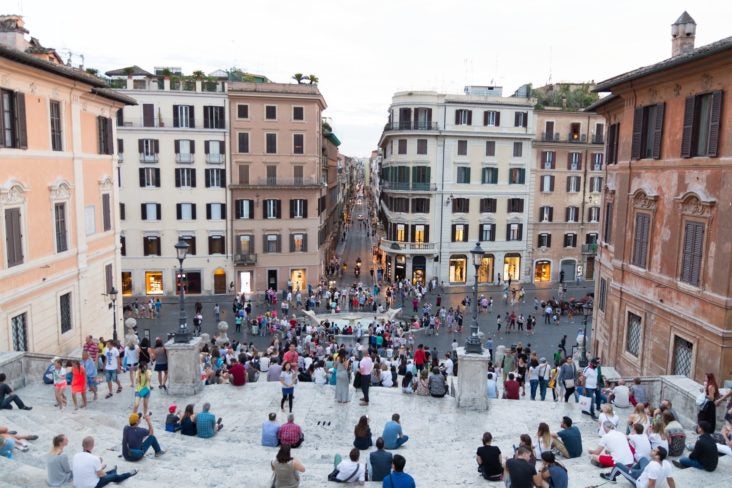 15 Rome Travel Tips & Hacks
House Wine is the Best Wine
When in Rome, drink like the Romans. In a city that appreciates fine wine, the house bottle or "vino della casa" is often as good as, if not better, than more expensive brands. Buy it by the glass or share a carafe or 2 with friends old and new.
Experience the Culture for Free
On the first Sunday of each month, some of the best museums and archaeological sites can be enjoyed for free. If you are on a tight budget, plan your dates accordingly, and visit world-famous sites like the Colosseum, the Roman Forum, and the Galleria Borghese for free.
Be Travel Savvy With Taxi Drivers
The city of Rome operates and enforces set fees for most taxi journeys to, from, and within the city walls. Taxis registered outside of the city are not bound by the same rules but can travel the same routes. This makes it easy for unsuspected tourists to be stung with huge fares. Always check your taxi fares before you begin your journey.
Imparare a Parlare Italiano (Learn to Speak Italian)
Learning a few key phrases and common words will not only help you in everyday situations, but it will also help to ingratiate you with the locals. Learn a little before you leave, and take a phrasebook with you.
Go Continental
Much like the French, the Italians are famous for their love of late-night meal times. 8:00 p.m. is a good starting point for eating your evening meal, but be prepared to enjoy long, laid-back affairs that last well into the small hours.
Travel Light
When wandering around the city, leave your super-size backpack back at the hotel. European cities tend to get very crowded, and most tourist attractions will ask you to check bulky bags in the cloakroom. Keep your money, phone, camera, and other essentials close at hand with a fanny pack, sling backpack, or mini backpack instead.
To Tip or Not to Tip?
Most restaurants in Italy will automatically apply a "service charge" to your bill. If you are in a smaller cafe or independent restaurant, you may like to leave a few euros for your waiter as you leave. The same rules apply to taxi drivers and bartenders, too. Tipping is not necessary, but of course, no one will complain if you do.
Cash is King
Rome is a city with plenty of ancients wonders to see, and in some places, this even extends to your payment options. To avoid being caught out, be sure to carry enough cash on you to pay for your entry tickets to attractions, as well as food, drinks, and any travel while you are away from your hotel.
Look Out for Fake Gelato
Even here in Italy, not all gelato is created equal. Being one of the most refreshing and delicious national dishes you will ever taste, it is important that you find an authentic scoop or 2. The brightly colored, fluffy looking ice cream served across town is often packed with artificial colors and sweeteners.
Real gelato, however, takes its color and flavor from the ingredients within it. As a rule of thumb, compare your frozen treat with how it would appear if the ingredients were blended.
Enjoy a Drink at the Bar
Italians have a unique way of enjoying their coffee, and they see it simply as fuel to keep them going. If you would prefer to sit down and relax with a hot coffee and a good book, you are welcome to by all means, but be prepared to pay extra for the privilege.
Take the Day Off
Monday is considered a day of rest in Rome, and many of the city's main attractions and restaurants will be closed to the public. When planning your next trip, be sure to make the most of the weekend, and save Monday for shopping or visiting local parks and open spaces.
Drink from the Water Fountains
Usually, when you go overseas, you are advised not to drink the water, but here in Rome, the "nasoni" fountains provide thirsty travelers with fresh drinking water that flows from the aqueducts. Stay hydrated for free by topping up your water bottle as you go.
Avoid the Busiest Times
The Vatican Museums are the most popular in all of Italy, and they get very busy from the moment they open. Ignore the advice of those who tell you to get there early, and instead, wait for the rush to die down before visiting. On a Friday the museums are open late, so why not enjoy a late afternoon or evening tour instead?
Keep Covered Up
In most of the ancient churches and buildings in the city, including St. Peter's Basilica, the Vatican Museums, and the Sistine Chapel, you will need to be covered up to be allowed entry. Although it can get super hot outside, carry a shawl or scarf with you to cover your knees and shoulders when you need to.
Finally, Bring Your Own Toilet Paper
Roman toilets aren't great. Often they will be without toilet seats, and toilet paper will be in short supply. Sometimes you will even have to pay for the privilege of using these less than perfect facilities. Keep a stash of toilet paper or wipes in your bag at all times — just in case.
10 Fun Facts About Rome
The Eternal City receives millions of tourists every year, many of whom come to see some of the most iconic and religiously important landmarks in the world. But aside from the stunning architecture, the fantastic food, and amazing Italian weather, there are lots of interesting facts about Rome that you may not know about:
Romulus and Remus
Legend has it that the ancient city of Rome was founded by 2 twin brothers, who fought over who should be the rightful ruler. Believed to be the sons of a mortal priestess, Rhea Silvia, and the Roman god of war, Mars, they were always destined for battle. In a moment of fury, Romulus killed his brother and gave the name Rome to his beloved city.
The Trevi Fountain
Millions of visitors come and throw their coins into the Trevi Fountain every day. It is believed that if you throw your coin over your left shoulder using your right hand, you will return to Rome in the future. Other legends also claim that you should throw 3 coins into the fountain. Over the course of a day, around 3,000 euros are thrown in.
You Can Drink the Water
Thanks to the aqueducts beneath the city, Rome is full of fountains that offer potable water. Called "nasone" fountains, there are between 2,500-2,800 nasoni in Rome, and they supply citizens and tourists alike with free drinking water throughout the city.
There are Lots and Lots of Fountains
If you love fountains, you certainly won't be disappointed in Rome. There are 50 named monumental fountains and hundreds of smaller fountains dotted across the city. There are believed to be over 2,000 fountains, which is way more than any other city in the world.
No Cappuccino After 11:00 a.m.
Italy is home to some of the most delicious coffee in the world. But did you know that in the city of Rome, local tradition dictates that you should never drink cappuccino either after 11:00 a.m. or after a meal? This is because the Romans believed that milk impairs the digestion and therefore should only be used sparingly.
The Aventine Keyhole
Tucked away at the Knight of the Malta gate on Aventine Hill, there is a tiny door that you wouldn't even notice unless you were looking for it. Rumor has it that if you peek through the keyhole, you will see the Vatican perfectly in line with the garden beyond. From this also unassuming viewpoint, you can gaze across 3 entirely different countries all at once — Malta, Italy, and the Vatican City.
Secret Passageway to the Vatican
Just outside the Vatican lies the Castel Sant'Angelo. This pretty looking castle is chock full of beautiful rooms and elegant frescoes, but buried deep in the castle walls is a secret passageway that runs all the way into the Vatican. Popes used the secret tunnel when they felt they were in danger.
There Are a Lot of Cats That Live Here
Rome is home to hundreds of wild cats that sit on the walls of the Colosseum and sleep among the ancient ruins of the Forum. There is also a dedicated cat sanctuary housed among the ruins of 4 Republican temples at Largo de Torre de Argentina. The feline population is so dense because there is a law in the city that allows cats to live without disruption in the place where they were born.
Shop 'Til You Drop
Rome is home to one of the earliest shopping malls in the world. Between 107 and 110 A.D., Emperor Trajan built the Mercati di Traiano (Trajan's Market), where a wide range of grocery items was sold across different levels. Modern-day Rome is still home to some of the very best shopping districts and flea markets in the world.
The Pasta Museum
Rome is home to a dedicated pasta museum that is devoted to the history, production, and nutritional values of Italy's favorite foodstuff. Visitors can learn everything from optimum cooking times and recipe advice through to pasta-related artwork and exhibits on pasta-making techniques throughout the ages.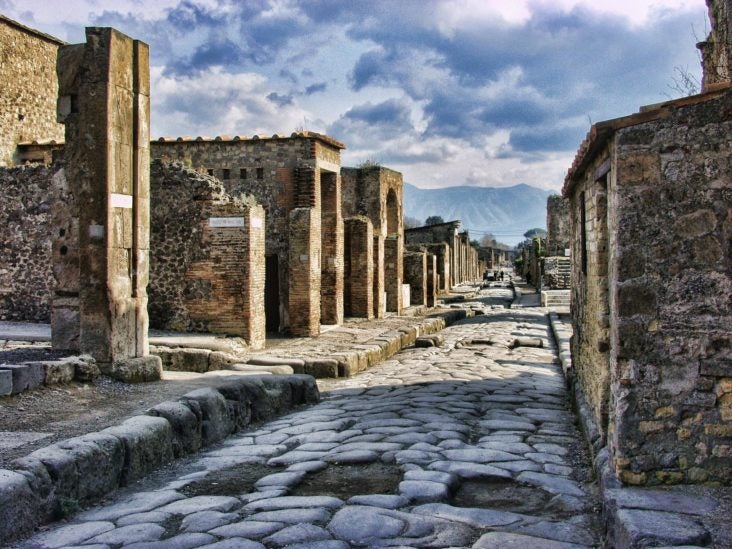 Top 5 Day Trips From Rome
Ostia Antica
What was once the most important harbor city in Ancient Rome is now an important archeological site and popular tourist destination. Located just 19 miles west of Rome, Ostia's main arterial street is home to a street show of houses, shops, baths, and taverns. The city is also home to a Jewish synagogue, a Christian Basilica, and a wealth of Persian temples.
You can get to the ancient harbor city by taking the 20-minute journey from the metro Line B station of Piramide to Ostia Antica using the Roma Lido commuter train. The Roma Lido line runs from around 5:30 a.m. until 11:30 p.m., and you can reach Ostia using a travel card costing from as little as $2 (€1.50), depending on the time and duration of your visit.
Pompeii
The ancient city of Pompeii was famously buried by the 79 A.D. eruption of Mount Vesuvius. Visitors come from all over the world to see the perfect example of ancient Roman communities anywhere in Italy. Ruins include the Antiquarium, the Forum, the Terme Stabiane, the House of Menander, the Amphitheater, and the Nuovi Scavi (New Excavations), among others.
Pompeii is 133 miles from Rome, and the train journey from the city takes around 1 hour and 50 minutes. You can reach Pompeii Scavi-Villa dei Misteri station using the Circumvesuviana line that departs from the main Roma Termini station. Ticket prices start from as little as $19 (€17) depending on the time of travel.
Hadrian's Villa in Tivoli
Hadrian's Villa is a UNESCO World Heritage Site and an impressive archaeological complex located in Tivoli, 18 miles east of Rome. Considered to be the most remarkable and extravagant example of an ancient Roman Villa, it was built for Emperor Hadrian when he decided that he no longer wanted to reside in the city of Rome itself.
The giant structure contains a variety of interesting structures including the Nymph Stadium, the Poecile, the Camopus, the Philosophers' Room, Piazza d'oro, the Grandi Terme, and the Piccole Terme.
You can reach the Villa by taking the Trenitalia line from Tiburtina Station (also on the metro B line) and enjoy a 40-minute ride on the Avezzano bound line. Get off at Tivoli Station to visit the Villa and surrounding attractions. Tickets cost from around $6 (€5).
Orvieto
The pretty, hilltop town of Orvieto is one of the most ancient cities in Italy, and home to some of the most important vineyards in the country. Visitors make the journey from Rome out into the Umbrian countryside to admire the impressive Piazze del Duomo, explore the grottos and rock formation of underground Orvieto, peek into the well at Pozzo di San Patrizio, relax by the fountains at Fortezza dell'Albornoz, and sample the fantastic wines at Decugnano dei Barbi.
The train journey from the city of Rome to Orvieto takes around 1 hour 30 minutes, and you can pick up the Trentitalia Line from Roma Termini. Tickets start from around $8 (€7) for a single journey.
Naples
Naples is a UNESCO World Heritage site that dates back as far as 470 B.C. It is also home to 3 amazing castles: Ovo Castle with its imposing fortress, Castel Nuovo with its Medieval towers and Renaissance arch, and the Castel Sant'Elmo with its former prison. Visitors also come to see the Royal Palace of Naples, the Palazzo Reale, and a wealth of historic churches and cathedrals.
Naples is around 140 miles from Rome, so expect a 2-3 hour train journey to reach the city from Rome. The Frecciarossa Express runs from Roma Termini to Napoli Centrale every 20 minutes at peak times, and ticket prices start from $26 (€23), one-way.
How to Stay Safe in Rome
Rome is an enchanting city that can reel you in from the moment you take your first steps out on to the cobbled streets. Whether you are enjoying a drink in one of the many piazzas, taking in the incredible architecture, or simply enjoying some retail therapy, it can be easy to get carried away here.
While Rome is not necessarily any more or less dangerous for tourists than any other European city, it can be easy to become distracted. Follow our advice on how to stay safe in The Eternal City, and breathe it all in without worrying about your belongings.
Beware of Pickpockets
Rome does have a high number of pickpockets operating in the main tourist areas during the high season. Roman pickpockets are very skilled and have numerous tricks to help relieve you of your belongings. Be aware of distraction techniques such as flower sellers, gangs of children, and even ladies in distress, and be sure to keep your bag in front of you at all times.
Keep Your Valuables Out of Sight
This is common sense for any large town or city, and it is just as important here as it is anywhere else. Keep your wallet, phone, and cards locked safely away in your purse, fanny pack, or shoulder bag, and do not flaunt them when you need to use them. Better still, use a money belt or body pouch for days out in the city, to help you keep your belongings safely by your side at all times.
Avoid Some Areas at Night
Urban spaces, riverbanks, and deserted piazzas may look romantic in the daylight, but they can become menacing and oppressive when the night falls. Some streets around Termini and Piazza Vittorio, in particular, are not safe for strolling tourists after dark. Likewise, some stretches of the river are not as safe at night as they would be during the day.
Keep Electronic Copies of Your Documents
If your plane ticket, passport, personal ID, or other important document goes astray while you travel, it can make things extremely difficult for you. If you are able to make and store electronic copies of all of your important documents, either by email or your smartphone camera, you will always have a back up should you need them.
Know Who to Call in an Emergency
Should the worst happen, you will probably want to call the police. Make a note of the following telephone numbers and keep them safely with you while you travel:
General Emergency: 113
Police (Carabinieri): 112
Fire (Vigili del fuoco): 115
Don't Look Too Much Like a Tourist
We aren't telling you how to dress with this one, simply suggesting that you keep your maps, travel cameras, and large amounts of cash out of sight while you are on the road. This will make you look more like a local and less like a tourist.
Take Advantage of the Hotel Safe
Most hotels will offer a safe facility in their guest rooms. These are important because it means your belongings are safe and sound and you don't need to take all of your stuff with you.
Final Thoughts
Rome is perhaps one of the most beautiful and romantic cities in the world. With so much history right on your doorstep, it can be challenging to take it all in the first time you visit.
From the historic architecture and works of art to modern-day fine dining and upscale shopping, Rome really is a city that has it all.