How to Find Hidden Cameras in Your Airbnb Rental [Includes Security Expert Tips]
Whether you are staying in a cozy bed and breakfast, an urban retreat, or a dead tech, top-spec Airbnb, sometimes your vacation accommodation is not quite as exclusive as it may at first seem.
Staying away from home can be an expensive business, and at the very least, you would want to ensure that you are paying for your privacy during your time away. When you lay your head down to sleep, you shouldn't need to think about who's peeping on you from afar.
When it comes to hidden cameras in hotel rooms and rental accommodations, you may be skeptical. You might think that 2-way mirrors, spy cameras, and peepholes in hotel bedrooms are the stuff of low-budget horror movies and that you would spot a spy cam a mile away. Sadly, this is a very real and growing problem.
A survey found that 11% of respondents have found a hidden camera in their short-term rental, and news of undisclosed surveillance in vacation accommodations is becoming more commonplace:
There is an increasingly alarming number of incidences of cameras being concealed in Airbnb rentals the world over, and you are more likely to feel creeped out and concerned about your vacation accommodation than ever before.
What Do Spy Cameras Look Like?
Since spy cameras are designed to be as covert as possible, you can already assume that you won't be seeing huge wall-mounted cameras following your every move. In fact, spy cameras are often so small and discreet that even if you were looking straight at 1, you wouldn't necessarily know what it was.
Mark Lanterman, Chief Technology Officer of Computer Forensic Services, says that these cameras are getting increasingly difficult to spot. "With the evolving nature of the Internet of Things and the constantly adapting nature of our digital landscape, bad actors are also going to make the most of the convenience this technology offers us."
To give you an idea of just how easy these teeny-tiny spy cameras are, here are some of the most common-place designs for the modern-day peeping landlord or hotel manager:
Dummy smoke detectors look just like the real thing but have a camera hidden away inside. For less than $100, most guests wouldn't even think to question this genuine-looking safety feature.
Mini spy-cameras can record up to 60 minutes of footage day or night and come with incredibly high-quality wide-angle lenses and motion detection sensors. These can be concealed virtually anywhere and are almost impossible to detect unless you really know how to find them. Cheap, easy to use, and readily available all over the internet, these are bargain bucket spy devices.
Alarm clocks with built-in cameras — yes, that's right — can allow spy-happy landlords, owners, and hotel managers to get up close and personal recordings of you while you sleep for a measly $50.
Sneakier still, there is a vast market for USB chargers with cameras hidden away inside, as well as everyday innocuous household objects such as picture frames that can record you both day and night. Also, watch out for Bluetooth speakers that take real-time footage while you play your favorite tunes.
Here are some of the cheapest and readily available hidden cameras on Amazon no less. Familiarize yourself with these so you know what you are up against.
DISCOUNT: 51%
Best Value
DISCOUNT: 10%
Premium Choice
"These cameras are getting smaller, more efficient, easier to install regardless of the space, simple to hide on a network, harder to trace, and perhaps most importantly — they are getting cheaper and cheaper," says Lanterman. "The voyeur now has the convenience offered by this technology — and as a result, the average person's security and privacy is diminished."
How to Find Hidden Cameras
Now that you know they are out there, the next trick is to know how to find them.
Physically Search Your Room
If you get the feeling that someone is watching you, or even if you don't, it pays to check your hotel room or Airbnb for anything that shouldn't be there.
Before you kick your shoes off and get settled in, give the area a once over for anything that looks out of place like an alarm clock in the kitchen, more than 1 smoke detector in a room, or unusual-looking alarm sensors that seem to be without a pad.
Pay particular attention to nightstands, work surfaces, and desk spaces as these are the perfect places for hidden cameras that are designed to not just focus on you, but also on your phone or laptop to obtain passwords and other personal info fraudulently.
Other common places to conceal sneaky little spy cameras include:
Air filter equipment
Couch cushions, tabletops, and shelves
Desk plants
Digital TV boxes
DVD cases
DVDs, books and even vinyl
Electrical outlets
Hairdryer holders
Picture frames
Smoke detectors
Stuffed teddy bears
Tissue boxes
Wall art, photos, and other images
Wall sockets
You should also be sure to keep your eyes peeled for small holes in the walls or other objects, random wires running in or out of unexpected places, or any unusual blinking or flashing lights about the place.
Take a moment to listen out for the silent buzzing and clicking noises that surveillance cameras can emit, and pay super close attention to stray wiring, as not all devices are powered simply by a battery. A surefire giveaway when it comes to wiring is different colored wires than the appliance, as most home electrical items are color-coded by the manufacturer these days.
Use a Flashlight
However clever spy cameras may be, they still need a lens made of glass to perform the task for which they are made. Glass is a highly reflective surface, so shining your cell phone flashlight will help in discovering them.
Give your room or apartment the once over with your phone, shining the light into electrical appliances, holes in walls, and any odd-looking nooks and crannies to see what it reveals.
Check the Wi-Fi Network
Access to Wi-Fi is a standard amenity in most types of accommodation these days. Not only is it useful for updating your Instagram, but your complimentary internet connection is also very useful for locating devices that are used for more nefarious purposes. By undertaking a sweep of the network for hidden cameras, you will know straight away if you are being spied on.
To make this super simple, there is a plethora of both iOS and Android apps available that will help you identify exactly what devices are running off the local network.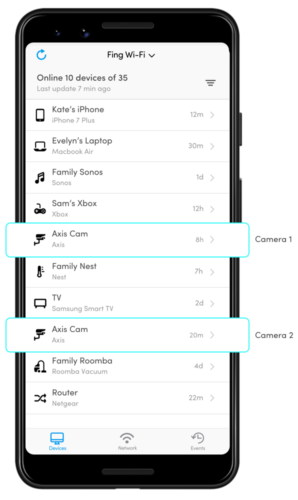 The Fing app runs on both iOS and Android, is free to use, and is completely ad-free for speedier spy checking. Simply download the app, connect to the local network, agree to permissions, and wait for Fing to search the network.
You should pay close attention to the name of each device, plus things like the hardware and IP addresses, manufacturer, model name, and an icon, suggesting what type of device it is when the scan is complete. Some obvious names to look out for include:
Arlo
Axis
Blink
Brickhouse
Eyetech
Fredi
LILIN
Samsung Wisenet
Vivotek
Wyze
As well as the telltale description "IP camera"
If there is nothing obvious on the first scan, make a note of any other IP addresses and run a search of open ports using the app. Addresses returned with RTSP, RTMP HTTP or HTTPS may denote a video streaming service, so copy the address into your browser to see what devices are running.
It is also worth noting that the WiFiman app (iOS and Android) is pretty neat at this job, too.
Check for Infrared (IR) Sources
Any device that can check for IR illumination sources can help you identify any sneaky night vision cameras. Your very own smartphone should be able to do the job, but you can check its capabilities by simply using your TV remote.
To check for IR sources in your accommodation, turn the lights off, and open the camera app on your smartphone. Look around the room using your camera and, lo and behold, any devices that emit infrared light will show up as a bright spot on your camera viewfinder.
Bottom Line: While some IR sources will be completely legitimate, there is always the risk that 1 or 2 may not be quite so genuine.
RF Detectors
If you are a bit of a tech wizard, or even if you are not, you can harness the power of radio-frequency detectors that are used to detect the radio frequencies sent out by cameras as they communicate with a Wi-Fi router or 4G connection. These handy little detectors will beep when they find a signal making it super easy for you to detect potential spy cams in your midst.
By simply pointing the RF detector around your hotel room or Airbnb accommodation, you can follow the increasingly loud beeps until you find the source of the RF signal. This could be a wireless or wired camera, an unwanted GPS tracker, or even a wireless wiretapping device or bug.
The problem with these types of devices is that there are lots of average, every day, non-creepy gadgets around the home that transmit RF, too, such as:
Baby monitors
Car fobs
Cell phones
Computers and laptops
Legitimate security cameras
Microwaves
Radios
Routers
Smart home appliances
Wireless doorbells
You should also be aware that if the camera is turned off, or simply not transmitting, it is unlikely to produce any radio frequencies for the detector to pick up.
Look for 2-Way Mirrors
2-way mirrors are real things, and not just something you see on TV dramas. Checking for one in your vacation accommodation or hotel room is easy enough.
Turn off all the lights and simply press your phone's flashlight against the glass. A regular mirror won't do much, but through a 2-way mirror, you will be able to see the space on the other side.
Don't have a flashlight on hand? Simply tap the mirror instead. A regular mirror makes a dull, flat sound when tapped, whereas a 2-way mirror will have a hollow sound. Alternatively, see how the mirror is attached to the wall. Regular mirrors are usually hung, but 2-way mirrors are attached more solidly.
Bottom Line: If you think the mirror is concealing something it shouldn't be, cover it with a sheet or some paper.
Don't Forget Other Smart Devices
There may well be some truth in the modern-day conspiracy theories that smart devices like Google Home or Amazon Alexa are spying on us in our own homes. Whether that bothers you or not is your own outlook, but there certainly are security cameras out there that can be linked to and controlled by the smart devices in your home.
Even Wi-Fi speakers and soundbars can conceal hidden cameras, so if you are concerned about your privacy while away in a hotel or rental accommodation, don't use them and cover them up instead.
When Not to Look for Hidden Cameras
Unless you are an actual, bonafide intelligence operative, there are some situations where you should stand your curiosity down.
If you are visiting countries like China or Russia, for example, there is a strong possibility that your hotel room may be actively monitored. Poking around for hidden devices or 2-way mirrors may see you labeled as a hostile intelligence operative, potentially landing you in hot water a long way from home.
What to Do If You Find a Hidden Camera
If you are unlucky enough to locate a hidden camera in your hotel room, rental apartment, or Airbnb, there are a series of steps you can take to protect your privacy. This will also ensure your sneaky landlord, host, or hotel management are penalized for partaking in such underhand (and often illegal) tactics.
First things first, take steps to ensure your own safety:
Take a picture of the suspect device and document exactly where and how you found it. Write down as much detail as possible as this will be needed later.
Unplug or remove the suspected device if you can. If not, cover it with something like a blanket or a towel.
Contact the hotel reception immediately and ask to speak to the manager, or if you are in a rental home, contact your rental service, agent, or Airbnb directly. Most countries consider it to be illegal to set up hidden cameras in any property or room where the individual would expect to have privacy, so you should put in a call to the local police as well.
If you feel that you are not safe in the accommodation, take yourself and your fellow guests out of there as soon as possible.
Airbnb is big business across the globe, and as a leading provider of short-stay rentals, it has an obligation to protect both the privacy and safety of guests who choose to book through them.
Its Community Standards require hosts to disclose all security cameras and other recording devices in their listings, and that the use of the same is prohibited in private spaces such as bathrooms and bedrooms. If a host is found to be in breach of the rules put in place to protect visitors, they face financial penalties, expulsion from the Airbnb community, and in some cases, they could face criminal charges, too.
Final Thoughts
Advancements in technology mean we can access a galaxy of information in mere moments and customize our homes and lifestyles to suit our every last whim. What it also means, however, is that it is becoming increasingly easier for those with less than honorable intentions to gain access to our most private moments, too.
As more and more clued-up guests learn to look for hidden cameras in their accommodation, makers of surveillance equipment will find more imaginative ways to conceal them.
Stay safe and secure on your next stay away from home, and check your hotel room, holiday apartment, or Airbnb for signs of hidden cameras the moment you arrive.