How to Find the $200 (Or Even $250) Welcome Bonus Offer for the Amex Blue Cash Everyday Card
The Blue Cash Everyday® Card from American Express is a fantastic option for those who prefer a cash-back rewards structure and don't want to deal with an annual fee.
At the same time, this card offers a generous structure and other benefits that may save you hundreds of dollars. You get all of this without having to pay an annual fee at all. How great is that?
Best of all, the Blue Cash Everyday card offers a great welcome bonus. If you need rewards that don't cost a dime and you want to get the best welcome bonus available, here's what you need to know.
Update: Finding an increased bonus offer for the Blue Cash Everyday card just got a lot easier! For a limited time, the public welcome offer on the Blue Cash Everyday card is $200 back!
Benefits of the Amex

Blue Cash Everyday Card
Let's take a quick pause here to discuss the ongoing merits of the Blue Cash Everyday card, aside from the welcome bonus. The Blue Cash Everyday card offers awesome rewards with a few of the quintessential protections and perks you shouldn't live without.
Amex Credit Card
Benefits & Info
Blue Cash Everyday® from American Express


Apply Now
(at Amex's secure site)

Earn a $200 statement credit after you spend $1,000 in purchases on your new Card within the first 3 months.
3% cash-back at U.S. supermarkets (on up to $6,000 per year in purchases, then 1%).
Earn 2% cash-back at U.S. gas stations and select U.S. department stores. Earn 1% back on all other purchases.
Low intro APR: 0% for 15 months on purchases
from the date of account opening, then a variable rate, 13.99% to 23.99%.
Annual fee: $0
Terms Apply. For rates and fees of the Blue Cash Everyday, please click here.


Must Reads: For more info on the Blue Cash Everyday Card, see our guide on its benefits and our full review.
Other Key Benefits
Car Rental Loss and Damage Insurance that offers secondary coverage
Global Assist Hotline
Complimentary ShopRunner membership that offers complimentary 2-day shipping at over 100 online retailers
Fraud protection to shield you from charges on your card that you didn't authorize
How to Find the $200 or $250 Amex

Blue Cash Everyday Card

Bonus Offer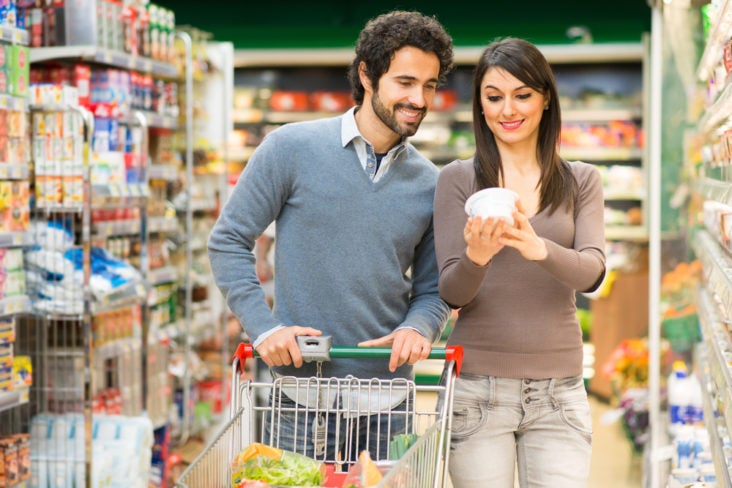 Normally, the available public welcome bonus is $150 cash-back. While this is a decent return and can represent up to a 15% rebate on your purchases, there are ways to snag better bonuses. Who doesn't like bigger bonuses?
The 2 most common enhanced welcome bonuses are:
$200 cash-back
$250 cash-back
Obviously, it's better to earn an extra $50 cash-back, as long as the minimum spending requirement to hit both bonuses is the same. Earning $250 cash-back could reduce your expense burden by up to 25% (assuming the minimum spending requirement is $1,000).
Increased Public Welcome Offer – Easiest Way
From time to time, Amex will proactively increase the welcome bonuses on specific cards, including the Blue Cash Everyday card. When this happens, you'll want to seriously consider jumping on these bonuses.
The good news for those considering adding the Blue Cash Everyday card to their wallet is that time is now! For a limited time, American Express has increased the bonus offer on the Blue Cash Everyday card to $200 back! 
Utilizing CardMatch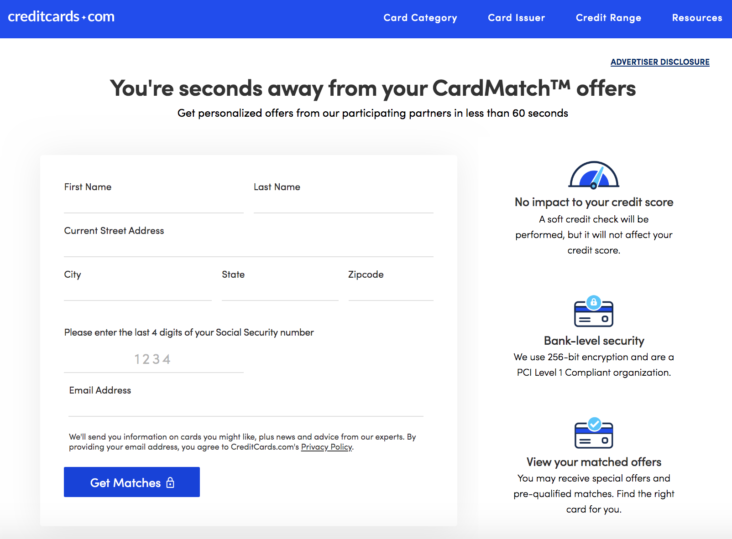 CardMatch is a personalized tool used to match people with credit cards that fit their credit scores and needs. It is administered by CreditCards.com. CardMatch connects big banks to consumers in a seamless way by communicating which banks want the consumers' business.
You'll simply enter your name, street address (as shown on your credit report), the last 4 digits of your Social Security number, and finally your email address. After that, CardMatch will perform a soft credit pull (the one that doesn't hurt your credit score) and search its databases for any pre-qualified offers that you're matched with.
CardMatch is a useful tool for banks to target potential customers. Because of this, you're generally going to enjoy a higher likelihood of card approval if you are targeted.
Hot Tip: Understands the importance of learning how to use CardMatch is key, so we've written an in-depth CardMatch guide that'll walk you through all the steps.
Use Refer-a-Friend Links
One of the easier ways to access the strongest offers on American Express' major cash-back cards, such as the Blue Cash Everyday card, is to enlist the help of a friend or family member. Amex's referral program is known as the Amex Refer-a-Friend Program.
As a reminder, your friend or family member does not need to refer from an existing Blue Cash Everyday card. They can, for instance, send you a referral link from The Platinum Card® from American Express and you can apply for a completely different card — they will still get a referral bonus.
However, the trick is that referral links may provide different welcome bonuses from what's publicly available. And when the welcome bonuses are higher than the publicly available bonuses, you'll suddenly be able to easily access better offers.
It's a win-win situation for both parties. The person providing the referral link will get a nice referral bonus, and the person using the referral link can get a better welcome bonus.
To get started using this, have your friend or family member follow these steps:
Visit the American Express Refer a Friend landing page.
Log in or enter their card information.
Select a card to generate a referral link.
Send the referral link to you.
Once you receive the referral link, check for an enhanced bonus. If you see a higher-than-public bonus, you can apply for the card.
Targeted Mailings From American Express
The way banks would send you offers in the old days was to send a piece of postal mail advertising this card. Nowadays, you can still receive this to have a chance at getting better bonuses.
However, you need to opt-in as an existing Amex cardmember online to make this happen. Click this link to access your Communication and Privacy Preferences and opt-in from there.
Hot Tip: In addition to opting into postal mail marketing, you can also opt-in for email marketing to have potential offers sent to your email, too. 
Check for Pre-Qualified Offers With American Express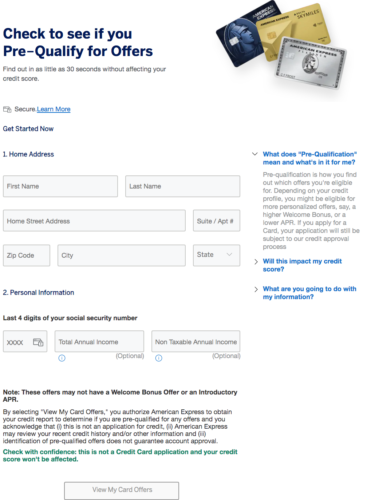 You can directly check your pre-qualified offers with Amex. Follow these steps to check:
Visit the American Express website.
Under the Cards button on the top ribbon of the page, click Check for Pre-Qualified Credit Card Offers.
Enter your personal information or log into your Amex account.
You'll now be able to view your pre-qualified credit card offers from Amex.
Reasons You May Not Be Able to Get a Higher Welcome Offer
The Current Public Offer Is Not an Increased Offer
If for whatever reason you still can't find a better bonus, it's probably because Amex isn't currently offering it. You can try using other methods, such as CardMatch, to get targeted for better offers, or you can wait for a better offer to pop up by checking frequently.
American Express Credit Card Maximum Rule
Anecdotally, Amex only allows you to have a maximum of either 5 or 6 Amex credit cards (not including charge cards). If you already have the maximum number of credit cards open, you'll need to close one of them before trying to get another Amex credit card.
Low Credit
Rewards credit cards are generally reserved for people with good credit. It's possible that Amex doesn't feel sufficiently comfortable with your credit to extend these higher welcome bonuses.
In that case, it's best to take steps to improve your credit score before doing anything else.
You've Opted out of Marketing Offers
Opting out of marketing offers is something that can stick for a very long time if you forget about it. It's possible you opted out a long time ago by accident. Don't let that disqualify you from getting better bonuses.
If you want to increase your chances of getting more attractive offers, you'll want to opt-in via email and postal mail.
Final Thoughts
The Blue Cash Everyday card is one of the best no annual fee credit cards that earn a simple cash-back structure. In addition to the ability to earn lots of cash-back, you'll even get perks like secondary car rental insurance and access to the Global Assist Hotline, which can help you tremendously when traveling.
The last thing that will influence when you want to pull the trigger is the welcome bonus. It would be a shame to apply if you can't access a great bonus. Now you have the inside scoop on how to leverage different techniques to open up the world of enhanced welcome bonuses.
---
For rates and fees of the Blue Cash Everyday® Card from American Express, please click here.