The 10 Best Coffee Grinders for Travel in 2020 [Espresso, French Press, Pour Over & More]
If you consider yourself to be a true coffee connoisseur, chances are you won't want to run the risk of being served up a sub-standard coffee, no matter where you are headed. Thankfully, you are not alone, and in a world where coffee is everything, a travel coffee grinder could be precisely what you are looking for.
Our Coffee Grinder "Quick Picks"
Do I Need a Coffee Grinder?
A coffee grinder helps you to get the very best out of the most humble of beans. It will change the taste and aroma of the blend and drastically enhance your overall coffee drinking experience forever.
As well as helping you to feel like the king of your very own coffee kingdom, investing in a travel coffee grinder also means that:
Your Coffee Will Taste Better
Freshly ground coffee tastes so much better than regular old instant coffee. This is in part because beans are able to better keep all of their essential oils and other chemical constituents intact when they are freshly ground, giving them a fuller flavor and richer aroma.
Instant coffee loses many of these important compounds during the process of drying and freezing, meaning the flavor can diminish during the brewing process. In fact, by the time your jar of instant coffee has been on a supermarket shelf for a few months, it has already started to become stale.
Your Blend Will Be of a Better Quality All-Around
The manufacturers of instant coffee often start by using cheaper and lower quality beans, such as the ever-popular Robusta bean, which can taste more bitter than some of the aromatic blends used to brew fresh coffee. When you grind your own, you have complete control over the bean you choose to use, meaning you can easily blend your best ever beverage.
You Can Fine-Tune Your Coffee Making Skills Over Time
Never mind begging your barista for an extra shot of the super-strong stuff to kickstart your day — brew your best coffee wherever and whenever you want. As you become more and more proficient at grinding and get to know which beans taste best, you can tweak every blend to suit your individual taste requirements.
You will also learn how to control the coffee extraction process and find ways to pull out those deeper notes and when to pour the perfect cup of coffee before those bitter tannins start to kick in.
Hot Tip: Looking for the perfect companion for your new travel grinder? Check out our piece on the best portable travel coffee makers. 
Burr Grinders vs. Blade Grinders
Once you decide to improve your coffee drinking experience, you will soon discover a diverse world of flavors and different ways to make your favorite drink taste rich and smooth, just as it should do.
You can choose from either a burr grinder or a blade grinder to make your perfect blend, and both will do a pretty good job of making the best cup of coffee you have ever tasted.
Before you decide which to buy, here is a quick guide to the pros and cons of both:
Burr Grinders
A burr grinder has 2 sets of abrasive surfaces — known as "burrs" — that are used to grind the coffee. Teeny, tiny bits of coffee get stuck in between the burrs, and the smaller the distance between then, the finer the grind.
While burr grinders can be more expensive to buy, they do pretty much guarantee a more uniform grind, giving you a richer, fuller flavor in every cup.
Bottom Line: Real coffee connoisseurs swear by the burr grinder for a more sophisticated taste and aroma.
Blade Grinders
A blade grinder has a central blade that is similar to a food blender. The rotating blades slice up the beans into grounds, offering a somewhat crude but effective cutting process. This process can also create dust that can make your coffee taste a little bitter.
While a blade grinder will give you coffee that is a step up from that pre-ground instant stuff, a burr grinder really enables you to get all the best bits of the bean.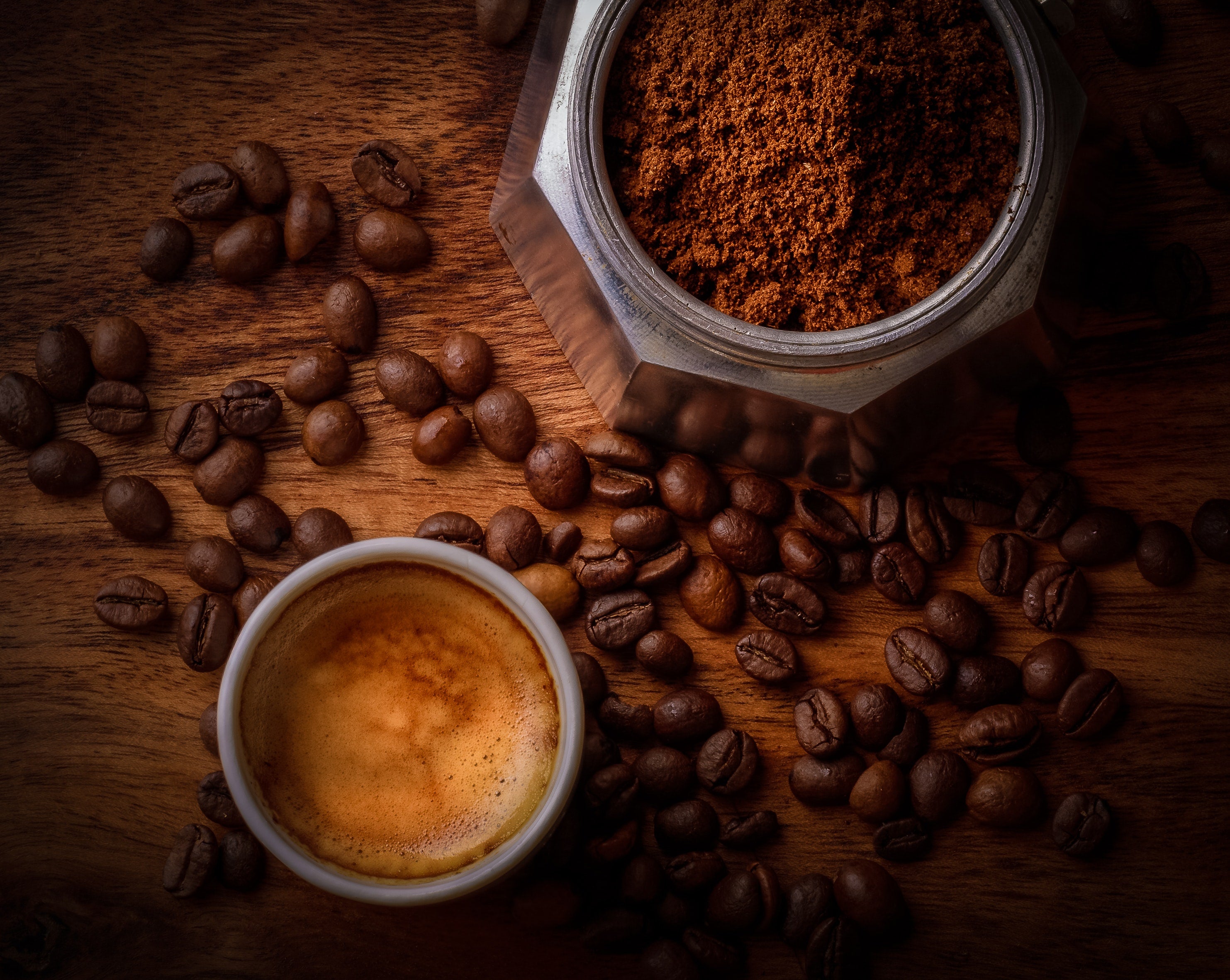 Things to Consider With a Coffee Grinder
Before you commit to a new coffee grinder for your next adventure, consider the following:
Size and Weight
When you are out on the road, size really does matter. Your travel coffee grinder will need to be small enough to fit into your bag or suitcase, and light enough to never weigh you down. The shape is also important as narrow and compact grinders are much easier to shoehorn into tight spaces than curvy looking hourglass models.
It is also worth noting that despite their small stature, their moving components and sturdy build can make them a little on the heavy side.
Bottom Line: Before you commit, gauge the size and weight to make sure it really is portable before you get swept away by a grinders' good looks and swanky glass and metal design.
Material and Durability
Fancy looking coffee grinders may look awesome in the kitchen but could be a potential disaster when tucked away inside your luggage. When you are buying a coffee grinder to take on your travels with you, it needs to be strong and durable and made from materials that will last the distance.
Stainless steel grinders are a good bet, provided that they are not super heavy. BPA-free plastic grinders are also an excellent choice for taking away with you, provided that they do not contain glass pieces to make them look pretty.
Manual vs. Electric
Electric coffee grinders are a useful addition to your state of the art kitchen, but they may not be of much help to you when you are on vacation. When it comes to life on the open road, manual or rechargeable grinders are what you will need.
Rechargeable grinders come complete with a small cable and a rechargeable battery. They are lightweight, hold their charge pretty efficiently, and can be plugged into a USB phone charger or similar. Good old fashioned manual grinders will let you create brilliant beans even out in the wilds and are powered by elbow grease alone.
Noise and Speed
The sound of your grinder working away can be reassuring to some as they know something good is coming, or an annoyance to others as they can be a little on the noisy side.
A manual grinder will usually be quieter than an all-singing-all-dancing electronic one, but at the same time, manual appliances are more likely to bounce around on your countertop or makeshift work surface.
The speed at which you get your brew will depend very much on the type of grinder you go for. Blade grinders have 1 continual blender that goes quite fast, giving them a slight advantage over manual burr grinders, but in general, a great cup of coffee should only take between 2-3 minutes to grind to perfection.
Grind Options
French pressed, finely ground, or really coarse — the way you grind can make a massive difference in the way your coffee looks, tastes, and smells. Most grinders will offer adjustable settings so you can grind it just the way you like it.
Bottom Line: Some grinders are designed purely with 1 type of grind in mind, like the French presses, for example, while others will give you a whole host of grind type options.
The Best Coffee Grinders for Travel
Because not all coffee grinders are made equal, here is our guide to some of the very best out there:
Ceramic Burrs for a Better Blend
JavaPresse Conical Burr Mill
Made from stainless steel brushed metal, this great-looking and incredibly portable coffee grinder offers over 18 click settings to ensure that you have complete control over the coarseness of your coffee beans. The crank handle is smooth and quiet, and it is so easy to use that you will always be able to grind on the go.
Complete with the JavaPresse patented ceramic combo burrs, this extremely high-quality conical burr mill is designed to last up to 5 times as long as regular stainless steel grinders.
Perfect for plane journeys, long drives, and even camping trips, this little grinder is energy efficient and quiet as a mouse, while still being able to grind your beans to perfection, wherever you may be.
Whisper Quiet Manual Grinds for Great Coffee on the Go
Wheroamoz Manual Coffee Grinder
For precise brewing, even on the move, this travel manual coffee grinder comes complete with a built-in adjustable grind selector to help you find your perfect level of coarseness. Small, completely compact, and with no need for a battery, this is a great grinder for anyone who wants great coffee on their next camping trip, long haul journey, or trip outdoors.
Made from high-grade stainless steel and industrial-grade plastic, the hopper, handle, and internal components are built to last and strong enough to withstand the general wear and tear of travel. Quiet and efficient, this little beauty has a smooth crank mechanism that eliminates over 90% of the noise you can expect from electric grinders.
Just right for anyone looking to blend their own French press, espresso, Turkish, cold brew, pour over, drip, percolator, or AeroPress coffee, this is an affordable and effortlessly cool travel coffee grinder.
A Great Little Piece of German Engineering
Mueller Austria Manual Coffee Grinder
Offering over 18 click settings to ensure you always have absolute control over your perfect brew, this Mueller Austria Manual Grinder is a great choice for even greater coffee on the go. Control the precision of your pour-over, drip, cold brew, French press, percolator, or espresso, just by stowing this incredibly compact and easy to use grinder with you on your next adventure.
Without the need for batteries or power cables, you can be totally free to brew your ground coffee beans when you go camping, take a long journey, or have just a weekend away.
Designed and manufactured to exacting German standards, the patented ceramic combo burr is designed to last as much as 5x longer than regular stainless steel ones. A great little grinder for all occasions, you will never be stuck with a bad cup of coffee ever again.
Stainless Steel Perfection for Perfect Coffee
Premium Quality Stainless Steel Manual Coffee Grinder
Totally built to last, this portable coffee grinder is made from high-quality materials, including a stainless steel body and handle, as well as a silicone grip for easy grinding. It also comes with a travel bag to keep it safe from scratches in transit.
Whether you are hiking, backpacking, or just enjoying life on the open road, this compact grinder offers better handling than the average grinder and ceramic burrs for long-lasting and highly durable coffee grinding.
The built-in adjustable grind selector will help you to fine-tune the grinder to the right level of coarseness, and the measuring base and container ensure that you get exactly the right brew every time — even without a scoop! The silicone lid also keeps your ground coffee fresh inside the container. A nice looking manual grinder for glorious coffee on the go.
Adjustable Burrs for Precision Grinding
Flafster Manual Coffee Grinder
Designed to offer an even grind, every time, this burr coffee grinder is perfect for smooth blends on the go. This grinder is totally adjustable to help you find the exact level of coarseness that you are looking for. Choose from the French press and cold brew, pour-over, or even Turkish blends for excellent coffee both at home and away.
This conical burr grinder has stainless steel construction and comes complete with a stainless steel scoop, a coffee bag clasp, and a cleaning brush to help prevent clogs and blockages.
Being cordless and completely portable, you can take this anywhere with you, and it is perfect for grinding fresh, delicious, whole bean coffee that tastes and smells so much better than a regular instant cup of Joe.
A Tiny Grinder That Creates Big Flavors
Hario Ceramic Coffee Mill "Mini-Slim Plus"
This compact portable coffee grinder is small in stature but big on taste. The new and improved design offers a unique, reinforced hexagonal adapter that allows for an increased grind consistency and reduces wear and tear on the coffee mill.
Easy to adjust in order to find the right grind coarseness to suit your own tastes, you can choose from coarse ground French press to super smooth Turkish blends and everything in between with this little grinder.
The small, lightweight, and incredibly slim design makes this a good choice for making great tasting coffee on the go, and it works well for long journeys, camping trips, and even at work or away from home. It can be used to make up to 2 delicious cups of coffee, and it can also be stored without the handle, making it even easier to stow away on the go.
Big Brand Quality in Compact Proportions
Porlex Mini Stainless Steel Coffee Grinder
The Porlex coffee grinder remains one of the most popular portable coffee grinders on the market. This latest edition comes complete with a new shape handle connector to prevent wear and slippage, and perfectly circular ceramic burrs that ensure consistent grinds, whatever the setting.
The stainless steel outer casing is incredibly easy to clean, sturdy, and resilient, making it perfect for use on the road. The new and improved handle is designed to produce super smooth grinds, and the grinder is adjusted by twisting the locking nut on the bottom to find the perfect grind setting.
Packaged with a rubber sleeve for easy storage in transit, this is a great little coffee grinder to take with you on your next camping trip, vacation, or business trip.
The Iconic Skerton in Travel Size
Hario Ceramic Coffee Mill – "Skerton"
The iconic "Skerton" grinder from Hario continues to be another of the most popular grinders on the market. Offering the ultimate taste experience for lovers of fresh coffee, you can make great grinds even on the go.
High quality ceramic burrs offer superior durability over traditional steel ones, and the adjustable grind size makes it super easy to find the precise grind for your perfect blend. The well-built design, with a robust glass chamber and ergonomic grips, makes this little grinder strong enough to take the knocks of travel while being compact enough to stow in your luggage.
Affordable and easy to use, the Skerton is a great grinder for anyone who really loves good coffee. The powerful ceramic burrs won't overheat your grounds no matter how long you grind, and the large capacity means anyone can find a way to make great coffee using this little grinder.
18 Click Settings for Precision Grinding
LUCKY & SON Manual Coffee Grinder
This adjustable conical burr mill has 18 separate click settings that can be used to help you find the perfect blend. Precision settings allow precise grinding, and the patented Easy-Fill No-Spill Multipurpose Collapsible Silicone Funnel and Silicone Protection Ring ensure that you never spill a bean during the grinding process.
Offering heavy-duty quality in a compact package, this grinder doesn't need batteries or power cables to give you great coffee on the go, and it is small enough to take on your next long-distance journey, camping trip, or vacation.
Lucky & Son firmly believe that "all you need is love, and a good cup of coffee" — and in many ways, we agree. This is a great little grinder that works just as well away from home as it does on your kitchen counter. It is definitely worth your consideration.
5 Grind Levels and an Easy to Use Handle
Convallaria Manual Coffee Grinder
With its innovative folding handle design, the high-quality food-grade manual coffee grinder is perfect for making great coffee on your travels.
The adjustable cone-shaped ceramic burr mill offers 5 different levels of coffee grind power to help you find your perfect grind. This grinder is perfectly portable and designed with travel in mind. The whisper-quiet operation also means you won't wake your fellow travelers until their boiling hot coffee is ready.
For lovers of French press, espresso, Turkish, cold brew, pour over, drip, percolator, AeroPress, Keurig K-Cup, and even Chemex, this portable coffee grinder will bring you the unbeatable taste of freshly ground coffee, wherever you are headed.
Final Thoughts
The ability to grind great coffee on the go should be a priority for any true coffee connoisseur. Never be at the mercy of your barista ever again, with a travel grinder that lets you blend the perfect brew wherever you may be — as well as fit easily into your carry-on or checked bag!
Burr grinders definitely have the edge over their blade-heavy counterparts, and a truly travel-friendly grinder is one that makes very little noise, can be operated without the need for pesky electricity, and one that offers you complete control over your grind power.