How to Use the Cathay Pacific Asia Miles iShop to Earn More Miles
If you're looking to boost your Asia Miles with Cathay Pacific, then check out the Asia Miles iShop where you can earn bonus points for shopping online. It's really easy, with just a click of a button required before browsing.
Find out how to use the shopping portal below, including how to browse for retailers and search for bonus offers to maximize every available point!
How to Log In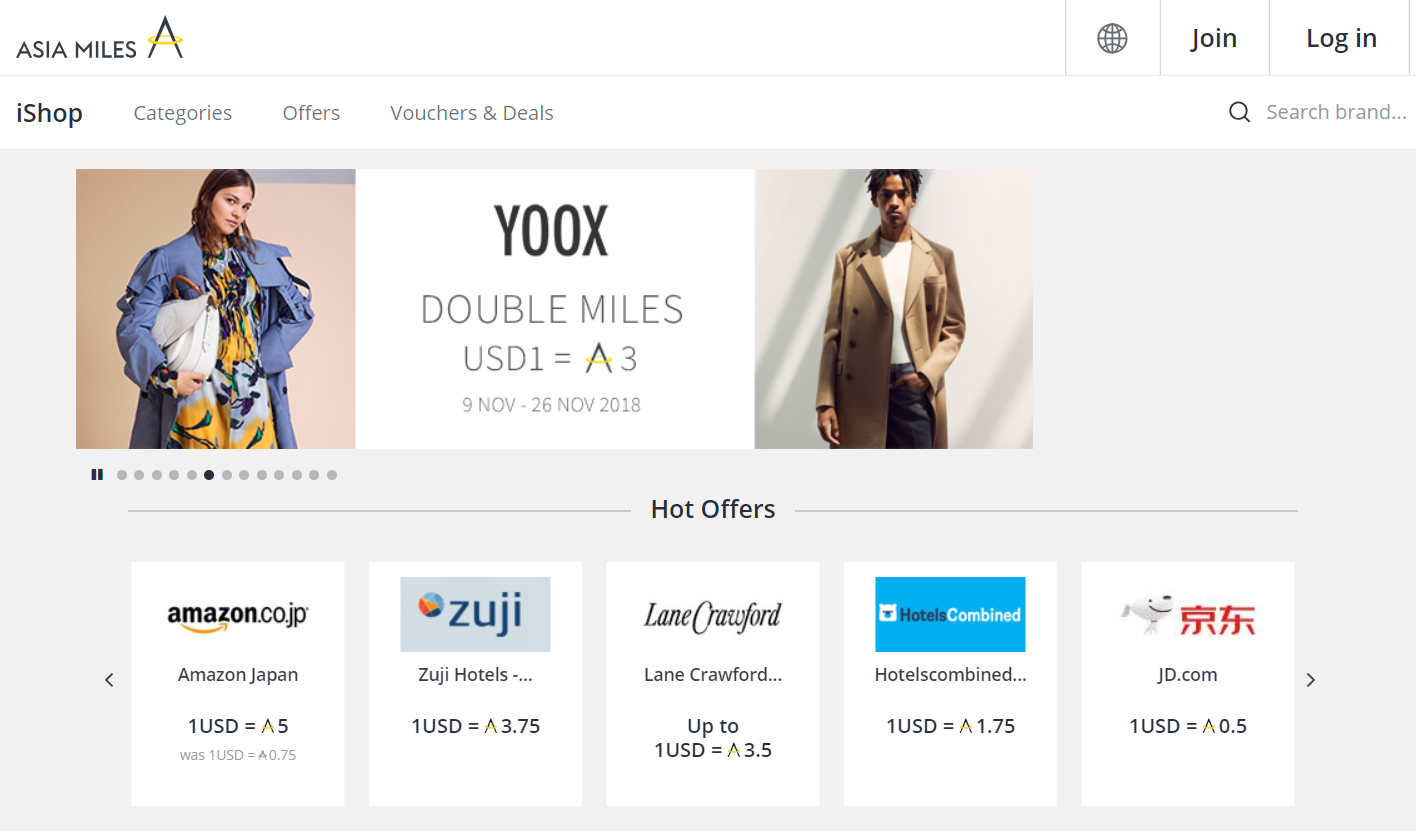 You can browse retailers without being logged in to your account, but it's wise to get into the habit of logging in immediately (as you'll need to do this before you start shopping).
You'll need an existing Asia Miles account to log in. If you have already registered, then input your membership details and click "Remember membership no. or username" to make the process quicker for future visits.
If you are not an existing Asia Miles member, you will need to create an account using their user-friendly form. Once you've received your membership details, you can go right ahead and log in as normal.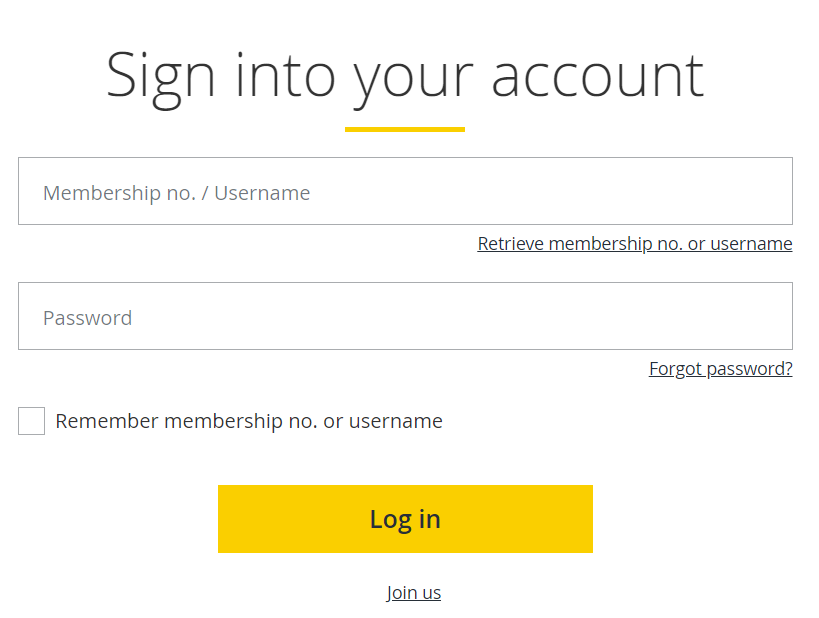 Basics of Using the Portal
Once you are logged in, click the small globe icon to select your language and merchant country preferences to display offers most relevant to you.
You should only have to do this once — the settings will be remembered for any future visits (as long as you have cookies activated on your browser).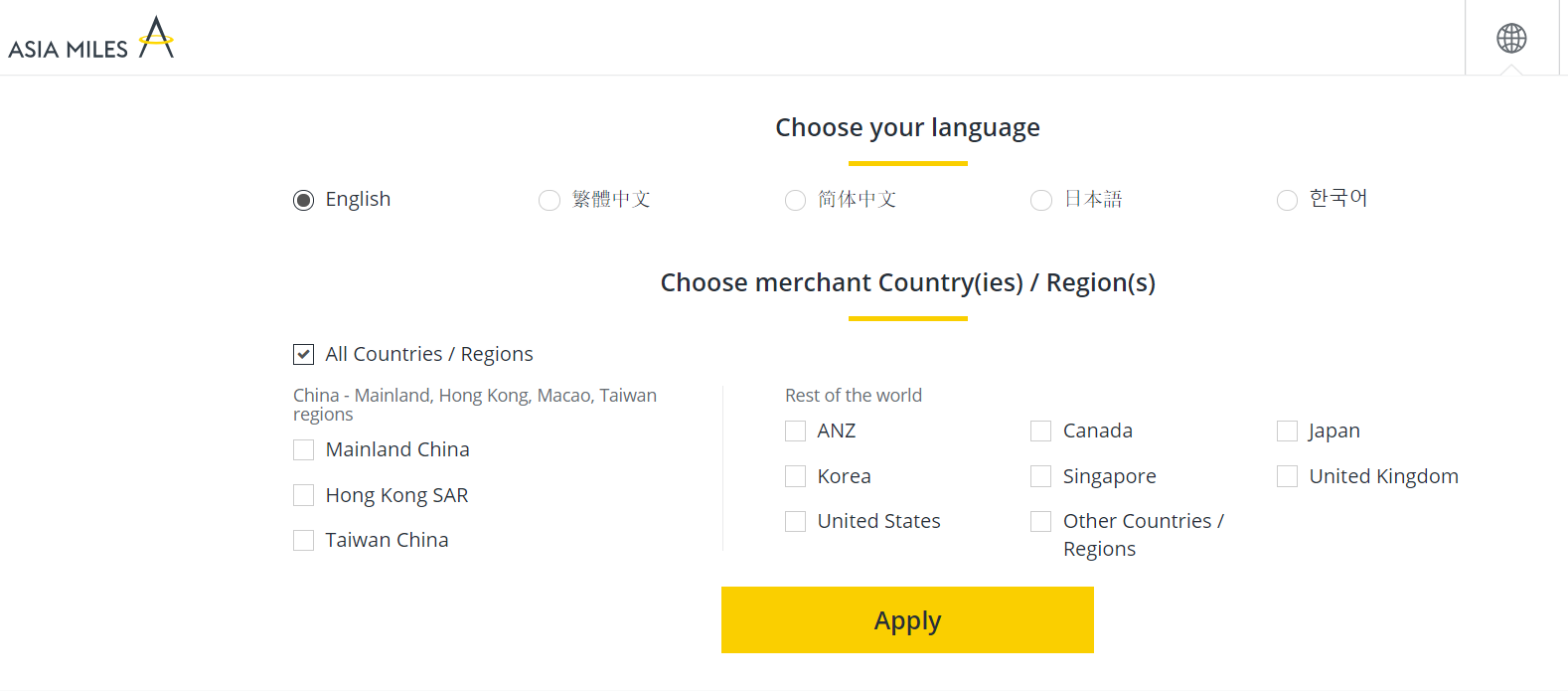 Select the Categories tab to view a selection of retailer categories such as "Electricals," "Clothes & Fashion," or "Luxury."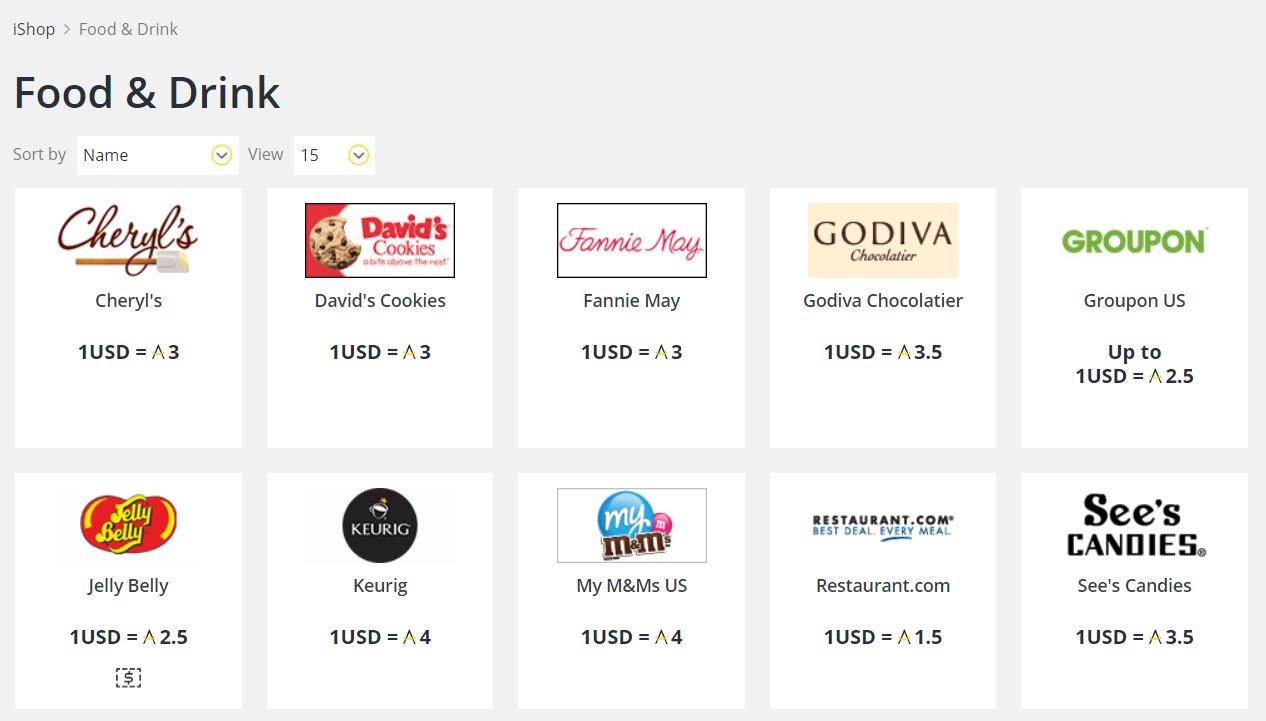 The individual retailer tabs will show you the miles per dollar that you can earn with the brand. For more information, just click through to the retailer's dedicated page, where you can also find a brief overview of the company, any live vouchers, and purchase conditions.
You also have access to a miles converter to check out how many miles you can earn from a particular purchase amount, and you can share any great offers with your friends!
If you want to shop with a specific retailer and receive your bonus miles, you must click the yellow "Shop Now" or "Shop Offer" button that will direct you to the retailer's site.
Hot Tip: If you have not logged in, then the button will say "Log in to start shopping," like in the example image below. You will not be directed to the retailer's site until you have logged in — otherwise your points wouldn't be registered.
When you do click through via the button, Cathay Pacific will automatically track your purchase through cookies, so be sure they are enabled on your browser!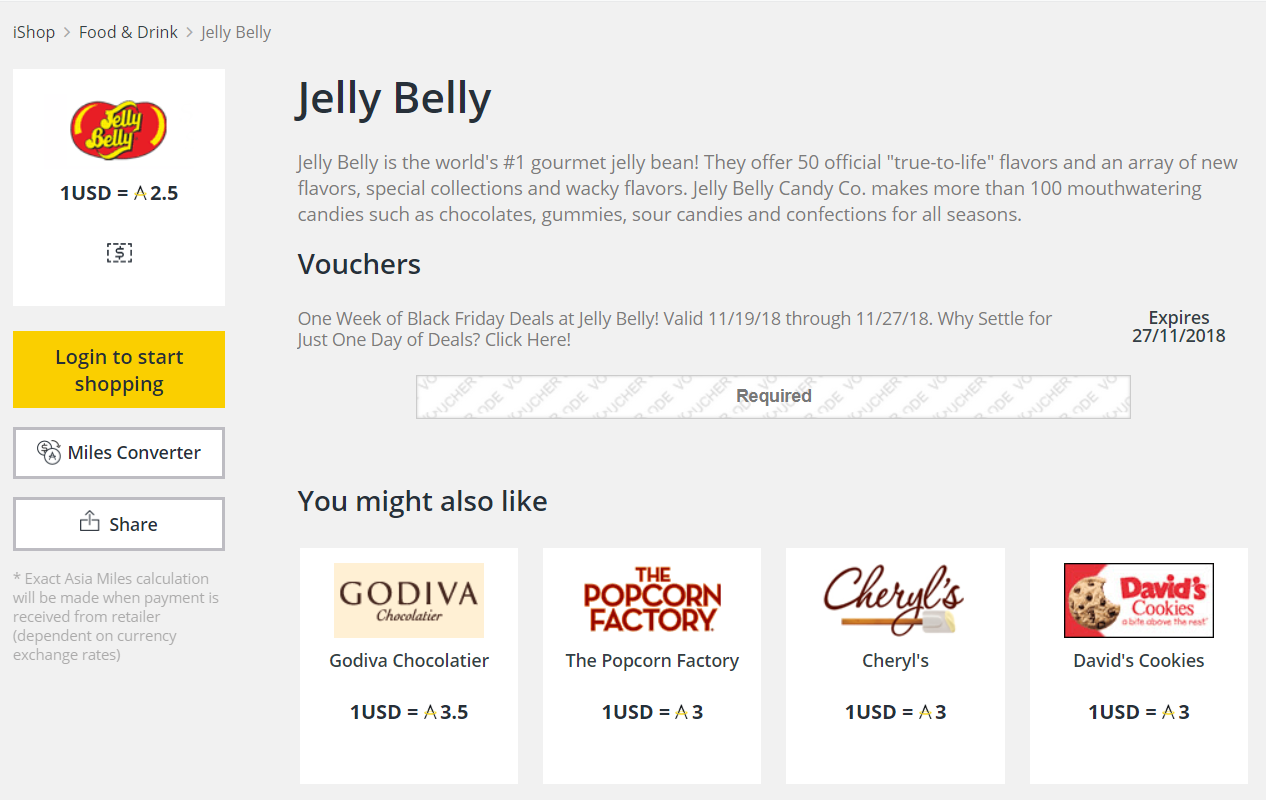 Once you make a qualifying purchase, you will receive a confirmation email within 5 days, and the transaction will appear in your iShop transaction history.
The iShop merchant can take up to 120 days to verify the purchase, after which the miles will be credited to your Asia Miles account.
Hot Tip: Make sure you don't miss out on those valuable miles by always remembering to click through from the shopping portal. If you don't, there is no way of applying the miles retroactively. They will be gone for good!
From the homepage, you can see new and most popular retailers. And if you search by any of the categories, then you can sort your results alphabetically, by most popular, or by greatest bonus earnings.

Special Offers
Often, retailers will offer bonus miles greater than usual. For example, at the time of writing, Macy's was offering 3.5 miles per dollar spent instead of 1.5 miles per dollar.
So keep an eye out on the special offers page, and you could earn more from some of your favorite stores!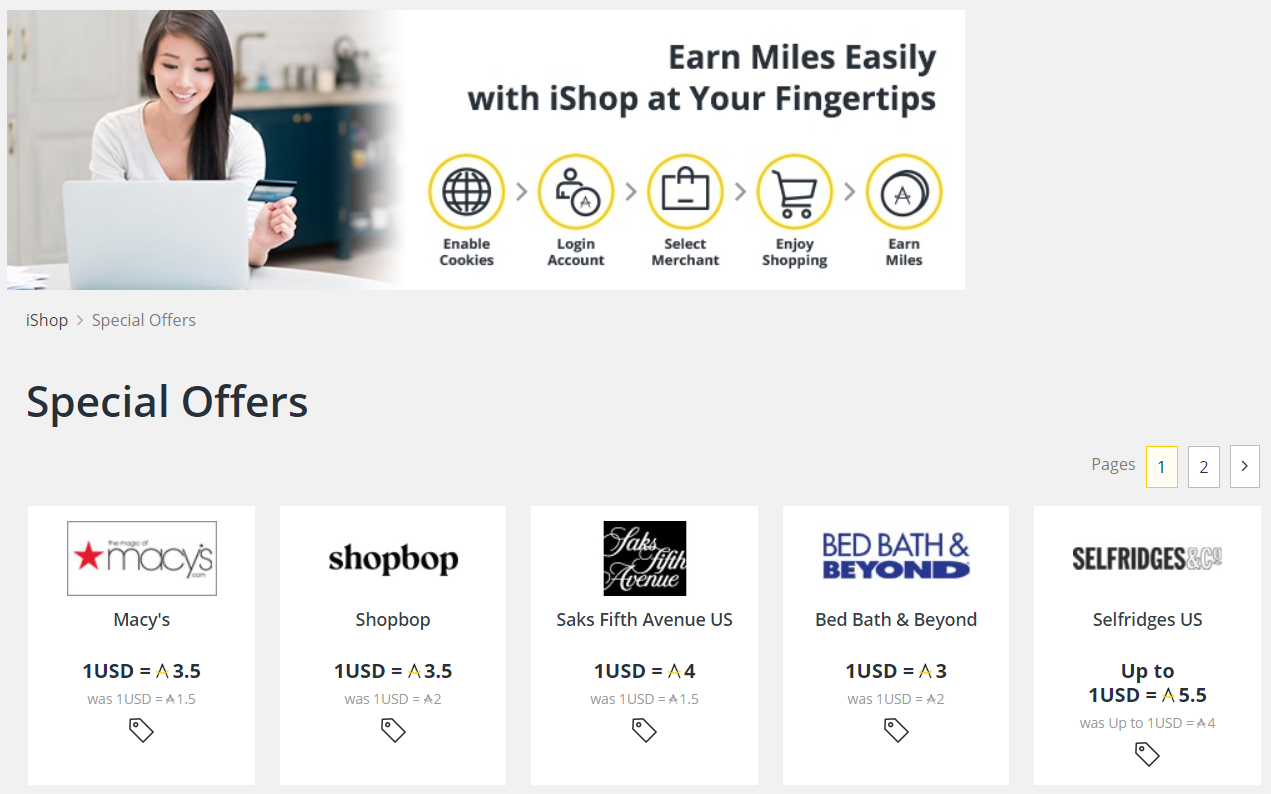 The Asia Miles iShop also features vouchers and deals from various retailers in addition to bonus miles.
These may not be exclusive to Asia Miles members, but it's worth keeping a lookout in case the deals are of interest — they can be things like percentage savings and free shipping!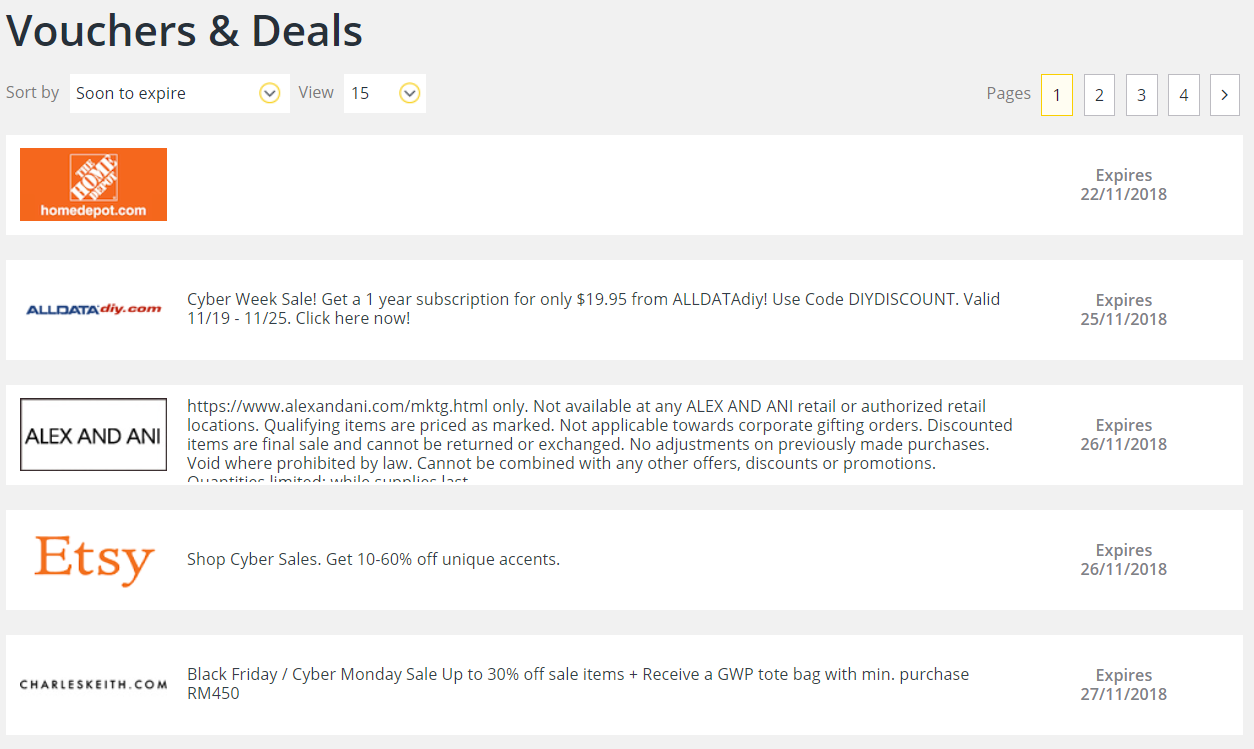 Example Retailers
Cathay Pacific doesn't specify how many retailers they partner with, but looking at their "Hot Offers" page, they have an abundance of big-name brands such as Home Depot, Walmart, Apple, and Amazon.
At the time of writing, these were some of the better earning rates being offered:
Selfridges: 5.5X miles per $1
Groupon: 2.5X miles per $1
Kiehl's: 6X miles per $1
American Eagle: 2X miles per $1
Apple: 1.5X miles per $1
…and many more!
Using Credit Cards to Earn Extra Points
If it's a priority to earn Cathay Pacific Asia Miles, we suggest using a rewards card that'll earn points which can then be transferred directly to your Asia Miles account.
The reason for this is because these types of points are flexible and given all the options for using them, they're more valuable.
Amex Membership Rewards, Citi ThankYou Points and Marriott Points can all be transferred directly into your Asia Miles account.
Our personal preference, out of the choices above, is to earn Amex Membership Rewards as they're extremely valuable. See our recommended Amex cards below:
Recommended Amex Cards (Personal)
The Platinum Card® from American Express - There's currently a new welcome bonus offer of 60,000 75,000 Membership Rewards Points after spending $5,000 on purchases in your first 6 months of Card Membership. Plus, earn 10x points in the first 6 months on eligible purchases at U.S. Gas Stations and U.S. Supermarkets (on up to $15,000 in combined purchases).

This is our #1 card for accessing 1,300+ airport lounges worldwide (including Priority Pass). We leverage ~$3,000+ in benefits and perks from the card every year. Terms Apply. For rates and fees of the Amex Platinum Card, click here.

American Express® Gold Card - This card has a new welcome bonus of 35,000 60,000 Membership Rewards points after spending $4,000 on purchases in your first 6 months of Card Membership.

We love using this card as it earns 4x points at Restaurants worldwide, including takeout and delivery, plus, earn 4X points for Uber Eats purchases too, and 4x points at U.S. supermarkets (up to $25,000 per calendar year; then 1x. Terms Apply).

There's no better card in our opinion if you eat out and/or shop at supermarkets regularly; and you'll have access to many benefits and perks. For rates and fees of the Amex Gold, click here.
Recommended Amex Cards (Business)
The Business Platinum Card® from American Express - Right now, there's a new welcome bonus of 75,000 85,000 Membership Rewards points after spending $15,000 on eligible purchases, plus earn 5x points on eligible purchases in 5 select business categories, up to 80,000 bonus points per category, all within the first 3 months of Card Membership. Terms apply.

See how we get $4,000+ in value per year by leveraging many of the benefits & perks, including access to 1,300+ airport lounges worldwide. For rates & fees of the Business Platinum, click here.
American Express® Business Gold Card - one of our favorite Amex business cards because we earn 4x points across the top 2 select categories that we spend the most money in each month, such as Facebook or Google ads. The 4x points applies to the first $150,000 in combined purchases from these 2 categories each calendar year. After that, you earn 1x. Terms Apply.

The current welcome bonus is 70,000 Membership Rewards points after spending $10,000 on eligible purchases within the first 3 months of Card Membership. You can also earn up to $300 in statement credits on eligible U.S. advertising and U.S. shipping purchases. Terms and cap apply. For rates and fees of the Business Gold Card, click here.
The Blue Business® Plus Credit Card from American Express - A super simple, no annual fee card that earns you 2x points on everyday business purchase, up to $50,000 annually. After that, then 1x. That makes for an easy 100,000 points per year. For rates and fees of the Blue Business Plus, click here.
Final Thoughts
The Cathay Pacific Asia Miles iShop certainly isn't the most generous among bonus mile offers that we've seen compared to other shopping portals — but if you're looking to gain extra Asia Miles from doing very little, then it's worth giving it a go.
If you shop online regularly, then with just a few extra clicks your bonus miles might stack up quicker than you expected!