Credit Card Interest Rates & Stats – Complete Guide to Credit Card APR
Credit cards can be an extremely powerful financial tool when used correctly. They allow users to build credit, earn points, and open doors for vacations and rewards that would not be possible without them. However, if credit cards have a dark side, it's their annual percentage rate—or APR.
APR is a visualization of the annual rate of interest that consumers are required to pay for unpaid portions of their monthly credit card bills. It is the price that credit card users pay in order to borrow money from credit card issuers, usually at a much higher rate than other forms of borrowing money, like an auto loan or personal loan.
While no credit card APR is necessarily "good" for the consumer, they do vary among cards and even users. With APR being affected by several factors, including credit card type, your credit score, and available promotions, it's important to do your research and get a good rate.
Quick Facts and Stats
The average credit card APR in the U.S. is 16.16% as of October 2021, compared to 12.35% in 2016
The average APR for rewards cards is 13.23%
Credit card APR has increased by an average of 2.36% from 2016 to 2020
The average minimum APR for someone with bad credit is 20.15%
The average minimum APR for someone with excellent credit is 14.68%
A typical penalty APR is 29.99%
The Prime Rate is 3.25% as of October 2021
Average APR in America
If you haven't sought out or received a credit card offer in some time, you may have an antiquated understanding of what the average credit card APR should be. To find out whether you're getting a good APR, we turn to the average APR in the U.S. Over time, credit card interest rates ebb and flow, so it's important to have a pulse on what the average APR looks like today.
Below is the average APR in the U.S. over the past 5 years, according to the Federal Reserve.¹
In 2016, America's average APR was 12.35%. In 2020, the average APR in the U.S. rose to 14.71%. That is more than a 2% net increase over 5 years. Interestingly, the average APR in 2020 was slightly lower than in 2019, when it reached 15.05%. However, according to creditcards.com, the national average APR is back up to 16.16% as of October 13, 2021.
However, this doesn't mean that you're locked into a credit card interest rate of 16.16% if you apply for a card today. Every individual receives a unique APR based on several factors, including the type of card and their credit score. Let's dive into some of these contributing factors, starting with the type of card you want.
Average APR by Credit Card Type
The type of credit card you are looking to qualify for affects the APR you are offered, with premium cards tending to have higher APRs. According to data that Business Insider collected from S&P Global, there are 3 major card types: classic, platinum, and rewards. Below are the average APRs for each:²
Classic Cards: 11.94% APR
Platinum Cards: 12.76% APR
Rewards Cards: 13.23% APR
However, we can break this down even further. ValuePenguin analyzed terms and conditions for 200 U.S. credit cards and determined their average APRs. Here is its breakdown of average APR by card type:³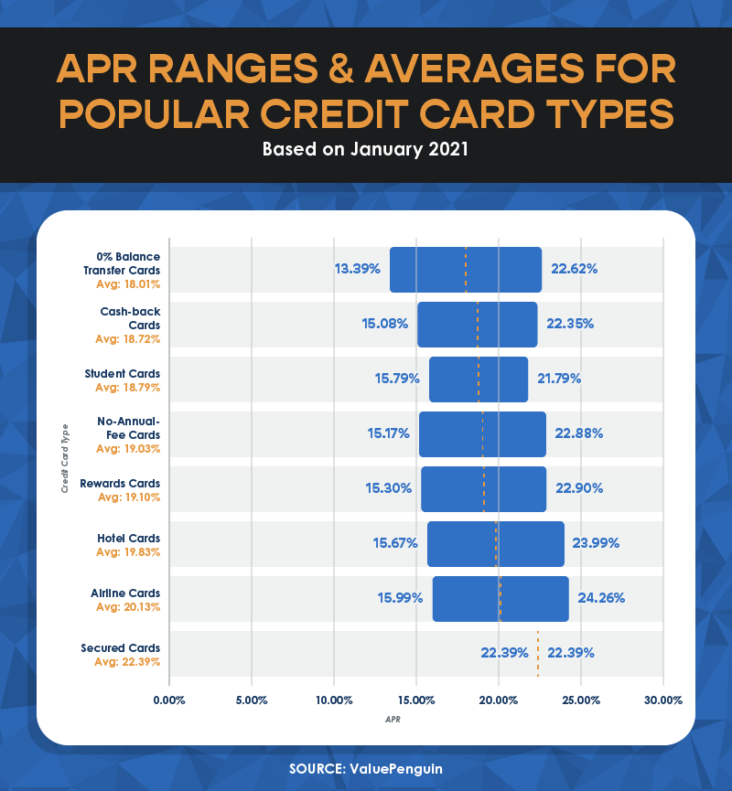 Cash-back cards offer a sweet deal with an average APR of 17.26%. On the other end of the spectrum are secured cards, which require a deposit upfront that is used as collateral in case users default on their payments. With a high average APR of 22.39%, there's no reason to choose a secured credit card unless bad credit leaves you no other options.
Average APR by Credit Score
Speaking of bad credit, the most important metric to consider is your credit score. In fact, card issuers rely heavily on your credit report and credit score when evaluating your risk level and assigning an APR to your credit card offer accordingly. Building up a good credit score will help you secure an APR on the lower end of the range for the card you are considering.
Here is the average APR by credit score according to U.S. News & World Report:⁴
If you have bad credit, your interest rate will likely be between 20.15% and 22.85% on average. Attaining average credit will decrease that rate slightly to 21.85% to 26.51%. Interestingly, the U.S. News analysis shows that those with fair credit are actually worse off than those with bad credit. Of course, neither of those credit levels is optimal. You want excellent credit to be eligible for the best APRs — ranging from 14.68% to 22.09% on average.
Types of Credit Card Interest Rates
Promotional Rates
Another way to score a low APR is to look for cards that offer promotional rates. These come in various forms, such as 0% interest for an introductory time period or a zero-dollar balance transfer fee. While promotional rates can absolutely help you secure lower interest rates, debt.org cautions that they are liable to decrease your credit score due to increased risk to credit issuers.⁵
If you do go for a promotional rate, it's always best to read the fine print. There will likely be conditions and exclusions to be aware of. You might owe interest on missed payments during the promotional period or immediately owe interest on any balance you carry when the promotional period ends.
What happens when the promotional rate ends? It's important to know whether you are on a variable or fixed-rate plan and what the differences are between the 2.
Variable Rates
Variable rates are just as the name implies, variable. Credit issuers can change them at any time without warning to the cardholder. The rate depends on a few variables.
The issuer will consider several variables, like the Federal Reserve Discount Rate, interest on U.S. Treasury Bills, or the Prime Rate as published by the Wall Street Journal. Then they will add a margin of percentage points (more for users with bad credit) to come up with an APR.
For example, the Prime Rate is 3.25% as of October 2021. According to debt.org, a card company might add 10 to 12 percentage points for those with good credit and 23 to 26 percentage points for bad credit. That means, credit depending, your variable APR would be between 13.25% and 29.25%.
Fixed Rates
Fixed rates, then, are the opposite. Consumers with fixed-rate plans are locked into their interest rates unless the card issuer gives a 45-day notice. The cardholder is then given the opportunity to opt out of the plan or continue at the newer rate. There are, of course, certain situations where a fixed rate could change, including:
Being more than 60 days late with a payment
Completing a debt management program
Ending a promotional fixed rate
Types of APR
There are several types of APR. Knowing how each of these factor into different usage scenarios with a credit card can help you manage your interest effectively. Here are the most important APR types to be aware of, according to the Bank of America:⁶
Introductory APR
Introductory APR is synonymous with promotional APR, discussed above. Whether you are getting a balance transfer deal or a lower interest rate, it typically lasts for a specified amount of time before the purchase APR takes its place.
Purchase APR
This is your standard APR that will be applied to all purchases you make with the card. It is typically the rate that is advertised when you apply or are offered a plan from a card issuer.
Penalty APR
Fail to make the minimum payment on time and you'll be charged what's called a penalty APR, a rate that's even higher than the default for your card. Per the CARD Act, credit card issuers are allowed to raise your APR if you are more than 60 days late on payments during the first year of your account. A typical penalty APR is 29.99%.⁴
Cash Advance APR
Card issuers often charge a different, higher, interest rate when you borrow cash using your credit card. There are no grace periods for this.
Hot Tip: Don't confuse APR with APY. 
How To Reduce Your APR
Not satisfied with your current credit card APR? If you are diligent, there are ways to chip at your APR until you have a better rate:⁷
Consistently pay your bills on time
Use a smaller portion of your available credit
Build a mature credit history
Call your issuers to negotiate your rate
Final Thoughts
There is a lot that goes into deciding your personal credit card interest rate, from your own credit score to the type of APR applied to the type of credit card you want. It's important to understand the nuances of credit card interest before jumping into the first offer that arrives in your mailbox. Otherwise, you could be in for a rude awakening when your introductory rate expires, and suddenly you owe 29.99% on that late payment.