How to Request a Replacement Chase Credit Card
It can happen to the best of us: you misplace your beloved Chase credit card! Or maybe it's worn out from continued use (though the good news is you probably have tons of Ultimate Rewards points!). Either way, what should you do when it's time for a new card?
Getting a replacement credit card from Chase is a fairly easy process. Here's what you need to know.
2 Ways to Replace a Worn Out (Or Lost) Card
Request a Replacement Over the Phone
If you need a new Chase card, call the number on the back of your card or 1-800-432-3117, 24 hours a day. They will ask you why you need a new card, and you'll have to confirm your identity and mailing address. It should be a quick and easy process.
Your new card should arrive within 3-5 business days.
Request a Replacement Online
To request a replacement card online, click here and select your card and reason for requesting a new one from the drop-down menus. (You might need to be logged in for the link to work.)

Hot Tip: I found the link to the card replacement page to be a little finicky. If the link doesn't work for you, just type "Replacement Credit Card" in the search box. From here, click on the reason you are requesting a replacement (i.e., the card is lost, damaged, or expired) to continue to the correct page.
You can also get to the right place by going into your credit card account and clicking the "Things you can do" drop-down box in the upper right-hand corner. Choose Account services, then Replace a card.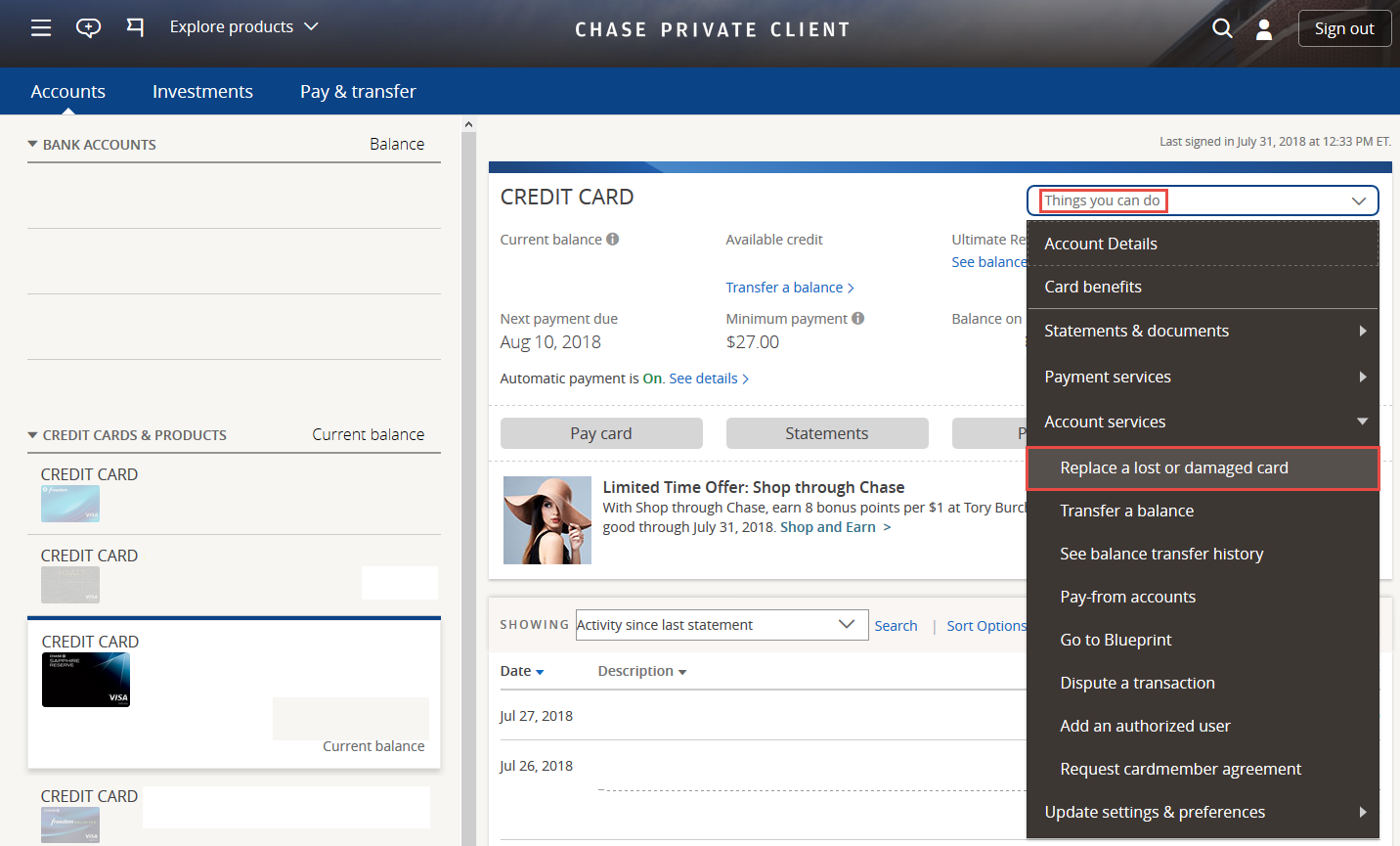 Your new card should arrive within 3-5 business days. If you still haven't received your card after 5 business days, call the number on the back of your old card (if you still have it), the number on your account statement, or 1-800-432-3117.
Hot Tip: If you lost your card or think someone might be using it without your permission, call Chase at 1-800-955-9060.
How Should I Dispose of My Old Card?
If your card is damaged or expired, you will need to safely dispose of it while keeping your information safe.
Metal Cards
If you have a metal card like the Chase Sapphire Preferred® Card or Chase Sapphire Reserve®, you won't be able to cut through it with a pair of scissors (although, I have learned from personal experience that heavy duty wire cutters will work!).
However, if you call the number on the back of your card, Chase will send you a postage paid envelope to send your metal card back to them so they can dispose of it for you. You should also be able to take your card into any Chase branch to have them destroy the card.
Plastic Cards
Disposing of plastic cards is a little easier. Scissors work just fine on plastic cards, but be sure to make multiple cuts. If you really want to get serious, cut the card into multiple pieces before disposing of them in different trash bags. Many shredders can handle credit cards as well, and you can de-magnetize the strip by running a magnet along it a few times. These steps will ensure your card is useless and your information is safe.
Final Thoughts
It's no fun when you lose your credit card, but thankfully Chase makes it easy to request a replacement. You can call Chase directly or make the request online, and your new Chase credit card should be at your doorstep within 3-5 business days.