[Expired] Join Frontier's Discount Den, Get up to 10,000 Miles & a $50 Voucher
Update: The offer mentioned below has expired and is no longer available. 
Frontier Airlines' Discount Den program is the airline's paid premium service that allows its members access to exclusive reduced rate fares when they travel with Frontier.
Now through September 16, 2021, you'll receive 10,000 Frontier miles and a $50 Frontier voucher when you purchase a Discount Den membership, with additional bonuses for any stragglers after the initial offer ends.
What Is Discount Den?
Unlike most airlines that offer the same fares to all of their passengers, Frontier offers a paid model that allows you access to discounted fares all for $59.99 a year.
Here's what that annual fee gets you:
Access to the lowest fares on Frontier flights
The ability for kids to fly free on select flights
Exclusive deals and promotions
Ability to book Discount Den fares for up to 6 people
Offer Details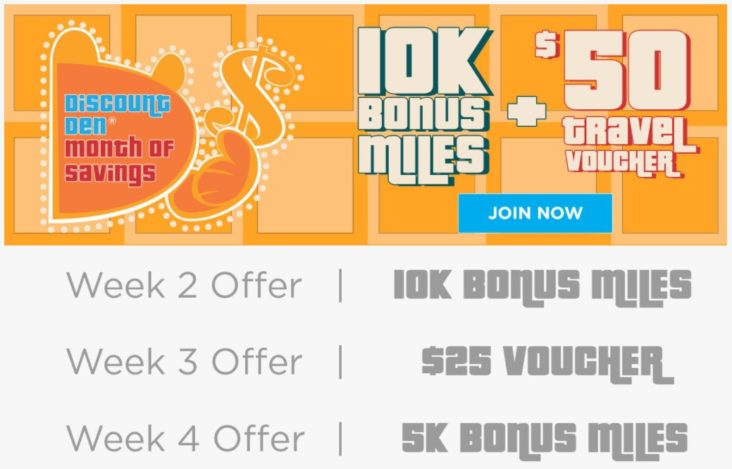 Members who join by September 16, 2021, will receive 10,000 Frontier miles and a $50 Frontier voucher as a bonus when purchasing their Discount Den membership.
Here's what you need to know:
The 10,000 miles and $50 voucher are only good for new Discount Den members, and you're limited to 1 10,000 mile bonus per email address.
The voucher will expire after 180 days no matter what, and the miles will expire in the same time period without any account activity.
The voucher must be used in 1 sitting — it can't be used across multiple itineraries or days. What you don't use, you'll lose.
You can't use the flight voucher toward any ancillary purchases — it must be for a flight only.
Hot Tip: If you wait to sign up, you'll lose out. Once this specific promotion ends, you'll only have a chance to earn 10,000 miles the following week, a $25 voucher the week after that, and lastly 5,000 miles during the final week. The 10,000 miles + $50 voucher by September 16, 2021, is the best offer of the promotion period.
How To Redeem 10,000 Frontier Miles
Your bonus of 10,000 miles can be redeemed as a one-way ticket at the "value" level within the U.S. and Puerto Rico.
You'll be able to redeem for trips such as:
Dallas (DFW) to Tampa (TPA)
New York (LGA) to Las Vegas (LAS), via Denver (DEN)
Phoenix (PHX) to Newark (EWR)
Seattle (SEA) to Philadelphia (PHL), via Denver (DEN)
For trips to and from Mexico, Jamaica, and the Dominican Republic, you'll need 15,000 miles, so your 10,000 miles provides a head start on accumulating enough miles for your trip.
Final Thoughts
A 10,000-mile bonus will get you a free one-way flight on Frontier's most basic mileage fares, and the $50 voucher can be used towards any Frontier airfare. Taking both of these into account, it essentially negates your first year's annual fee into the club. While the Frontier experience isn't for everyone, those looking for cheap fares will find plenty to be had when flying Frontier!