PS LAX – The Private Suite at Los Angeles Airport – Full Review
PS LAX (formerly known as The Private Suite) has made headlines for months now, and it seems that the hype is only getting stronger and stronger.
Since Los Angeles is home to Hollywood celebrities, ultra-rich business people, and other important frequent flyers, PS LAX fills a very niche market.
PS LAX is a security-focused, ultra-exclusive, and super-luxurious travel experience that is truly one-of-a-kind. From the moment you arrive into the maximum-security complex, you will be taken care of until you are in your plane's seat.
With Los Angeles International Airport (LAX) being my home airport, I thought it would make sense for me to at least try out this super-luxe terminal.
I was invited to experience PS LAX by United Airlines. The way it works is that they lease 1 suite and it becomes shared (and therefore only semi-private).
Nevertheless, I had the whole suite to myself when I went since there was no one else there.
(Although I was allowed to take pictures of my suite, inside the shower spa, and in the driver's car, there is a strict restriction on photography anywhere else. Therefore, some of the below pictures are ones PS LAX provides on their website to depict what facilities look like.)
Background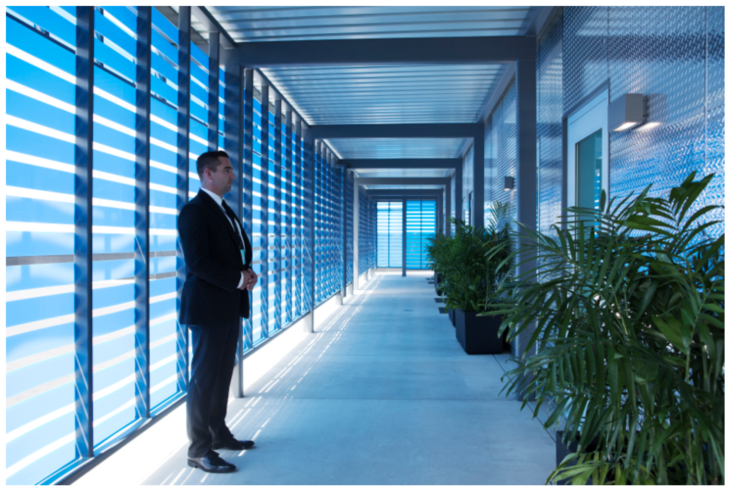 PS LAX at LAX is owned and operated by Gavin de Becker & Associates, which is a Los Angeles-based security and consulting firm known for protecting "the 90 most prominent families in the world," among other VIPs such as John Travolta, Madonna, and Cher.
Los Angeles is home to loads of celebrities, high net-worth individuals, and frequent flyers who dread traffic, stress, lines, and congestion.
Thus, the firm — which has experience leading similar VIP services at Heathrow Airport in London (LHR) — decided to merge security and hospitality.
PS LAX was actually a cargo building prior to the transformation, and it now serves as an ultra-exclusive remote terminal with top-notch security and service.
How Much Does PS LAX Cost?
Using the United promotion offered to me, I could try PS LAX for $375 on a one-way flight. So, I made a booking over the phone (though it could be done online, too).
For "ordinary" customers, the price of using PS LAX is determined by 2 questions:
Are you a member?
Are you flying domestic or international?
An annual individual membership to PS LAX costs $4,500 per year and serves 2 purposes:
Discounts on each visit
Additional benefits including pre-flight massages, pre-booked meals, in-suite haircuts and manicures, free valet parking for an indefinite time, and concierge doctor appointments.
Members enjoy reduced rates of $3,150 for a one-way Suite experience for up to 4 travelers. Additional guests will cost $500 per person.
A PS Direct service offers to drive members home in a PS car directly from the cabin door on domestic arrivals; the fee for this service is $3,450 for up to 4 travelers (additional travelers are $500 each).
Hot Tip: PS LAX is developing an exclusive communal space for Centurion® Card from American Express cardholders who will receive a complimentary membership (though private suites and several other services are excluded).
Here's what the experience is like.
Arrival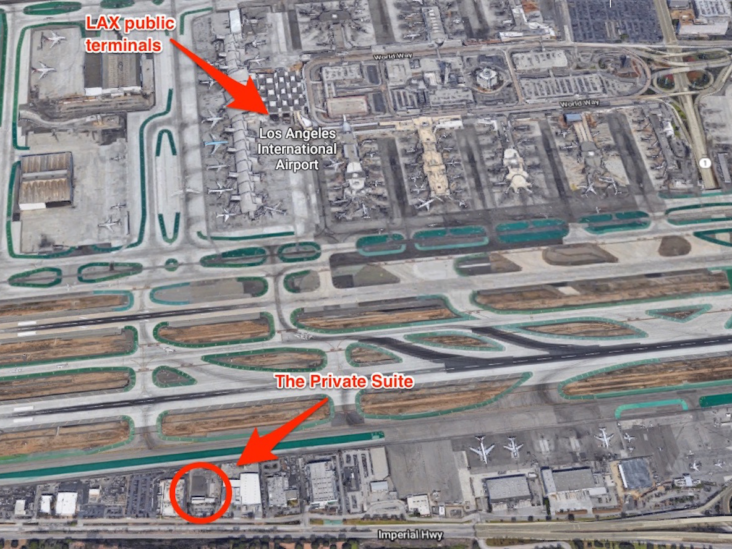 PS LAX is an old cargo building located completely away from LAX.
Once your booking is confirmed, you will be sent a set of directions that will allow you to get to the entrance, which is unmarked and gated. You and your guests will be asked to submit a picture of your ID or passport.
You will need to call or text the security team before you head to PS LAX and when you are 5 minutes away.
You'll be asked to identify yourself and your guests, inform the security team of your ETA, tell the team how many checked bags you have, and identify the make and model of the vehicle you're arriving in.
Ordinarily, you'd take the Sepulveda Boulevard exit to get to LAX.
But instead of exiting on the overcrowded Sepulveda Boulevard, you continue straight and exit on Imperial Boulevard shortly after Sepulveda.
After providing the front security guard with your name, you'll be granted access to the facility and a huge wall will pivot open to welcome you intoPS LAX.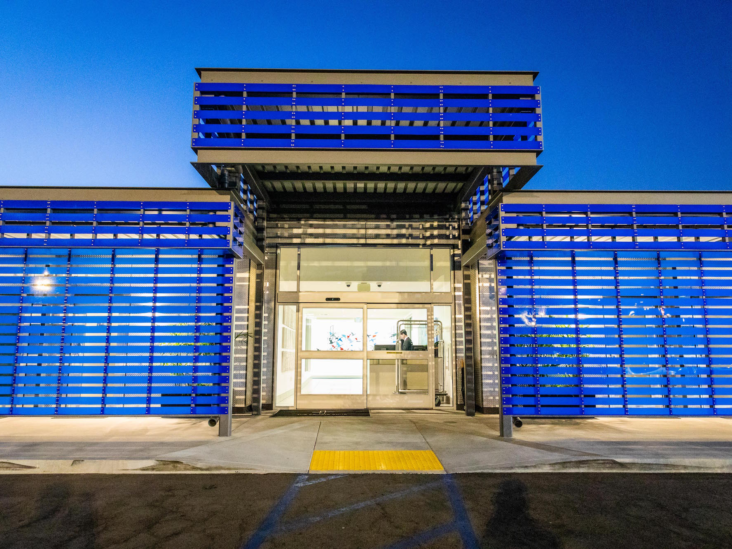 Over the course of your visit, a team of 8 members will be dedicated to you and your group.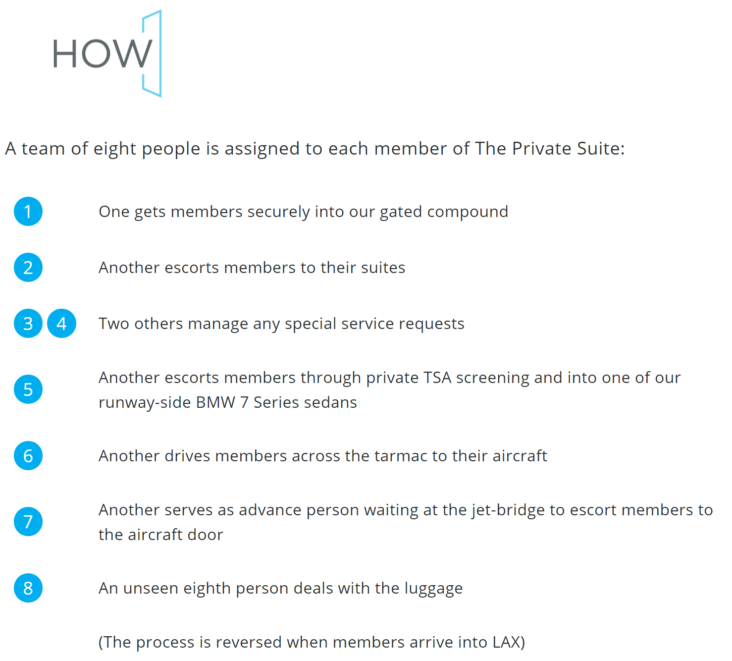 My fiancée Vivian and I visited PS LAX, though I was the only one flying that day.
The first team member greeted us, collected my bags, requested our IDs, and printed my boarding pass. Then, he escorted us to our private suite.
The Suite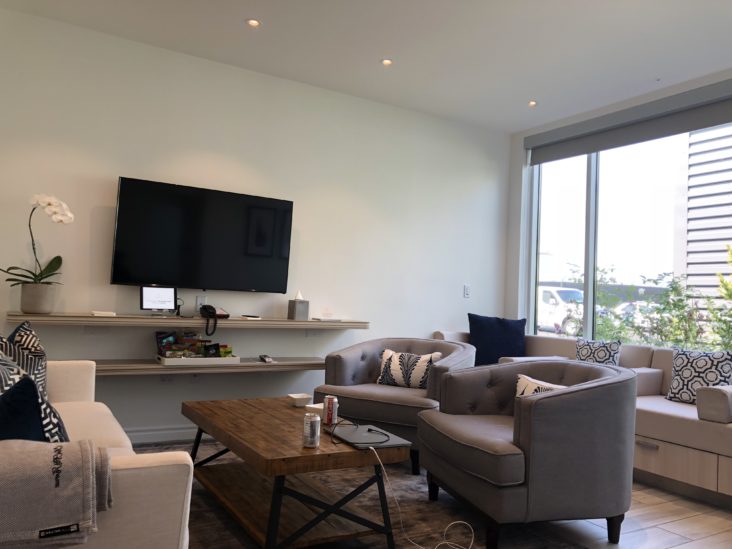 Before leaving us to our suite, the team member informed us: "If you need any help, just call us with that phone over there."
I'd say the overall vibe of this suite was serenity instead of opulence.
I was very pleased to find out that they would leave me completely alone, though anything I wanted was just a phone call away.
PS LAX itself was pretty much like a den and living room combined.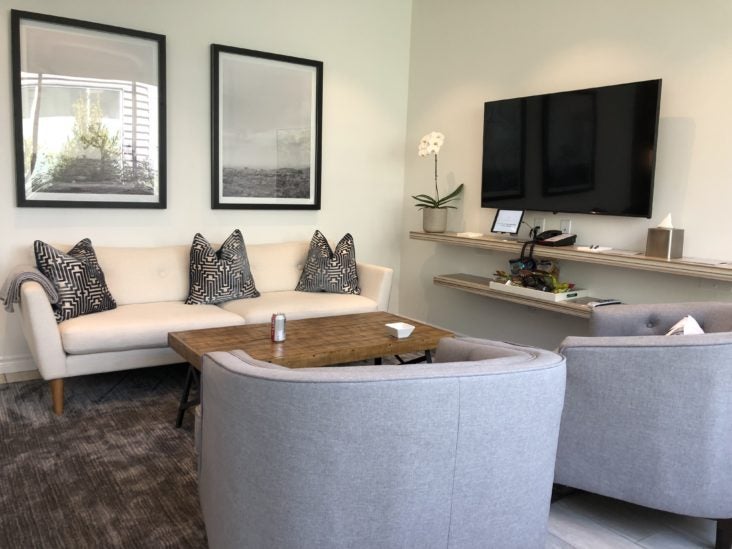 There were several soft, comfortable armchairs facing a television right at the entrance.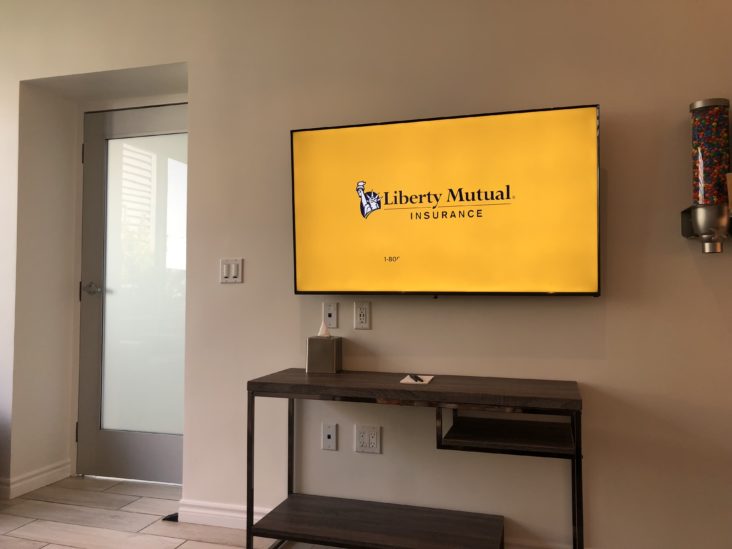 For those who wanted some rest, there were 2 sets of daybeds located at the window's edge.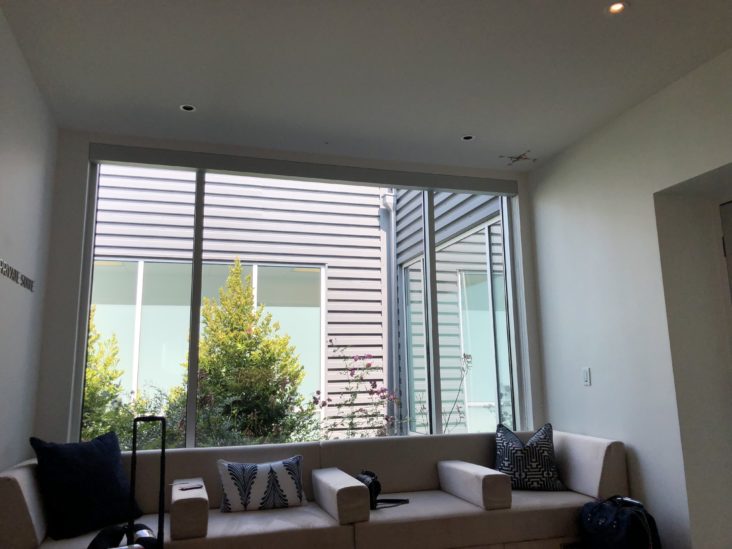 Probably the biggest surprise was the amazing warehouse of toiletries, medicines, and travel accessories available, including a fantastic travel pillow!
We took a bunch of medication, which was super useful.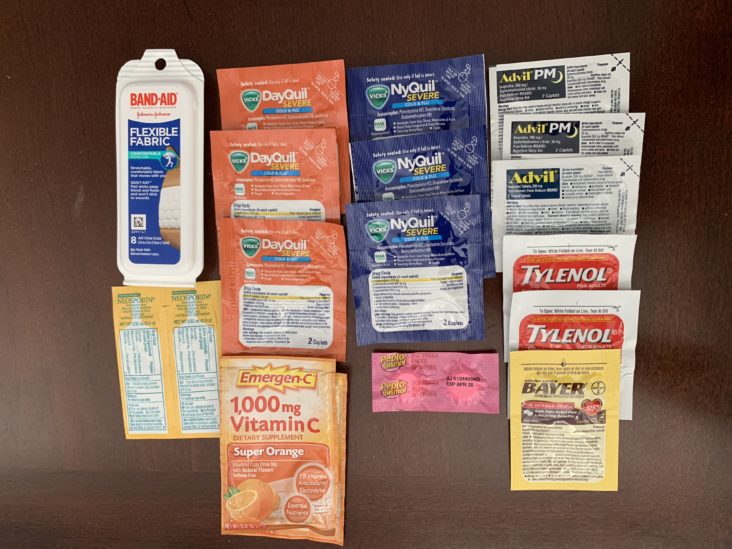 Lots of toiletries were extraordinarily useful.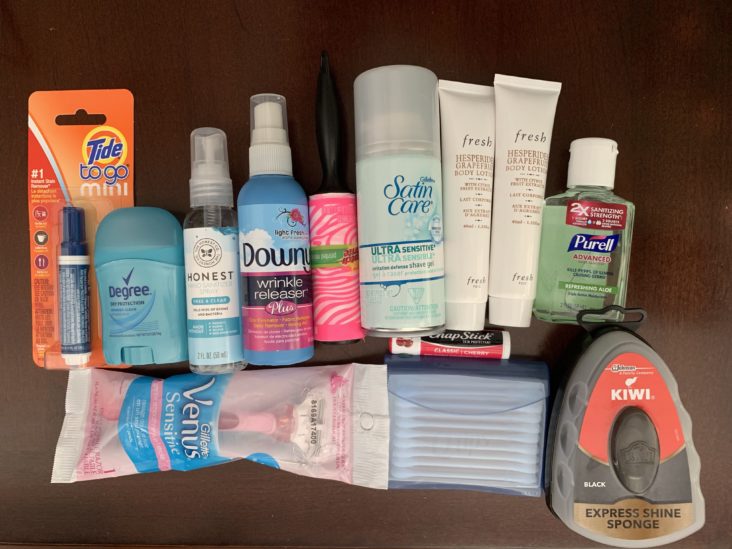 I chew a lot of gum and demand fresh breath at all times, so these were super useful to us as well.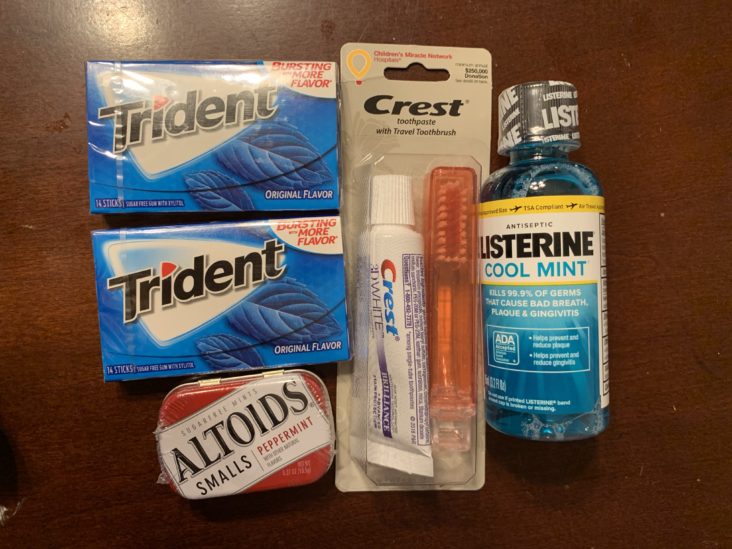 All of these items are free to take, as PS LAX actually supports customers in grabbing these things to help make their travels easier.
As it was United Airlines' Private Suite, there was also a complimentary Saks Fifth Avenue Gray Duvet, which retails at $60!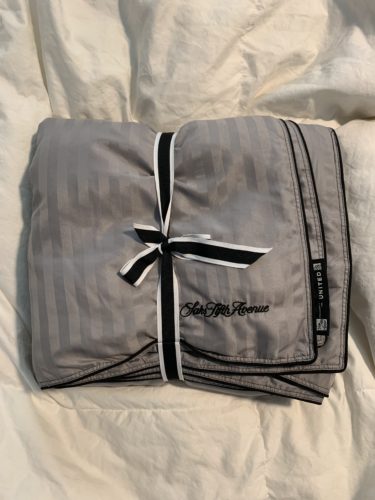 Best of all, there is a gigantic selection of snacks and drinks.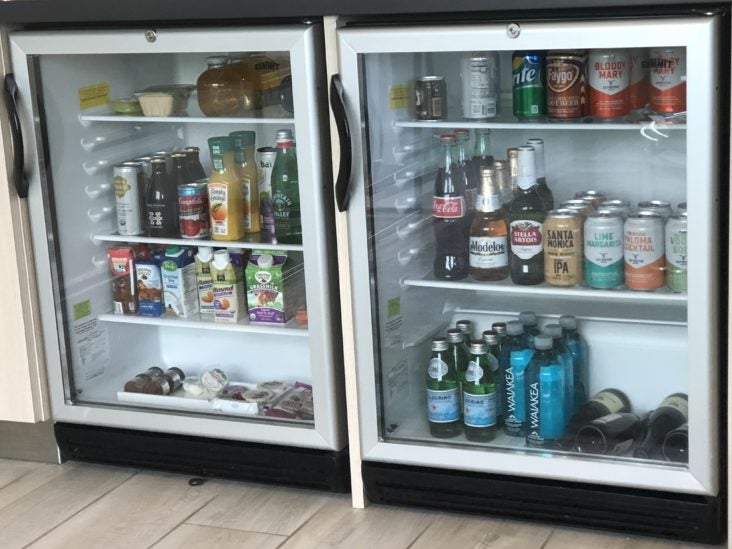 There was also an in-suite menu of food you could order from. I opted for a turkey and swiss ciabatta, while Vivian ordered a smoked meat salad.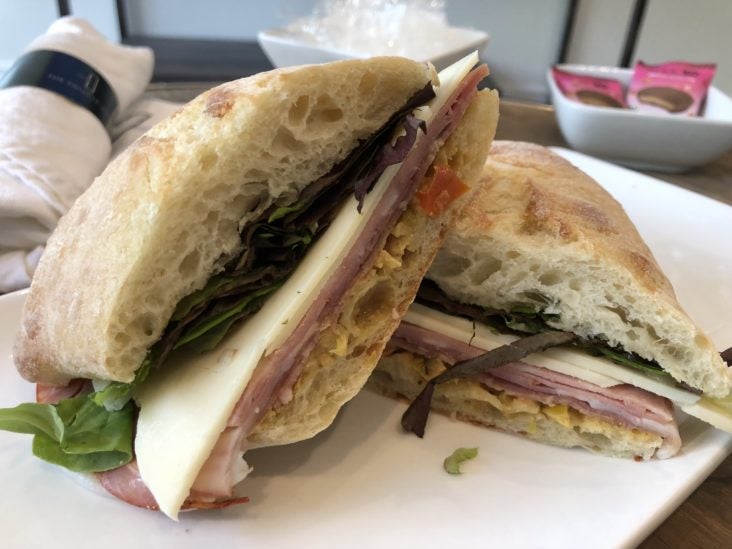 My turkey and swiss ciabatta was excellent, with the bread being especially fluffy. The smoked meat salad was arguably one of the best salads I've had. It was so rich and was complemented by a light vinaigrette dressing that was unforgettable.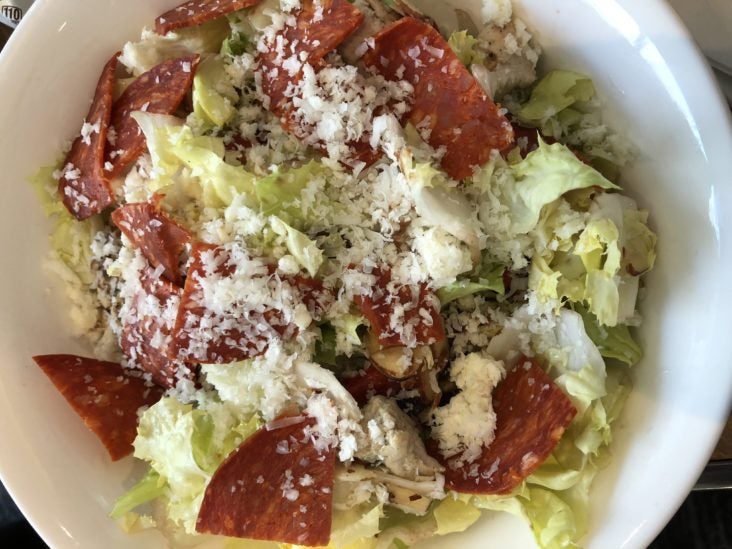 While we are enjoying our food, we were also trying to take in everything around us. There was just so much stuff in the suite that we didn't know where to start.
Of course, we were in sheer awe of these tall snack dispensers!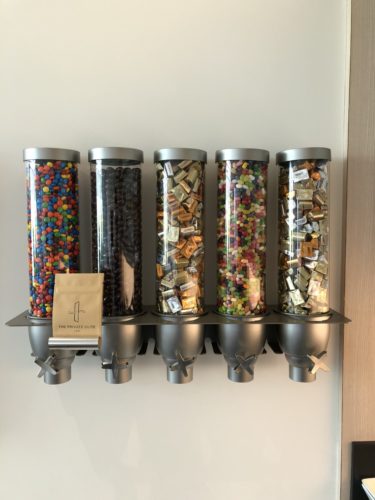 There were various flavors of Bob's Red Mill Oatmeal, an assortment of cereals, and a selection of Tea Forte teas. The chocolate selection included gourmet ChocXO bars of many flavors.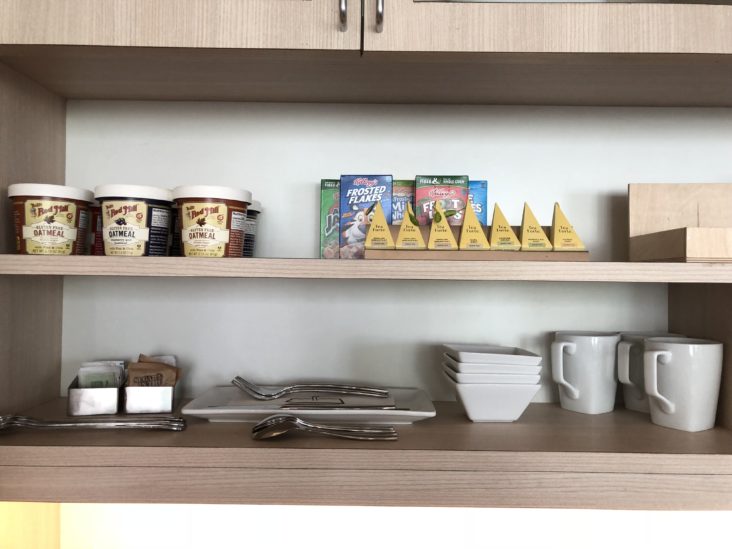 The liquor selection had excellent diversity, ranging from regular brands like Dewar's and Bombay Sapphire to boutique choices like Ole Smoky Moonshine. Interestingly, there was also a cocktail rimmer!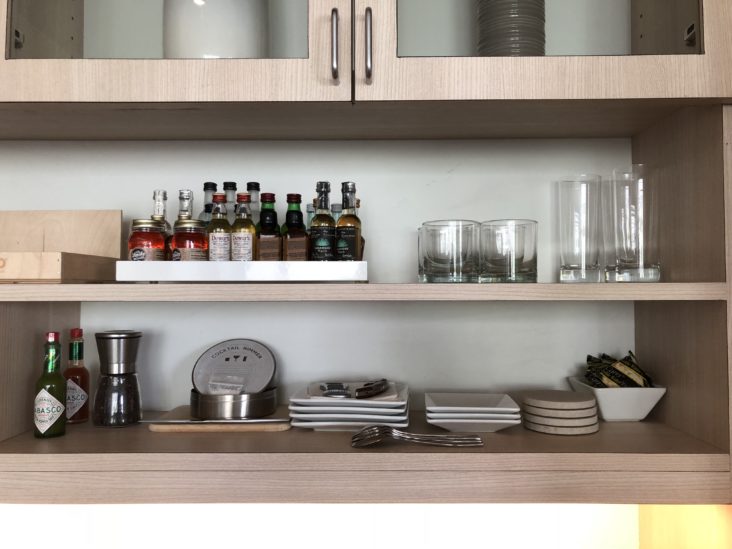 There was an ice bucket already filled up, plus coffee, decaf, and hot water in carafes, and bottles of red wine on the counter.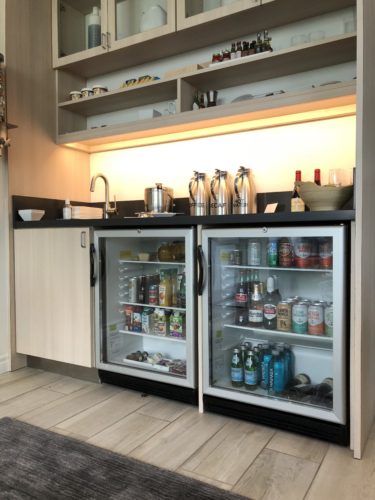 Moving onto the twin refrigerators, there's a huge selection of cold drinks, ranging from exotic cold brew coffees to common sodas to VOSS water and even Laurent-Perrier champagne!
The assortment of refreshments and snacks was immense, and it only grew from here.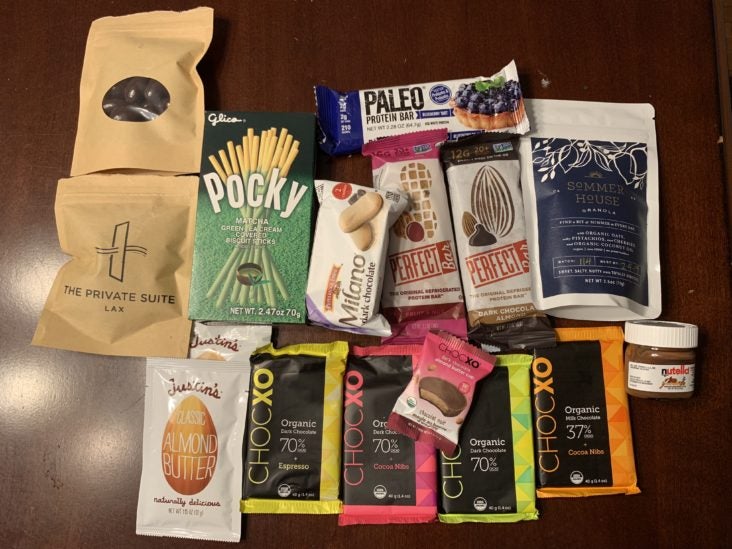 Scattered across the room were even more snacks, including organic beef jerky, nuts, and the oh-so-amazing (and expensive!) Have'a Corn Chips.
Although the famous shower spa is available for use in PS LAX, it's actually not connected to any of the rooms, and the en-suite bathroom is more of a large powder room.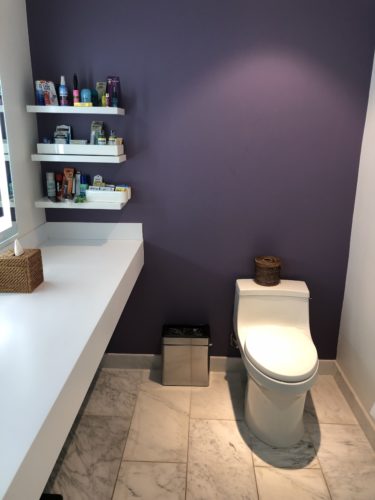 Anointed with a pyramid of fresh hand towels, facial tissue, and more toiletries than you can ever imagine, the bathroom is sure to impress anyone.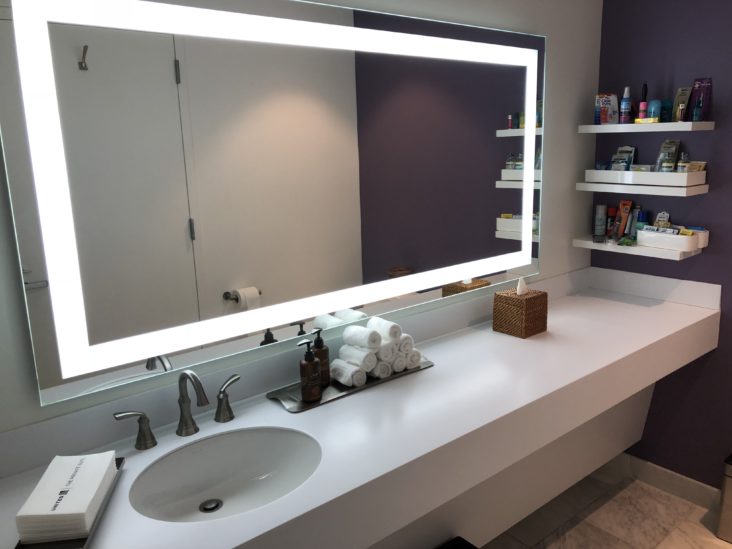 There are 3 shelves filled with shaving cream, Tide stain remover pens, various medications, mouthwash, eye drops, lint rollers, and an entire bottle of Imodium.
Outside, you'll find the 2 living areas, each with its own flat-screen HDTV and daybed.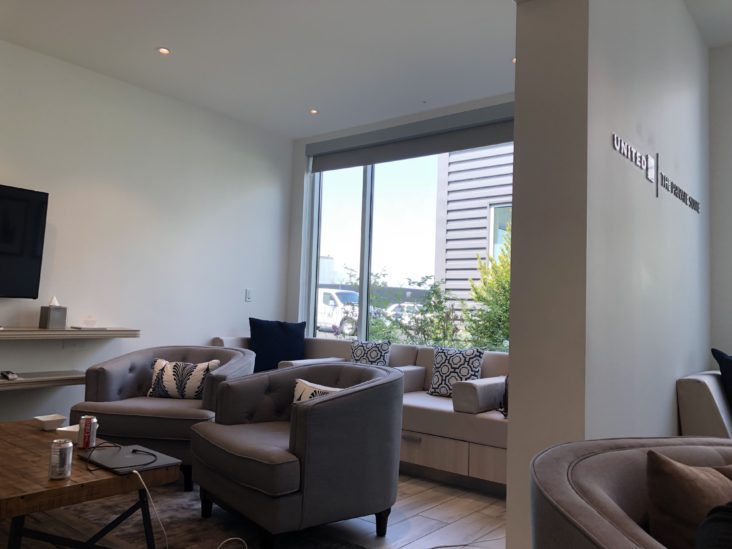 Activities
Besides typical relaxation in your room, PS LAX has an outdoor lawn with tents and various lawn games like mini-golf and cornhole. We had a great time playing several matches of cornhole and mini-golf.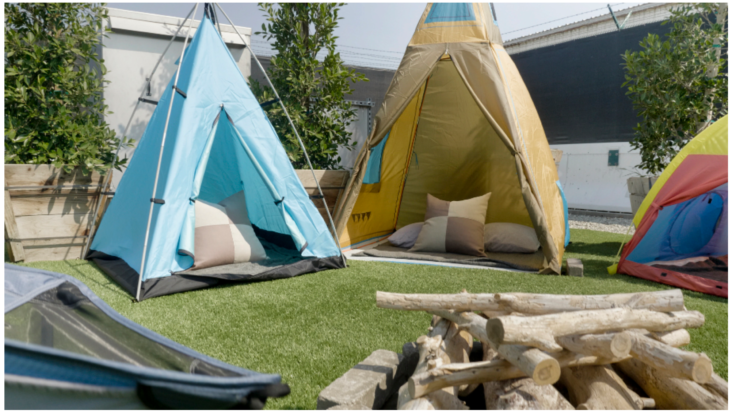 There's also a children's toy menu available for use, which will be great for traveling families.
After we were done exploring PS LAX like little kids (discovering new snacks and drinks everywhere), we picked up the phone and requested to use the shower spa.
The Shower Spa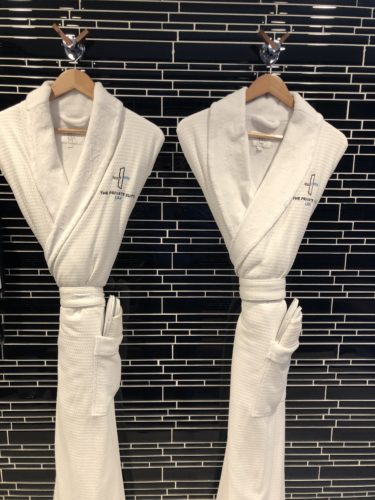 Next, we were escorted for the 10-step walk to the shower spa.
Upon entering the spa, I was amazed by the sleekness of the whole facility. The wall tiling was phenomenal, with deep black patterns and white edges flanking variable-sized tiles.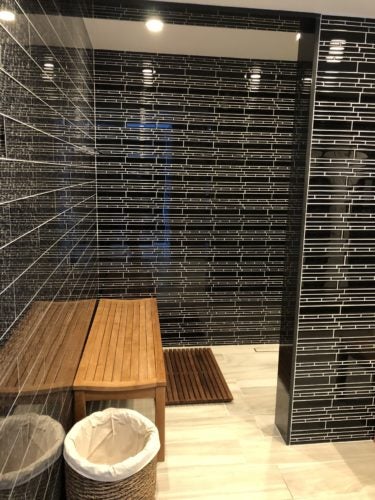 Inside the spa were 2 ridiculously comfortable bathrobes, Saje aromatherapy products, and pre-chilled bath towels (that smelled like fresh laundry) to cool off after a warm shower on a blistering hot day.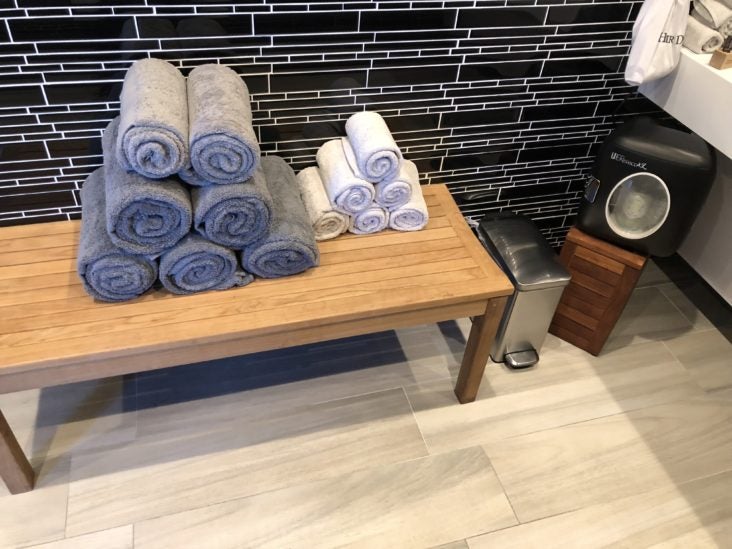 There were so many fantastic little touches — like the tiny cooler next to the vanity that held VOSS Water and vodka sodas, or the glorious shower amenities that smelled so fruity and aromatic.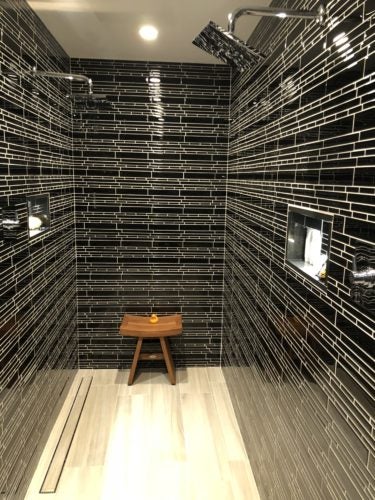 There were 2 separate shower heads in the very deep shower area, each with the ability to control temperature.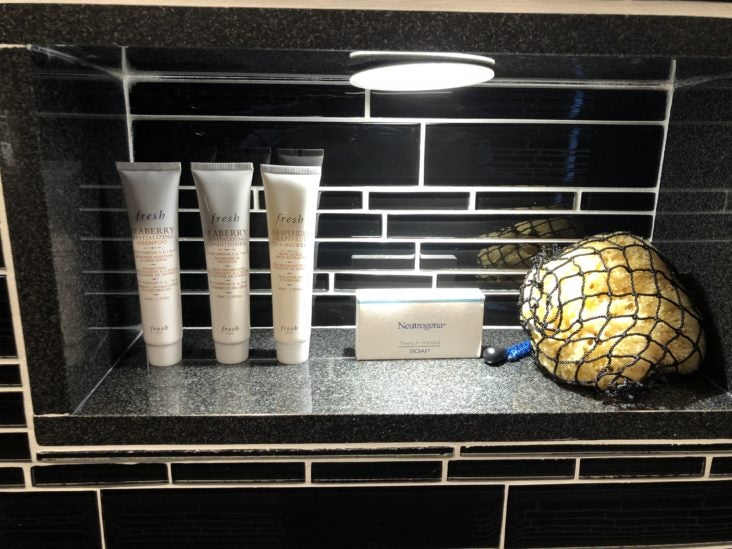 The shower amenities included a high-quality loofah, Neutrogena soap, and a trio of Fresh Seaberry shampoo, conditioner, and shower gel.
Best of all, there were (again!) so many toiletries and various products available for taking.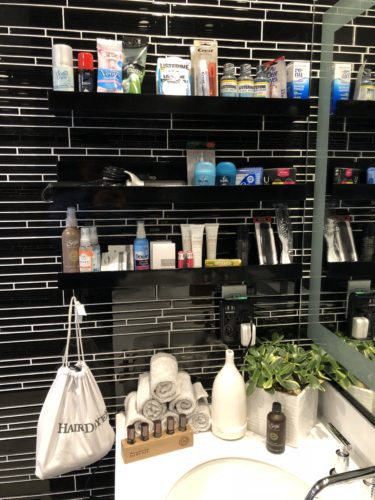 There were combs, deodorant, mouthwash, Crest travel toothbrushes and 3D White toothpaste, contact lens solution, The Honest Company hand sanitizer spray, chapstick, styptic pencils, and so much more.
Truly, the selection spread across this densely packed trio of shelves was like going on a shopping spree at a pharmacy.
After the refreshing shower and inhaling some very much needed essential oils, we returned back to the suite and spent a few more minutes relaxing.
The Departure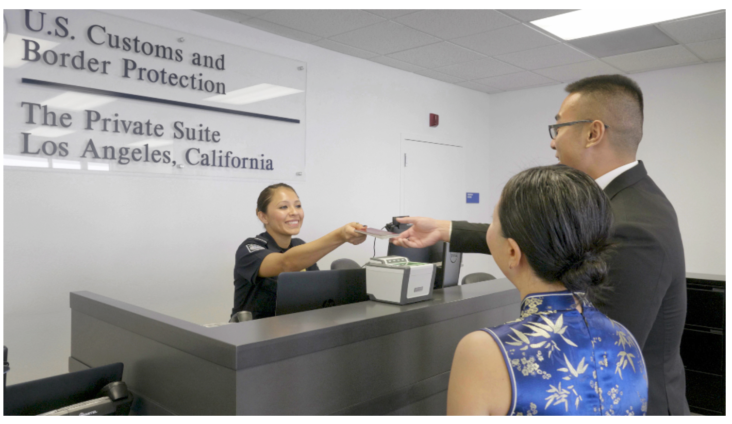 When the security team informed me that it was nearly time to go, we packed up our bags.
I was handed back my ID, given my boarding pass, and was introduced to my private TSA security team.
Imagine the shock on my face when I found out that there were 4 TSA officers just for me!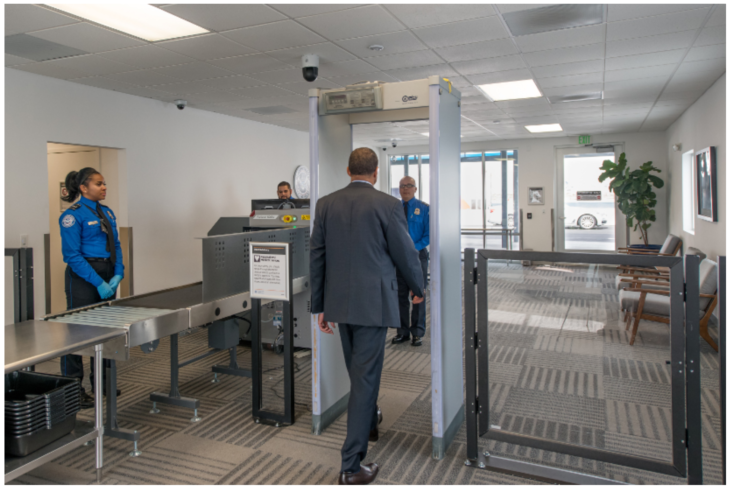 They were all fantastic people: one checked my ID, one operated the x-ray conveyor belt, another managed the metal detector, and the last person is used for secondary baggage searches if necessary. I was personally whisked through security in less than a minute!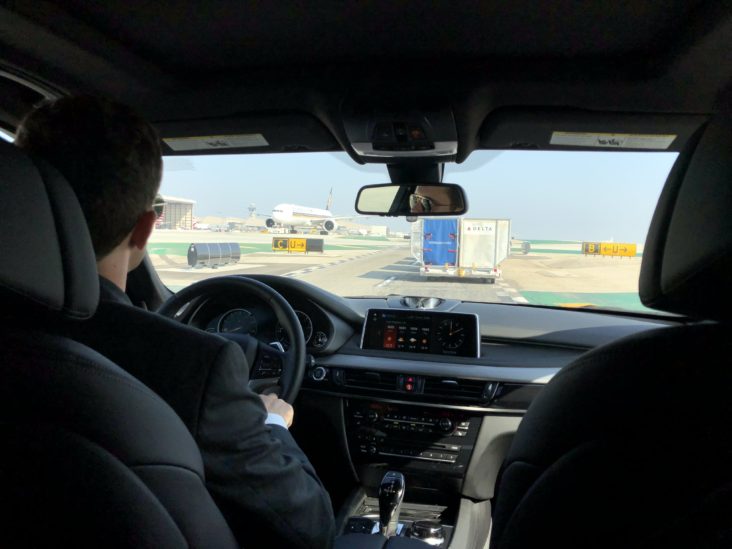 The security team then escorted me into a BMW X-Series SUV, which came complete with mints and VOSS Water.
Our driver was extremely friendly, and he told me about the history of PS LAX and his personal story working there. All told, the 15-mph drive on a secret route that includes a trek across the runways took around 15-20 minutes in total.
I was very intrigued to find out about extra traffic rules in addition to ordinary traffic rules, due to the risky nature of driving across areas where planes cross.
Apparently it's also easy to get pulled over and get a ticket if you violate these rules at all. This makes complete sense, since it's a much higher-risk environment to be driving in.
In addition, I also learned that some "regulars" use PS LAX service 2-3 times per month! That's a lot of dough to be spending, but could be worth it if you don't want to hear crying babies or loud intercom announcements (and be bombarded by paparazzi at the "regular airport").
After we made it to my gate, the driver radioed in some sort of code that I had arrived. Once he got approval to drop me off, the driver unloaded my bags and handed me over to the next staff member.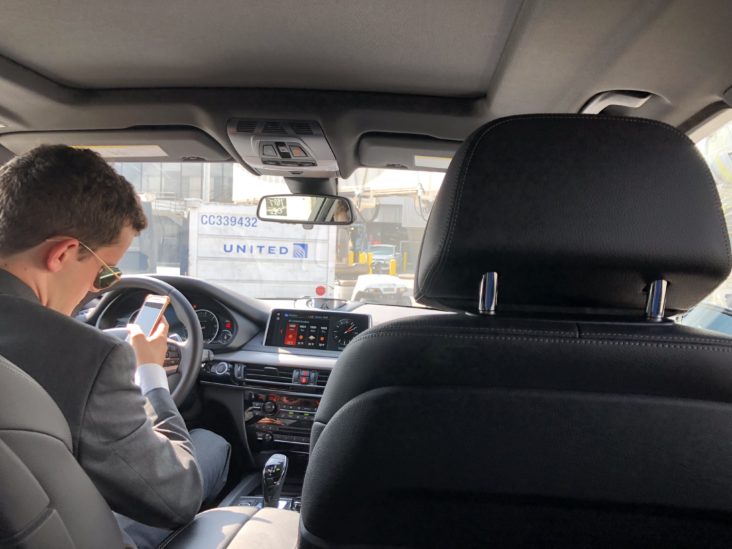 A United Airlines Global Services Officer received me and escorted me up the stairway directly into the end of the jetbridge, which spat me out at the door.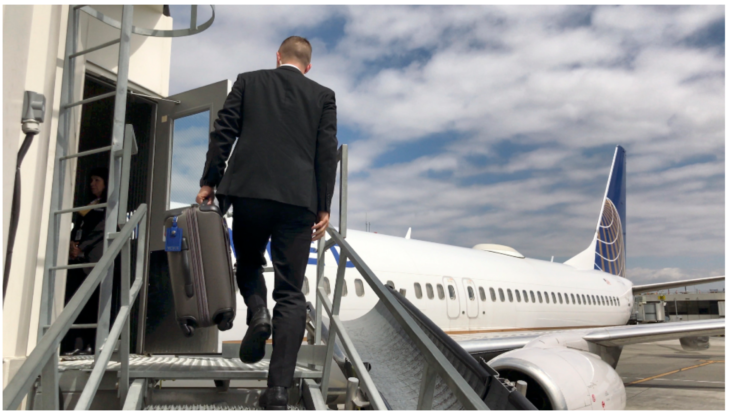 I made sure to thank her for her time, professionalism, and her help.
Overall Impressions

PS LAX will always have a special place in my heart.
Though I've been on fantastic business and first class flights where being spoiled is the name of the game, I am so glad that I had to opportunity to experience a different kind of service: peace.
While first class flights provide you with an unparalleled level of attention, PS LAX provides the privacy needed by wealthy business people, celebrities, and other VIPs.
What I will remember most is the logistical masterpiece that I experienced, the presidential ride along the tarmac, and the ridiculously plentiful free stuff to take.
It honestly felt like I was the President of the United States throughout my experience at PS LAX.
It's important to note that my experience was as a non-member. Members enjoy a completely personalized, customized experience that includes haircuts, showers, manicures, and basically anything you want.
PS LAX is opening another location at New York City's John F. Kennedy Airport (JFK) and closing the Westfield Century City location shortly, so be aware of that.
All in all, it was a fantastic, unique experience that I would certainly do all over again if I could!