The 10 Best Black Friday Delsey Luggage Deals [2021]
In the world of travel luggage, Delsey is among the best and most recognizable brands in the business. Founded and headquartered in France, Delsey's suitcases and accessories have become renowned for their style and long-lasting durability, making them a smart, conscious choice for travelers seeking functionality with flair.
Add to that Delsey's uncompromising dedication to quality, including varying warranties on all products and added security measures like patented tamper-proof zipper protection and TSA-approved locks, and you've got a product that checks off every box when it comes to safety and dependability on the road.
Due to their high quality and unique designs, Delsey suitcases tend to be a pricier option among the world's prominent luggage brands. However, for a limited time, you can score one of its fantastic bags for far less thanks to Black Friday deals that are seeing prices slashed as much as 50% or more for even bestselling models.
Below, we outline 10 deeply discounted Delsey bags we've already added to our carts.
The 10 Best Black Friday Delsey Luggage Deals
1. The Best Hard Suitcase
External Dimensions: 31.75 x 20.75 x 12.75 inches
Weight: 12.5 pounds
Delsey's stylish Helium Aero hard-sided suitcase is built using 100% polycarbonate — a lightweight, durable material that's designed to last. Good thing, too, because that metallic finish is enough to turn heads without having to worry about cracks or breaks. Best of all, you can score this bag for a whopping 65% off the regular price!
The spinner comes in a variety of sizes, but the 29-inch model gives you the biggest bang for your buck, packing in an impressive 123.7 liters worth of space that's perfect for longer journeys.
Inside, 2 lined compartments include tie-down straps and a zippered divider so clothes stay still and snug even when the bag is opened and closed. Smaller zip-up sleeves are built into the lining to offer extra storage space for loose items.
Other details to love: double spinner wheels maximize maneuverability on the go, and there are soft-touch handles as well as a TSA-approved lock that enable you to get through security in a flash.
Hot Tip: Delsey's Helium upright spinner collection maxes out at 29 inches, but is also available in smaller sizes, including 25-, 21-. and 19-inch models.
2. The Best Fashionable Hard Suitcase
External Dimensions: 20.75 x 13.5 x 10 inches
Weight: 6.2 pounds
Like Delsey's Helium luggage, the Alexis collection is made from lightweight, durable polycarbonate. This carry-on, however, is a big step up in terms of design thanks to an eye-catching, textured exterior that comes in moody colors like burgundy, navy, silver, navy, or black — the last 2 of which are paired with a rose-gold metal finish. And it can be yours for up to 60% off the base rate.
Inside the scratch-resistant case, 2 expandable compartments include tie-down straps and a zippered mesh divider that keeps items truly separate — think clothes on 1 side and shoes and accessories on the other.
Your trip through the terminal will be as smooth as silk thanks to 4 double spinner wheels and a TSA-approved lock for added security. If the carry-on is too small or you're looking to build a set, this style also comes in 23-inch and 27-inch sizes.
3. The Lightest Hard Suitcase
External Dimensions: 27.5 x 18.5 x 11.5 inches
Weight: 7.3 pounds
It doesn't get more sleek or state of the art in the Delsey luggage collection than the Turenne Spinner, whose 100% virgin polycarbonate shell clocks in at just a single pound heavier than its carry-on bags, despite being significantly larger in size. Add to that a 59% discount on the bag's regular retail price, and you'll soon run out of reasons not to invest in 1.
Inside, the interior is fully-lined and separated by 2 zippered dividers, 1 on each side, that secure your belongings. Another 2 removable bags are included for storing laundry or shoes.
The suitcase also features a TSA-approved combination lock and Delsey's patented SECURITECH 2 zip closure system that incorporates reinforced pullers and is 3 times stronger than average zippers. Feel safe knowing your luggage is secure.
The bag is available in dark blue or silver and can also be sized up to 30 inches (9 pounds), making it a discerning choice for travelers interested in an effortless spinner suitable for weeklong trips or longer.
4. The Best Soft Suitcase
External Dimensions: 27.25 x 16.75 x 11.5 inches
Weight: 8.2 pounds
The sleek, stylish, hard luggage look has been giving soft-sided suitcases a run for their money in recent years, but the Delsey Montrouge has a few things to say about it. Especially when you consider you can score it now for 50% off.
This elegant bag is as good-looking as any you'll see on the baggage carousel, and it works overtime as an appropriate piece of luggage to take wherever it is you're jetting off to next, be it a weekend business conference or a weeklong escape to Paris.
The gold metal accents look stunning against the vegan black leather trim. The interior features a more funky patterned lining for its 2 full-size compartments (the lining can also be removed and thrown in the wash). Both sides have zippered dividers, while 1 can be expanded a few extra inches for added space if you need it.
As with most of Delsey's top-of-the-line models, this one also comes with a TSA-approved lock, patented SECURITECH 2 zip technology for tamper-proof security, and double spinner wheels that make quick work of nearly any surface.
5. The Most Stylish Suitcase
External Dimensions: 22.5 x 15.25 x 10 inches
Weight: 9.3 pounds
Named after one of the most beautiful public squares in the heart of Paris, this gorgeous carry-on bag is as fashionable as it is functional. Even more fashionable is the price: while it regularly retails for a cool $520, this spinner can be yours for just $260 — a 50% savings.
The bag's white-with-leather-trim exterior (also available in chocolate brown) may look luxuriously heavy and delicate, but in actuality, it's exceptionally strong and durable thanks to a virgin polycarbonate material that's surprisingly lightweight and resistant to scuffs and bumps.
Inside is just as eye-catching. The bright red lining features multiple sleeves and features, including webbed straps for securing your clothes, a removable hanger, and separate laundry and shoe bags for keeping your clean items apart from your dirty ones.
There's also a wealth of technical features you'll never want to live without again, including TSA-approved locks, SECURITECH 2 tamper-proof zippers, a tracking device (in the unfortunate event that your bag is lost or stolen), and — get this — an award-winning brake system that keeps your wheels locked on slanted surfaces, preventing your bag from rolling away.
Complete the set! In addition to the carry-on, the Chatelet collection also comes in 24- and 28-inch spinners as well as a soft luggage line including a backpack and duffel bag.
6. The Best Matching Set
21-inch Carry-On
External Dimensions: 21.25 x 14 x 9 inches
Weight: 7.9 pounds
25-inch Spinner
External Dimensions: 27.25 x 18 x 11.75 inches
Weight: 10.1 pounds
Sometimes a single bag is simply not enough to get you and your stuff where you need to go. That's where luggage sets come in — not only do they give you the ample space you need, but they also give off a pulled-together look that screams "seasoned traveler."
You'll get both a carry-on and a large 25-inch spinner with Delsey's Titanium 2-piece set, which can be used separately or simultaneously for your next getaway. Don't be shy about taking them out, either. Their slick matte finish, made from scratch-free polycarbonate, will look like new for years to come.
Despite their size difference, both bags feature 2 deep compartments with ample storage space as well as key features like tie-down straps, expandable seams, and smooth spinner wheels that sit just off the center of the case for added stability.
We haven't even gotten to the best part yet. This matching set can be yours right now for $220 — a whopping 68% off the regular retail price of $680.
7. The Best Backpack
External Dimensions: 15 x 11.75 x 4.25 inches
Weight: 1.3 pounds
Delsey's fashion-forward Chatelet range includes its own line of backpacks, but for Black Friday, the Securstyle backpack is an attractive alternative to ho-hum laptop bags, especially when you consider you can score 1 for 50% off.
Yes, the bag is a bit smaller, only able to fit a 14-inch laptop or tablet. Still, the minimalist, easy-to-clean polyester exterior is as chic as can be and comes in a wide variety of eye-popping colors including orange, coral pink, and deep green.
Keep your essentials organized with hidden zippered pockets and padded sleeves, and protect your unassuming back from accidental spills thanks to a water-resistant interior fabric. Safety is also a priority for this bag. In addition to a unique zipper closure system, an RFID-blocking pocket is built in to keep your credit card data safe and sound.
Style aside, this bag is comfortable as well. The back panel is padded, as are both adjustable shoulder straps that can even be unhooked and stowed away — transforming the backpack into a stylish purse that's easy to loop over your arm or carry in 1 hand.
Plus, with the smart band on the back that slides over the handle of any wheeled luggage, you'll be on the go in no time.
8. The Best Weekender Bag
External Dimensions: 14.25 x 21.25 x 9.75 inches
Weight: 2.8 pounds
Like Pan Am's weekender bags of old, this retro duffel marries the best of the old with the best of the new. The old-school silhouette is stitched from a supple chocolate brown vegan leather, while the tasteful tan trim gives it an extra dose of luxury looks. That 50% off discount isn't too shabby, either.
Inside, save for the bright-red lining, it's all business. The wide opening reveals a large central compartment that makes packing and unpacking a breeze, and there are 3 external pockets, perfect for stashing those important travel documents.
The bag also comes with a removable toiletry bag as well as a smaller red pouch that you can stock with loose change, jewelry, or other small accessories.
Between the soft-touch top handles and padded shoulder strap, this is one of the comfiest, easiest bags to use and will get you from A to B in serious style.
9. The Best Garment Bag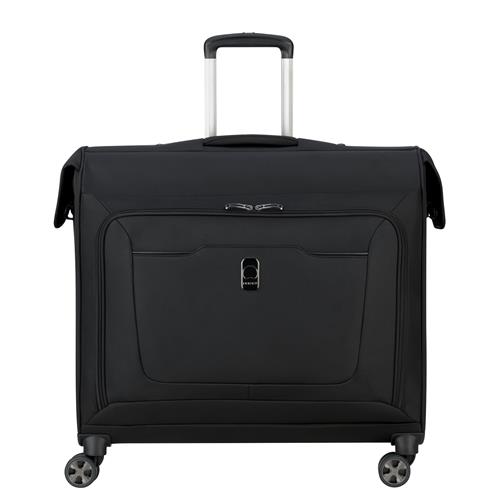 External Dimensions: 22.75 x 23.5 x 11.5 inches
Weight: 10.8 pounds
For occasions that require a dressy outfit such as a wedding or business trip, a quality garment bag is absolutely essential for ensuring your clothes arrive at your destination both clean and wrinkle-free.
Delsey's Hyperglide Garment Bag is a powerhouse, featuring ample room to stow away and secure clothing items as well as helpful features to aid in the packing and unpacking process, including a foam bar for folding longer garments as well as a clamping system for holding hangers.
Unlike other garment bags on the market that are often limited to 2 wheels, Hyperglide's Dual-Density, Silent-Core double spinner wheels ensure your journey is as smooth as can be. The 50% off discount going on right now doesn't hurt, either.
Hot Tip: Love Hyperglide's all-black exterior look? The collection's full set includes an under-seater and carry-on as well as 25- and 29-inch spinners.
10. The Best 2-Wheeler Suitcase
External Dimensions: 16.75 x 15.75 x 8 inches
Weight: 6.1 pounds
Have you settled on carrying on, but still can't decide whether you'd be better off with a backpack or a rolling suitcase? Why not get the best of both? Right now, you can score Delsey's Chatelet 2-wheeler for 50% off of its base price.
Delsey's 2-wheel under-seater combines the ease of a rolling bag with a size small enough to stash under the seat in front of you, so you don't have to deal with the hassle of using an overhead bin. That said, this bag can still be stowed overhead if limited room requires it.
The chic Chatelet design keeps things stylish, including a white-with-tan-leather-trim exterior as well as a bright red interior that offers plenty of room — 29.96 liters, to be exact — for at least 1 change of clothes in addition to your essentials. Props to the front organizer for keeping those tickets and passports ready to go!
While the bag may look short, the long, recessed handle helps tote it behind you with ease.
Final Thoughts
From spinners to carry-ons to throwback duffel bags, Delsey's stylish selection of travel luggage is as high-quality as it is high-fashion. Add to that a savings of 50% or more off of its bestselling models like expandable spinner trolleys and laptop backpacks and you've got all the more reason to finally upgrade your suitcase game. What are you waiting for?