The 31 Best Things To Do in Austin, Texas [Free, Outdoor, With Kids, Museums]
Austin is a chilled-out and forward-thinking city, and while having a busy population of around 1 million, it still retains all the charm of a small town. Known as "the music capital of the world," it's not surprising that you'll find live music everywhere, from the moment you arrive at Austin-Bergstrom International Airport (AUS) to within coffee shops and bars.
With over 300 days of sunshine, you'll want to explore the great outdoors, and Austin has a fabulous choice of state parks, lakes and rivers for watersports, and rugged hills for hiking.
We've rounded up some of the best activities and attractions in Austin, whether you're visiting solo, with friends, or with the kids in tow.
Best Free Things To Do in Austin
1. Watch Bats Swarm From the Congress Avenue Bridge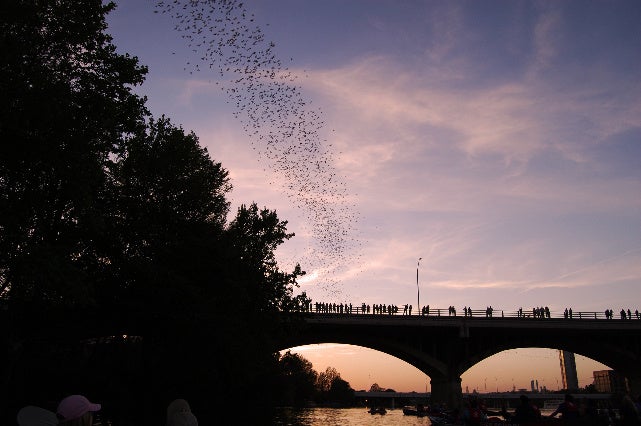 Bat-watching is not your usual city break activity, but from late March to early October, you can see up to 1.5 million bats flying into the night sky. With the 1980 renovation of the Congress Avenue Bridge, migrating Mexican free-tailed bats were attracted to the bridge's underside bat cave for the perfect nesting spot. Whether you're standing on the bridge or watching from the water in a kayak, you'll be amazed by the swarms that emerge from the bridge after sunset.
2. Admire Magnificent Views From Mount Bonnell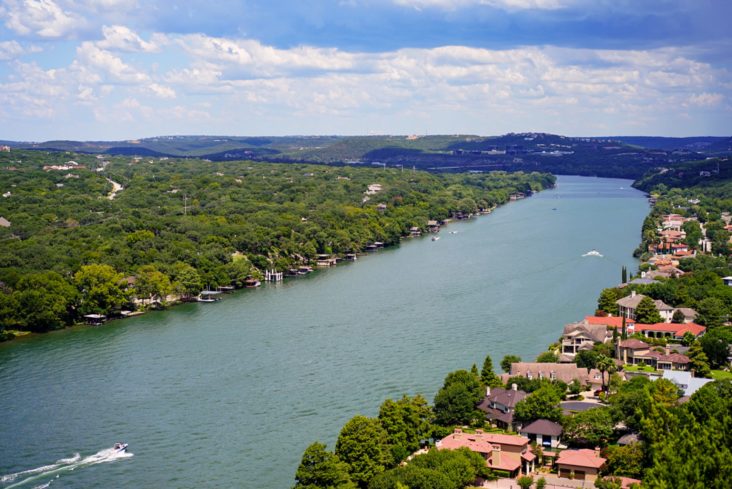 At 775 feet, Mount Bonnell is the highest vantage point within Austin city limits, providing far-reaching views of the city, Lake Austin, and the surrounding mountains. The limestone mount is located on the eastern bank of Lake Austin in Covert Park and can be reached by climbing the 100-step limestone staircase.
Hot Tip: Mount Bonnell can get pretty busy at sunset, so set your alarm and head up for sunrise to experience undisturbed views. 
3. Tour the Texas State Capitol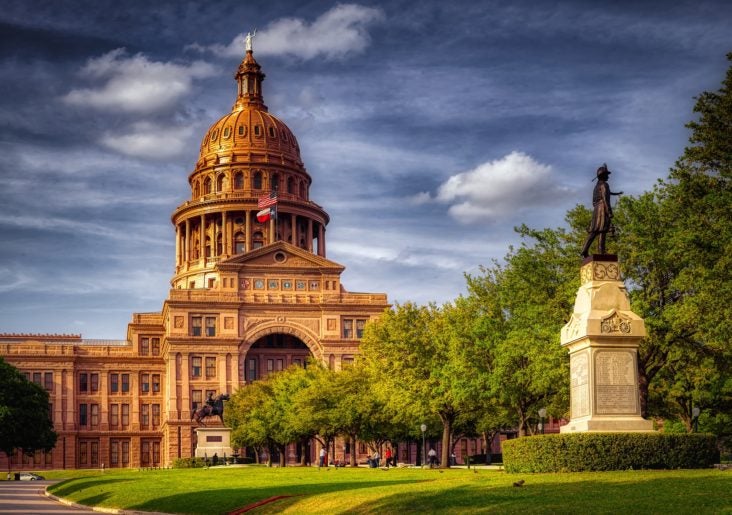 The Texas State Capitol was modeled on the U.S. State Capitol, although it's bigger in square footage and height in true Texas style. Explore the history of the building with a free 30-minute tour departing every 30 to 45 minutes from the South Foyer. Alternatively, pick up a brochure and explore the building and extensive grounds at your own pace with a self-guided tour.
4. Stroll Around the Bremond Block Historic District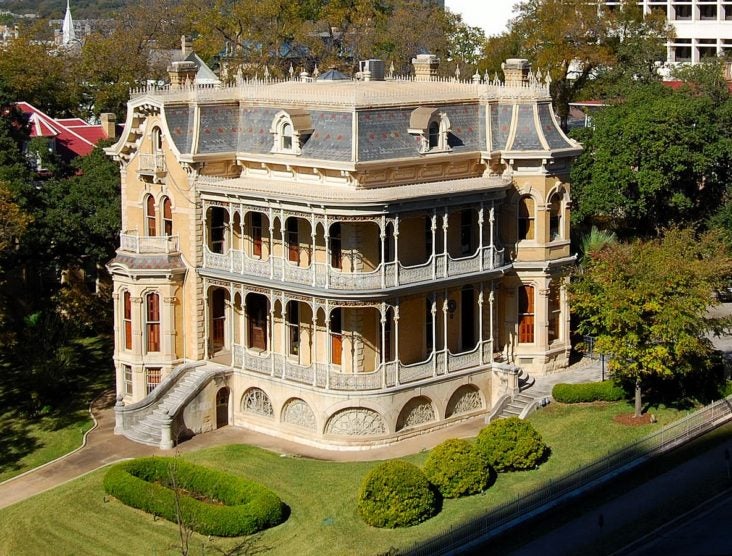 The Bremond Block Historic District consists of 11 Victorian houses constructed between 1850 and 1910 by brothers John and Eugene Bremond. The area is one of Texas's last remaining upper-class Victorian neighborhoods, with most of the properties located on Guadalupe Street, as well as 7th and San Antonio. Now home to private residents and businesses, you can't explore inside; however, the exteriors are a sight to behold when wandering through the pleasant neighborhood.
Hot Tip: Austin is an incredibly bike-friendly city, so you may want to consider an electric bike sightseeing tour to explore downtown, South Congress, the University of Texas campus, and more.  
5. Learn To Two-Step at the White Horse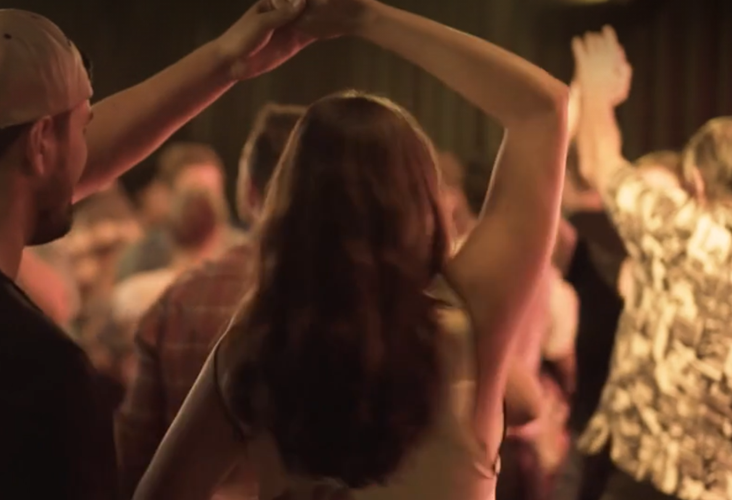 The White Horse is a favorite Austin honky-tonk, featuring live music 7 days a week guaranteed to get you toe-tappin'. If you're new to the dance scene, check out one of the free dance lessons held Tuesday through Saturday at 7 p.m., which include blues, swing dance, and the Texas two-step. Practice your new moves to the evening band, shoot a game of pool, or dig into some delicious tacos.
Best Things To Do in Austin With Kids
6. Feed Llamas at the Austin Zoo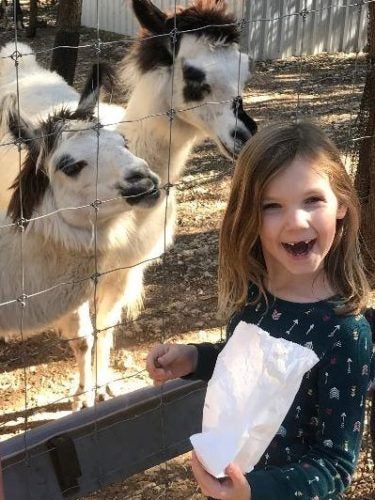 Austin Zoo is a non-profit organization caring for animals that have been acquired through rescue and rehabilitation. Visitors can learn about over 100 different species, including lions, capuchin monkeys, Galapagos tortoise, and hybrid wolves. The zoo is also home to some domestic animals, such as llamas, deer, and goats, that visitors can feed with food purchased from the gift shop.
Hot Tip: If you're planning a family vacation to Austin, be sure to book with the best credit card for family travel to maximize your rewards. 
7. Play & Learn at Thinkery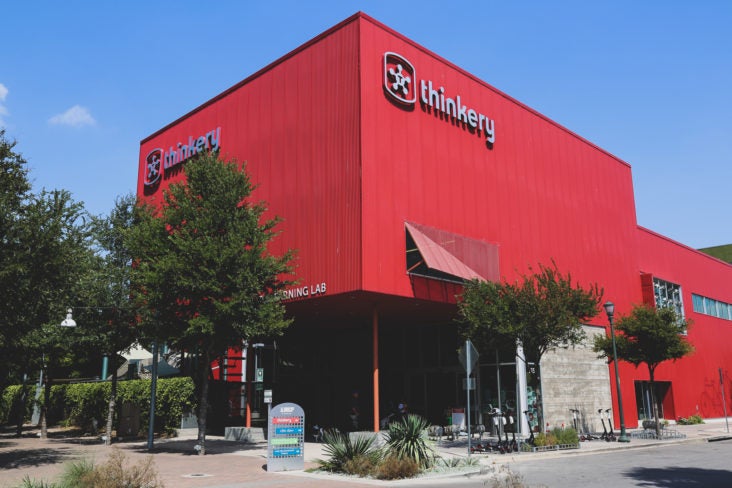 Originally founded in the 1980s consisting of traveling exhibits in parks, schools, and malls, Austin's children's museum, Thinkery, is now permanently housed in the Mueller district. Parents can encourage their creative and curious little ones to explore the forces of nature, healthy living, building, and inventing with a range of interactive exhibits. Kids can also burn off some energy in the backyard with a climbing structure and water play in a gentle stream.
8. Enjoy Animal Encounters at Austin Aquarium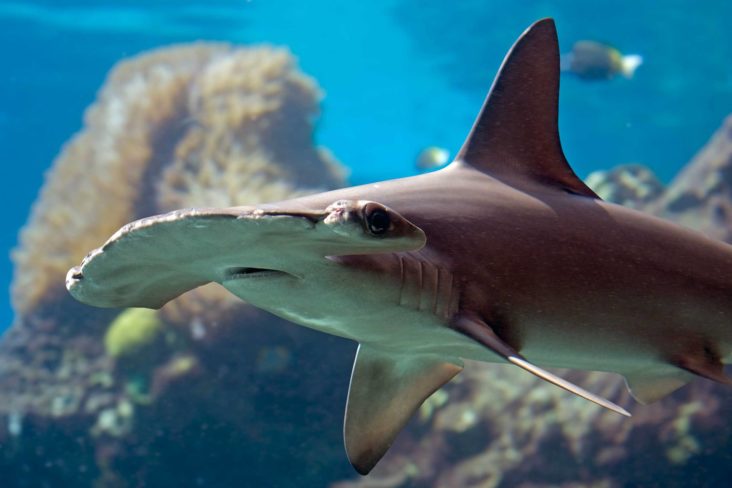 Austin Aquarium is home to both aquatic and land-based animals and prides itself on its range of interactive encounters. Visitors can feed a variety of wildlife, from sharks to parakeets, and can pet everything from lemurs to kangaroos. The aquarium has thousands of species to admire up close and within their enclosures. You'll see sharks swimming among colorful coral and a lush rainforest habitat with hundreds of reptiles.
Hot Tip: If you're flying into Austin with your family, take a look at our guide to a less stressful flying experience with the kids.
9. Explore the Cathedral of Junk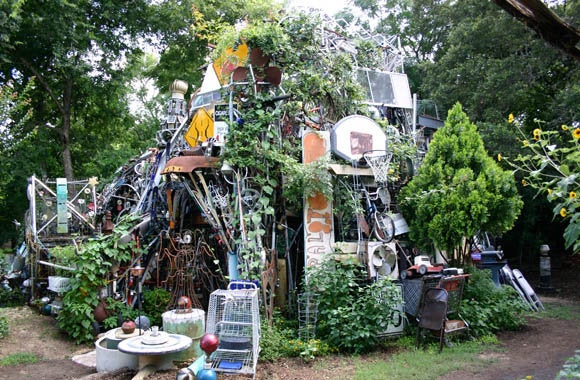 If you're looking for something unique to do in Austin, head over to Vince Hannemann's backyard where you'll find the Cathedral of Junk. This quirky construction consists of over 60 tons of discarded items, such as bicycles, televisions, and other bits of scrap metal that Vince has been collecting since he started the project in 1989. Combined, these items form a sculpture with various rooms and staircases to explore — all structurally sound — and with so many intricate details that you'll want to allow at least an hour to explore. There's a suggested $5 donation per person and you'll need to call ahead (512-299-7413) to book a visit.
10. Have a Blast at Austin's Park n' Pizza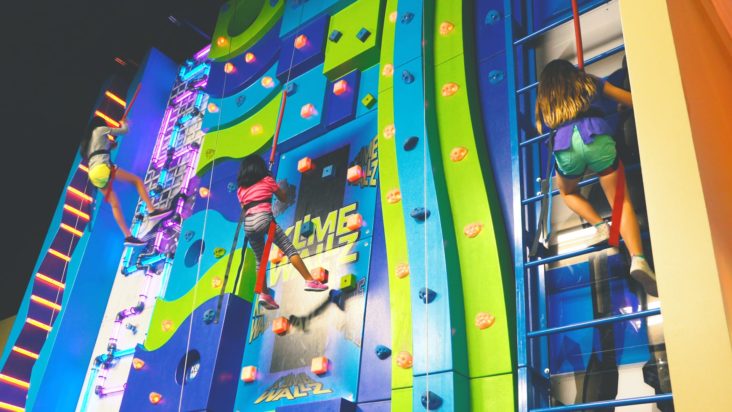 Austin's Park n' Pizza is packed full of kids' entertainment, from go-karting to laser tag and climbing walls to carnival rides. Pay as you go for various attractions or purchase one of the packages for unlimited access. If you're looking to grab a bite to eat, the combo and VIP packages include access to the huge buffet, serving everything from gourmet pasta to artisan pizzas, or you can choose to dine à la carte at the Bar & Grill restaurant.
Best Museums in Austin
11. Admire Contemporary Pieces at the Blanton Museum of Art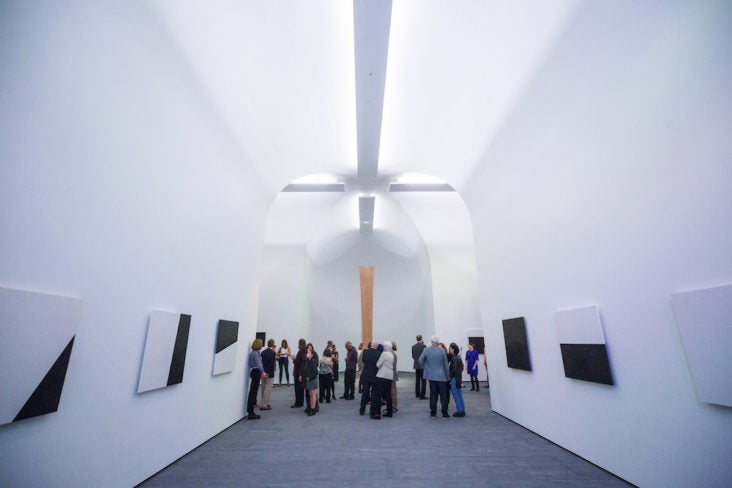 The Blanton Museum of Art at the University of Texas at Austin has the largest collection of art in Central Texas, featuring over 19,000 pieces. It's noted for its modern and contemporary American and Latin American art and European paintings, as well as its encyclopedic collection of prints and drawings. The museum also features a schedule of temporary exhibits, so there's always something new to see for returning visitors.
12. See Original Artifacts at the Bullock Texas State History Museum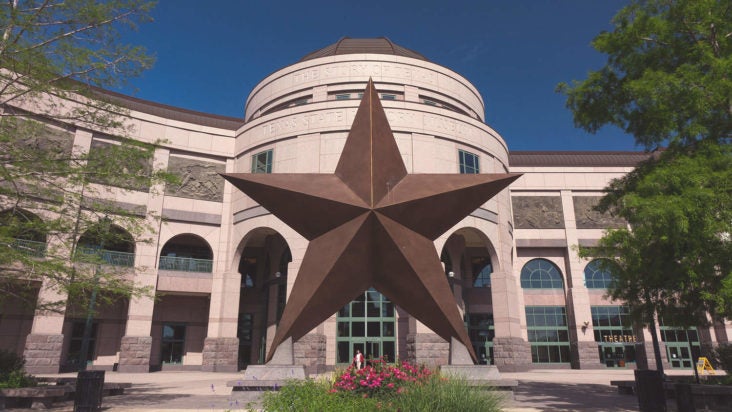 With a history as vast as the state itself, there's plenty to learn about Texas at the Bullock Texas State History Museum. Delve into more than 16,000 years worth of history in the "Becoming Texas" exhibit, with immersive information on trade, European colonization, the influence of early politics, and American Indian civilizations. The museum also has an IMAX and multi-sensory theater featuring educational films about Texas for an additional fee.
Hot Tip: The Bullock Texas State History Museum is pretty close to the Texas State Capitol, so combine a visit to both to save time. 
13. Attend an Arts Event at Umlauf Sculpture Garden & Museum

The Umlauf Sculpture Garden & Museum displays more than 58 sculptures from renowned American artist Charles Umlauf. In 1985, he gifted his house, studio, and many of his works to the city to be enjoyed by the public, and from here, the museum opened in 1991. As well as displaying the sculptures of Charles Umlauf, the museum also showcases many temporary installations, with a particular focus on emerging artists from Texas and the South. Stroll around the tranquil garden or join one of its regular events, including yoga, picnics, live music, and dance.
14. Learn About Mexican Culture at the Mexic Arte Museum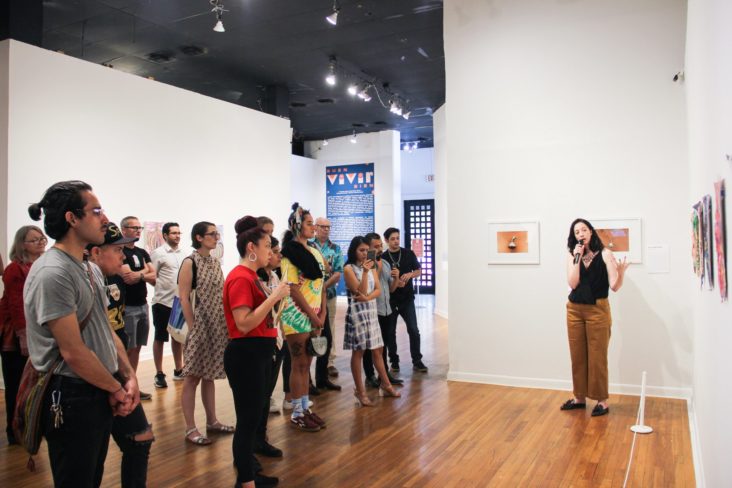 The Mexic Art Museum was founded in 1984 by several artists to share the art and culture of Mexico with Austin and beyond. Permanent and changing exhibits showcase over 1,500 Mexican, Latino, and Latin American pieces ranging from paintings and prints to sculpture and photography. The museum has a library containing books and periodicals dating back to the 19th century and holds regular events for performance art combined with transmedia elements.
15. See Unique Installations at The Contemporary Austin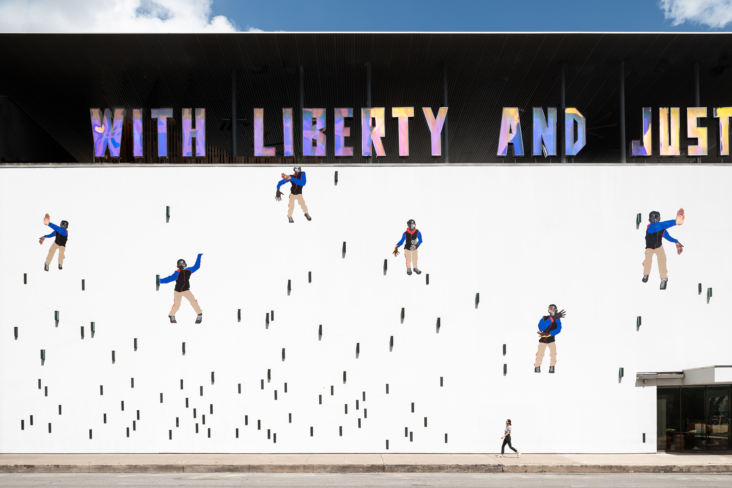 The Contemporary Austin showcases the work of contemporary artists across 2 locations. Downtown, you can visit the historic Jones Center to admire the unique installations "With Liberty and Justice for All (A Work in Progress)" and "Little man, little man" — both visible on the building's exterior. Explore the beautiful setting of Laguna Gloria on the shores of Lake Austin, featuring permanent and temporary sculptures in the Betty and Edward Marcus Sculpture Park.
Best Things To Do in Austin at Night
16. Grab a Beer on Historic Rainey Street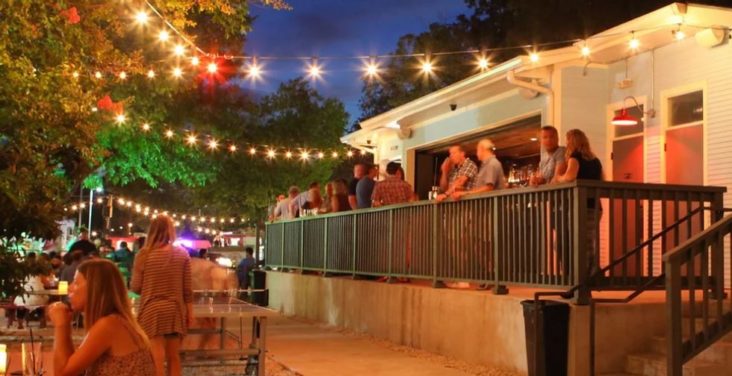 Once a quiet residential area near downtown Austin, historic Rainey Street is now a vibrant entertainment district popular with locals and visitors. Several pre-1930s bungalows have been transformed into charming bars complete with porches perfect for perching outdoors with a frosty beer while enjoying the backyard vibe. Grab a picnic table at the Half Step and listen to live music or catch a game while munching on nachos at The Alibi.
Hot Tip: Austin is known for its eclectic food scene and barbeque, but the challenge is often knowing where to go. Book a Secret Food Tour to let a local take you to some of the best spots and to tell you all about the city's food culture.
17. See a Show at the Moody Theater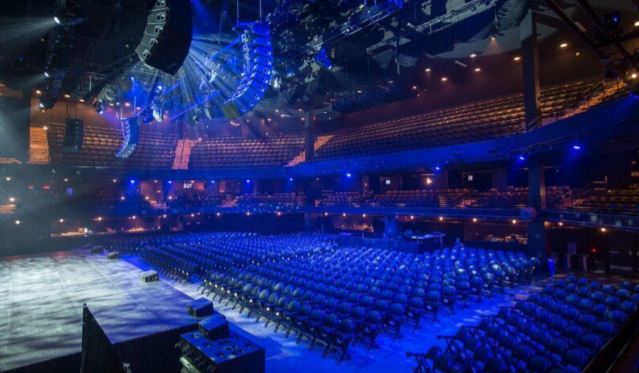 The Moody Theater is the recording home for "Austin City Limits" — the longest-running music series in American television history. Enter the draw to win tickets to a live taping or check out the schedule for the 100 or so other annual shows available at the Moody Theater. If you can't make a show, you can book an ACL Live Venue Tour to go behind the scenes and admire the works of music photographers Scott Newton and Jim Marshall.
18. Party Along East 6th Street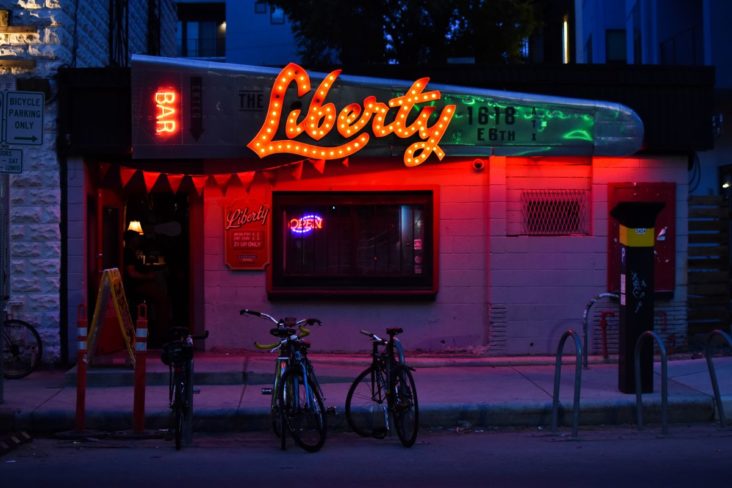 If you're after live music and a few drinks, spend the evening along East 6th Street, known for its trendy restaurants, cocktail bars, craft breweries, and original dive bars. Dine at Ramen Tatsu-ya for some mouth-watering ramen before heading to Whisler's for some handcrafted cocktails.
19. Watch a Film at the Blue Starlite Mini Urban Drive-In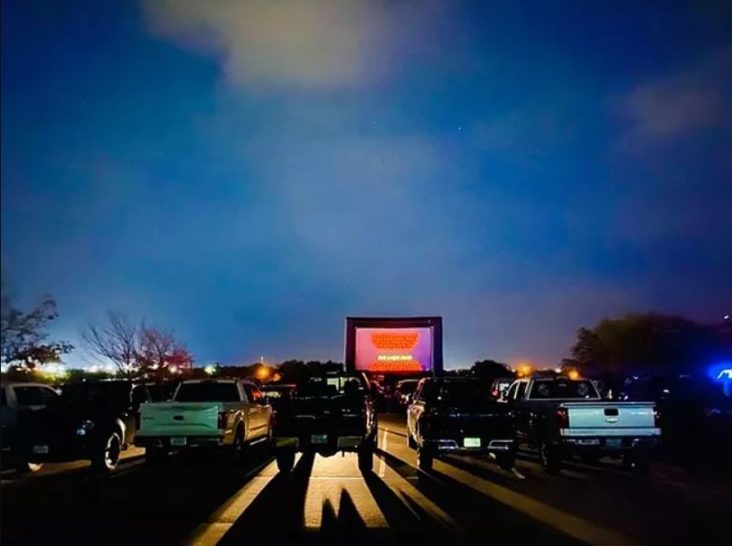 The Blue Starlite Mini Urban Drive-In is a boutique take on the classic drive-in theater, with 3 locations across Austin. Whether you visit the downtown Mueller or Round Rock location, you'll find a selection of cult, indie, art house, and Gen X/Y films being shown, along with some childhood favorites and classic drive-in movies. With no more than 40 cars, you'll have a more intimate viewing experience than larger drive-ins and can order popcorn or candy from the concessions stand.
20. Be Shocked & Amazed at the Museum of the Weird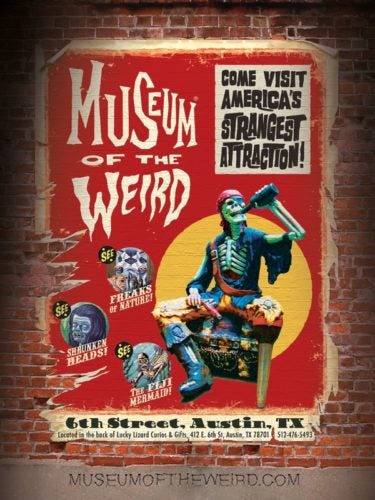 As the name suggests, you'll find some weirdly wonderful exhibits at the Museum of the Weird. Step into the back of the Lucky Lizard gift shop to enter one of the last dime museums in the U.S., home to shrunken heads, a Fiji Mermaid, and real mummies. The oddities don't stop there, with unique individuals performing unbelievable tasks, such as Blockhead Benny, who hammers nails into his nose, and John T.Rex, who performs stunts with live electrical wires.
Hot Tip: If you like to discover the more sinister side of a city, book onto the Haunted History Ghost Tour to visit Austin's most haunted sites, including the Museum of the Weird. 
Best Outdoor Activities in Austin
21. Splash Around on the Beaches of Emma Long Metropolitan Park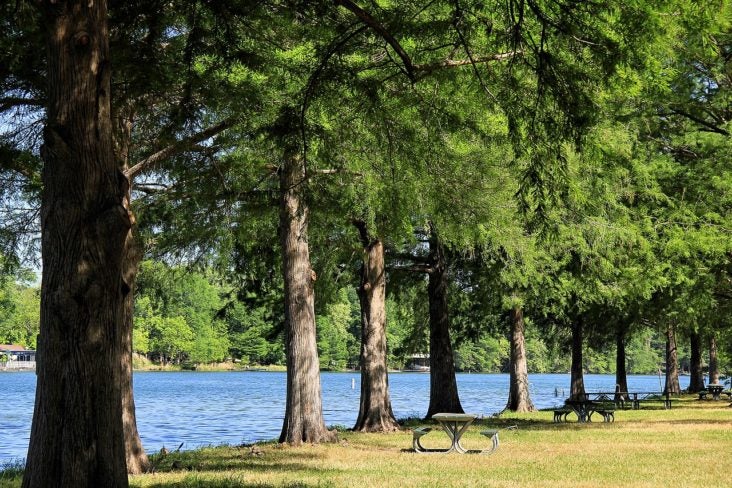 Emma Long Metropolitan Park is a pretty municipal park located on the shores of Lake Austin. Relax with a book under the oak and juniper trees that line the lake, or explore the hiking trails that weave through more than 1,100 acres of woodlands. Kids will love splashing around in the lake along the sandy beaches, with lifeguards on patrol during the summer weekends. There are plenty of picnic tables and grills, so bring your own food and make a day of it.
Hot Tip: You'll need a great travel beach towel to claim a spot to relax on the sandy lakeside beaches.
22. Hike McKinney Falls State Park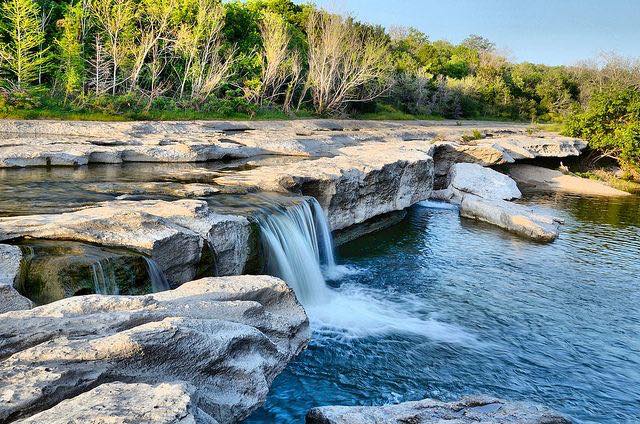 Located just 13 miles south of downtown, McKinney Falls State Park is an adventure playground located right in Austin's backyard. Spend the day hiking or biking almost 9 miles of trails, or for visitors that can't get enough, there are plenty of campsites (81 of them, in fact) to enjoy an overnight stay in the great outdoors. Onion Creek flows through the state park, spilling over rocks to form the upper and lower scenic falls. Designated swimming areas are available along the creek, and visitors can also enjoy bouldering and wildlife watching.
23. Cool Off in Barton Springs at Zilker Park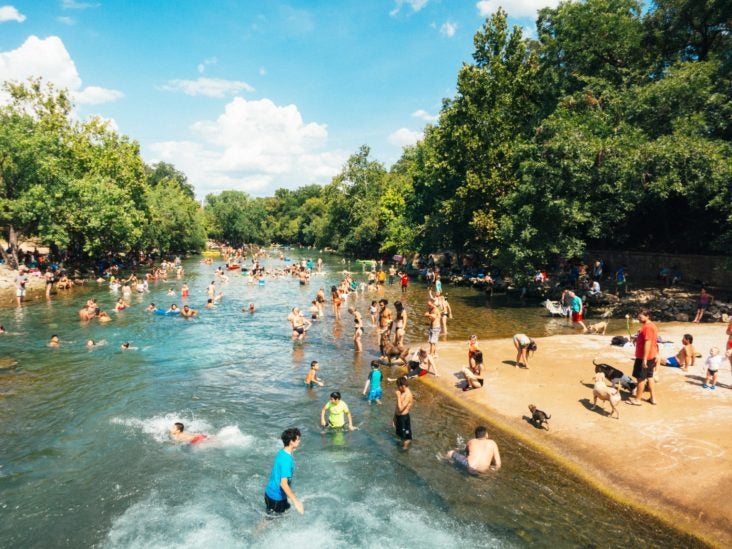 Barton Springs is a 3-acre natural pool fed from underground spring water. Its average temperature of 68 to 70 degrees makes for comfortable swimming conditions year-round, and locals and visitors flock to the pool to splash around in the shallows or swim laps in the deeper water. Located in Zilker Park, visitors can combine swimming in Barton Springs with exploring miles of nature trails or admiring beautiful plants and flowers in the botanical gardens.
Hot Tip: The popular miniature train at Zilker Park is expected to reopen in 2021 as the Zilker Eagle.
24. Kayak on Lady Bird Lake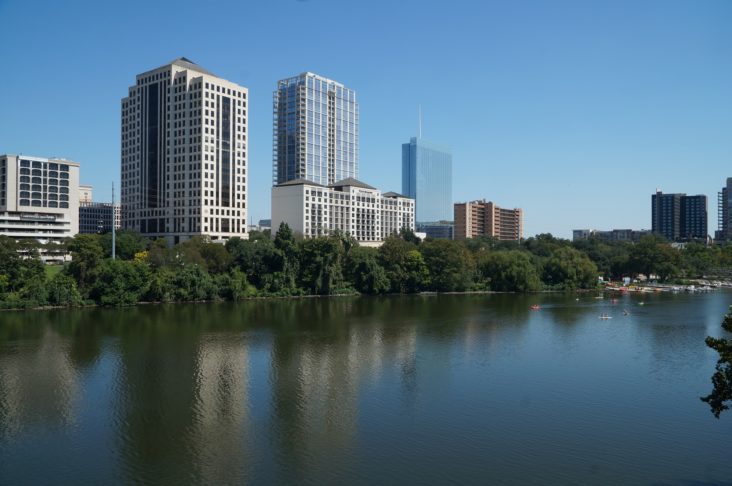 At first glance, Lady Bird Lake appears to be a river running alongside downtown Austin, but it's a section of the Colorado River created by the Longhorn Dam for flood control. With no private motorized boats permitted on the lake, it's a peaceful spot to kayak or paddleboard, with several places available to rent equipment. If you're looking for something a little less strenuous, enjoy a lunch or dinner cruise, or even watch the bats from the water as they leave the Congress Avenue Bridge at sunset.
25. Take a Dip at Hamilton Pool Preserve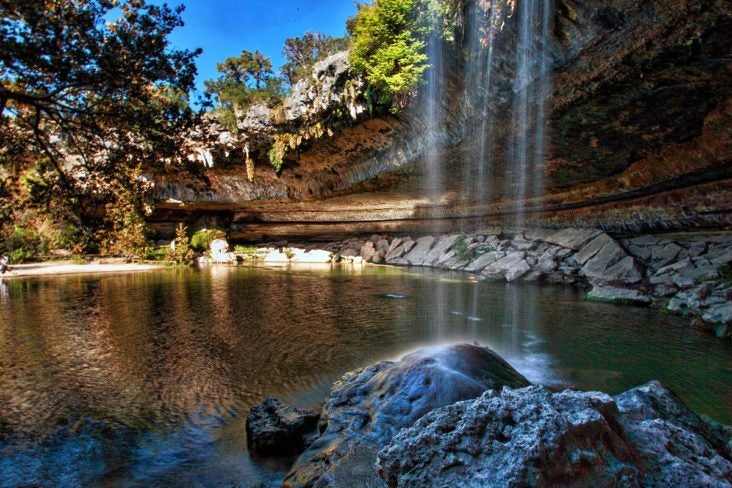 Journey down the quarter-mile trail at Hamilton Pool Preserve and you'll arrive at a magnificent grotto with a 50-foot waterfall. Depending on rainfall, the waterfall may only be a trickle, but the natural swimming pool itself never dries up. Enjoy a dip, or simply sit and look out from beneath the limestone outcrop. Explore the trail along the creek to the Pedernales River and keep a lookout for the abundance of birdlife in the preserve, including the endangered golden-cheeked warbler.
Hot Tip: Enjoy a day trip tour from Austin to explore the Texas Hill Country, visit the famous LBJ Ranch, and experience one of the oldest Texas towns — Luckenbach.
Best Events in Austin
26. See a Star-Studded Line-Up at Austin City Limits Music Festival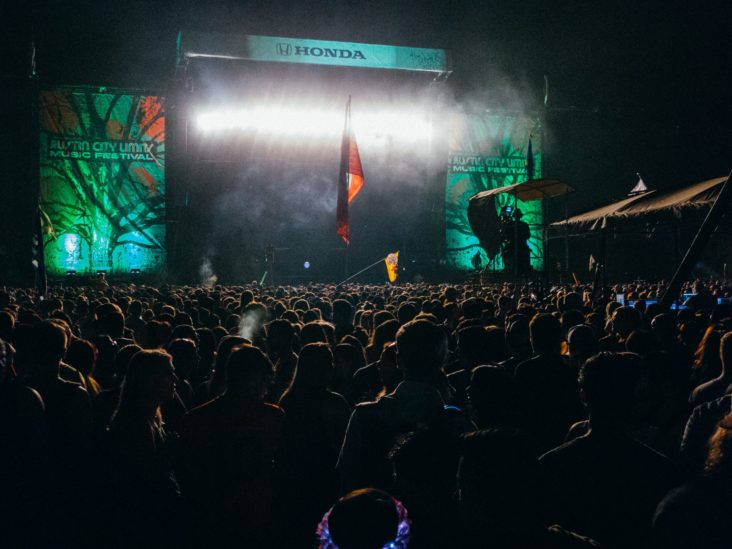 The Austin City Limits Festival was inspired by the long-standing TV show "ACL Live," and its affiliation with the show helped launch the festival back in 2002. Since then, each year has featured a star-studded lineup, including Red Hot Chili Peppers, Metallica, Pearl Jam, and the Rolling Stones. The festival is held in Zilker Park across 2 weekends in October, with performances on 8 stages.
27. Enjoy a Real Western Experience at Rodeo Austin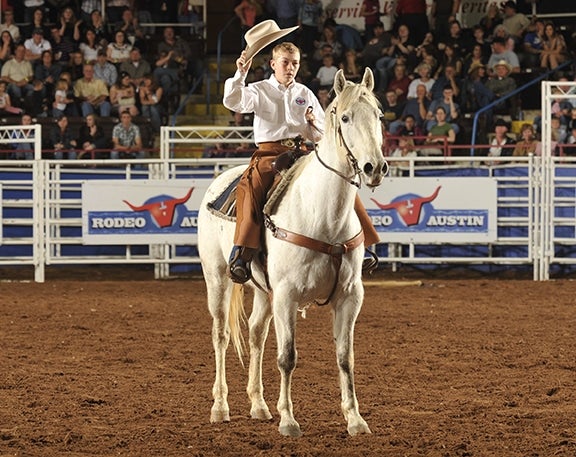 Rodeo Austin started over 80 years ago as a small livestock show featuring 16 animals. It's grown to be one of Austin's premier annual events with rodeo competitions, live music, a huge carnival, livestock shows, and more. The show is a month-long event held in March, with the profits being used for education and experiences for Texas children.
28. Buy Handcrafted Gifts at Pecan Street Festival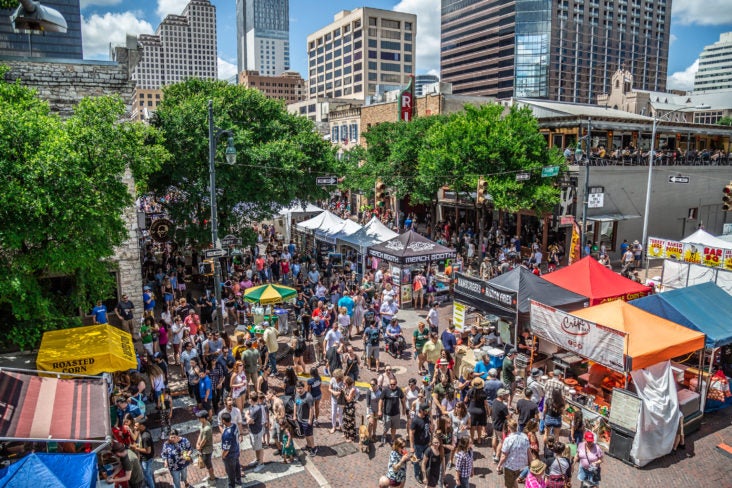 The Pecan Street Festival is a free arts and crafts event held twice yearly in May and September. Hundreds of local and national artisans line historic 6th Street to present their handcrafted works, including jewelry, paintings, glasswork, and much more. There are also excellent food vendors, carnival rides, and a petting zoo perfect for entertaining the kids. Once you've bagged your purchases, head to one of the 3 stages to enjoy a drink and some live music.
Hot Tip: Keep your money safe and accessible to purchase your gifts with a handy money belt. 
29. Watch Colorful Kites Soar at the Zilker Kite Festival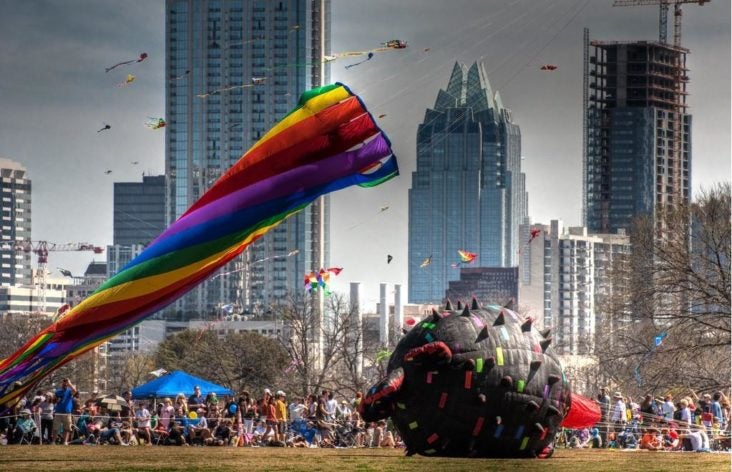 The Zilker Kite Festival is a spring tradition that has taken place in Austin for over 90 years. Thousands of kite enthusiasts gather in Zilker Park every March to proudly fly their handmade colorful kites and to enter contests, including the highest angle kite, steadiest kite, and most unusual kite. Even if you're not that into flying kites, it's a real spectacle to see hundreds flying at the same time, and there are food vendors and other attractions, such as rock wall climbing, face painting, and kite-making workshops.
30. Enjoy Cooking Demonstrations at the Austin Food + Wine Festival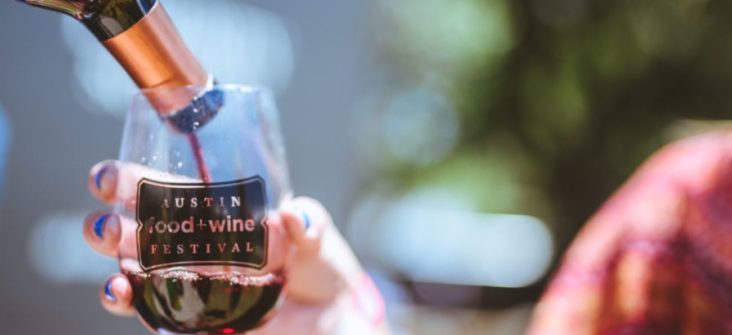 The Austin Food + Wine Festival invites visitors to celebrate the culinary delights of some of central Texas' most recognized chefs. Held over an April weekend, the ticketed event kicks off with the pre-festival "Feast Under the Stars" Thursday night with a meal prepared by a signature chef. Saturday and Sunday, visitors can enjoy cooking demonstrations, tasting sessions, competitions, and live music.
31. Celebrate Film and Music at SXSW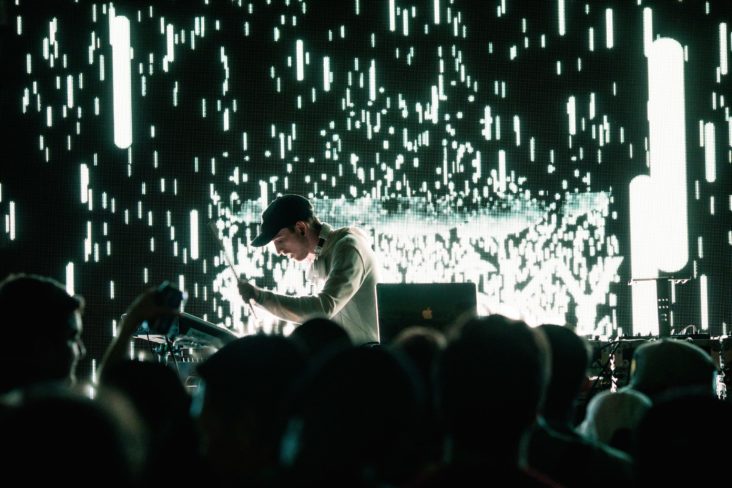 SXSW is a 10-day event that usually takes place in mid-March, focusing on music, film, and interactive media. Film buffs can sign up for workshops and speaker sessions, previously attended by Matthew McConaughey, Danny Boyle, and Amy Schumer, and tech leaders present their thoughts and ideas on the transformation of interactive media. Hundreds of thousands of visitors flock to the Austin Convention Center and venues throughout the city to attend the conferences and concerts that feature music from national and international artists.
Final Thoughts
A long weekend is an ideal time to visit Austin to cover a few museums, state parks, sample delicious BBQ and tacos, and enjoy some live music. If you can visit for longer, you'll be able to slow down the pace to make the most of Austin's outdoor lifestyle, such as spending the afternoon kayaking on Lady Bird Lake or taking a dip at Hamilton Pool Preserve.