The Best Times to Visit New Orleans, Louisiana [by Seasons and Interests]
No city in America is quite like New Orleans. Built by French colonists in 1718 prior to the Louisiana Purchase, the state's coastal capital has been a cultural crossroads for food, music, and language for generations. This is the birthplace of jazz, a major purveyor of Creole cuisine, and ground zero for one of America's biggest celebrations — Mardi Gras.
When it comes right down to it, though, planning your visit to the Big Easy is all about timing. Harsh winters rarely touch the American South, especially New Orleans. However, while most months of the year are calm and pleasant, weather-wise, certain windows can experience extreme rises in crowds and temperatures, causing prices (and your sweat levels) to skyrocket.
In the end, the best time to visit New Orleans depends on what you are looking for, or looking to avoid, in your trip. Here to listen to some jazz? Join the party? Escape the party? Events, weather, and crowds are all important factors when choosing the right month to go. Below, we take a deep dive into the city's seasons, festivals, and more to help you make the best decision.
The Best Time to Visit New Orleans by Season
Spring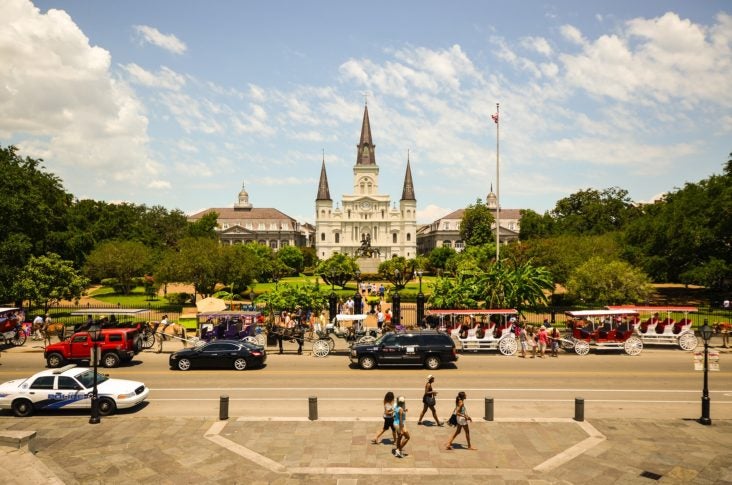 Spring is considered New Orleans' peak season. The weather starts to warm up, some of the city's biggest festivals get underway, the food is fabulous — hello, crawfish season! — and the blooming flowers and emerging wildlife are a serious draw for anyone looking to venture out into the bayou on a swamp tour.
If Fat Tuesday falls late in the year, the beginning of spring can coincide with Mardi Gras, or Carnival — the city's biggest and most raucous party of the year — when tourists from around the country come to see costumed performers take to the streets, catch beads thrown by fellow revelers on ornate parade floats, and attend parties and masquerade balls through the wee hours.
While you might think Mardi Gras is where the springtime celebrations start and end, New Orleans is just getting started. This season welcomes 1 outdoor festival after another, as the fabulous weather keeps tourists out around the clock.
All of this is to say that spring is the most expensive time to visit New Orleans. For some travelers, however, the hype is worth the price.
March
Mardi Gras, the biggest event of the year in New Orleans, occurs 40 days before Easter, meaning it can land as late as early March. When it does, flight and hotel rates skyrocket as tourists clamber for a front-row seat to the action surrounding Bourbon Street and the historic French Quarter, where many of the parades process.
Coming off the months of winter, March tends to be the least-humid month in New Orleans, and also less rainy than other times of the year. Beginning in March and lasting through April and May, trees and flowers begin to bloom and regain their luster in verdant neighborhoods like the Garden District and Audubon Park.
April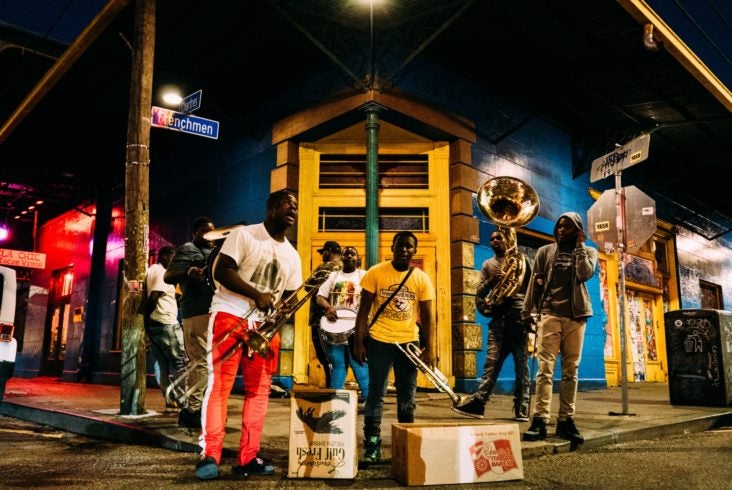 By April and May, the focus finally shifts away from Mardi Gras and onto New Orleans' famous incredible music scene.
The French Quarter Festival that sets up stages around the district in early April for various acts spanning blues, jazz, and zydeco is followed by the New Orleans Jazz & Heritage Festival when musicians of varying talent and background come together in a celebration of music, food, and crafts that lasts through early May.
Temperatures continue to rise into the high 70s, making April a warm and comfortable month to stroll the city's streets and riverfront. That said, April showers are no myth here, so be sure to pack a raincoat and some sturdy, waterproof boots if you don't want a surprise storm to ruin the day.
May
May's blooming orchids and lush, green foliage make plantation and bayou tours incredibly vibrant and colorful.
By now, alligators also start to remerge from hibernation and stick around through October — making swamp tours an especially thrilling experience for taking in the local wildlife. Temperatures reach into the mid-80s, and nights are also warm, averaging in the high 60s.
Summer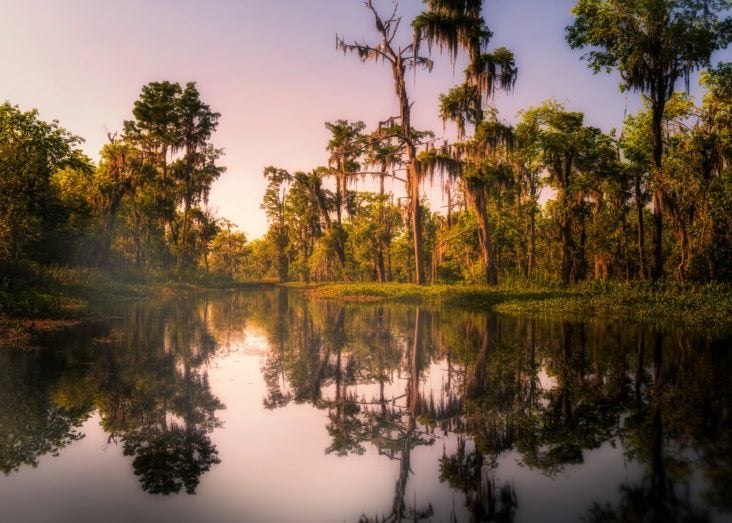 There's no way around it. In the summer, the South gets hot. Heat and humidity are at an all-time high in New Orleans between June and September, particularly in July and August when temperatures consistently hit the 90s. This season is dominated by long, muggy days as well as frequent thunderstorms that send street vendors and tourists scrambling for cover.
If you're looking to save a buck, though, you'll find some incredible discounts during the summer. Many travelers choose to avoid traveling to NOLA this season because of its blazing temperatures, which means crowds are few and far between while hotel and restaurant deals are available and abundant.
Wildlife sightings are abundant during summer swamp tours, though the lingering humidity does attract bugs. If you plan on spending extended time outdoors, it's important to hydrate and drink plenty of water.
June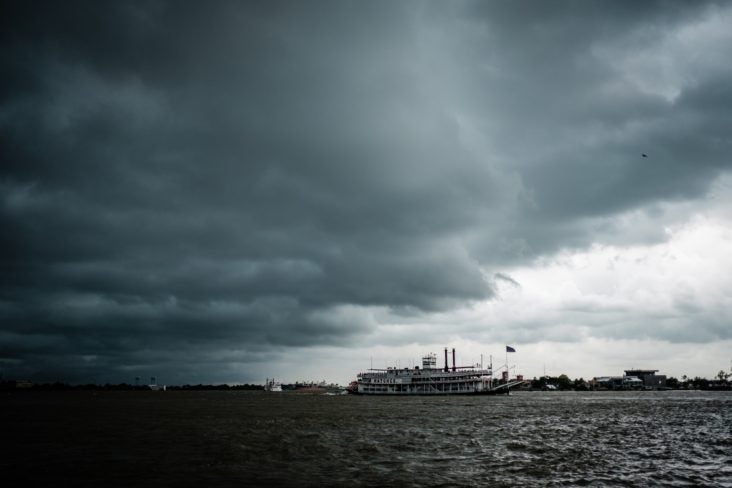 June signals the start of the hurricane season. Both rain and thunderstorms are frequent, making June the wettest month of the year with an average of 8 inches of rainfall. The heat and humidity start to kick in as well, with an average daily temperature of 90 degrees — though the highest temperatures hold off until July.
July
Along with August, July is among the hottest months of the year, with an average daily temperature of 91 degrees and nights that stay balmy at 75 degrees. Rain continues to fall as the hurricane season progresses, but that doesn't stop the city from holding a few key events for locals and travelers less bothered by the heat.
The annual Go 4th on the River fireworks show is always a sight, when 2 barges set off spectacular fireworks displays over the Mississippi River. That same weekend hosts the Essence Music Festival, which has become the largest African-American culture and music event in the U.S.
August
The oppressive heat of July continues in August, and by this time, the humidity is at an all-time high. Daytime temperatures average in the low 90s and don't let up, rarely falling below 75 degrees even at night. Light, cotton clothes and plenty of water are essential for spending time outdoors.
Keep in mind that this is the height of hurricane season, and storms pass through the city on the regular.
Fall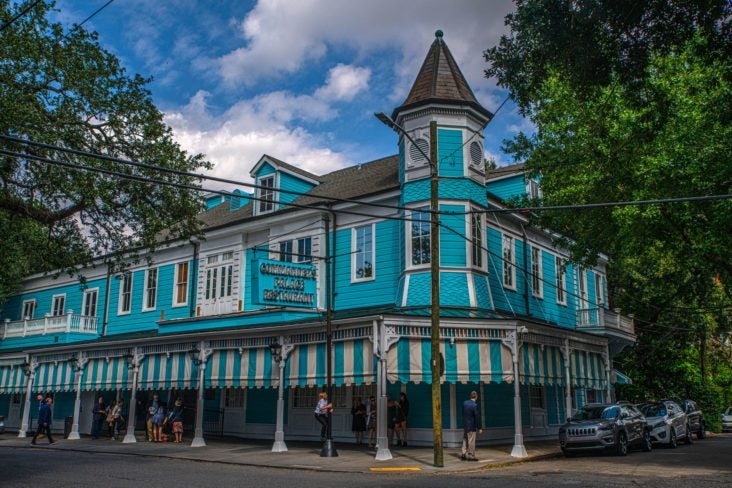 Although September can still experience the tail-end of summer's heat, rainfall drops off considerably, making fall the driest season in New Orleans and a pleasant time to visit. In fact, October and November are considered one of New Orleans' best travel windows in terms of weather and activities.
Because this is considered shoulder season, crowds and hotel rates start to drop as the city's events become less and less frequent. That's not to say nothing is going on.
On the contrary, October is one of fall's busier months thanks to the New Orleans Film Festival, the Voodoo Music and Arts Experience, and, of course, Halloween — a perfect time to break out those costumes or embark on one of NOLA's storied ghost tours.
September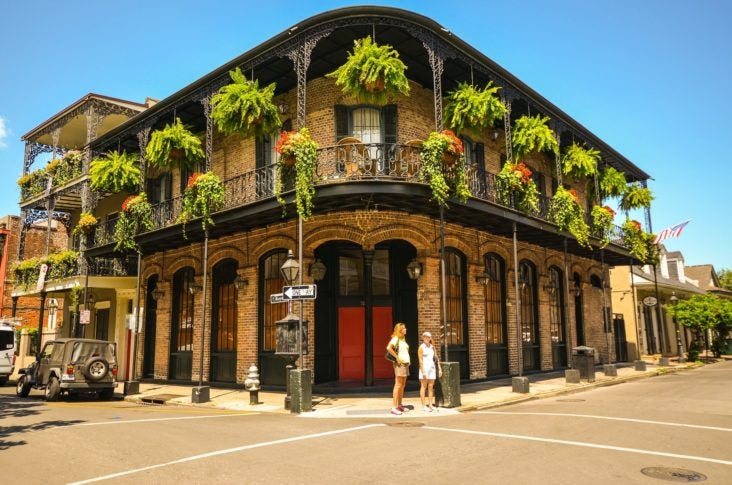 Don't be fooled by fall elsewhere in the country — September feels just like summer in the Big Easy, with an average daily temperature of 88 degrees that rarely dips below the 70s, even at night. Think of September as a slightly milder version of August.
October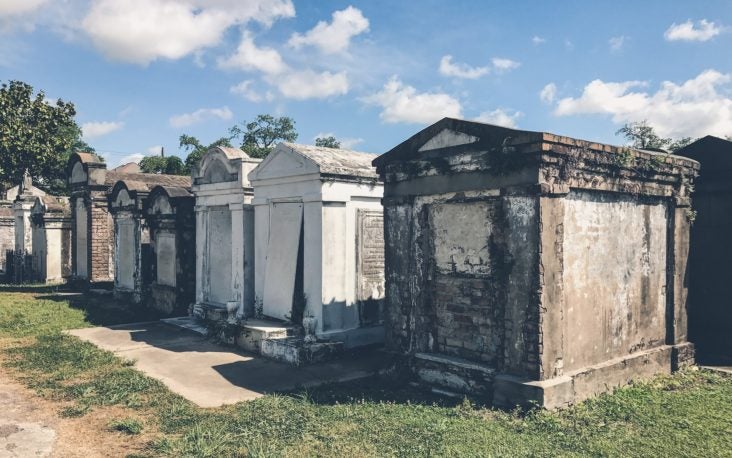 By October, cooler weather and low humidity finally begin to give the city a break. Temperatures begin to fall into the low 80s, and locals start to break out their jackets and jeans. Nights get chillier as temperatures reach the low 60s.
This is still hurricane season, but on average, October is New Orleans' driest month of the year, which might explain why the city jams so many events into its short four weeks.
The celebrations kick off with the Crescent City Blues and BBQ Festival, which sets up in and around Lafayette Square Park with 2 musical stages, an arts market, and dozens of food vendors. Also in mid-October, the New Orleans Film Festival has been nicknamed "the Cannes of the Mississippi" and is considered one of the best in the country.
Finally, there's Halloween. Few places do this spooky holiday better than New Orleans, whose crumbling cemeteries with their above-ground graves and lauded ghost tours have lured tourists for decades. Around the same time, the Voodoo Music + Arts Experience takes over City Park, where past performances have included Metallica and the Red Hot Chili Peppers.
November
The end of hurricane season sees days get even brisker, with an average daily temperature of 72 degrees that drops into the mid-50s after sunset. Long pants and long sleeves are now the recommended wardrobe, and you might even want a pair of gloves as you take your Sazerac — New Orleans' signature drink — outside.
After the big-ticket events of October, November is a relatively quiet month as the city recovers from Halloween and begins to prepare for the holidays. On Thanksgiving Day, Celebration in the Oaks — one of the city's most spectacular displays — debuts in City Park, when tens of thousands of holiday lights take over its massive oak trees.
Winter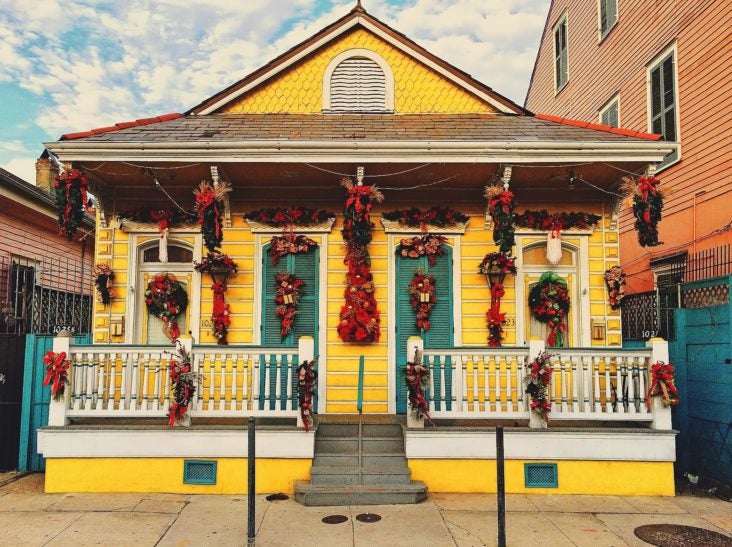 Many travelers consider winter to be the best time of year to visit New Orleans.
The weather, although more unpredictable than other seasons, can be surprisingly pleasant. Daily temperatures have cooled off considerably from summer's blazing heat and can fluctuate between requiring a heavy coat or just a light jacket. Holiday decorations begin to take over the city, too — an attraction many look forward to each year.
Despite this, winter remains an unpopular and therefore affordable time to visit New Orleans — rain is frequent and, if temperatures are cold enough, can change into sleet without warning — which means crowds are virtually nonexistent, keeping prices for flights, hotels, restaurants, and activities at an all-time low.
Although alligators hibernate until March, swamp tours are still a popular pastime and, while certainly chillier than other times of the year, benefit from 3 winter conditions — no mosquitos, bare trees (which allows you to see better and deeper into the swamp), and seasonal wildlife sightings including deer, otters, and migrating birds.
The 1 exception to the affordability rule, of course, is when Mardi Gras falls early in the year. When that happens, the end of winter becomes the busiest and most expensive time to visit the city.
December
The holiday spirit takes over the streets, and one of the most magical (not to mention unusual) events in New Orleans —Bonfires on the Levee — takes place on Christmas Eve, when gigantic log pyramids are set aflame along the Mississippi River.
Packing can be tricky this month, Some days call for a heavy winter coat and gloves while others can be downright warm — we're talking 80 degrees warm. On average, though, expect to see temperatures around the mid-60s and lows in the mid to high 40s.
January
Mardi Gras may still be at least a month away, but in this town, the celebrations start early — almost immediately after the New Year.
January 6 is Three Kings Day, the official start of the Mardi Gras season, and from then until Ash Wednesday, New Orleans exponentially ramps up the festivities with costume parties, balls, and parades. The energy (and hotel rates) pick up in preparation for the main event.
January might be the coldest month of the year, though "cold" in the American South is a relative term. Temperatures during this month average in the low 60s, though nights can be downright freezing in the mid to high teens.
February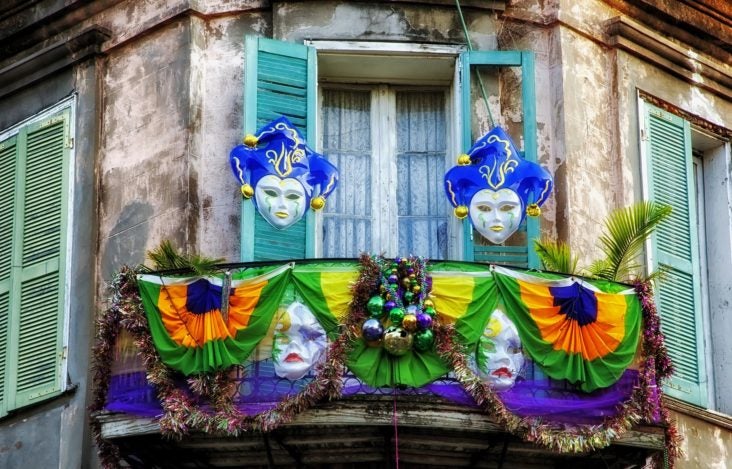 New Orleans is in all-out party mode by February, as Fat Tuesday draws ever closer. This is the month of Mardi Gras, or Carnival, when tourists from around the world come to see costumed performers (and don costumes of their own), attend formal masquerade balls, and watch as massive parade processions shut down large sections of the French Quarter and the Marigny.
The narrow streets of New Orleans' most historic neighborhoods, where much of the celebrations take place, mean crowds can be almost insufferable this time of year, but many consider Mardi Gras in New Orleans, like New Year's Eve in New York's Times Square, to be an experience worth checking off that bucket list.
Mardi Gras can land as early as mid-February or as late as early March, meaning the festivities often last all month long. Just make sure you pack appropriately, especially if you plan to stay out late. Just slightly warmer than January, daytime temperatures in February hover in the mid-60s while nights dip into the shiver-inducing teens.
Bottom Line: The best time to travel to New Orleans is typically between October and April. Off-season rates and lower rainfall make fall a beautiful time to visit, while winter and spring festivities keep the energy high. Generally, travelers tend to avoid the city in the summer and early fall due to high temperatures and humidity, which can make long days outside uncomfortable.
The Best Time to Visit New Orleans by Interest
The Best Time to Visit New Orleans During Mardi Gras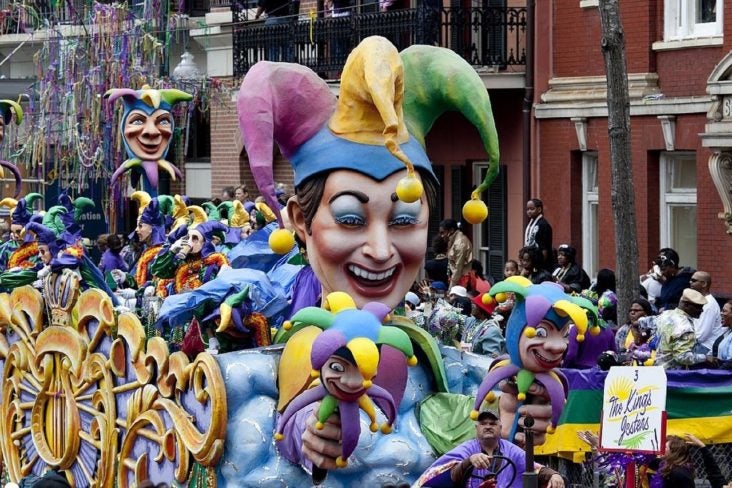 Here's a fun fact: Louisiana is the only U.S. state that has made Mardi Gras an official legal holiday. Also known as Fat Tuesday, it's a day of celebration and indulgence before Ash Wednesday, the official start of Lent, and can land as early as the first week of February or as late as early March.
Over the years, Mardi Gras has become New Orleans' biggest celebration of the year and has taken on a life of its own in the form of raucous street parades, eye-popping masquerade balls, and all-around revelry.
For the true experience, most previous attendees arrive the weekend before Mardi Gras and stay through the week. However, the closer it gets to the holiday, the pricier rates become. In the week leading up to the big event, be prepared for hotels to require bookings of 3 or 4 nights minimum and book out up to a year in advance.
Unfortunately, flights will always be expensive in order to take advantage of the popular travel time.
Although the excitement comes to a head on the day of and in the week leading up to Fat Tuesday, festivities are known to begin in NOLA as early as January. If you don't care about being there on the actual day, considering flying in a few weeks before when lower-key events can still be enjoyed alongside a fraction of the usual crowd.
The Best Time to Visit New Orleans for Weather
New Orleans during July and August is notoriously hot, humid, and rainy, making summer one of the worst times to visit the city in terms of weather — not to mention hurricane season lasts from June through the fall. Other than that, though, the weather in NOLA is relatively pleasant throughout the spring, fall, and even during winter.
Spring spells warm temperatures, low humidity, fresh blooms, and emerging wildlife. Fall is equally mild. Though storms have been known to pass through, October and November experience the driest conditions all year. Fall also sees fewer crowds than spring and much lower rates across flights and hotels.
For the best weather without the crowds or high prices, time your visit for late March through April or between October and November.
The Best Time to Visit New Orleans Without Crowds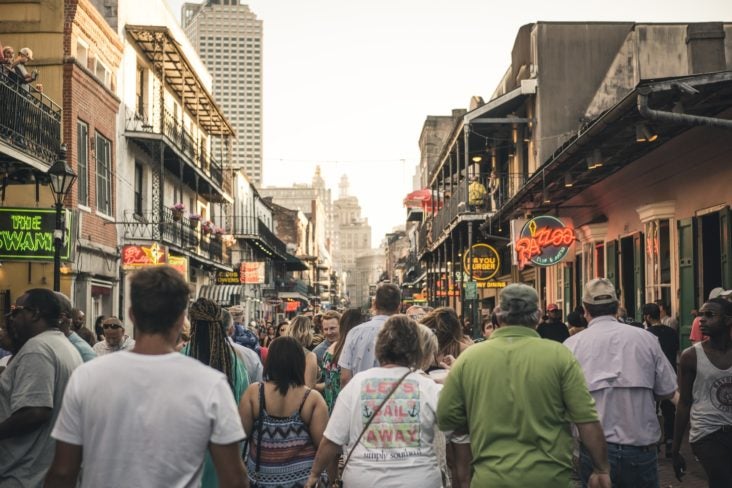 Without a doubt the busiest and consequently most expensive time to pay a visit to the Crescent City is during its big-ticket festivals and events.
If you're looking to stay away from the mobs, steer clear of spring — specifically the weeks leading up to and during Mardi Gras and Jazz Fest, which draw thousands of tourists every year and see hotel rooms and restaurant reservations increasingly difficult to come by.
Instead, the least crowded times to visit New Orleans are during summer and winter, which hold fewer events due to their harsh or, in winter's case, unpredictable weather and see far more affordable hotel and flight rates.
The Best Time to Visit New Orleans for Seafood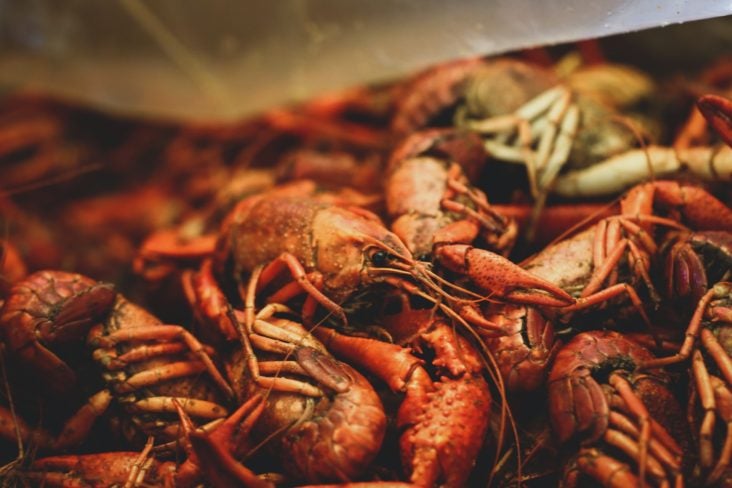 New Orleans wouldn't be New Orleans without its food, especially its seafood. Being on the Gulf of Mexico will do that. Luckily, you don't have to limit yourself with specific travel dates in order to enjoy what this culinary capital has to offer. That said, some seasons feature fresher ingredients than others, while big-ticket food festivals are worth planning a whole trip around just to attend.
The best season to try Louisiana shrimp, which make their way into must-try dishes like shrimp po' boys and shrimp remoulade, is in January and between April and November.
Oysters and crab, specifically blue crab, are mostly available year-round, though oyster peak season falls between October and April.
As far as southern food goes, it might not get more traditional than crawfish, which can be boiled or made into an étouffée (shellfish smothered in sauce and poured over rice). You can enjoy these bite-size crustaceans anytime outside July through October.
As for festivals, here are some of the biggest food events to keep on your radar:
The Cheapest Time to Visit New Orleans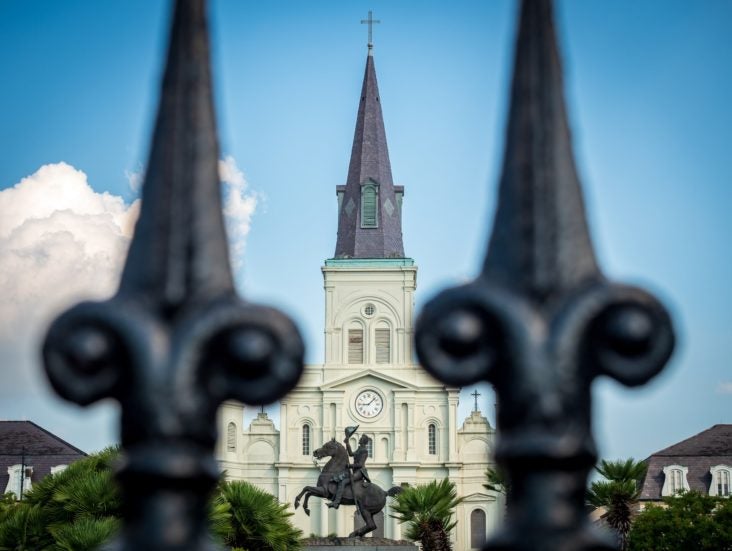 It may seem like a no-brainer, but the cheapest time to visit New Orleans is during its least-crowded months, when flights, restaurants, and hotels see the lowest amount of bookings. If you can suffer through the heat and humidity, summer is the best window to experience New Orleans on a budget.
While you can find affordability as soon as late June and into early September, July and August are by far the cheapest months to fly to and stay in NOLA. Even the city's priciest luxury hotels slash their rates to cushion their lower occupancy. Keep a lookout for special deals, too, at some of the city's landmark restaurants.
Rates during this time are low for a reason. Many travelers can't, or don't want to, endure the city's oppressive heat and humidity, which can reach into the 90s with a stifling humidity level of 100 percent.
Final Thoughts
Whether your taste buds are in need of a hearty bowl of gumbo or sugar-coated beignets, your ears are craving some jazz or blues, or your inner history buff is itching to explore the cobbled streets and colorful townhouses of the picturesque French Quarter, New Orleans is a feast for the senses.
Southern temperatures remain warm and pleasant for most of the year. Still, even the heat of summer can't dissuade some travelers from coming out to enjoy strolls along the Mississippi waterfront or cramming into NOLA's award-winning restaurants and storied music clubs.
Whatever season you choose to visit the Big Easy, don't try to fit it all in on one visit. It takes multiple trips to do this fascinating, culturally rich, unique city justice.