How to Cancel a Marriott Hotel Reservation [Points or Cash Booking]
Sometimes things happen that are outside of your control and you are forced to cancel that vacation that you were very much looking forward to. Unfortunately, your sadness of having to cancel the trip can quickly turn into frustration when dealing with a hotel cancellation policy.
If you made your hotel booking with Marriott and need to cancel, you're in the right place! Here's all the information you need to navigate its cancellation policy.
Marriott Cancellation Policy
Cancellation Policies Due to COVID-19
In response to the COVID-19 pandemic, Marriott has modified its change and cancellation policies.
For reservations made before July 6, 2020, the policies that were in place at the time of the reservation will be honored.
Reservations made after July 6, 2020, for arrival dates through May 31, 2021, can be changed or canceled without penalty up to 24 hours before the arrival date.
For any reservations for travel on or after June 1, 2021, the hotel's individual cancellation policy will apply.
View the full policy here. If you booked via a third party, refer to your booking provider for its policies.
With cancellation policies due to COVID-19 being ever-changing, for the most up-to-date policies across all hotels, please refer to our COVID-19 Hotel Cancellations article.
Reservations Made With Cash
Marriott will often require your booking to be canceled 48 to 72 hours (2-3 days) in advance before your check-in. However, this can depend greatly depending on the hotel, and what type of rate you have booked.
For example, some rates are fully refundable as long as you cancel at least 1 day before checking in, whereas other rates require full prepayment and can not be canceled without paying a fee.
Unfortunately, unlike airline policies, there are no hard and fast rules with most hotel bookings. So determining what cancellation fee applies to you will depend on what type of rate you book.
This is why paying special attention to the rate details is extremely important when booking!
The Cancellation Policy for the Rate
At this point, you're likely wondering, "There are usually dozens of rates to choose from during a hotel booking. How do I know what the cancellation fees for each rate are?"
Fortunately, Marriott makes it pretty easy to see what the cancellation policy is for each rate they offer, and that is by clicking on Rate Details on the specific rate that you're interested in.

In the example above, you see 2 separate rates for the same room at the W Lakeshore Chicago. Underneath Member Rate and Regular Rate, you will see the bright red Rate Details. This is what you should click to view the cancellation policy of each rate.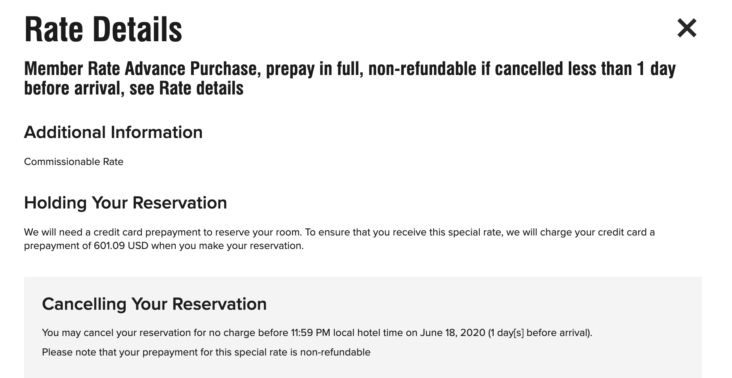 Take a look at the rate details page in the above image. For this member advance purchase rate, you're required to prepay $601.09 to secure the reservation.
Should you need to cancel, you can do so and be refunded for the rest of your stay, as long as the cancellation takes place at least 1 day before your arrival. Seems reasonable right?
But that $601.09 is actually the full price of the stay — not a 1-night deposit or anything of the sort. Also, note the final line that states: "…your prepayment for this special rate is non-refundable." This means that, though they sort of make it seems like the reservation is refundable, your prepayment, which is the full cost of the stay, is not refundable.
So, actually, the rate is not refundable at all. This is why it is very important to check the rate details before booking!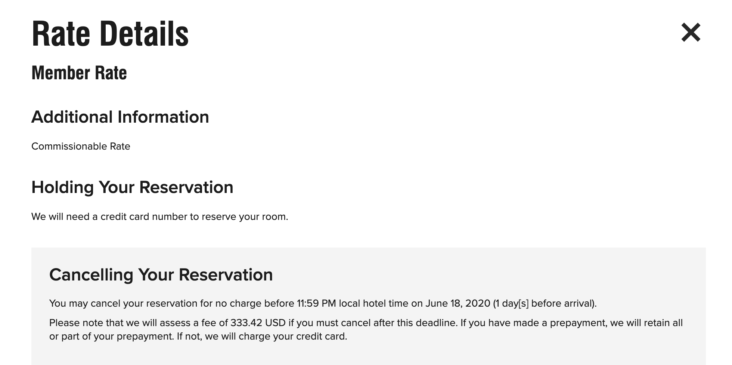 In the next example, you'll notice that the "standard member rate" booking does not require prepayment, and you can cancel your reservation for no charge as long as you do so at least 1 day before arrival. If you happen to miss the 1-day deadline, you can still cancel but will be charged a fee of $333.42 — which is equivalent to a 1-night stay.
In this case, why would anyone ever select the rate that requires a full prepayment over an option that offers much more flexibility? It all comes down to the price of the night/stay.
In the first example, the nightly price (including taxes and fees) for the full prepayment rate was $300. The standard rate that allowed for much more flexibility was $333 per night. This might not seem like a significant difference, but that extra amount can add up quickly on a 3- or 4-night stay.
Like most rates in the travel industry, the trade-off for greater flexibility requires paying a higher price for the stay.
Bottom Line: Now you see why viewing the rate details before booking is very important. If you simply choose the cheapest rate available, you might end up needing to pay for the stay in full should you end up needing to cancel. 
Reservations Made With Points
If you've made your booking with points, the cancellation policies should closely mirror the standard rate cash policy.
This means you should be able to cancel up to a certain time frame from check-in without being charged a fee. If you do cancel past this time frame, then you will be charged a fee usually equal to the point cost of a 1-night stay.
Hot Tip: There are some properties in the Marriott Bonvoy portfolio that charge a cash fee for cancellations on award stays instead of points. Always make sure you check the cancellation policy for the rate you book. When it doubt, it is best to just call the hotel in question and ask!  
How to Cancel a Marriott Reservation
Marriott makes it pretty easy to cancel your reservation on their website. Just follow these steps:
Step 1
Sign in to your Marriott Bonvoy account and click on My Trips to locate your reservation.

Step 2
Next, select the reservation that you to cancel. Once you do you'll notice 2 buttons that say View/Modify and Cancel.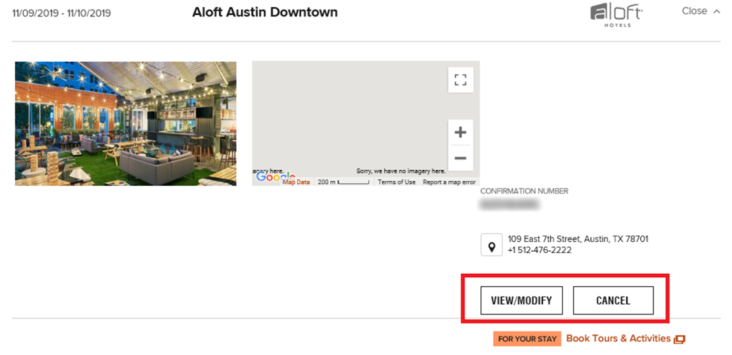 Step 3 
After that, simply click Yes to confirm your cancellation, and your reservation will be officially canceled.
Changing the Reservation Dates
If you just need to change the dates of your booking, follow the exact same steps above, except you'll need to click View/Modify instead of Cancel.
On the next page, you can make changes to the dates of your reservation (assuming there is availability for your new dates), then click Update.
Keep in mind that you will need to pay the difference if your new dates are more expensive than the ones you have currently booked.
Final Thoughts
No one likes to deal with canceling their trip, but it can be a necessary evil at times. Fortunately, if you prepare beforehand, you can make the experience substantially easier on yourself.
This is why you should review the rate details closely before completing your booking, as booking certain rates could end up costing you a lot of money should you need to cancel.
If you know for certain during booking that there is a possibility that you may need to cancel, we recommend paying a little extra to make sure your reservation flexible — the peace of mind is definitely worth it!