T-Mobile International Phone Plans – Countries, Coverage, Rates, and More
Having an international data plan can make international travel a lot easier. You have instant access to maps and can keep in touch with your travel companions without worrying about purchasing a new SIM in each country.
For years there's been 1 big issue with international data plans: the cost. Plans were expensive and had low data limits with limited coverage. Depending on your itinerary, this could have added a huge extra expense even though it may not have worked for the entirety of your travels.
Thankfully, though, that's no longer the case.
For the past few years, T-Mobile has offered most of its post-paid customers free international data and texting in over 210 countries worldwide. And while this has a few quirks, its price-point and list of supported countries make it one of the best mobile data options for most travelers.
In this article we'll walk you through all of the quirks and features of T-Mobile's international data plans. We'll take a look at the different plans available, discuss what features each plan includes, and show you which countries are supported.
By the end of the article, you should have an understanding of if T-Mobile's international data plans are right for you.
Let's get started!
Breaking Down T-Mobile's Free International Data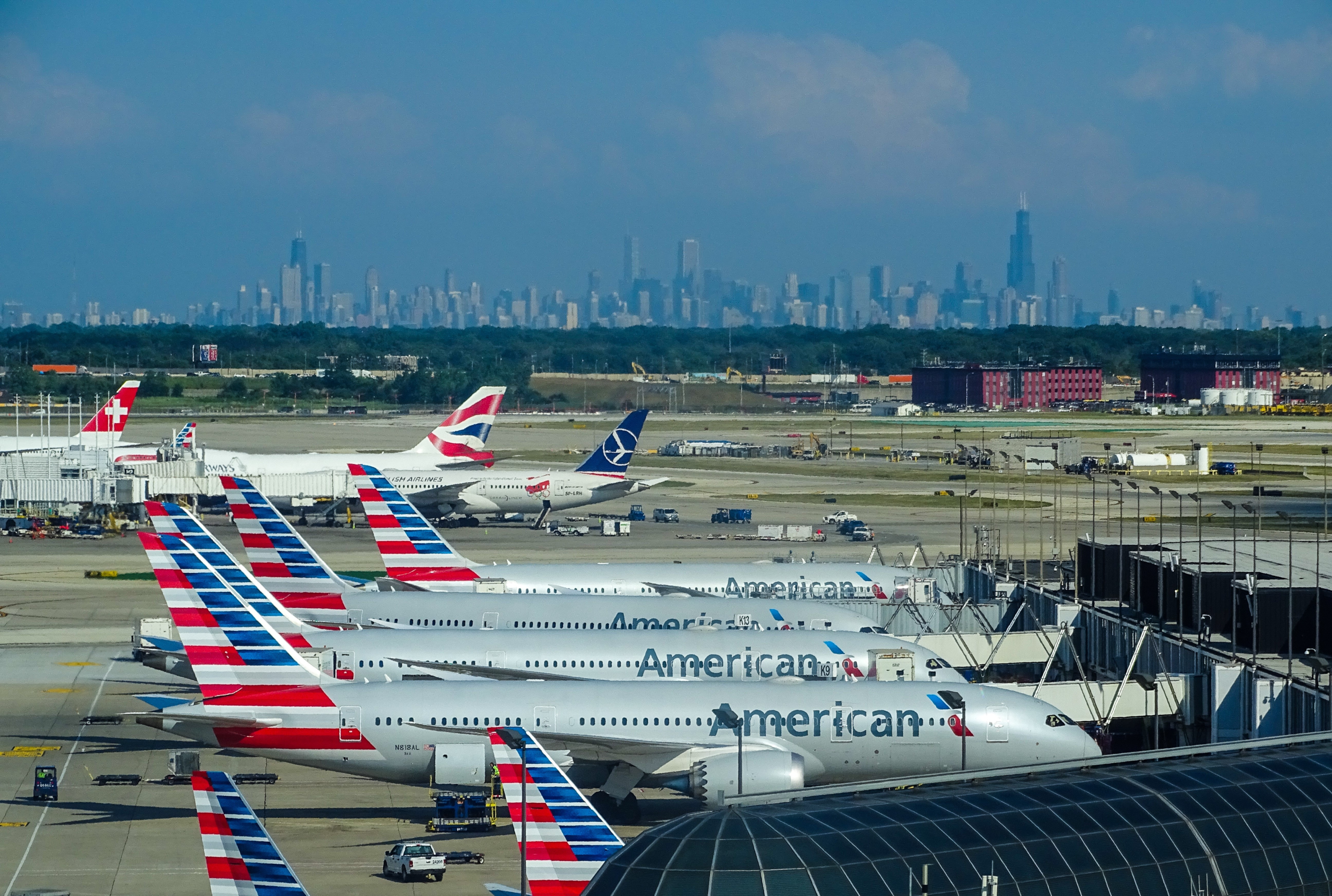 As discussed earlier, T-Mobile includes free international data and text with 2 of its 3 smartphone plans: Magenta® and Magenta® Plus.
This sounds great on paper (because it is!), but there's 1 major quirk to be aware of: your data is limited to 2G speeds at roughly 128 Kbps on the Magenta plan and 256 Kbps on the Magenta® Plus plan.
This isn't quite as bad as it sounds, though. Even though data is slow, it's more than enough for using Google Maps and sending texts through WhatsApp and iMessage. However, you won't be able to stream video, post photos, or otherwise use the internet without some serious loading time. In many cases, we've seen web pages actually time out and not load at all.
The good news is that there's no data cap when you're roaming. This means you can use as much data (and send as many texts) as you'd like, and you'll never have to worry about an exorbitant bill at the end of a long trip abroad. However, the amount of data you'll actually be able to use will be limited due to the plan's exceptionally low speed.
Do note that travel to Canada and Mexico is not limited to these low speeds. Magenta® and Magenta® Plus plans get 5 GB of complimentary 4G LTE per month in the 2 countries, then revert to the slower speeds we discussed earlier. This means you'll have a largely seamless experience when traveling within North America, something invaluable for business travelers and tourists alike.
While texting and mobile data are included, note that calling is still subject to an extra charge. We've found that most countries charge $0.20 to $0.25 per minute, with others charging slightly more. We'll include calling costs in the supported countries table later in the article.
Buy a T-Mobile Data Pass for Faster Speeds
Need something faster than 2G data abroad? Thankfully, T-Mobile offers a variety of international data packages that let you use full 4G LTE speeds when traveling to any supported country worldwide. There are 3 of these plans currently offered and each comes with a different data limit and — naturally – price point.
Each of these plans has 1 thing in common: data packages aren't restricted to 1 specific country. If you're planning a trip around Europe, you can use the same high-speed data package throughout the entirety of your journey. You don't need to worry about notifying T-Mobile or dropping extra money when crossing another border.
Additionally, each of the 3 plans includes Smartphone Mobile Hotspot at no extra charge. This means that multiple people can share 1 international data pass over Wi-Fi from the subscribed device, making it perfect for families and couples traveling together.
Here's a look at each of the 3 high-speed data packages:
512 MB International Day Pass
The 512 MB International Day Pass costs $5 per day and includes — as the name suggests — 512 MB of high-speed international data for 1 day.
This plan also includes unlimited calling for the day, making it perfect for keeping in touch with friends, family, and business partners back home.
5 GB International Pass
The 5 GB International Pass includes 5 GB of data and unlimited calling for up to 10 days. This plan costs $35 per 10 day period, making it a great option for week-long trips around the world.
15 GB International Pass
T-Mobile's highest international data pass is the 15 GB International Plan. This plan costs $50 and lasts 30 days, giving you a whopping 15 GB of data and unlimited calling to work with.
Which T-Mobile Data Package is Right for You?
With so many data packages available, it might seem hard to pick 1 for your trip. Here's a quick look at why you may pick 1 plan over another.
Stick with complimentary 2G data if you…
Only want to use maps, instant messaging, and email.
Don't need to download email attachments or other large files.
Plan on being in a big city and close Wi-Fi hotspots during your travels.
Don't want to use your phone too much during your trip.
Want to save money at the expense of better connectivity.
Can use FaceTime Audio, Skype, or WhatsApp for calling.
Buy a 512 MB International Day Pass if you…
Need to do light web browsing for restaurant recommendations, etc.
Plan on sending a few picture and video messages on a daily basis.
Are taking a short trip abroad.
Need to make phone calls back to the U.S.
Buy a 5 GB International Pass if you…
Are traveling for 7-10 days.
Want to stream music and light video for entertainment.
Need to browse the internet more heavily for business or leisure (during long train rides, etc.).
Make phone calls back to the U.S.
Buy a 15 GB International Pass if you…
Are traveling for more than 10 days.
Plan on tethering your phone to your tablet or laptop to your phone to share its internet connection.
Plan to be away from free Wi-Fi hotspots (countryside travel, etc.).
Do data-intensive work and need to send files when working remotely.
Make phone calls back to the U.S.
Bottom Line: Think about how you use your phone when you travel. The less you use it, the lesser of a data package you need.
How to Sign up for an International Data Package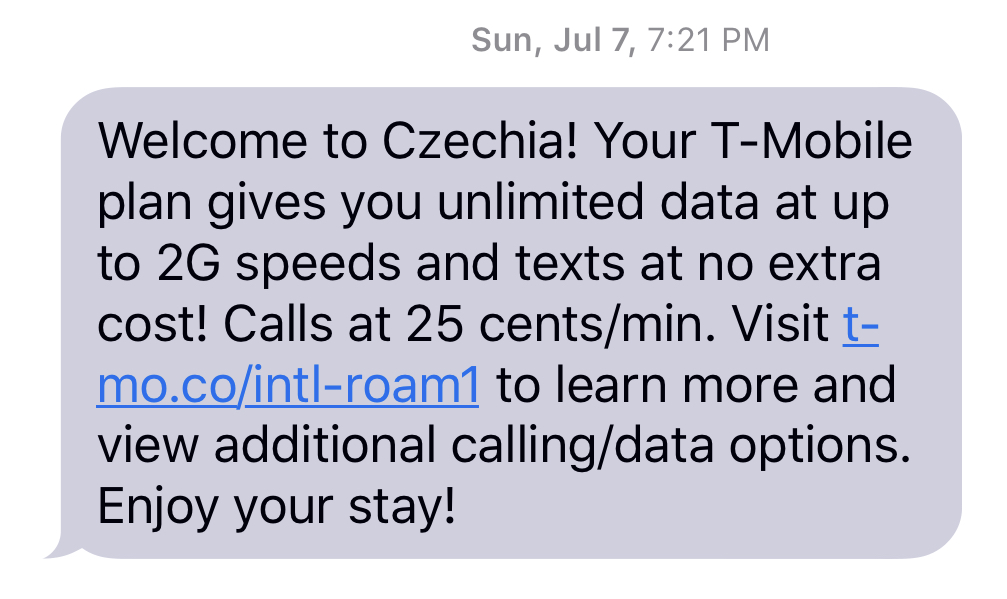 Free international roaming at 2G speeds is automatically enabled. When you land in a new country, you'll get a text message confirming that you're in a supported country and that you're not liable for charges (see example above).
Signing up for an international data package is simple, too. The plans don't require any type of contract or other commitment, and you can sign up for a plan whenever you want through the T-Mobile app or website. Here's how to add a data package through the T-Mobile app:
Log in to the T-Mobile app on your smartphone.
Tap Account and then tap  "Add Ons" next to the Primary Account Holder's field.
Tap Manage Data & Add-ons.
Tap the checkbox next to the pass you'd like to add to your account.
Tap Continue and then tap Change Date if you'd like to choose a start date for your pass. If you don't select a date, the pass will start immediately.
Click Agree & Submit to load the plan to your account.
That's all there is to it. Your international data package will start on the date you set, and you can enjoy high-speed international data wherever you are in the world.
T-Mobile's Supported Countries (Free and Paid)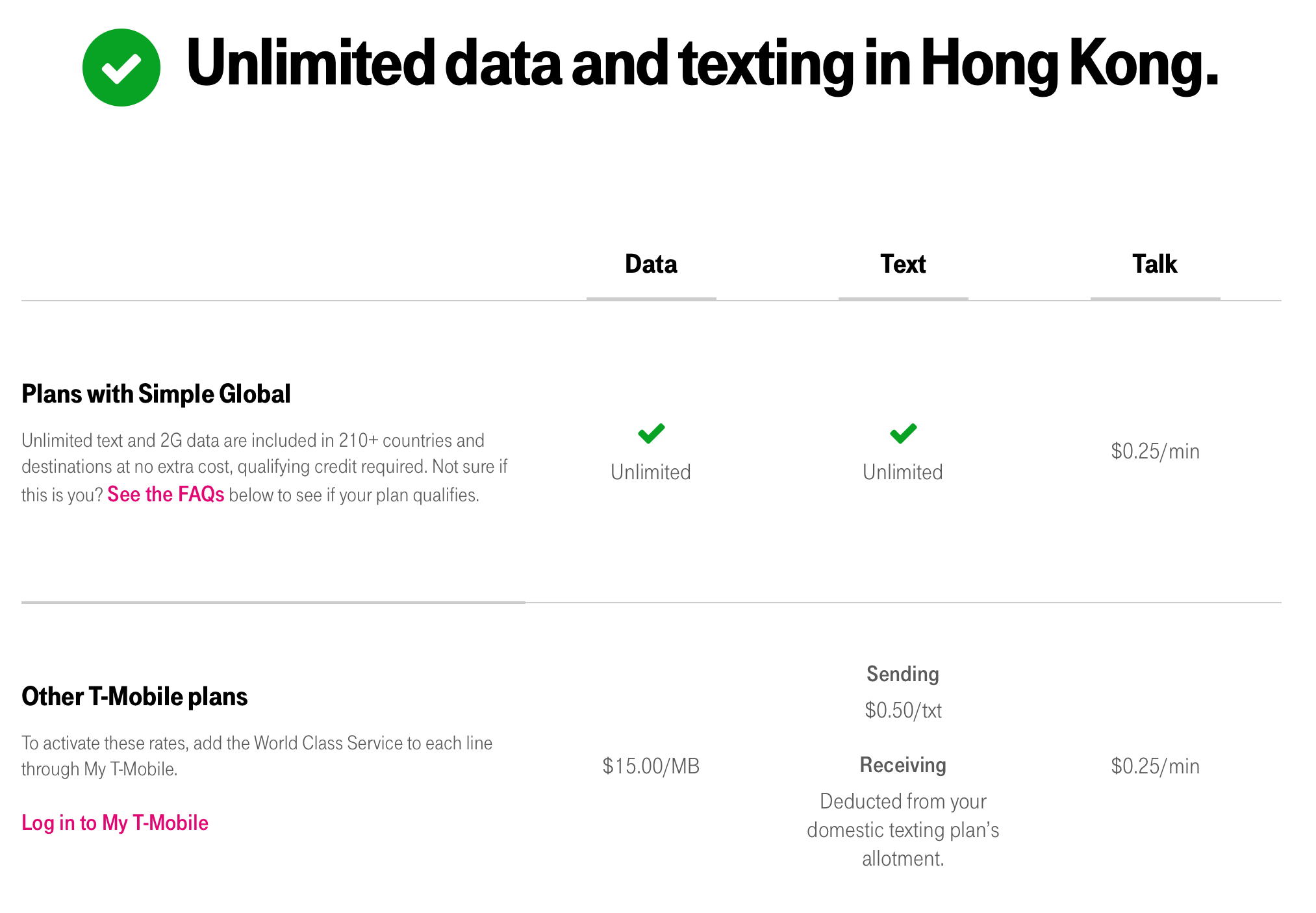 T-Mobile offers mobile data roaming in 210+ countries worldwide. You can view the entire list of countries on T-Mobile's international travel website — just type in the name of the country you plan to visit , see if mobile data and texting are supported, and check the price of pay-as-you-go calls.
Note that most tourist-heavy countries are supported — in fact, we've found it hard to find countries that aren't supported by T-Mobile's international data plans. However, we recommend checking before your trip regardless so you're not met with any surprise mobile data charges.
Pros and Cons of T-Mobile's International Data Plans
As you can see, T-Mobile offers pretty compelling mobile data plans. Before you make a purchasing decision, it's important to take a look at the pros and cons of T-Mobile's international plans in 1 place. So without further ado, here they are:
Pros of T-Mobile's International Data Plans:
Complimentary mobile data (at 2G speeds) and text messaging, great for maps and instant messaging.
Low-cost LTE plans with a variety of data options — there's truly a plan for everyone.
LTE plans all include unlimited international calling.
Expansive coverage in 210+ countries, so you can stay connected when you travel.
Cons of T-Mobile's International Data Plans:
Complimentary data is too slow for most online activities like web browsing and streaming.
International calling is expensive without a premium data plan.
T-Mobile has a spotty coverage map in the United States.
Final Thoughts
Overall, we think that T-Mobile's international data offerings are stellar because of its diverse variety of international data plans. Those that just need maps and texting can stick to the free base plan, while business travelers and others that need faster data and mobile hotspot can upgrade to a data package.
Further, we're also huge fans of the peace of mind you get with T-Mobile's international plans. Since all Magenta® and Magenta® Plus customers get complimentary data, there's no worrying about overage charges if you run out of high-speed data. Just make sure to keep an eye on your calling as unlimited calling is only included if you purchase a data package.
Safe travels!