How to Find the 150k (Or Even 130k + 1 Free Night) Welcome Bonus Offer for the Hilton Surpass Card [2021]
The Hilton Honors American Express Surpass® Card is one of the best hotel credit cards you can get for mid-tier elite status in the world. Whether you pledge loyalty to Hilton or just want the best perks for the lowest cost regardless of brand name, this card offers you perks that you cannot sleep on.
As always, you'll want to be as strategic as possible when applying for cards. One of the biggest considerations that you'll want to take into account when applying for a certain card is its welcome bonus.
Contrary to popular belief, a welcome bonus fluctuates extremely often. It even fluctuates as a function of the avenue through which you apply. It's just like buying your favorite electronics — you'll probably get a different price at Best Buy, depending on when you shop. You might also get a different price for the same product when shopping on Amazon, for example.
The most basic tenet is that you want to get the biggest bonus you can, so let's dive into how you can find better offers on the Hilton Surpass card.
Benefits of the Amex Hilton Surpass Card
As we mentioned above, the benefits of the Hilton Surpass are some of the most underrated of all the hotel cards. The Hilton Surpass card offers the best mid-tier hotel status for the lowest price, which is one reason it's one of the best choices for Hilton loyalists. Also, the Hilton Surpass card rewards you heavily for larger spending, which we'll get into later.
CREDIT CARD
CARD INFO
Hilton Honors American Express Surpass® Card


Apply Now

(at Amex's secure site)

Earn 130,000 Hilton Honors Bonus Points after you spend $2,000 in purchases within your first 3 months of Card Membership.
Plus, earn a free weekend night after you spend $15,000 on purchases on your card in a calendar year.
12X on qualifying purchases with hotels from the Hilton portfolio.
Earn 6X Hilton Honors Bonus Points for each dollar of eligible purchases on your Card at U.S. restaurants, U.S. supermarkets, and U.S. gas stations.
Terms Apply
Annual Fee: $95
For rates and fees of the Amex Hilton Surpass Card, please click here.
Other Key Benefits
Complimentary Hilton Honors Gold status, which gets you free breakfast for up to 2 guests per room — plus, you'll get your fifth night free for award bookings and access to preferred room upgrades (suites excluded)
No foreign transaction fees
10 free Priority Pass Select visits every cardmember year
Car Rental Loss and Damage Insurance, which provides secondary coverage
Global Assist Hotline
Complimentary ShopRunner membership, which gets you complimentary 2-day shipping at many online retailers
Fraud protection, so you're not held responsible for fraudulent charges made on your card
How to Find the 150,000 (Or 130,000 & 1 Free Night) Welcome Bonus Points Offer
The average public welcome bonus hovers around 125,000 Hilton Honors points. While this is worth around $500 at 0.4 cents per point, according to our travel points and miles valuations, you can do a bit better if you apply at the right time.
Generally, there are 2 types of enhanced welcome bonuses you'll find:
150,000 Hilton Honors points
130,000 Hilton Honors points + 1 Free Weekend Night Reward
The second offer can be worth up to $1,000 because the free night certificate can be redeemed for stays at any Hilton property, including the ultra-luxe Waldorf Astoria Maldives Ithaafushi that charges 120,000 points per night.
If you take 120,000 points from the free night certificate and add it to 130,000 points, you'll arrive at a maximum value of 250,000 Hilton Honors points, worth $1,000 according to our valuations.
Increased Public Welcome Offer
The easiest way to get access to these higher offers is to apply when American Express increases the welcome bonus on this card. These offers last for a short period before reverting to the "normal" offer.
American Express chooses when to provide and rescind these increases, so be sure to check back at its website frequently.
Let's take a look at some of the more nuanced ways to gain access to better welcome bonuses.
Utilizing CardMatch (Fastest Method)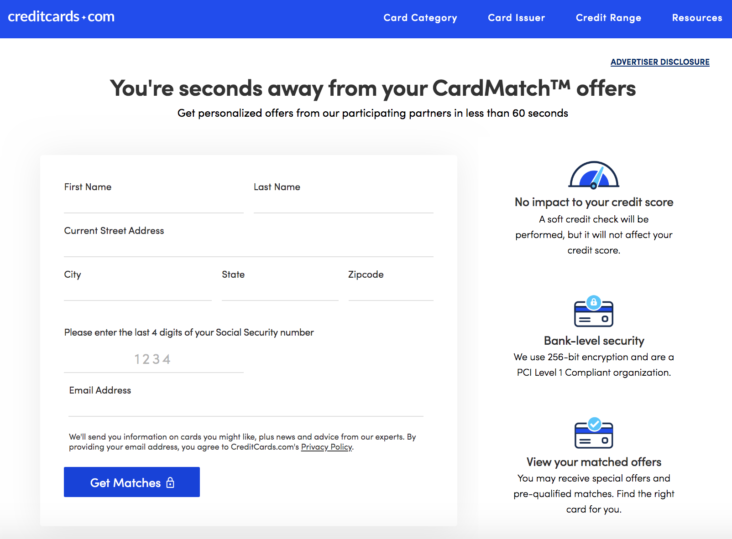 CreditCards.com offers a tool called CardMatch. CardMatch partners with various banks to distribute these enhanced offers. Usually, larger banks, such as American Express, Chase, and Capital One, publish offers to a smaller, more limited group of people.
The easiest way to find out if you're within this exclusive group of people with access to better welcome bonuses is to check for pre-qualified offers.
Because these banks are more selective with who they "target," you're more likely to be approved if you find yourself targeted.
When you check for pre-qualified offers through CardMatch, you won't receive a hard inquiry on your credit report. You'll simply get a soft inquiry, which uses your personal information to match your identity to any offers meant for you.
To see if you're targeted, you'll need to submit information including:
Your name
Your address
Last 4 digits of your Social Security number
Hot Tip: Learning how to use CardMatch is easy — just explore our detailed guide on CardMatch!
Targeted Mailings From American Express
One of the most traditional ways to get increased welcome bonuses is to receive a good, old-fashioned letter in the mail. To get targeted, you need to opt-in and enable mail correspondence.
This method only works if you're an existing American Express cardholder. To get started, visit the Communication and Privacy Preferences section in the Account Services section of your Amex online account.
From there, you can choose your preferences. To maximize your chances of getting targeted through this method, you can even opt-in for email marketing in addition to postal mail.
Check for Pre-Qualified Offers With American Express
Lastly, you can fill in an online form directly with Amex and instantly see what your pre-qualified credit card offers are.
Simply follow these steps, and you'll be ready to pull up any targeted card offers directly from Amex:
Visit American Express' homepage.
Hover over the button that says Cards on the top ribbon of the page, and click Check for Pre-qualified Credit Card Offers under the Personal Cards section.
You may be asked to enter your personal information or log into your Amex account if you're an existing customer.
Then, you'll see the pre-qualified credit card offers that you can immediately access.

Reasons You May Not Be Able to Get a Higher Welcome Offer
1. The Current Public Offer Is Not an Increased Offer
If all of the methods don't yield any positive results with better offers, there could be one simple explanation: Amex isn't running any offers for that particular card publicly.
To try to get around this, you can use CardMatch, which can show highly targeted offers. If nothing helps, then the best thing to do would be to wait for the higher offer to return in the future.
2. Amex's Credit Card Maximum Rule
American Express limits the maximum credit cards you can hold at any particular time. This isn't a hard and fast rule, but most report that you can only hold a maximum of 5 or 6 Amex credit cards at any given time.
3. Low Credit
If your credit score is not sufficiently high, it's unlikely that card issuers like American Express will target you as an ideal customer. In this case, the best move is probably to improve your credit score.
4. You've Opted out of Marketing Offers
Sometimes you've unintentionally opted out of marketing offers, and many times these decisions were made many years ago. However, this is one of the easiest things to fix.
Make sure to follow the instructions above to opt into both postal and email communications to maximize your odds of getting targeted.
Final Thoughts
The Hilton Surpass card is an absolute keeper for those looking for lots of hotel perks and a small price tag. The benefits are plentiful, and you'll get even more value if you stay with Hilton.
As always, you want to apply when you have the best welcome bonus available. The techniques mentioned above will give you the best shot at getting a hefty offer.
Of course, earning Hilton Honors points is just one part of the equation. Start dreaming about all the amazing ways you can redeem Hilton Honors points!
---
For rates and fees of the Hilton Honors American Express Surpass® Card, please click here.