Canopy by Hilton Hotels: The 10 Best Points Redemptions [2020 Guide]
For decades, Hilton hotels dominated the hospitality industry with their signature, dependable designs and simple, straightforward amenities. No matter where in the world you went, you knew what to expect at a Hilton.
Recently, however, consumer interest began to shift towards a new kind of hotel stay — one that extends beyond the guest room to deliver an authentic, local experience, connecting guests both literally and emotionally to their destination.
In 2014, Hilton announced the launch of Canopy by Hilton, a lifestyle hotel brand (Hilton's 12th brand overall) aimed at business and leisure travelers that delivers a hyper-local, service-driven, good-value, boutique hotel experience.
As one of Hilton's newer brands, Canopy by Hilton currently operates just 22 properties in 6 countries worldwide, with a handful more in the development pipeline for the coming years.
In this article, we outline what you can expect during a stay at a Canopy by Hilton property.
Everything You Need to Know About Canopy by Hilton
The first Canopy by Hilton property opened in the Icelandic capital of Reykjavík in 2016. Since then, more than 20 locations have opened in both major and mid-size cities around the globe, from China to the U.S.
Many Canopy by Hilton hotels are brand-new builds, which gives the brand full reign over its hotel locations and interior layouts. Canopy hotels are often found in arts districts, and those neighborhoods drive each property's design aesthetic and food and drink programs, ensuring that guests feel part of the city they're staying in.
Local intel is another part of the equation. Instead of being referred to as employees, hotel staff are billed as "Enthusiasts" and come prepared with an arsenal of knowledge about local restaurants, sites, and events to encourage guests to get out and explore their surroundings.
Canopy Extras
A few unique features set Canopy apart from its competitors. Every guest receives a welcome gift at check-in — a snack-size treat made by a local purveyor. Nightly tastings are included in the rate and spotlight area breweries, wineries, and distillers. A free artisanal breakfast is supplemented by grab-and-go breakfast bags for travelers who are either strapped for time or just want to enjoy a quiet meal in their rooms.
Basic Wi-Fi is also free, as are the Canopy Bikes on loan for taking a spin around the neighborhood. A filtered water station is offered on every room floor.
At each location, guests have access to a Transfer Lounge: For arriving travelers whose rooms are not ready, or departing guests who have later flights than their check-out time, these spaces offer lockers, showers, and changing facilities where guests have somewhere to freshen up and store their luggage in the interim.
"Just Right" Rooms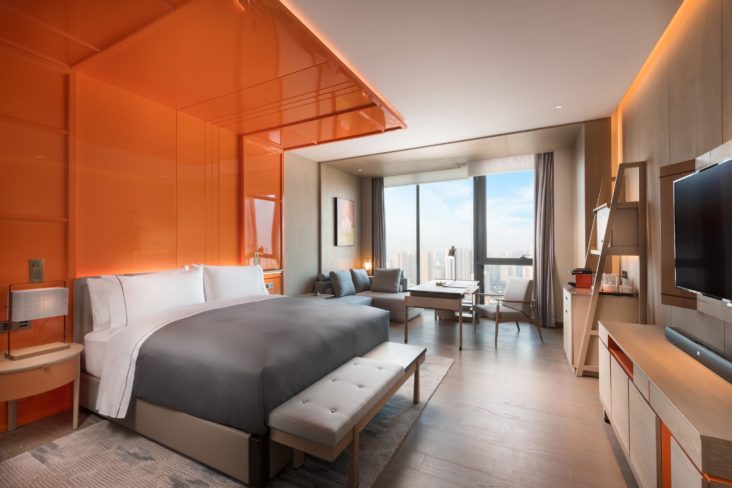 Style and comfort are the calling cards of every Canopy by Hilton property. In guest rooms, you'll find flat-screen TVs, Nespresso coffee makers, and custom-made beds featuring memory-foam Serta mattresses and ceiling-high headboards — "canopies" — inspired by the destination.
Those at Canopy's Cancún La Isla property, for example, are decorated with stenciled leaves and flowers by local muralists, whereas those at the hotel in Minneapolis' Mill District are modeled after woven threads in a loom.
Open shelving means even easier access to belongings. Local art and locally-made fabrics and furniture ensure guests know exactly what city they're visiting. Other in-room perks include free Wi-Fi, bathrobes and slipper socks in suites, and the option to get Canopy Break Fast Bags delivered to your door every morning.
'Paws' Program
Not only are dogs allowed at many Canopy by Hilton hotels, but they're also welcome guests. Every doggo (and their owner) that checks in will automatically receive a doggie bag filled with toys and treats, a dog bed and food and water bowl for their room, and guides to on-site dog gatherings as well as dog-friendly spaces in the area.
Hot Tip: Are you looking for more pet-friendly ideas? Explore our list of best pet-friendly U.S. vacation spots so you never have to vacation without your furry friend.
American Express Hilton Credit Cards
Interested in taking your Canopy by Hilton hotel stay to the next level? Consider signing up for a co-branded Amex Hilton credit card to start earning points towards your next stay.
CREDIT CARD
CARD INFO
Hilton Honors American Express Surpass® Card


Apply Now

(at Amex's secure site)

Earn 130,000 Hilton Honors Bonus Points after you spend $2,000 in purchases within your first 3 months of Card Membership.
Plus, earn a free weekend night after you spend $15,000 on purchases on your card in a calendar year.
12X on qualifying purchases with hotels from the Hilton portfolio.
Earn 6X Hilton Honors Bonus Points for each dollar of eligible purchases on your Card at U.S. restaurants, U.S. supermarkets, and U.S. gas stations.
Annual Fee: $95
Terms Apply
For rates and fees of the Hilton Honors Surpass Card, please click here.

Hilton Honors American Express Card


Apply Now

(at Amex's secure site)

Earn 80,000 Hilton Honors Bonus Points after spending $1,000 within your first 3 months after approval.
7X points for each dollar of eligible purchases charged directly with a hotel or resort within the Hilton portfolio.
Annual Fee: $0
Terms Apply
For rates and fees of the Hilton Honors Amex Card, please click here.

Hilton Honors American Express Aspire Card


Apply Now

(at Amex's secure site)

Earn 150,000 Hilton Honors Bonus Points after spending $4,000 on eligible purchases within your first 3 months of card membership
Enjoy a free Weekend Night Reward within your first year and every year after renewal.
Earn 14x Hilton Honors Bonus Points on eligible purchases at participating hotels or resorts within the Hilton Portfolio.
Earn 7x Hilton Honors Bonus Points on eligible purchases: on flights booked directly with airlines or amextravel.com, on car rentals booked directly from select car rental companies & at U.S. restaurants.
Earn 3x Hilton Honors Bonus Points on all other purchases
Annual Fee: $450
Terms Apply
For rates and fees of the Hilton Honors Aspire Card, please click here.

The Hilton Honors American Express Business Card


Apply Now

(at Amex's secure site)

Welcome Offer: Earn 130,000 Hilton Honors Bonus Points after you spend $3,000 in purchases on your Card in the first 3 months of Card Membership.
Earn 12x at hotels and resorts in the Hilton portfolio
Earn 6x on select business and travel purchases.
Earn 3x on all other eligible purchases.
Priority Pass Select lounge access - 10 passes
Hilton Gold Status
$95 Annual Fee
Terms Apply
For rates and fees of the Hilton Honors Business Card, please click here.
The Hilton Aspire card is the most premium of the bunch and also one of the best picks for a Hilton loyalist. While the annual fee is extremely high, it gets you some incredible benefits including Hilton Honors Diamond elite status (Hilton Honors' highest status level) as well as a $250 Hilton resort credit — to name just a few perks.
The annual fee for the Hilton Surpass card is much more reasonable, though earned benefits are more mid-tier. Cardholders will receive Gold status, free breakfast at any Hilton property, space-available room upgrades, and 5th nights free when staying 5 award nights or more at a property.
The Platinum Card® from American Express also earns cardholders Gold status with both Hilton Honors and Marriott Bonvoy. Lower on the totem pole is the Hilton Honors card that earns you Silver status at Hilton.
The 10 Best Canopy by Hilton Hotel Redemptions Using Points
One of the many great ways you can redeem Hilton Honors points is by checking into a Canopy by Hilton property.
Despite Canopy's limited footprint, the brand's curated portfolio includes some of the most stylish, local hotel experiences in their respective cities — not to mention it offers a handful of quality perks like welcome gifts, complimentary happy hours, and free breakfast.
Because Hilton no longer offers an award chart for predicting how much an award stay will cost, we included the points range that you can expect redemptions to be. In general, avoid checking in during peak travel windows in order to ensure you get the most value for your points.
Ready to start planning? Below are the top 10 award stays in Canopy by Hilton's current portfolio of properties.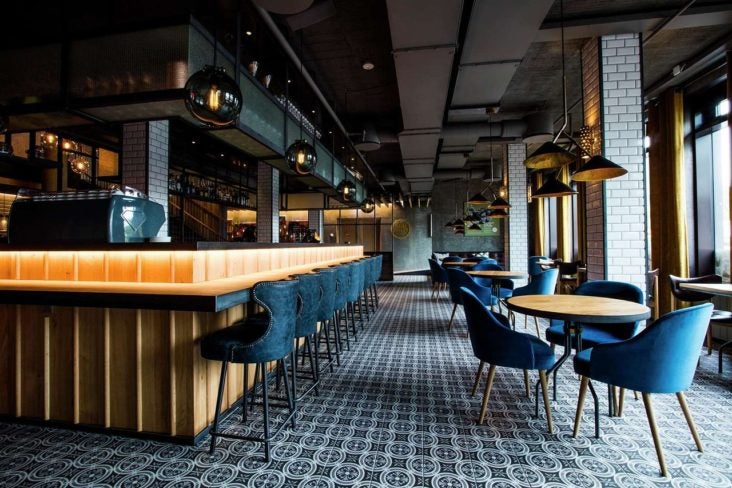 In 2016, a former furniture factory and cultural space in central Reykjavík became Canopy by Hilton's debut property. Nods to the building's past are everywhere, from the designer furniture in public spaces to the wood-paneled library where bookshelves are packed with Icelandic literature and an extensive record collection is available for guests to play on portable players.
In each of the 112 rooms, Scandinavian-style textiles and colorful local art add energy to their otherwise muted color palettes that are modeled after Iceland's ice, ocean, and volcanic rock-strewn landscape. Other thoughtful touches like teak furniture, music boxes, and heated bathroom floors keep things cozy.
Downstairs, Canopy Central Bistro and Bar is a relaxed spot for breakfast and nightly food and drink tastings. For something more upscale, sit down for dinner at Geiri Smart, whose ever-changing menu spotlights what's fresh that day.
Of course, don't forget about Reykjavík itself. Take one of the hotel's complimentary bikes for a spin down Laugavegur Street — home to some of the city's best shops, bars, and restaurants.
Award nights here can be redeemed for 41,000 to 80,000 Hilton Honors points, while cash rates hover around $290 per night.
Hot Tip: Book a Heritage Room for even more space and unique design details — like armchairs designed by Kristjan Siggeirsson, the son of the original furniture factory owner.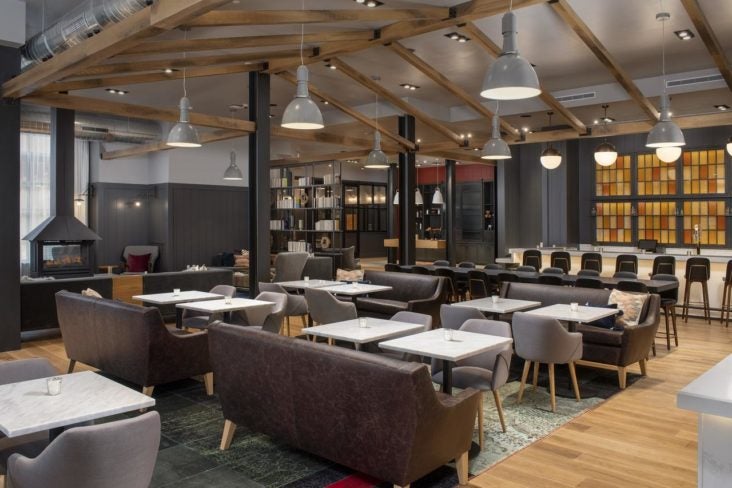 Ithaca, one of the prettiest towns in New York's Finger Lakes region, owes its college-town feel to 2 renowned local institutions — Cornell University and Ithaca College. Expectedly, parents and students love the Canopy by Hilton Ithaca Downtown, whose location directly across from the Ithaca Commons pedestrian mall puts them right in the center of the action.
The free hotel shuttle to both colleges (as well as the airport) is a big perk here. So is the fleet of complimentary Canopy Bikes that guests can take to Ithaca Falls or Cayuga Lake, just 15 minutes away.
The lobby exudes coziness with its fireplace and wooden beams. This is where you'll find the Strand Café that serves seasonal and locally sourced bites, juices made in-house, and craft cocktails — the café's glass windows can even be retracted during good weather. The second-floor terrace is also a nice spot to hang out at, especially during sunset.
Rooms are comfortably minimal with flat-screen TVs, colorful striped rugs (some are red and gray for Cornell; others are blue and gray for Ithaca College), and views of downtown. There's also a 24-hour business center, 2 meeting rooms, and a Transfer Lounge — space set aside for guests to wash up or store luggage. Self-parking is available for $20 a day.
Award stays can be redeemed for 33,000 to 60,000 Hilton Honors points. Room rates average about $175 per night.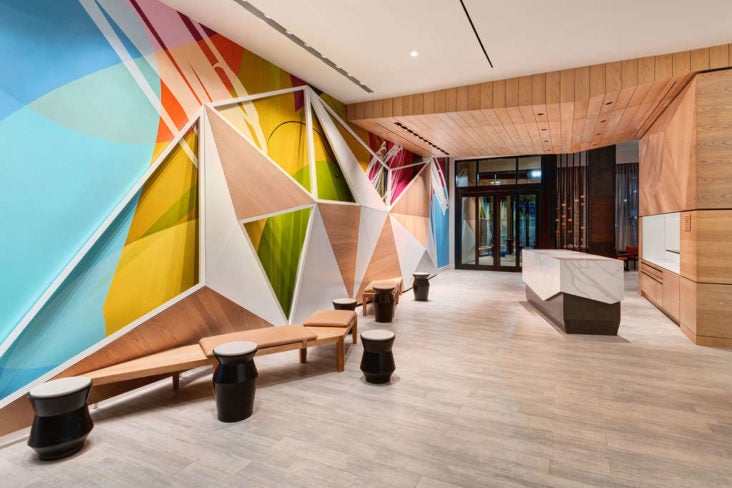 Atlanta's vibrant Arts District is a perfect place for the city's style-forward Canopy by Hilton outpost. This being Atlanta's cultural heart, Piedmont Park, the High Museum of Art, Alliance Theater, and the Beltline are all within easy reach.
At the hotel, nods to Georgia are everywhere, from the guest room headboard inscription that reads "after all, tomorrow is another day" (a famous line from "Gone With the Wind") to the food served at Xhibit Studio Kitchen & Bar, whose menu is full of southern favorites like shrimp and grits and buttermilk pie along with brews from Atlanta-based roaster RevCoffee.
In addition to a 24-hour fitness and business center, guests also have access to 3 meeting rooms and all of those dependable Canopy extras including rentable bikes, free breakfast and evening tastings, and a staff of Enthusiasts that give the best local recommendations. Overnight valet parking is $30 a day.
For an award stay, expect to redeem between 38,000 and 60,000 Hilton Honors points. Otherwise, cash rates average about $225 per night.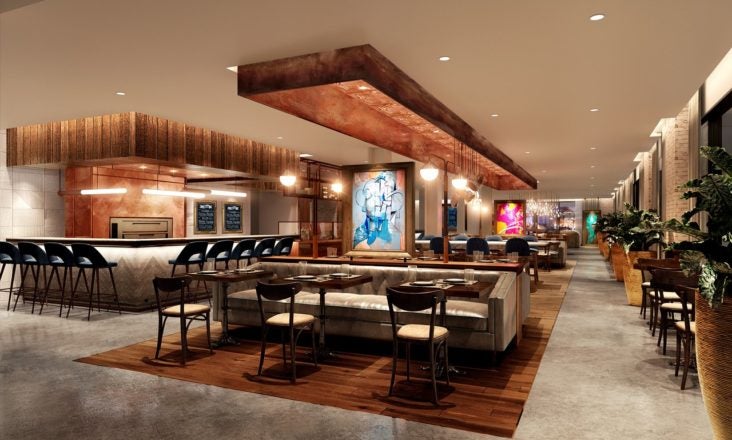 Just 5 blocks separate the White House from the Canopy by Hilton Washington, D.C. Embassy Row — meaning the best of the city is within easy walking distance. Those complimentary Canopy Bikes come in handy, too, for reaching sites farther away like the Capitol Building and both Dupont and Logan Circle.
All 154 rooms are modern and comfortable, with open closets, work desks, and city views on higher floors. At Truno, the ground-floor restaurant, seasonal and local ingredients make their way into global dishes while booths are separated by large, colorful paintings — homages to D.C.'s diverse communities. Don't miss the retail wall that stocks souvenirs by local artisans.
This being D.C., storing a car here gets extremely expensive. Valet parking costs $59 per night (self-parking is not available).
For an award stay, you'll need to redeem anywhere from 38,000 and 80,000 Hilton Honors points depending on the season and room availability. Otherwise, cash rates average about $140 per night.
Hot Tip: Washington D.C. is a city full of historical monuments, memorials, and attractions. Head over to our ultimate Washington D.C. travel guide to make the most of your trip.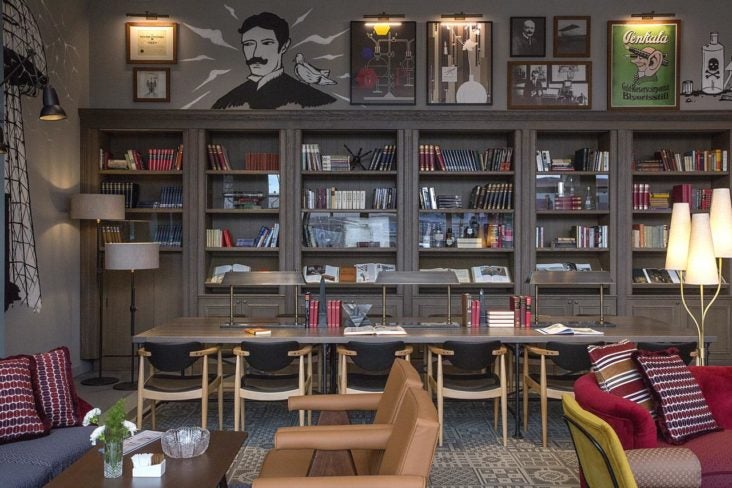 Dubrovnik might have stolen the limelight recently (thanks, "Game of Thrones") but Croatia's capital of Zagreb is not to be missed. The historic city has become a dynamic hub for art, architecture, and food — all the things Canopy by Hilton Zagreb – City Centre strives to emulate.
Canopy Central Café and Bar offers local flavors like quiche and regional pastries served alongside walls lined with books, graphic art, and photographs of Croatian inventor Nikola Tesla. In guest rooms, framed prints depict scenes relating to science and technology while bed "canopies" are modeled after the checkerboard pattern on Croatia's coat of arms.
Elsewhere, you'll find a 24-hour fitness center and 2 meeting rooms. Both valet and self-parking are available for €20 (~$24) a night.
Award stays can be redeemed here for 18,000 to 40,000 Hilton Honors points. Cash rates average about $120 for a standard room.
Hot Tip: If you're looking for a trip totally on points and miles, fly to Croatia with points and miles too!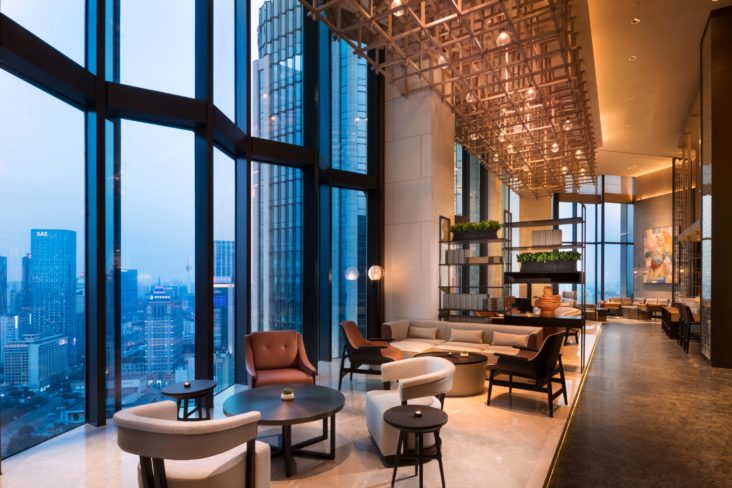 Whether you're in Chengdu on business or en route to see the pandas, the Canopy by Hilton Chengdu City Centre is a stylish place to stay. Occupying floors 23 to 32 of a commercial skyscraper, the hotel enjoys sweeping views of the city skyline including Tianfu Square as well as incredible proximity to local attractions like the Chengdu Museum and People's Park.
This is the brand's first China location, and interiors draw heavily from its Asian homeland — think lattice room dividers, potted bonsai trees, whimsical panda statues outside each guest room, and east-meets-west cuisine at TC Café that highlights Sichuan's renowned flavor profiles.
All 150 guest rooms are like other Canopy locations with their heated bathroom floors, rain showers, open closets, and "canopied" beds — with 1 exception. A mahjong set, placed in every room before check-in, makes for a sweet Chinese welcome.
Along with a fitness center, complimentary beer and wine tastings in the Canopy Lounge, and free-to-use bikes for exploring the Qingyang District, the property also offers a Transfer Lounge that allows arriving or departing guests to use locker and shower facilities.
Expect to redeem between 34,000 and 40,000 Hilton Honors points for an award night, or pay around $145 by cash or card for a standard room.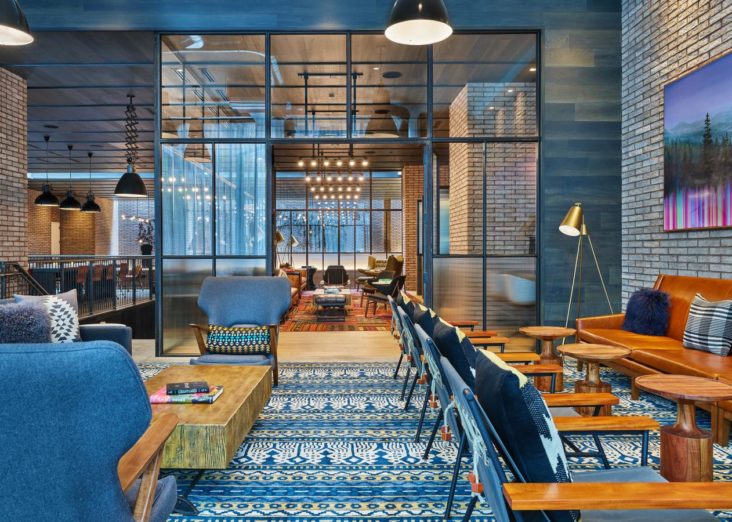 When a wave of new microbreweries, galleries, and restaurants began transforming Portland's industrial Pearl District into the city's next "it" neighborhood, it was only a matter of time before a trendy hotel — in this case, Canopy's first West Coast property — set up shop.
Inside, 153 guest rooms feature floor-to-ceiling views and bed "canopies" made of timber, public spaces juxtapose colorful murals and fabrics with concrete floors and metal beams (a nod to the warehouse district surroundings), a rotating art collection highlights local artists, and the complimentary evening tastings in Canopy Central highlights companies from Portland's Distillery Row.
There are a few nice amenities on-site, too, including a rooftop fitness center, multiple meeting rooms, and a 2-story winter garden that lets in a ton of natural light. The location is fantastic as well — less than a 15-minute walk to area attractions including the Portland Art Museum and Powell's City of Books.
Award stays cost anywhere from 36,000 to 70,000 Hilton Honors points per night. Otherwise, room rates average about $208 for a standard room.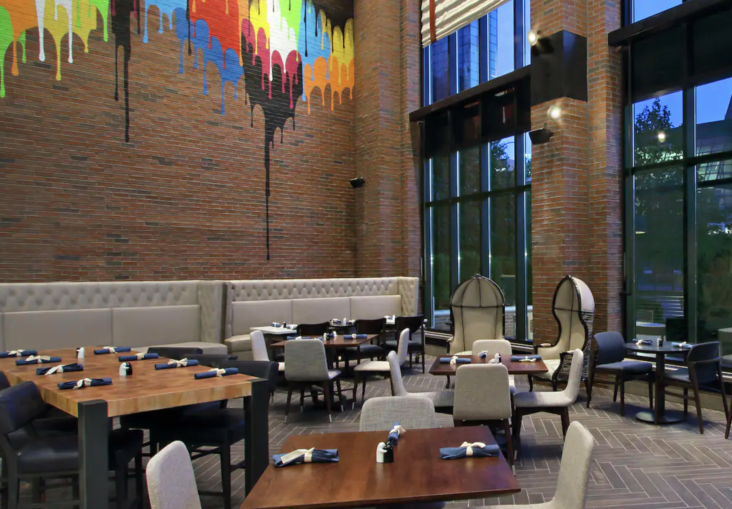 Ice hockey at Nationwide Arena, a conference at the Greater Columbus Convention Center, business at the Ohio Statehouse –  whatever you've come to see or do in Ohio's state capital, you'll be able to walk to it all from the Canopy by Hilton Columbus Downtown Short North hotel.
Not only does this 167-room hotel have a fantastic arts district address, it also has a few nice features of its own, including the stylish Central Market House restaurant where guests can watch their "flexitarian" meals being prepared in the open kitchen as well as a rooftop space called Goodale Station — home to a fitness center, Southern-inspired dinner menu, and city views.
Don't think the brick-laid bed "canopies" in guest rooms and Central Market House's multi-story brick wall are a coincidence, either. Both were inspired by the countless brick buildings lining Short North's streets. As at all Canopy by Hilton locations, included nightly tastings spotlight local food and drink purveyors, while the welcome treat comes courtesy of Columbus confectioner Mmelo.
Award stay redemptions range from 37,000 to 50,000 Hilton Honors points per night. Paid room rates hover near $220.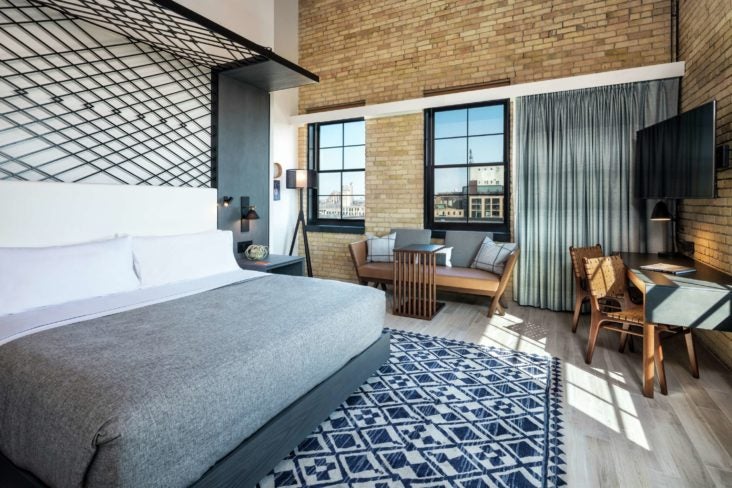 The conjoined Advance Thresher/Emerson-Newton buildings, erected in the early 1900s and listed on the U.S. National Register of Historic Places, have been completely renovated and given new life as the Canopy by Hilton Minneapolis Mill District hotel.
Much of the structure's original bones remain. The central atrium, which shares its space with the lounge and the restaurant, is awash with light and dominated by exposed brick, timber, and piping, as well as a mobile installation that recalls flour falling from a sifter.
Upstairs, 183 guest rooms are similarly industrial with wood-beam loft ceilings, exposed brick walls, Scandinavian-style textiles, and "canopies" modeled after the way woven threads look like in a loom.
After admiring all the little design details, grab a complimentary Canopy Bike and explore. The Armory, Guthrie Theater, and U.S. Bank Stadium are just blocks away. Daily self-parking incurs a $22 daily fee.
You can redeem an award stay with 29,000 to 60,000 Hilton Honors points at this property. Alternatively, standard room paid rates average about $265.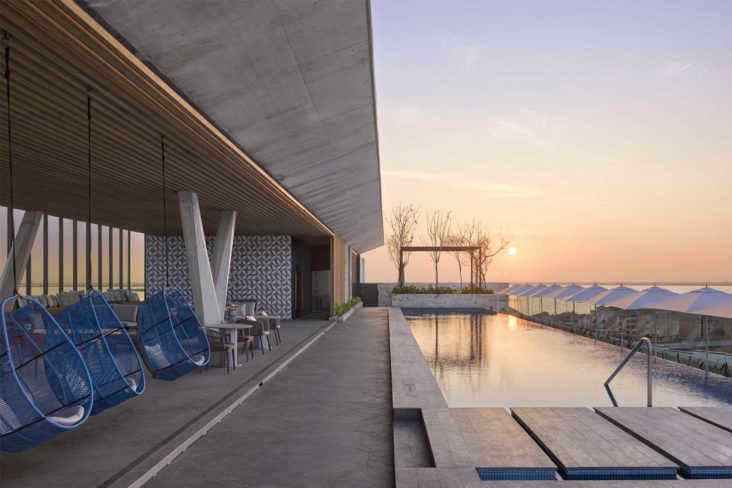 Cancún may not have needed another addition to its already jam-packed Hotel Zone, but this Canopy by Hilton is not like the others. For one, it doesn't sit directly on the beach. Instead, the property offers a quieter location next to the Nichupté Lagoon, an urban design aesthetic, and a scene-stealing rooftop space that looks out over it all.
Inside, 174 guest rooms are fun and modern, with wooden headboards stenciled with jungle prints and, in some, hanging swings that face the windows.
When hunger strikes, head to Canopy Central in the main lobby for an artisanal breakfast sourced from local producers (as at all Canopy by Hilton properties, you can also get breakfast bags to go) or local market fare at Azulinda Café and Bar.
Outside of mealtimes, Wander Rooftop Bar & Juicery is the place to be thanks to its outdoor pool and bar, fire pits, and live music performances — all set against stunning Cancún views. You'll also find a 24-hour rooftop fitness center for working off those vacation calories.
Be sure to check in with one of the hotel's Enthusiasts who are happy to recommend restaurants inside the La Isla Shopping Village or book a tour to nearby cenotes, beaches, and ruins. The international airport is just a 20-minute drive away.
For this property, Hilton Honors members are able to redeem award stays for between 30,000 and 80,000 points per night. Cash rates average about $160.
Final Thoughts
Hilton brands like the limited-service Hampton by Hilton and more luxurious Hilton Hotels & Resorts may deliver great amenities for their target audiences, but for a truly unique, local experience, think of Canopy by Hilton properties as extensions of their home cities.
You'll find tons of style and character at Canopy by Hilton hotels — not to mention lots of complimentary extras like included breakfast, free Wi-Fi, welcome gifts, and evening tastings.
Plus, with Hilton Gold or Diamond status, you'll be able to add even more value to your stay with late checkout and space-available room upgrades.
---
For rates and fees of the Hilton Honors American Express Surpass® Card, click here.
For rates and fees of the Hilton Honors American Express Card, click here.
For rates and fees of the Hilton Honors American Express Aspire Card, click here.
For rates and fees of The Hilton Honors American Express Business Card, click here.