The 16 Most Valuable Benefits of the Chase Freedom Unlimited Card
The Chase Freedom Unlimited® Card is one of many valuable Ultimate Rewards points-earning cards in the lineup from JP Morgan Chase.
By itself, the card is a strong contender for your everyday spending, but when you combine the earning of the Freedom Unlimited with the redemption options of some of the premium Ultimate Rewards cards…that's where you'll really find the highest value.
To start, though, let's concentrate on what makes the Freedom Unlimited great on its own. We'll take a detailed look at the benefits and help you decide if this is a card that belongs in your wallet.
Then we will explain why it's best to pair this with another Chase card for maximum rewards.
Card Basics
The basic features of the Chase Freedom Unlimited make it quite attractive for a beginner in the world of credit cards. It's an easy card to start out with and has a good return on your spending.
As we look into the rewards in a bit more detail later on, you will see that this isn't just a card for beginners as it can be a powerful tool in the arsenal of any miles and points collector!
Credit Card
Benefits & Info
Chase Freedom Unlimited®


Learn More

(at Chase's secure site)

Earn $200 bonus after you spend $500 on purchases in your first 3 months. Unlimited 1.5% cash back on all purchases.
0% Intro APR for 15 months from account opening on purchases, then a variable APR of 14.99%-23.74%.
Annual Fee: $0


Must Reads: For more info on the Chase Freedom Unlimited, see our thoughts on its benefits and our full review.
No Annual Fee
The Freedom Unlimited has an annual fee of $0 — and that's not just an introductory annual fee. It's not going up the second year, or any year! Once you know how to maximize the rewards, you will understand how amazing this is!
Low Introductory APR
An APR of 0% for the first 15 months from account opening will help out if you have a large purchase that you need to pay off over a couple of months. The 0% APR is good not only for purchases, but on balance transfers as well.
You do need to make sure you have paid off the entire balance by the time you reach 15 months. Otherwise, you will be hit with the variable APR. Also, watch out for the balance transfer fee.
Hot Tip: If 0% APR cards are of interest to you, we've compiled a list of the best 0% APR credit cards.
Great Bonus Categories
As long as you hold the Freedom Unlimited, you will earn 5% back on travel purchases through Chase Ultimate Rewards, 3% back on dining and drugstore purchases, and 1.5% cash-back on all other transactions.
This makes the Freedom Unlimited an excellent card for multiple bonus categories, including everyday spending. Earning at 1.5% is better than most traditional credit cards, and unless you have a card that earns at a better rate, it makes sense to use this one.
Hot Tip: You don't want to use the Freedom Unlimited when traveling internationally. There is a hefty 3% fee added to all foreign transactions! Be careful, because this also applies to any online foreign transactions that you may make from your home before the trip. The Chase Sapphire Preferred® Card, on the other hand, has $0 in foreign transaction fees!
Your Cash-back Doesn't Expire
As long as you are a cardholder in good standing, your cash back doesn't expire. It will be stored in the form of points until you either choose to use it or you close your account.
Service and Protection
Although these are common benefits, it is good to know that a card you may be using for a large percentage of your everyday purchases will still protect you if there's a problem with a charge. It provides that extra level of comfort that helps you know you're using the right credit card.
Zero Liability Protection
Some banks call it fraud protection, others call it zero Liability…either way, it means the same thing.
As a cardholder, you will not be held responsible for any unauthorized charges made with your card number online, over the phone with your account information, or with your physical card if it is stolen.
Purchase Protection
For up to 120 days after you make a purchase with your Freedom Unlimited, you will be protected against damage or theft of the item you purchased. This coverage is limited to a maximum of $500 per claim and $50,000 per account.
Extended Warranty
When you pay for an item entirely with your card, this coverage will extend the manufacturer's warranty by an additional year. This coverage only applies to U.S.-issued warranties, and the original warranty must be for 3 years or less.
Auto Rental Collision Damage Waiver
Coverage for theft and damage to your rental car is covered when you charge the entire rental to your card and decline the rental company's collision damage waiver. Most cars in the U.S. and abroad are covered; your benefits terms will detail any exclusions.
It is important to note that in the U.S., this coverage is secondary. This means that your personal auto insurance policy will pay out first in the event of a loss. Then, this coverage will take care of any amount not covered by your primary insurance.
Fraud Protection and Alerts
Your account is protected from fraudulent charges using sophisticated real-time monitoring. You can take comfort in knowing that if someone is making unauthorized charges on your account, it will be stopped and you will be notified.
You can choose to get your fraud alerts by phone, text message, or email.
Hot Tip: Signing up for mobile fraud alerts is a great idea if you regularly make large purchases at different stores. If your card is accidentally declined for suspected fraud, you can take care of it right from your phone and continue on to make your purchase.
Redemption Options
Although the Chase Freedom Unlimited is marketed as a cash-back card, you actually earn Ultimate Rewards points.
If this is the only Chase Ultimate Rewards card that you hold, you have several options for redeeming those points. Using any of those redemption options will get you a value of a penny per point.
You can redeem your points for a higher value if you carry other Chase Ultimate Rewards cards, and we will detail that process further down. For now, here are the redemption options if you only hold the Freedom Unlimited.
Cash-back
Yes, this is as easy as it sounds: you can redeem your points for straight cash-back. At a penny per point, there is no minimum (or maximum) number of points required for a cash-back redemption.
You can request a statement credit or a direct deposit into your bank account. Deposits can be made into most U.S.-based checking and savings accounts.
Shop at Amazon
To redeem your rewards points at Amazon, you first need to link your Freedom Unlimited to your Amazon account.
Once this is done, you can instantly redeem your points at a rate of a penny per point to pay for all or part of your Amazon order. Your points can be applied to all parts of your order, including taxes and shipping charges.
Gift Cards
Your points can be redeemed for a variety of gift cards and certificates through the Chase portal. There are available redemption options for shopping, dining, entertainment, and more.
Occasionally, Chase will run promotions that reduce the number of points you need to redeem for a gift card. Outside of those limited opportunities, your points are worth a penny per point when you redeem them in this way.
Travel
Travel can be booked with your Ultimate Rewards points by going through the Chase Travel Portal. Redemption rates are different depending on which card you sign in to the portal with and which card's account your points are associated with.
The redemption rate for booking travel with your Freedom Unlimited points is 1 penny per point; this rate is higher for most other Ultimate Rewards cards.
How to (Really) Increase Your Cash-back Value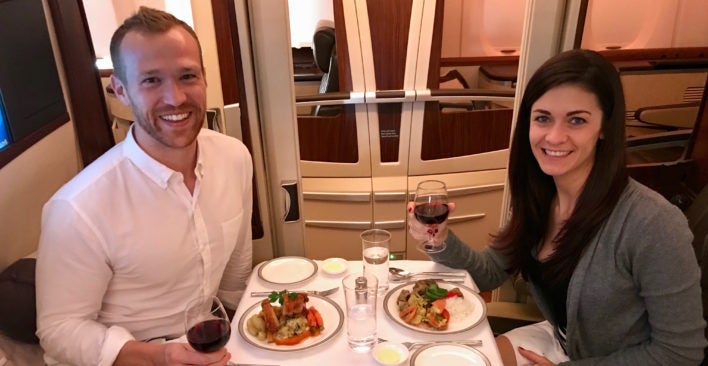 All of Chase's premium Ultimate Rewards cards have annual fees; one even as high as $550. These fees help offset the cost of higher value redemption options, including transferring points to airlines and hotels.
Since the Freedom Unlimited is a no-annual-fee card, it's not too surprising that the Ultimate Rewards points it earns are somewhat limited in how you can use them.
Above, we outlined the listed redemption options if you only hold the Chase Freedom Unlimited, and each of them had a redemption value of $.01 per point.
Now, let's take a look at a few ways that you can redeem your points for higher values when you have another of Chase's premium Ultimate Rewards credit cards to pair with your Freedom Unlimited.
Transfers Between Ultimate Rewards Cards
The Freedom Unlimited is just one of several Ultimate Rewards-earning cards that Chase offers.
With one of the premium cards (like the Chase Sapphire Preferred card, the Chase Sapphire Reserve® Card, or the Ink Business Preferred® Credit Card), your Ultimate Rewards points are much more flexible.
The best part? If you have one of those premium cards and also have the Freedom Unlimited, you can transfer the points you earn with the Freedom Unlimited over to your other cards. This means you can take advantage of the higher value redemption options!
Opening up the higher value redemptions takes the limited points you've earned and instantly makes them more valuable.
Transferring your Ultimate Rewards points between cards is really simple. Just make sure you have both cards registered to the same online account with Chase. Then you can choose which card to transfer from and which card to transfer to, select how many points you want to transfer, and confirm the transfer details.
The points will transfer instantly…and all of a sudden they'll be worth much, much more!
Chase Travel Portal
The easiest way to see an increase in the value of your points is to redeem them through the Ultimate Rewards Travel Portal.
When you redeem points through your Freedom Unlimited account, you will see that they are worth 1 cent per point toward any travel that you book.
Once you transfer them to other accounts, though, the value goes up. If you redeem your Ultimate Rewards points through either your Chase Sapphire Preferred card or Ink Business Preferred® Credit Card accounts, they are worth 1.25 cents per point.
Finally, for the highest value, redeeming points through your Chase Sapphire Reserve card account will get you a value of 1.5 cents per point.
Assuming you are earning those points with your Freedom Unlimited, let's look at the effective value of your "cash-back" when you redeem through your other Ultimate Rewards card account.
| | | |
| --- | --- | --- |
| | Chase Sapphire Preferred Card / Ink Business Preferred® Credit Card | Chase Sapphire Reserve Card |
| Value Earned With Chase Freedom Unlimited | 1.5 points per dollar spent | 1.5 points per dollar spent |
| Value Redeemed Through Portal | 1.25 cents per point | 1.5 cents per point |
| Final Value of "cash-back" at Redemption | 1.875 cents per dollar spent (1.875%) | 2.25 cents per dollar spent (2.25%) |
In the first row of the table, we have the value of the rewards you earn with your Freedom Unlimited. Whether you have one of the premium cards or not, the earned value remains the same, at 1.5 points per dollar spent.
Next, we'll look at the value of Ultimate Rewards points when redeemed through the Chase Travel Portal for each of the premium cards.
Finally, in the last line, we calculate the final value of the points if you earn them at 1.5x with the Freedom Unlimited, and then redeem them at either 1.25x or 1.5x with the premium cards. This is calculated by finding the product of the earning and the redemption multipliers for each combination.
As you can see, the absolute best pairing is the Freedom Unlimited and the Chase Sapphire Reserve card, though pairing with either of the other 2 cards still increases your value.
Transfers to Airline & Hotel Partners
Now that you have seen how to increase your points value by transferring to another one of your Ultimate Rewards earning cards, let's take it a step further.
Once you have transferred points from your Freedom Unlimited to one of the premium Ultimate Rewards cards, you open up the option to transfer your Ultimate Rewards points to airline and hotel partners.
This is where the value of your points can really go up.
Ultimate Rewards points transfer to several different airline and hotel partners, and the value you get from your redemptions will vary greatly. Usually, the best value will be when you transfer and redeem for business or first class flights, but you can also find great value in some hotel redemptions.
Any time you get more than 2.25 cents per point in value, you are doing better than redeeming for cash or booking through the Chase Travel Portal. Even if you are redeeming 30,000 points for a $700 one-way flight to Europe, you are still getting 2.33 cents per point!
When you start redeeming 120,000 points for a $12,000 first class ticket, you will really see the value of your points start to soar. Just 2 or 3 of those 10+ cents per point redemptions, and you'll never look at redeeming for straight cash-back again.
Bottom Line: You will get the highest value redemption from your Ultimate Rewards points when you transfer them to travel partners and redeem them for premium rewards. Pairing this card with one of the premium Chase cards and transferring the points will open up redemption values much higher than 1.5%.
Final Thoughts
With 5% back on travel through the Chase Travel Portal, 3% back on dining and drugstore purchases, and 1.5x earning on all other spending, the Chase Freedom Unlimited is a great option to regularly use for any of your purchases within the set bonus categories, or those that don't fit into a higher bonus category with another of your cards.
If you are pairing with another Ultimate Rewards card and redeeming for more than a penny a point though, your earnings can be worth a lot more than 2% when you redeem. As you know by now, transferring your points to Chase's airline and hotel partners is absolutely the best option!
Hopefully, after reading through the detailed benefits, you now understand why the Freedom Unlimited will make a great addition to your wallet.
With no annual fee, holding on to the card for the long term makes sense not only for your wallet, but also for your credit score (older accounts are better!).
The Chase Freedom Unlimited does fall under the Chase 5/24 rule, so it won't be available to all of us. But if it is, this is a great card to pick up to help build up your Ultimate Rewards points balance.
---
The information for the Chase Freedom Unlimited® Card has been collected independently by Upgraded Points. The card details on this page have not been reviewed or provided by the card issuer.