The Best Ways To Use 10,000 (or Fewer) Chase Ultimate Rewards
Chase Ultimate Rewards points are some of the most versatile points on the market. You can transfer your points to 12 awesome partners that span all of the major airline alliances (and most of the major hotel chains too).
Combined with the ability to redeem toward paid flights, this means you have a ton of great options available when choosing how to redeem your Chase Ultimate Rewards points.
And you're not out of luck if you're redeeming a small number of Chase Ultimate Rewards points either. In fact, even a few thousand Ultimate Rewards points can yield huge value when used properly.
With that in mind, today we'll show you the best ways to use 10,000 or fewer Chase Ultimate Rewards points. We've only included the best and highest-value redemptions in this article, so you can be sure you're getting the biggest bang for your points.
Transfer to British Airways for Short-Haul Awards Worldwide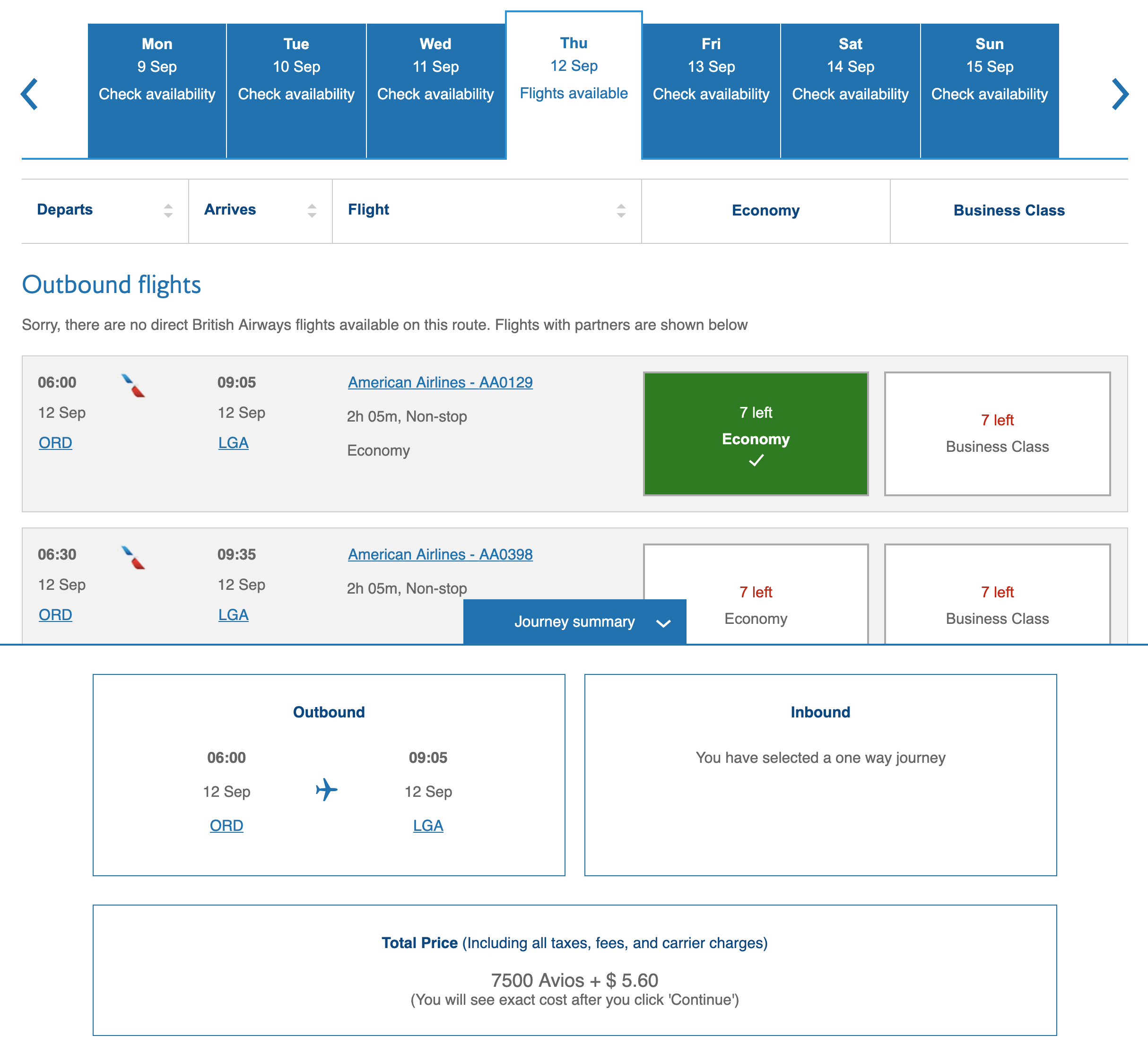 British Airways Executive Club is a super powerful Chase Ultimate Rewards transfer partner. The airline has a distance-based award chart that charges more for longer flights and less for shorter flights. This means British Airways Avios can be super lucrative for booking short-haul flights around the U.S., Europe, Asia, and Australia.
If you're traveling on a British Airways flight, it costs just 4,000 Avios off-peak and 4,500 Avios peak for flights under 650 miles. Partner flights costs 6,000 Avios.
Hot Tip:You can upgrade paid British Airways tickets with Avios too. The pricing is simple: subtract the Avios needed to book a premium cabin from the Avios needed to book the cabin in which you're already ticketed.
Note that British Airways doesn't offer the 4,000/4,500 Avios tier for North American flights, so all intra-North America flights under 1,151 miles cost 7,500 Avios (note: off-peak awards don't apply to American Airlines tickets).
These redemptions can provide amazing value — especially if you're booking last-minute tickets around the United States. For example, last-minute flights between Chicago-O'Hare (ORD) and New York-LaGuardia (LGA) can often cost $300+ when booking 1-2 days out. If you use 7,500 Avios for the redemption, you'll get a value of 4 cents per point!
Transfer to FlyingBlue and Book Short-Haul Promo Rewards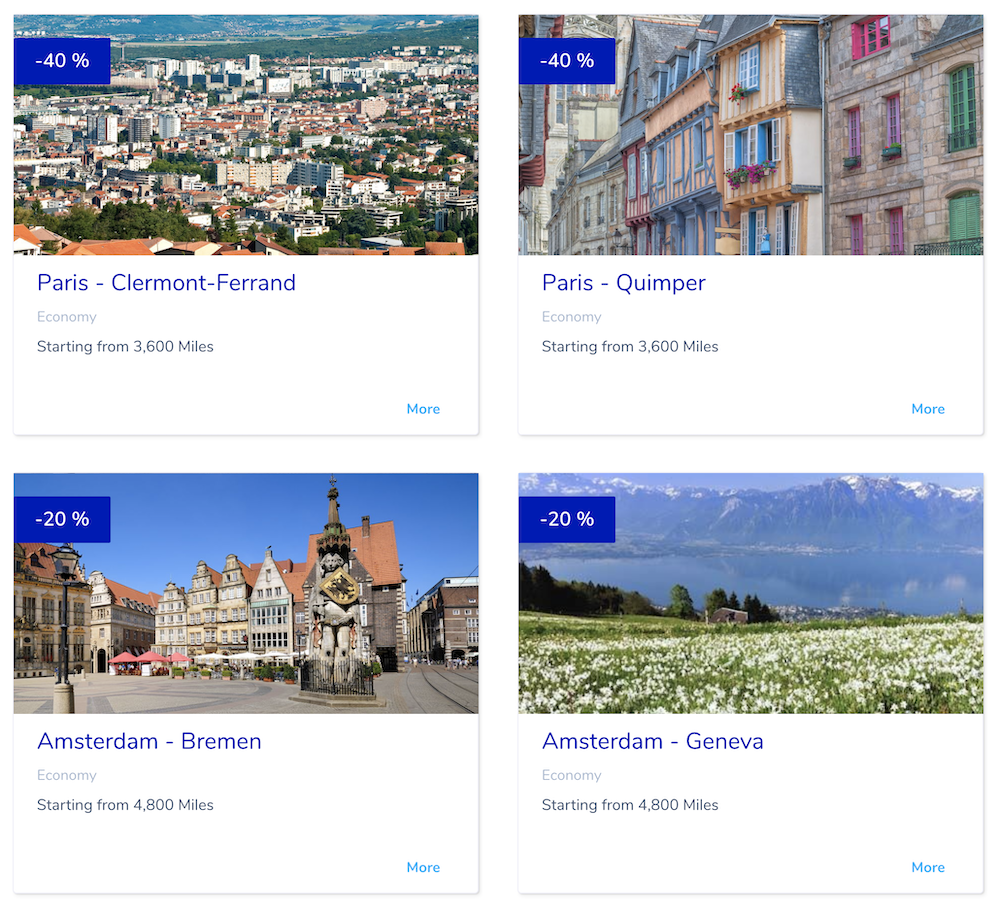 Flying Blue (the joint loyalty program of Air France and KLM) offers a rolling set of promo reward tickets. Its short-haul awards offer particularly great value if you have an upcoming trip around Europe, and the airline releases new promo awards each month. You can view the latest Promo rewards on FlyingBlue's website.
As of April 2019, one of FlyingBlue's discounted short-haul routes is Paris to Clermont-Ferrand for 3,600 miles. A paid ticket on the same route costs $138 when booking a month out, giving you a point value of 3.8 cents each!
Bottom Line: The value will vary based on route and timing, but it's worth looking into FlyingBlue Promo rewards if you're booking a Europe tour.
Transfer to Hyatt for Low-Level Award Stays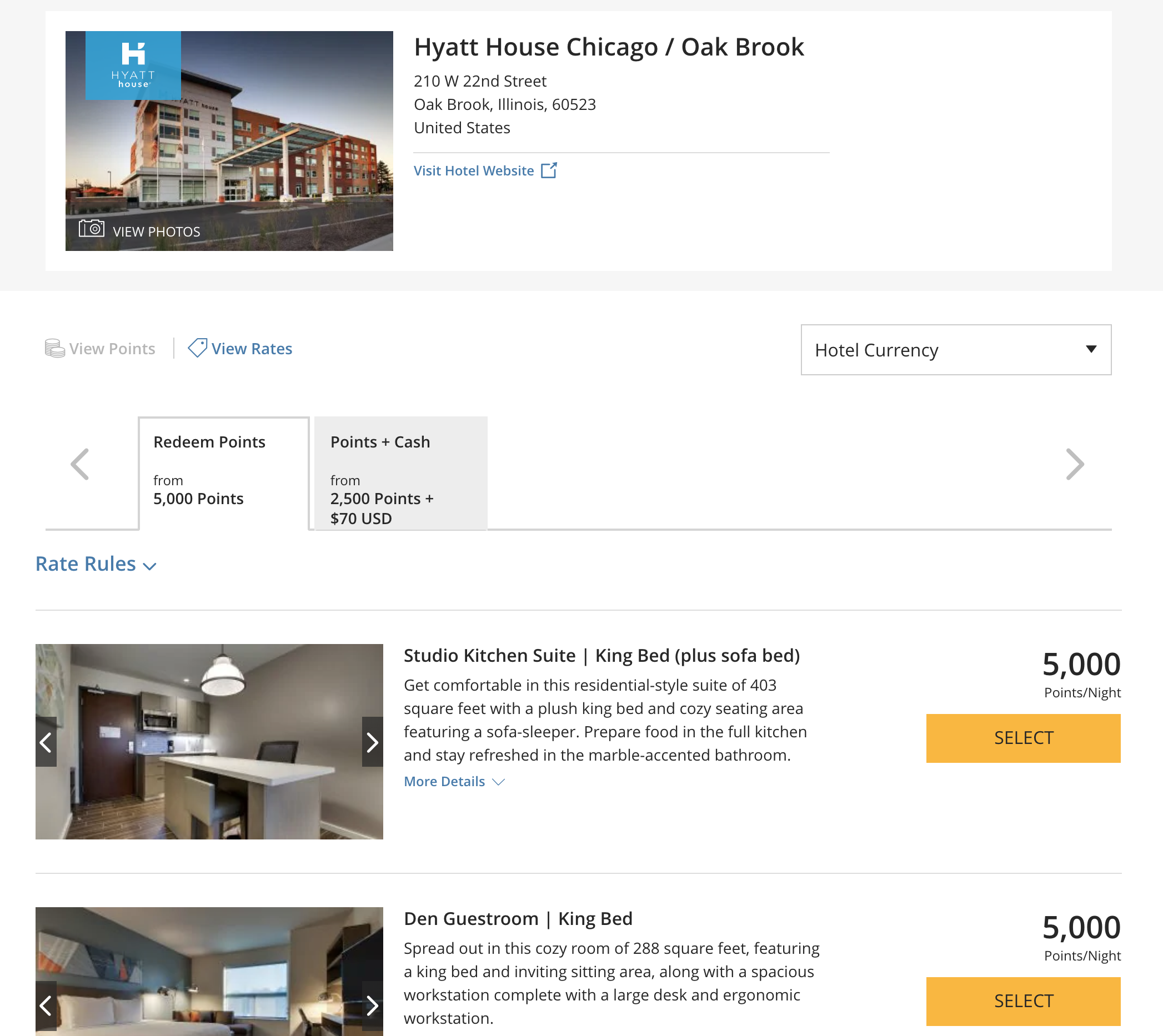 World of Hyatt is often regarded as one of the most valuable Chase Ultimate Rewards transfer partners, and this is especially true when redeeming a small number of points.
Category 1 and category 2 hotel stays are 5,000 and 8,000 Hyatt points per night in a standard room, respectively. Further, category 1 stays in Regency Club/Grand Club rooms are 7,000 points per night, and standard suites run just 8,000 points per night.
This can yield great value if you find yourself in a city with a category 1 or 2 hotel. However, note that these stays can also be cheap when booked with cash — so assess your cents-per-point value before you make a booking.
Hot Tip: We've found that you'll get a better value when using your points to book last-minute or during a major event, when cash rates can be higher.
Consider Booking With Points + Cash
But that's not the only way to use Hyatt points — you can use Points + Cash bookings for a discount on more expensive stays, too. For example, you can use 10,000 Hyatt points for a 50% discount on a category 5 room.
Again, ensure you're getting good value for your points before you make a Points + Cash booking. If the hotel's paid rate is low, you'll get a much lower value than if you booked during peak season, for example.
Upgrade to a Premium Room or Suite
Have an upcoming Hyatt stay? Transfer your Chase Ultimate Rewards points to Hyatt and upgrade your room for cheap.
You can upgrade any Hyatt stay to a Regency Club/Grand Club room for 3,000 points per night, a standard suite for 6,000 points per night, or a premium suite for 9,000 points per night. (Just note that the hotel will need to have open premium rooms available.)
This is one of our favorite ways to redeem a small amount of Chase Ultimate Rewards points, especially on stays at top-tier hotels. To upgrade your stay, call Hyatt at 1-800-544-9288 (upgrades cannot be processed online).
Book a Cheap Flight Through the Chase Travel Portal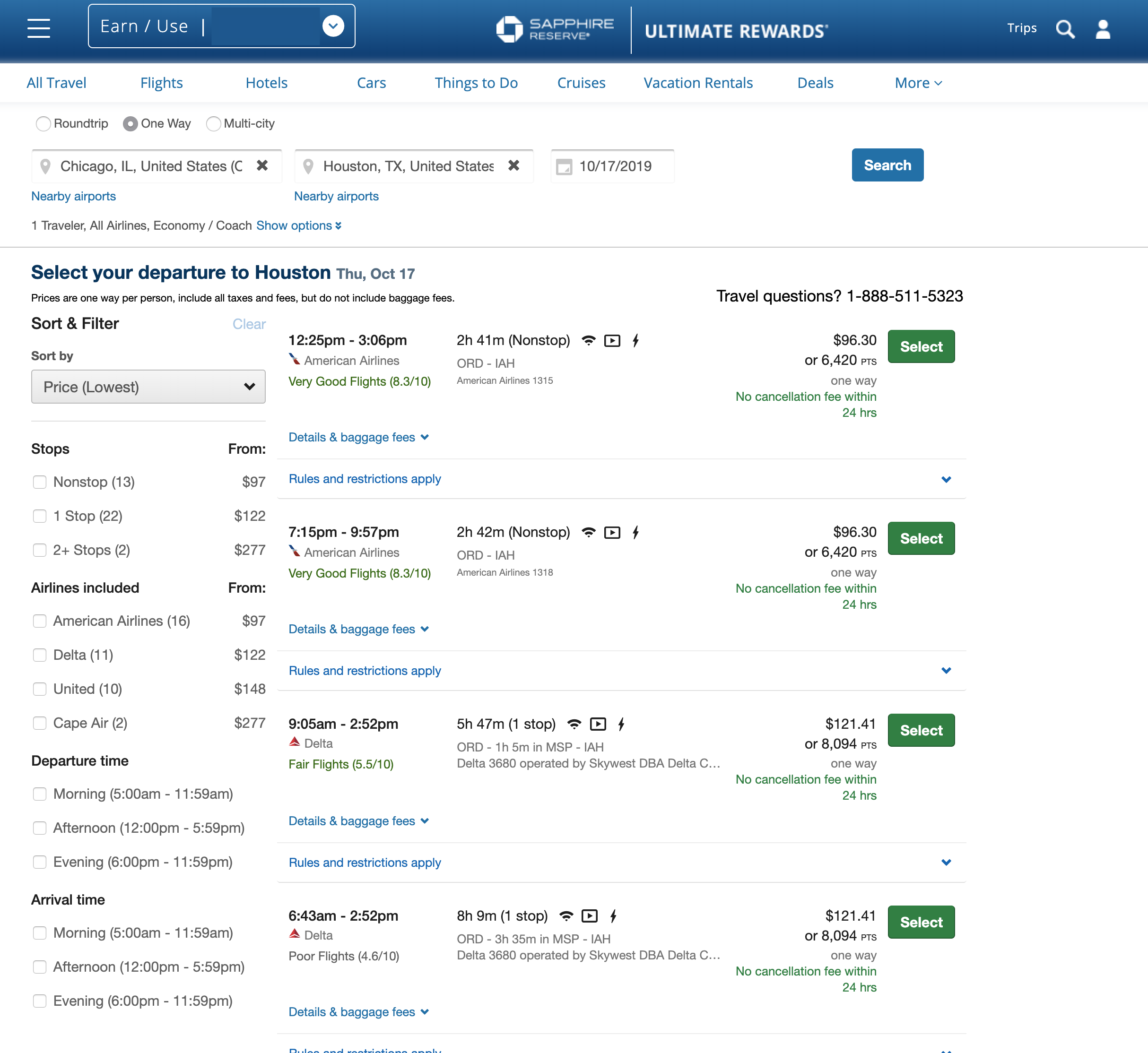 Finally, you can redeem your points for a paid ticket through the Chase Travel Portal. This portal lets you use your Chase Ultimate Rewards to book any paid flight at a fixed cents-per-point rate.
The value you'll get for your points depends on the Chase Ultimate Rewards card you have. Chase Sapphire Reserve® cardholders get the best value at 1.5 cents per point.
Alternatively, holders of the Chase Sapphire Preferred® Card get 1.25 cents per point toward paid flights, and all other Chase Ultimate Rewards-earning cards can redeem at 1 cent per point.
So, if you're a Chase Sapphire Reserve cardholder with 10,000 points, you can redeem for a flight up to $150. This isn't the best deal when compared to other redemptions on this list, but it can be a good option if you need to fly somewhere with no award availability.
Hot Tip: Don't have enough points for the ticket you want? You can use your points to take a discount off a paid ticket at the same redemption rate. For example, if you want to book a $300 flight but only have 10,000 points on your Chase Sapphire Reserve card, you can use those for a $150 discount and pay the rest with your card.
Final Thoughts
There are plenty of good ways to redeem 10,000 or fewer Chase Ultimate Rewards points! Our best advice is to stick with transfer partners — these will give you the most value for your points and let you continue to see the world on the cheap.
Want to redeem for something more exciting? Consider applying for a Chase Sapphire Reserve card. This card earns 3x points on travel and dining expenses, letting you rack up more Chase Ultimate Rewards points quickly on everyday purchases.