ZipRecruiter – How to Get a 1 Year Membership for Free [$2,988 Value]
Please note the ZipRecruiter benefit associated with the American Express Gold Business Card is no longer offered.
Recruiters and small business owners know the pain of looking for new employees.
Not only do they have to write job descriptions and promote job openings, recruiters need to manage potentially hundreds of applicants for each job. Without the proper tool, this can take hours out of a recruiter's day, leaving them struggling to find time to actually interview candidates.
Thankfully, though, there's an easier way: ZipRecruiter. This tool helps recruiters manage their job listings by handing job board posting, pre-screening questions, and even sharing new job posts to social media for you.
But with so many time-saving features, ZipRecruiter plans aren't cheap. So here's a look at what ZipRecruiter does and you'll find out how to get a free membership.
What is ZipRecruiter?
It's a one-stop-shop. For starters, recruiters can use the software to post new positions to over 100 job boards at once. This includes major job boards like Indeed and Monster, but also includes a slew of lesser known and specialty job boards that may go unnoticed to the average recruiter.
Further, recruiters can use the tool to automatically send prescreening questions, post new job listings to company social channels, and even manage current applicants. The software will even match resumes it has on-file with its supported job boards and invite existing job seekers to apply.
Job applicants can make their own ZipRecruiter profiles too. Like with supported job boards, ZipRecruiter will match applicant profiles with new job postings, giving priority to the most qualified applicant. This makes it easier for applicants to get hired, and easy for recruiters to find new qualified candidates quickly.
As mentioned, all of these features come at a price though. Currently, ZipRecruiter's most affordable plan—Standard—costs a staggering $249 per month. However, according to ZipRecruiter's website, this plan can actually be more expensive depending on your industry and how many applicants it needs to process[1].
Why ZipRecruiter is Useful for Businesses
There's no doubt that ZipRecruiter can save recruiters a ton of time; no longer do recruiters need to manually post jobs to dozens of website on their own. Instead, they can simply post the job once with ZipRecruiter and the job listing is automatically posted across multiple sites. Since job postings are matched with existing job seekers, jobs will be filled more quickly by qualified candidates.
This is especially helpful for small businesses without a full recruiting staff. More often than not, the recruiting responsibility falls on the business owner, taking hours of valuable time out of their day. With ZipRecruiter automating much of the process, business owners can reclaim their time, and focus on running a business.
How to Get Your ZipRecruiter Membership for Free
Thankfully, you don't have to pay $249 per month to take advantage of all the features ZipRecruiter has to offer. Instead, just apply for the American Express® Business Gold Card.
This small business card was revamped early in 2019. In this revamp, the card added new benefits, one of which is a free one-year subscription to ZipRecruiter.
To take advantage of this benefit, just sign up for a new ZipRecruiter account and use your Amex Business Gold Card to pay for your subscription. When charged, American Express will automatically refund the charge to your card each month for one year.
Do note that the benefit is not renewed after the first year. This means that the cardholder will have to pay for their ZipRecruiter subscription after the first year, so make sure to keep tabs on your subscription's start and end dates. Additionally, the benefit must be redeemed within the first 12 months of being a cardholder, so don't delay!
Other Benefits of the American Express Business Gold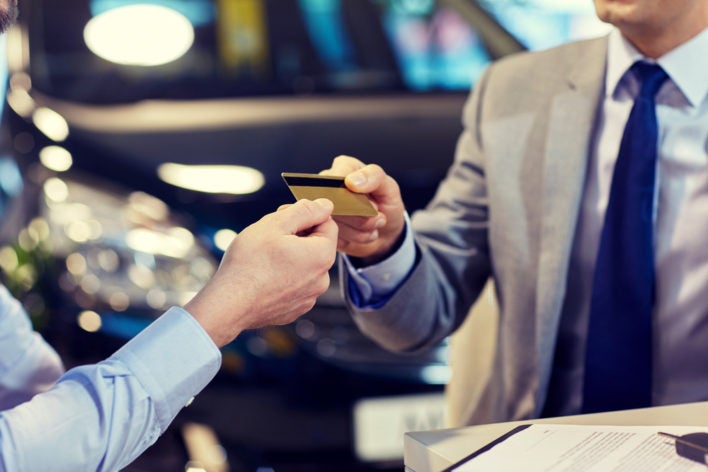 The revamped Amex Business Gold Card has a selection of other benefits that justify its annual fee too. Not only does the card earn you 4x points per $1 spent on 2 select categories where you spend the most each month, but also has added benefits like a free year of G Suite Basic for up to 3 people.
To maximize earnings, Amex Business Gold cardholders can pick from the following purchase categories:
Airfare purchased directly from airlines
U.S. purchases for advertising in select media (online, TV, radio)
U.S. purchases made directly from select technology providers of computer hardware, software, and cloud solutions
U.S. purchases at gas stations
U.S. purchases at restaurants
U.S. purchases for shipping
Choose the category that best fits your business, and depending on how much you spend, you can earn some serious points. Just note that all other purchases earns 1x point per $1 spent, and the 4x categories are capped at $150,000 in combined purchases.
Additionally, the Amex Business Gold card has a welcome bonus that can yield tons of bonus Membership Rewards points for new cardholders.
Credit Card
Benefits & Info
American Express® Business Gold Card


Learn More

(at Amex's secure site)

Earn 70,000 Membership Rewards® points after you spend $10,000 on eligible purchases with the Business Gold Card within the first 3 months of Card Membership.
More Rewards: Get 4X Membership Rewards® points on the 2 select categories where your business spent the most each month
4X points apply to the first $150,000 in combined purchases from these 2 categories each calendar year.
Pay Over Time Option: A flexible payment option to help manage cash flow on purchases of $100 or more.
Good to Excellent Credit Recommended (670-840)
Annual Fee: $295
Terms Apply. For rates and fees of the Amex Business Gold card, click here.

$1,540

Must Reads: For more info on the Amex Business Gold Card see our guide on its benefits, top FAQ's and our full review.
For more information about the card, visit the Amex Business Gold card review.
Final Thoughts
ZipRecruiter is a must-have tool for any recruiter or small business owner looking to hire new employees. While the software is expensive on its own, an Amex Business Gold Card makes it more affordable along with offering many other business benefits for simply having the card.
For information about other business cards, check out this guide on the best small business credit cards to maximize your rewards and cash-back.