How To Build and Start an Emergency Fund [Guide]
Everyone needs to be prepared for the unexpected, and this means saving for all eventualities. When you haven't reserved any cash for spending, an unexpected emergency can put huge costs on your credit card and plummet you further into debt.
From a medical bill or losing a job to something smaller like losing your phone or needing your car repaired, emergencies can arise when you least expect them. Having a financial buffer in place can help you keep your head above water when you need it most, letting you recover these unexpected costs without getting into debt.
That's why having an emergency fund is even more crucial if you're only just getting by, instead of waiting until later when you've got better credit, higher savings, and an increased income.
To help build your emergency fund, this guide will take you through all the important aspects, including what constitutes an emergency, how to save for your fund, and where you can make those all-important savings.
What Is an Emergency Fund?
When it comes to financial planning, it's important that you're prepared for the future. Because the future's so unpredictable, an essential part of this plan is to put together an emergency fund.
An emergency fund helps cover any shortfalls when you're faced with an unexpected cost. When you find yourself short, you should have instant access to some money within your emergency fund.
That's why it's always a good idea to invest your emergency fund in a savings account that you have instant access to, especially if stocks are bad. It's crucial that your emergency fund is placed in a reliable account with a guaranteed return (even if small), otherwise, it could be a fruitless exercise.
However, as you hopefully won't need to use your funds often, it's also a good idea to think long-term with your savings, perhaps dividing your emergency funds into short- and long-term accounts so you have the best of both worlds.
A Short-Term Emergency Fund
This will be the place to go when you have an emergency that requires immediate attention. These funds should be placed in an accessible account, which will probably mean that you will get little if any, interest on it. However, the most important aspect of this is its quick accessibility.
Ideally, you'll want to have a debit card for this account; it's a good idea if you can write checks from it too. This will help you deal with smaller emergencies such as replacing a broken appliance or getting your car repaired. You may also want to use it for instant cash while you're waiting for access to your long-term emergency funds in a bigger emergency.
A Long-Term Emergency Fund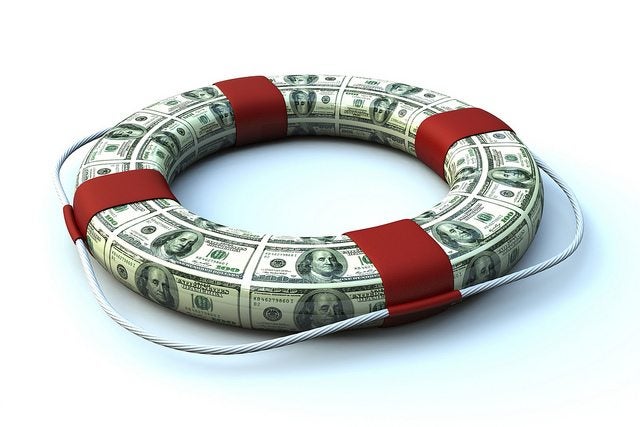 A fund that thinks more long-term will enable you to prepare yourself for any major emergencies you could face, such as a natural disaster (e.g. a flood or fire) or job loss. Placing this in a different account from your short-term funds should enable you to earn some more interest off this money, but it's important that this cash is still accessible.
Investments that take a few days to access should be OK, as long as you've got your short-term funds to help out in the meantime.
Having these emergency funds in place helps to put your mind at rest. You've got some money that's ready to go when you need it, meaning you don't need to turn to short-term loans or credit cards to get by. Even if your emergency funds don't cover the entire cost, it still helps reduce how much money you may need to borrow or put on your credit card.
What Is Classified as an Emergency?
As tempting as it may be, your emergency fund is not there for leisure or entertainment purposes. Even if your old TV breaks, splurging on the latest big-screen TV doesn't qualify as an "emergency."
If you think you're likely to get tempted by this extra cash you're saving, try creating a "splurge fund" also, to use when you want to buy the latest gadget or take a vacation. When it comes to your emergency fund, keep depositing your payments into it without checking the balance. This will reduce the temptation involved with having spare cash to spend.
In order to understand what your emergency fund is for, you need to be able to identify what constitutes a real emergency. Something that requires immediate action is a viable emergency situation, as well as anything that could affect your well-being or an important asset of yours (e.g. your home or car).
Examples of some emergencies may include:
A Health Emergency – A sudden health problem could leave you with a hefty medical bill that you weren't expecting. For these cases, you may want to create a medical emergency fund, setting up a Health Savings Account that will help remove some of the financial strain.
A Family Emergency – A death in the family or other personal emergency could mean you have to make financial arrangements or need to travel at the last minute.
Car Repairs – Unfortunately, cars aren't always reliable and can break down at the most inconvenient times. You may find yourself having to pay for a new engine or covering your insurance deductible if you get in an accident. However, any routine things that help you maintain your car (e.g. regular service) should be covered in your monthly budget.
Replacing a Major Appliance – If your big freezer breaks or your furnace suddenly stops working, you'll need to get a replacement as soon as possible.
Home Repairs or Deductibles – As part of your homeowner's insurance, you'll have a deductible to pay if something happens like a fire or flood. Because your home is often your largest asset, getting any home repairs done should also be a top priority.
A Job Loss – If you suddenly find yourself without a job, this can leave you without your standard income and put a huge strain on your finances. As you try to find another job, you could be out of work for weeks or months with little or no income.
How Much Money Should You Put in Your Emergency Fund?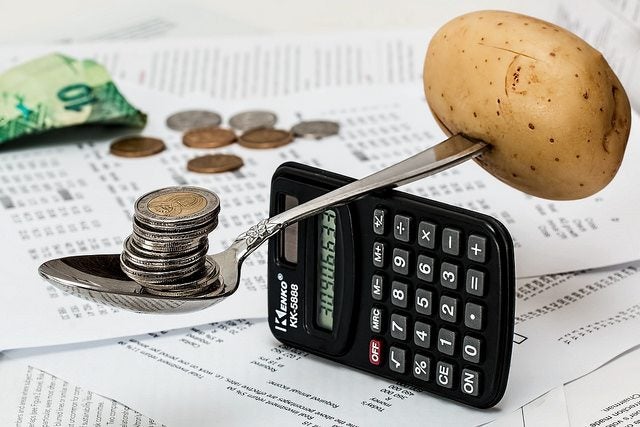 Some financial advisors will recommend that you have at least 6 months worth of expenses saved in your emergency fund.
These expenses are what you spend each month on your household, including groceries, insurance, car loans, utilities, mortgage/rent, and other essentials. It's also worth including some leisure activities and bills you know you'll incur that aren't always monthly (e.g. your annual car service or a regular medical exam).
However, saving this much money can be incredibly daunting, so consider building your fund up slowly at first.
Setting a Low Monthly Target
If it's going to take you years to save up 6 months worth of living expenses, this doesn't mean you can't put an emergency fund together. Instead, it's all about budgeting what you can afford and setting reasonable goals that you know you can achieve.
To start with, set your initial target at $250-$500. In a few months, you could soon have these funds in place, and this will make a huge difference to your financial situation if an emergency does arise.
Now break this goal down into even smaller chunks. Perhaps you could put aside $30 a week, which would amount to $300 in just 10 weeks. Or, if you can put away $40 a week, in just 3 months you'll have reached your initial target of $500.
Don't set your saving plans too high to start with, either for the total funds you want in place or the amount you're going to save each week. Saving for your emergency fund can be a challenge, but it shouldn't be unreachable. This will only make you feel disheartened and scrap the idea completely.
Getting Your Emergency Fund Started
When you're just starting to turn your financial situation around, finding $30 a week may seem like a stretch. But there are a number of ways you can generate extra money to put into your emergency fund:
Ask for Reduced Rates on Your Credit Cards
If you're carrying a credit card balance, you could save a lot of money each month by getting your interest rate reduced. Simply call your credit card provider and request that they reduce the rate on your card. It may also be worth suggesting that you're looking to transfer the balance.
Also, if you're going to be using a credit card on a regular basis, consider shopping around for one that has no annual fee.
Shop Around for Insurance Quotes
Homeowners and auto insurance costs can add up over a few months! So shop around to see if you could be getting a better deal elsewhere. It's convenient to stay with the same provider, but making a switch could save you a lot of money in the long run.
Cut Down on How Much Money You're Wasting
From leaving lights on to having the heat on all day, looking at where you're wasting energy around your home is a great way to reduce household bills. Having a thermostat installed could save you up to 30% on heating and cooling bills because you're controlling when it's on/off, and energy isn't being wasted when people aren't in the house.
Stick to Your Shopping List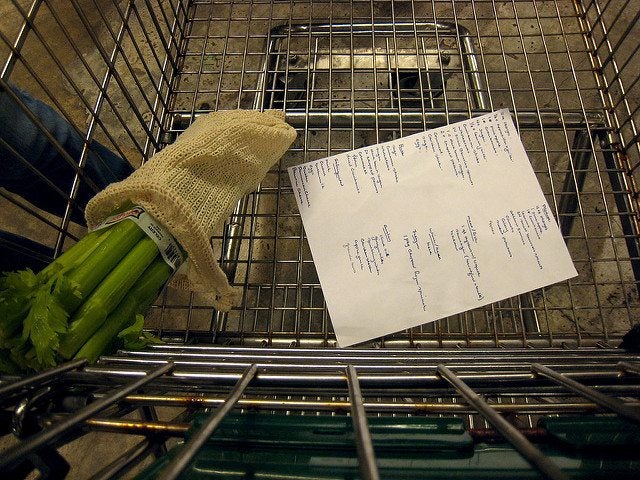 If you go shopping without a list, you'll be tempted to pick up other items as you go. From treats for the family to things you forgot you'd already purchased, there's a lot of wasted money going into your shopping cart.
Instead, take 10 minutes before you go to the grocery store to make a list, and stick to it while you're shopping. This will help reduce your grocery bills since you won't be putting unnecessary items in your cart.
Have a Yard Sale
To get your fund started with a bang, why not host a yard sale and get rid of all those old things you don't use anymore? Ask friends and family if they've got anything you can sell for them so you can amass a good bunch of items that will attract your neighbors. You might be surprised how much you can cash in by doing one of these sales – and it'll help you get rid of a bunch of stuff too!
Cut Down on Your Splurges
It's nice to indulge yourself every once in awhile, but cutting down on those splurges will help you save lots of money. For example, if you like to go to a restaurant every other week, try reducing this to a monthly visit. Or, why don't you try preparing a meal at home? Even if you cook something fancy in the kitchen, you'll still be saving on restaurant costs.
Consider Your Transport
How you're traveling around could be adding to your expenses too. If you commute, look for someone in your local area that you could carpool with. Even if you can only share a car a couple of days a week, it'll dramatically cut your commuting costs; plus you won't be as tempted to stop and make an impulse shopping trip!
Public transport is another great idea, whether you're going to work or on a shopping trip with your family. It's much cheaper and far less hassle than driving.
Finally, if you're wanting to get fit and your workplace is fairly close, why don't you hop on your bike to get to work instead? That way, you'll be burning calories without burning a hole in your wallet!
Sell Your Old Video Games, Books, and DVDs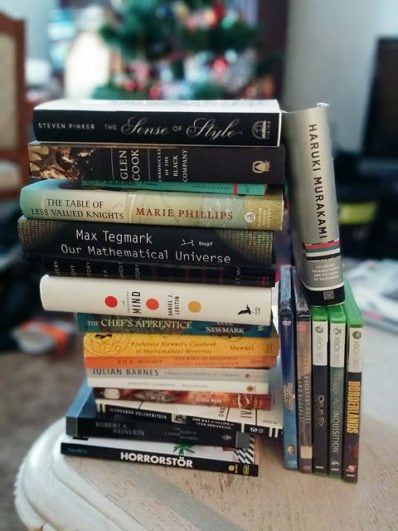 Buying DVDs, books, and video games on a regular basis is something many of us do, but what do you do with them once you've watched, read, or played them? Leave them in the closet to collect dust?
Now's the time to list these items on sites like eBay or Amazon, as this will help you build up a nice little pot of money to get your emergency fund started. You might not want to stop there either – you can list all sorts of things on these sites, so rummage around to find other stuff you can sell!
Get Rid of Unnecessary Bills
When you're putting together your financial plan, look at the direct debits you've got going out of your account. Are you getting the most out of your cable TV? When was the last time you watched something on Netflix? Isn't it about time you started getting some use out of that gym membership?
If you're not using these services, get rid of them and allocate the amount you would have paid to your emergency fund.
Save Your Savings
When people are given some money unexpectedly, it's common for them to spend it without a second thought. Instead of spending any windfalls of cash that come into your account, take a bit of it (or all of it!) and place it straight into your emergency fund. This is incredibly easy if you have online banking because you can just transfer it from one account to another.
If you find that this means you're saving more than you originally planned, consider upping the amount you're putting into your emergency fund, or put it in another savings account (e.g. your retirement fund).
Take on a Second Job or Do Odd Jobs
You may already be busy with work, family, and your social life, but if you can squeeze a few hours out of your week, it may be worth taking on a second job or doing odd jobs for people. There are a number of flexible jobs out there that don't require too much commitment from you, like mowing lawns, walking dogs, or delivering pizzas.
You may even find that your neighbors have some odd jobs you can help them with. Putting all the money you make from doing these jobs into your emergency fund will see it building up in no time – and you might have some spare cash left over to enjoy the odd night out too!
Collect All Your Spare Cash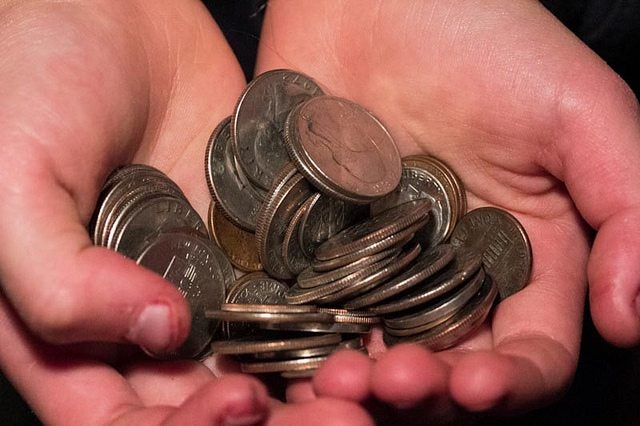 At the end of the day, have your family members empty their pockets of loose change and put this in a jar. If you can include $1 and $5 bills, this is even better, but even loose change will add up over time. Count up what you've collected at the end of each month before depositing it to your emergency fund account.
Make Your Payments Automatic
Now that you've trimmed your spending, you'll probably notice you've got some extra cash sitting in your account. Spending this on something exciting like a night out at the movies is much more thrilling than putting it into your emergency fund!
That's why it's a good idea to remove these temptations by setting up an automatic savings plan. This will take that excess money out of your account and place it into the savings account you're using for emergencies.
When you set up an online savings account, consider doing this with a bank that's different from your day-to-day one. Not only will this help you find the best deal with your savings account, but it also puts the money in a place that's harder to access.
If you can't just drop by the ATM to draw some cash out, it'll make you much less likely to use this money for non-emergencies. Having to wait up to 2 days for the cash to transfer will give you time to think about what you're doing with the money, resulting in fewer impulse buys.
In summary: you need to set up an online savings account that offers you a reasonable interest rate, and then create a direct transfer that will take out a set amount each month or week. Then, forget about this account until an emergency arises.
Set Yourself Reasonable Milestones
After a few months of saving, you'll probably reach your first milestone…and you'll feel great about it! You've put enough money in the account to let it start generating some interest, and you can feel much more in control of your financial situation.
But don't stop there! Set yourself another milestone targeting a larger emergency fund and make sure those automatic transfers continue.
Then, once you reach that goal, look to get together a month's worth of living expenses…then 2, 3, 4, and so on.
When an emergency arises, tap into this fund – that's what you've worked so hard for. There's no point in going into credit card debt, so use your savvy financial planning to keep yourself stable.
In some ways, you might start to find saving fun! Setting yourself realistic goals will make it even more rewarding, and you'll keep pushing yourself to get there. Eventually, emergencies won't leave you feeling restless because everything will have been taken care of.
The Essentials of an Emergency Fund
Before you create your emergency fund, here are some essentials that you need to consider:
Limited or No Risk
Sadly, the risk involved in an investment is normally proportional to the rate of return. That's why you need to be comfortable with the fact that your emergency fund is going to be in a low-interest account. Savings accounts, bank CDs, and checking accounts are safe, low-risk choices when you establish your emergency fund.
Always check that your account or investment carries FDIC insurance. When it comes to bonds, you may want to consider these for your long-term funds, but this will depend on whether or not you're comfortable taking that risk.
Liquidity
How quickly you can gain access to your assets is another huge factor with your emergency fund. For example, a savings account is fully liquid because the cash is already there. But with bonds, you have to sell these before you're able to use the cash from the settlement – this can take several days depending on who they're with.
Cash products can also cause some problems. For example, bank CDs often come with a penalty attached if you try to withdraw your cash early. Understanding these terms before opening an account will allow you to weigh up the pros and cons to decide whether it's a viable option for long-term emergency funds.
Accessibility
Sometimes you'll need instant access to cash, which is why it's a good idea to have a short-term fund that's always available to you right away. Having cash in hand or a debit card with money on it will help you cover expenses in the short-term while you're waiting for your long-term emergency fund to come through. This stops you from having to use your credit card or borrow from family and friends.
In Summary
The difference between financial success and financial ruin can be as simple as an emergency fund. Establishing one of these takes some discipline, and you'll need patience and dedication to build one up.
But having an emergency fund in place helps you prepare for any unexpected situations, reducing the likelihood that you'll need to borrow money at a high interest rate.
Take a look at your expenses and use the above information to decide what you can save each month, identifying where you can cut costs to add to your savings. Make a plan, have a budget, and stick to it.
And don't forget to use these funds wisely! It can be tempting to use them for an indulgence and think you'll pay the money back later, but you never know when an emergency's going to arise. Being smart with your savings will help you to build a better financial future for you and your family.
---
Featured Image Photo Credit: Tax Credits