Save $125 on Delta Air Lines Purchases With Latest Amex Offer [Targeted]
Planning on booking a flight with Delta? Make sure to check your Amex Offers first, as some cardmembers have been targeted with an opportunity to save money on Delta flights.
To find out if you've been targeted, log in to your American Express online account, either through a web browser or the Amex app. Then go to the Offers section where you'll be able to see what you're eligible for.
Let's review what the offer entails.
Save Money With Delta Air Lines
If you have indeed been targeted, you must activate the offer through Amex Offers; once you make your purchase, you'll then receive $125 off Delta flight purchases of $300 or more in the form of a statement credit.
Better still, if you have The Platinum Card® from American Express and you're targeted on that card, you'll be able to stack the $125 savings on top of the 5x Membership Rewards points you'll earn on the airfare purchase — score!
If you've already booked flights, purchases of upgrades, seat selection, baggage fees, standby fees, and Delta Sky Club access will also trigger the savings.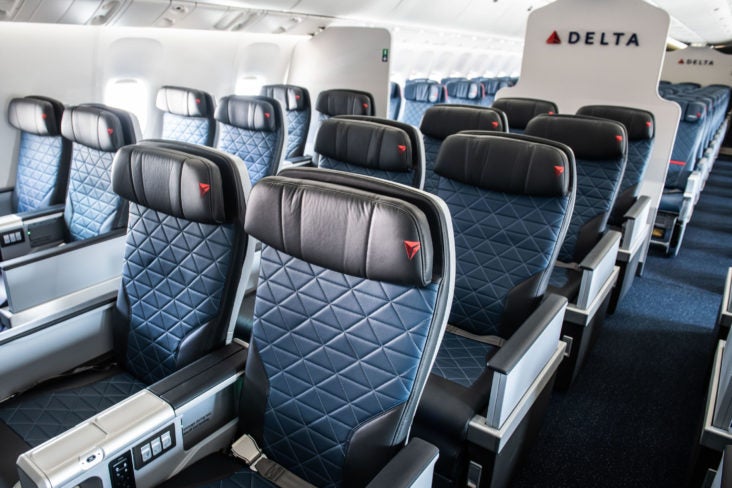 Ineligible purchases include onboard food and drink, Wi-Fi, charitable donations, gift cards, the Delta Flight Museum, SkyMiles Cruises, and more.
You can hit the $300 threshold in 1 or multiple purchases for flights coming up soon or into 2022. Flights must originate in the U.S., be operated by Delta, and be booked directly through the airline through a web browser, the Delta app, or by phone. Once you've reached the threshold with eligible purchases, you'll receive the $125 savings in the form of a statement credit.
The offer is valid on purchases made through December 31, 2021, so you have some time to sort out your travel plans if you don't have any on the calendar.
Amex Offers are often limited to a certain number of cardmembers, so it's always advisable to activate offers like these as soon as you see them — even if you're not 100% sure you'll take advantage.
Hot Tip: Save money and earn bonus points! Check out our ultimate guide to using Amex Offers and our guide to the best current Amex Offers [Travel, Dining, Entertainment, Shopping].
Final Thoughts
Amex Offers are one of the best perks of having an American Express credit card, and this latest offer for savings on Delta Air Lines purchases only confirms that. If you see the offer (especially on an Amex Platinum card), you'll get a great return on your spending.