Virgin Atlantic Unveils 'The Booth' Private Space on New A350s
Space to relax in luxury away from your seat on a long-haul flight is a perk of flying with only a select few airlines. Virgin Atlantic is one of them and is introducing a new dedicated space into the mix.
Passengers flying in Upper Class will be the first to experience this new space on board the newest Airbus A350s set to join the airline's fleet.
Out With The Loft, in With The Booth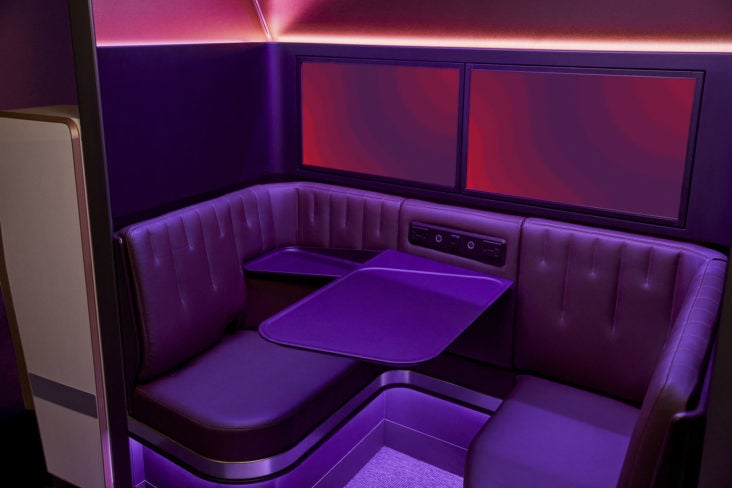 Virgin's all-new A350s will now offer The Booth, a feature unique to the airline and the 5 leisure-configured A350s that it's set to receive.
The lounge-style social space offers comfortable seating for 2 with a table and access to 2 27-inch touchscreen monitors displaying various content, depending on the route and time of day.
The Booth is a smaller-scale version of the airline's original A350s that feature The Loft — a unique onboard space for a total of 8 Upper Class passengers to have a drink and relax. This replaced the previous signature bar area which can still be found on board older Airbus A330 and Boeing 787 Dreamliner aircraft.
Guests can use their time in The Booth however they see fit. Whether you fancy table service dining, have emails to catch up on, or want to indulge in cocktails for 2, then The Booth is the spot for you.
More details are forthcoming on how passengers will be able to reserve The Booth for use and for how long, but a booking system is likely to be introduced.
The first of the new reconfigured A350s, Fearless Lady (named after Richard Branson's late mother, Eve), will take to the skies sometime in December 2021. Its first route is set to be the leisure-passenger heavy hop across the Atlantic from London (LHR) to Orlando (MCO).
The Facts and Figures
Virgin has a total of 5 of the new A350 aircraft on order with a planned delivery completion date of June 2023. Given that the industry is still struggling under the grip of the pandemic, pushbacks to this date should be expected.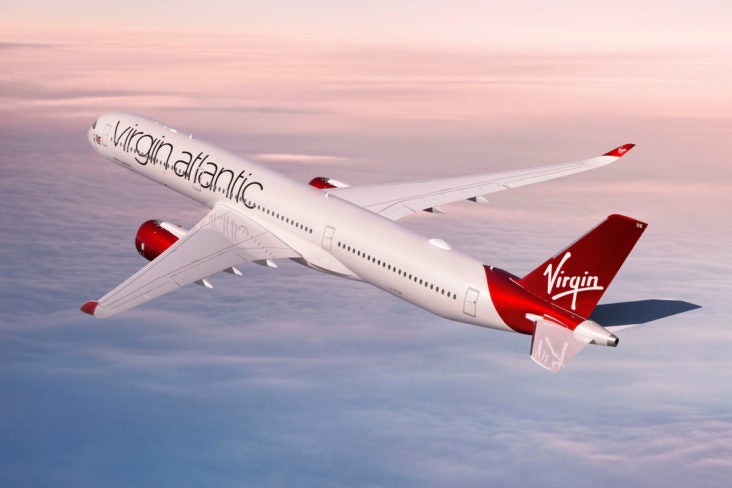 The reconfigured A350s will carry a maximum of 397 passengers with 16 Upper Class suites, 56 seats in Premium, and a whopping 325 seats in economy. This is to account for a higher volume of leisure passengers on the routes that these aircraft will be serving.
45 of those economy seats will be dedicated to those wishing to spend around $140 more (per person, return) on an Economy Delight ticket. Additional perks included with an Economy Delight ticket are extra legroom, priority boarding, advanced seat selection, and 1 checked piece of luggage.
This version of the A350 has a significantly higher number of seats than the original A350s that will continue to operate to destinations with a higher business traveler demand. These aircraft carry 100 fewer economy passengers and have 28 more Upper Class suites.
Final Thoughts
Virgin Atlantic's customer-centric innovation has always given the airline an edge. The original onboard bars, followed by The Loft and now The Booth, are a definite perk of flying with the carrier.
If you have earned Virgin Points by flying Virgin Atlantic or its partners, consider our suggestions for the best ways to redeem Virgin Points for maximum value. We also have a specific step-by-step guide with tips on the best ways to book Virgin Atlantic Upper Class with points and miles.