Hawaiian Airlines Airbus A330 Business Class Review [HNL to SYD]
Airline: Hawaiian Airlines (HA)
Aircraft: Airbus A330
Flight #: HA451
Route: Daniel K. Inouye International Airport (HNL) to Sydney Kingsford Smith Airport (SYD)
Date: November 4, 2019
Duration: 10hrs 45min
Cabin & Layout: Business Class, 18-seats, 2-2-2 config
Seat(s): 1C
Miles Used: 65,000 American Airlines AAdvantage miles and $27.10 in taxes and fees
Typical Retail Cost: $2,783 per person one-way
Introduction
I booked this flight from Honolulu to Sydney as part of a larger journey, with the primary goal of flying back from Sydney to Los Angeles on what was labeled as Qantas' last 747 flight to the U.S. mainland, and the last flight from its 747 aircraft named "Sydney."
Getting to Australia from the U.S. can be quite difficult, but award availability from Honolulu is surprisingly decent and is much more readily available than nonstop flights on Qantas or American Airlines.
Having found a cheap cash ticket from Washington-Reagan (DCA) to Honolulu, I decided to spend a few days in Honolulu before taking the long flight to Sydney.
Hot Tip: Breaking up the journey from the U.S. to Australia via Hawaii is a very smart move — not only is the flight shorter, but it also allows you to start to adjust to the new time difference over time rather than over the course of a single flight.
Booking
Booking Hawaiian to Sydney is actually quite easy — it's one of the easiest ways to get to Australia on points, thanks to there being a lot of mileage seats available. If you can make it to Hawaii on your own, and then begin from there to Sydney, it's a great way to spend your miles.
Here are the typical miles you can use:
For this journey, accruing AAdvantage miles is probably the easiest, and because your American booked ticket includes up to 3 segments total, this means you can transit to another point in Australia essentially free of charge.
For example, once landing in Sydney, you could fly west to Perth and then north to Broome. Or, you could fly south to Melbourne and then north to Alice Springs. The possibilities are endless. With HawaiianMiles, you're essentially stuck ending in Sydney, and if you want to continue from there, you'd need to purchase a separate ticket.
At the Airport
Honolulu Airport is uniquely designed in that nearly the entire check-in area is open-air, thanks to the great Hawaiian weather. Hawaiian has 2 departure areas — 1 for Japan flights and 1 for all other flights, including both domestic, inter-island, and international (excluding Japan).
Once through security, I headed to the Plumeria Lounge, Hawaiian's international lounge open to customers traveling in business class to American Samoa, Australia, Japan, New Zealand, South Korea, and Tahiti.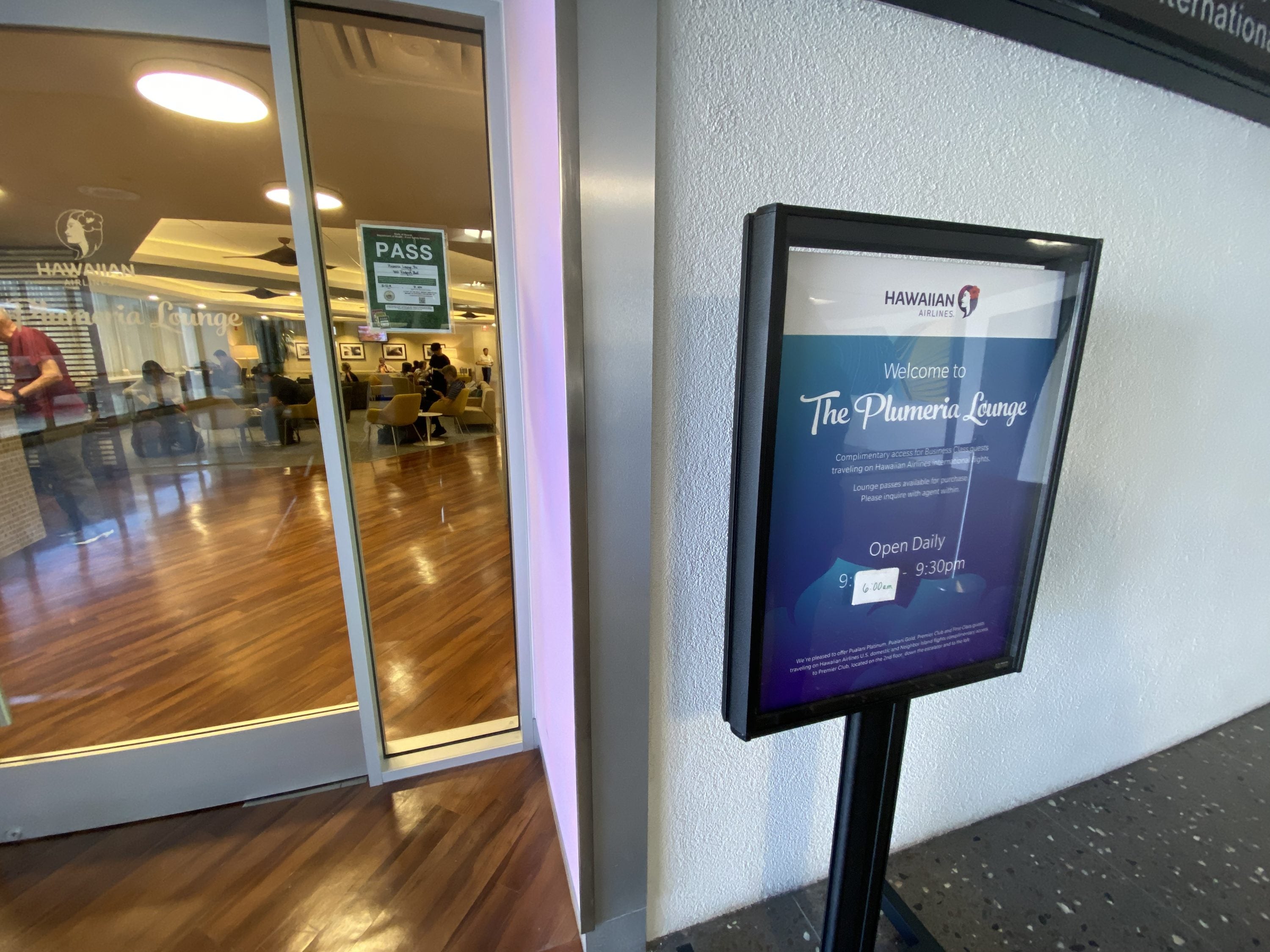 This lounge is stretched across 3,600 square feet and has complimentary fresh food, craft beer, wine, free internet, and charging ports scattered throughout.
It is also accessible if you have a Priority Pass membership, which is not really intuitive as Hawaiian also offers a domestic club of its own that has far fewer features and isn't open to Priority Pass.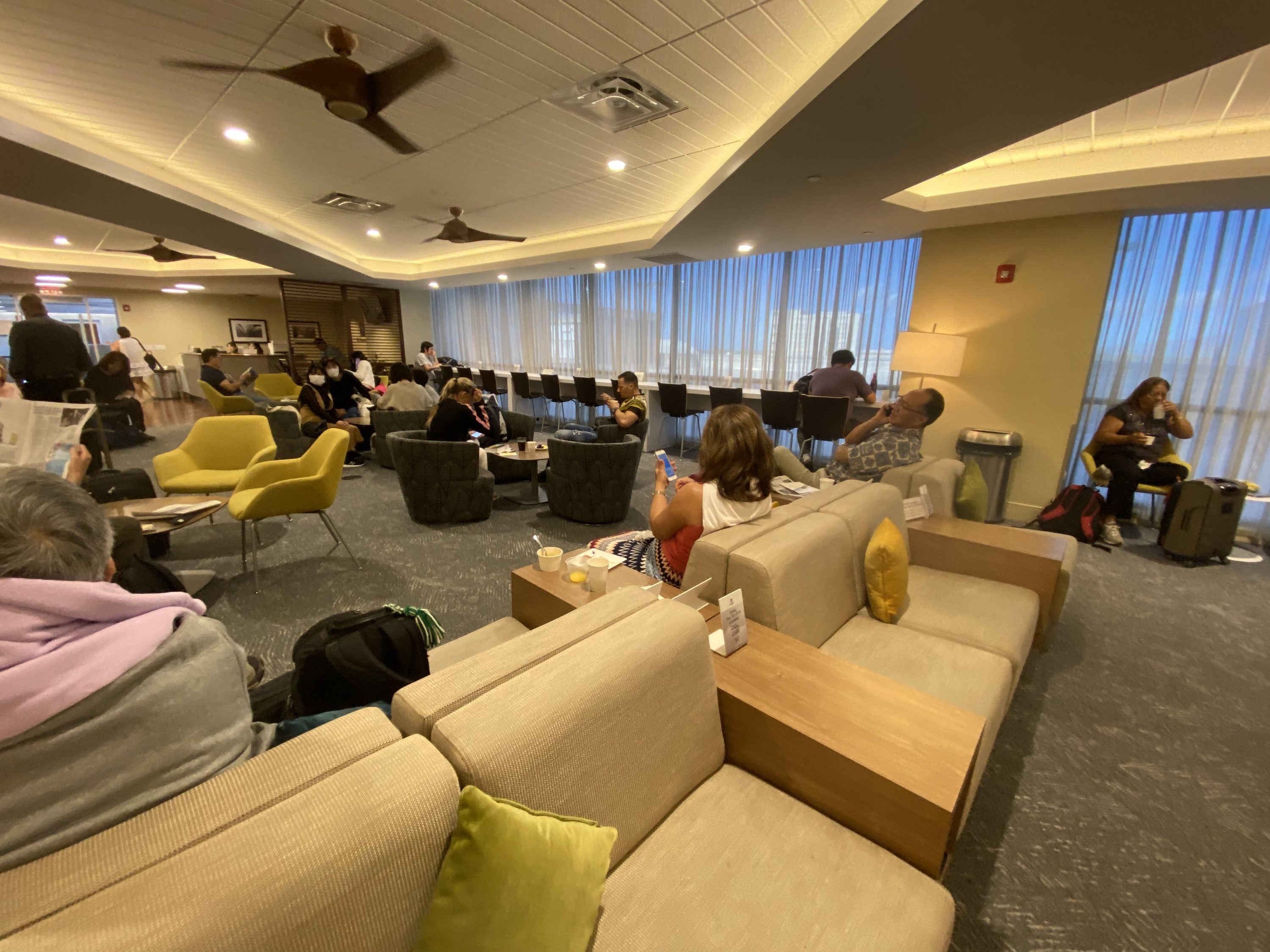 The staff inside the lounge were fantastic — constantly replenishing food and seeing what customers needed. During my visit, just before lunch, ham/cheese sandwiches, soup, vegetables with dips, potato chips, and other packaged snacks were available, as well as a small tray of muffins and pastries.
The lounge was fairly crowded and the food was gobbled up within a short time, but items were replenished within a matter of moments as trays emptied.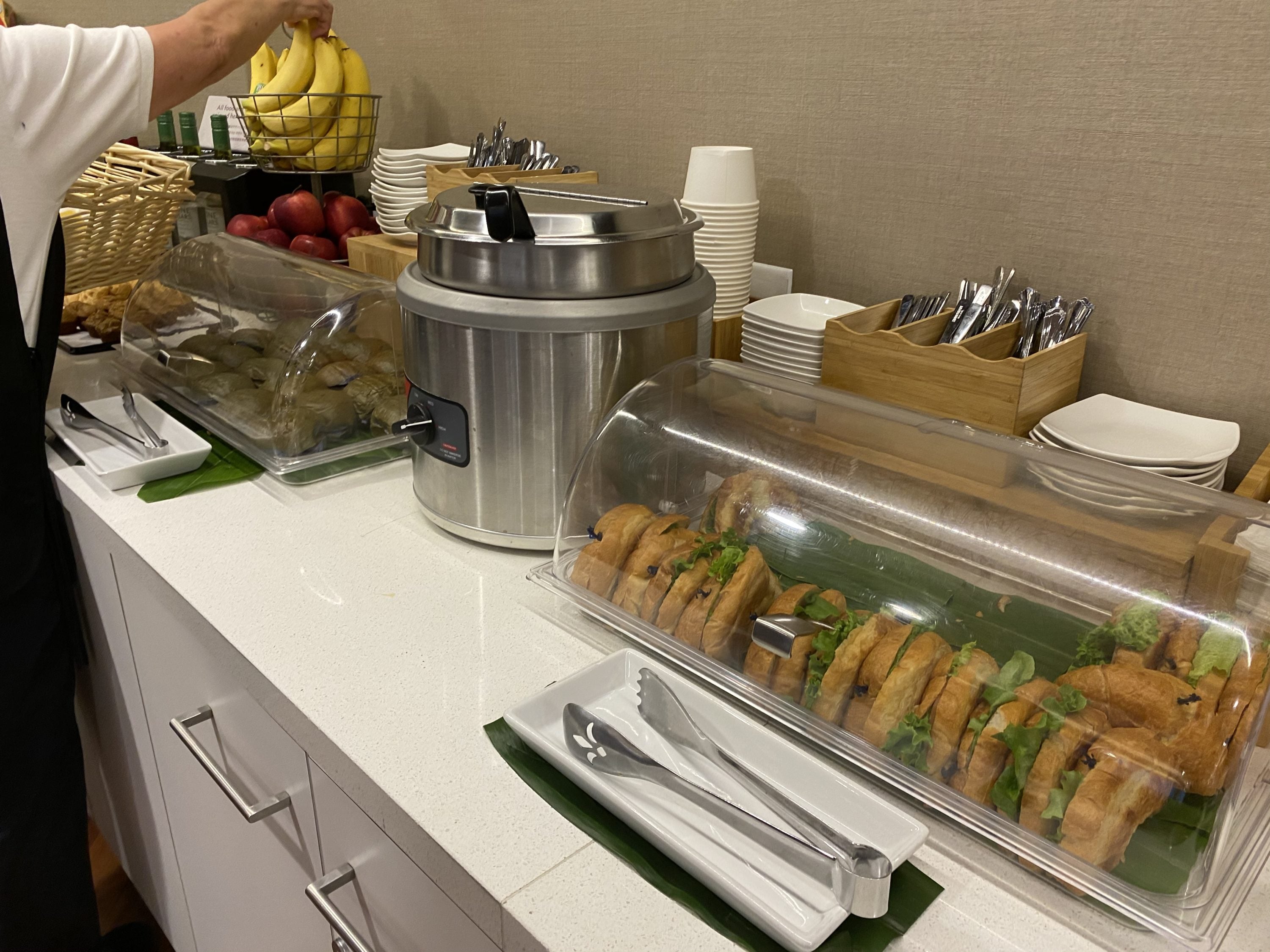 Flight
Aircraft
This flight was operated by an A330 with 18 business class seats, 68 Economy Comfort seats, and 192 economy seats.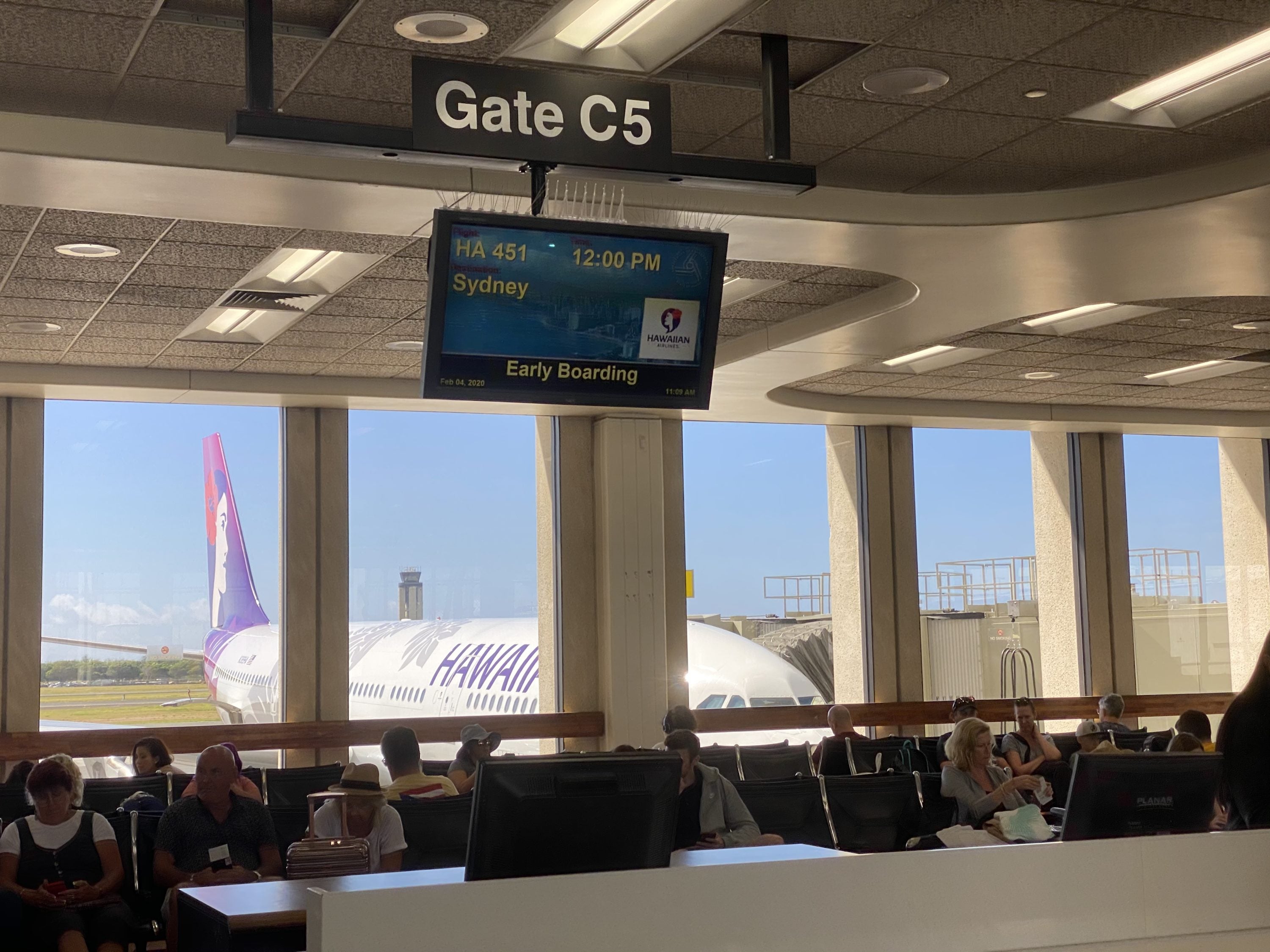 Boarding
Boarding was very orderly, beginning with business class and elite passengers, followed by all others. On the jet bridge, passengers were divided — those in business class turned left, and those in economy class turned right.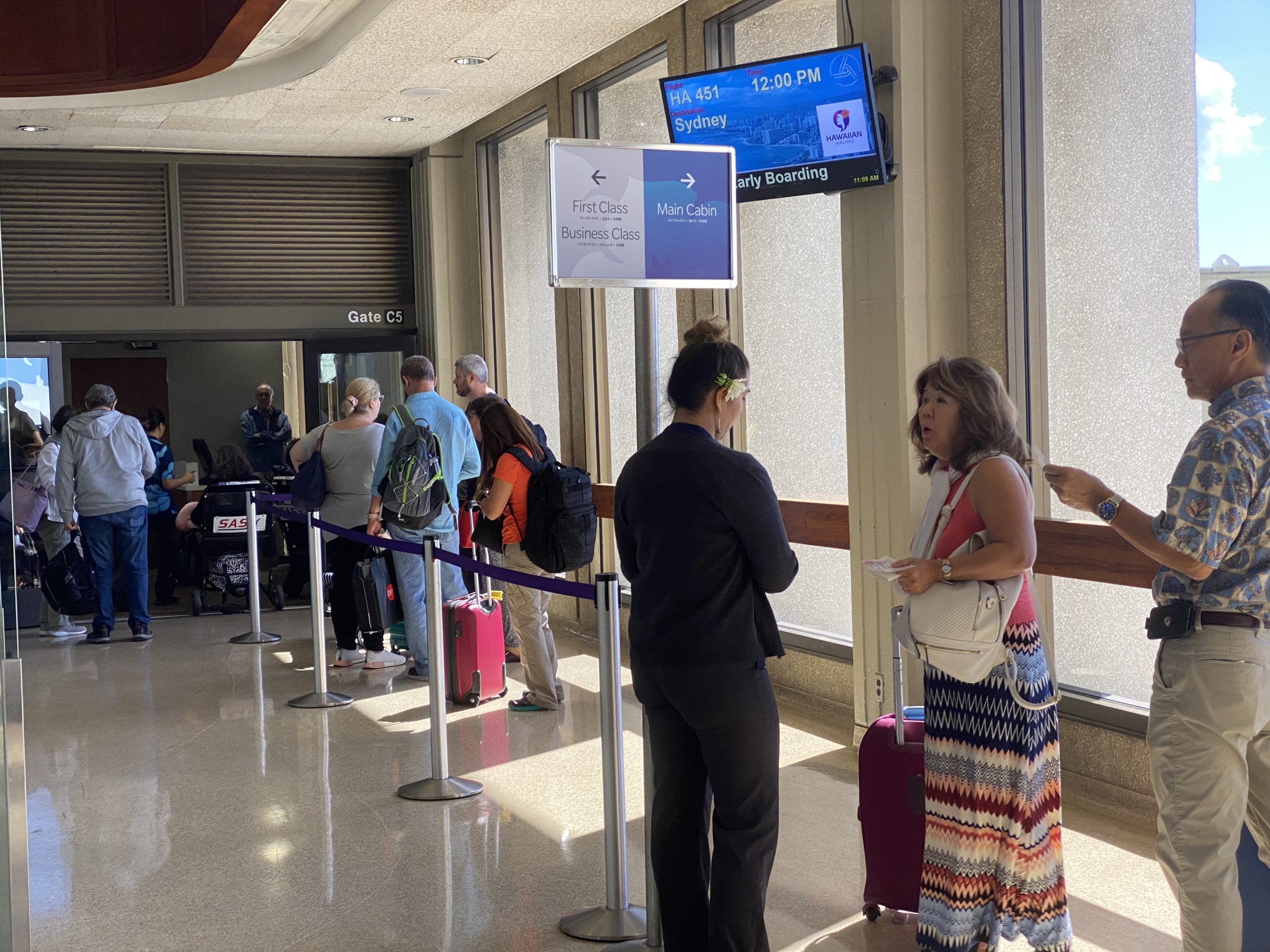 Business Class
Business class on the Hawaiian A330 takes up the forward part of the aircraft, with 18 flat-bed seats. When in bed mode, the length is 76 inches and the seat is roughly 20 inches wide, making for a comfortable night's sleep.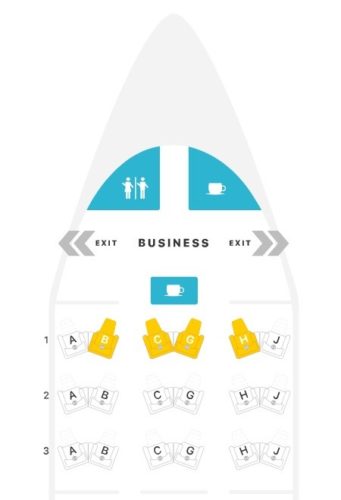 The cabin is laid out in a 2-2-2 formation, though interestingly, each seat does have aisle access — some by being directly on the aisle, and for those by the windows, a small cutout near the footrest of the aisle passenger's seat.
This way, these folks don't have to necessarily step over anyone, but rather slide through the cutout near the feet. It's not ideal, but certainly better than nothing.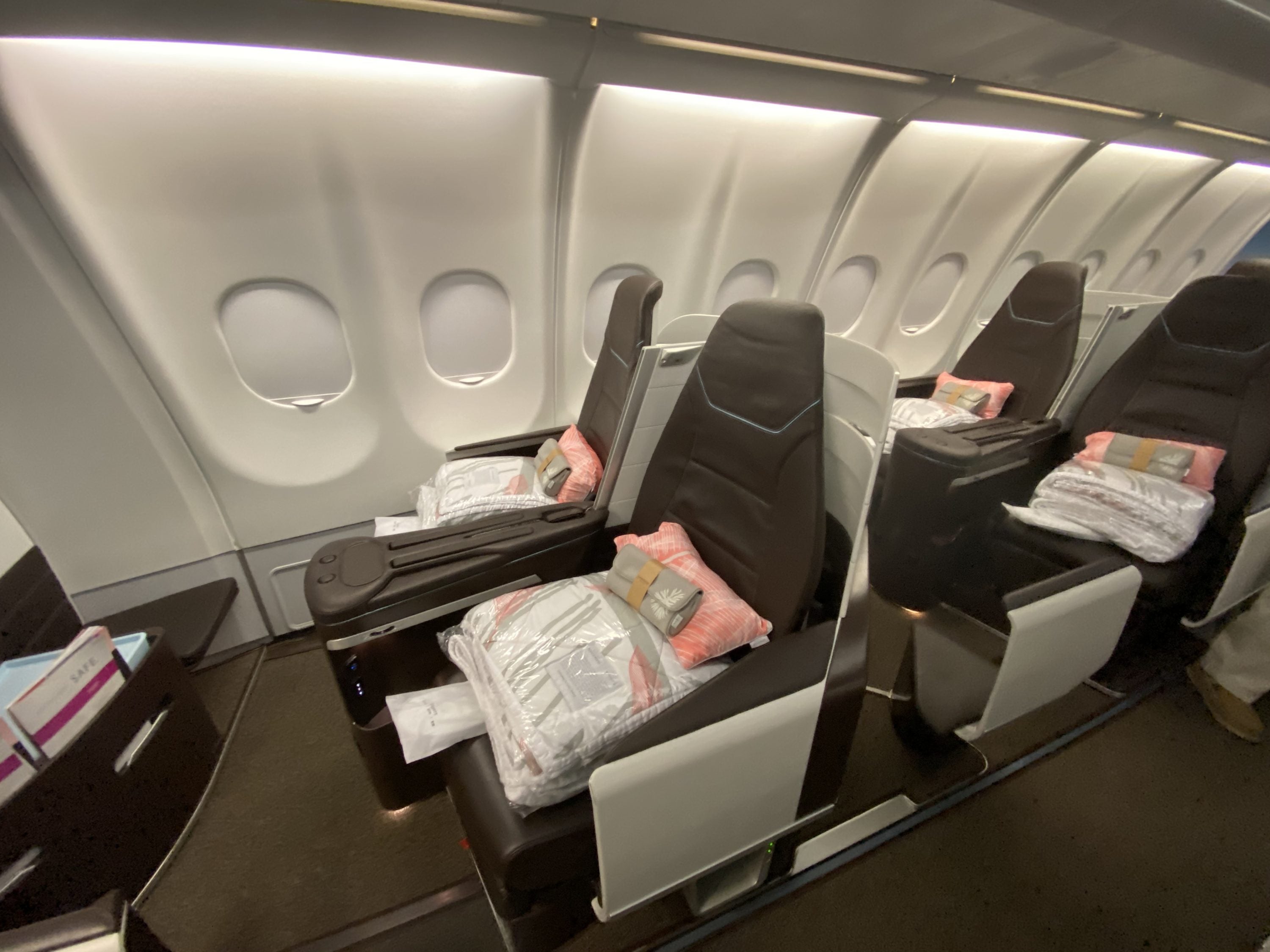 I was in seat 1C for the journey, a bulkhead aisle seat in the center section with direct aisle access. Unlike any other seats in the cabin, 1C and 1G have footrests within the bulkhead, making them particularly private. Because your feet are encased within the wall, there's no risk of someone accidentally bumping into you mid-flight, which is really nice.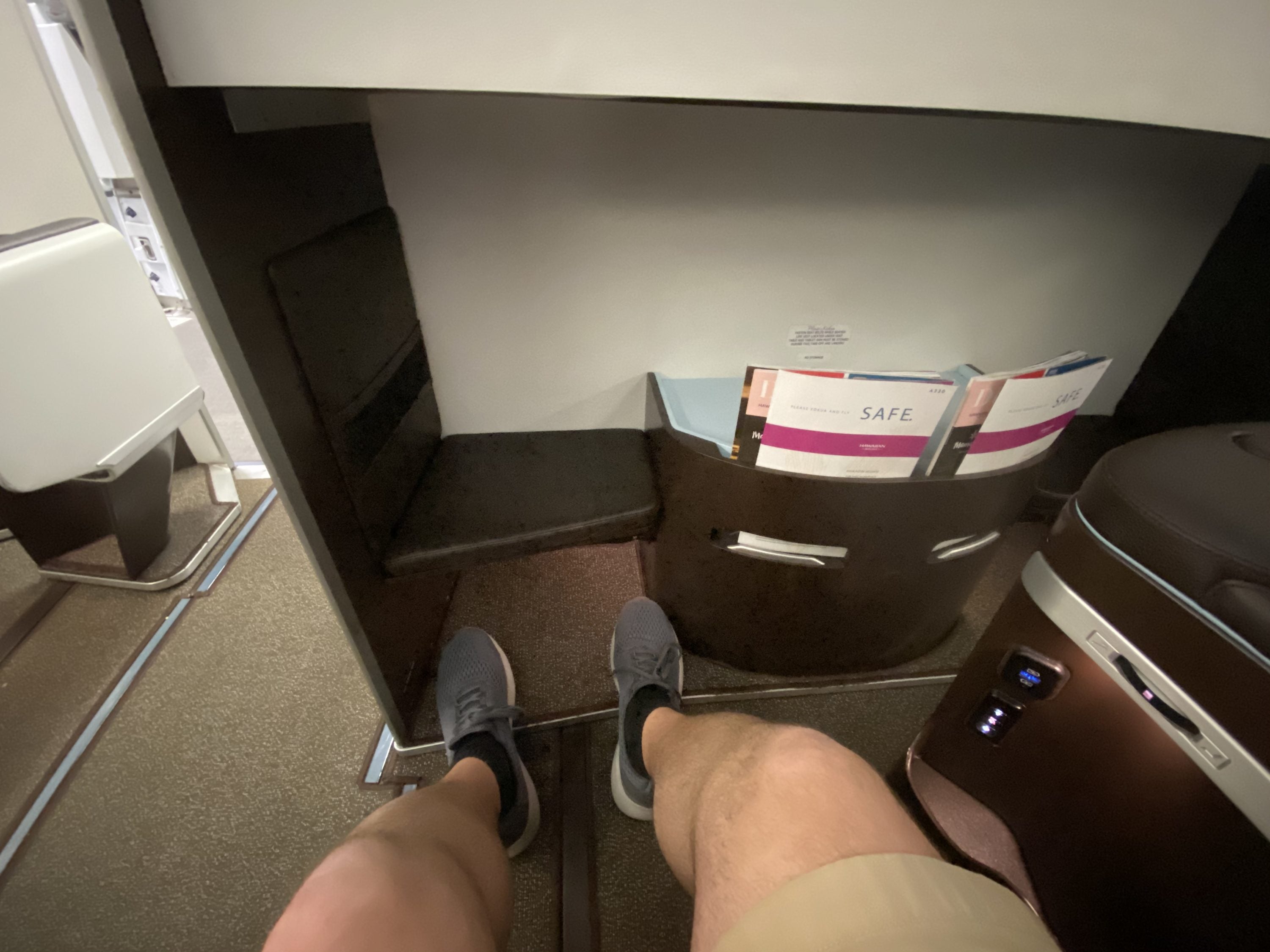 The seat reclines using a simple dial on the console in the center — you slide it forward to slide back into a bed and slide it back to recline up into a seat. It's very intuitive.
Below that is a small panel with the usual seat bells and whistles — a button to call the flight attendant, a button to turn on the flight, and a USB port. On the front end of the console was a traditional international power port.
I really found these seats quite comfortable, and there were plenty of places to store a water bottle, my glasses, and my phone while I slept. The seats were surprisingly pretty private, and there was a divider you could pull up in between each pair of seats, separating you from any other passenger.
Hot Tip: Select the center bulkhead seats (1C/G) for additional privacy by the feet, as the bulkhead wall completely surrounds the footrests.
Amenities
At each seat upon boarding was:
A comforter blanket
A small back/lumbar pillow
A larger, full-size pillow
Slippers
Amenity kit
Mattress pad
The comforter blanket was very comfortable and covered the length of me while I slept; keep in mind, I am 6 feet tall. The full-size pillow was great for sleeping, though admittedly I like several pillows when I sleep, though I won't fault Hawaiian for not providing more of the larger ones as I know those can get pretty bulky.
I didn't use the lumbar pillow at all through the flight as I'm usually not a fan of them, though I did see several other people using them to get comfortable.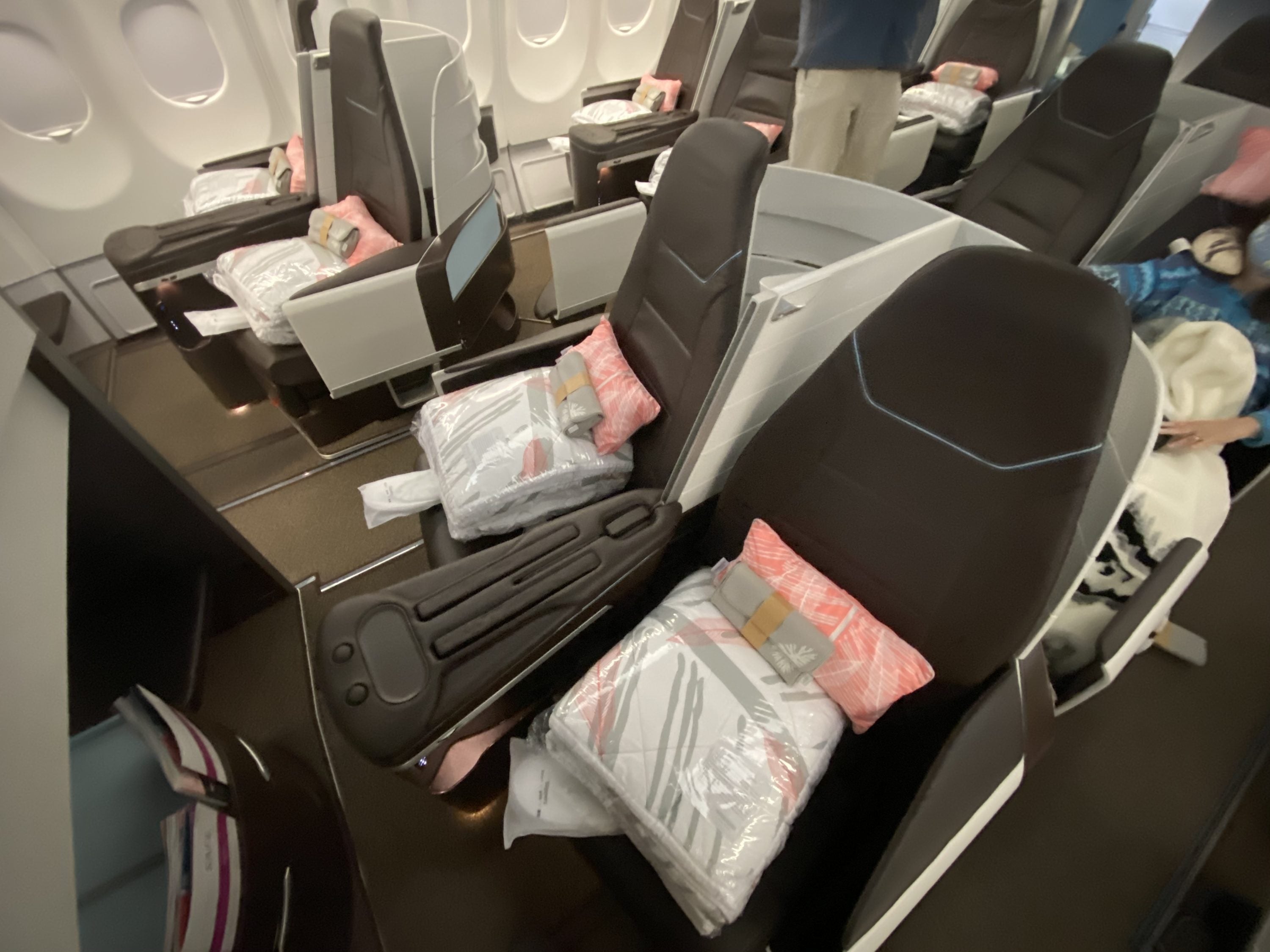 Slippers were pre-packaged and great for slipping on to use the restroom or to get up to grab a quick snack without sticking your bare feet on the floor. Admittedly, I'm a germaphobe that usually wears actual shoes when visiting the bathroom, but I know most business class passengers would rather use the slippers.
The amenity kit was designed by Kealopiko, a company based on the island of Moloka'i. The contents of the kit included:
Bamboo comb
Dental kit including a bamboo toothbrush with charcoal bristles and toothpaste
Earplugs
Hand and body balm, lip balm, and hydrating mist from the airline's private skincare line Lōli'i
Premium sleep mask
Sample packet of Raw Elements USA reef-safe sunscreen
Packet of tissues
The kit itself was actually really nice and included a nice Hawaiian button on the front — this is the type of case you'll be sure to use after the flight to store your phone chargers or other devices.
The largest thing at each seat was the mattress pad, which is definitely a bulky thing to store in the overhead bins. These pads slip over the seat very easily and provide a layer between you and the seat when sleeping. There's not much padding to be had, but it's more comfortable than sleeping on the seat itself.
Entertainment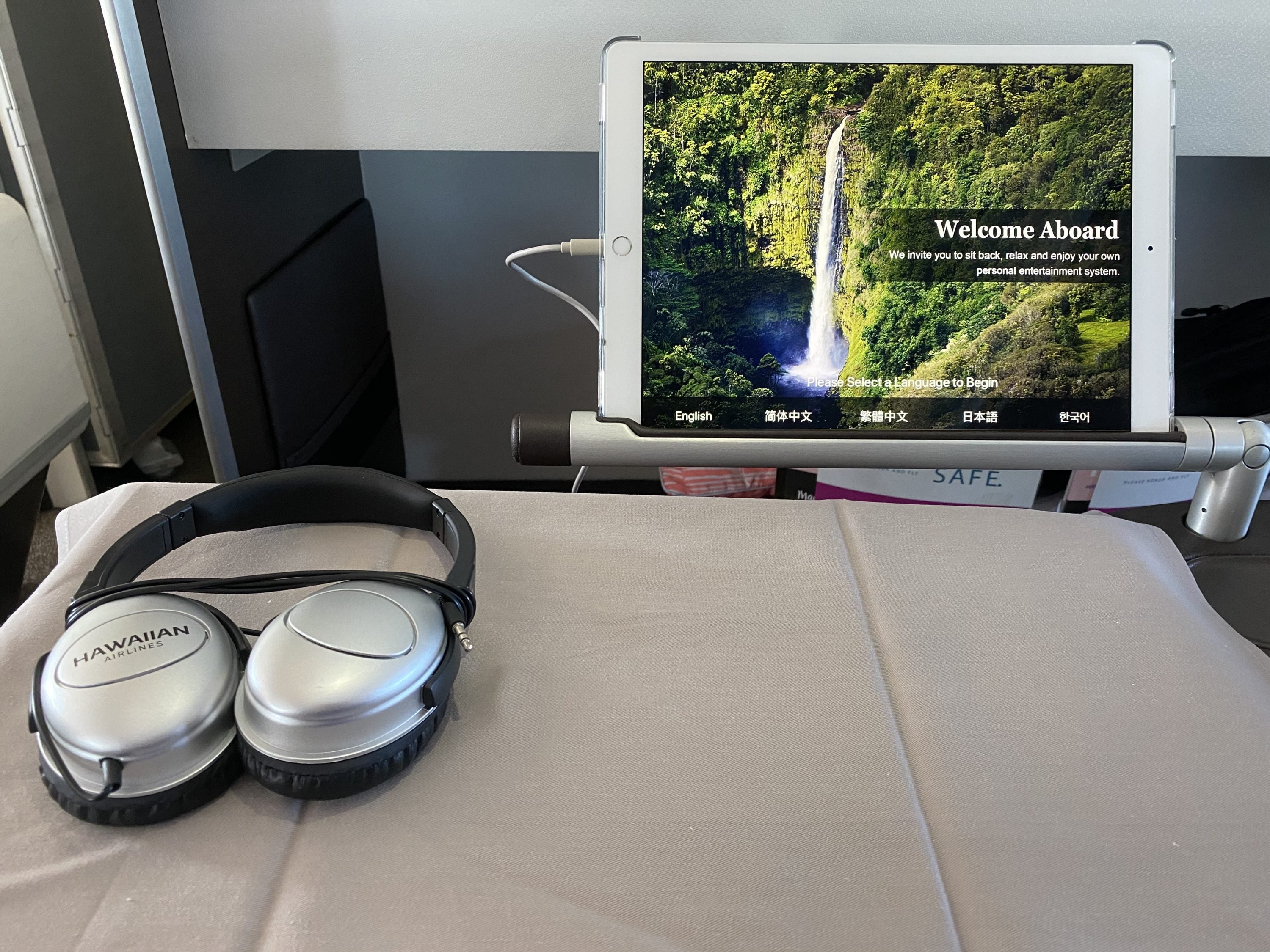 This is the area where Hawaiian really has the potential for improvement. Shortly after takeoff, the flight attendants came around and handed out iPads and headphones. The iPads could be slid into a slot that popped out of the center console — a fairly ingenious configuration. The headphones were not noise-canceling but did the trick. The iPad, sitting in its holder, could be swiveled and moved to have the proper viewing angle. 
On the iPad was a small selection of movies and television shows, and that was the huge downside. For a daytime flight like this where folks are awake a majority of the way, the selection of movies and shows was just too few.
There was a mix of titles, but when it came down to it, there were maybe 1 or 2 movies I was remotely interested in, so I decided to watch re-runs of The Office to fill the remainder of the time.
Bottom Line: If you want to stay entertained on your flight, bring a device with more content on it. The iPads that Hawaiian distributes have limited movies and shows, especially for a long flight.
Meal and Service
Food on Hawaiian is consistently really good, and this flight was no different. Awaiting each seat was a menu of the selections for the flight.
Shortly after boarding, flight attendants came down the aisle with a choice of pre-departure drink — water, a Mai Tai or a passion, orange and guava juice. I selected the latter and wow, was it good!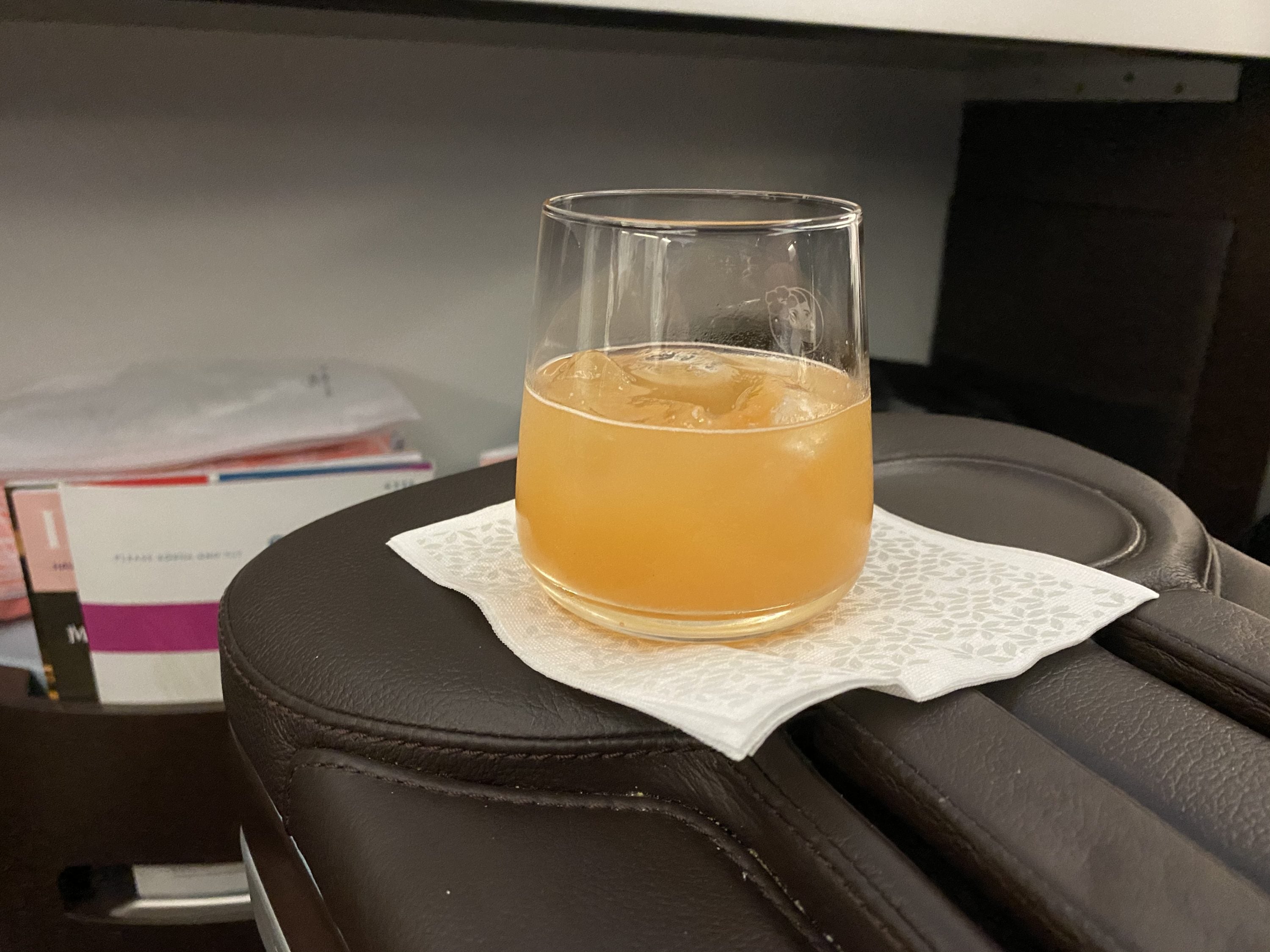 On the ground, meal order preferences were taken, as well as a choice of drinks from the bar. The flight attendant wrote these down on his manifest.
Honolulu to Sydney Flight Menu
 Pre-Departure

Signature Mai Tai cocktail will be served

 After take-off

Beverage/cocktail service accompanied with Mauna Loa Macadamia Nuts

 Soup Course

Miso Vegetable Soup

 First Course

Frisse and Radicchio Salad with Parmesan Ricotta and Toasted Pistachio Tomato Vinaigrette

 Entree

Chicken Adobo with Roasted Cabbage, Sweet Onions and Herb Jasmine Rice

Simmered Salmon with Yuzu Masago Cream Sauce, Broccolini, and Okinawa Sweet Potato Puree

Tofu, Heart of Palm, Maitake Mushrooms, Eggplant and Green Onion with a Ginger Glace Sauce and Jasmine Rice

 Dessert and Beverages

Mango Mousse Cake by La Tour Bakehouse

Coffee, tea, and liqueurs

 During the Flight

Snacks available upon request

 Prior to Landing

Warm Mozzarella, Kale, Sesame Leaf, Kimchi Tomato Jam Sandwich on Pão De Queijo (Brazilian Cheese Bread) by Nosh

Seasonal Fresh Fruits

Coffee and assorted teas
I selected the salmon option, as well as another glass of the passion, orange, guava juice, in addition to a glass of sparkling water with lime. Once in the air, these were served a plate of Hawaiian macadamia nuts — a nice display of the culinary offerings on the islands.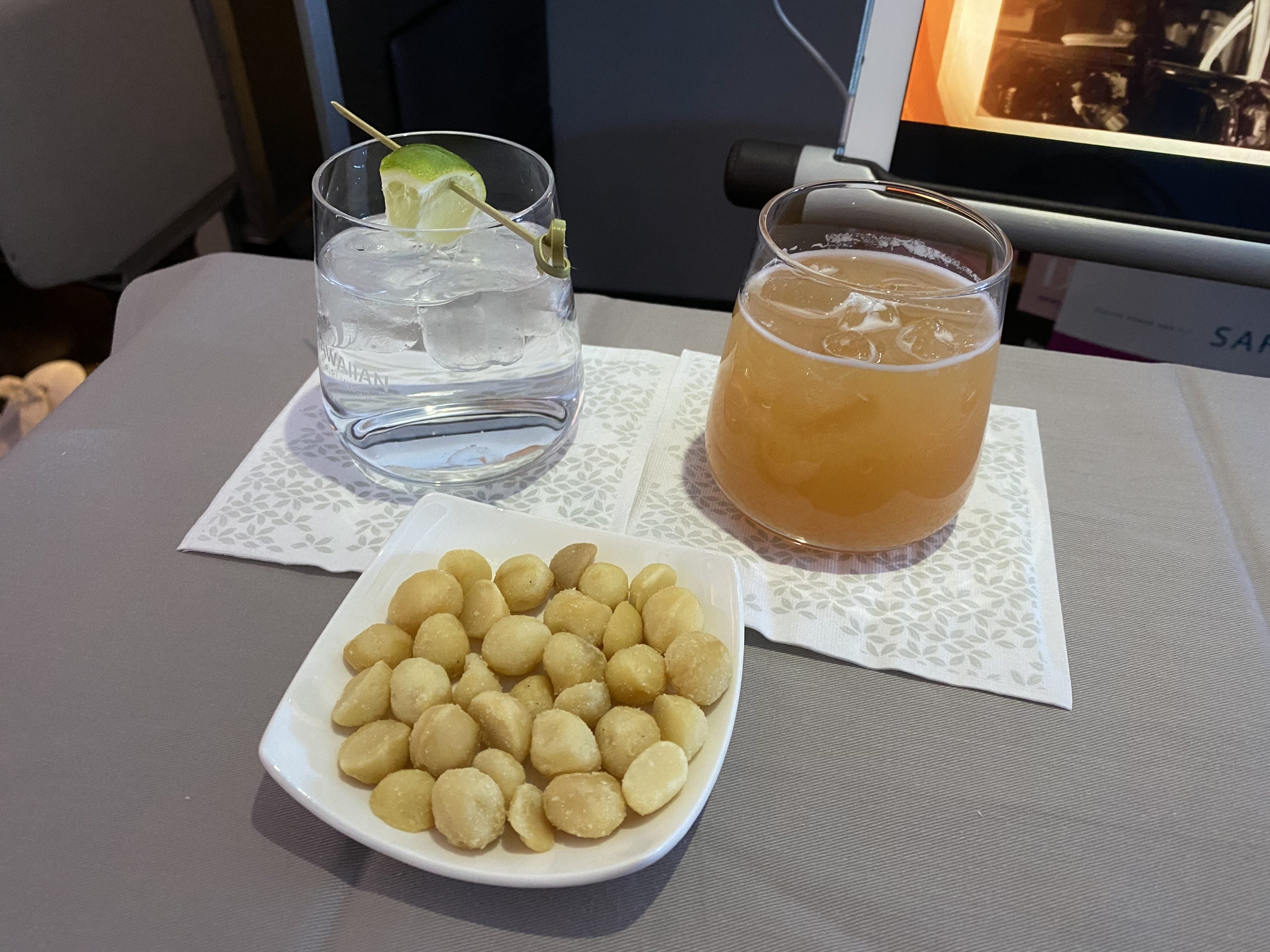 The first course was the salad, which was excellent — especially the dollop of cheese and toasted bread.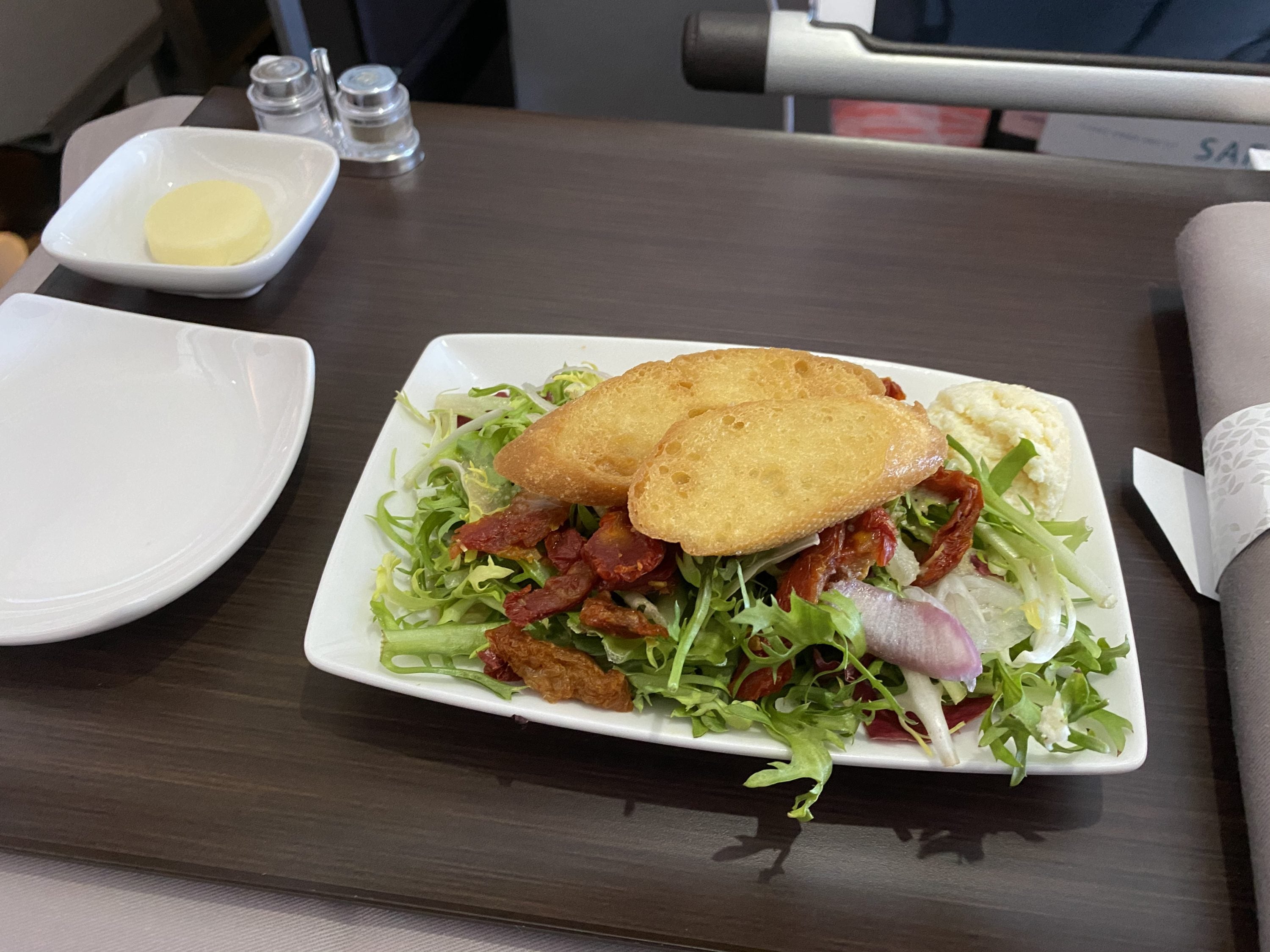 Following this was the soup course, and I ate around the tofu chunks given that I'm not a fan.
Third, the main entrees were served. I thought the salmon was fantastic and went well with the mashed sweet potatoes and greens.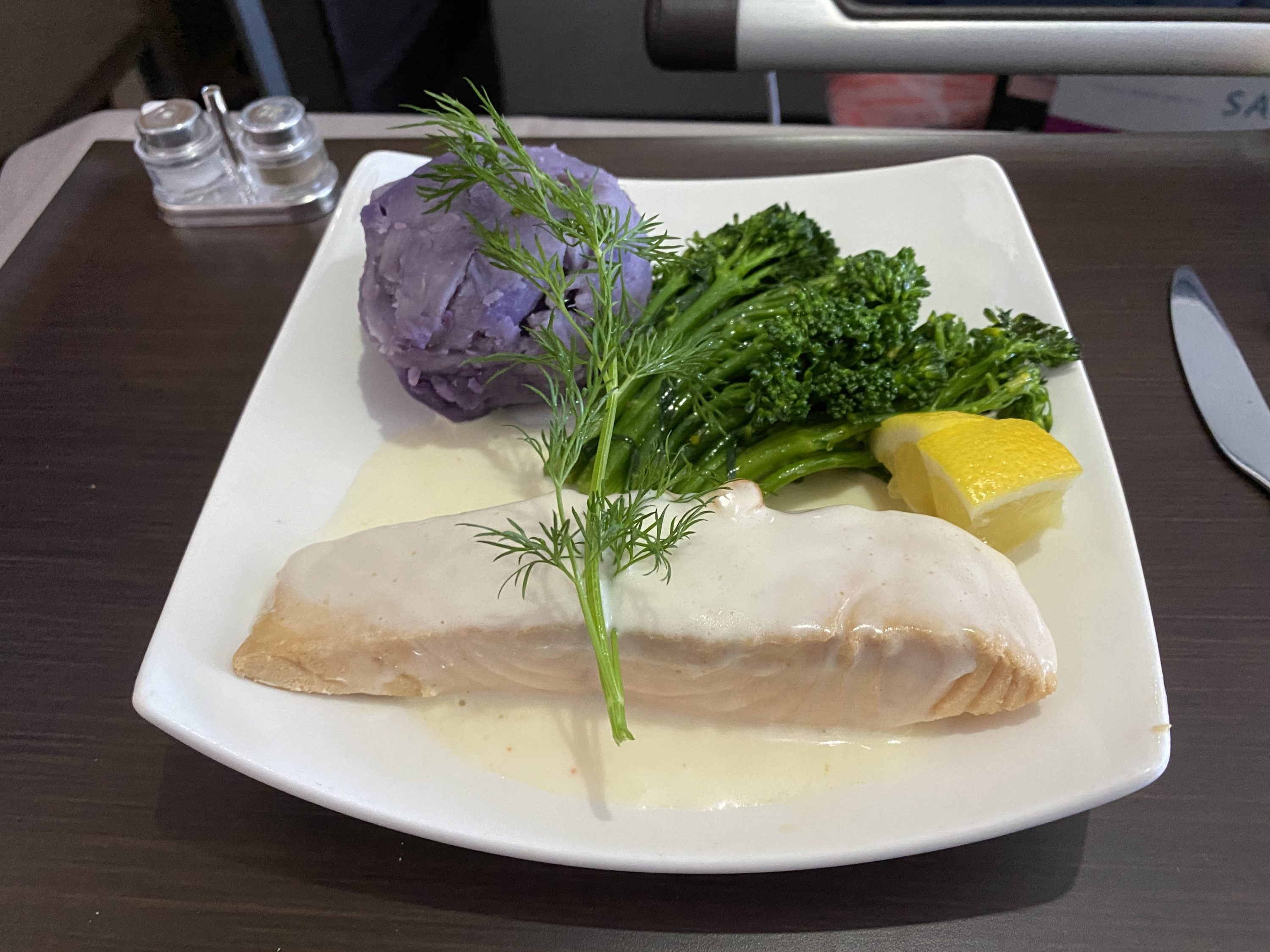 Finally, to round out the meal, dessert was served — a mango cake. It was delicious and could be served with whipped cream upon request.
A selection of after-dinner drinks was offered, as well as coffee and tea. I selected tea with milk and sugar. I was very impressed that the milk came in its own little glassware. A small dish was also provided for me to dispose of my tea bags — very thoughtful.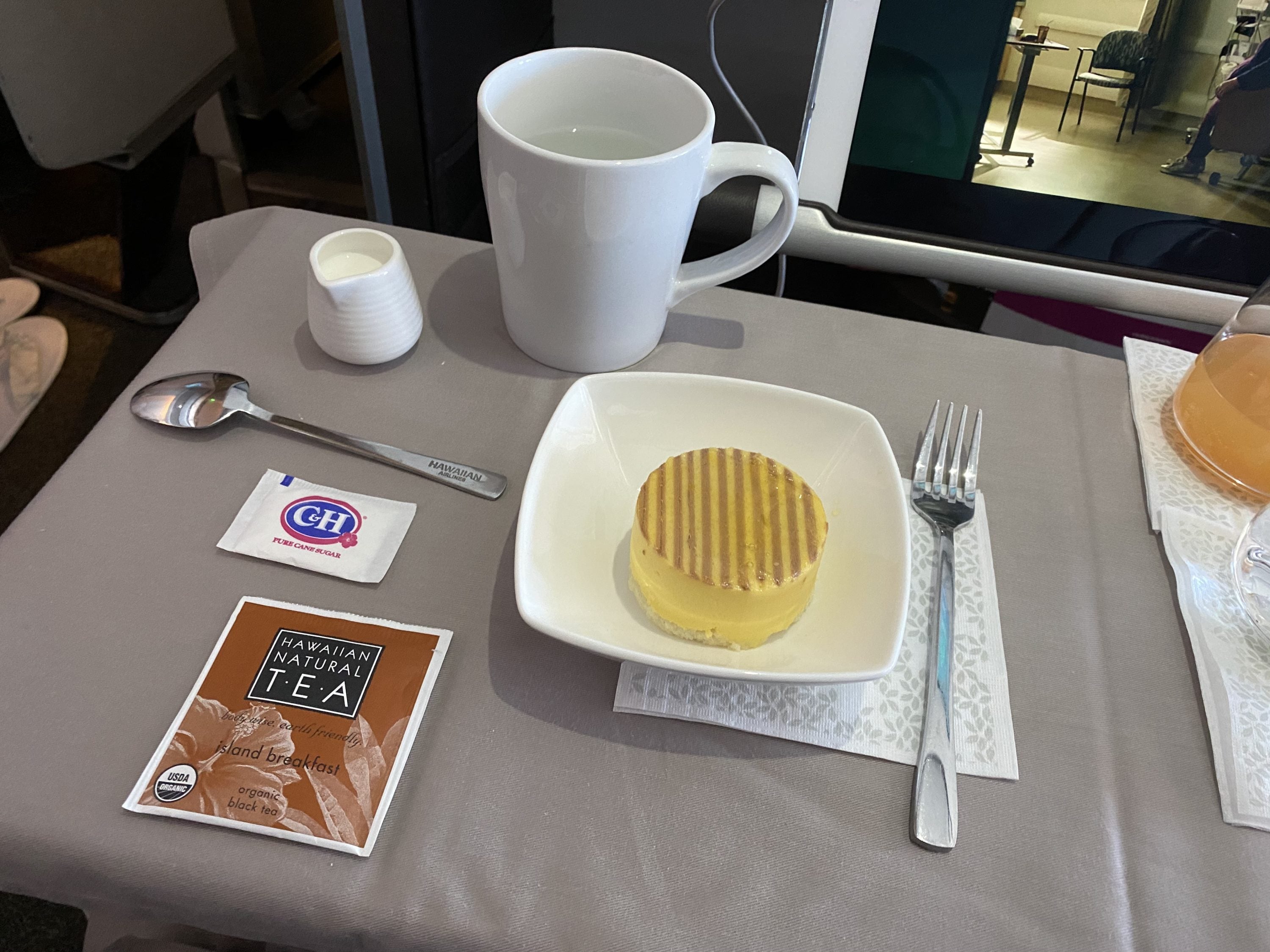 The service on this flight was phenomenal and beats out any other U.S. legacy carrier, hands down. I found the crew to be so welcoming and willing to serve. Perhaps that was because they're from one of the sunniest states in the U.S., or perhaps it because they were headed to Sydney.
Whatever it was, it was such a delight to be a passenger on this flight. Refills were constant and the entire crew kept watch to see when a glass was running low. Mid-flight, I went to the galley to request a drink and snack, and despite it being the flight attendant's break, without missing a beat, she assisted with my requests.
Arrival
Upon arrival into Sydney, the aircraft was held at the gate for several minutes while a disinfection spray, required by the Australian authorities, was sprayed into the overhead bins. This spray is used for biosecurity reasons and is harmless to luggage and passengers, but still required a bit of time to be completed as the ground staff had to deliver it to the flight attendants, who then had to open all of the bins.
Business class boarded out of the front door of the aircraft, which definitely allowed for a speedy de-planing and a quick exit to customs and immigration.
Be warned that security lines at Sydney airport can be very long at times, especially when you arrive in the early morning. The nice thing about the Hawaiian flight from Honolulu is that it arrives in the evening when there are fewer other arriving international flights. Because of this, you'll breeze through customs and immigration, so it's definitely another benefit of taking this flight.
Final Thoughts
Hawaiian Airlines has definitely left its mark as one of the most premium airlines in the United States. Its service is above par, its food is tasty and restaurant-quality, and its business class seat is competitive. Really, the only downside of this particular flight was the lack of good inflight entertainment options.
I wouldn't hesitate to fly Hawaiian again, however, and with it being only 65,000 AAdvantage miles between Honolulu to Sydney, it's a great way to save on miles while also breaking up your trip if you're coming from the mainland.