How to Upgrade to Business and First Class on British Airways Flights
Upgrading your flights on British Airways could be an excellent way to redeem Avios and enhance your in-flight experience.
Unlike upgrading with United Airlines, for example, upgrading with British Airways is a simpler process. Generally, there are two major ways to get upgraded with British Airways.
These are:
Upgrading using British Airways Executive Club Gold Upgrade Vouchers
Upgrading an existing booking with Avios
Upgrading a new flight with Avios
While it's impossible to always guarantee upgrades on every flight with British Airlines, our knowledge can give you a leg up on the competition. A better understanding of the entire process will increase your chances of securing upgrades.
This guide explains the types of British Airways upgrades, availability options, and how elite status can help. Additionally, we'll discuss how the Chase British Airways Visa can help you with your upgrades.
All in all, British Airways offers some great ways to upgrade your flights, so let's begin.
Types of BA Upgrades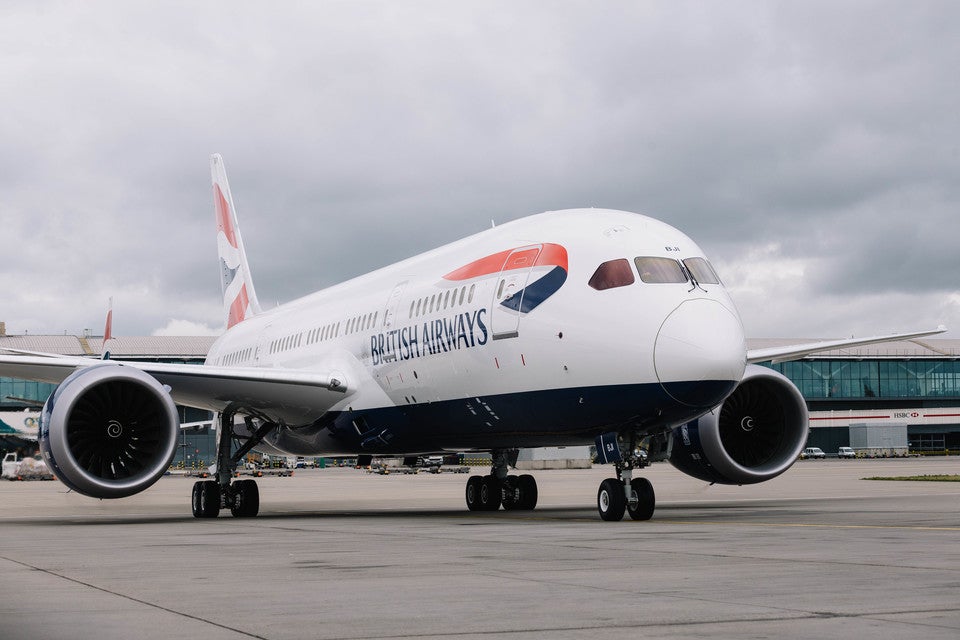 Unlike most airlines, having elite status with British Airways actually doesn't afford you priority for upgrades, though you do get a companion upgrade voucher after reaching key thresholds.
As we mentioned earlier, British Airways has two avenues of confirming an upgrade.
Upgrading using British Airways Executive Club Gold Upgrade Vouchers: Upon meeting certain elite status requirements, upgrade you and a companion to the next highest cabin
Upgrade an existing booking: Upgrade using miles on flights paid for in cash
Upgrade a new booking: Upgrade using miles and cash to confirm upgraded seats at the time of booking
We'll cover these in detail in the later sections, but let's first discuss upgrade availability.
How to Find Out If Upgrade Space is Available
British Airways treats award and upgrade space the same. This means that if an award is available for redemption with miles, it's also available for upgrades with miles.
British Airways has one of the most robust award search engines out there, which makes our search much easier. Keep in mind that the process to upgrade is slightly different from the process to search. Here's how to search for award availability.
First, create a British Airways Executive Club account. Type in your email address, create a password, and input the remaining information as requested on the registration page.
To complete your account registration, you'll need to confirm your email by following instructions from British Airways.
Find the button that says Book on the top banner. Hover over it, and click Book a flight with Avios. Type in your origin and destination cities. Choose your departure and return dates.
If you're booking one-way flights, check the box that says One way only. Type in the class you want to upgrade to, type in the number of passengers, and click Get flights.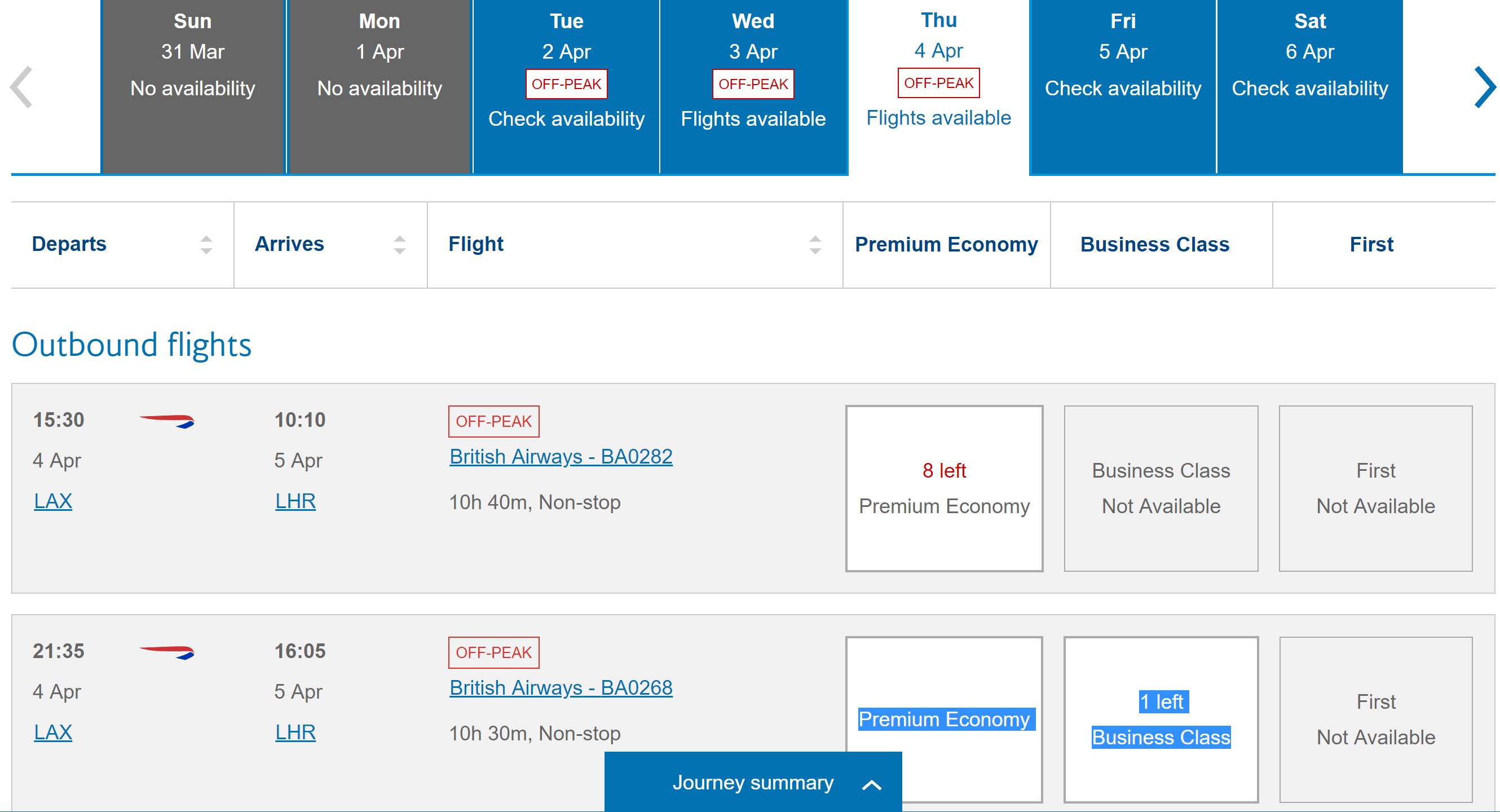 When you're upgrading with points, there's one rule you must know. Q, O, and G class fares cannot be upgraded. Though you'll be seated in the economy cabin, upgrading from these fares to premium economy would be considered a 2-fare increase, which isn't allowed. 
That being said, those are pretty much the only rules, which makes this one of the simplest ways to upgrade flights.
Upgrade Priority: Who Gets the Upgrade First?
The Importance of Elite Status
Contrary to popular belief, having elite status does not always entitle you to upgrade priority over other people. We talk a lot about the tiers of British Airways elite status in our review of British Airways Executive Club, but the short answer is that having elite status with British Airways doesn't entitle you to ongoing upgrade priority.
When you achieve 2,500 Tier Points (British Airways' elite-qualifying currency system), you'll receive one companion upgrade voucher. Note that this is different from a Travel Together Ticket, which is essentially a buy-one-get-one-free award ticket.
When you achieve 3,500 Tier Points, you'll receive two companion upgrade vouchers, which you can use for you and a companion to upgrade both passengers from a single reservation.
Besides the companion upgrade vouchers, which are given as a one-time benefit upon meeting certain criteria, having elite status doesn't give you upgrade priority.
This actually diminishes the value of the Executive Club program, but having the companion upgrade vouchers can still be valuable.
The Value of a British Airways Visa Credit Card
Unlike United Airlines, which offers additional upgrade availability for holding their co-branded credit cards, British Airways does not.
Besides bonus categories for earning Avios, the main draw of the British Airways Visa credit card from Chase is the Travel Together Ticket. As we explained above, this perk allows you to bring a companion in the same cabin as you on award tickets. 
You cannot book cash fares using the Travel Together Ticket, nor upgrades.
Bottom Line: Having the Chase British Airways Visa credit card opens up the door to earn the Travel Together Ticket after spending $30,000 over the course of a year, which may be useful for award tickets, but not so much for upgrades.
Upgrading With Executive Club Gold Upgrade Vouchers
When it comes to elite status with British Airways, there's a metric called Tier Points. With each flight you take either on British Airways or one of their partners, you will earn a certain number of Tier Points. This is dependent on your existing elite status, fare class, and route.
For example, if you're flying from Los Angeles (LAX) to London-Heathrow (LHR) on British Airways as a Executive Club Blue member, you will earn the following number of Tier Points depending on your fare class booked: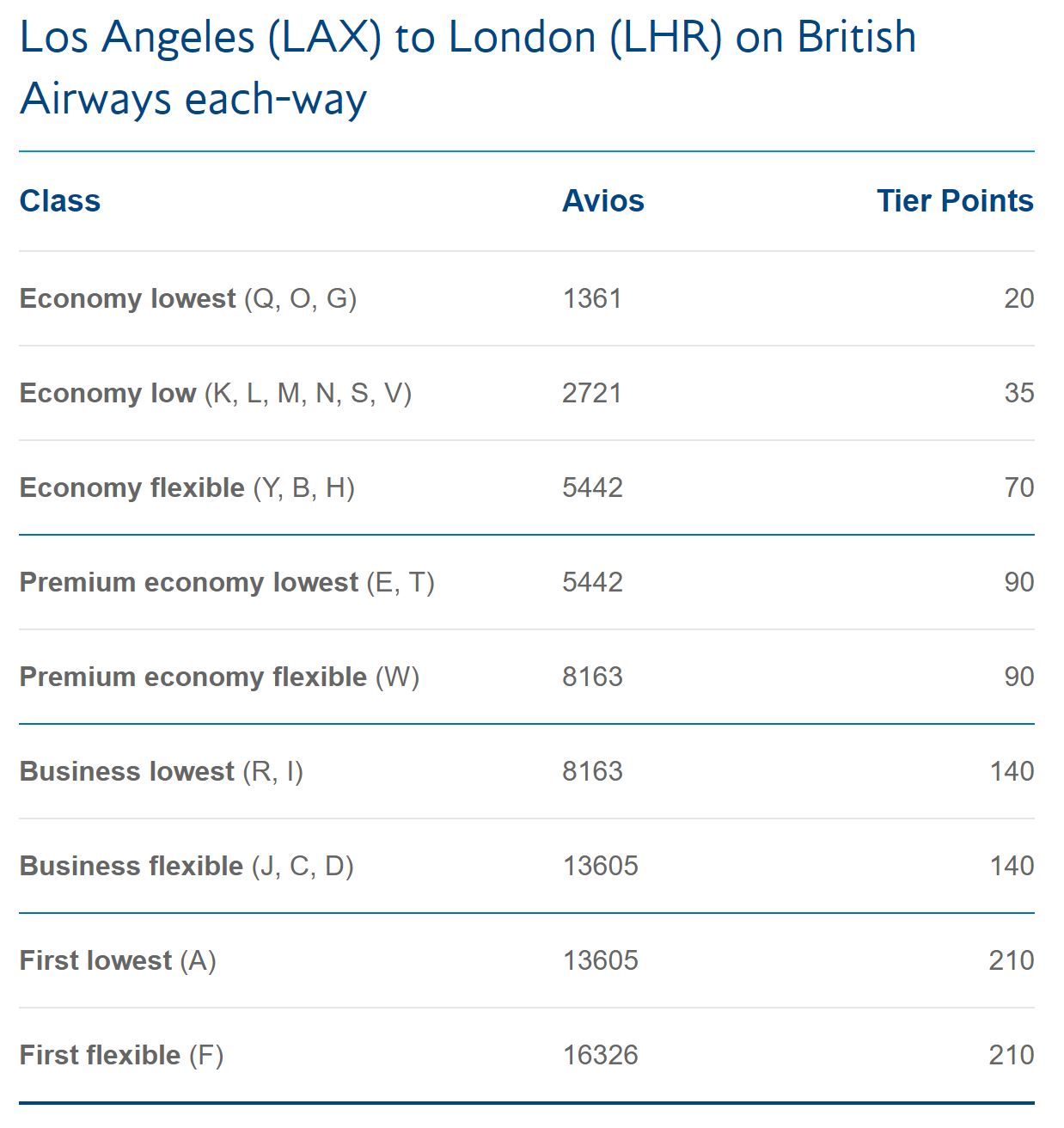 For example, if you booked an economy ticket in booking class V, you would earn 2,721 Avios and 35 Tier Points each way.
After attaining 2,500 Tier Points within a calendar year, you will receive a Gold Upgrade Voucher, which you can use to upgrade you and one companion on a flight of your choice. Of course, the flight will need to have the award/upgrade space available, which you can easily find out with British Airways' online search engine.
If you hit 3,500 Tier Points in a calendar year, you'll receive 2 Gold Upgrade Vouchers for you and a companion, which is fantastic.
Upgrading With Miles
It's absolutely possible to upgrade flights using British Airways Avios. In fact, it's a little-known secret that upgrading British Airways flights with Avios is a sweet spot.
If you book an award ticket outright with Avios, you'll still need to pay for fuel surcharges. On a cheaper economy or premium economy ticket, these fuel surcharges can make up the bulk of the ticket price, which means that you'll end up saving a ton of Avios by leveraging this fact.
It's important to note that to upgrade a ticket using Avios, the original purchase must have been made in cash. It's not possible to upgrade a ticket with Avios that was originally purchased with Avios.
Upgrades are made better by the fact that British Airways doesn't charge a co-pay like many other airlines. This will save you a bundle of cash. Let's talk about the two main ways to upgrade bookings with British Airways Avios.
How to Upgrade an Existing Booking
Let's say that you purchased one of the cheaper tickets on British Airways with cash. Let's also say that you want to fly in premium economy instead of economy, which is what you booked your ticket in.
Well, you'll be pleased to know that you can upgrade your flight simply for the fare difference between economy and premium economy.
Here's how you can do it:
Follow this link to get to the Manage My Booking page.
Type in your booking reference number and the last name of the passenger.
Click Upgrade this flight with Avios. (You may not be able to upgrade due to the absence of award availability.)
Pay the Avios and any new taxes and fees, and your upgrade is confirmed.
Hot Tip: British Airways frequently sells round-trip business class tickets for approximately $1,800 to $2,500. Be sure to give these deeply discounted fares a thought prior to upgrading with your Avios.
How to Upgrade a New Flight / Booking
With this method, let's illustrate a scenario. You haven't booked any tickets yet. You have a healthy balance of Avios, but not enough to book your desired ticket class outright. You want a confirmed upgrade right now, and you're willing to purchase a cash ticket in order to upgrade with your Avios.
Using Avios to upgrade a new flight is perfect for someone in the above situation. Here's how you can confirm an upgrade completely online in minutes:
Go to the Book and Upgrade section of British Airways.
Upgrade either your outbound or inbound flights by toggling the appropriate checkbox.
Type in your destination and origin airport codes.
Input your departure and return dates. Check off One way only if applicable.
Choose the class you want to upgrade from. If you want to upgrade from premium economy to business, you'll need to select premium economy.
Choose the ticket type that meets your needs.
Select the number of passengers. Click Get flights.
Choose your desired flight and click Continue.
Complete the booking and confirm your upgraded ticket.
Bottom Line: You don't need fancy elite status to upgrade a British Airways flight. In fact, any travelers can maximize their Avios by upgrading existing or new reservations with miles. It's super easy, so there's no reason not to do it.
Upgrading on Partner Airlines
Upgrades on Iberia and American Airlines are also allowed. Keep in mind that the ticket must be issued by British Airways in order to qualify. To upgrade on partner flights with Iberia or American Airlines, you'll follow the exact same process as shown above.
However, you can't book a ticket on AA.com and upgrade using British Airways Avios. You must upgrade on a ticket that's issued and sold by British Airways.
7 Ways to Secure an Upgrade or Increase Your Chances of an Upgrade with British Airways
With British Airways Elite Status
Earn companion upgrade certificates. Once you've met certain criteria, British Airways will provide you with companion upgrade certificates. With this, you won't even need Avios. You'll just need to find availability and purchase a cash ticket that meets their terms and conditions. Your companion will then be upgraded!
Without British Airways Elite Status
Search for availability early. Since inventory is identical for upgrades and awards, you'll want to start your search early, particularly on competitive routes like Los Angeles (LAX) to London-Heathrow (LHR).
Double check the fare class you're booked in. You'll want to make sure you're booked in an upgrade-eligible fare class. If you're not, no matter how much award availability you find, you won't be able to upgrade.
Be on the lookout for discounted premium cabin fares. As we mentioned above, there are quite a few fare sales every year. Oftentimes, it costs only $2,000 to book a round-trip business class ticket. Plus, you'll earn a lot of elite-qualifying miles and regular miles like a normal cash ticket.
Use British Airways Avios to secure a business or first class ticket. For travelers that have a lot of Avios, it may be better in specific instances to redeem your Avios for award tickets instead of upgrades. This is particularly true for routes that ban or limit fuel surcharges, such as from Madrid (MAD) to Sao Paulo (GRU) via London-Heathrow (LHR).

Let's take two examples: If you paid with Avios for the Madrid – Sao Paulo via London-Heathrow flight in business class, it would cost you 87,750 Avios + $235.10 in taxes and fees.
Compare this to upgrading a paid premium economy ticket, which would cost ~$1,000-$1,500 for the premium economy ticket alone. Upgrading the premium economy ticket would cost a minimum of 39,250 Avios, bringing your total to 39,250 Avios plus $1,000-$1,500.
Comparing the two situations of 87,750 Avios + $235.10 to 39,250 Avios + ~$1,500 means that you're "paying 2.6 cents per Avio", which is not a good deal at all. As such, this is an example situation to use Avios to book awards as opposed to upgrading paid tickets.

Use the Travel Together Ticket to score 2-for-1 awards. Although the Travel Together Ticket doesn't increase award availability, it allows you to get 2 award tickets for the price of 1. Keep in mind you'll have to pay taxes and fees, in addition to locating award availability for 2 passengers.
Ask for paid upgrades at the airport. The last resort would be to ask the ticketing agent for upgrades available for cash when checking in for your international flight. Oftentimes, they offer upgrades for approximately $1,500 one-way. Payment typically must be done with a credit card, so use this as a chance to maximize your points and miles with a card such as the Chase Sapphire Reserve®.
Final Thoughts
Finding an upgrade may be difficult, but British Airways makes it easy to search and to understand the process. They don't have complicated terms like co-pays and restrictions that make upgrading a headache.
British Airways has a robust online system for confirming upgrades, so you don't have to pick up the phone. Interestingly, their elite status doesn't increase upgrade priority, which is a departure from the norm compared to airlines like United or American.
As long as you have some patience, you'll be able to secure upgrades on British Airways, American Airlines, or Iberia flights.
You must conform with their ticket restrictions as we discussed above. Otherwise, it's extremely attractive to upgrade fares when using British Airways.