10 Ways to Use British Airways Avios Without Huge Fuel Surcharges
British Airways Avios are some of the easiest airline points to earn.
The program has 4 major transfer partners — American Express Membership Rewards, Chase Ultimate Rewards, Capital One Miles, and Marriott Bonvoy — and a co-branded credit card from Chase that frequently offers a high welcome bonus. This is all in addition to being able to earn miles by flying on British Airways and its suite of airline partners like American Airlines, Alaska Airlines, and more.
However, there is a major downside to these points: high taxes and fees.
When you redeem on British Airways flights in a premium cabin, you can expect to pay at least $300 per one-way ticket. This fee can increase to over $800 on long-haul first-class tickets. This is in large part due to British Airways adding huge fuel surcharges to award tickets, making "free" travel much less, well, free.
Thankfully though, there are a few good ways to avoid fuel surcharges on British Airways award tickets. Some of these involve departing from specific regions while others involve redeeming miles on a specific British Airways partner.
So in this article, we'll show you all of the ways you can redeem your hard-earned British Airways Avios without huge fuel surcharges.
Let's dive in!
1. Book Flights on American Airlines or Alaska Airlines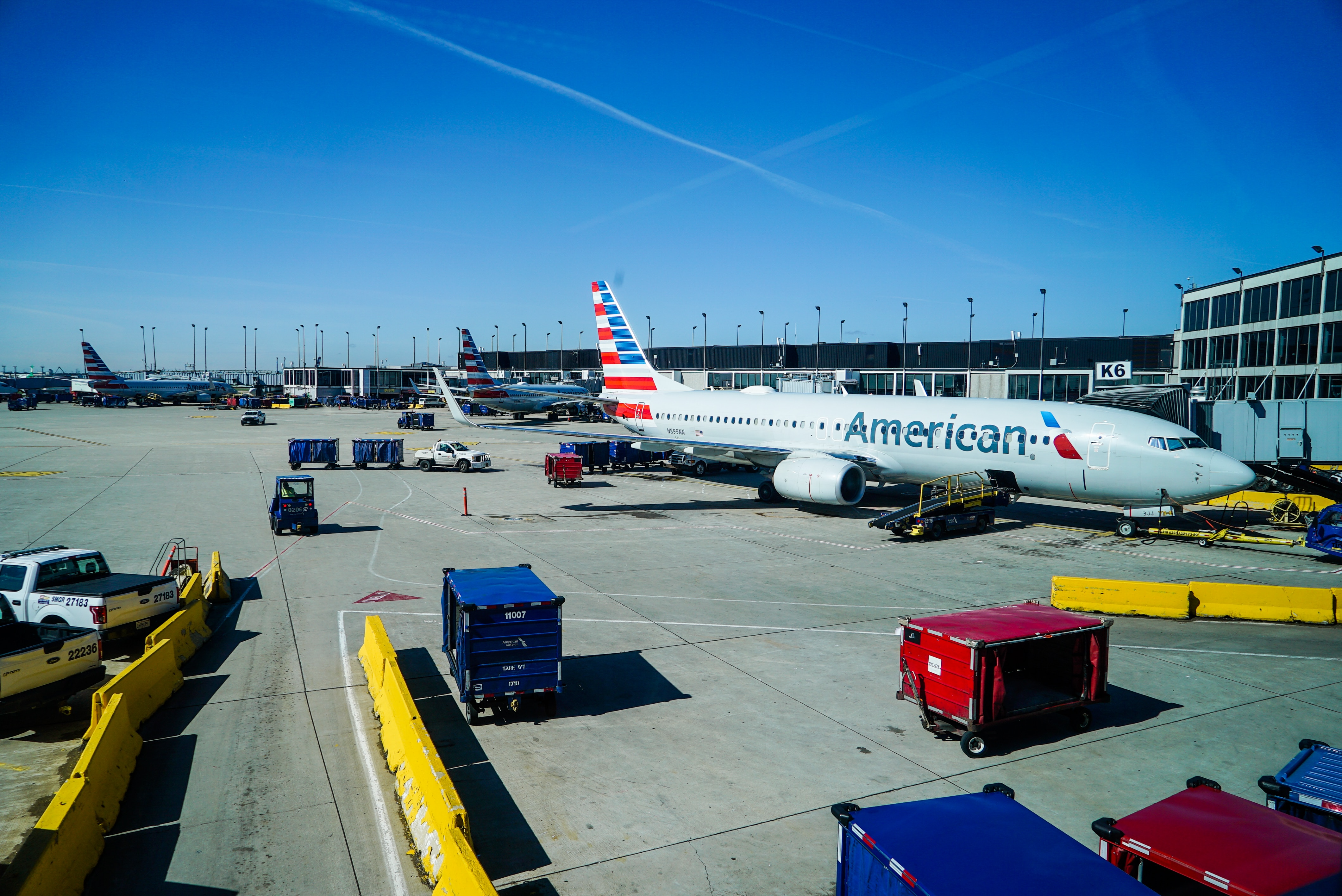 One of the best ways to redeem Avios is booking domestic U.S. award tickets on Alaska Airlines or American Airlines. Each of these airlines has extensive domestic route networks from their respective hubs. Because of this, you can book flights to even the smallest U.S. airports with your Avios.
Most American Airlines and Alaska Airlines flights are bookable on the British Airways website — just head over to the Book With Avios page and enter your origin, destination, and dates of travel.
You can always cross-check this availability by going to American's website and looking for flights with MileSAAver flights. If you find one that doesn't show on the British Airways site, call British Airways to book. Alaska and American are partners, so you can look for award space on both airlines on American's website.
Hot Tip: You can also book cheap tickets from the U.S. to Canada and Mexico on American and Alaska Airlines! Like domestic award tickets, you'll pay minimal taxes and fees.
Like all British Airways awards, American Airlines flights are priced by the length of each leg, so make sure to look for non-stop flights when you can. You'll pay just $5.60 in taxes and fees for all domestic U.S. flights booked using Avios. Better yet, British Airways doesn't charge any type of close-in booking fees, making these awards perfect for last-minute bookings.
Thankfully, these awards have a low points cost, too. Flights 1,151 miles or less cost just 9,000 Avios one-way, making it cheaper to book with Avios than American AAdvantage miles on short and mid-haul domestic flights. Here's a look at British Airways' partner award charts:
Distance
Economy
Premium Economy
Business
First
Zone 1 (Excluding North America)
0 – 650 miles
6,000
9,000
12,500
24,000
Zone 2
651 – 1,150 miles
9,000
12,500
16,500
33,000
Zone 3
1,151 – 2,000 miles
11,000
16,500
22,000
44,000
Zone 4
2,001 – 3,000 miles
13,000
25,750
38,750
51,500
Zone 5
3,001 – 4,000 miles
20,750
41,250
62,000
82,500
Zone 6
4,001 – 5,500 miles
25,750
51,500
77,250
103,000
Zone 7
5,501 – 6,500 miles
31,000
62,000
92,750
123,750
Zone 8
6,501 – 7,000 miles
36,250
72,250
108,250
144,250
Zone 9
7,001+ miles
51,500
103,000
154,500
206,000
Just note that the 6,000 Avios tier doesn't apply to domestic U.S. bookings, so all U.S. bookings start at 9,000 Avios even if they fall into this tier. This is likely because U.S. domestic airfare is generally more expensive than intra-Europe airfare.
2. Book Domestic Australia Award Tickets on Qantas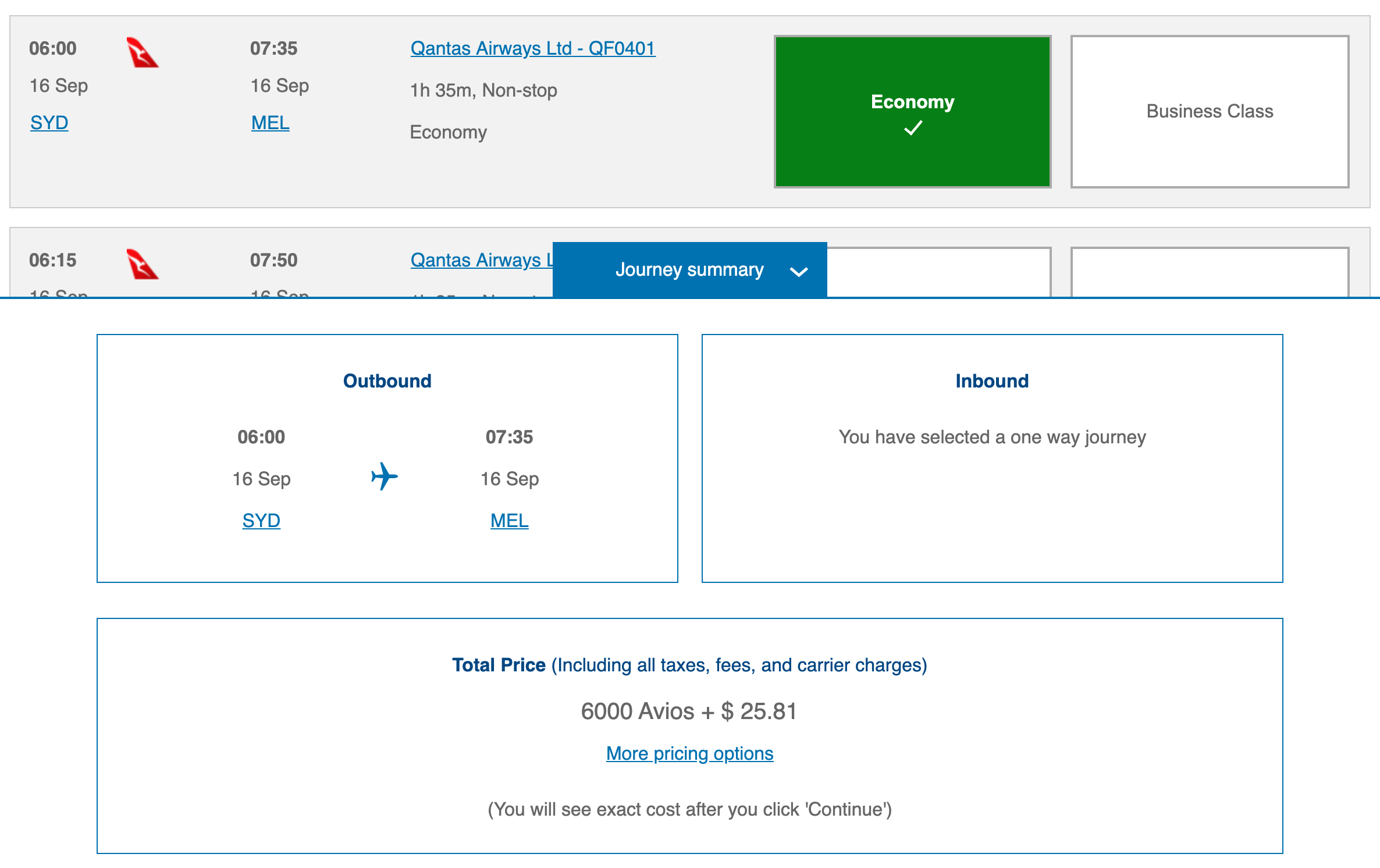 Likewise, you can book domestic Australian award tickets within Australia without paying huge surcharges.
These flights are operated by Qantas, and all flights appear on the British Airways Book With Avios search tool. With hubs in Adelaide (ADL), Brisbane (BNE), Melbourne (MEL), Perth (PER), and Sydney (SYD), the airline operates a ton of Australian domestic routes, so use this to fund your next Australian adventure.
You can expect to pay less than $26 in taxes and fees per one-way booking. On top of this, the low 6,000 Avios tier does apply to Australian bookings, so you can book routes like SYD-MEL for cheap. These routes can get expensive at the last minute, too, so you can save some serious coin by using your Avios to book these routes.
3. Book Domestic Japan Award Tickets on JAL
Continuing on the domestic flights theme, you can book intra-Japan tickets for low tax and points cost with British Airways.
Oneworld partner Japan Airlines has an extensive Japan route network, so you can use Avios to get just about anywhere in Japan. Like Australian award tickets, these can get really expensive when booking close to your date of departure, so having this award in your travel toolbox can help immensely with last-minute trip planning.
Taxes and fees are super low on this award ticket, too — expect to pay less than $3 per one-way ticket.
Bottom Line: Domestic JAL tickets are by far the lowest surcharge way to redeem your British Airways Avios.
4. Hop Around South Africa on Comair
Lastly, British Airways franchisee Comair runs a handful of domestic and regional flights in South Africa. Interestingly enough, Comair planes are actually painted in British Airways livery, but the company is largely operated independently of British Airways.
You can expect to pay around $55 in taxes and fees per ticket booked within South Africa, so make sure to compare award tickets with the cost of a paid ticket on a budget carrier. Like other domestic tickets, you can book these on the British Airways Book With Avios website — no phone call required.
5. Book Cathay Pacific Flights Intra-Asia or Around The World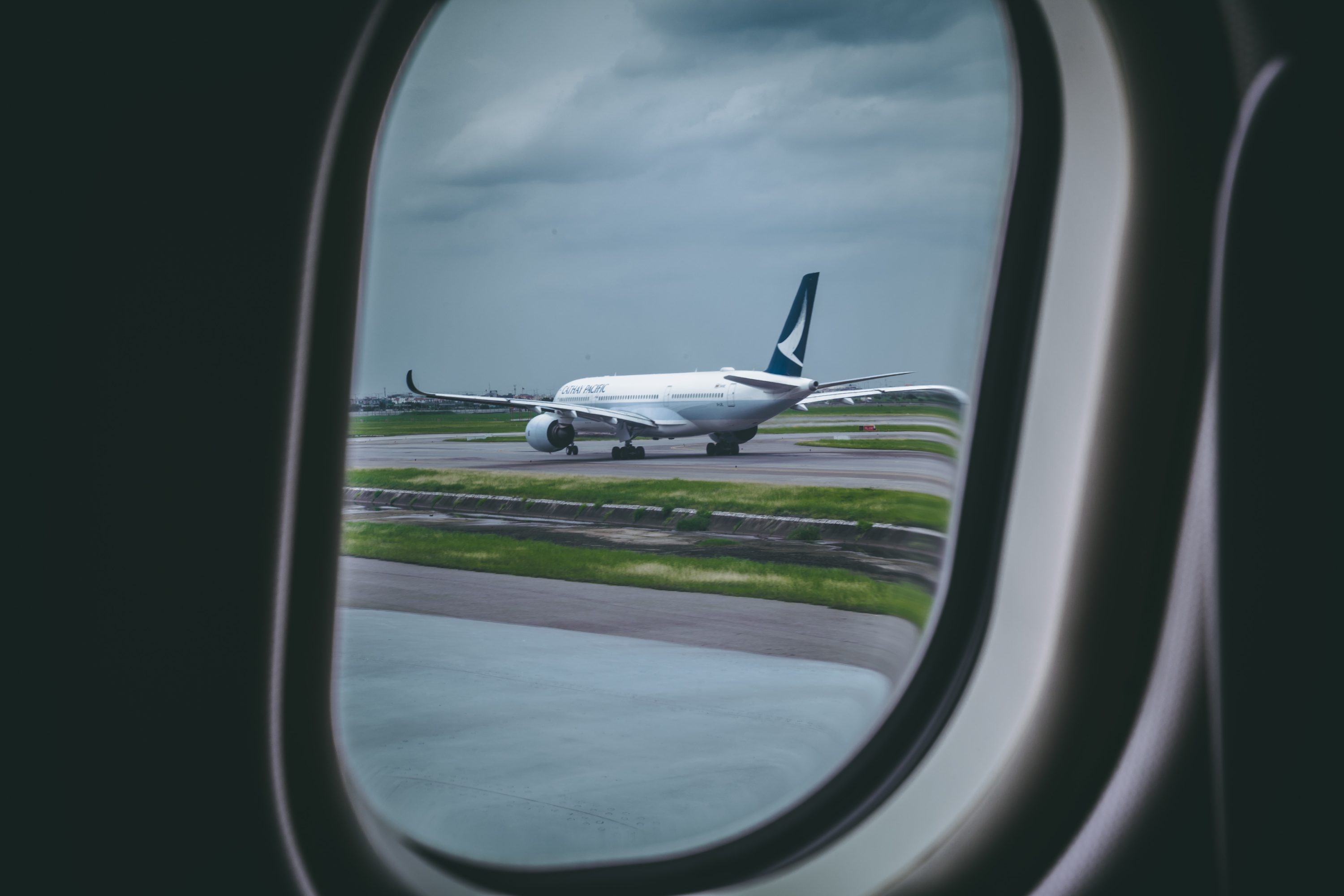 Cathay Pacific is a Hong Kong-based airline that runs flights to nearly every major city around the world. The airline is well-known for its posh business and first class products, excellent airport lounges, and extensive route network around Asia and worldwide.
Since Cathay Pacific is a Oneworld partner, you can book award tickets on the carrier with your British Airways Avios. Of course, the points cost of your ticket will depend on the length of the flight, but you will be only charged moderate taxes and surcharges. In many cases, these are significantly lower than booking a British Airways ticket on similar routes.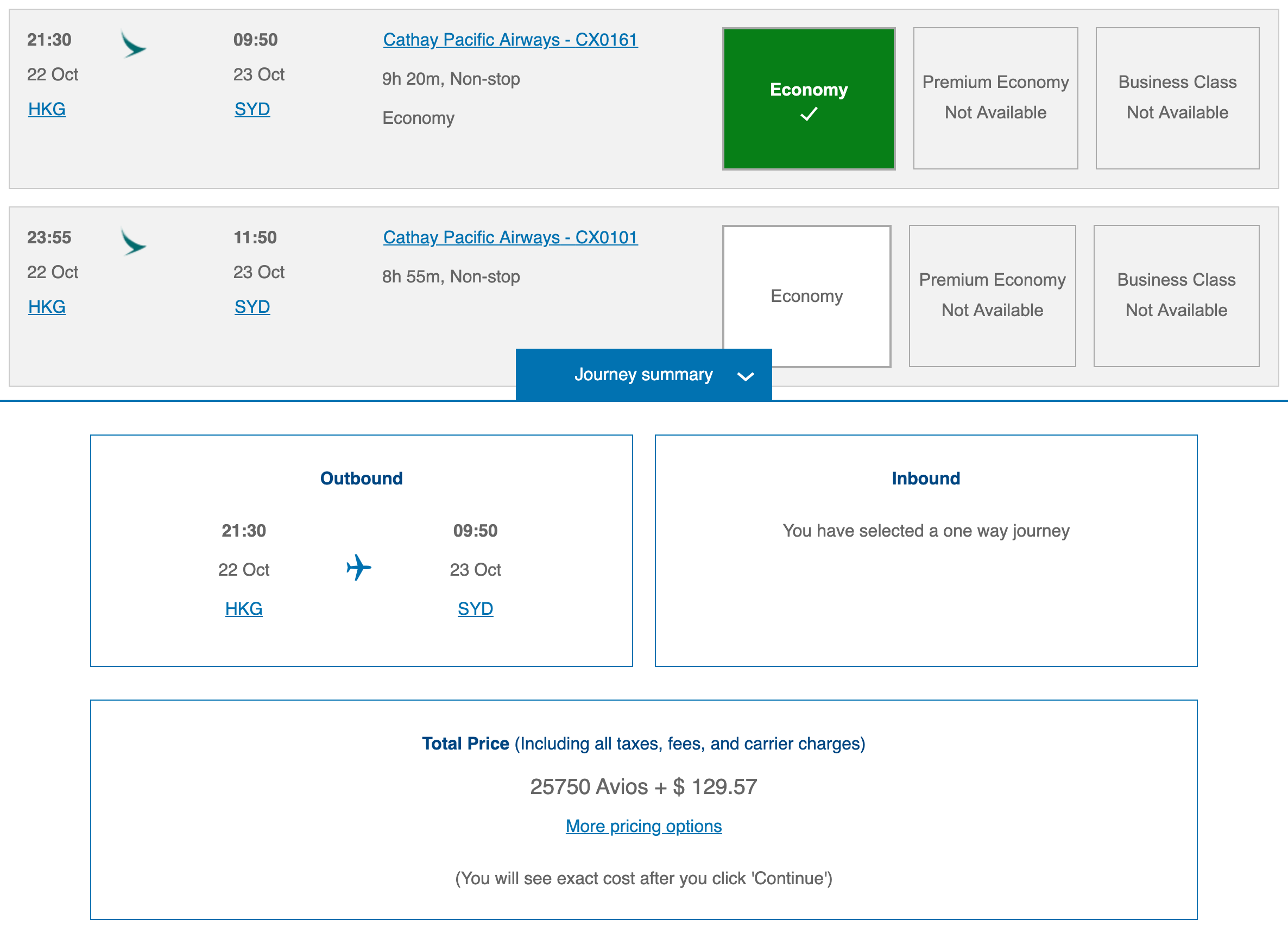 For example, we looked for a flight from Hong Kong (HKG) to Sydney (SYD) and found that taxes and fees are only a hair under $130 in taxes and fees one-way.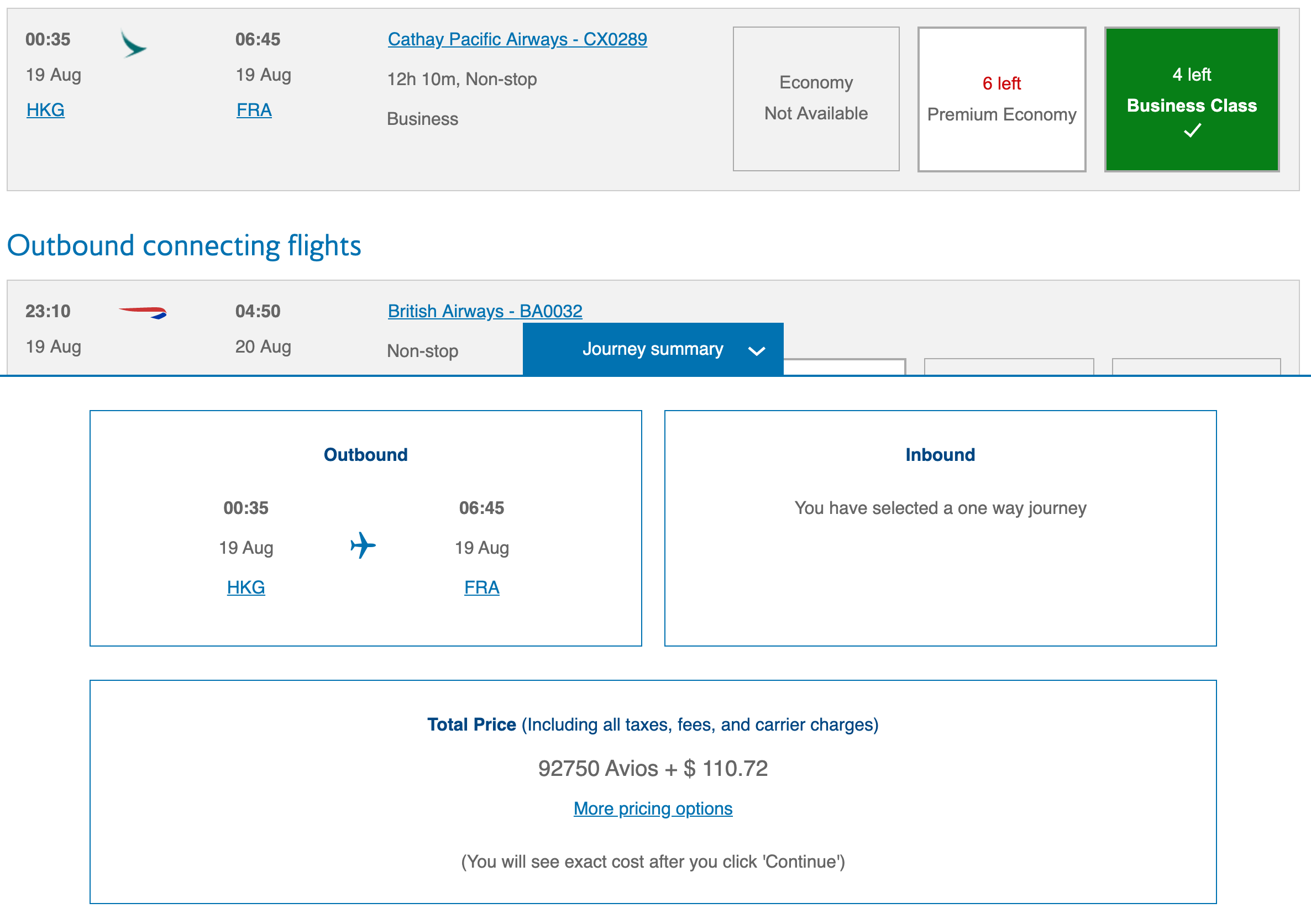 Further, you can score business class with low surcharges on Cathay Pacific, too. We looked for business class tickets from Hong Kong (HKG) to Frankfurt and found one-way tickets with just a little over $110 in taxes and fees. The points cost is a bit expensive at 92,750 Avios, though, so you may want to consider using another point currency if possible.
Like other options in this article, all of these awards can be booked on the British Airways website, so just head over to the Book With Avios page and enter your search criteria.
6. Depart From One of These Low-Surcharge Countries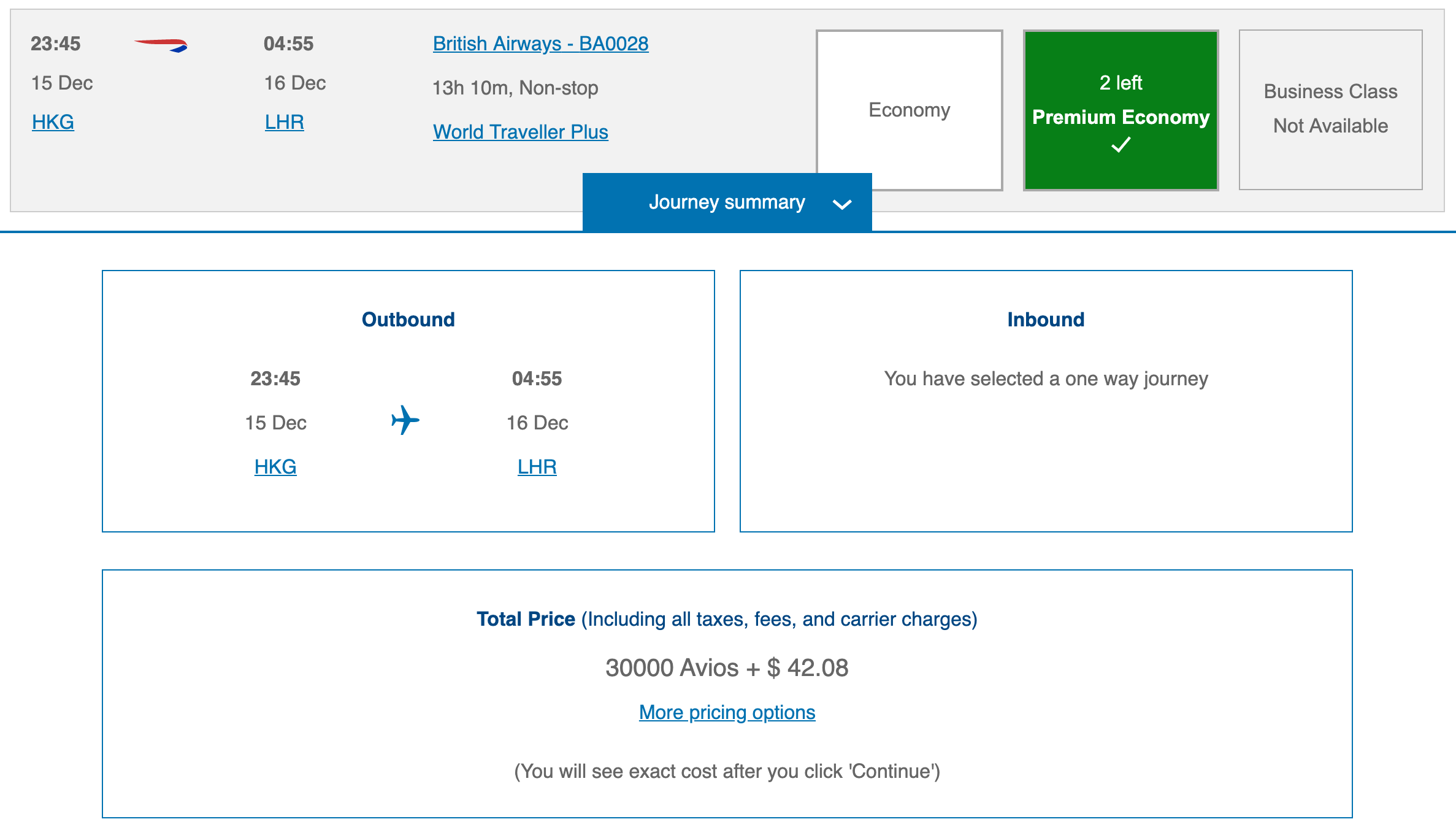 Certain countries have laws against airlines adding specific types of fuel surcharges to airfare — and yes, this includes award tickets.
In many of these countries, fuel surcharges are either completely illegal or significantly limited. This means that you're able to book tickets with low fuel surcharges by booking from these countries. Unfortunately, these laws don't cover flights to the countries in question.
Countries with these regulations include:
Australia
Brazil
Japan
Philippines
Taiwan
Note that while Hong Kong used to regulate fuel surcharges on HKG departures, the region recently repealed this law. Thankfully though, British Airways has continued to not impose fuel surcharges on award flights departing Hong Kong. This means that award flights from Hong Kong to London have surcharges of under $100, even when booking premium cabins.
7. Book Short-Haul British Airways Reward Flight Saver Flights
If you need to hop from London to elsewhere in Europe, you can fly on British Airways without high fuel surcharges. To do this, keep an eye out for Reward Flight Saver flights.
These special British Airways award tickets are available on both intra-Europe on British Airways and intra-South Africa flights on Comair. In place of taxes and surcharges, these special award tickets add a flat-rate redemption fee.
The fees are as follows:
$55 round-trip/$27.50 one-way in Euro Traveller (economy)
$80 round-trip/$40 one-way in Club Europe (business)
Better yet, these flights have special pricing, too, giving you a lower redemption rate. Here's how much you'll pay:
| | | | | |
| --- | --- | --- | --- | --- |
| Length of Flight | Off-Peak Economy | Peak Economy | Off-Peak Business | Peak Business |
| 0-650 miles | 4,000 Avios | 4,500 Avios | 7,500 Avios | 9,000 Avios |
| 651-1,150 miles | 6,500 Avios | 7,500 Avios | 12,750 Avios | 15,000 Avios |
| 1,151-2,000 miles | 8,500 Avios | 10,000 Avios | 17,000 Avios | 20,000 Avios |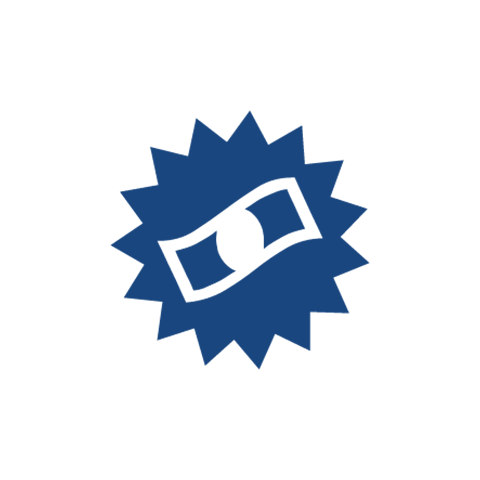 You can find Reward Saver flight awards the same way you'd find any other British Airways award ticket: just search! These special awards are denoted with the blue icon shown above.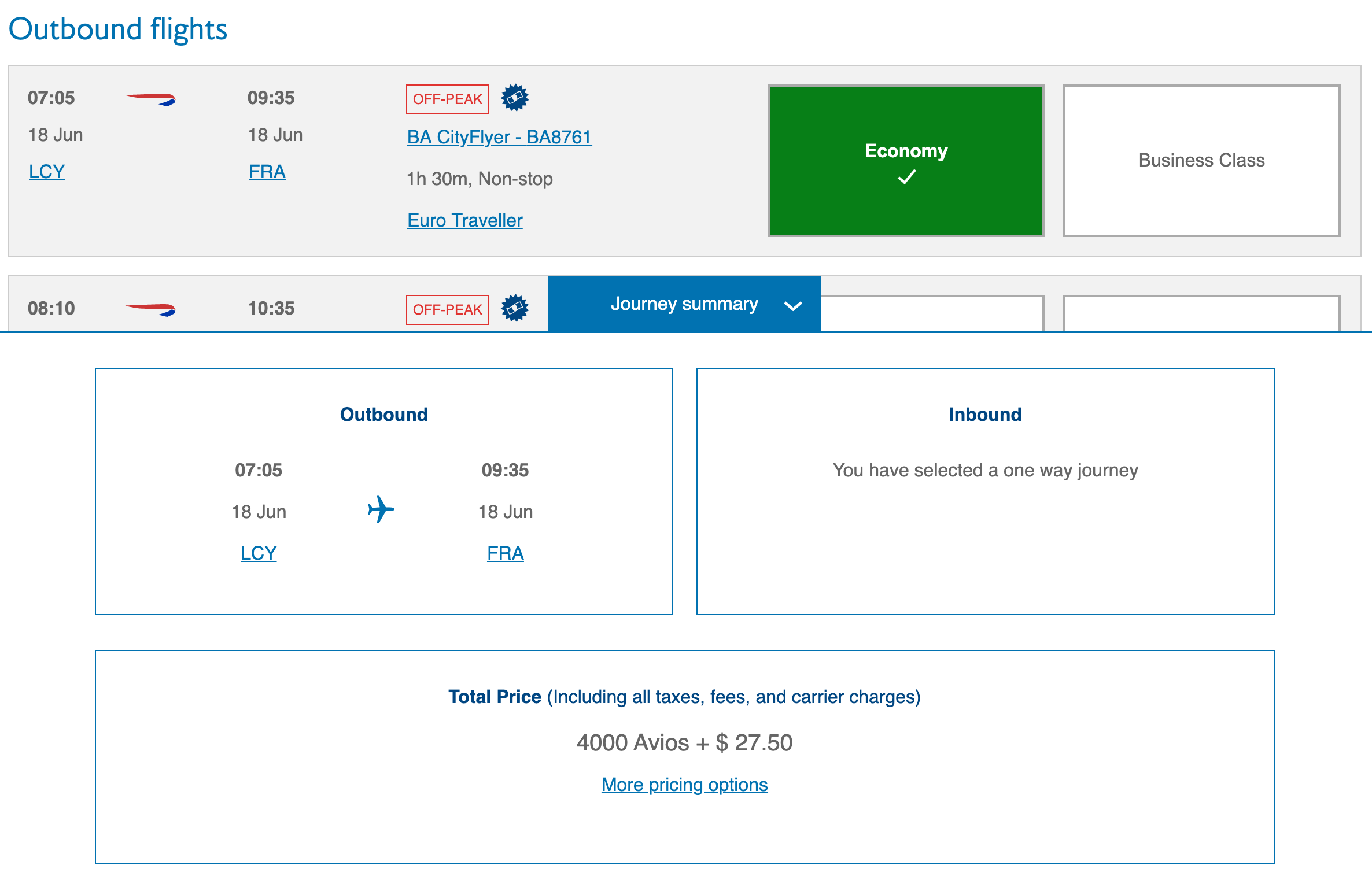 For example, a one-way flight from London City (LCY) to Frankfurt costs just 4,000 Avios off-peak and $27.50 in Reward Flight Saver taxes. This can be a pretty excellent deal when you're booking last-minute or during holidays and other times when flights are expensive — just make sure to compare the miles and cash cost with the cost of a paid ticket on a budget carrier, too.
Further, business-class tickets also have relatively low surcharges. That same route is just 7,750 Avios and $40 in surcharges when booked off-peak — just note that it's on British Airways' intra-Europe business class, which is essentially a blocked middle seat with meal service and lounge access.
8. Book U.S. to Ireland on Aer Lingus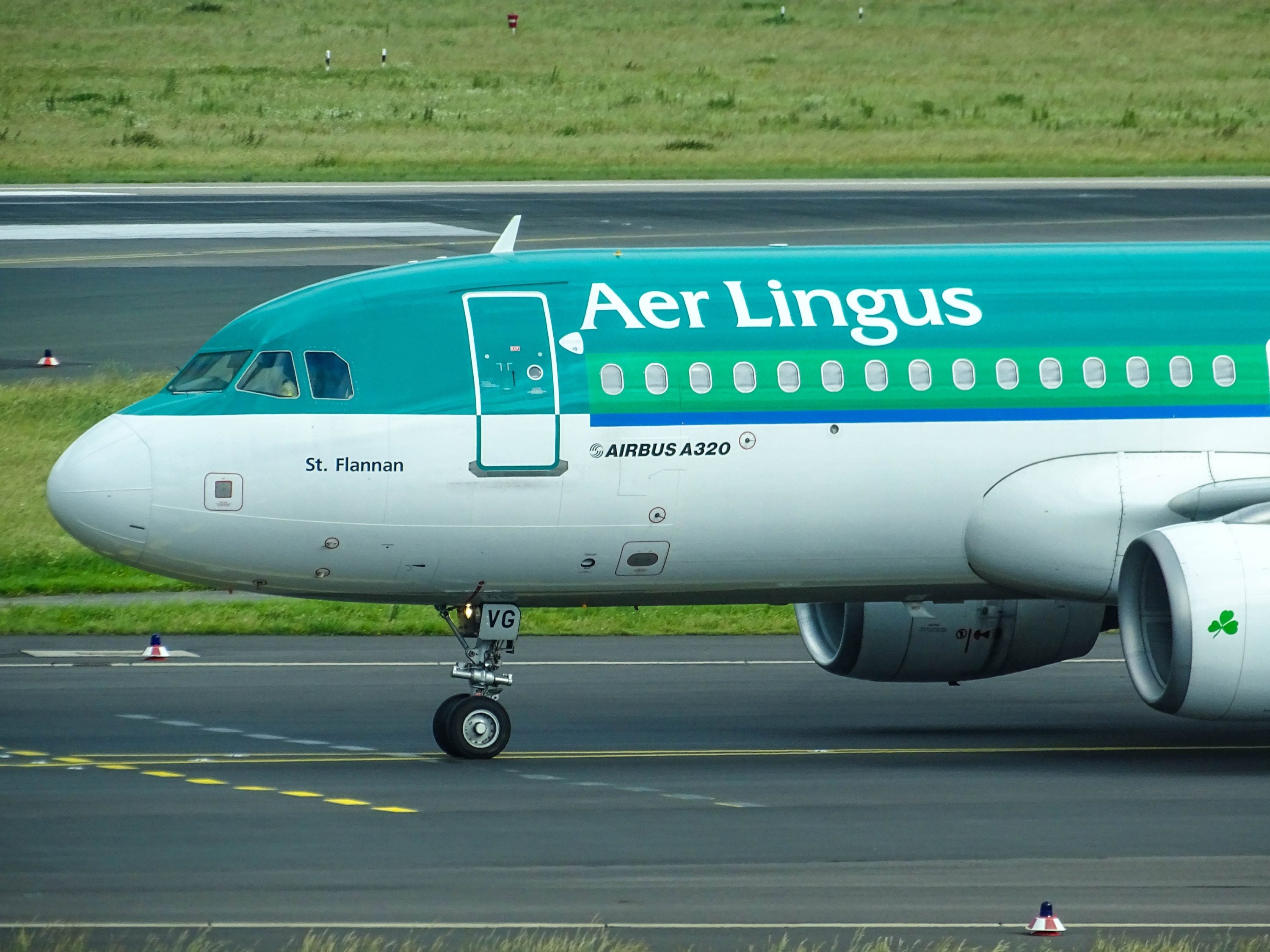 Aer Lingus was recently acquired by British Airways' parent company, International Airlines Group (IAG). You can use Avios to redeem award flights on the Irish carrier, including on its flights to North America — and they're a pretty killer deal.
Aer Lingus flies to its hub in Dublin (DUB) from a number of U.S. and Canadian airports, including:
Boston (BOS) (7x weekly)
Chicago (ORD) (10x weekly)
Hartford (BDL) (3x weekly)
Los Angeles (LAX) (7x weekly)
Miami (MIA) (3x weekly)
Minneapolis (MSP) (5x weekly)
Montreal (YUL) (7x weekly)
New York (JFK/EWR) (18x weekly)
Orlando (MCO) (3x weekly)
Philadelphia (PHL) (2x weekly)
Toronto (YYZ) (4x weekly)
San Francisco (SFO) (7x weekly)
Seattle (SEA) (3x weekly)
Washington (IAD) (4x weekly)
Plus, the airline also has routes between Shannon (SNN) and both BOS and JFK.
Since the British Airways award chart is distance-based, the shortest routes will require the least points. Thankfully, all routes have very minimal taxes and other surcharges. For example, an off-peak flight from JFK to SNN is just 13,000 Avios and $113 one-way in economy class.
Unfortunately, though, you can't book these award tickets on the British Airways website. Instead, you have to find saver award space on Aer Lingus partner United's website and then call British Airways to actually book the ticket.
Here's how to do it: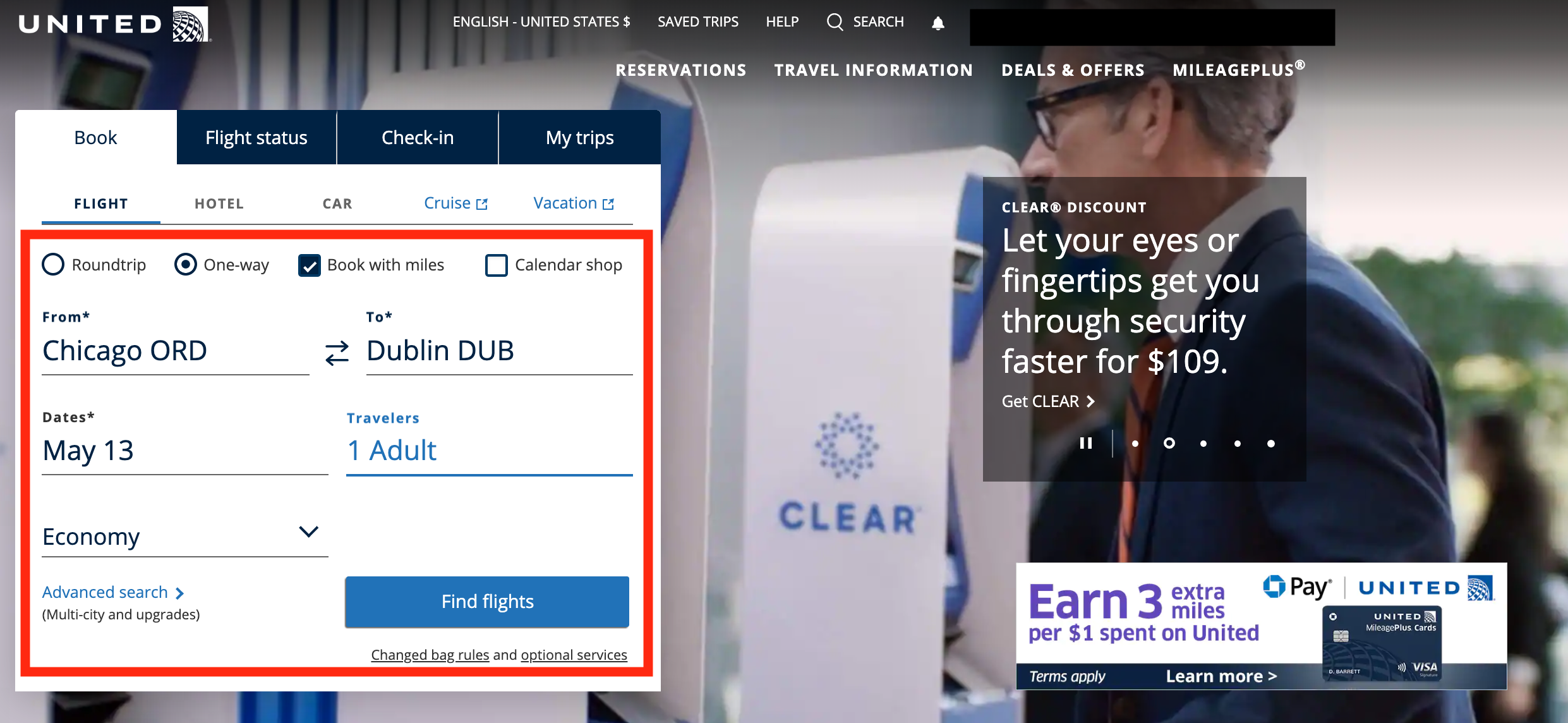 Go to the United website and enter your search criteria — this includes flight origin, destination, and date. Make sure to click the Book With Miles checkbox too.

Look for flights operated by Aer Lingus with Saver award space — these are the only tickets bookable with Avios. Image Credit: United

Look for awards that are marked as Saver Awards and are operated by Aer Lingus. Refer to the screen-shot above for a visual representation of how to find these tickets.
Now, call British Airways to book the ticket — you'll get a miles and tax quote over the phone and you can book your ticket right away. The Executive Club's U.S. phone number is 800-452-1201.
And that's all there is to it. In our opinion, this is the best way to get from the East Coast U.S. to Ireland on points, so make sure to consider it for your next jump over to Europe.
9. Book Tickets to Spain on Iberia
Iberia — another airline owned by IAG — uses its own version of Avios as its mileage currency. You can transfer Avios between British Airways and Iberia (and vice-versa) at will so long as both of your accounts have been open for 90 days or more.
This is great because Iberia has a super lucrative award chart for flights on its own planes — especially during its off-peak dates. To illustrate this, you can book a one-way ticket from New York (JFK) to Madrid (MAD) for just 34,000 Avios and $83.75 in taxes and fees during off-peak dates.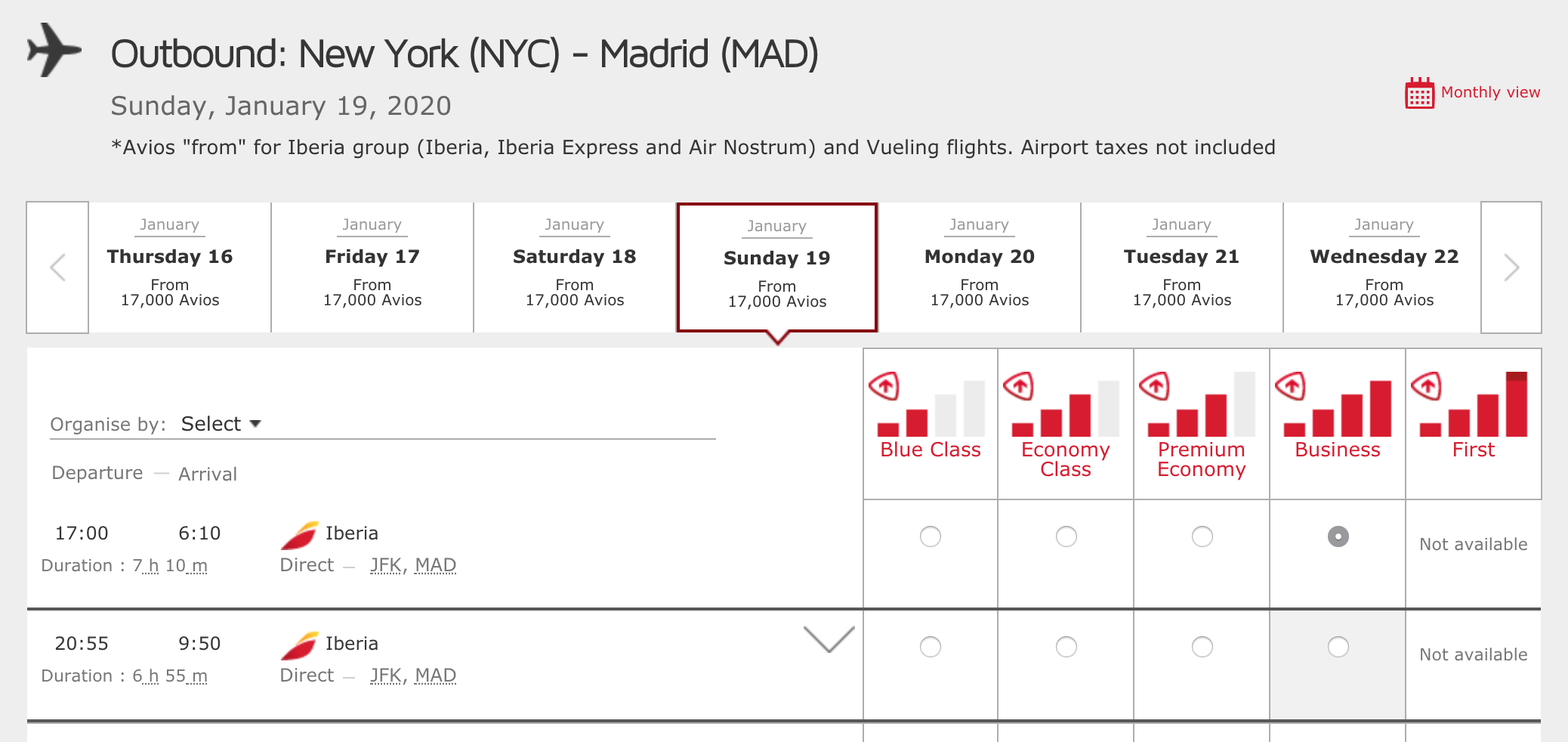 You can search for these flights right on Iberia's Book With Avios search engine. Note that while British Airways operated flights will show up in search results, they will still be subject to high fuel surcharges. So with that in mind, make sure that you look for flights that are operated by Iberia.
Like British Airways, Iberia's award chart is distance-based. However, it's much more reasonable than British Airways' award chart during off-peak times, and no matter when you book, you'll still avoid paying fuel surcharges.
Here's a look at Iberia's off and on-peak award charts for Iberia-operated flights:
Distance
Blue Class

Full

Economy Class

Premium

Economy

Business
Zone 1
0 – 650 miles
5,000
7,500
N/A
10,000
Zone 2
651 – 1,150 miles
8,250
12,500
N/A
16,500
Zone 3
1,151 – 2,000 miles
11,000
16,500
N/A
22,000
Zone 4
2,001 – 3,000 miles
12,500
18,750
N/A
31,250
Zone 5
3,001 – 4,000 miles
20,000
28,000
35,000
50,000
Zone 6
4,001 – 5,500 miles
25,000
35,000
43,750
62,500
Zone 7
5,501 – 6,500 miles
30,000
42,000
52,500
75,000
Zone 8
6,501 – 7,000 miles
35,000
49,000
61,250
87,500
Zone 9
7,001+ miles
50,000
70,000
87,500
125,000
Award Chart Exceptions
Iberia Air Shuttle
N/A
6,250
N/A
13,500
Madrid-London
7,500
11,250
N/A
15,000
How To Transfer British Airways Avios to Iberia Avios
As mentioned earlier, you can transfer British Airways Avios to Iberia Avios — here's how to do it: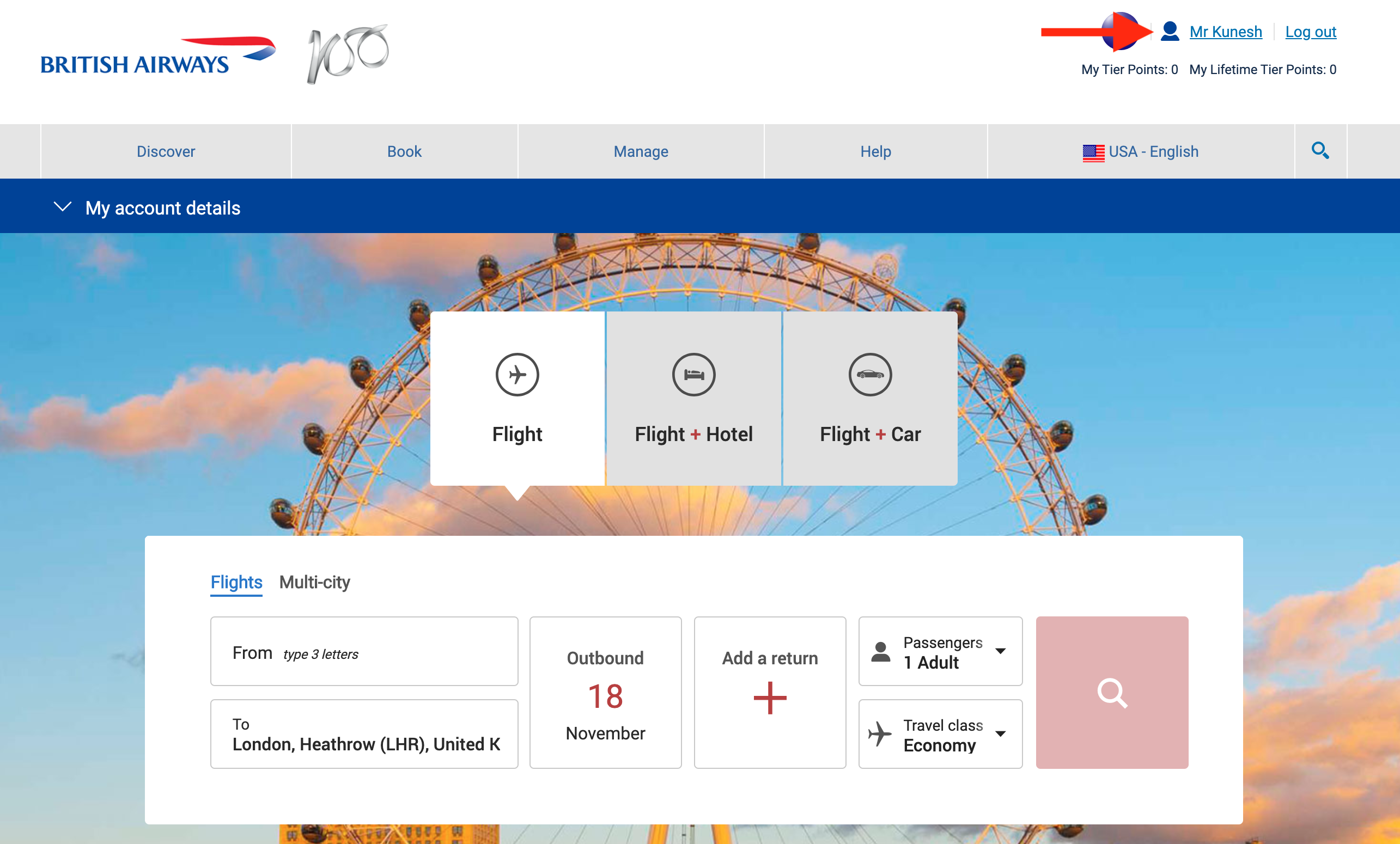 1) Head over to the British Airways website and log in. Then, click on your name at the upper right-hand corner of the screen.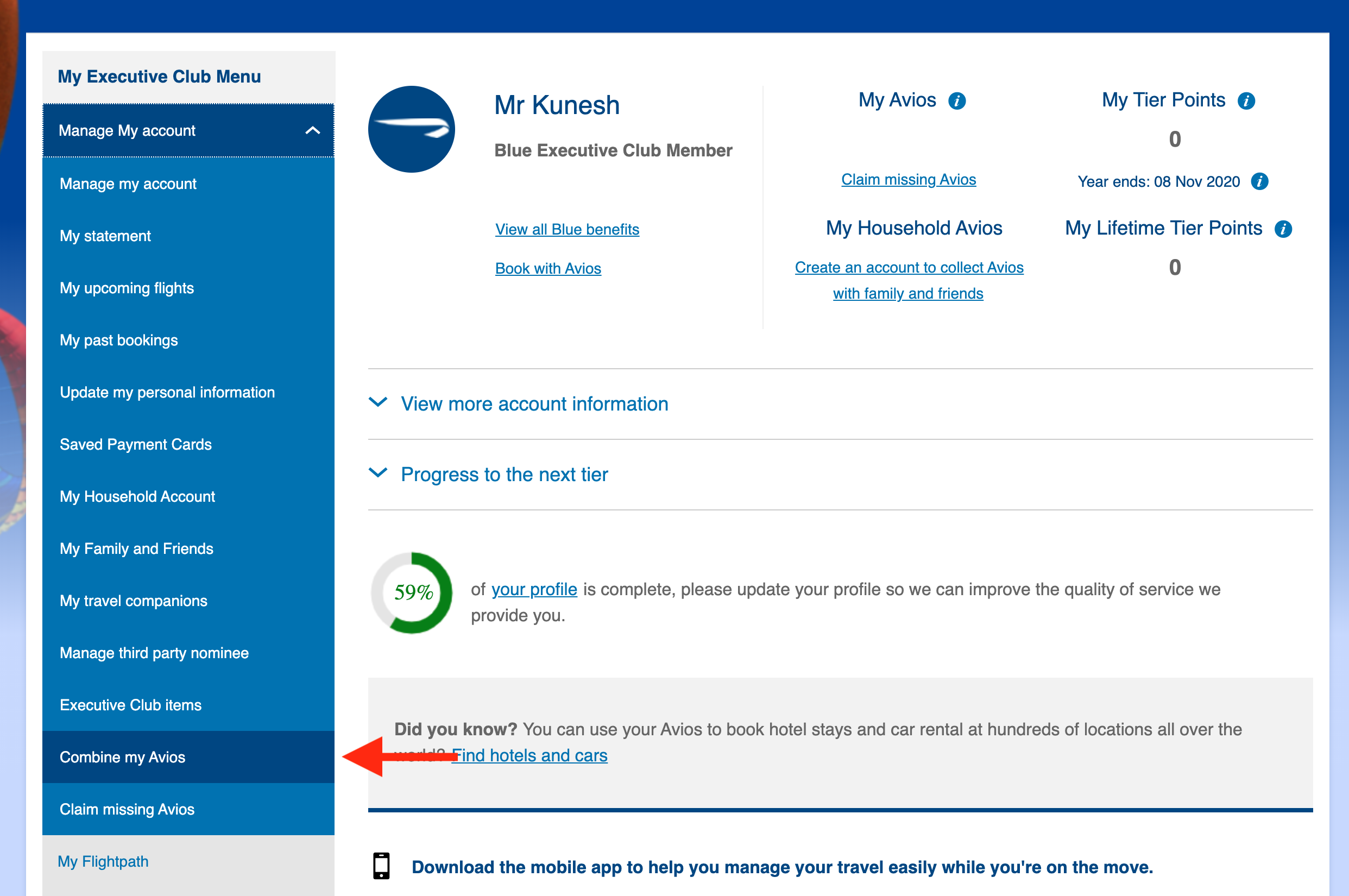 2) Look towards the bottom left-hand corner of the screen and click on the Combine my Avios button.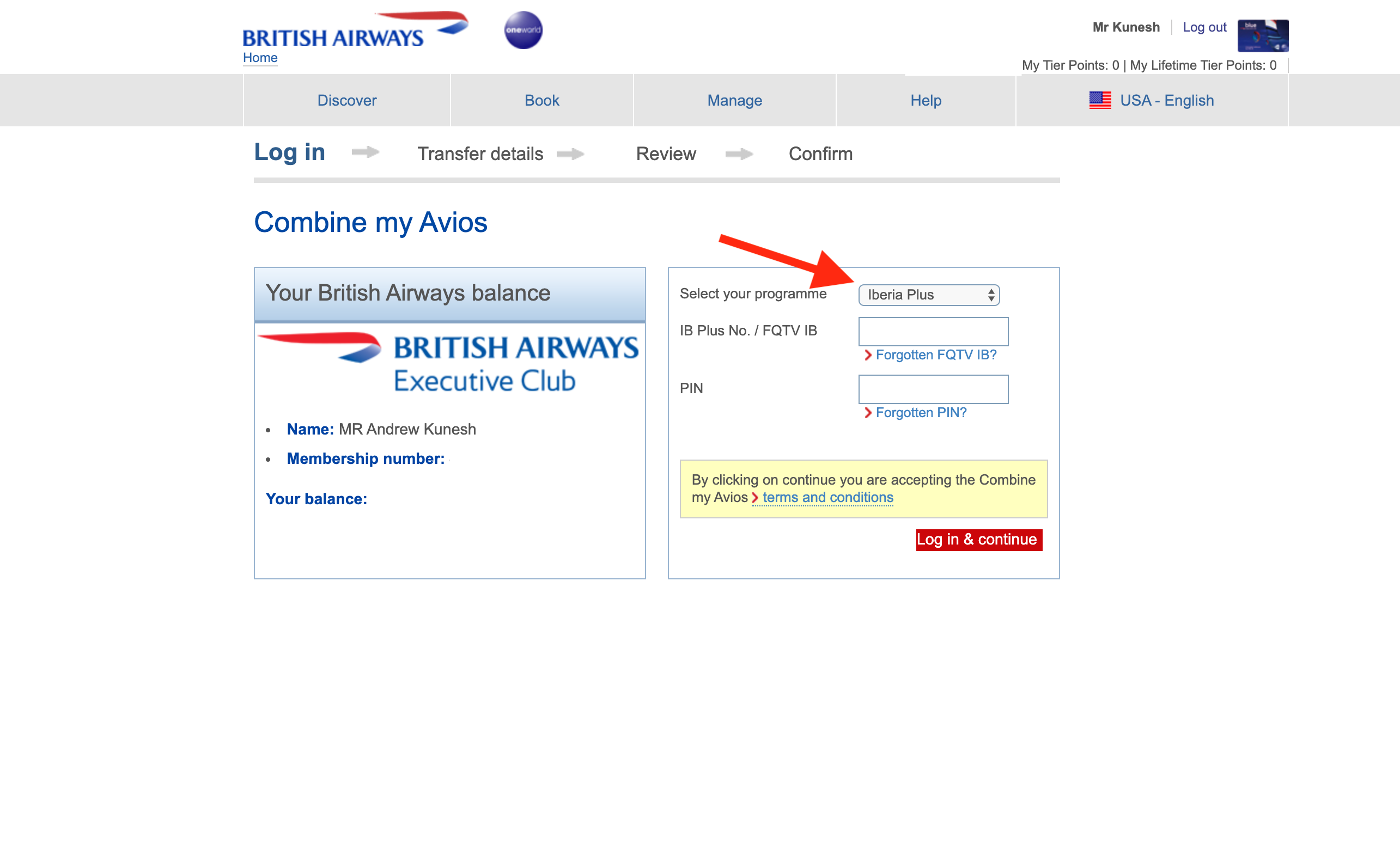 3) Now, look towards the right-hand side of the screen and select Iberia Plus from the "Select your programme" drop-down menu. You'll now be prompted to log-in with your Iberia Plus account.
4) You can now choose how many Avios you'd like to transfer to your Iberia account. This transfer should process instantaneously, so you can book your flight on the Iberia site immediately.
All in all, we think that this is one of the best ways to book a transatlantic business class award ticket. It's one of the lowest points ways to book a flight across the pond — and mixed with Iberia's extensive European route network, you can book connecting flights to almost every major city in Europe.
10. Book International Flights on American Airlines
While booking American Airlines award tickets with British Airways Avios will incur more surcharges than booking with other Oneworld points currencies, some routes do provide good value with low surcharges.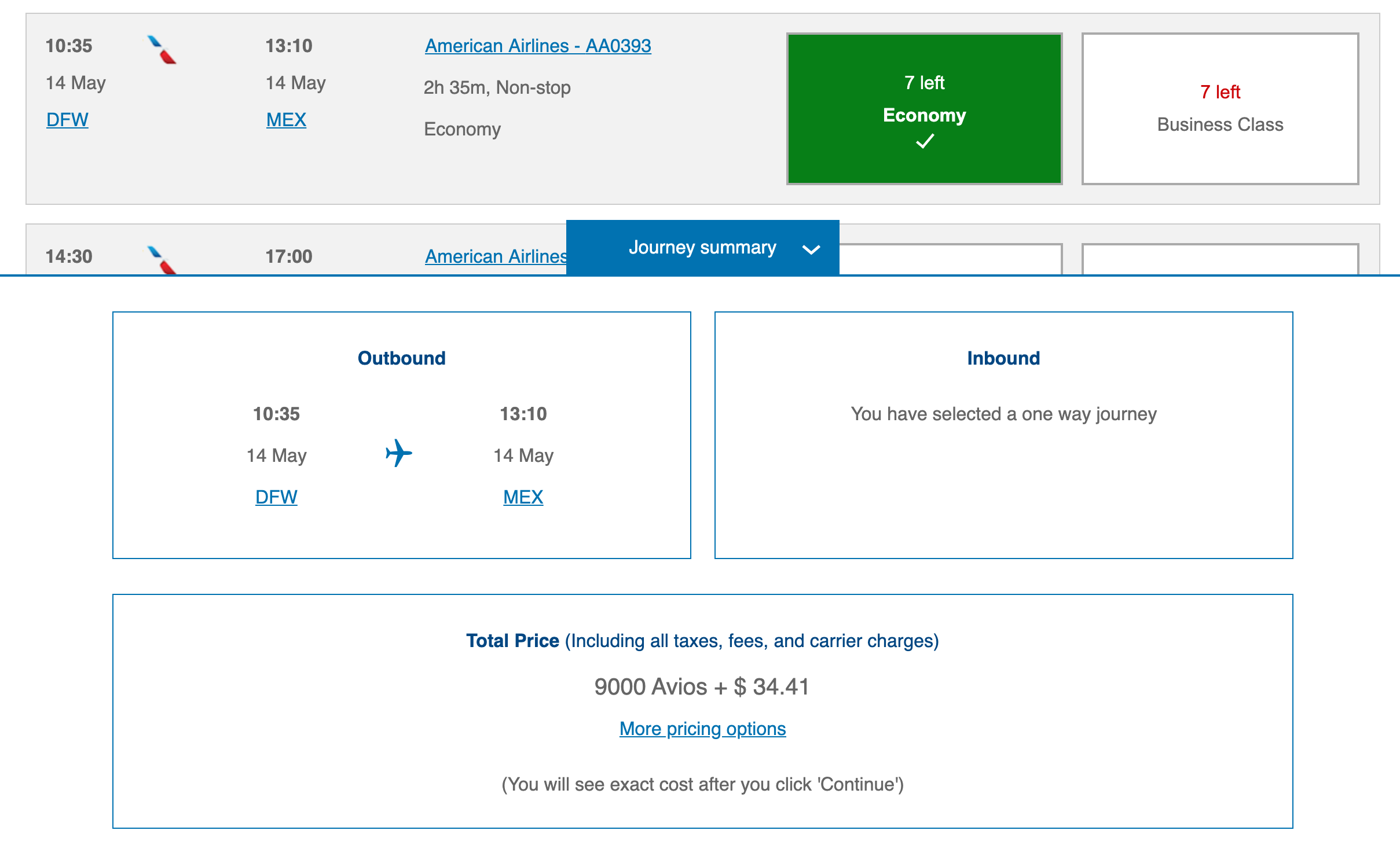 For example, you can book an economy class ticket from Dallas (DFW) to Mexico City (MEX) for just 9,000 Avios and around $31 in taxes and fees. This is a solid deal and is actually cheaper than booking the same flight with American AAdvantage miles.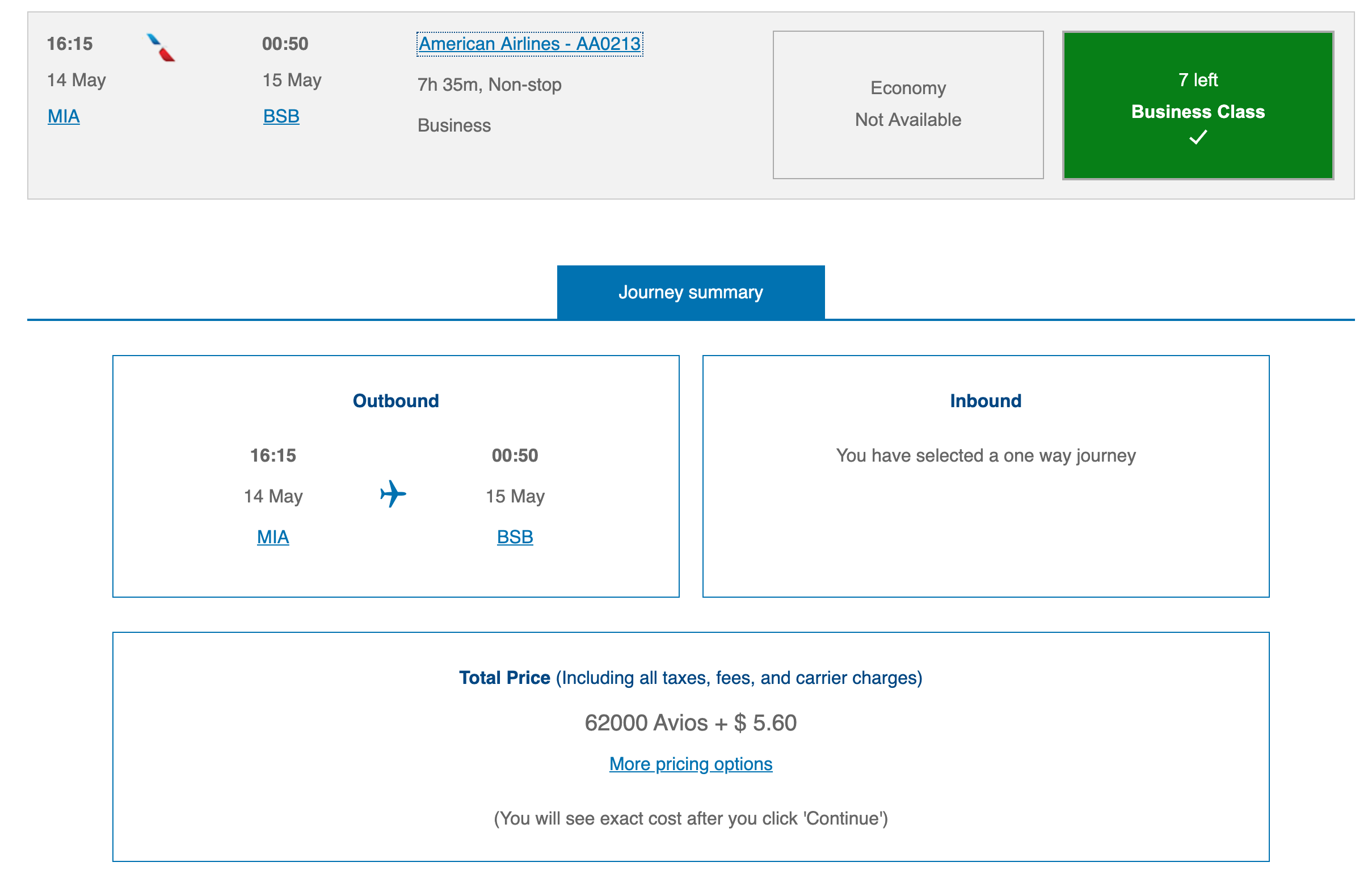 Likewise, a business class flight from Miami (MIA) to Brasilia (BSB) costs 62,000 Avios and $5.60 in taxes and fees. This is a great way to use your Avios if you want to fly in style.
Unfortunately, we've found that most American tickets to Europe still have high surcharges attached. However, flights to Asia, Central America, and South America do not incur these fees, so consider a trip to one of these regions if you'd like to redeem your Avios without surcharges on American Airlines.
As discussed with American domestic bookings, you can search for American award tickets on the British Airways website and book without a phone call. However, you may want to cross-check with American's website as the British Airways site does fail to show flights from time to time.
Final Thoughts
As you can see, there are tons of great ways to redeem your British Airways Avios without breaking the bank. Our favorites on this list include North American domestic bookings, Cathay Pacific flights, and Iberia awards from the U.S. to Europe. Keep these redemption options in mind as you work on redeeming your Avios.
Safe travels!