6 Tips To Get the Best Airplane Seat During COVID-19 [2021]
As vaccines become readily available after over a year of the coronavirus (COVID-19), many people are going to want to start traveling again. But doing so safely will be paramount.
While masks are still required onboard planes as a defense against spreading and catching the virus, they don't have to be your only defense.
In addition to masks, face shields, hand sanitizers, etc., simply selecting certain seats on board your next flight can help reduce your risk of infection.
Let's take a look at where these seats are located and how to choose them.
Is It Safe To Fly During the COVID-19 Pandemic?
Before we talk about boarding a plane, it should go without saying that staying home is the safest option in terms of contracting and spreading the virus if you are not vaccinated.
However, when it comes to travel, traveling by plane is one of the safest options when choosing public transportation. The CDC (Centers for Disease Control and Prevention) says that exposure is generally low due to the advanced flow and filtering of the cabin air with the help of HEPA filters.
In addition, United Airlines and the U.S. Department of Defense funded a study using mannequins and aerosols to simulate what would happen if an infected passenger was on a flight and how it can spread throughout the cabin. The results of the study showed that in a perfect scenario, with everyone wearing their mask for the entire flight, it would almost be impossible to contract the virus.
However, we all know that perfect scenarios are pretty hard to come by. The research did not account for passengers removing their masks to eat or drink (which is allowed) or even turning their heads to talk to or over a fellow passenger — so take that study with a grain of salt.
But if you are looking for a best-case scenario, you can look at the research from Arnold Barnett, a professor of management science at the Massachusetts Institute of Technology, that shows that passengers have about a 1 in 4,300 chance of getting COVID-19 on a full, 2-hour flight. That number drops to 1 in 7,700 if the airline is blocking middle seats.
Bottom Line: No matter which angle you want to take on any of the studies currently available, the chance of getting the coronavirus on a flight is generally low. You can reduce your chances even further by wearing your mask for the entire flight. 
Where Is the Safest Seat on a Plane During COVID-19?
Wide-body or narrow-body? Front of the plane or the back? Window seat or aisle? Pay for an upgrade or slum it in economy? These are all questions that take on a deeper meaning when you are trying to protect yourself against the coronavirus.
While gunning for that upgrade may make sense if the flight is full, if the flight is empty, some flyers might prefer to have a row to themselves in economy as opposed to sitting next to someone in first class.
But 1 thing is for sure — regardless of the type of plane or how close to capacity it is, grabbing a window seat is going to be your best bet.
Window Seat
There are a few reasons why selecting a window seat might help you avoid coronavirus.
Airflow
Most planes that are equipped with HEPA filters have the fresh air flowing up the sides of the cabin, down into the aisle, and then back into the filter, refreshing the entire cabin every 2 to 3 minutes.
That means if you are sitting next to the window, you will be getting the refreshed air before other passengers.
Aisle Traffic
If you are sitting in the window seat, you will not be as exposed to other passengers as they are boarding or making their way up and down the aisle during the flight.
This will also keep you at arms-length from the flight crew as they are serving refreshments. This is nice as you won't have the food cart stop right next to you as the crew asks each other for Diet Cokes.
Bathroom Breaks
If you are sitting in an aisle seat, there is always a chance that one of your seat neighbors will have to get up to use the bathroom at some point during the flight.
Hopefully, this only happens when you are awake, but it is possible that your neighbor will try to climb over you in an attempt to let you rest. That means some pretty close contact with a stranger — no, thank you!
By choosing the window seat, you can be the one who makes the decision if there will be any climbing.
Hot Tip: If you want to know which airlines are still blocking middle seats, check out our article: Airline Policy Changes Related to COVID-19.
How To Get the Best Airplane Seat During COVID-19
There is no way around it, flying is a risk. You are locked in a metal tube with a bunch of strangers who will very likely, at some point, remove their masks. If you are going to fly, here are the best ways to get to where you are going safely.
1. Choose an Airline That Is Blocking Seats
Although you will no longer find any U.S. carriers doing this, there are still some airlines that are blocking middle seats or at least limiting capacity.
If you can board a plane with fewer passengers, you will have less potential exposure to the virus.
2. Choose Your Aircraft Strategically
When booking your flight, pay attention to the type of aircraft that is available. With all of the schedule changes, many airlines are flying both wide-body and narrow-body planes on popular routes.
By selecting a wide-body aircraft, you are positioning yourself to be in a larger space and there will be less of a chance of it hitting full capacity.
Also, larger planes often have better business and first class seats (think: pods), so you could find yourself in a much more private cabin.
3. Check the Seat Map
Once you have your flight selected, log in to the airline website or app, and check out the seat map. You will be able to get a pretty good idea of how busy the flight is based on how many seats there are to choose from.
We also always like to check out SeatGuru to make sure to select the best seat and not one that may have some hidden flaws like a missing window, less legroom, or a location too close to a bathroom, for example.
Now that you have done your research, it is time to select your seat. If all other factors are equal, and you have the choice between sitting in the front of the cabin or the back, we recommend sitting near the front of the plane.
Although airlines are doing their best to create safer environments, boarding and deplaning continue to be an area that could use improvement. No matter the boarding procedures or instructions, passengers are still finding themselves very close to one another when getting on or off the plane.
By sitting towards the front of the plane, you can be one of the last to board and one of the first to deplane. The less time on board, the better.
4. Upgrade
While this is easier said than done, if you find yourself on a relatively full flight in economy, but there are seats available in business or first class, try to get an upgrade.
Depending on the airline, this process can vary, but unless you have elite status, you should expect to be charged. However, a smile and politely asking never hurt anybody!
Hot Tip: Ready for an upgrade? Be sure to read the best ways to upgrade to business and first class on your next flight.

5. Downgrade
This may not be the first thing that comes to mind when you are reading Upgraded Points, but this past year has been weird!
If you find yourself receiving an upgrade to a full business or first class cabin, but realize that economy is much emptier, it might make sense to request a downgrade.
Having an entire row to yourself may not be the same as a nice big seat in first class, but having fewer strangers breathing around you could be worth the trade-off. Just something to think about!
6. Just Ask!
If you have gone through the other steps and still find yourself uncomfortable with your seat, speaking with a flight attendant is going to be your best option.
Many airlines are allowing free changes if flights are approaching capacity, so you will almost always have the option of waiting for another flight.
However, by simply asking the crew for a different seat (even in the same cabin), you may find yourself pleasantly surprised.
Hot Tip: Once you board, be sure to give your seat and the surrounding area a good cleaning. Here are our tips on how to sanitize and disinfect your airplane seat. 
Bonus: Sign up for CLEAR or TSA PreCheck
While having a CLEAR or TSA PreCheck membership won't help you get a better seat on your flight, it will help you avoid lines and groups of people — and that is what this is really all about, isn't it?
Airports are getting busier by the day and security lines are where you are going to find the biggest backups. By being able to cut the line, you will be reducing your time unnecessarily spent around strangers.
Final Thoughts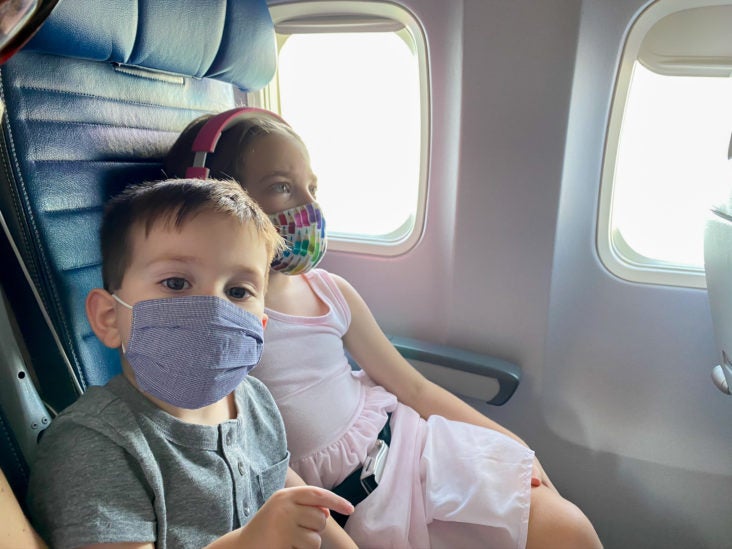 Even though many of us will have access to a vaccine for the coronavirus (COVID-19), there will always be an inherent risk when traveling on public transportation.
Although there have been some studies that show that flying on a commercial airplane is relatively safe, the bottom line is that you are locked in a metal tube with dozens, or even hundreds, of strangers.
That means that you should take every precaution you can in order to reduce your risk of contracting the virus. One of those precautions is selecting the right seat for you and your family.
By simply doing a little bit of research before your flight, you can potentially position yourself for a safer and more comfortable flight.
If you find yourself flying soon, hopefully, these tips will help you get a better seat. And, as always, safe travels and wear a mask!
---
All information and content provided by Upgraded Points is intended as general information and for educational purposes only, and should not be interpreted as medical advice or legal advice. For more information, see our Medical & Legal Disclaimers.