United Airlines: Coronavirus (COVID-19) Latest Updates — Cancellation Policies, Status Changes, Routes, and More
Reduced routes, customer cancellations, and governmental restrictions have all meant that United Airlines has been seriously impacted by COVID-19. If you have an upcoming trip booked with United, you might have questions about what to expect on your upcoming trip or what will happen to the elite status you worked hard to obtain.
What options is United offering for changing or canceling your trip? If you have to fly, are there any lounges open? What precautions is United taking to keep you safe at the airport and during your flight? Will you still be able to maintain your MileagePlus elite status with your trips being drastically limited?
This article will answer all of your COVID-19 questions related to United Airlines.
Cancellation Policies
United has offered a more flexible change policy and waived cancellation fees/mileage redeposit fees in light of the COVID-19 pandemic. These policies apply to both all tickets — including non-refundable tickets.
We've broken down United's change and cancellation policies due to COVID-19 in great detail.
Loyalty Extensions/Status Upgrades
Because you will likely be flying far less in the coming months as a result of COVID-19, United is offering some concessions for its MileagePlus customers. For example, United elite members will have their status automatically extended through January 31, 2022, and all travel certificates can now be used for 24 months.
Explore our specific elite status extension details for United, along with what other airlines are granting for their elite status travelers.
Credit Card Incentives

United credit cardholders can earn Premier qualifying points (PQP) through their annual credit card spend and for 2021 can apply this earned PQP toward Premier 1K status. Visit United's MileagePlus cardmember update page for more details and terms and conditions.
Status Match Challenge
United has a new status match challenge program for requests received between January 5, 2021, and June 30, 2021. If you meet the criteria to participate, "your account will be upgraded to Premier Silver, Premier Gold, or Premier Platinum status for 120 days based on the level you hold in your current frequent flyer program." You will have specific PQF and PQP requirements to meet in order to keep the status for the remainder of 2021.
United Vacations
If you have made your vacation plans through United Vacations, it has updated its travel change and cancellation policy.
Many destinations are currently closed to visitors. If your vacation has been impacted or you would like to cancel your current reservation out of an abundance of caution, you have options. If you booked your trip before March 20, 2020, and were supposed to travel before May 31, 2020, you will receive an additional 25% credit that can be used toward a vacation at a later date.
No action needs to be taken and you do not need to contact United regarding your booking. When you are ready to book your next vacation using your Future Travel Credit, please call 888-854-3899 and provide your original reservation number.
Flight Reductions and Cancellations
The airline has made "aggressive capacity reductions" as a result of COVID-19. Notably, Executive Chairman Oscar Munoz says United won't build up airline capacity until demand comes back, per Bloomberg.
On the 2020 Financial Results earnings call, "the company expects 2021 to be a transition year that's focused on preparing for a recovery. United has resumed heavy maintenance and engine overhauls, investments that are essential to recovery when demand returns."
Hot Tip: To see more effects that the coronavirus has had on United, be sure to check out our article detailing the impact of the coronavirus (COVID-19) on U.S. airlines.
Domestic
Due to the COVID-19 pandemic, United has reduced domestic flights across the board. United says it won't suspend service to any U.S. city, regardless of cuts being made due to the COVID-19 pandemic, though flights to many areas have been cut.
On the 2020 Financial Earnings report, the key takeaways were:
In 2020, started 43 domestic routes.
United added in 1,400 domestic flights to cover Thanksgiving travel demand
Compared to September, United had nonstop service in 23 more domestic routes in October, 37 more domestic routes in November, and 95 more domestic routes in December.
United announced plans to add in 2 daily roundtrips to New York (JFK) after a 5-year absence from both San Francisco (SFO) and Los Angeles (LAX) starting in February 2021 (which has been subsequently delayed to March 2021)
For a better look at route suspensions and remaining services, check for the latest updates here.
International
While international flights nearly ground to a halt, in July 2020, United started added back international service.
Some key takeaways from 2020 were:
In 2020, United started 10 international routes, with 15 more international routes planned to launch in 2021.
In Q4 2020, United expanded service to India with 4 daily flights including the addition of O'Hare to Delhi.
Compared to September, United had nonstop service in 8 more international routes in October, 32 more international routes in November, and 53 more international routes in December.
For a complete listing of impacted international schedules, see United's website.
Important United News
United is receiving governmental aid as part of the Coronavirus Aid, Relief, and Economic Security (CARES) Act. Under the terms of this $50 billion aid, all airlines — including United — were barred from cutting jobs through September 30, 2020.
Of the $50 billion, United received $5 billion in the form of a direct grant of $3.5 billion and a low-interest rate loan of $1.5 billion. It also noted that "the airline's parent company also expects to issue warrants to purchase approximately 4.6 million shares of UAL common stock to the federal government."
The second round of support came in December 2020 totaling $15 billion in aid for airlines.
On March 10, 2021, the American Rescue Plan was passed which includes an additional $15 billion for airline support and roughly $3 billion specifically for United Airlines. The terms of accepting this aid again requires that airlines not cut any jobs through September 30, 2021. Layoffs and furloughs for United were canceled based on this news.
United Club and Polaris Lounge Closures
Only select locations at United's hub airports will remain open. Hours and available locations are subject to change and vary by location.
The following United Polaris and Club lounges will remain open:
Chicago (ORD — Terminal 1, Concourse B, near gate B6)
Denver (DEN — Concourse B East, near gate B44)
Honolulu (above Gates G2 and G3)
Houston (IAH — Terminal E, between gates E11 and E12)
Los Angeles (LAX — Terminal 7, next to gate 71A)
New York/Newark (EWR — Terminal C, upper level, near gate C74)
San Francisco (SFO — Terminal 3, boarding area F, rotunda, near gate F11)
Washington, D.C. (IAD —  Midfield Terminal, Concourse C, near gate C7)
Further, United Club guest access became more restrictive in May 2021. Star Alliance Gold members may only bring 1 guest if the guest is also traveling on the same flight as the elite member.
Bottom Line: All Polaris lounges are temporarily closed. In addition, if the United Club is not listed above, it is closed until further notice. 
Safety Changes
Additional safety precautions have been made as a result of the pandemic.
Food and Beverage Service
Changes to the food and beverage service include:
Moving to primarily pre-packaged foods and sealed beverages
Suspending "Buy on Board"
Suspending hot towel service
Use of pick-up pans to collect trash
New cups can be used for refills
Seating Arrangements
United notes that it has adjusted the "seat selection systems to avoid where possible seating customers next to each other, except when traveling together. We're also alternating window and aisle seats when seats are in pairs."
Be prepared to be seated next to someone as demand for travel picks back up.
Disinfection Changes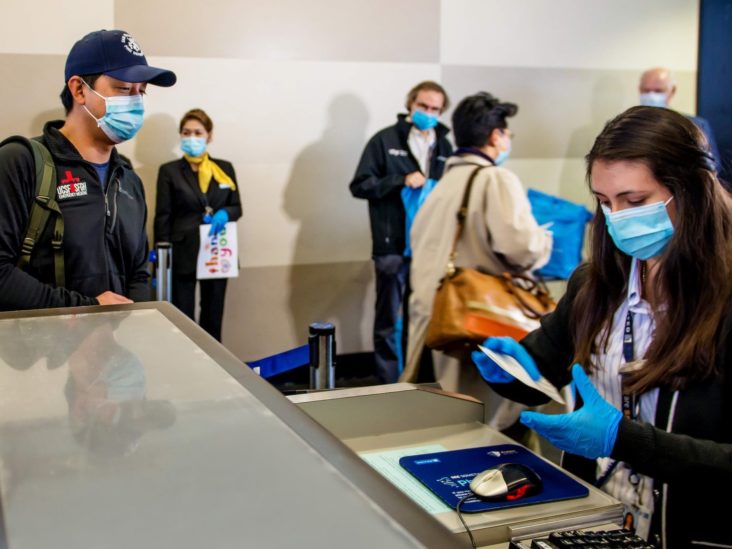 At the airport, social distancing at customer service desks and check-in counters is encouraged using 6-foot guidance markers. Sneeze guards at check-in counters and gate podiums have also been put in place.
Self-serve kiosks have been temporarily shut down in most locations. Instead, United encourages using united.com or the United app to check-in for your flight to limit in-person interactions or accessing common touchpoints.
Onboard, United has currently implemented electrostatic spraying on all inbound long-haul international flights, and mainline overnight aircraft at our U.S. hubs. As of June 2020, "all aircraft will have electrostatic spray on every one of our departures, in addition to disinfecting customer touchpoints and surfaces before every flight."
When it comes to air circulation, United notes that "all mainline aircraft use a high-efficiency (HEPA) filter (like those found in hospitals) to circulate the air and remove up to 99.7% of airborne particles."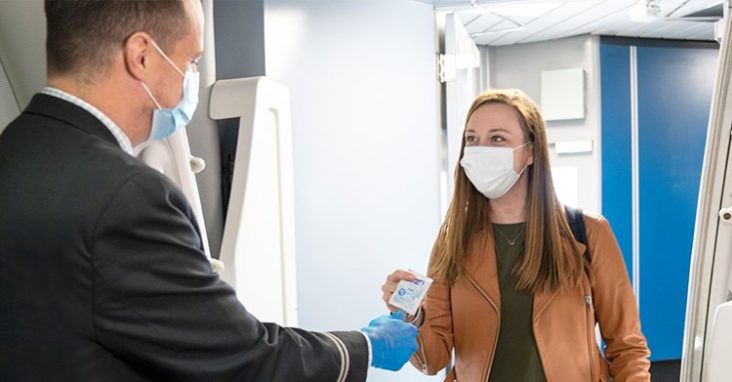 As of May 12, 2020, United flight attendants will also be providing customers with hand sanitizer wipes when requested.
Face Masks
Flight Attendants
On April 24, 2020, United became the first major U.S.-based airline to require its flight attendants to wear a face mask while on duty. It has also implemented temperature checks for employees at United's hub airports.
Passengers
As of May 4, 2020, all United travelers over the age of 2 are required to wear a face-covering on board that fully covers their nose and mouth. United representatives have masks available, free of charge, for those who need one. This requirement is in place until further notice.
There may be some allowable times when you can remove your face covering on the aircraft, such as when eating or drinking, or in the case that the aircraft decompresses and the use of oxygen masks is required.
If a customers cannot wear a face mask due to a disability or medical condition they can seek a mask exemption from United.
Also, as of June 18, 2020, United notes that "any passenger that does not comply when onboard a United flight will be placed on an internal travel restriction list. Customers on this list will lose their travel privileges on United for a duration of time to be determined pending a comprehensive incident review."
In addition, starting on July 24, 2020, United extended the mask requirement to include wearing masks in the airport as well.
Boarding Process Changes
United is boarding fewer customers at a time to allow for more distance during the boarding process. It will board back-to-front by rows but will space out customers to minimize crowding in the gate area and on the jet bridge.
When deplaning, it is also implementing a temporary front-to-back order as customers exit the aircraft.
Bottom Line: Passengers that require pre-boarding will not be impacted by this change.
COVID Testing Through United App
The CDC is requiring all of those travelers who are returning to the United States to get a COVID test done prior to arrival. Between this and requirements for places like Hawaii and other international destinations, COVID testing is more important than ever.
Luckily, the United website and app are rolling out updates to help with these requirements. You can now use either the website or app to book a COVID-19 test at more than 200 locations across the United States. This tool, called the "Travel Ready Center", not only notes what the specific entry (and reentry) requirements are in each destination but links to your reservation so you can be sure that your results will be accepted.
Health Self-Assessment Requirements
United has announced that as of June 11, 2020, it will require all passengers to complete a "health self-assessment" during their check-in process on the United mobile app, United.com, on a United kiosk, or by reviewing and verbally confirming when checking-in with an agent at the airport to receive a boarding pass.
It notes that these questions on the "Ready-to-Fly" checklist "ask customers to confirm they have not experienced COVID-19-related symptoms in the 14 days prior to flying."
The checklist includes the following:
You must wear a face-covering while onboard for the safety of everyone.
Have not been diagnosed with COVID-19 in the last 21 days. Have not experienced any of the following symptoms in the past 14 days (excludes symptoms from a pre-existing condition)

Temperature of 38 C/100.4 F or higher
Cough
Shortness of breath/difficulty breathing
Chills
Muscle pain
Sore throat
Recent loss of taste or smell

Have not had close contact with someone who tested positive for COVID-19 in the last 14 days.
Have not been denied boarding by another airline due to medical screening for communicable disease in the last 14 days.
The checklist also affirms customers are willing to abide by the airline's other safety protocols, including wearing a face covering, which is now mandatory for all employees and customers on board a United aircraft. Customers that are not able to confirm these requirements and choose not to travel will be able to reschedule their flight. Customers may also choose to check in at the airport for further review.
Voluntary Contact Tracing
Starting in December 2020, passengers checking in for international flights returning to the U.S. will be asked to provide information, including contact information and the address of where they will be staying after arrival. This information would be entered however you choose to check-in — through the app, website, or at airport kiosks. Note that all information provided is voluntary and will also be rolled out for domestic flights soon.
Fleet Changes
According to Bloomberg, United expects to park about 400 aircraft, mostly at its hubs like Newark and Chicago, due to the COVID-19 pandemic.
While United hasn't currently announced any aircraft reductions due to COVID-19, we will update this section if that changes.
In terms of fleet aircraft shuffling:
787s will not be used at Los Angeles (LAX) for up to a full year
777s will be focused solely on Newark (EWR) and San Francisco (SFO)
United only plans to fly 767-300s (and not 767-400s)
Final Thoughts
United knows that it will be harder than ever to meet the minimum flying requirements due to the pandemic. Because of this, it has extended benefits and offered additional opportunities to earn PQPs for certain United credit cardholders.
If you must travel, many things will look different, like decreased food and beverage service, boarding and deplaning, and seating arrangements. United has tried to make it possible to make informed decisions based on flight capacity, as well. New sanitization efforts will be implemented to keep the aircraft clean and passengers safe on board.