American Airlines: Coronavirus (COVID-19) Latest Updates — Cancellation Policies, Status Changes, Routes, and More
Domestic and international service on American Airlines has been seriously impacted by COVID-19. If you have a trip booked with American Airlines in the foreseeable future, you might have some questions.
What do you do if you want to cancel an upcoming trip due to the uncertainty of the situation, or for medical reasons? Will you still be able to maintain your AAdvantage elite status? If you have to fly, are there any lounges open? What precautions is American Airlines taking to keep you safe during your flight?
This article will answer all of your COVID-19 questions related to American Airlines.
Cancellation Policies
American Airlines has offered a more flexible change policy and waived cancellation fees in light of the COVID-19 pandemic. These policies apply to both paid and award tickets — including non-refundable tickets.
We've broken down American Airlines' change and cancellation policies due to COVID-19 in great detail. Click the link for full details, along with the other airlines' policies.
Loyalty Extensions/Status Upgrades
American Airlines is offering some concessions for its customers. For example, award tickets can be canceled without any redeposit fees, elite status has been extended through 2022, and elite status requirements have been lowered for 2021.
Explore our specific elite status extension details for American Airlines, along with what other airlines are granting for their elite status travelers.
American Airlines Vacation Credit
On July 1, 2020, AAdvantage elite members received a special 1-time credit to use toward an American Airlines Vacations package. The amount received depended on your elite status as of June 30, 2020.
AAdvantage Program Changes
As of October 1, 2020, American now allows systemwide upgrades from Basic Economy tickets and AAdvantage members will receive their full benefits when flying on a Basic Economy ticket.
Unfortunately, as of January 1, 2021, elites no longer earn elite-qualifying miles, segments, or dollars on Basic Economy tickets.
Also in 2021, Platinum Pro members can expect to earn systemwide upgrades, and these members, as well as Executive Platinum members, can expect even more rewards to chose from like Admirals Club day passes, bonus miles, and merchandise.
Flight Reductions and Cancellations
American Airlines specifically notes that significant schedule changes were made "due to significantly decreased customer demand as well as government travel restrictions — both related to the coronavirus (COVID-19) pandemic."
Hot Tip: To see more effects that the coronavirus has had on American Airlines, be sure to check out our article detailing the impact of the coronavirus (COVID-19) on U.S. airlines.
Domestic
On a recent earnings call, American notes that it expects its first-quarter 2021 system capacity to be down 45% compared to the first quarter of 2019.
Service at many small airports was suspended when the CARES Act expired — 15 airports were impacted.
However, American is flying to more outdoor-specific destinations, such as Colorado, Utah, and Florida, so it appears to be planning on sustained/increased demand to these locations during 2021.
International
It is clear that demand for international travel is still lagging. American reduce its international capacity and network for 2021, including exiting 19 international routes from 6 hubs.
American notes that "as we look to the year ahead, 2021 will be a year of recovery. While we don't know exactly when passenger demand will return, as vaccine distribution takes hold and travel restrictions are lifted, we will be ready. We are confident that the actions we have taken to improve our customer experience, enhance our network and increase our efficiency position us well for the future."
For a complete listing of impacted international schedules, see the full news briefing.
Important American Airlines News
American Airlines received governmental aid as part of the Coronavirus Aid, Relief, and Economic Security (CARES) Act. Under the terms of this $50 billion aid, all airlines — including American Airlines — were barred from cutting jobs through September 30, 2020.
Of the $50 billion, American Airlines received $5.8 billion in the form of a direct grant of $4.1 billion and a low-interest rate loan of $1.7 billion. American also noted that it will "separately apply for a loan from the U.S. Treasury of approximately $4.75 billion."
In December 2020, the second round of assistance was passed for $15 billion.
On March 10, 2021, the American Rescue Plan was passed which includes $15 billion for commercial airlines. This requires that airlines not layoff, furlough, or reduce salaries for employees through September 30, 2021. Layoffs and furloughs for American Airlines were canceled based on this news.
Admiral Club and Flagship Lounge Closures
The following Admirals Club and Flagship Lounge locations are open:
Austin (AUS) – Gate 22
Boston (BOS) – Terminal B
Charlotte (CLT) — Concourse C
Chicago (ORD) — Concourse H/K
Dallas/Fort Worth (DFW) — Terminals A, B, C, and D
Denver (DEN) – Concourse A
Houston Intercontinental (IAH) – Terminal A
Los Angeles (LAX) – Terminal 4
Miami (MIA) – Gate D30
Nashville (BNA) – Concourse C
New York Kennedy (JFK) – Terminal 8
New York LaGuardia (LGA) – Concourse D
Orange County (SNA) – Gate 8
Orlando (MCO) – Gate 55
Philadelphia (PHL) – Terminals B/C
Phoenix (PHX) – Gate A7
Raleigh / Durham (RDU) – Terminal 2
San Francisco (SFO) – Terminal 1
Tampa (TPA) – Gate 85
Washington Reagan (DCA) – Terminal C
These open lounges will have a modified food and drink service:
Complimentary hot food, signature dishes for sale, and packaged snacks
Disposable, single-use glassware
Full-service bar
Touchless menus with signage and QR codes. Physical menus will be available upon request.
Self-serve areas will remain closed.
Bottom Line: All Flagship Lounges are either closed or have been converted to Admiral Lounge service for the time being.
Safety Changes
Additional safety precautions have been made in the cabin as a result of the pandemic.
Touchless Check-In
When you check-in online for your trip, you can now check in your bags without interacting with an American Airlines employee. Simply select Checked Bags and get your mobile or printed boarding pass. At the airport, you'll scan your boarding pass at a kiosk to automatically print your bag tag, then attach it for drop-off at bag drop.
Note that this is only available for customers who:
Are the only person on the reservation
Flying within the U.S.
Booked in the main cabin
Food and Beverage Service
Food and beverage service has been altered based on the duration of your flight:
Cabin
Flights Under 900 Miles

Flights Between 900 and 2,199 Miles / up to 4.5 hours

Flights Over 2,200 Miles /4.5+ hours

Main Cabin/Main Cabin Extra

No snacks, alcohol, or food for purchase
Water, canned drinks, and juice by request only

Complimentary pretzels and bottled water
No snacks, alcohol, or food for purchase
Water, canned drinks, and juice by request only

Complimentary water, canned drinks, or juice during the flight
Complimentary Biscoff cookie on flights departing between 5 a.m. and 9:45 a.m.
Complimentary Biscoff cookie or pretzels on flights departing between 9:46 a.m. and 9 p.m.
No snacks or food for purchase
No alcohol or meals (except on long-haul international flights)

First/Business Class

Complimentary fig bar on flights departing between 5 a.m. and 9:45 a.m.
Complimentary savory snack mix on flights departing between 9:46 a.m. and 4:59 a.m.
Full beverage service (including alcohol)
No pre-departure beverages

Complimentary fresh snacks on flights departing between 5 a.m. and 9 p.m.
Full beverage service (including alcohol)
No pre-departure beverages

Complimentary Fresh Bites like fresh fruit, yogurt, and breakfast sandwiches in the morning, and sandwiches, salads, and fresh appetizers for lunch and dinner between 5 a.m. and 9 p.m. (on applicable routes only)
Meals served on 1 tray or box, not in courses (on applicable routes only)
Snack basket service before arrival
Full beverage service (including alcohol)
No pre-departure beverages
American Airlines states that "you're welcome to bring snacks and soft drinks on board to enjoy during your flight."
Seating Arrangements
More standard (non-paid) seats are available on the seat map. Where possible, seats may be restricted to give you more space. Gate agents or flight attendants may also move your seat.
As of July 1, 2020, American Airlines no longer caps capacity on its flights and will sell to capacity, so be aware that you might be sitting next to other passengers.
Disinfection Changes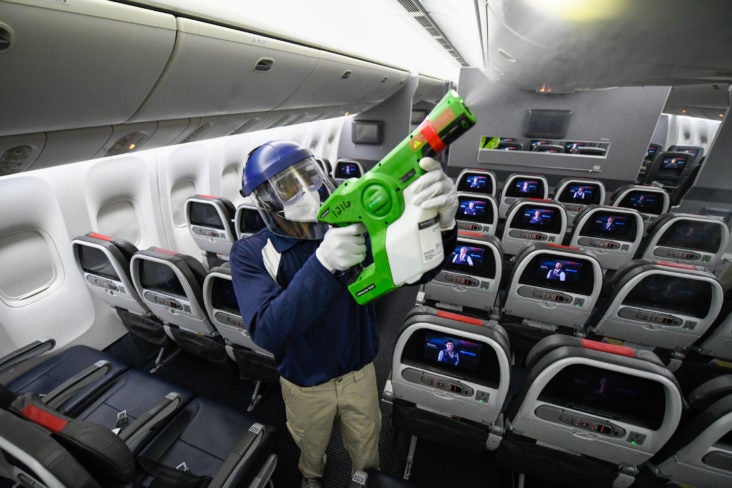 American Airlines notes that its cleaning practices "have always met or exceeded all CDC guidelines" and are cleaned daily with an EPA-approved disinfectant. All planes also undergo a deep cleaning procedure "on a regularly scheduled basis."
It also states that "most of our planes have High-Efficiency Particulate Air (HEPA) filters that provide a complete air change approximately 15-30 times per hour."
In response to COVID-19 specifically, it has begun "enhancing cleaning procedures on international flights and planes that stay overnight at an airport" and providing hand sanitizer and wipes to crews on international flights.
Starting in May 2020, American expanded the cleaning procedure to include thorough cleaning in customer areas, tray tables, seatbelt buckles, armrests, window shades, and seatback screens; it also includes wiping door and overhead bin handles. The procedure also calls for enhanced cleaning in team member areas, jumpseats, crew rest seats, cockpit surfaces, and the galley.
In December 2020, American Airlines achieved the GBAC STAR Accreditation from the Global Biorisk Advisory Council for all of its aircraft and lounges — the first of any major airline to have this.
Face Masks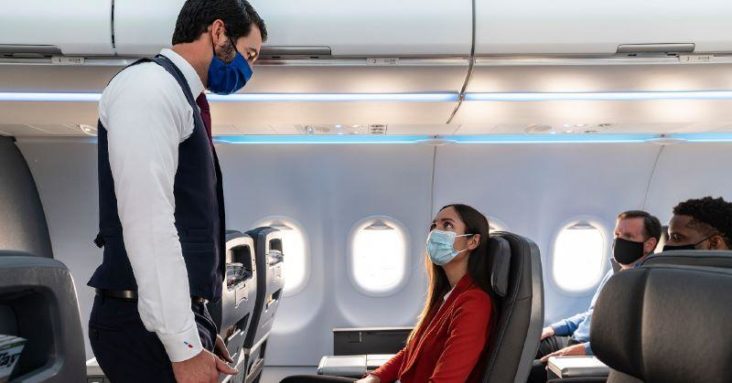 Flight Attendants
As of May 1, 2020, American Airlines requires masks for all flight attendants during every mainline and regional flight. A drawer has been added in galleys on every flight containing personal protective equipment, including masks for flight attendants and pilots and other sanitizing items. Furthermore, American will also distribute face masks and either sanitizing wipes or gels to passengers who need them.
Passengers
As of June 16, 2020, stricter requirements regarding face masks went into effect. To start, you must wear a mask or be denied boarding — even if you have a valid medical condition that precludes you from wearing one. Masks are required for everyone above the age of 2. See the updated mask policy here.
American released a statement that it "may also deny future travel for customers who refuse to wear a face covering. American made this change after working in conjunction with Airlines for America on an industrywide response."
Boarding Process Changes
The standard boarding policy stated that you needed to be at the gate 15 minutes before departure for domestic flights, and 30 minutes for international ones. As of April 27, 2020, American has added an additional 15 minutes to those requirements, moving to 30 minutes for domestic flights and 45 minutes for international flights. Furthermore, boarding used to end 10 minutes before departure; now, that'll be 15.
Health Assessment
As of June 30, 2020, there is a health assessment added during the check-in process to certify that individuals have been free of COVID-19 symptoms for the past 14 days. This checklist, developed with assistance by Vanderbilt University Medical Center, must be completed for each customer using self-service machines in airports or during online check-in at home.
VeriFLY App
The digital health passport app VeriFLY is in place to assist with rapidly changing environments. When traveling internationally, the app will checks whether the information and documents provided by the passengers are correct and in compliance with local authorities' regulations.
If you travel internationally on American Airlines, be sure to download the VeriFLY app (iOS or Android). Within the app, you are able to select a destination and upload/show evidence of negative test results at the airport — all within 1 streamlined process. This will make it faster than showing paper results at the airport check-in counter.
Fleet Changes
In 2020, American Airlines retired 5 aircraft types (Embraer 190, Boeing 757, Boeing 767, Airbus A330, and Bombardier CRJ200), along with a number of older regional aircraft. The company also placed some Boeing 737-800 aircraft into storage.
Combined, these changes removed more than 150 aircraft from the fleet.
American Airlines also reached an agreement with Boeing to defer deliveries of 18 Boeing 737 MAX aircraft. Currently, 5 of the 18 737 MAX deferral rights have been exercised.
American Airlines announced plans to "unground" its entire fleet by May 2021.
Final Thoughts
With reduced capacity due to various domestic and international restrictions, it will be harder than ever to meet the minimum requirements for AAdvantage elite status. While this situation is constantly changing, it's nice to see that American Airlines is trying to take care of its frequent flyers by extending status and reducing qualifications.
If you must travel, there are increased measures to keep you safe at the airport and on your flight. Lounges have been consolidated or limited, and additional steps to disinfect surfaces have been put in place. From limited food and beverage services to masks on most passengers, your next flight might look a bit different.