American Airlines Boeing 737 MAX8 Return to Service – First Class Review [MIA to LGA]
Airline: American Airlines (AA)
Aircraft: Boeing 737 MAX8
Flight #: AA718
Route: Miami International Airport (MIA) to LaGuardia Airport (LGA)
Date: December 29, 2020
Duration: 2hrs 58min
Cabin & Layout: First class, 16-seats, 2-2 config
Seat(s): 2F
Typical Retail Cost: $120 per person one-way (in Main Cabin)
Introduction
On December 29, 2020, American Airlines debuted its 737 MAX8 aircraft after almost 2 years of being grounded by the Federal Aviation Administration (FAA). After 2 fatal 737 MAX crashes across 2018 and 2019, there was a lot of work over the past 2 years to get this aircraft ready for service.
American's 737 MAX was reintroduced on a Miami (MIA) to LaGuardia (LGA) flight — between 2 corporate megacities, and 2 of American's most important hubs.
While there's a lot of concern over the safety of this plane, American has made numerous attempts to restore consumer confidence, and this flight was no different. Let's take a look at this special flight, the aircraft, and what American has done to help passengers get back in the sky.
Background
This return to service flight stems from the fact that the Boeing 737 MAX aircraft was grounded worldwide for close to 2 years following the fatal crashes of Lion Air Flight 610 on October 29, 2018, and Ethiopian Airlines Flight 302 on March 10, 2019.
The 737 MAX aircraft is different than previous 737 models. In the newer version, the engines sit up from their previous positions, causing the plane to fly differently. With this change, a software, known as MCAS, was installed to help automate the aircraft's flying. Unfortunately, changes in this system weren't really communicated to pilots, and there was little that could be done to turn it off, thus causing 2 airplanes to crash within a matter of months.
In the 2 years since, Boeing has acknowledged the failures behind this MCAS system, fully trained pilots across the world on it, and made modifications to electronics onboard to prevent the planes from reacting the way they did back in 2018 and 2019.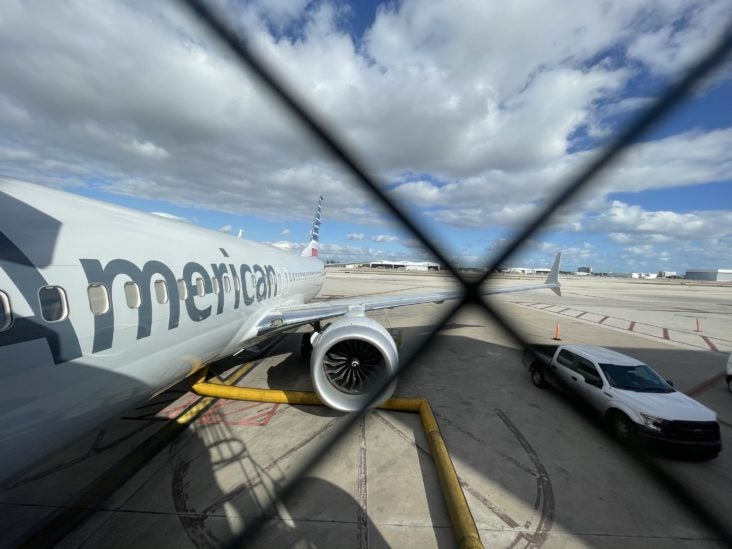 Check-In
Due to my American Airlines Executive Platinum status, I was allowed to check in at the priority check-in counters, located directly next to security checkpoint 1. The entire process took about 10 minutes, and there was a friendly agent that took my 1 checked bag and printed my boarding pass. I was scheduled to fly the 737 MAX from Miami to NYC, and then a connecting flight down to Ronald Reagan Washington National Airport (DCA).
It's worth noting that the check-in agent should have advised me that I was on a 737 MAX aircraft — she did not.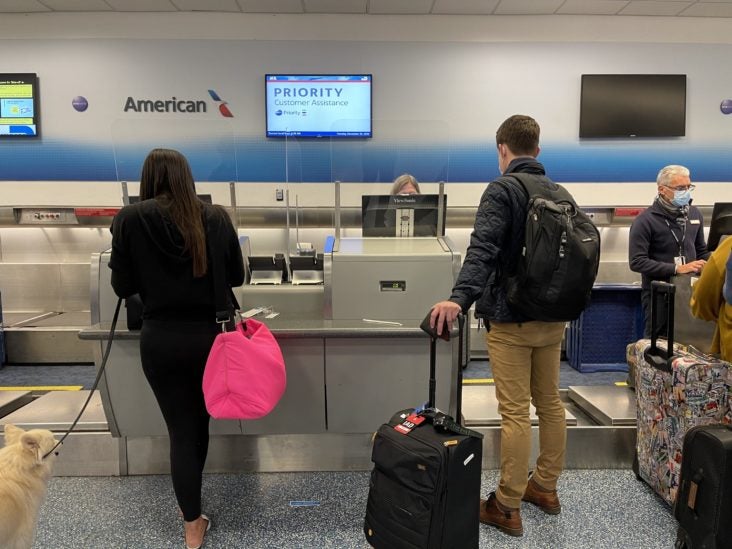 Media Briefing
Prior to departure, a media briefing was held, led by American Airlines President Robert Isom. He noted several important things:
As of late December 2020, American is only flying 45% of its normal schedule.
To date, there's no evidence of "book away," the practice of consumers booking onto another flight knowing they are on a 737 MAX aircraft.

 

American has instituted a number of notifications throughout the booking process to let consumers know they are booking a 737 MAX plane ride.
The pilots who fly the 737 MAX undergo a rigorous training refresher program to update them on the changes that have occurred, and how to prevent any future incidents.
American is tackling the 737 MAX reintroduction head-on and is the first U.S. carrier to bring the plane back to service.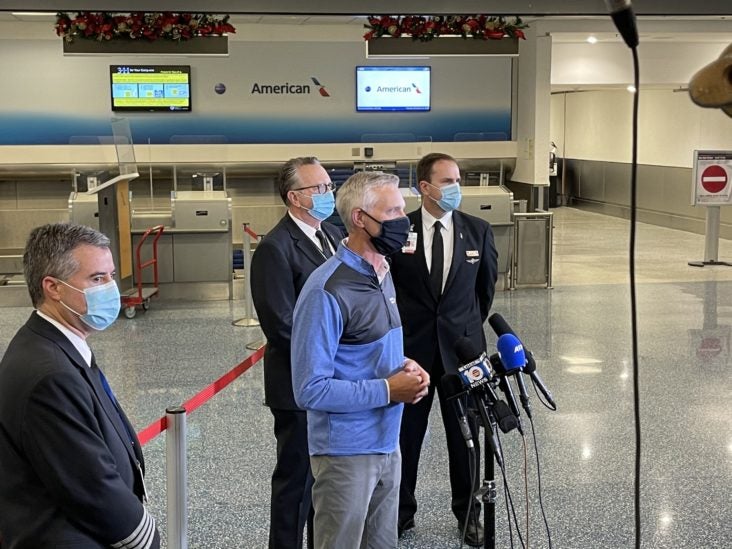 Booking
Before delving into the details of the flight itself, it's important to cover the booking process. The aircraft type is specifically shown under each flight that you book on American's website. From there, however, despite American's promise to be very transparent in what aircraft the customer is flying, I didn't notice anything that would otherwise stand out to a normal traveler booking a MAX flight.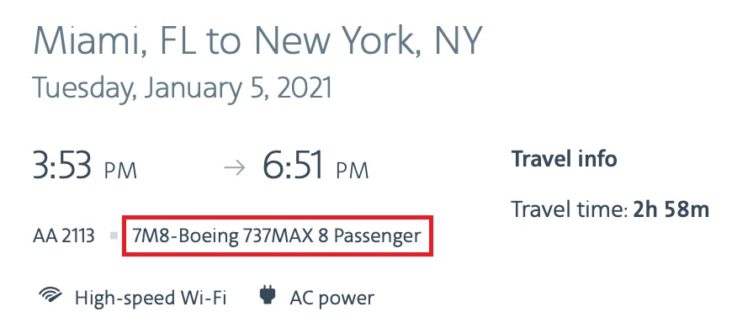 It would be helpful to have some sort of pop-up, alert, or agreement a passenger needs to click through so that they're aware, but there's really nothing different in the booking flow compared to before the MAX's grounding.
Hot Tip: 737 MAX aircraft are being reintroduced on a number of routes, and will soon fill the domestic schedule for American Airlines. 
Boarding 737 MAX8
At the gate, there was a crowd of major media, aviation enthusiasts, and traditional travelers alike. You could tell most travelers were well aware of the significance of this flight, but there were also a few people who were completely unaware.
One of the changes American has instituted for customers is to alert them at the gate about the aircraft type. During the pre-boarding announcements, the agent specifically noted that the plane operating this particular flight was a 737 MAX8. I was told this announcement should be made twice prior to boarding, though I only heard it once.
The on-screen displays behind the gate agent's podium also display the aircraft type, so, at least for flights departing out of Miami, there should be little confusion.
After the pre-flight announcement formalities, boarding began starting with ConciergeKey, following by Group 1 (first class), and all other subsequent groups. I boarded with Group 1 since I had been upgraded to first class at the gate.
Hot Tip: If you're unsure which aircraft you're flying on, the gate agents can always tell you. If you're not at a gate, be sure to contact American Airlines on Twitter at @americanair and they can easily look up your reservation. 
Onboard
There was a "festive" atmosphere of sorts onboard, with lots of folks snapping pictures and looking around, though this wasn't as exciting of an experience as other special flights I have been on (mainly retirement or inaugural rides).
Passengers filed into their seats in a pretty orderly fashion, and in the end, the plane was a little over half-filled by the time we departed.
The captain, Sean Roskey, welcomed us aboard and proudly told us about the partnership between American, its staff, Boeing, and the government to help get this plane back into service. Onboard today were the spouses of the 2 pilots flying, a move that was quickly done to help instill confidence among the flying public.
As we taxied back from the gate, many of the ground personnel had gathered to take pictures — very similar to what you'd see on an aircraft's final departure headed to retirement. 
Taking off, this 737 MAX8 was as smooth as butter. There was little turbulence in our way, and we quickly climbed over downtown Miami, South Beach, and the Atlantic Ocean before turning north towards New York.
Service and Product
Service on this flight followed the traditional COVID-19 protocol. For first class, drink requests were proactively offered, followed by a choice of a cheese tray or a turkey sandwich. In the economy cabin, bottles of water and cookies were distributed, but there is no formal service beyond that. This particular flight crew was very friendly and went well above the call of duty to satisfy passenger requests.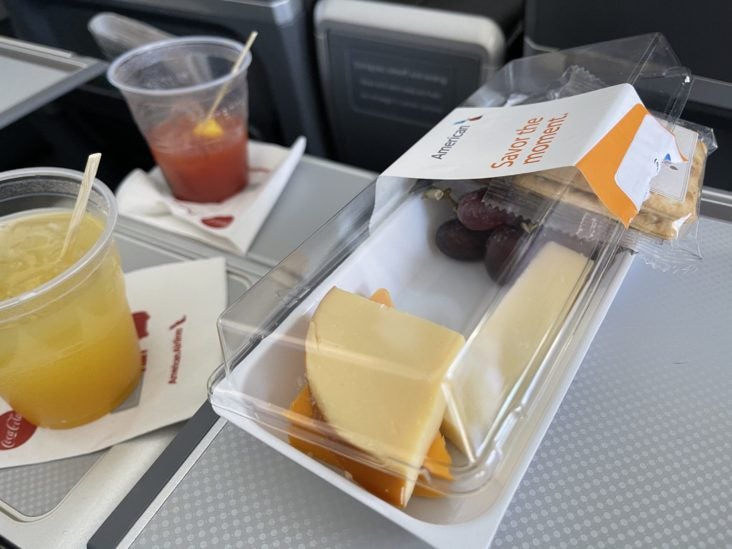 Throughout the flight, there was no notable difference between the MAX and other 737 variants. Without being told, you wouldn't really know otherwise.
The 737 MAX on American does, however, have 1 major drawback — the interior. This has nothing to do with safety, or the actual plane itself, but is rather a design choice from the operating carrier. American has chosen to cram as many seats as possible into this plane, with 16 seats up front in first class, 126 seats in Main Cabin, and 30 in Main Cabin Extra. This is known as "Project Oasis," and is American's attempt to standardize its fleet in a revenue-generating format. 
The first class seats in particular feature much less padding than their predecessors, and a limited recline, making this a very difficult aircraft to choose for overnight or redeye flights. Underseat storage is also sparse, though this is being fixed in upcoming retrofits of the aircraft as part of a project nicknamed "Kodiak."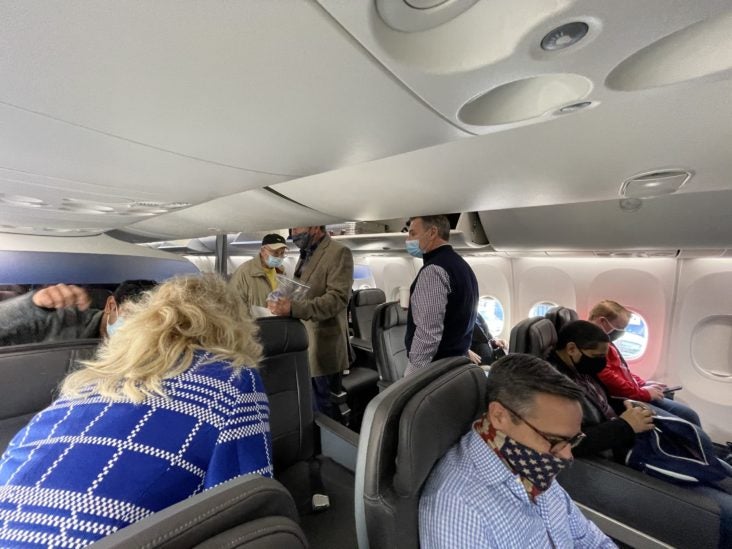 If you're in the economy cabin, the rear lavatories are extremely tight, and while American has recently installed new doors to prevent customers from exiting the restroom and knocking into the other side, there's very little room to move about inside. The most spacious restroom is at the front of the plane, traditionally reserved for first class.
Bottom Line: While the 737 MAX is safer, the onboard seating product is still one of the most uncomfortable arrangements to fly in within the U.S. Seat padding is limited, and American has put as many seats as possible on these planes, reducing legroom and lavatory space. 
Important Information if You're Flying on the 737 MAX
If you're flying on a 737 MAX, there is some important information you need to keep in mind before you board.
Right now, there are no markets that are only served by 737 MAX aircraft — every city American serves has at least 1 other aircraft type flying there, so if a flyer chooses to move to another flight with a different plane, they can do so.
Once more MAXs come back to flying, there is the potential that some cities will only be served by MAX planes. In these cases, American will let flyers move their flights to any city within 300 miles if they choose not to fly the MAX. In all cases, flyers can also choose to cancel their trip and receive a travel credit for the full value of their ticket.
Bottom Line: You don't have to fly on a 737 MAX if you don't want to. American has several policies and procedures in place to offer alternatives to customers who are scheduled to fly this plane.
What American Is Doing
American is the first U.S. based carrier to bring the 737 MAX back to service, and they've done a number of things to restore consumer confidence:
Both the flight attendant and pilot unions have endorsed the revised plane. These are the 2 largest working groups at American, and customers can be assured of a safe flying experience with so many frontline employees willing to fly onboard.
American, specifically, has conducted a number of media and employee flights to show the world that even the most senior executives are willing to fly it. These flights have gained international publicity.
It will take a while for confidence to restore, but American's move to allow free changes off of MAX flights allows fearful passengers to wait until they're ready to fly. By not forcing these passengers to ride on a plane they aren't comfortable with today, it helps to create a long-term trustful relationship for the future.
American has ordered 100 of these MAX aircraft, and only 25 have been delivered so far. These planes will be especially useful in routings to longer domestic destinations, and to places where there are issues with altitude in landing since this aircraft can navigate those terrains better.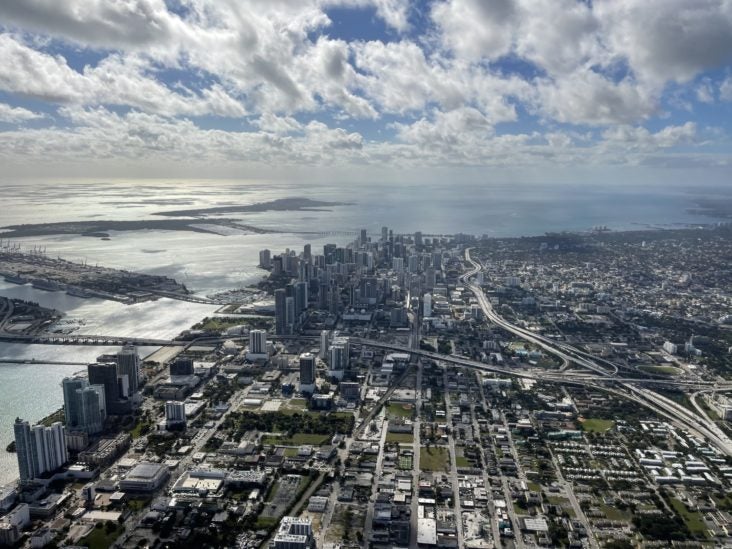 Final Thoughts
This plane ride was really no different than any other. It landed safely, and I felt very confident that American has returned this aircraft to a state of airworthiness that the public can trust.
While it will take many months to restore public confidence, bringing this aircraft back to regular service is an important mile marker in recovering from the disasters that occurred to cause this long grounding.