American Airlines 787-9 Business Class Review [LAX to DFW]
Airline: American Airlines (AA)
Aircraft: Boeing 787-9 Dreamliner
Flight #: AA 2543
Route: Los Angeles International Airport (LAX) to Dallas-Fort Worth International Airport (DFW)
Date: May 21, 2019
Duration: 3 hours
Cabin and Layout: American Airlines 787-9 business class, 30-seat capacity across 8 rows, 1-2-1 configuration
Seat: 4L
Miles Used: 15,000 AAdvantage miles; upgraded a paid cash fare (V class)
Taxes and Fees Paid: $75 in upgrade fees
Typical Retail Cost: Approximately $545
Typical Economy Cost: Approximately $89
Booking American Airlines Business Class
I've been wanted to try American Airlines' business class product for a while. While I wouldn't necessarily take the gamble and pull my hair out trying to search for award availability on one of their international flights, I was more than happy to try my hand at a domestic flight.
While most people know that American Airlines has a premium transcontinental product, known as Flagship First and Flagship Business, what they might not know is that American Airlines periodically flies their long-haul aircraft between their domestic hubs.
In my case, I booked a paid economy ticket on American Airlines' 787-9 Dreamliner from Los Angeles (LAX) to Dallas-Fort Worth (DFW).
Then, I searched for upgrade availability, which showed up a day before departure. I paid 15,000 AAdvantage miles + a $75 co-pay to upgrade my paid economy ticket.
If you found award inventory, you could book this identical flight in business class for 22,000 British Airways Avios or 25,000 American Airlines AAdvantage miles.
Because I had a V fare ticket and I upgraded using miles, I would still earn miles according to the original fare class. I credited my flight to AAdvantage, earning a solid 2,245 miles plus a bonus of 898 miles thanks to my Platinum Pro status.
These 3,143 miles are worth around $40, according to our travel points and miles valuations.
Hot Tip: If you need some help figuring out how to earn the most from your paid airplane tickets, check out our ultimate guide on where to credit your airline miles!
Flight
American Airlines operates a huge network of Admirals Clubs and a small network of Flagship Lounges. Because I wasn't traveling on an international flight in business class, I couldn't access any lounges.
I headed to the airport, cleared an uneventful security process, and boarded my aircraft early.
Seat
American Airlines' 787-9 consists of a 4-cabin configuration:
Business Class
Premium Economy
Main Cabin Extra
Main Cabin
This exact aircraft is similarly used on international flights in the American Airlines network such as:
Dallas-Fort Worth (DFW) – Seoul (ICN)
Los Angeles (LAX) – Auckland (AKL)
For all intents and purposes, I'd be experiencing a true business class hard product but not a true business class soft product. American Airlines' 787-9 consists of B/E Aerospace Super Diamond seats, which are arranged in a 1-2-1 reverse herringbone configuration.
Notably, these are some of the top seats you can find in business class, as they are spacious and comfortable. In all, there are 30 seats across 8 rows in business class.
Each seat measures 21-22 inches wide, 60-61 inches in pitch, and 77-78 inches in bed length.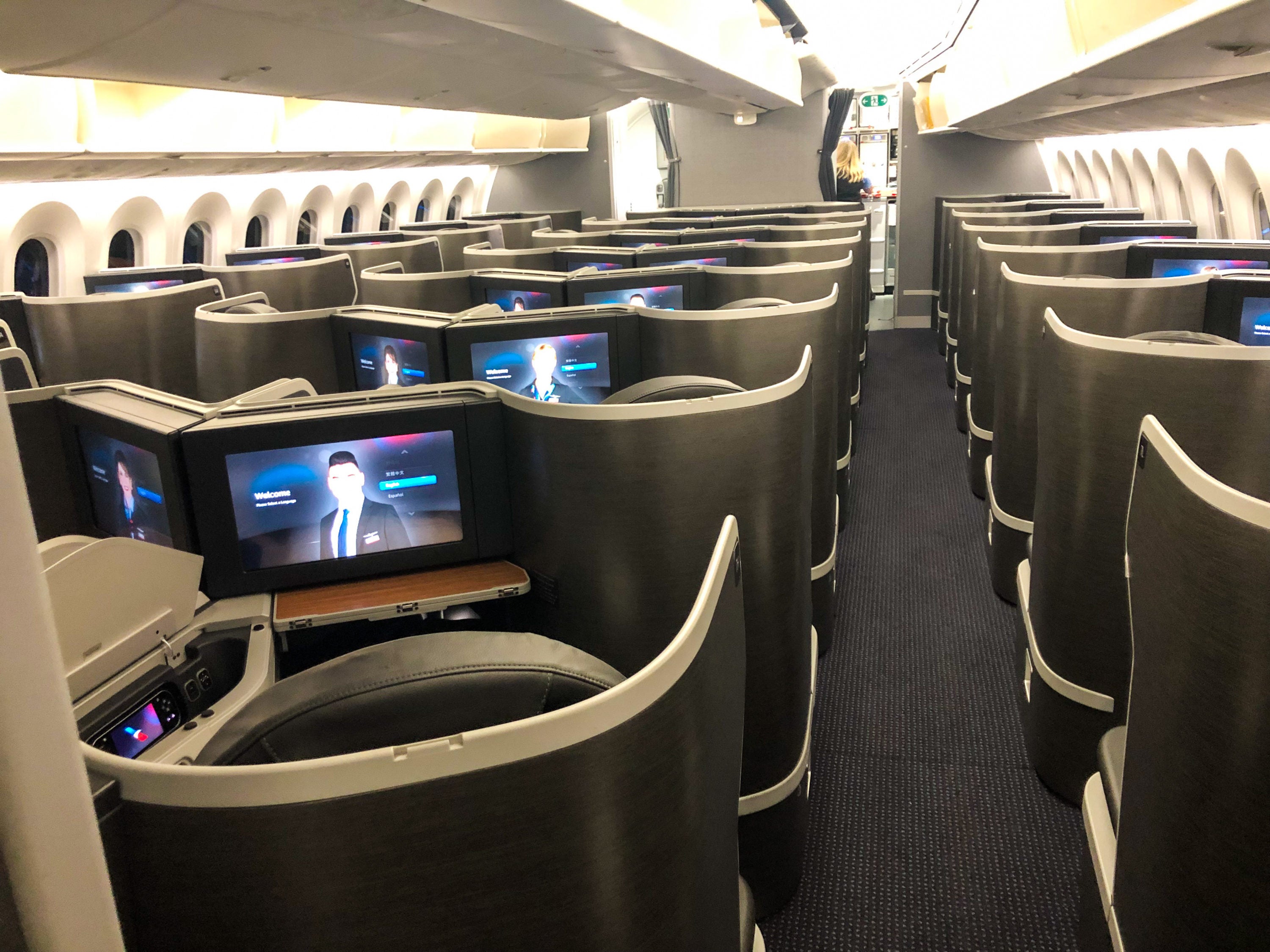 The particular seat I reserved was 4L, a window seat located on the right-hand side of the aircraft.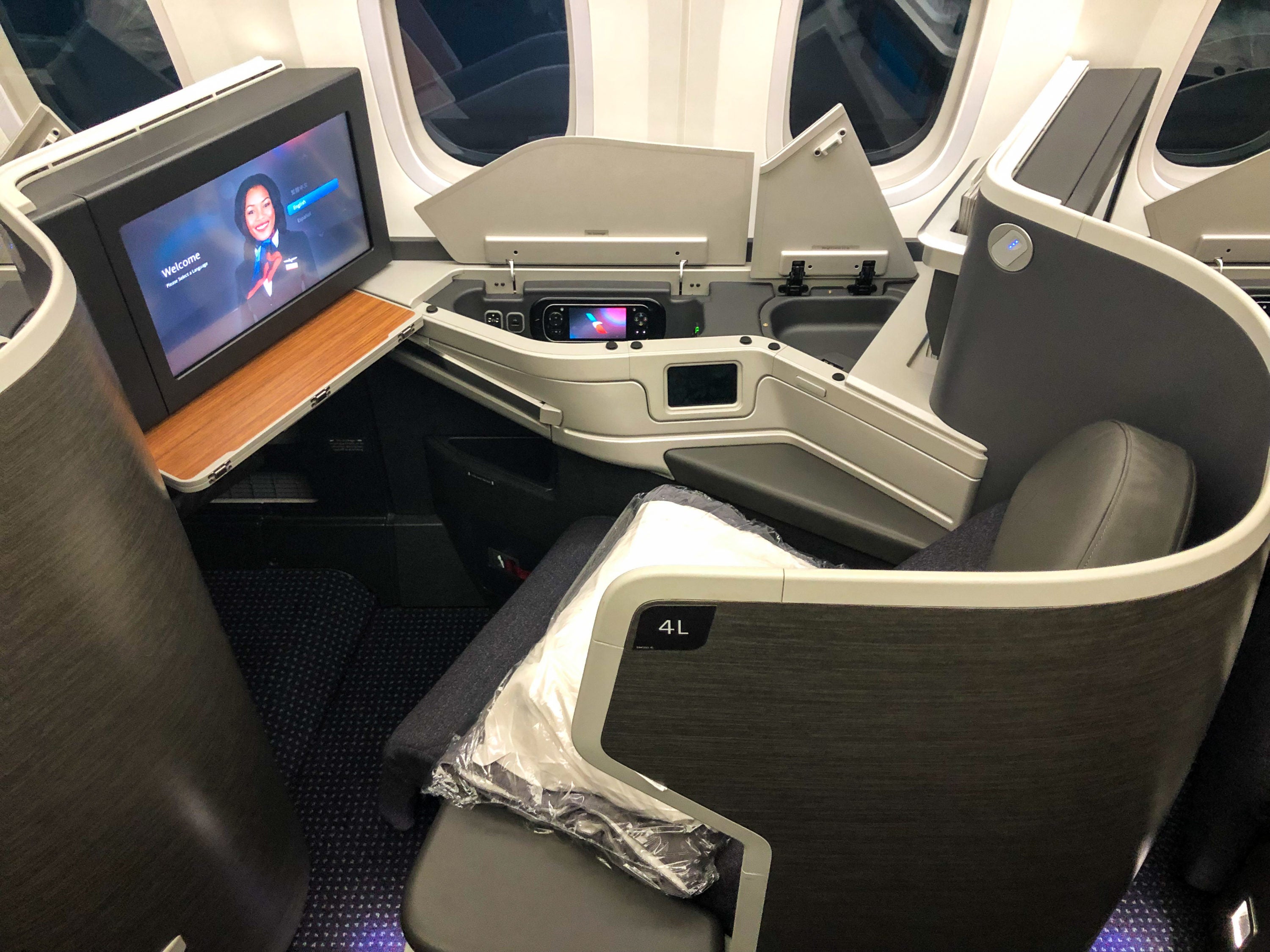 Immediately after sitting down in my seat, I noticed how incredibly comfortable the seat was. The seat is well-padded, particularly in the head area.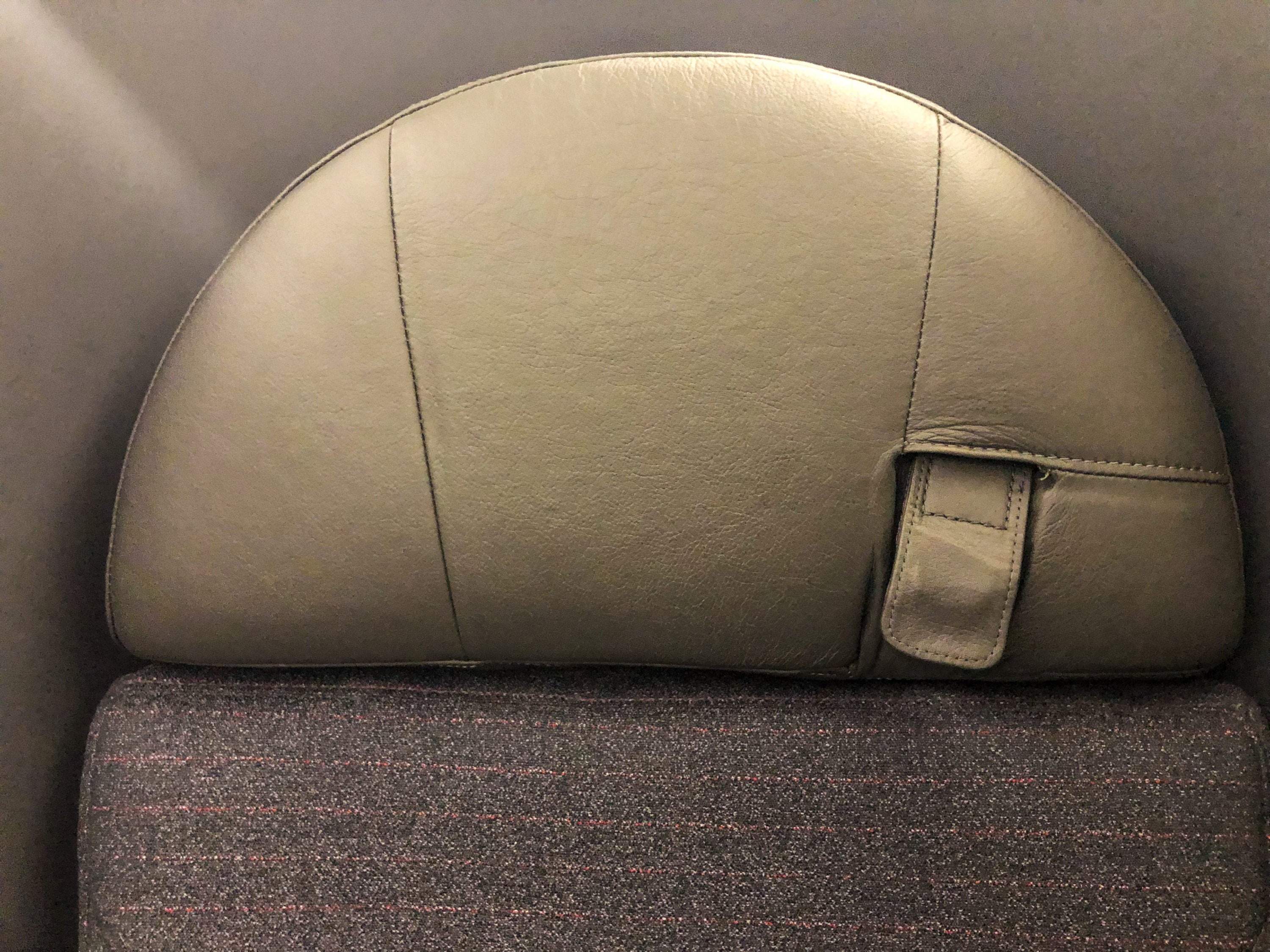 The tray table, located underneath the inflight entertainment monitor, was around 17 inches long and around 18 inches wide.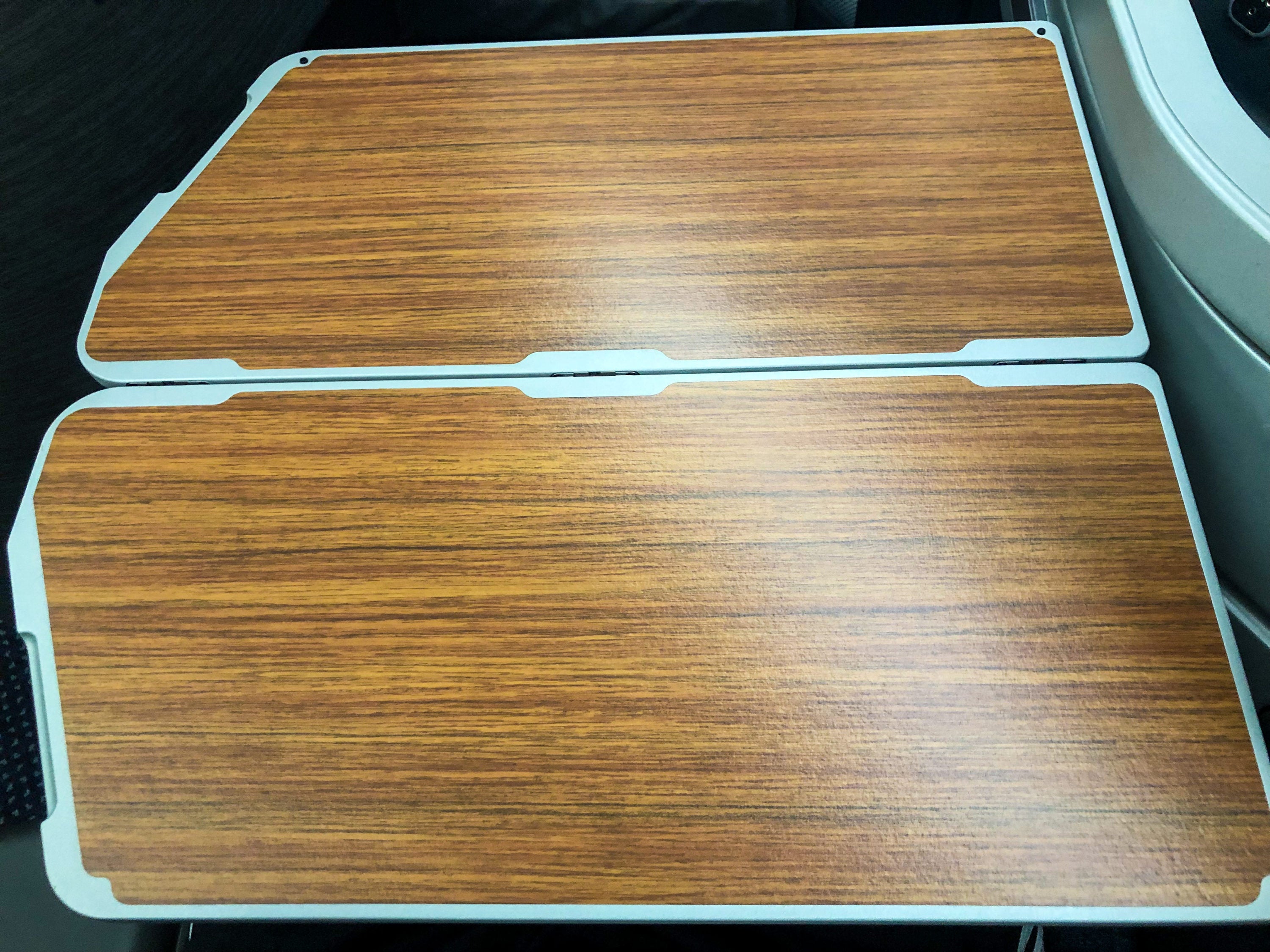 There was also a retractable armrest with a storage compartment located inside.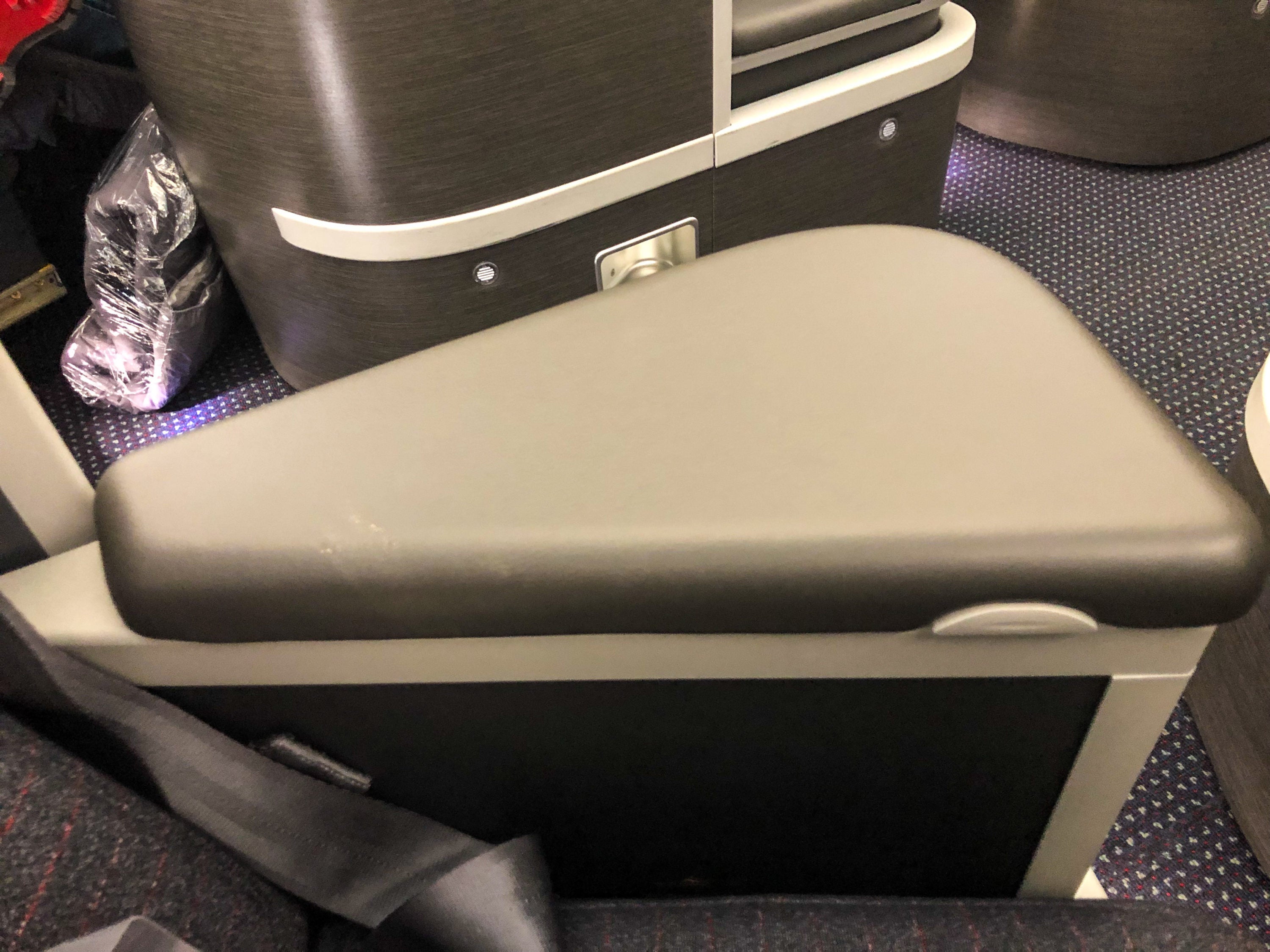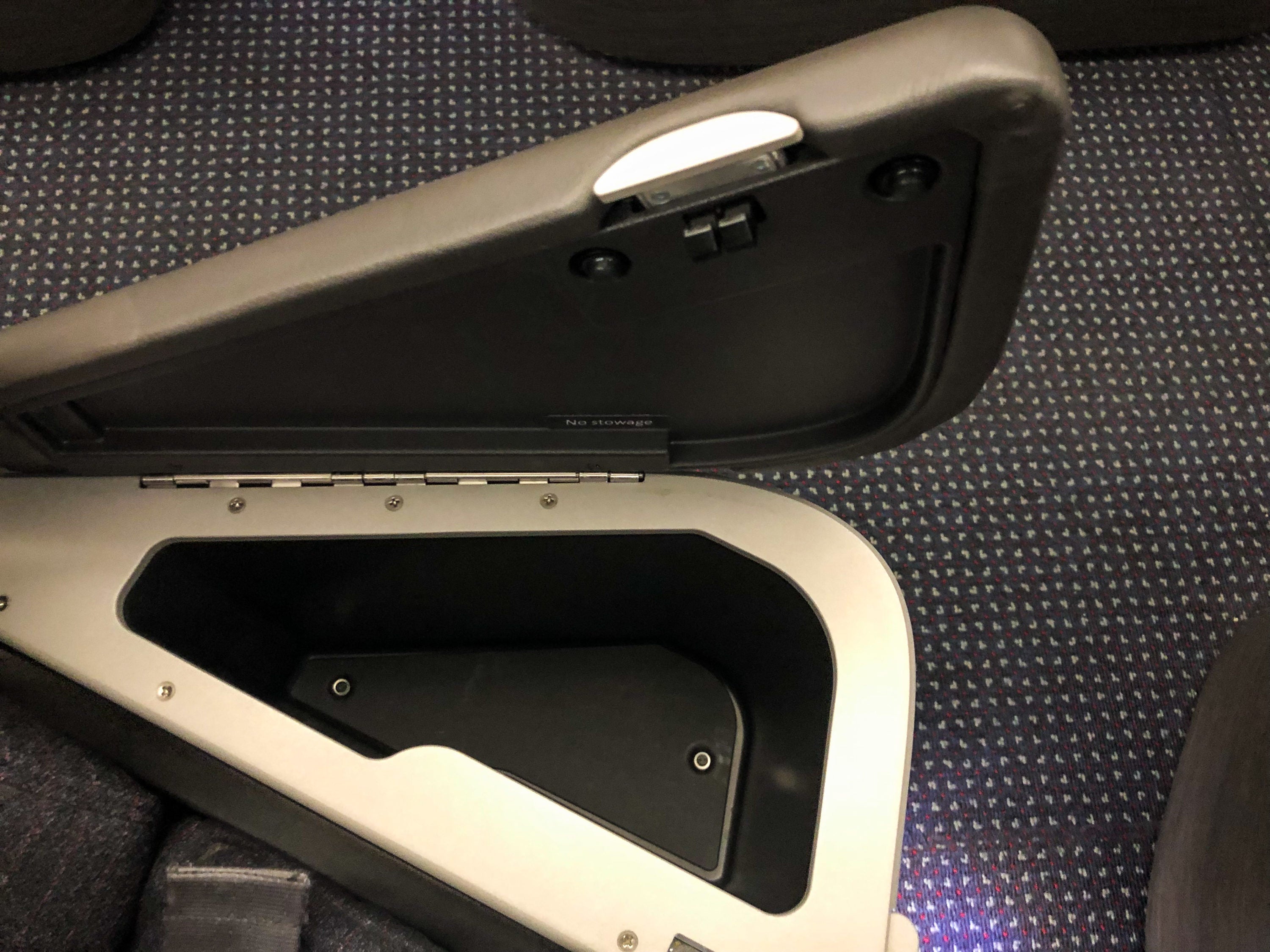 There was also a smaller storage compartment, presumably for water bottles and/or smaller accessories.
Lastly, there were 2 storage compartments on the window side of the seat. The smaller compartment was quite shallow but large in area to store items like a smartphone.
The larger compartment housed the inflight entertainment remote, power plug, headphone jacks, and USB ports.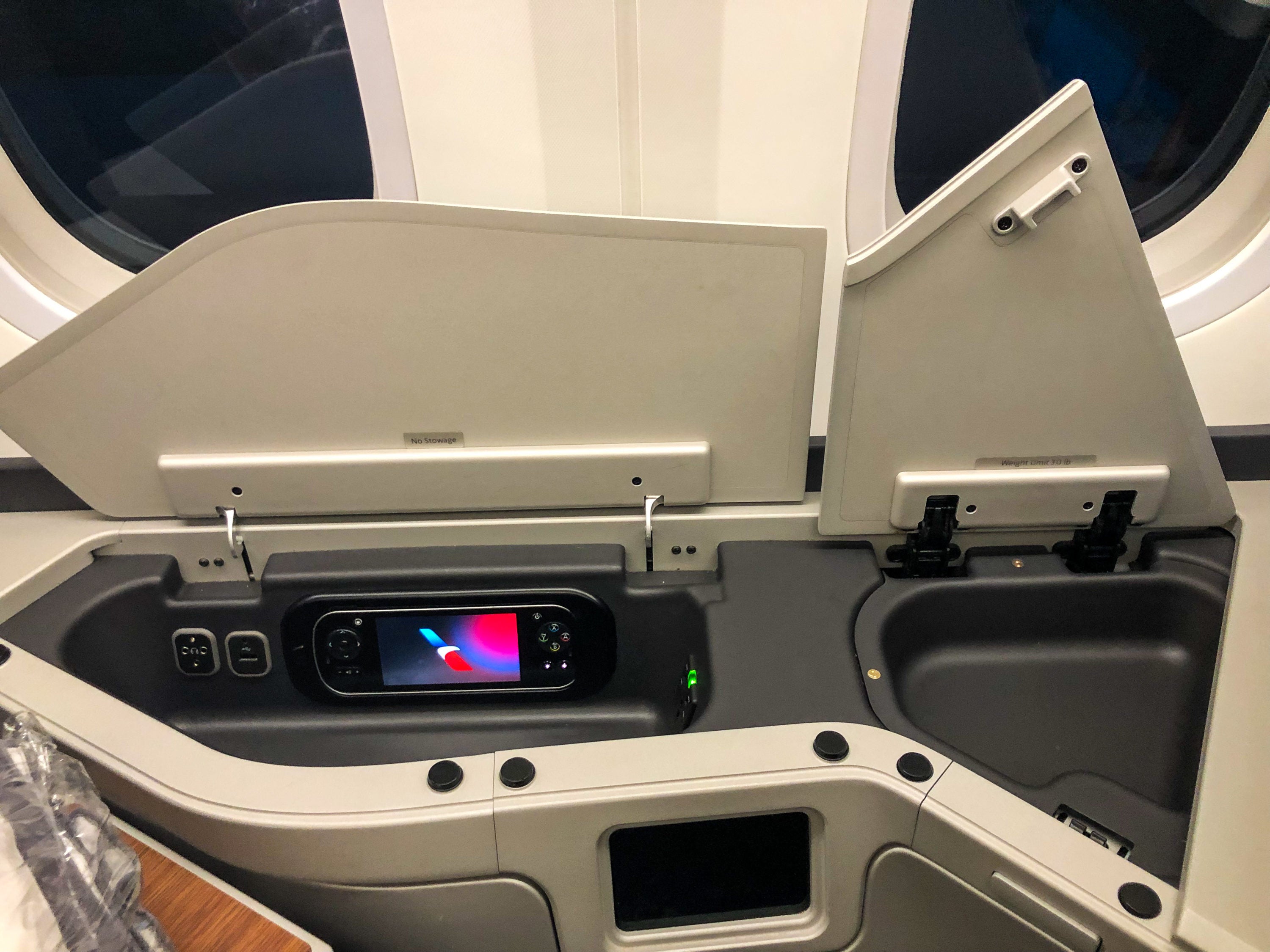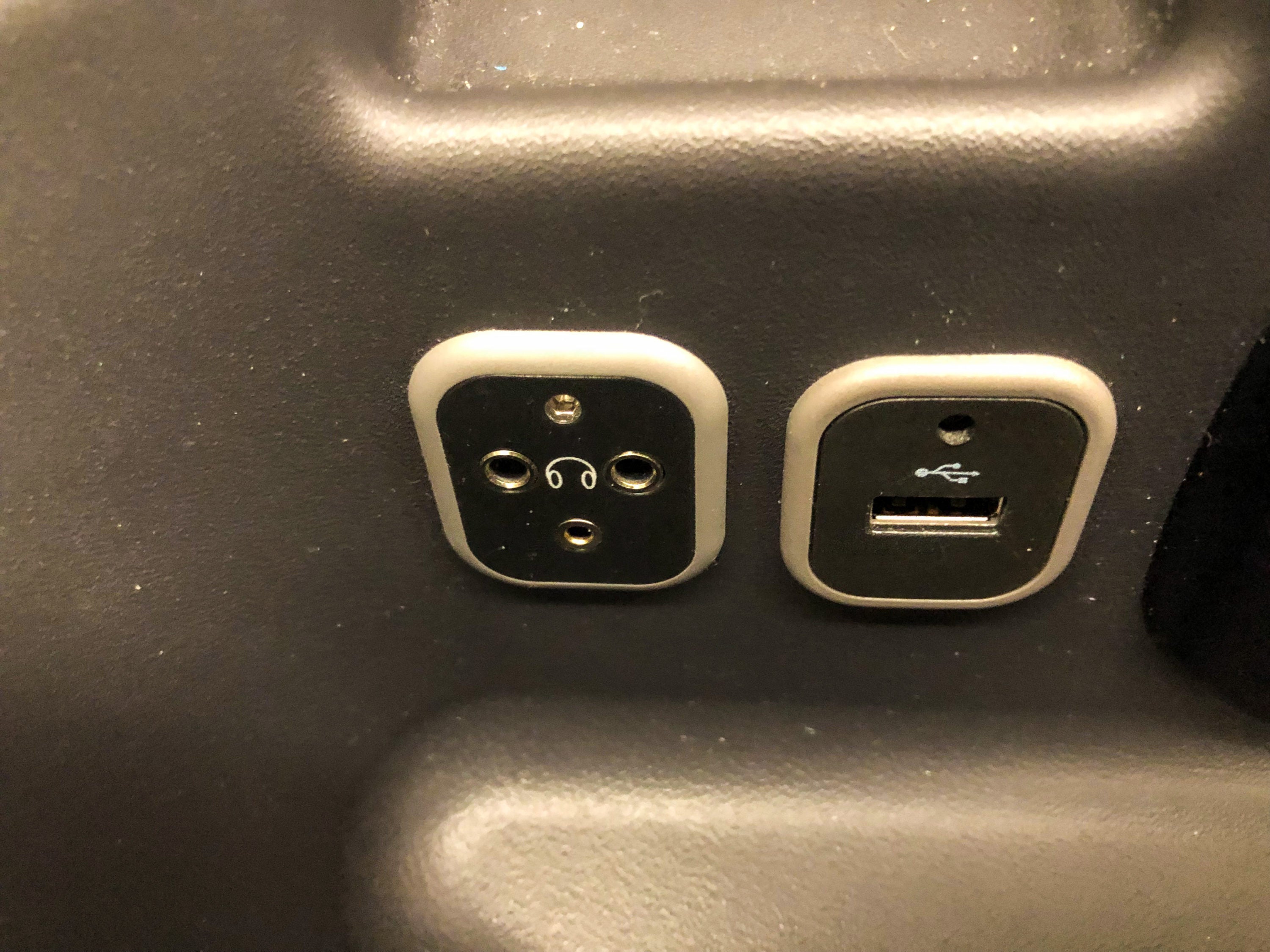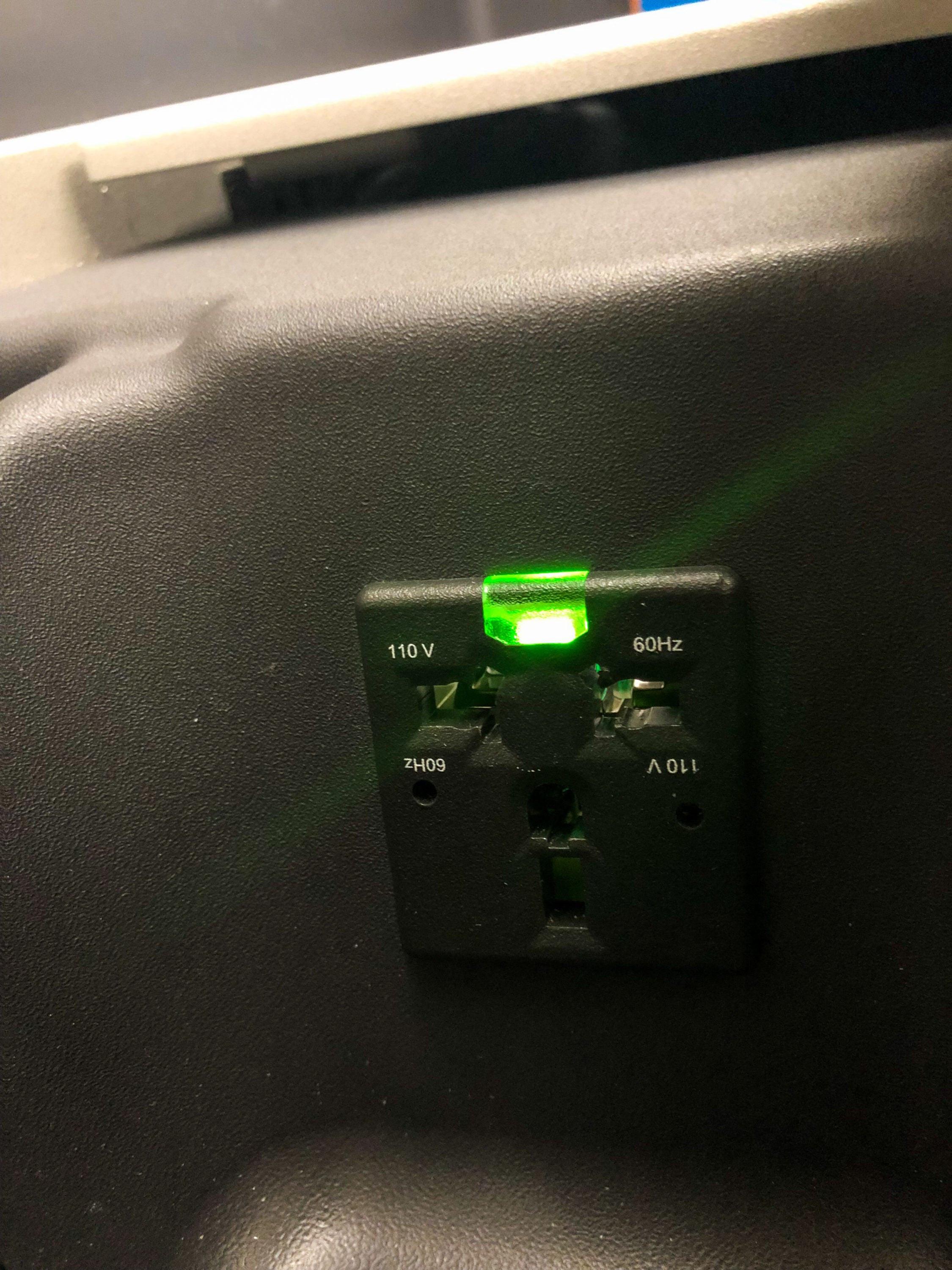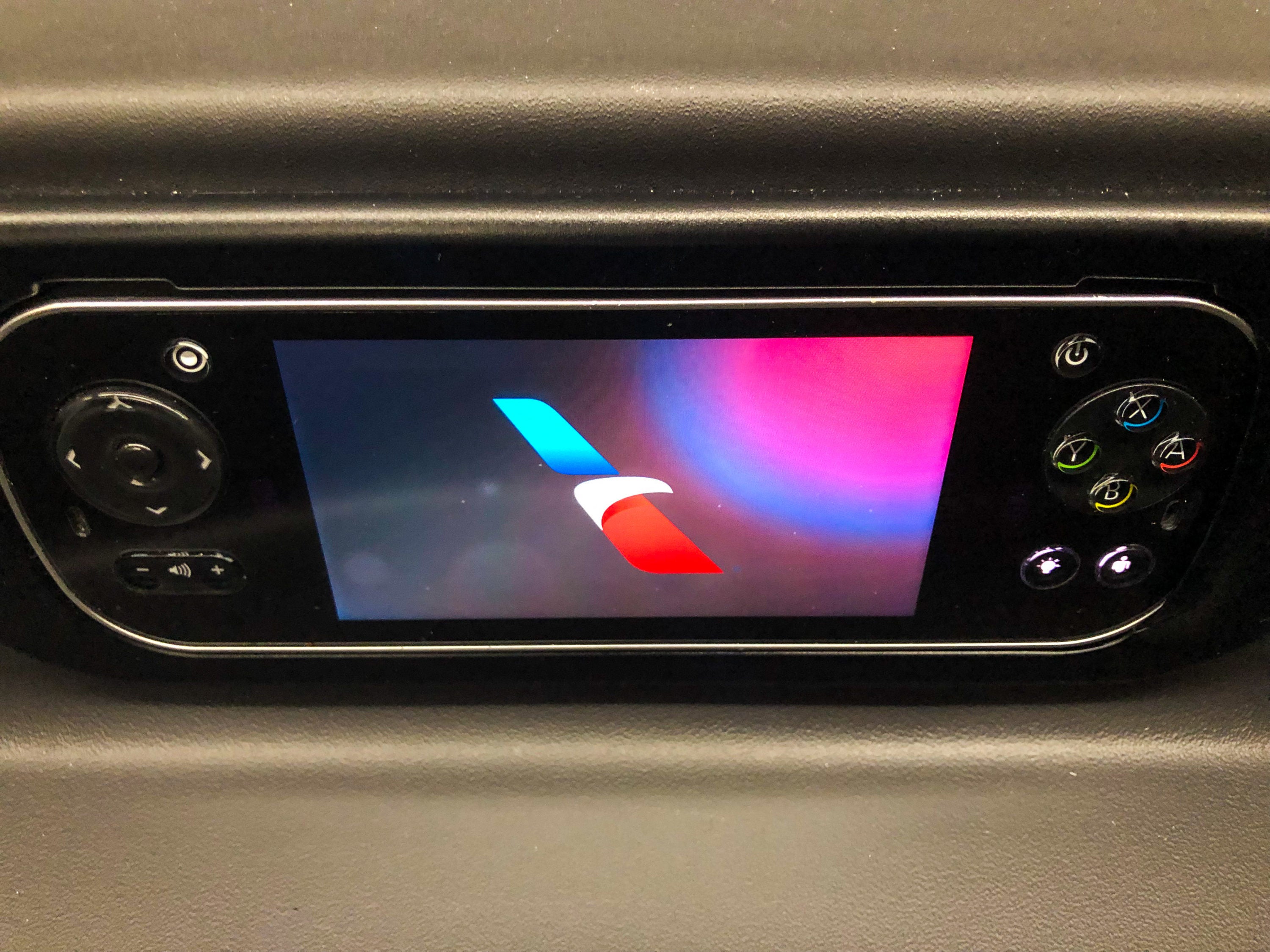 There was also a literature compartment containing magazines and safety pamphlets.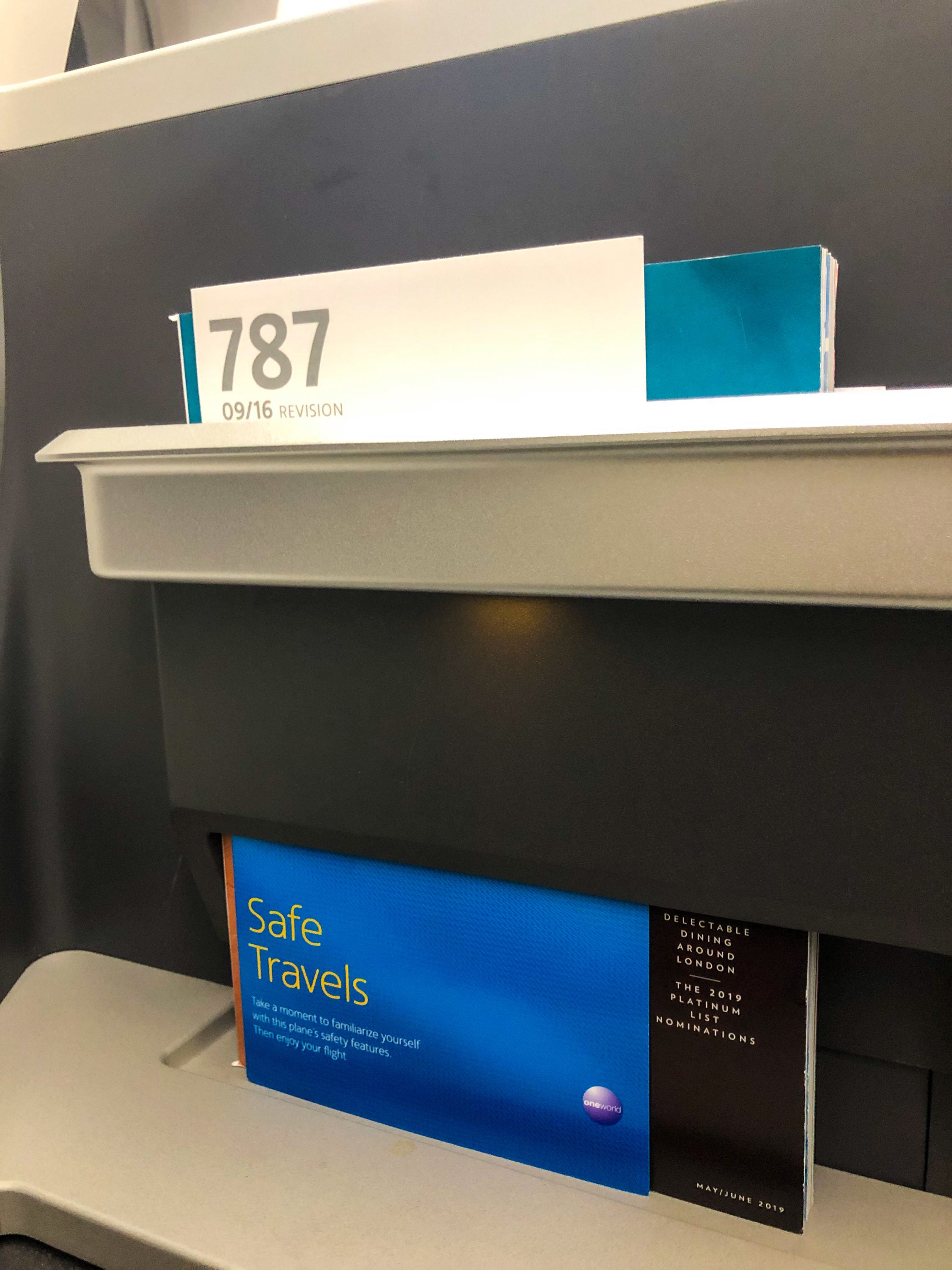 Located next to the seat was a reading light.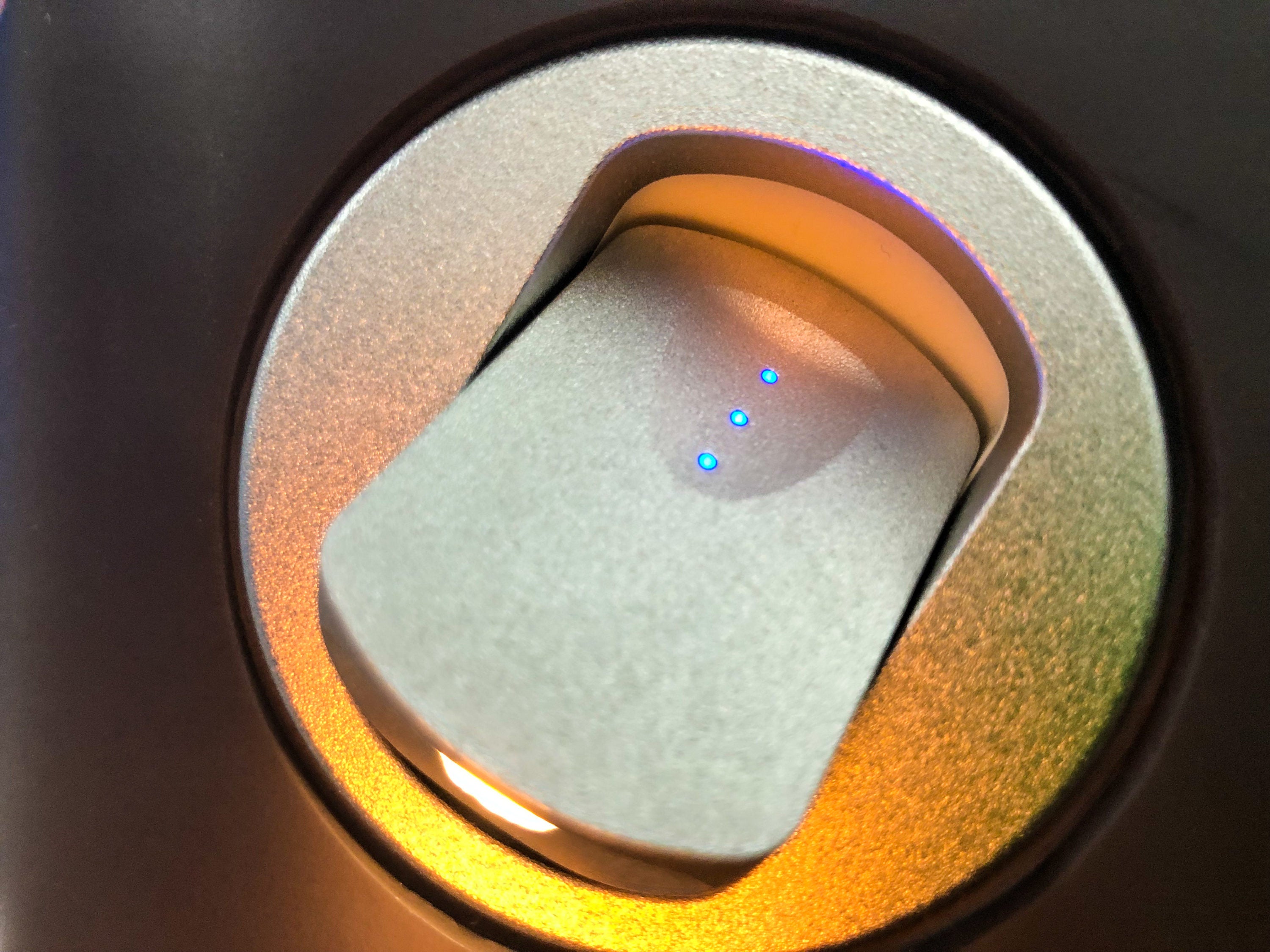 The seat controls were displayed on a touchscreen console next to your seat for easy access. The seats are fully customizable in position for maximum comfort.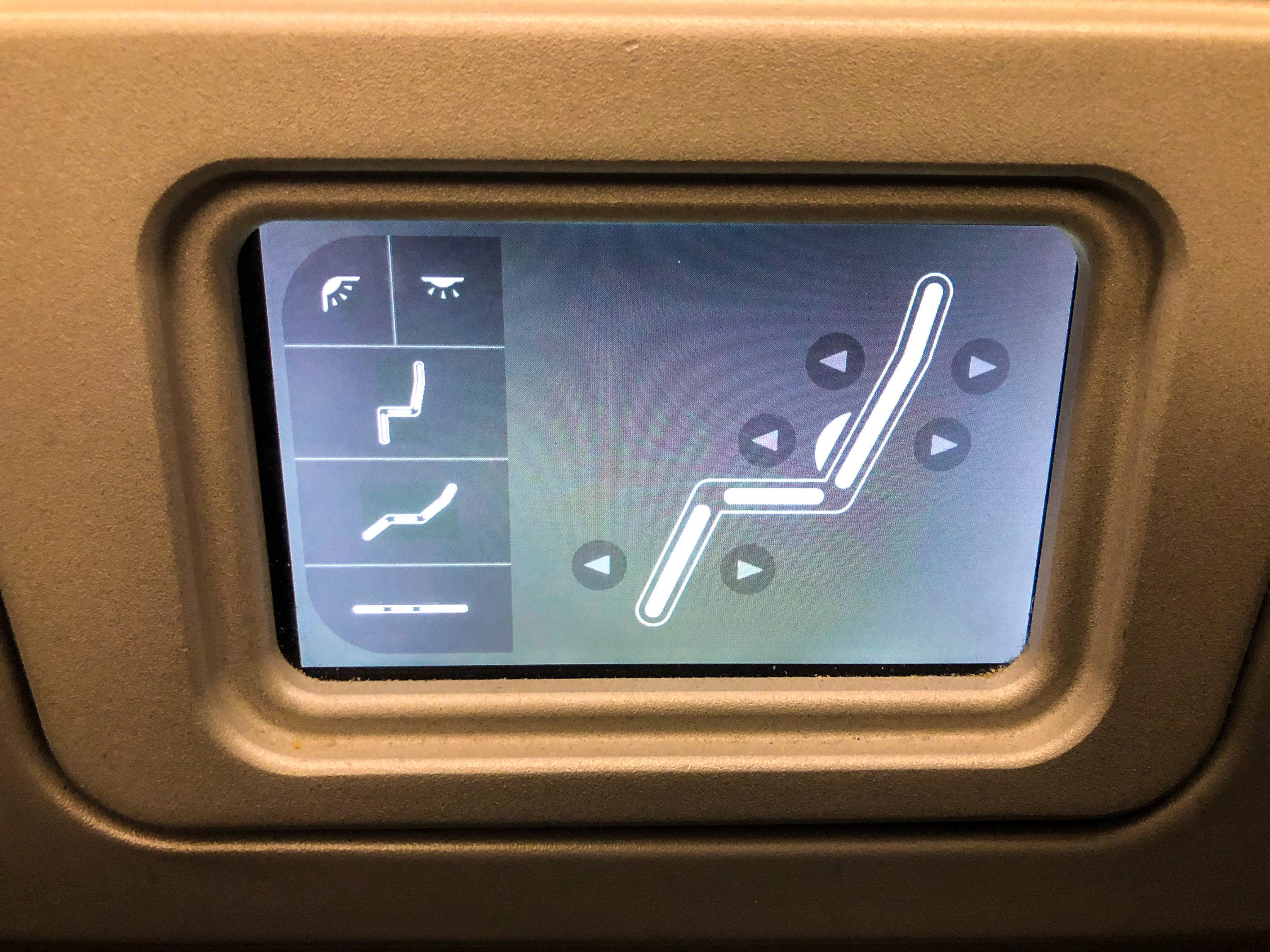 Individual air nozzles are located above the seat, along with more reading lights. Air nozzles are a crucial component of inflight comfort, so this is definitely a welcome amenity.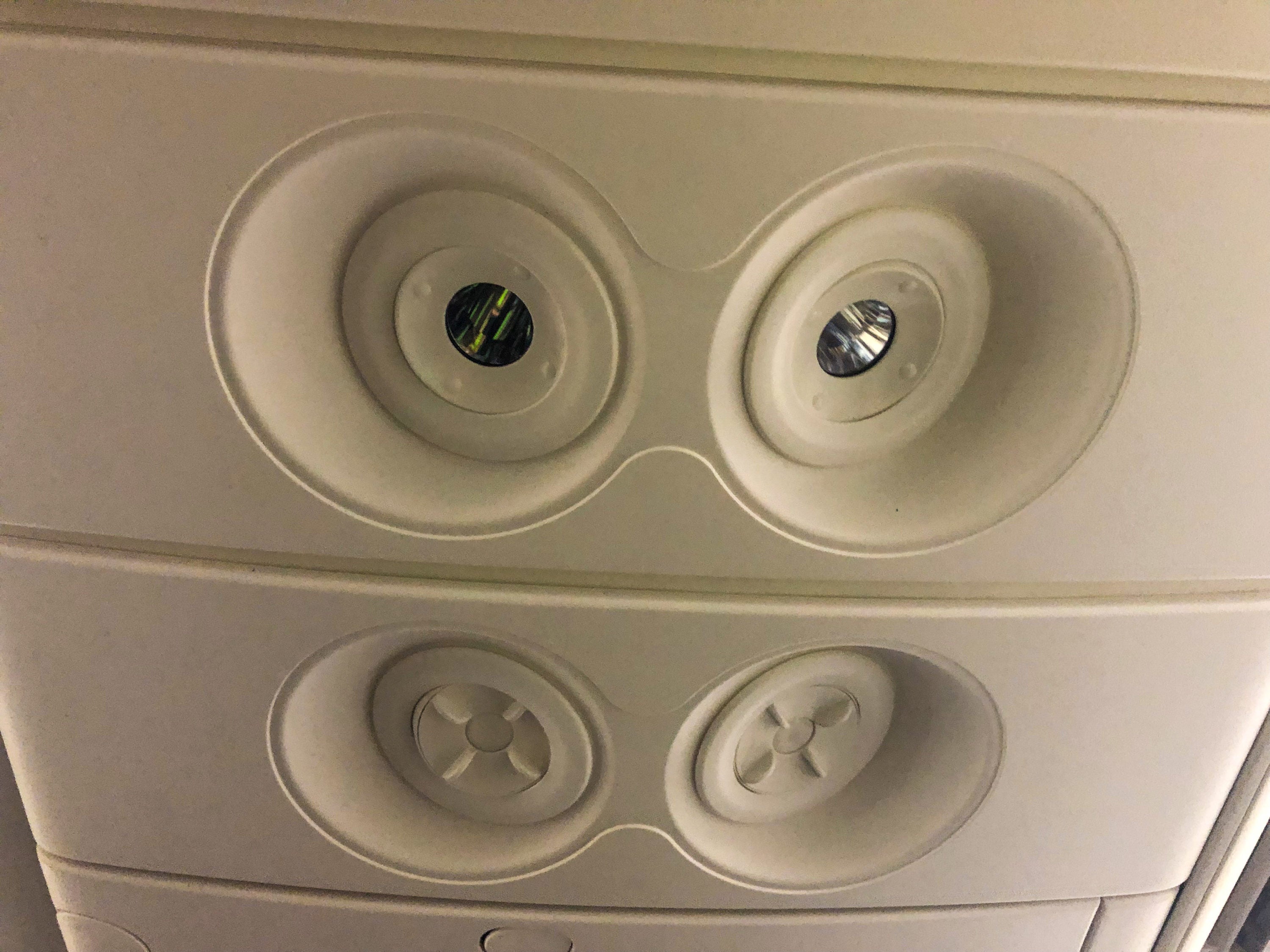 Because these reverse herringbone seats are facing the exterior of the aircraft, the footwell tapers down quite a bit. Still, it contains plenty of space to fully extend your legs.
Also, there was a nook to store your shoes under the footwell.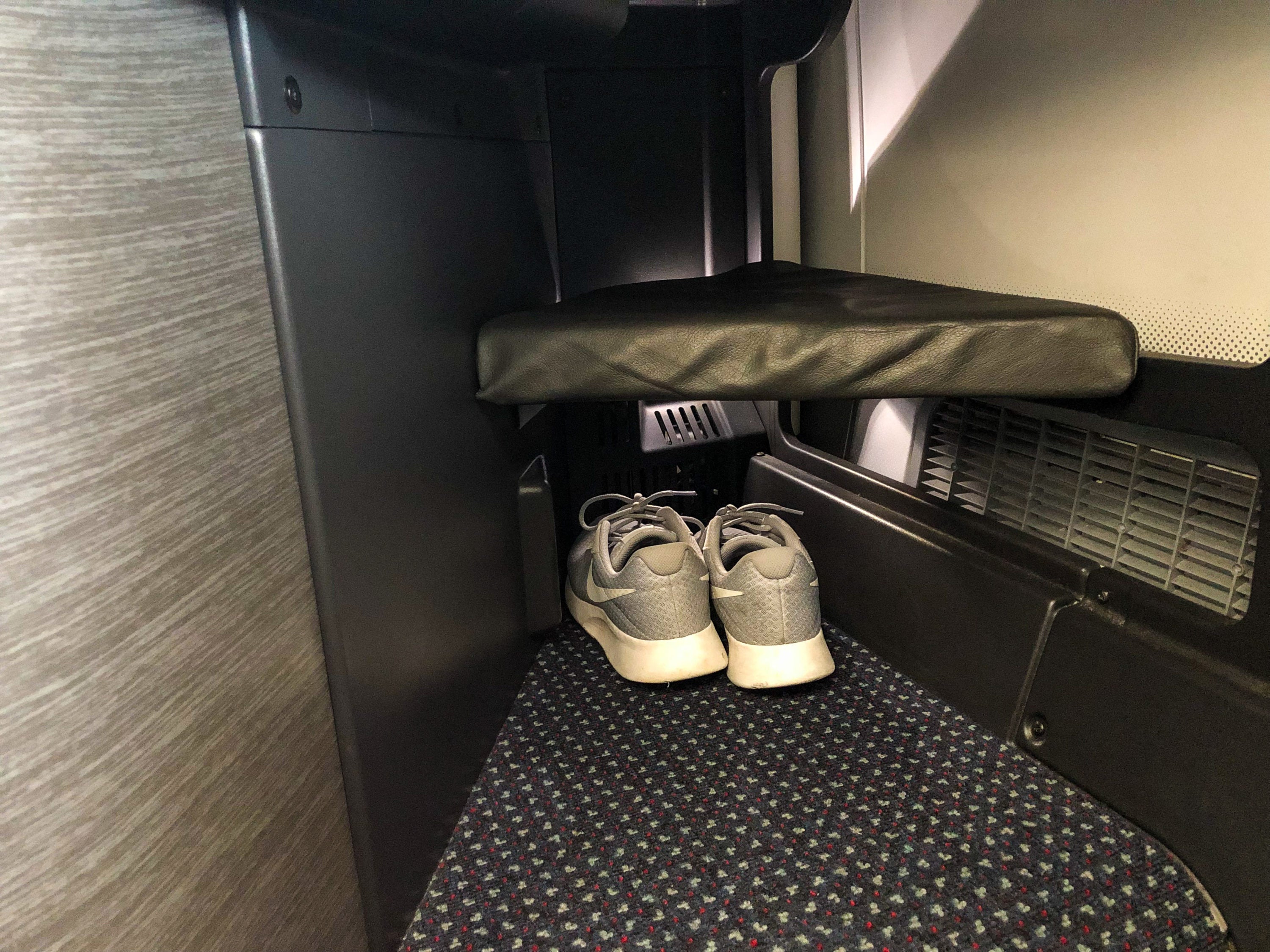 This particular seat design had a wonderful amount of privacy, as the shell blocked the view of most other passengers.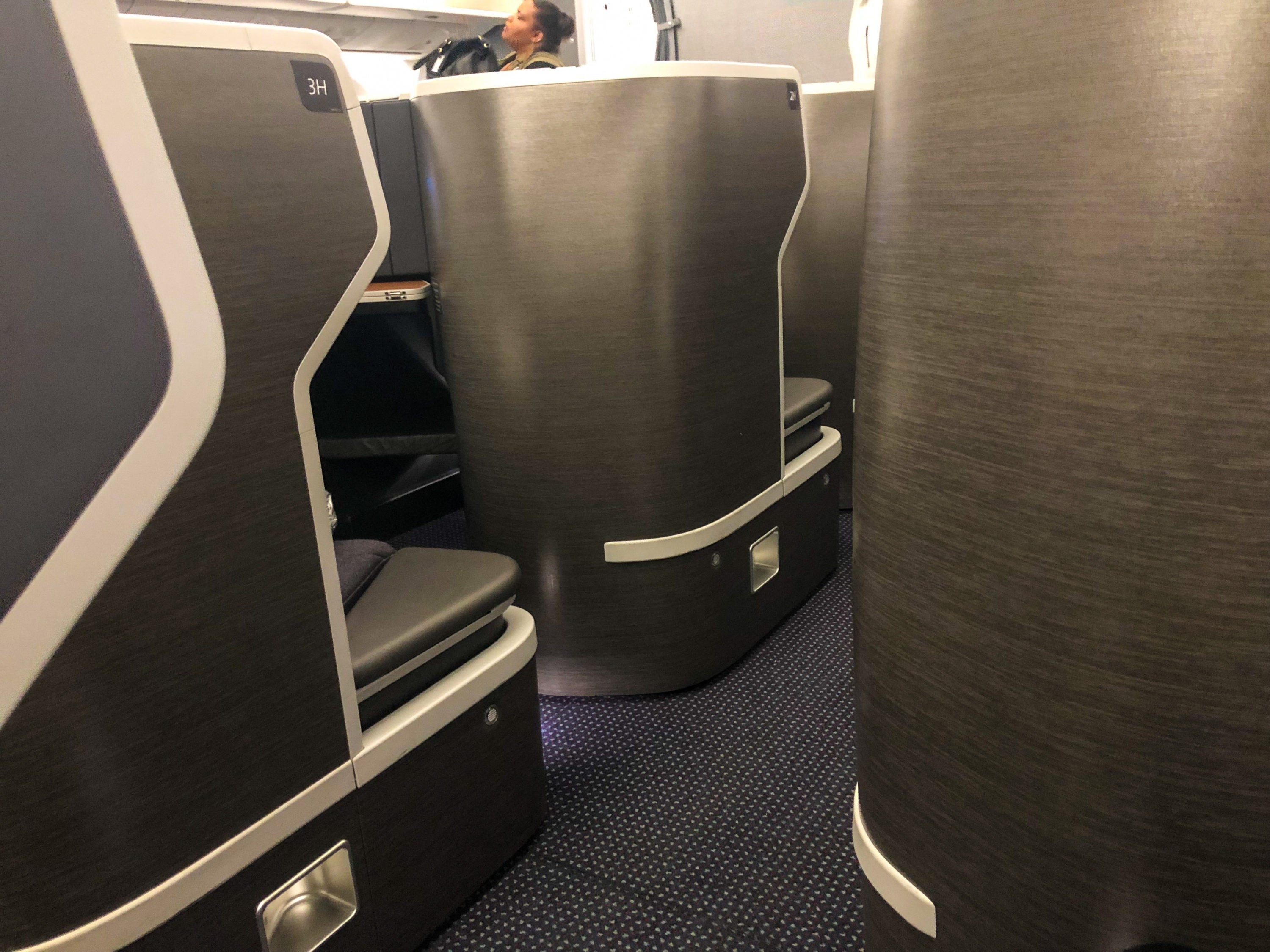 The flight attendant took pre-departure drink orders, and I requested a cup of orange juice.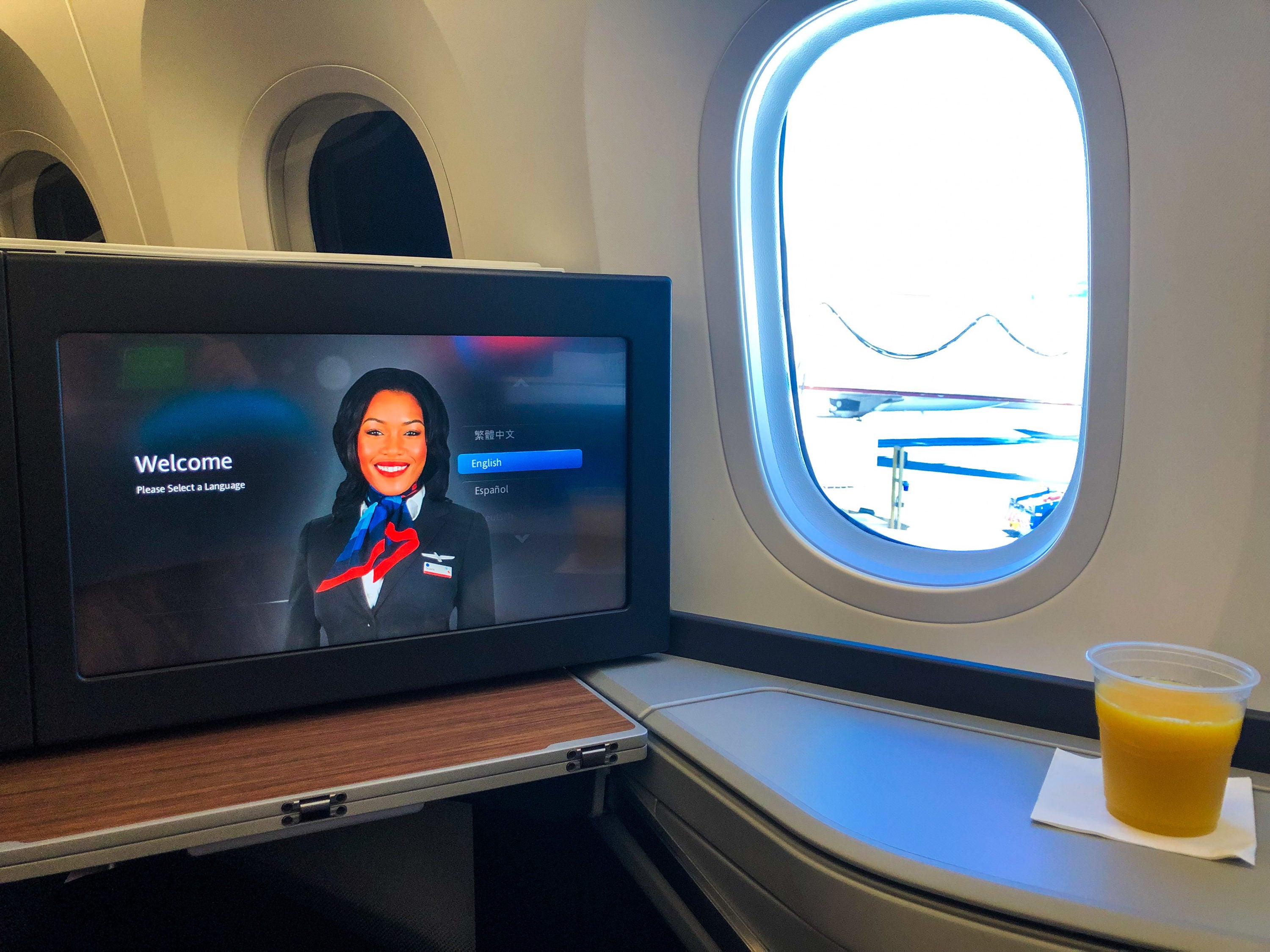 Shortly after boarding, we pushed back and were on our way to Dallas for a total flight time of around 2 hours and 50 minutes.
Amenities
Whereas American Airlines offers Bose noise-canceling headphones on their international and premium transcontinental flights, they give out cheap earbuds on other domestic flights.
These particular earbuds are Avis brand.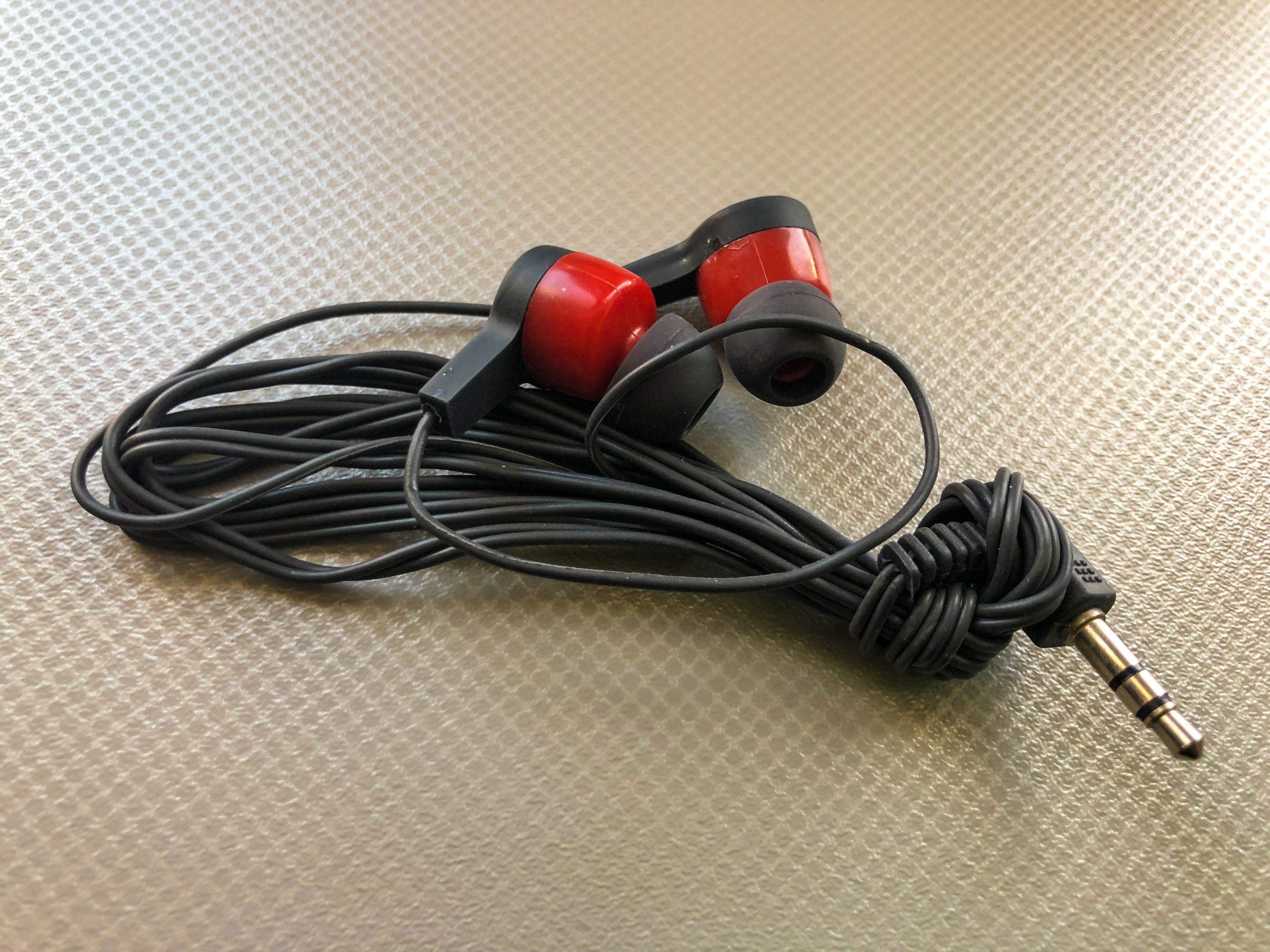 Unlike my domestic United Polaris flight, American Airlines offers a substantial amount of bedding on short-haul domestic flights that have lie-flat seats.
American Airlines offers Casper bedding, which I found to be plush and comfortable.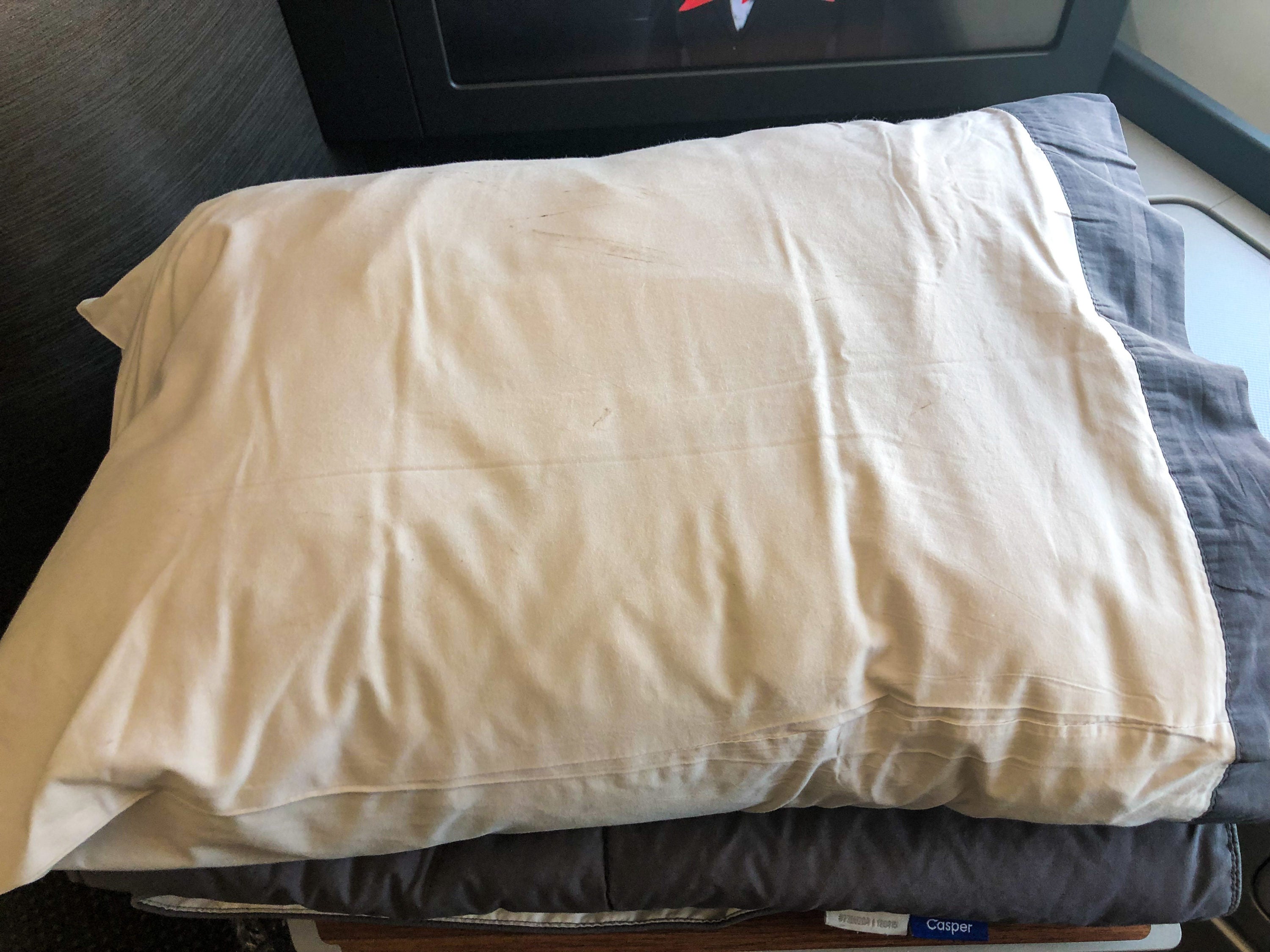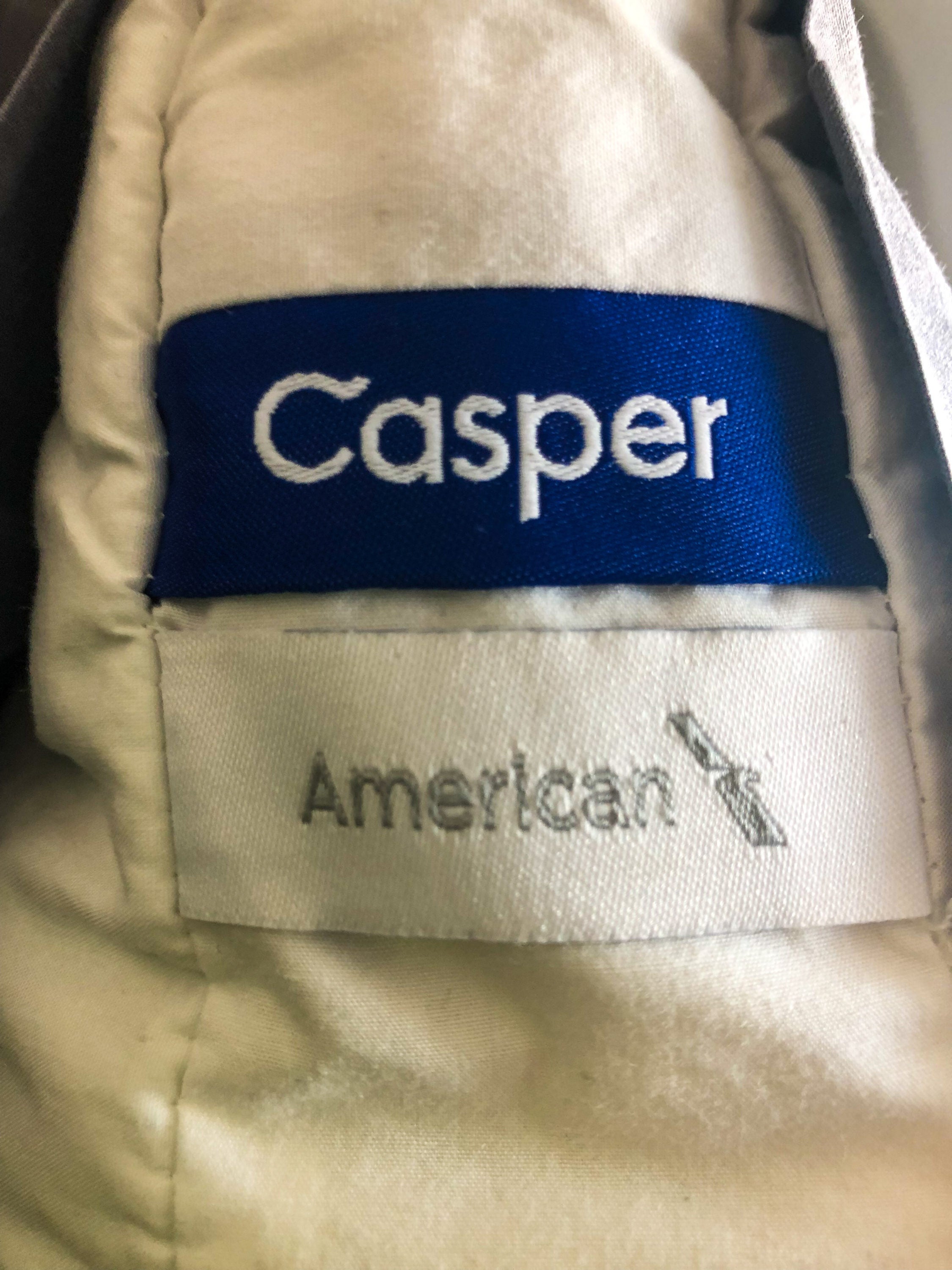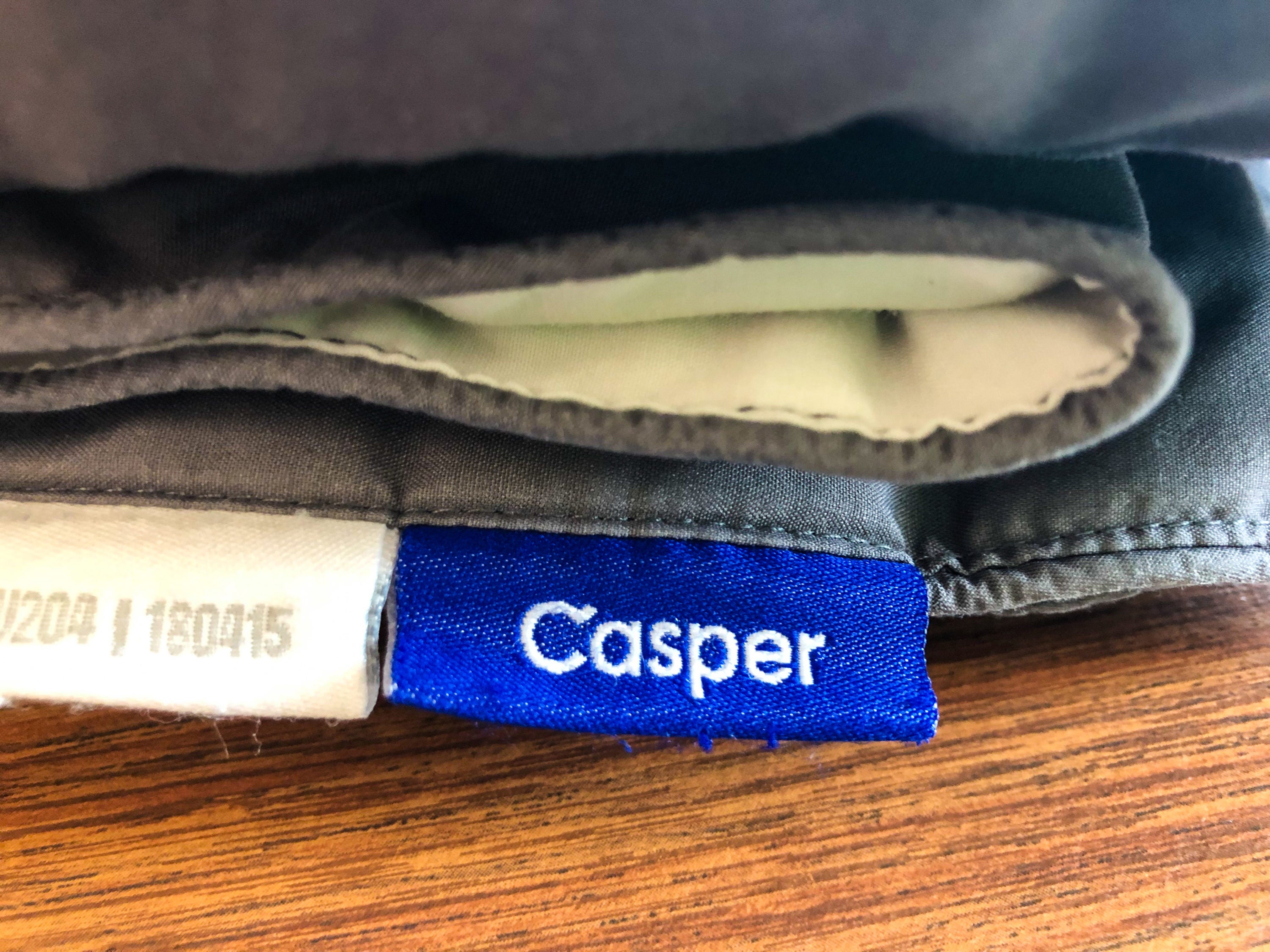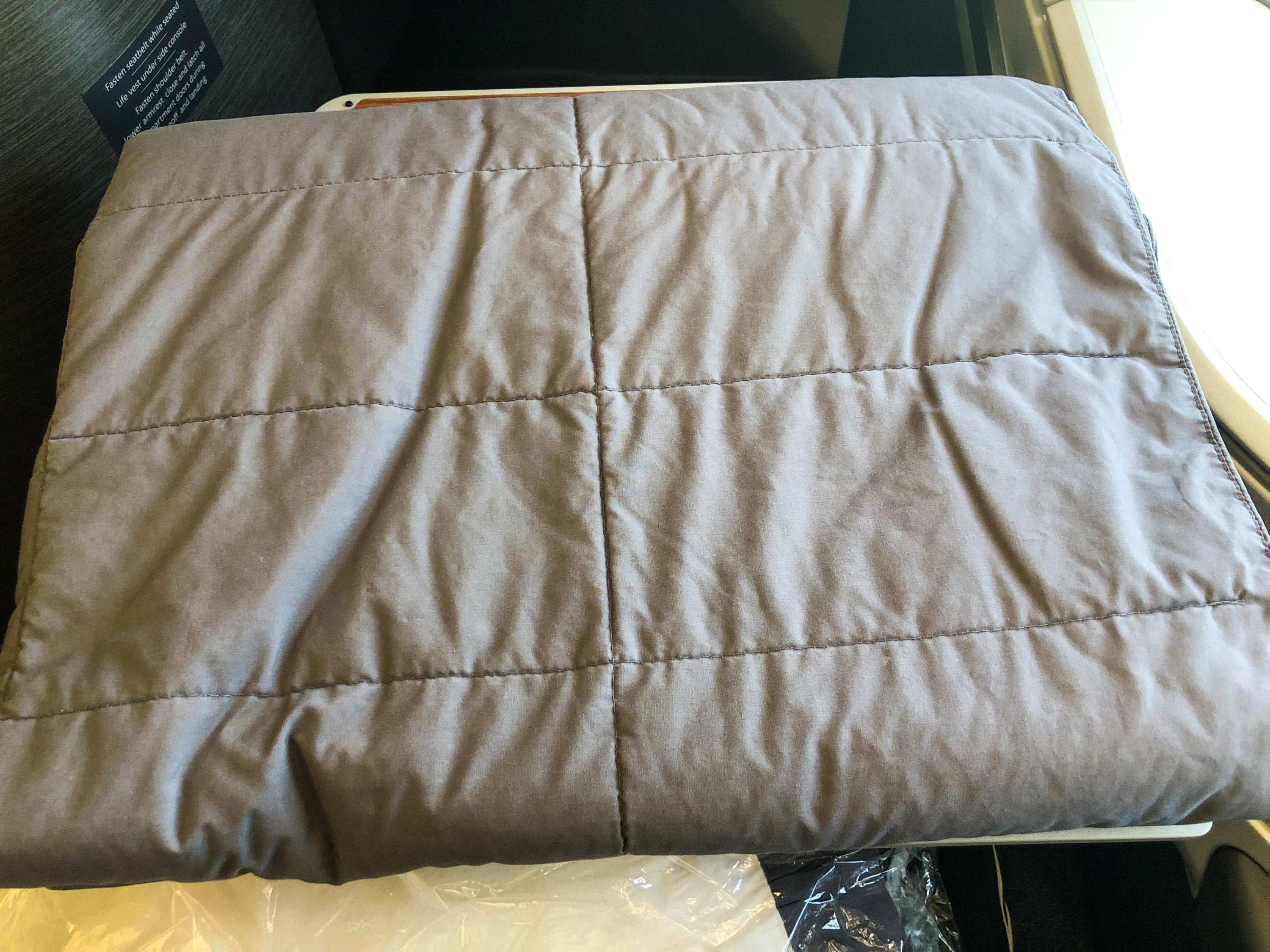 Although only a duvet and pillow were offered, this was more than enough to nap comfortably for about an hour.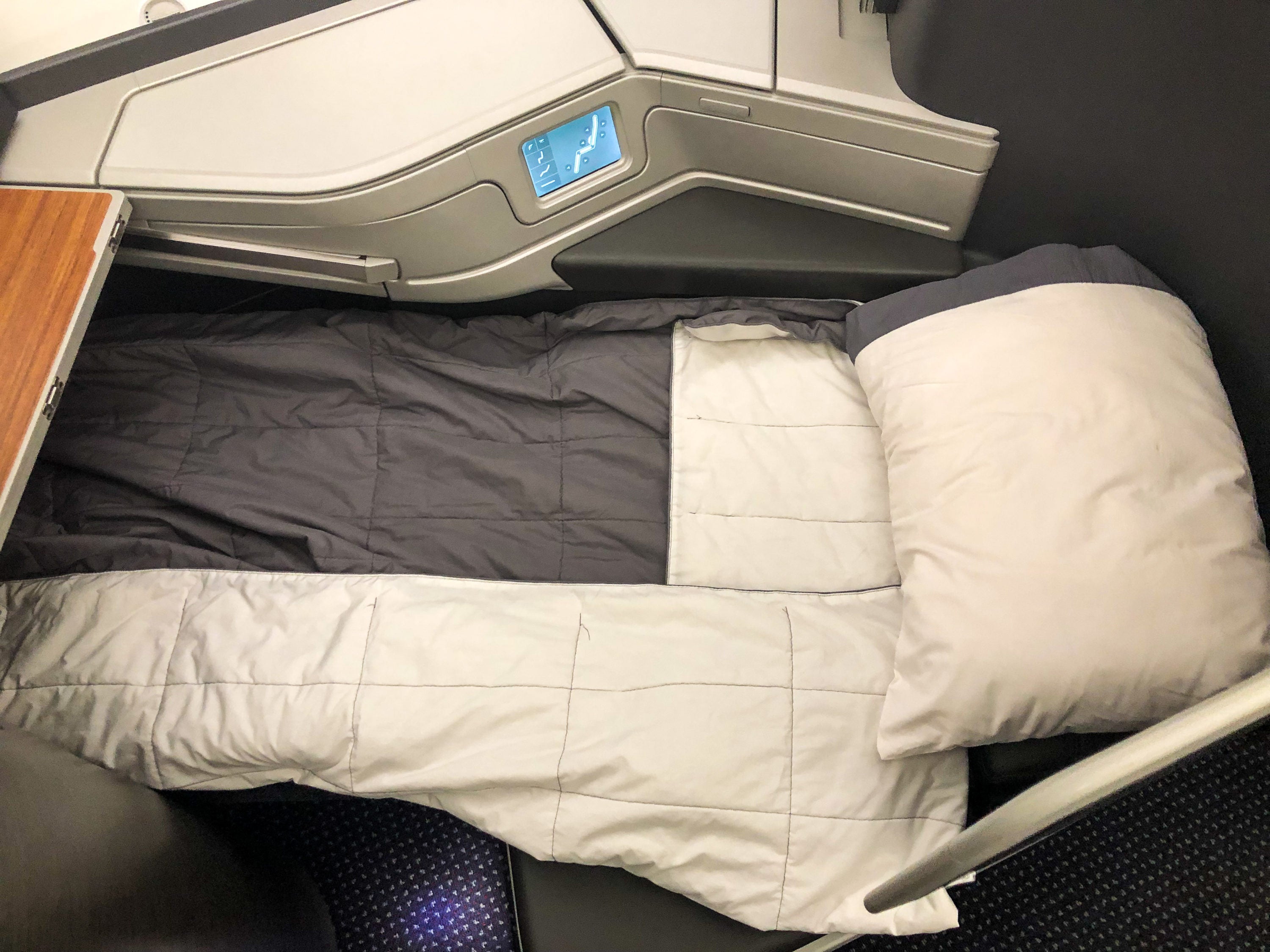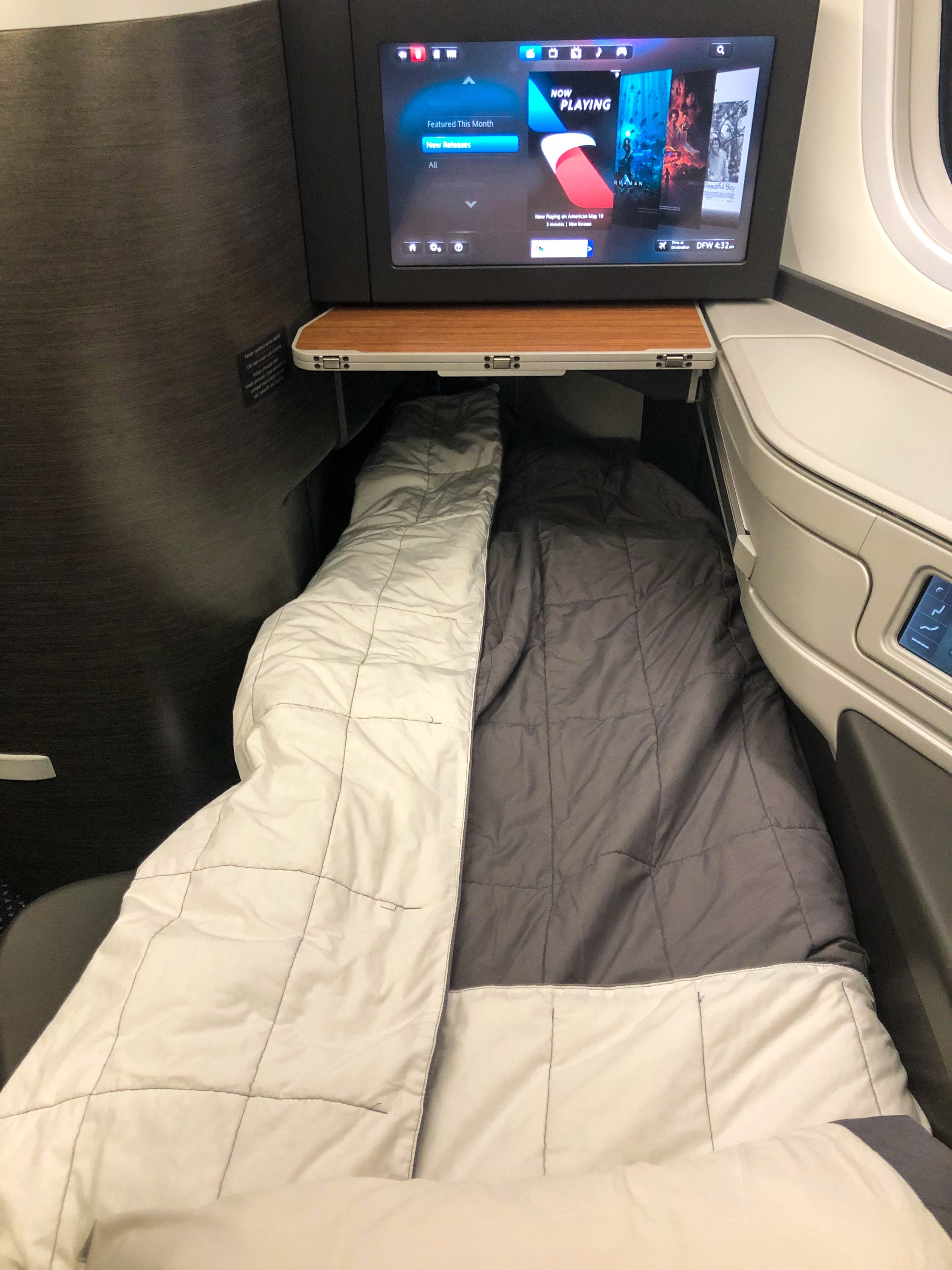 Because the bed was around 78 inches in lie-flat mode, equivalent to 6 feet 6 inches, I was able to stretch out my legs completely. American Airlines' 787-9 business class hard product absolutely passes the canoe test.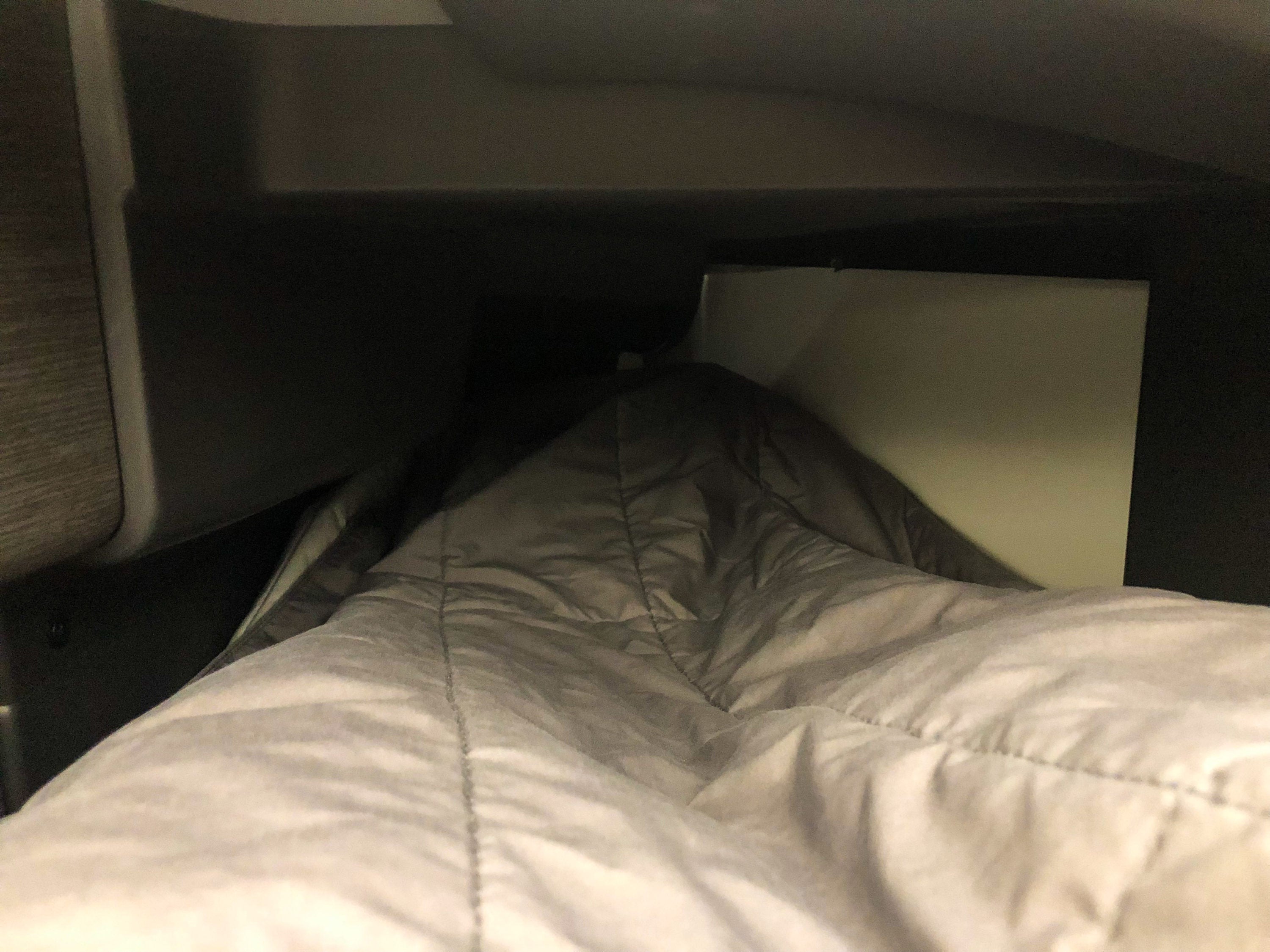 Bottom Line: I find American Airlines' business class hard product on the 787-9 to be top-notch. Even on a domestic flight, this product matches pretty closely with other top international business class airlines.
Food and Beverage
The meal service was shortly after reaching cruise altitude. First, the cabin crew distributed warm towels.
There was essentially only 1 choice for the meal, and the crew started with drinks and warm nuts. I opted for Coca-Cola.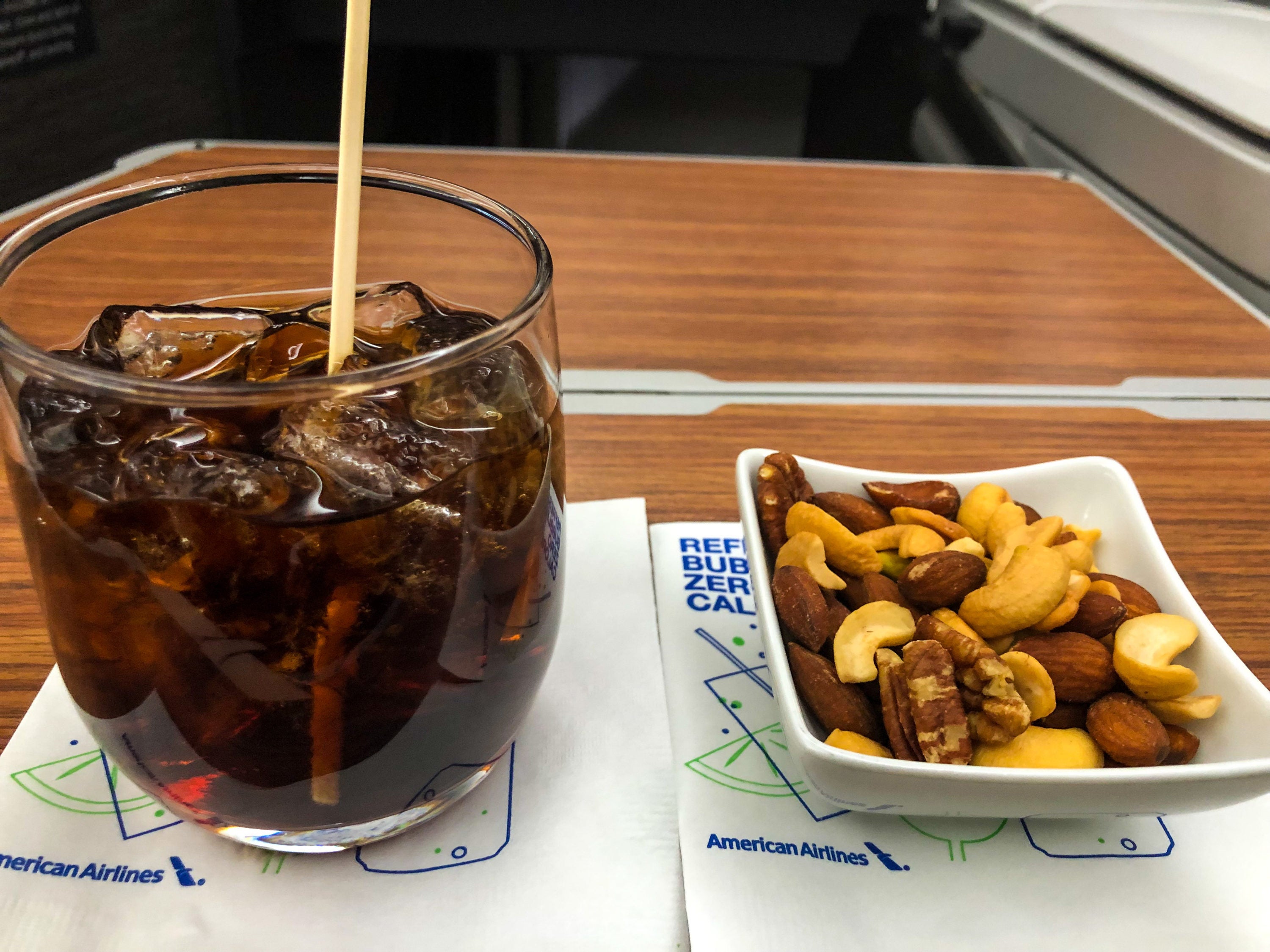 Then, the entree came, which consisted of:
Bread
Grilled chicken breast
Quinoa and assorted vegetables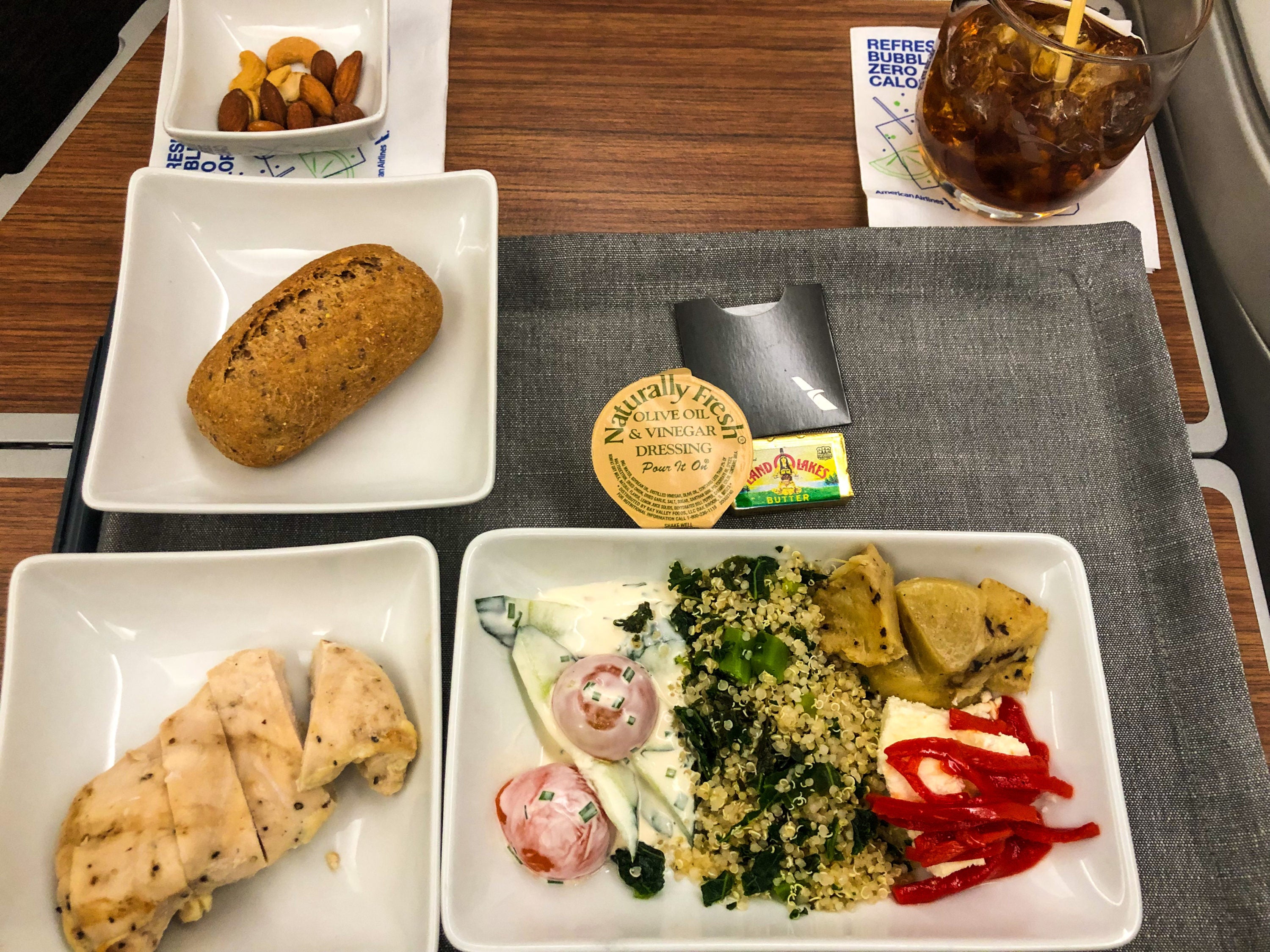 Bottom Line: Despite how it appears, the meal on American Airlines' business class was edible. When I first saw it, I was skeptical, but, the chicken breast was actually pretty tender and the vegetables were refreshing. 
Entertainment and Service
The inflight screen measured 18 inches diagonally. The screen was fully HD and touchscreen as well.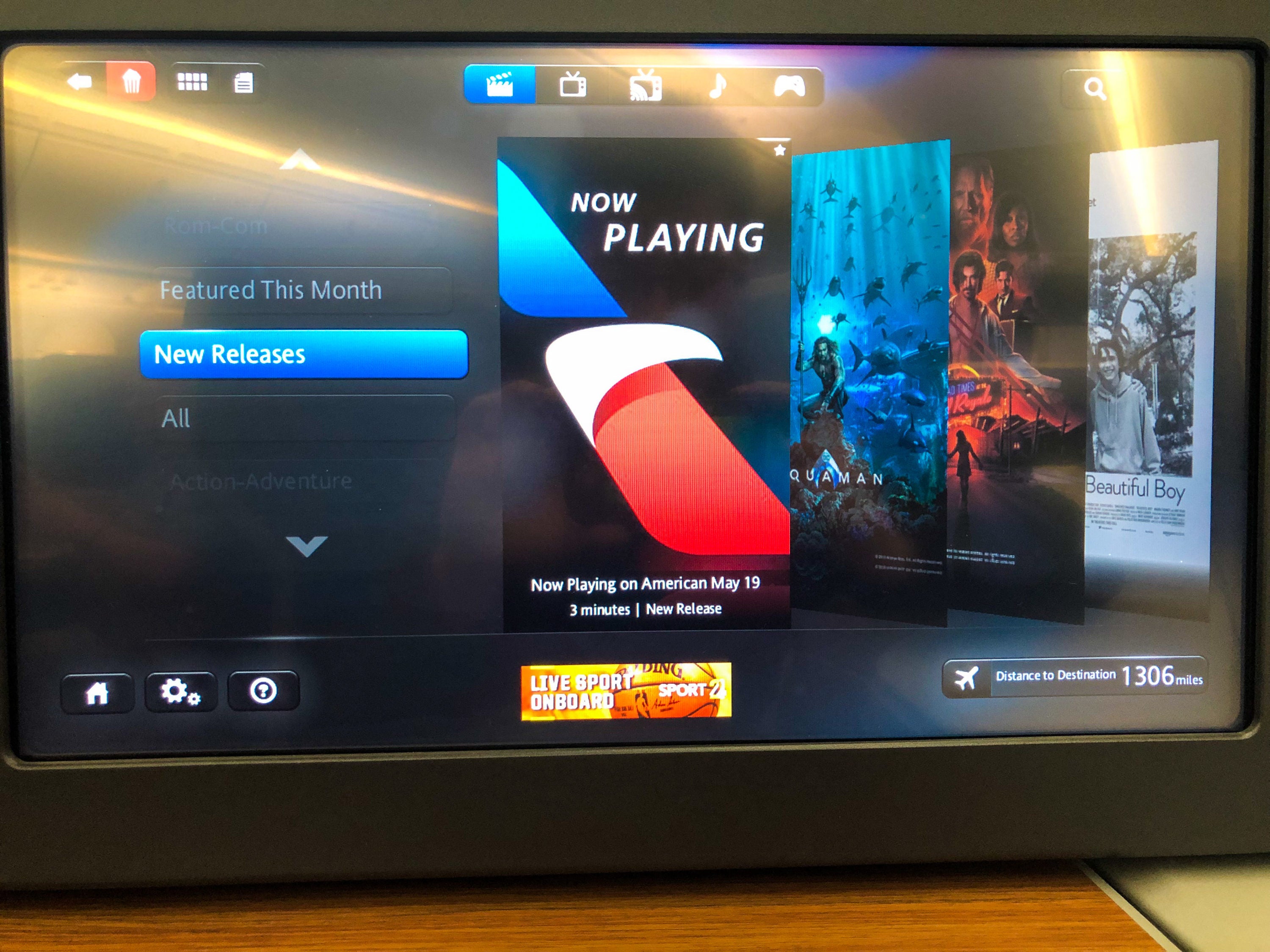 Onboard the flight, there were a variety of entertainment selections, ranging from blockbuster new releases to classic shows like How I Met Your Mother.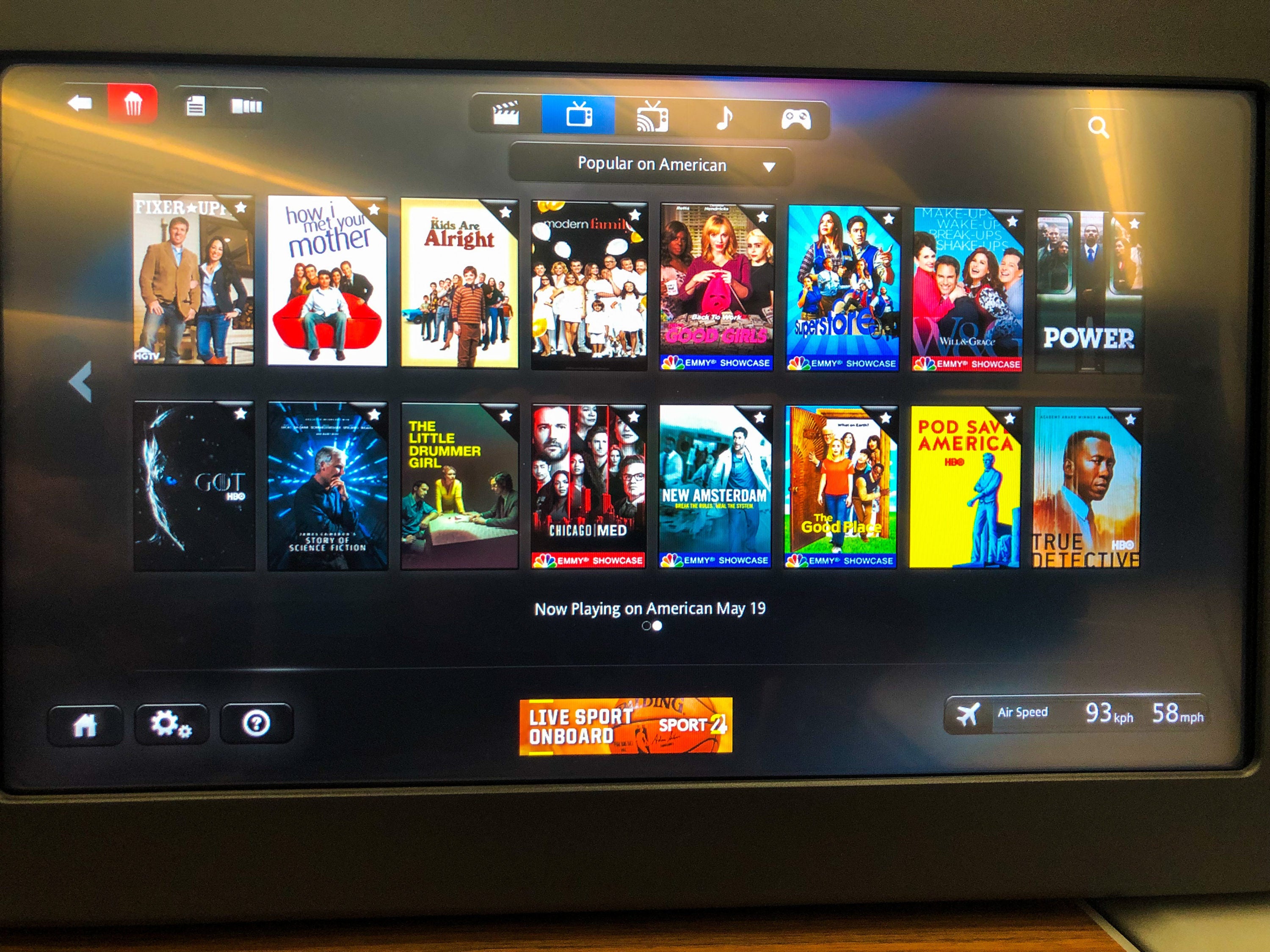 Interestingly, you could also chat with other people on the plane via the Seat to Seat Chat or Chat Room functions.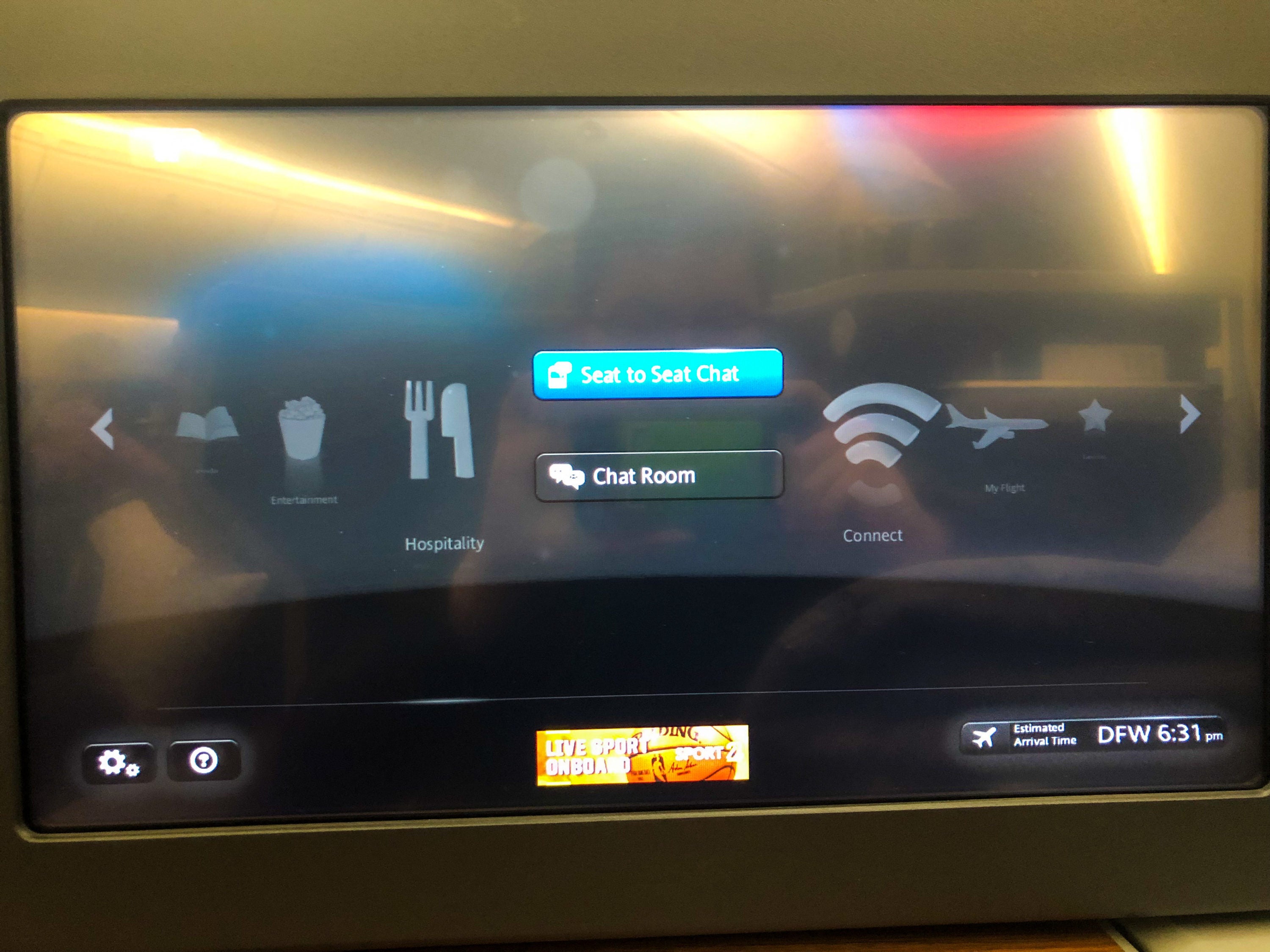 I passed some time by checking out the inflight map as well.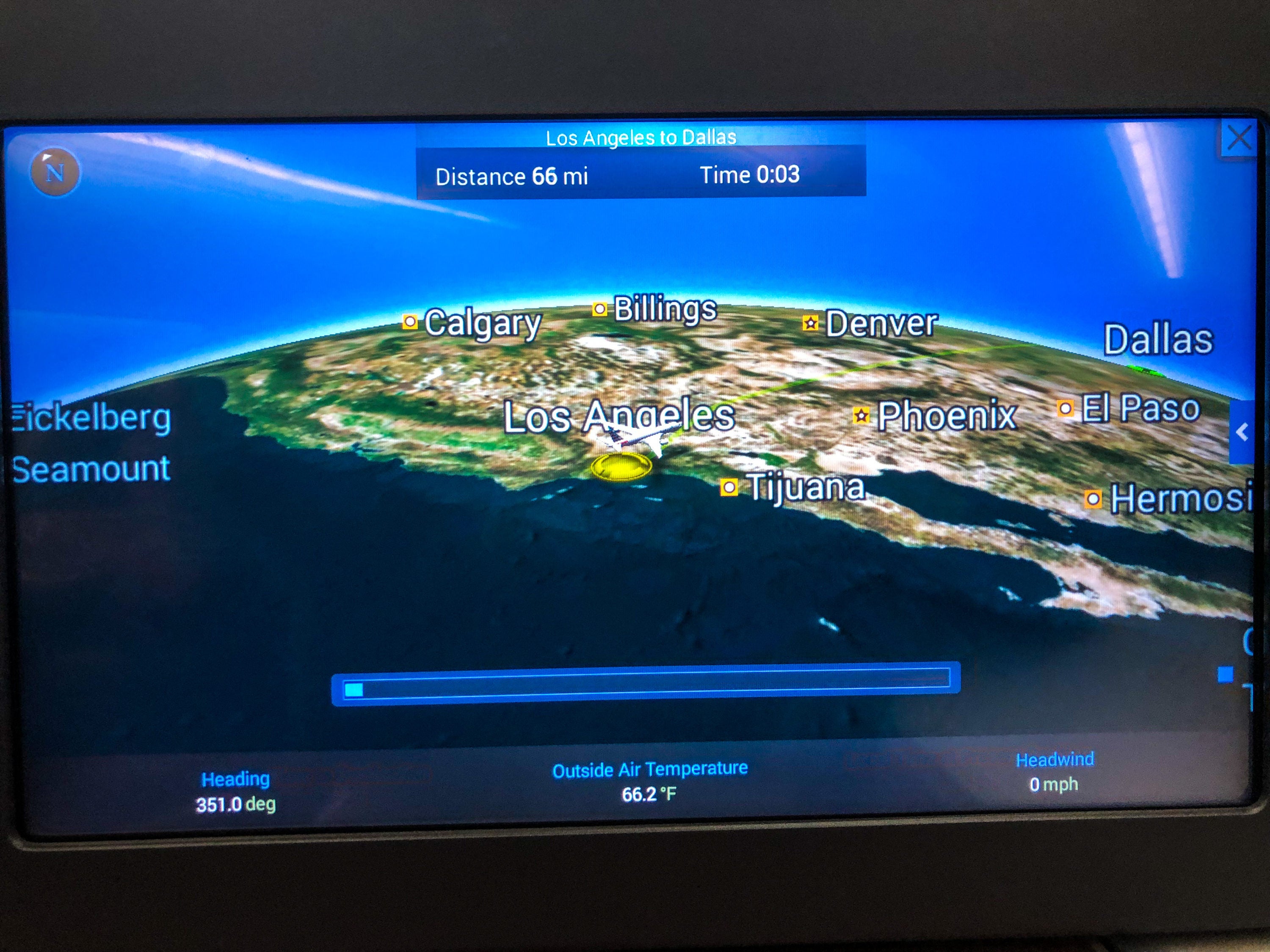 I found the service on American Airlines business class to be good. There weren't many touchpoints, but they were efficient at getting us what we needed and providing a professional experience.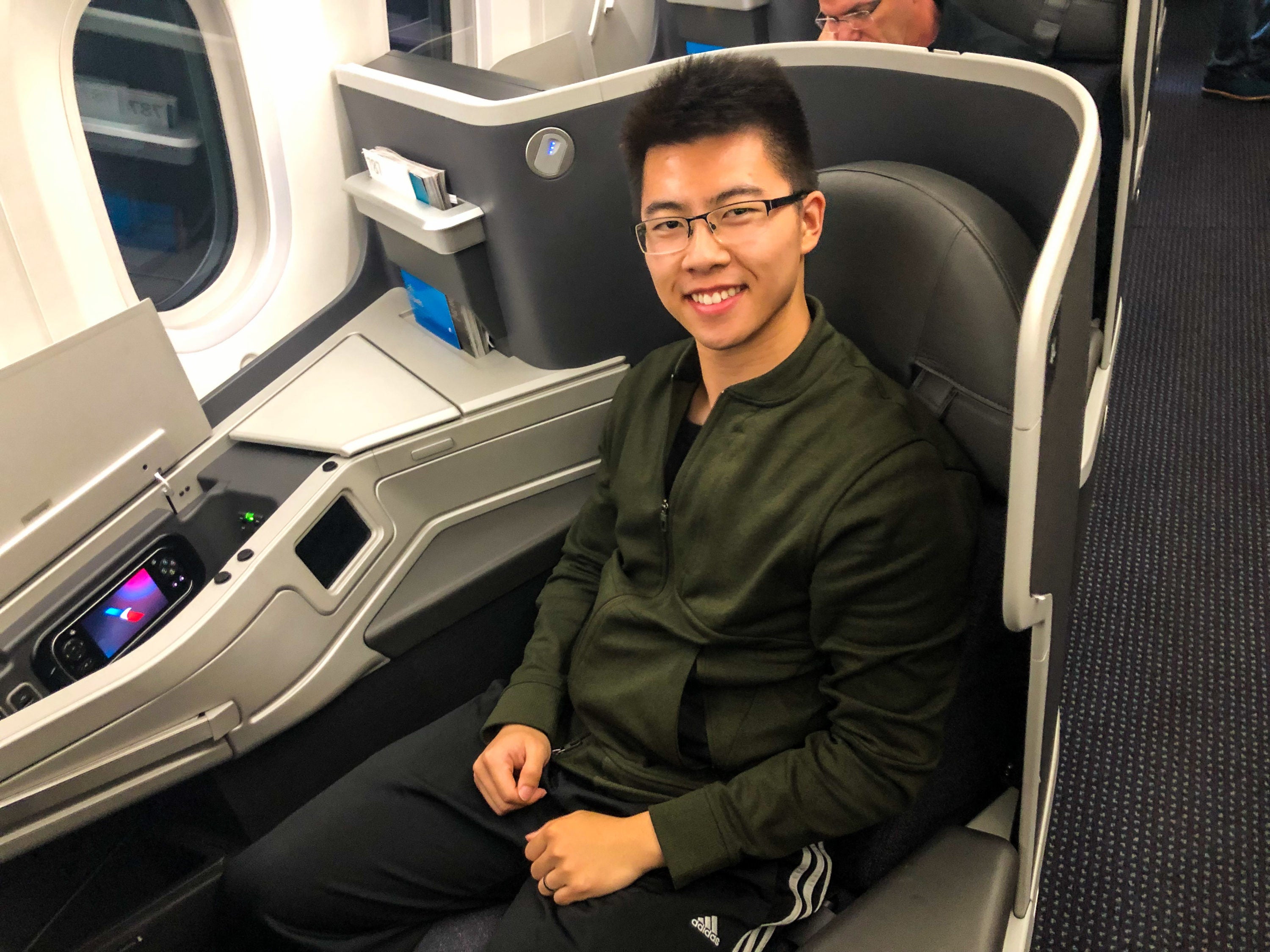 American Airlines' Wi-Fi on offer was Gogo Wi-Fi. Gogo Wi-Fi is generally pretty fast, and I used one of the passes from my Business Platinum Card® from American Express to get and stay connected in the air.
When all was said and done, I had a meal and took a comfortable nap on American Airlines business class. What more could you ask for on a domestic 3-hour flight?
We landed safely and on-time in Dallas.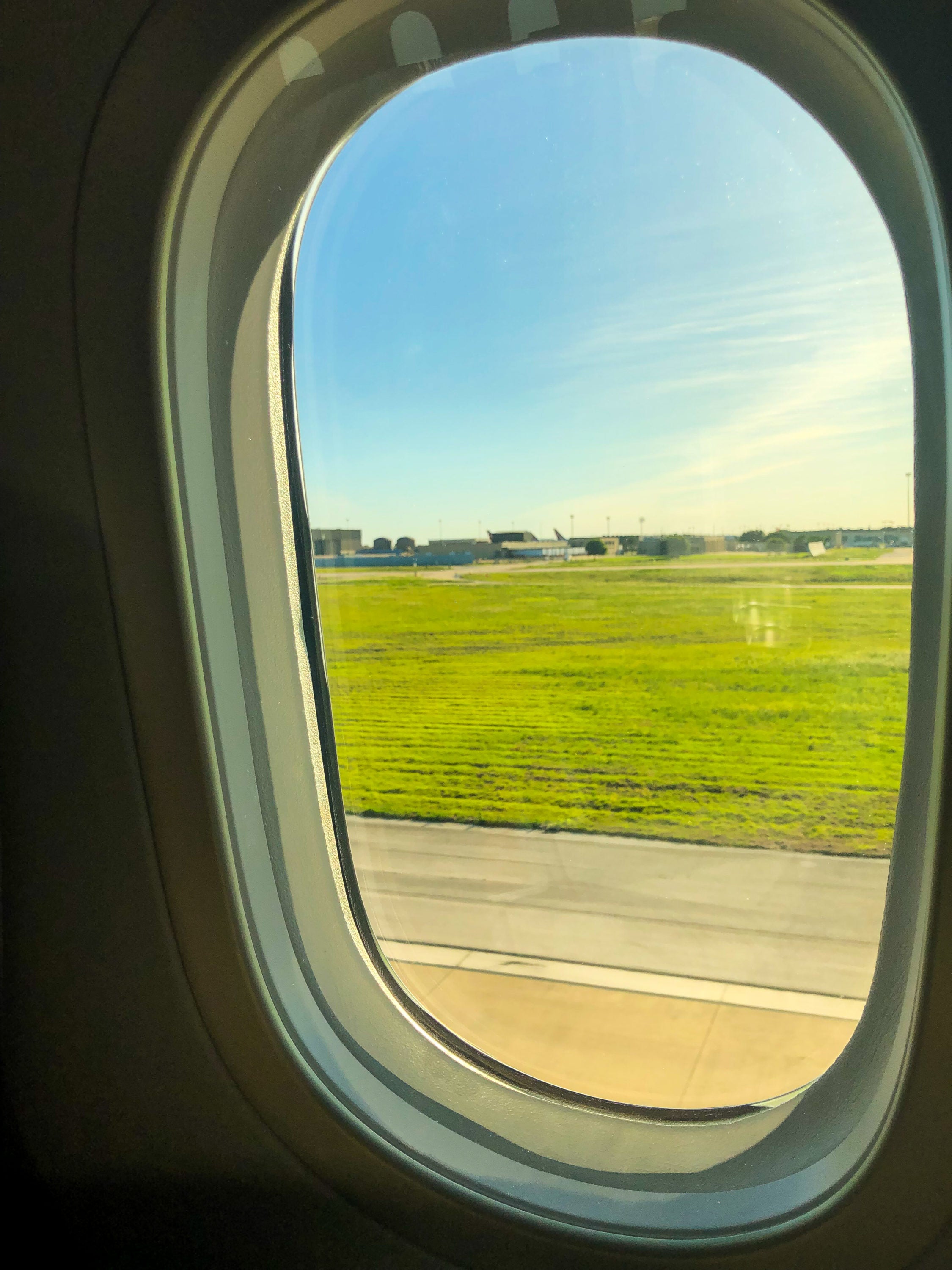 Final Thoughts
American Airlines offers a good business class product on the 787-9. With some of the best reverse herringbone seats in the industry and Casper bedding, I immediately knew that I'd probably sleep well on a long-haul flight with the same arrangement.
Even though I didn't get an amenity kit, slippers, noise-canceling headphones, or a multi-course meal, I walked off the plane satisfied with my experience on American Airlines.
I was able to board first, eat a meal, and take a nap in a real bed in the sky. The professionalism of American Airlines impressed me, but the most important thing was being able to catch a nap in comfort en route to my final destination.