Plaza Premium Domestic Departures Lounge at Rio de Janeiro International Airport [Review]
Rio de Janeiro Galeão International Airport (GIG) has come a long way since the days before the Olympics and World Cup came bursting through the country.
Along with a beautifully refreshed Terminal 2, passengers have their choice of dozens of food and beverage options as well as multiple lounges to relax in before taking their international or domestic flights.
If you are a fan of Plaza Premium Lounges, you are in luck as there are 3 options for you at GIG. Since I was flying a quick domestic flight on GOL from Rio to São Paulo (before connecting to Chicago), I settled in at the domestic lounge inside of security in Terminal 2.
What Are Plaza Premium Lounges?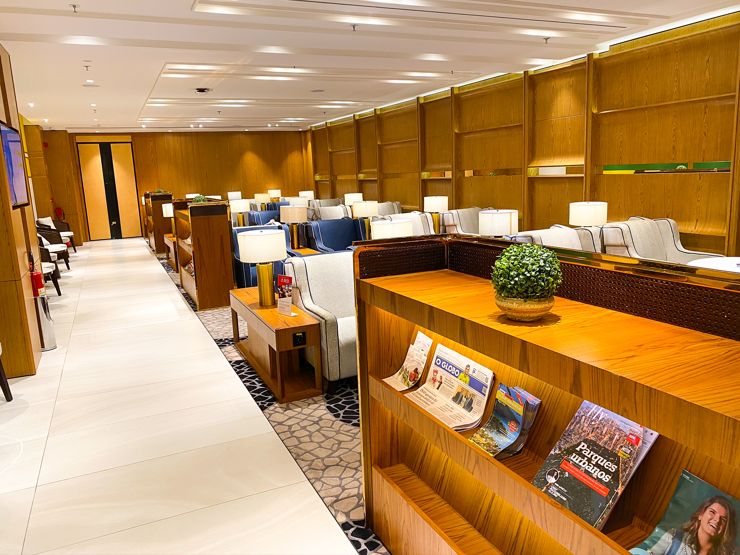 Plaza Premium Lounge is the world's largest award-winning independent lounge network. They are owned by the Plaza Premium Group, which is a hospitality group that is also responsible for other lounges totaling over 160 locations in 44 international airports.
Regardless of class of travel, many travelers can enjoy a quick bite of food, a drink, and often a shower for little or no cost.
If you have a premium credit card from American Express, such as the Platinum Card® from American Express, you and 2 guests can enjoy complimentary lounge access in airports across the world.
Alternatively, if you have a Priority Pass membership from one of the many travel credit cards that offer one, you can enjoy complimentary access in almost all of the lounges around the world.
Hot Tip: The Plaza Premium is far less crowded, has better seating options, and is showing less "wear" than the GOL Lounge (which is located directly in front of the gate). 
Location
The Plaza Premium Lounge that I visited was on the domestic side of Terminal 2 departures, after security.
After going through security and making your way past the many shops, including a Dufry (duty-free) shop, follow the signs for departures and VIP Lounges.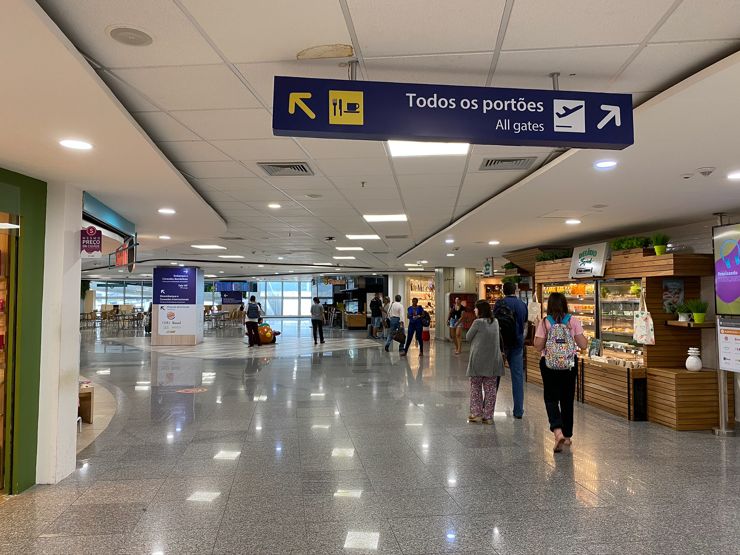 There will be a split where you can visit the food court to the left or departures to the right, so continue to the right.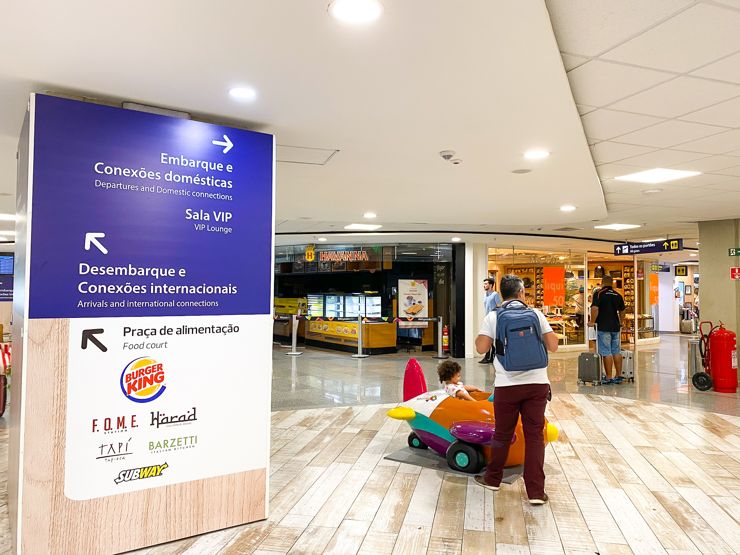 Before you head up the escalators to the gates, you will come face to face with the Plaza Premium Lounge.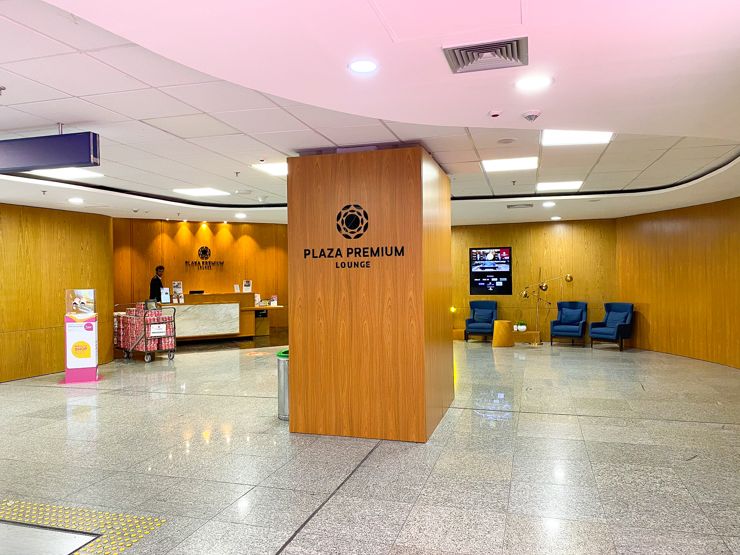 Hot Tip: The lounge is open from 6:00 a.m. until 10:00 p.m. every day, which should accommodate almost all passengers flying domestically in Brazil. 
Gaining Entry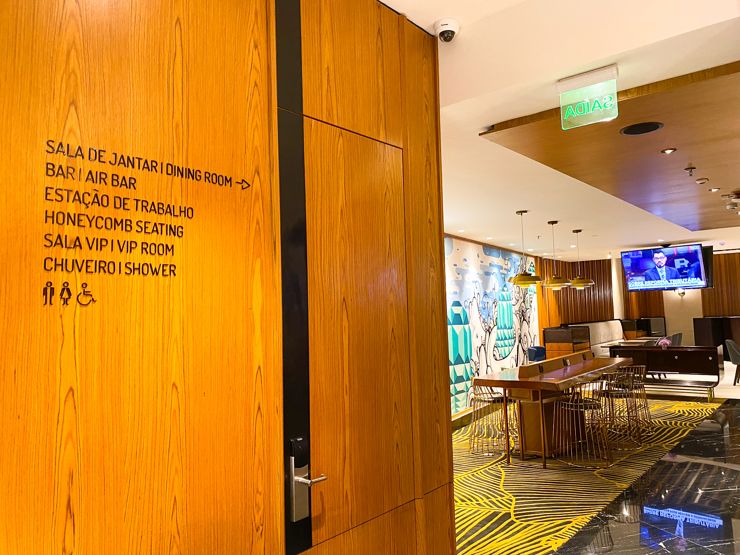 Gaining entry to the Plaza Premium Lounge is easy if you have a Priority Pass membership, as I do. All I had to do was open the app on my phone, scan the QR code, sign my name, and I was in.
Priority Pass Select members are allowed to bring in 2 guests with them, and children under the age of 2 don't pay. If you want to bring in more than 2 guests, the additional guests can pay a discounted rate of $27 that will get billed to the credit card you have associated with your Priority Pass.
If you don't have access through your credit card, you can also pay cash to get in. As of February 2020, you can purchase a 3-hour stay for $35 on the Plaza Premium website or via the LoungeBuddy app.
Hot Tip: Priority Pass members should remember to download the Priority Pass app to make entering with you and your guests easier without having to search for your physical card. 
First Impressions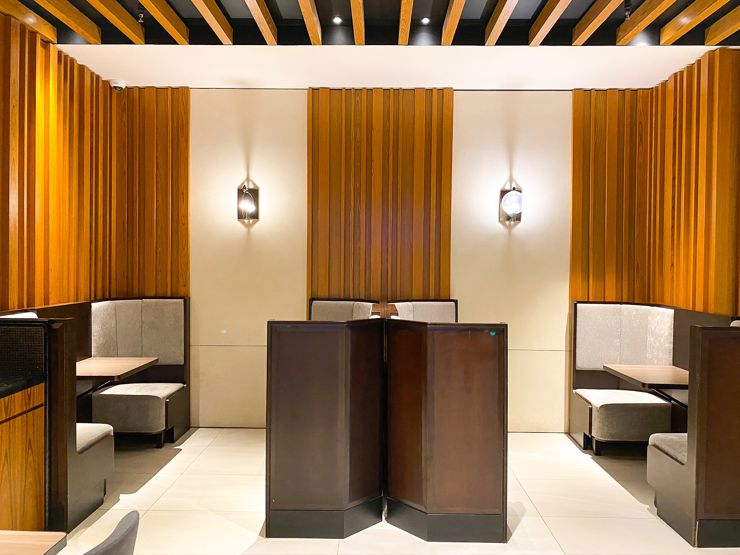 Upon walking into the lounge, it is immediately identifiable as a Plaza Premium Lounge thanks to the standardized colors and seating options.
The modern styling with multiple wood tones, classic blue and beige chairs, nice lighting, and a carpet with a Copacabana sidewalk design all tie in nicely together.
If you weren't paying attention, you could easily confuse parts of this lounge with the one located on the international side of the terminal.
The Plaza Premium Lounge on the domestic side is a sprawling 10,000 square feet and has over 220 seats, so space should not often be an issue — it certainly wasn't when I was there at 2 p.m. on a Tuesday as there were, at most, 10 other people in the lounge.
Seating
What I really like about the Plaza Premium lounges at GIG are the seating options.
Whether you are traveling solo, with someone else, or a big group, there are plenty of options to choose from — and all of them are comfortable! And (almost) more importantly, most of them had multiple power outlets conveniently located to charge your gadgets!
There are options for groups to sit together and chat.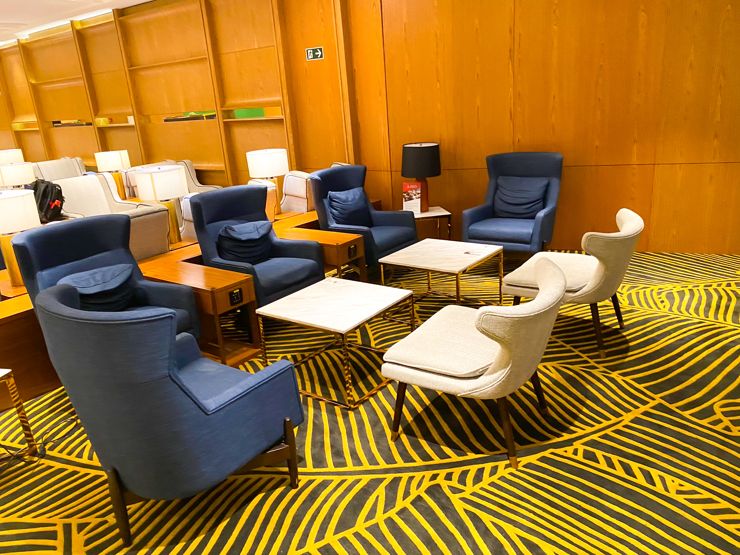 There are options to sit and dine in a booth and chair set up like in a restaurant.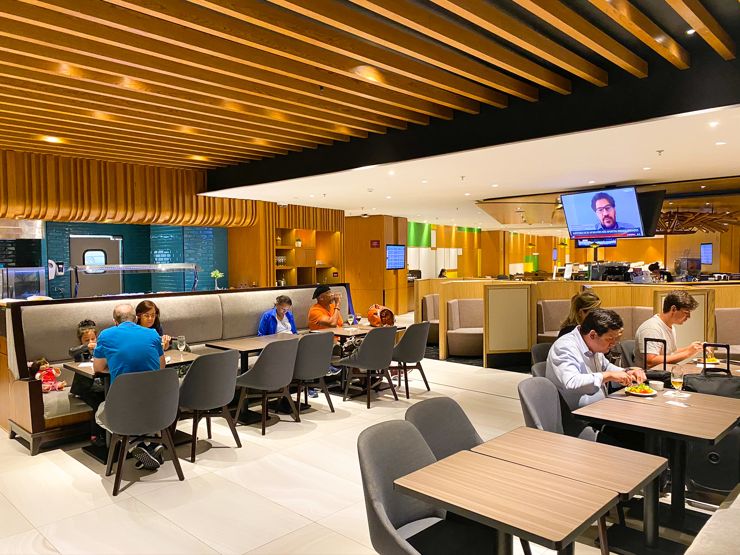 There are mini-booth options if you prefer more privacy.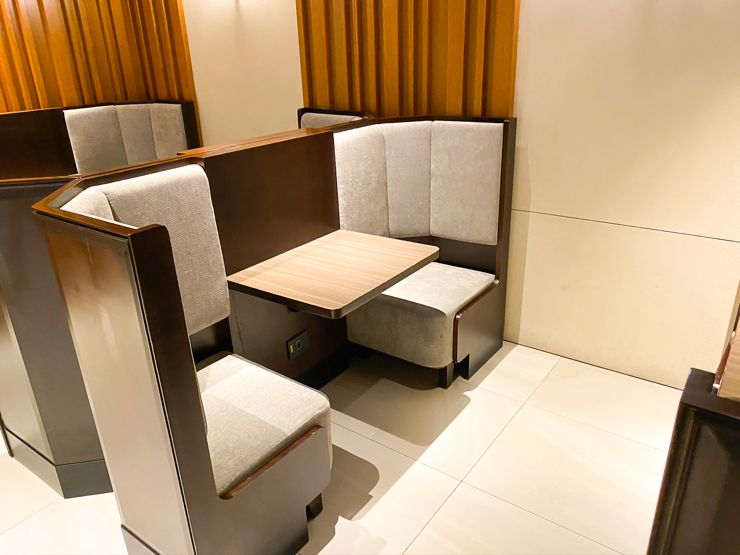 There are the classic lounge chairs (which are quite comfortable and have built-in USB outlets).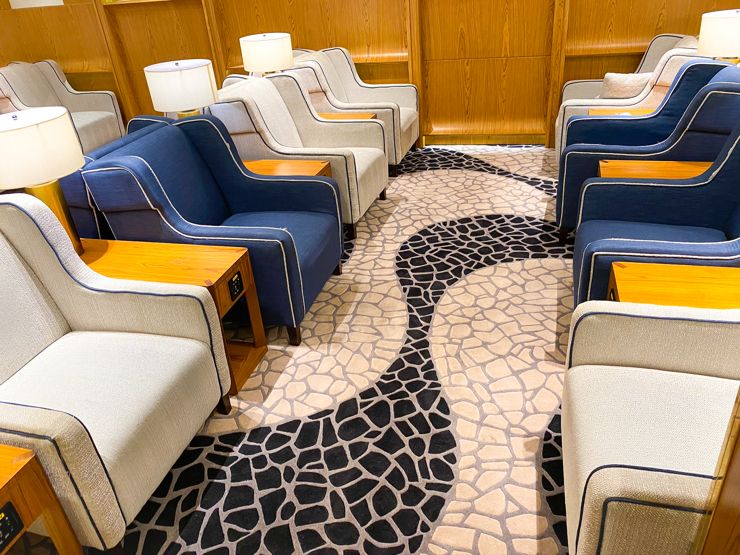 There are work pods with an adjustable light and outlets if you need to get some business done.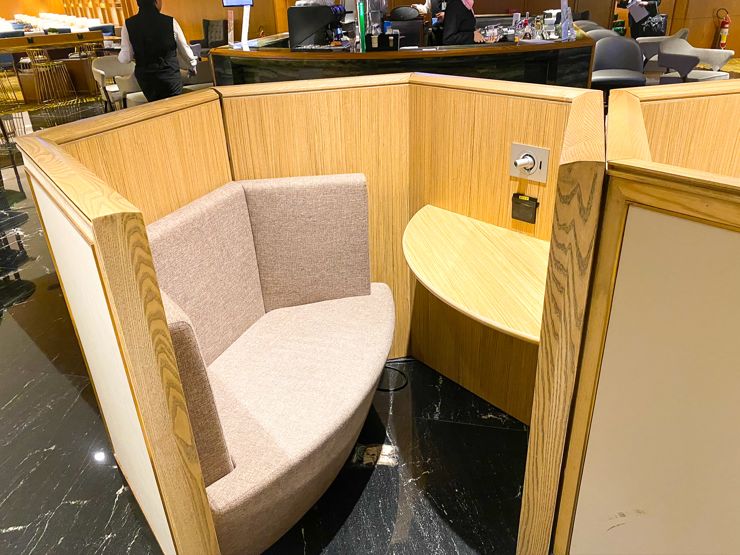 There are seats by the bar if you don't like any of the other options.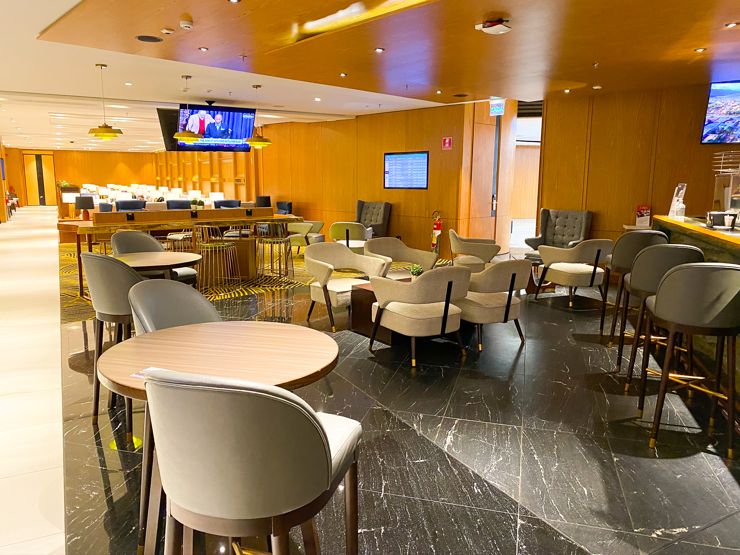 There are bar stools at the bar if you don't want to be too far from the action!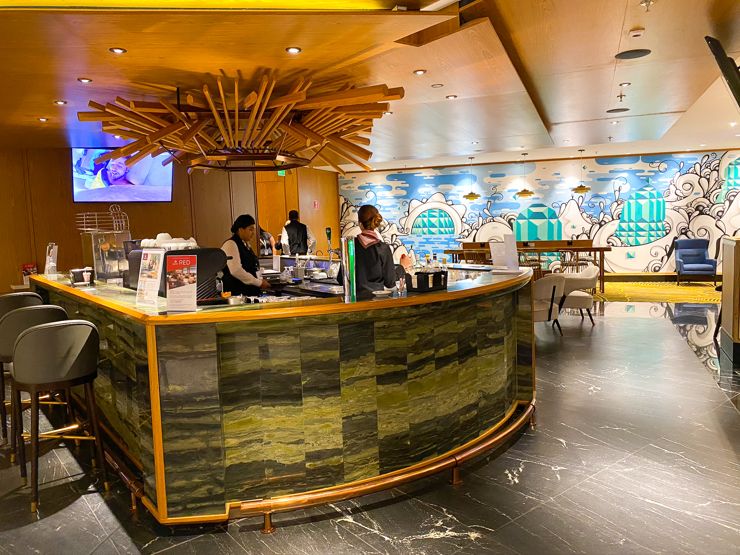 Even the overflow seating is cute and functional.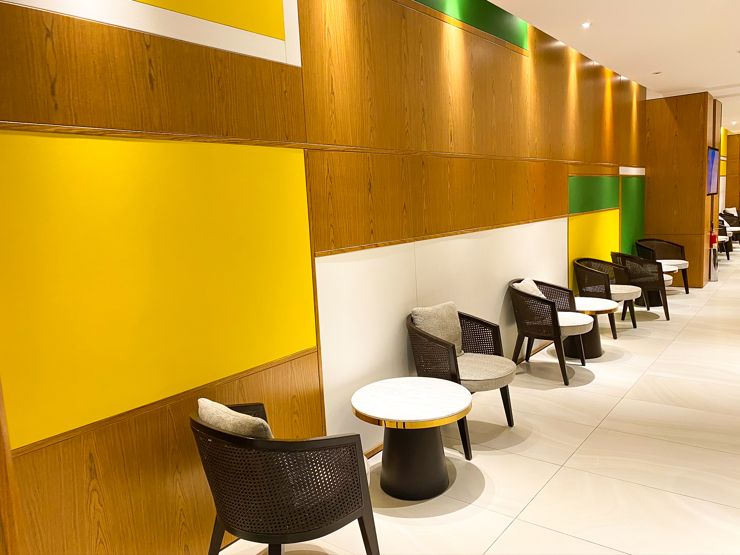 Bottom Line: No matter what your reason for visiting the lounge is, there will certainly be a seat that you and your party can get comfortable in. 
Food and Beverage
Normally I like the food at the Plaza Premium Lounge when visiting the location on the international side. In fact, my family and I will often go out of our way to eat there instead of risking things at the Admirals Club.
Unfortunately, I will not be going out of my way to eat at this lounge in the future.
Perhaps it was the awkward timing of my visit between lunch and dinner, but the food that was available was not appetizing at all.
Meals
Since I had skipped lunch on my way to the airport, I was looking forward to eating something satisfying during the lounge visit before catching my flight.
My first stop was at the kitchen buffet where there appeared to be a decent array of options as well as a pasta action station.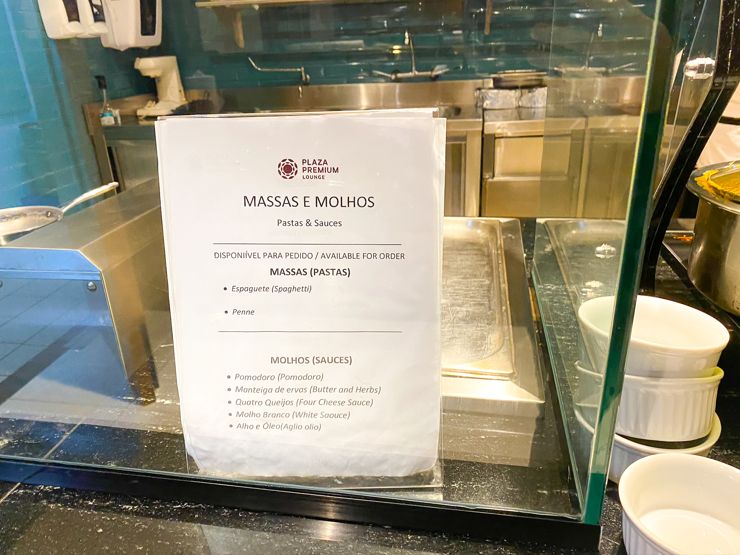 The pasta station offered the following options:
Pastas:
Sauces:
Pomodoro
Butter and herbs
Four cheese sauce
White sauce
Garlic and olive oil
Unfortunately, due to the time, there was no staff available to cook the pasta, so I moved down to the hot buffet.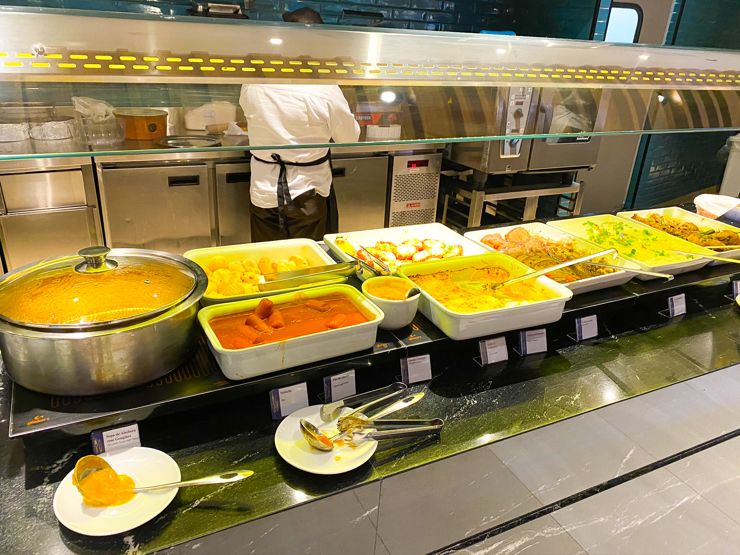 At first glance, I thought I would have plenty of options to chose from, but upon closer inspection, nothing really seemed appetizing. The spread, on paper, was somewhat impressive and included:
Pumpkin soup with ginger
Pão de queijo (cheese bread)
Hot dogs
Stuffed tomatoes
Carrot soufflé
Roasted beef
White rice
Chicken breast
However, it was very clear that the food had been sitting out for a while and I wasn't hungry enough to risk filling up on questionable food before 2 flights.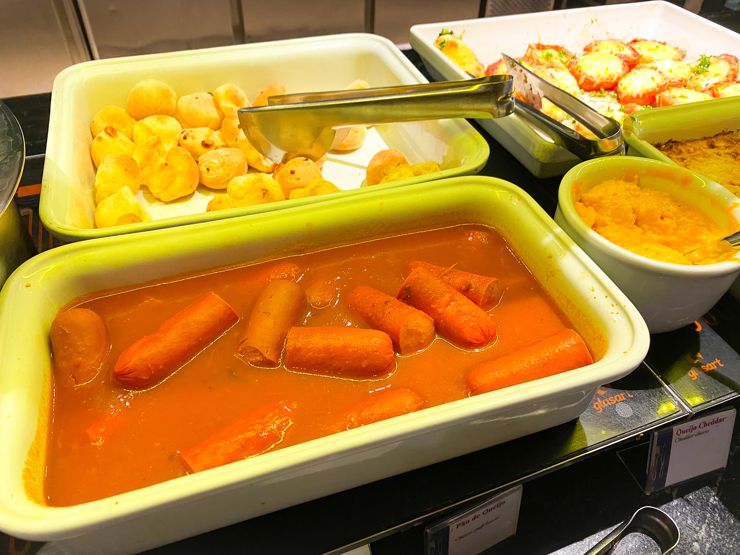 Salad Bar
One bright spot in the F&B experience was the salad bar.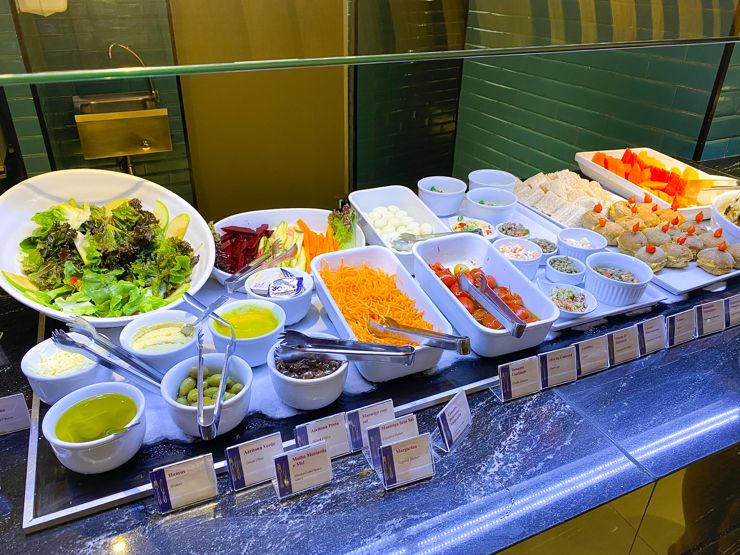 The greens and toppings all looked fresh and there were options for little sandwiches and fruit as well.
The salad bar included:
Beets
Black and green olives
Hummus
Lentils
Mixed greens
Potato salad
Quail egg
Shredded carrots
Shredded cheese
Tomato confit
Zucchini
At this point, I had already made the decision to skip lunch and just have a couple of snacks and a beer before my flight, so I skipped the salad.
Although, if I am being completely honest, I was never going to have a salad!
Snacks
The snack options were, unfortunately, also lacking. There were only corn chips and visibly stale bread.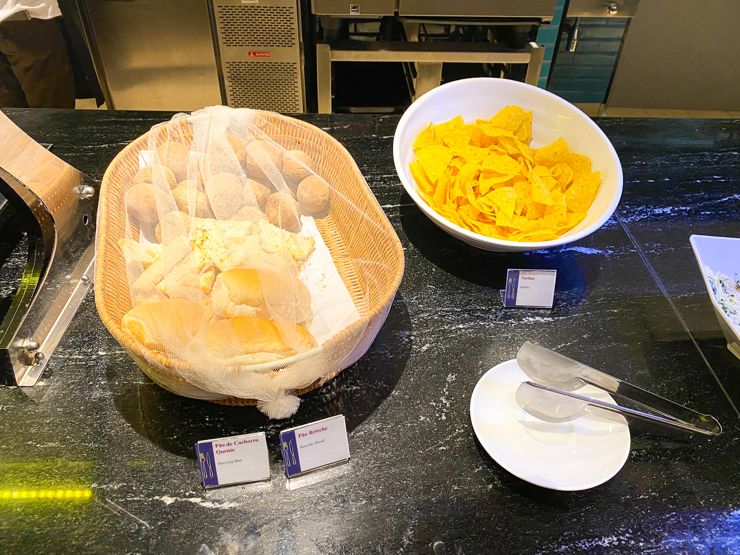 No worries, I thought, I love corn chips. So I grabbed a bowl, grabbed a beer, and found a seat…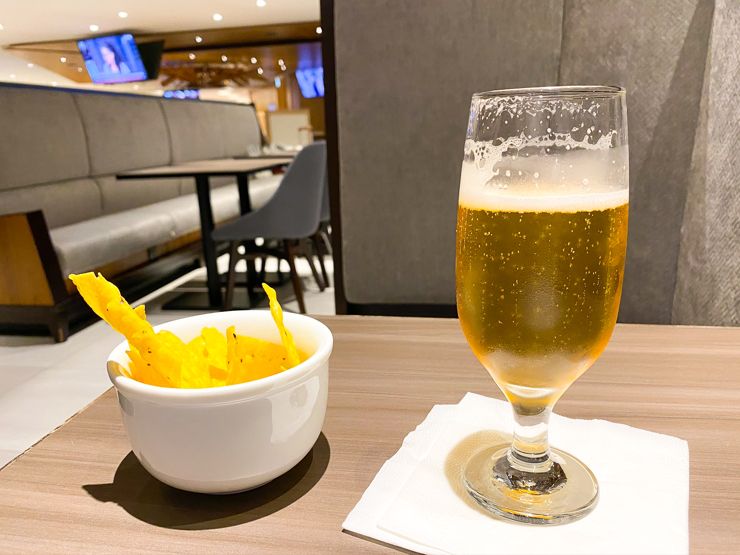 …only to bite into the chips and find them to be some of the stalest chips I have ever tried. I should have known better as they were right next to the extremely stale bread. Oh well!
Drinks
Fortunately, the drink situation was not as bad as the food.
For non-alcoholic beverages, there was a basic self-service drink station with water and orange juice. If you wanted a soda or any other option for a drink you need to head to the bar.
In the interest of this comprehensive review, I headed to the bar (but not for a soda).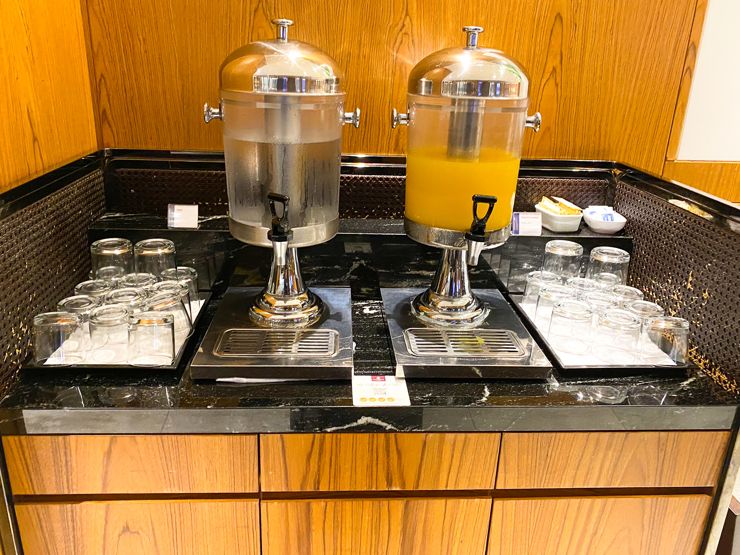 The bar offers quite a few basic options thanks to a relatively well-stocked liquor shelf, some red and white wines, an espresso machine, and a beer tap.
I opted for a Heineken draft and was pleasantly surprised with the pour and how cold it was.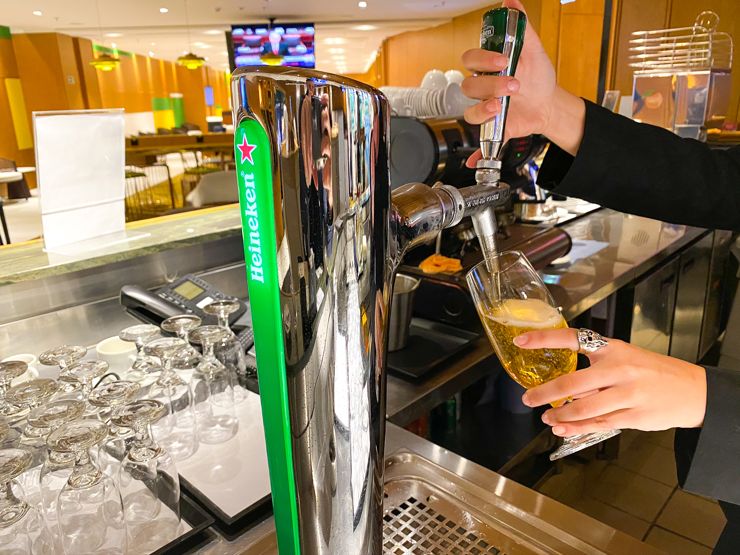 With some decent snacks and some sports on the big TVs, I could easily see myself enjoying a few drinks here with friends before a flight. Maybe next time!
Bottom Line: The food and beverage options left a lot to be desired. Perhaps it was the odd timing of my visit, but if you are planning on having a full meal here, prepare to be creative with your options. 
Amenities
For amenity offerings, the Plaza Premium lounge is on the basic side, but still very solid. With food, drinks, Wi-Fi, and showers, there really isn't much more you would need in a domestic terminal lounge.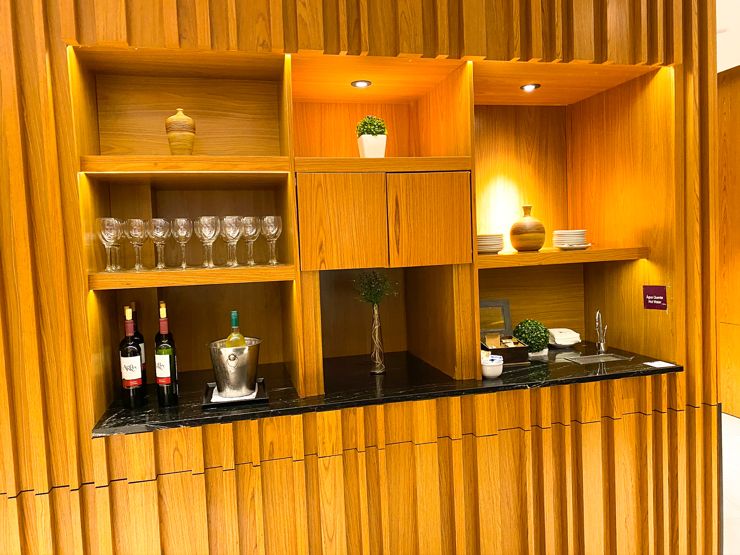 Here are all of the amenities listed on their website:
Bar
Draught beer
Food and beverage
Newspapers/magazines
TV channels
Wi-Fi
Charging stations
Flight information
Lounge bay
Shower facilities
Vegetarian options
Again, a very solid lineup for a lounge that didn't even exist a few years ago and a great way to save yourself from the overpriced dining options surrounding the gates.
Unfortunately, I did not have enough time to check out the shower facilities.
Final Thoughts
The Plaza Premium Lounge in the domestic departures section of Terminal 2 at GIG is a solid place to settle down before catching your flight somewhere else in Brazil.
If you have a Priority Pass membership, you will be much more comfortable at this lounge compared to the GOL Premium Lounge near the gates.
The seating options are excellent, the Wi-Fi is strong, and there are showers for those who want to freshen up.
If you are looking for a cold Heineken or a cocktail, the handsome bar in the middle of the lounge should have you covered. Coffees and espressos are also handmade at the bar and smelled delicious.
However, if you are looking for somewhere to feed your family or get a solid meal for yourself before your flight, be prepared to be disappointed. That being said, I have had much better meals at night in the international version of this lounge, so I may have just been unlucky with my timing between lunch and dinner service.
Although lounge options are limited in the domestic terminal of Rio Galeão, the Plaza Premium Lounge is still your best option and I will certainly be visiting on my next trip through the domestic terminal of GIG.