Espaço Banco Safra Lounge at São Paulo International Airport [Review]
During normal operations, São Paulo Guarulhos International Airport (GRU) is/was the busiest airport in Brazil — you know, when there isn't a global pandemic going on.
The airport is massive, with 3 terminals serving over 30 domestic and international airlines. So, you can imagine that there are a few lounges available for the thousands of passengers per day that the airport serves.
When I found myself with a 10-hour layover at GRU before my United Airlines flight to Newark (EWR), I knew that I needed to find a lounge that would be comfortable, safe, and not too crowded.
Fortunately (for me), crowds would not be an issue at any available lounge, and the Espaço Banco Safra Lounge (formerly known as the Star Alliance Lounge and briefly as the GRU Lounge) easily checked off the other boxes for me.
Here is my review of my extended stay at one of the most popular airport lounges in São Paulo.
What Is the Espaço Banco Safra Lounge?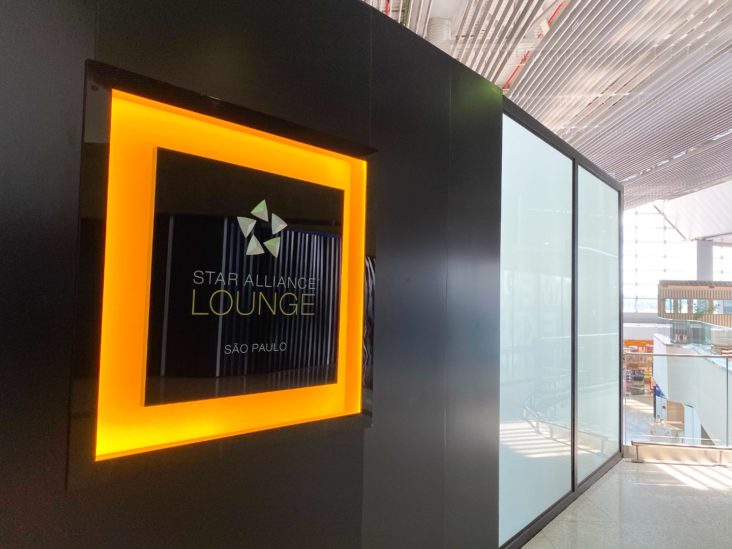 The Espaço Banco Safra Lounge is the new name for what was long known as the Star Alliance Lounge at GRU. However, as of May 1, 2021, Banco Safra (a Brazilian financial services company) has taken over the services of the lounge.
For some quick history, the lounge was originally designed as a Star Alliance Lounge, which is a small collection of Star Alliance-branded lounges that have been created by local architects to reflect the city and country that they are located in. So visitors to this lounge will immediately notice its unique style.
The designs are meant to leave you with a positive and lasting memory of the country's culture that you are departing from. So although it is no longer a Star Alliance lounge, guests will still be able to enjoy the original architecture.
Espaço Banco Safra Lounge — Terminal 3 at GRU
Location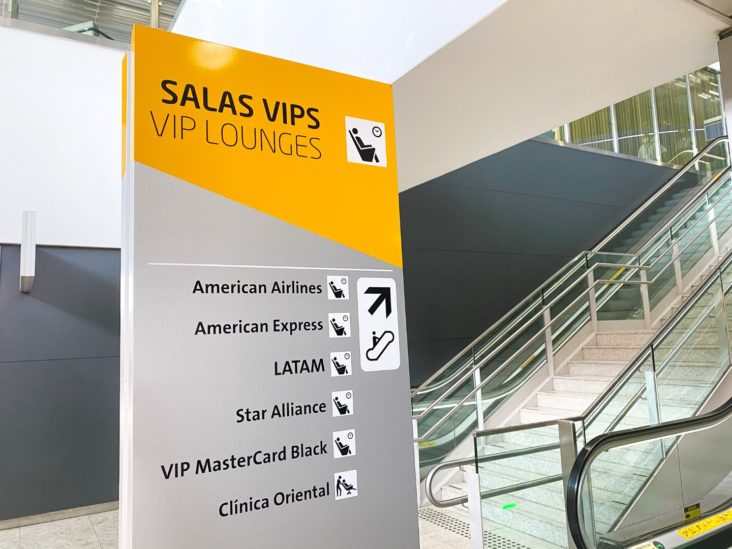 The Espaço Banco Safra Lounge is located in Terminal 3 on the mezzanine level after security.
Once you pass through security you will enter the somewhat open-air duty-free shopping area with stores on the first floor and lounges on the second floor.
Immediately on your left, you will see stairs, escalators, and elevators to bring you up to the mezzanine level where all of the lounges, known as "Sala VIPs" in Portuguese, are located.
Gaining Entry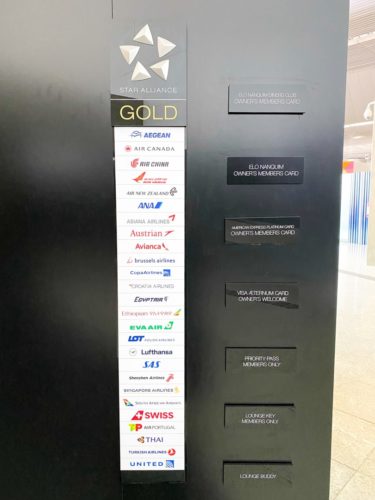 As I was flying United Polaris business class from São Paulo to Newark, I received complimentary access to the lounge.
However, gaining access to this lounge is quite easy thanks to the more than 2 dozen partners, including Priority Pass, LoungeKey, Lounge Club, and Dragon Pass.
Business and first-class passengers flying Air Canada, Copa, Ethiopian, Lufthansa, Swiss, TAP, Turkish, or United, can also access this lounge for free.
If you don't fall into any of those categories, you can purchase day pass access for $50.
I have visited this lounge during non-COVID-19 times and it does get quite full thanks to its liberal admission policy — fortunately, it is large enough that there is plenty of room to get comfortable.
The Espaço Banco Safra Lounge at São Paulo Guarulhos International Airport (GRU) is open daily from 11 a.m. until 3 a.m.
Hot Tip: If you don't already have a membership, be sure to read about the best credit cards that get you Priority Pass lounge access.
First Impressions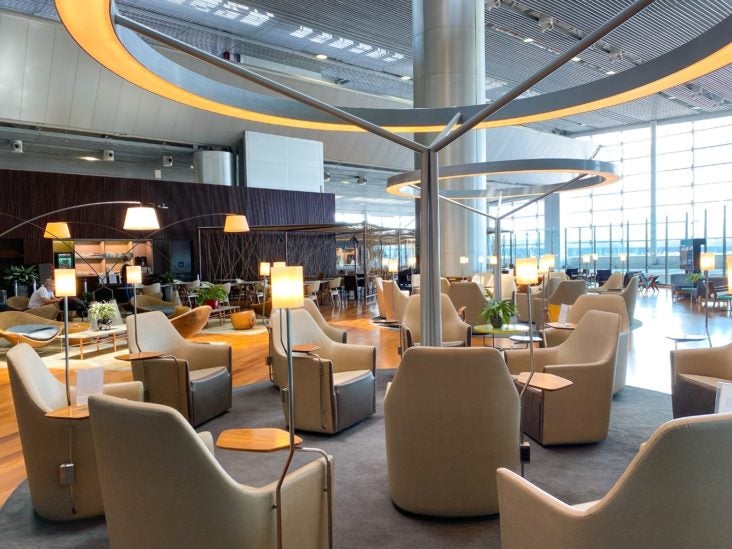 My first impression upon entering the lounge was that it was certainly large, spread out, and wide open to the entire terminal. This made me feel a bit more comfortable as airflow has now become something travelers pay attention to more thanks to the coronavirus.
If you had visited an airport lounge in Brazil before the 2014 World Cup or 2016 Olympics, you probably experienced something closer to a dark basement — not the case anymore.
I arrived in the early afternoon so there was plenty of natural light and views of the runway and terminal from above, which was great for both plane and people watching.
The natural tones, use of wood and ropes (yes, ropes), and the combination of lighting made for a very calming and welcoming atmosphere — which is much appreciated when traveling through GRU.
Seating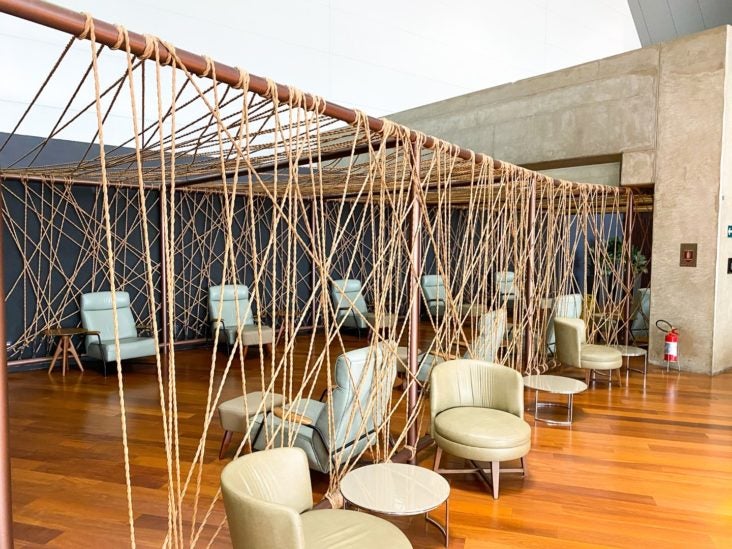 Since the lounge was so large and so empty, there were literally dozens of seating options to choose from. As I have mentioned in previous reviews, I always second-guess my seating choices in lounges as I think there is always a better option.
However, since I was going to be spending about 10 hours at this lounge, I figured I would have plenty of time to rotate, so I saddled up to the bar for my first stop.
Food and Beverage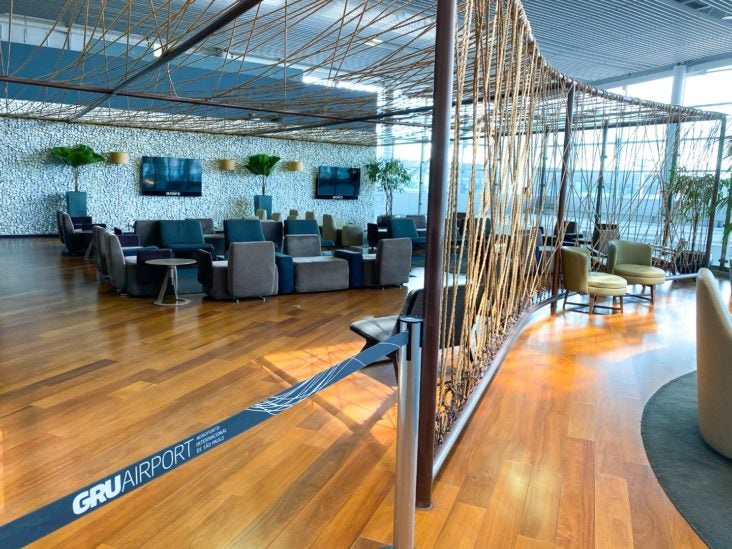 The food and beverage offerings have been severely cut back due to the coronavirus (COVID-19).
The entire dining section has been closed off and replaced with a walk-up table where a server can grab some options for the shelf for you.
Although the options were limited, they weren't that bad. But, to be fair, the options weren't that good pre-pandemic either.
Food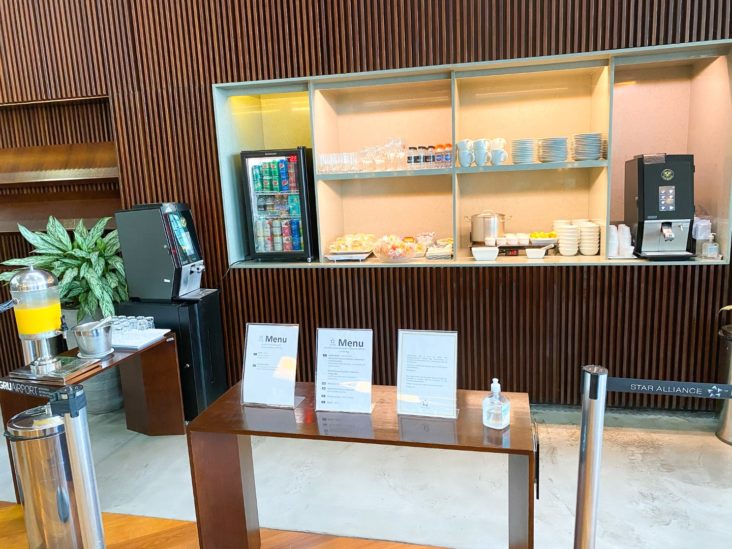 During my extended stay, the menu did not change for lunch or dinner, so passengers could enjoy the following options all day:
Pumpkin soup
Mashed potatoes with ground beef
Turkey sandwich
Cheese sandwich
Bread
Muffin
Cheese bread (pão de queijo)
Apple
As you can see, there really wasn't much to satisfy an appetite, so I was actually looking forward to my United Airlines dinner.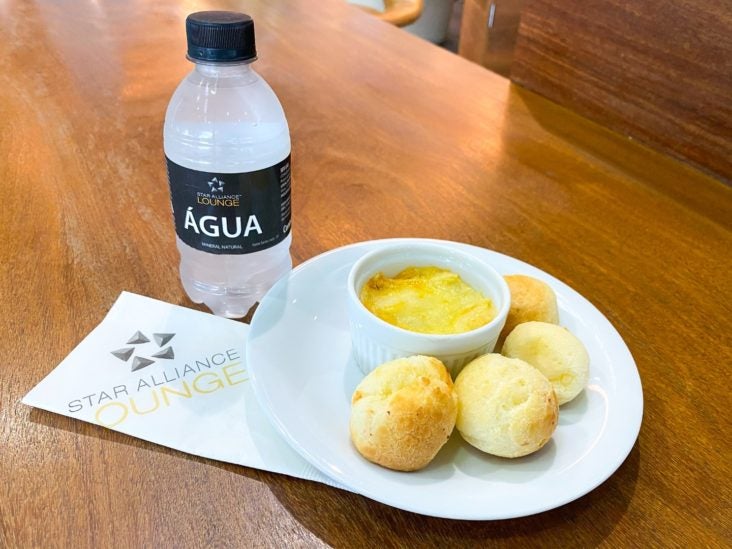 However, I will say that the cheese bread (pão de queijo) and mashed potatoes with ground beef were pretty good.
Beverage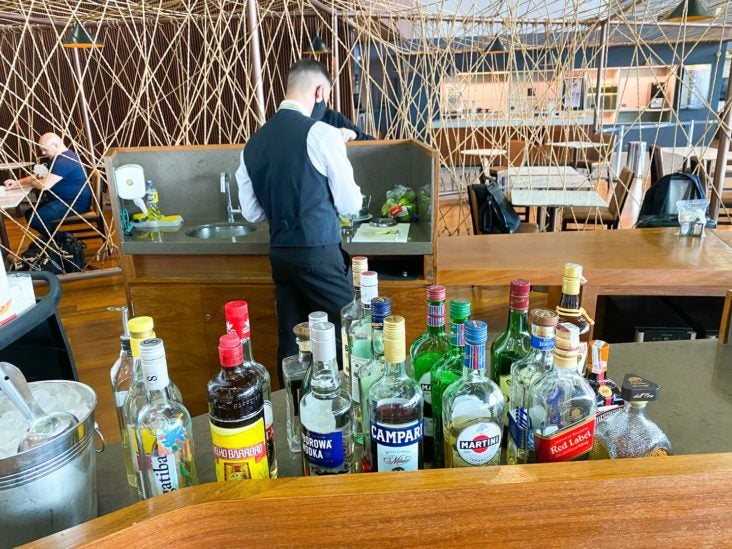 One area that didn't seem to suffer cuts as much was the adult beverage department.
There was a full bar available with plenty of local and imported spirits, a variety of light beers, multiple red and white wines, and 2 options of bubbly.
With essentially no fellow passengers to bump elbows with, I found myself enjoying working at the bar. Especially with a bartender eager to serve one of the few people drinking.
For non-alcoholic beverages, there was a pretty standard array of options including:
Water (sparkling and still)
Coffee (including cappuccino and espresso)
Tea
Juice
Soda
Coconut water
Amenities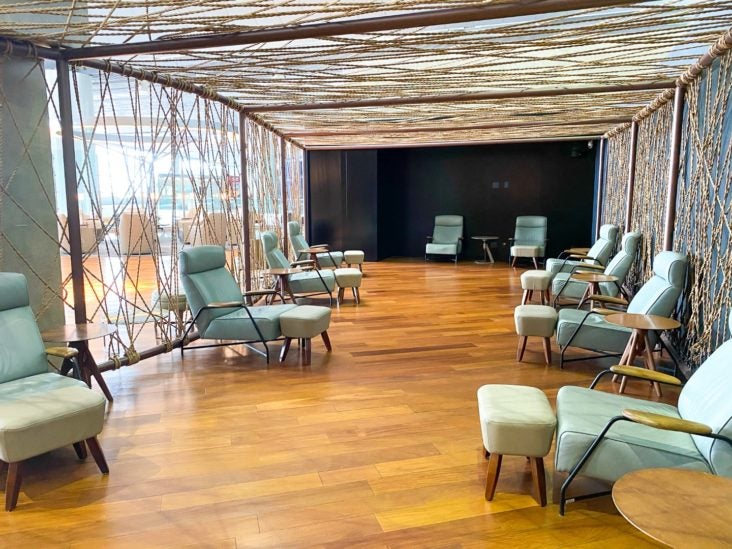 As you can imagine, some of the amenities that this lounge offers are not available right now due to the coronavirus pandemic and subsequent lack of passenger traffic.
While under normal circumstances, a 10-hour lounge visit would have me try everything available, that just wasn't possible on this trip. Hopefully soon!
Wi-Fi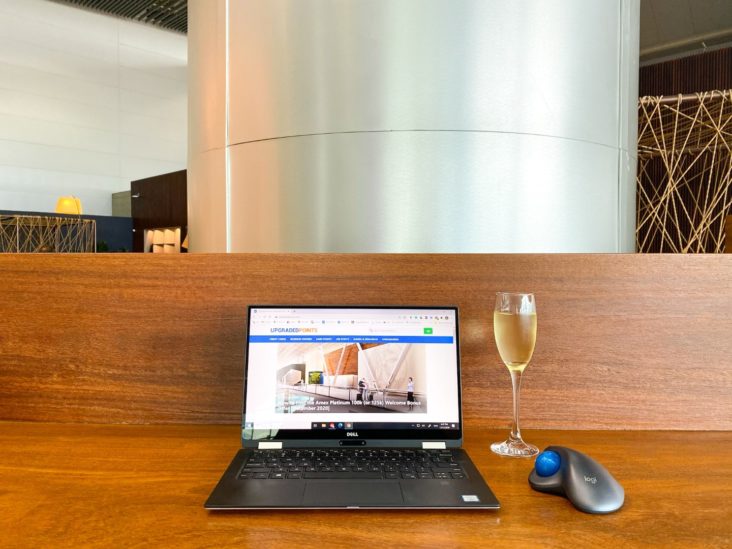 The wireless internet in the Espaço Banco Safra Lounge was fast, easy to access, and had a strong connection. Even after I left the lounge, I was still receiving a signal down below in the terminal.
Not having a lounge full of other passengers using the same signal certainly helped, but I was able to work and post on social media with no issues, which was what was most important for me.
Quiet Room
Beyond the dining area (which was closed), was a quiet room that can be used when the lounge is full for people who want to escape the hustle and bustle of passengers chatting on their phones.
Unfortunately, that area was temporarily closed, but since the lounge continues to be empty and quiet, most people will be comfortable anywhere in the lounge.
Workspace Options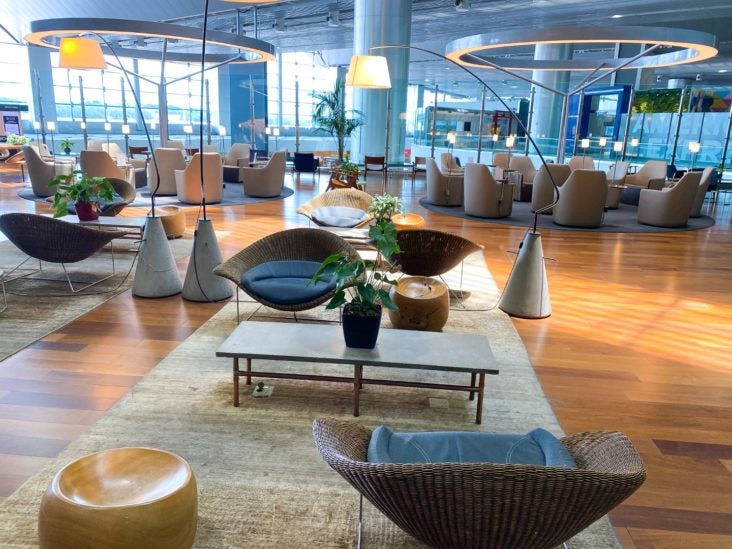 While there were certainly plenty of seating options, none of them were especially accommodating as a workspace.
Most of the chairs appeared to be geared towards form over function, and while most were quite good-looking (I admit that they were quite comfortable, as well) they were not, however, made for working.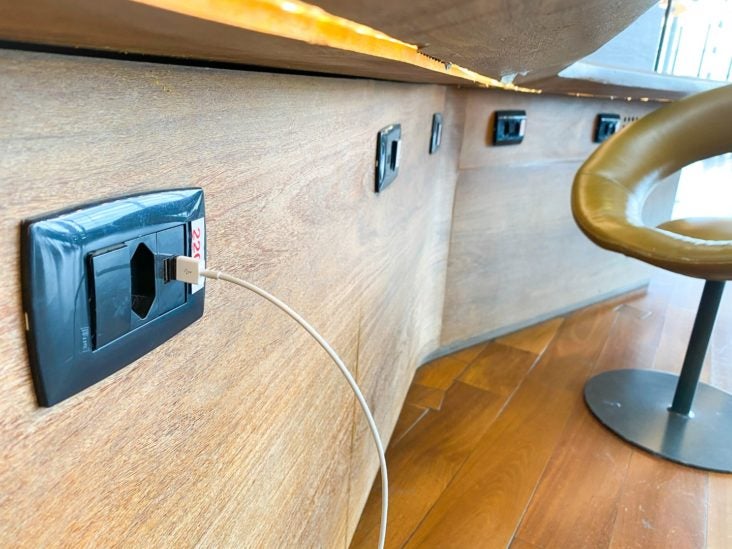 The best areas for getting some work done seem to be the dining tables or at the bar. I opted for the bar because it actually offered more privacy and had easier access to outlets.
Showers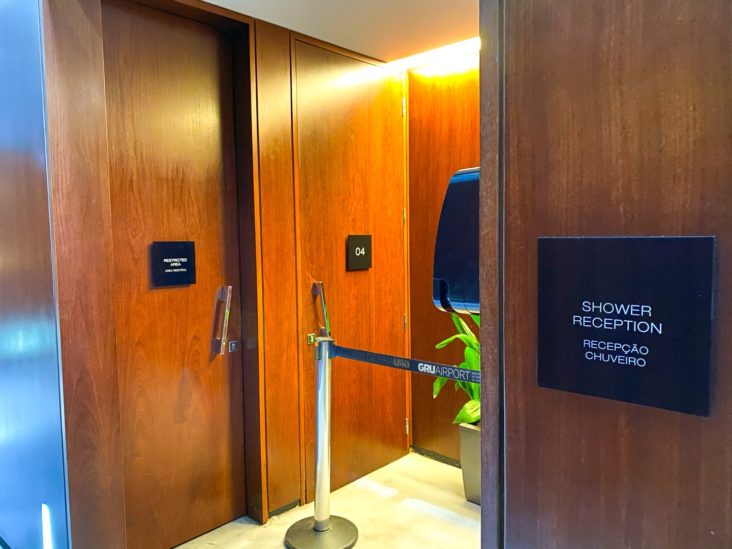 The Espaço Banco Safra Lounge does have a shower facility, however, it was closed during my visit.
Baby Changing Room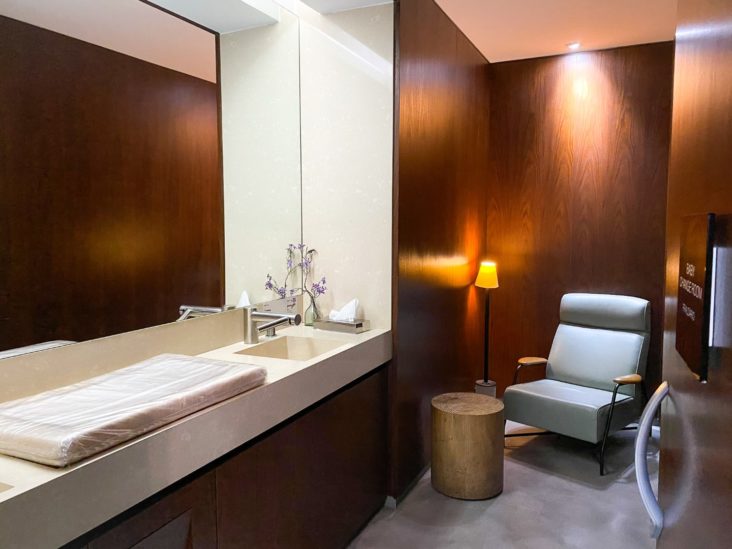 One nice feature that I can certainly appreciate as a travel-addicted parent was the large, private, and clean baby changing room.
In many airport situations, my wife and I find each other shuffling the kids back and forth so one of us can go bring one of the kids to the bathroom to get changed.
The Espaço Banco Safra Lounge has a lovely and spacious changing room where the whole family can enter (a big deal!) and the door can close, which is always important in case you get a runner while changing the other's diaper!
Staff and Service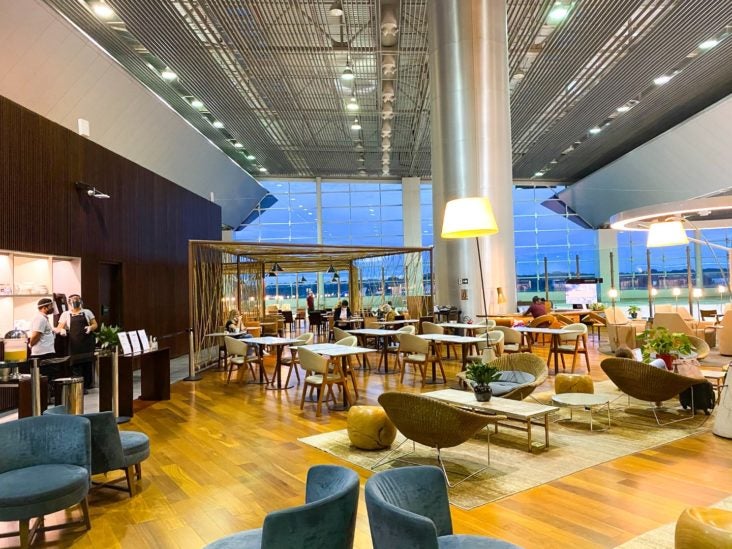 The Espaço Banco Safra Lounge at São Paulo Guarulhos International Airport was built for and was used to serving over 1,000 passengers per day. As of early December 2020, they were averaging only 100. A staggering 90% drop.
As you can imagine, the staff has been severely reduced, but during my 10-hour visit, I was able to chat with many of them over the course of their shifts.
All of the staff that I encountered were extremely friendly, helpful, and professional. Just like the rest of us, they are trying to get through this pandemic 1 day at a time and every passenger that walks through the doors is a sign of better times ahead.
I spent most of my time with the bartender who was eagerly making caipirinhas for the few guests in the lounge and always did so with a smile.
COVID-19 Protocols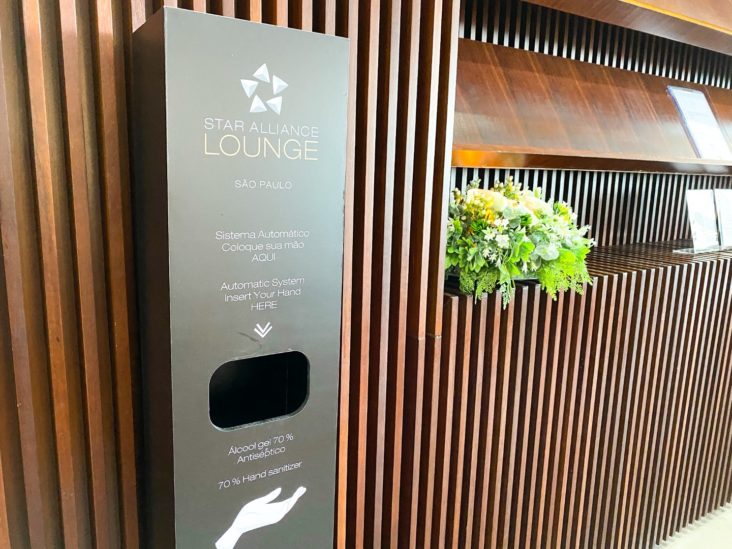 No review in 2020 would be complete without mentioning coronavirus protocols, right?
As expected, there were plenty of precautions put in place to create a safe environment for both passengers and staff.
Sanitizer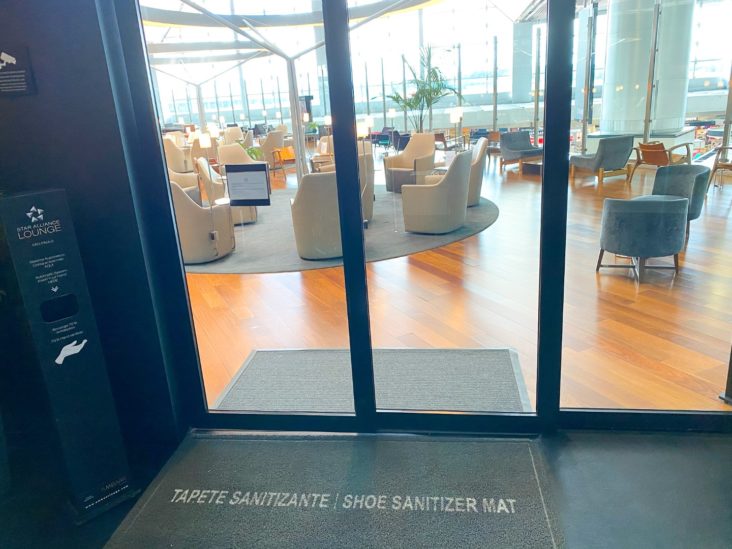 Upon arrival at the lounge, there was hand sanitizer available, as well as a sanitizing welcome mat to clean your shoes.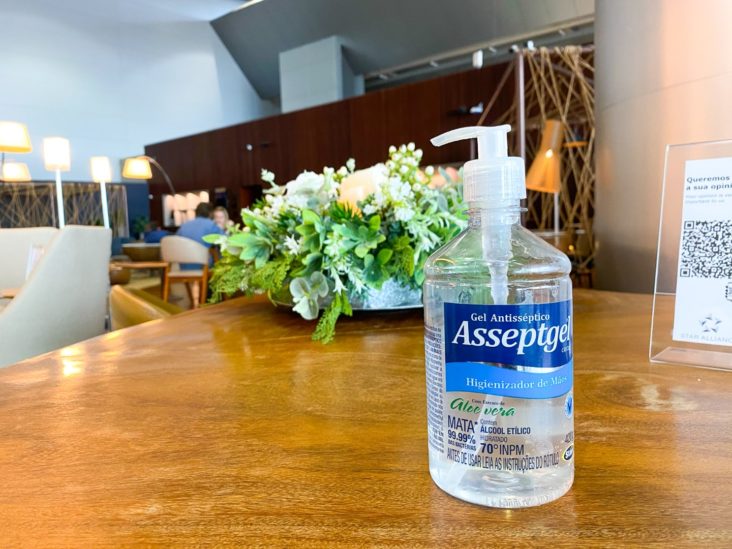 Throughout the lounge, there are plenty of sanitizing stations and smaller hand gel pumps available.
Face Masks
Face masks are required in the lounge at all times except when you are eating or drinking in your seat.
Mask compliance was very good amongst the handful of other passengers that were in the lounge.
Extras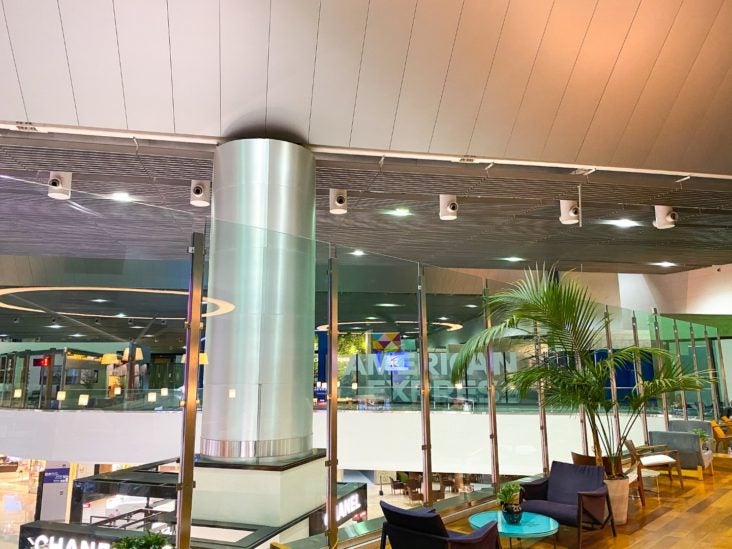 Although these following items were around before the pandemic, with an increased focus on virus transmission through the air and lack of washing hands, I found them quite important.
The first was the overall design of the lounge (and all of the lounges at GRU for that matter). The lounge was completely "open" as the only roof it had was the shared ceiling of the terminal which was extremely high. This allowed for increased airflow, which we all know is extremely important nowadays.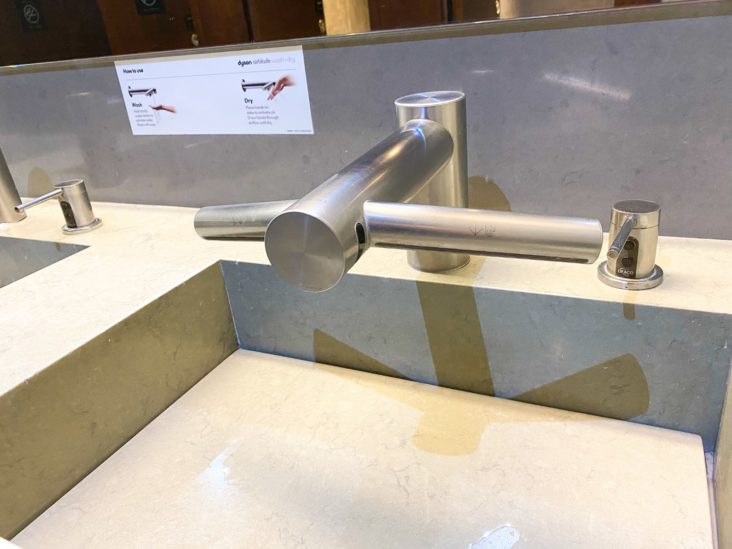 The second was more of a cool factor, but also sanitary — the Dyson Airblade Wash+Dry sinks in the bathrooms.
These sinks allowed you to wash your hands and then dry them in the same spot without touching anything. Again, very cool, but also clean!
Final Thoughts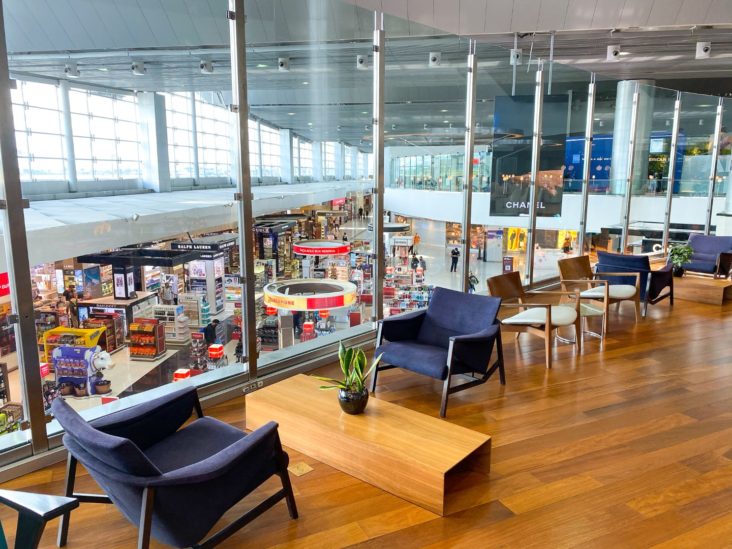 The Espaço Banco Safra Lounge at São Paulo Guarulhos International Airport (GRU) was a very solid lounge that I will certainly visit again, as well as recommend to friends and family.
The combination of strong Wi-Fi, a solid bar, and decent snacks make it a pretty comfortable spot to wait for your flight in the normally hectic Terminal 3 of GRU. Add in the fact that you can snag some pretty comfortable chairs overlooking the main terminal and you will be in people-watching heaven.
Although there is no dedicated kids' room like at the neighboring American Express Lounge, parents will be happy to know that there is a very convenient baby changing room available.
Since many readers of Upgraded Points will be able to access this lounge for free thanks to their Priority Pass membership, stopping by this lounge is a no-brainer the next time you find yourself connecting in São Paulo.