United Polaris Lounge at Chicago O'Hare International Airport [Review]
Note: Due to COVID-19, the United Polaris Lounge at ORD (Terminal 1, Concourse C) is temporarily closed.
As part of my whirlwind trip between Rio de Janeiro and Boston, I found myself flying 3 different airlines and visiting about a half-dozen airport lounges. A tad exhausting, but also great for people like me who love checking out new lounges!
While the Plaza Premium Lounge at GIG was the highlight of the lounges that I visited in Brazil, it didn't hold a flame to the gorgeous Polaris lounge that I had the pleasure of experiencing at Chicago O'Hare International Airport (ORD) on my way home.
Unfortunately, for me, I only had a little over an hour to enjoy the Polaris lounge. That left just enough time to take some pictures, have a few drinks, and enjoy a 3-course meal before boarding my flight to São Paulo.
Given the opportunity, I would happily spend an extended amount of time in this lounge. Let me explain why.
What Are United Polaris Lounges?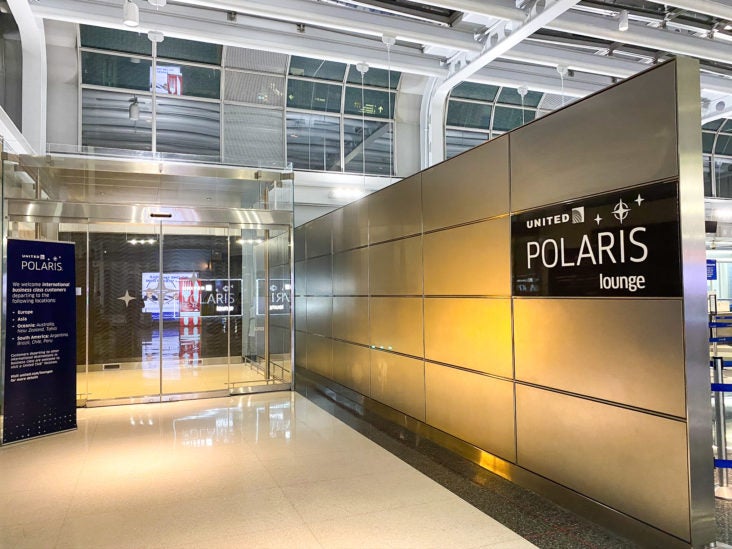 United Polaris lounges are the latest and greatest lounge offerings by United Airlines, not to be confused with United Club lounges.
United launched its new Polaris program as a "reinvention" of its premium cabin product in late 2016 with upgraded seats, restaurant-quality dining, and elevated service and amenities. The experience starts on the ground at the beautiful Polaris lounges.
Polaris lounges are currently open in:
Passengers flying United Polaris business class on long-haul international flights, as well as certain Star Alliance business and first-class passengers, have access to these lounges.
United Polaris Lounge — Terminal 1 at ORD
Location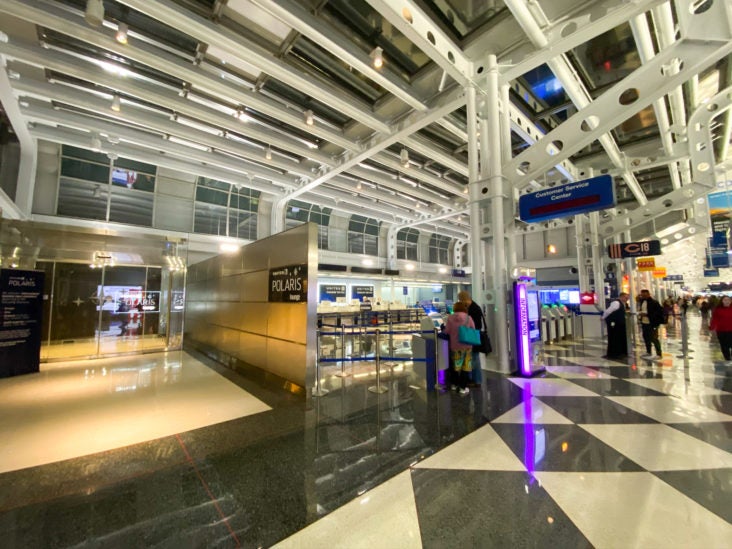 The United Polaris lounge at ORD is located in Terminal 1 in Concourse C inside of security, right next to gate C18 — which was perfect as that was my gate.
There is also a United Club lounge next to gate C16, so just be sure to not confuse them or you will likely be quite disappointed after reading this review!
This United Polaris lounge is open from 7:15 a.m. until 9:00 p.m. daily.
Gaining Entry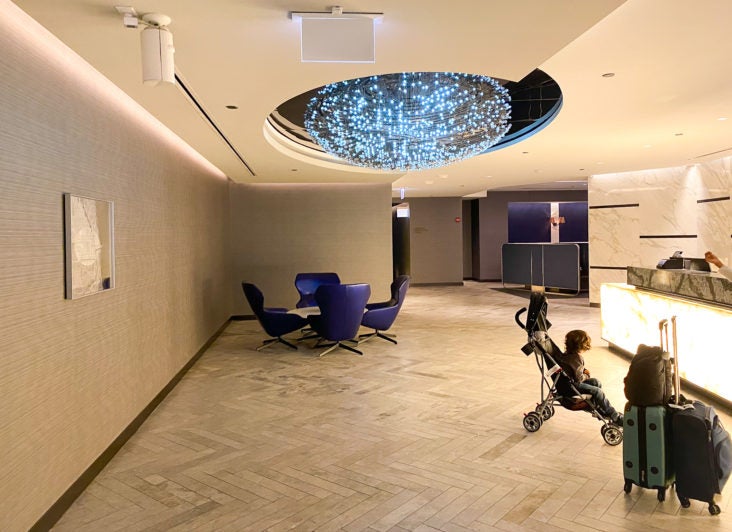 Since I was flying United Polaris business class from ORD to Sao Paulo International (GRU), I knew that I would have access, so all I needed to do was scan my boarding pass and I was welcomed in.
If you are flying United Polaris (not regular business class) on a long-haul international flight, you can use this lounge before departure, during connections, or even upon arrival.
If you are flying on a Star Alliance partner in business or first class, you can access this lounge only if you are departing from this airport. Connecting and arriving passengers are not allowed access.
First Impressions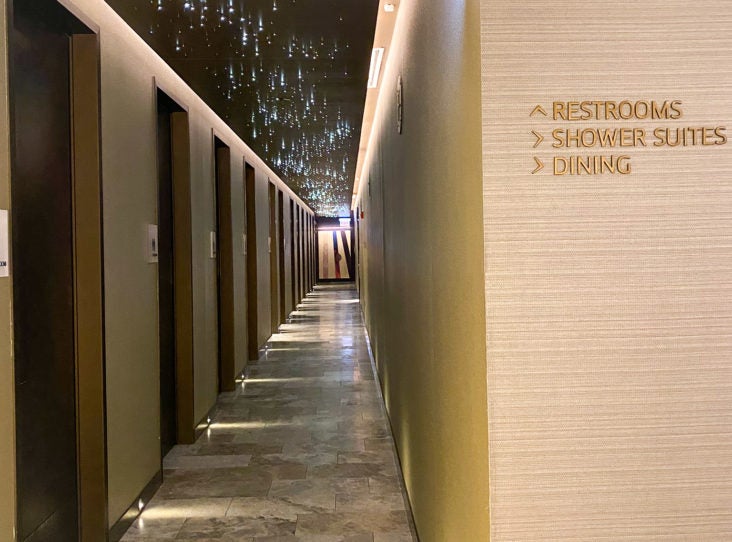 My first impression upon walking into the lounge was, "Wow, I already wish I had more time to spend here!"
I arrived in the evening, so all of the lights were dimmed. Blue accent lights highlighted different areas and stars on the ceiling created a sense of relaxation before even getting settled in the 15,000+ square foot lounge.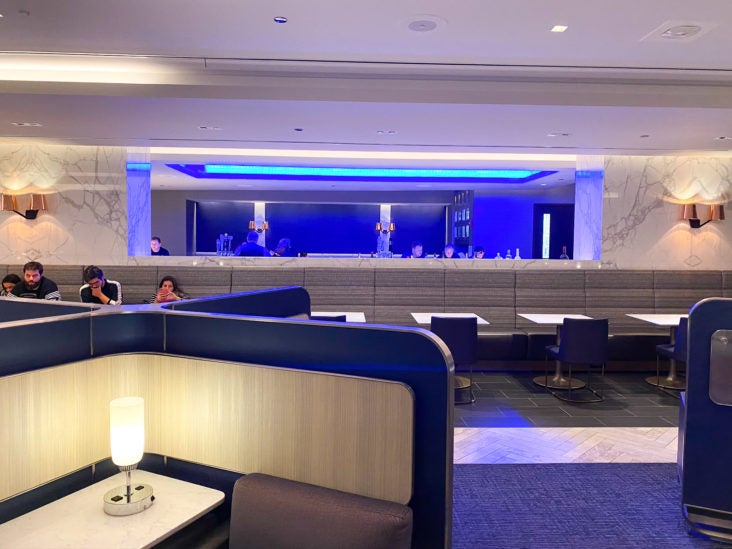 For me, the problem with nice lounges is that no matter where I decide to sit I will always think that there is probably a nicer seat available somewhere else — and that was no different here because there were so many seating options.
Seating
When you walk in the lounge and turn right, you will be immediately presented with dozens of seating options.
If the lounge is crowded, I could see grabbing one of these tables along the wall. However, there are much better options available.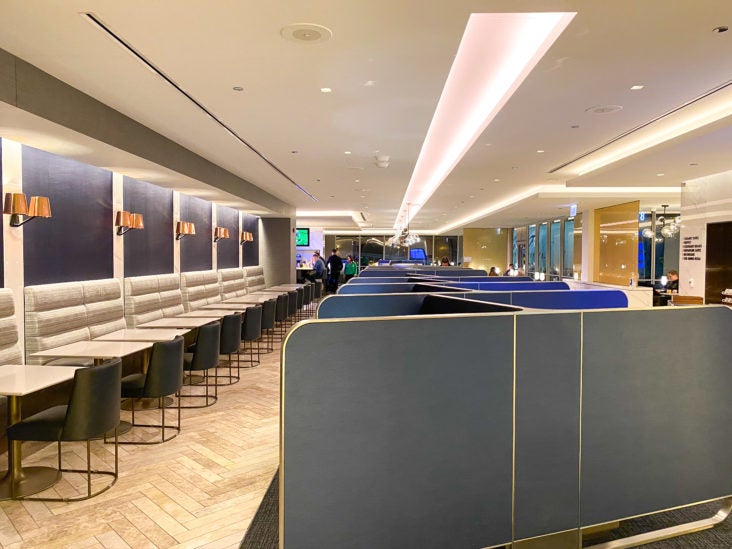 For solo travelers, there are these nice pods available with oversized chairs and a slide-out table to get some work done on.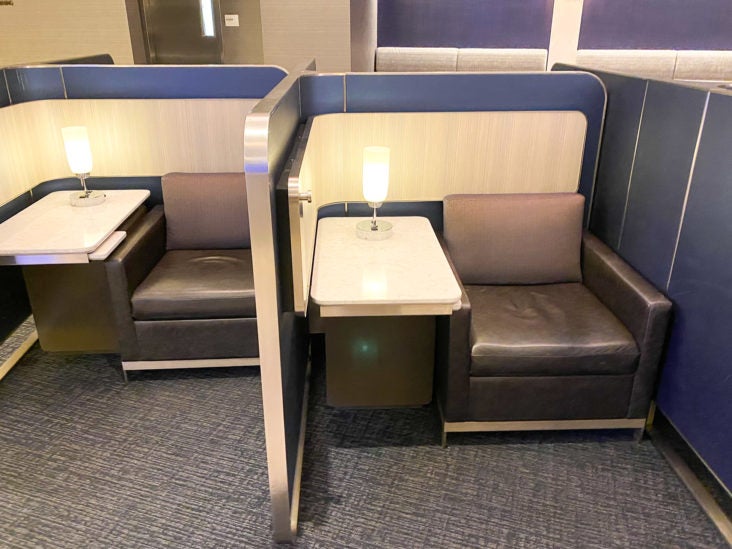 If you are traveling with friends or family, I would suggest trying to grab some of these chairs and tables set up with incredible tarmac views.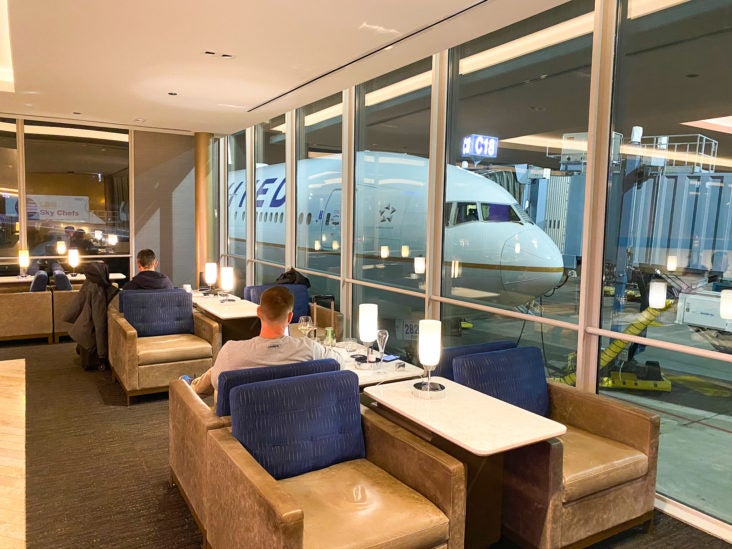 For those who want to watch some TV or prefer the movement of the bar, there are barstools along the gorgeous bar as well as small tables spread along the perimeter.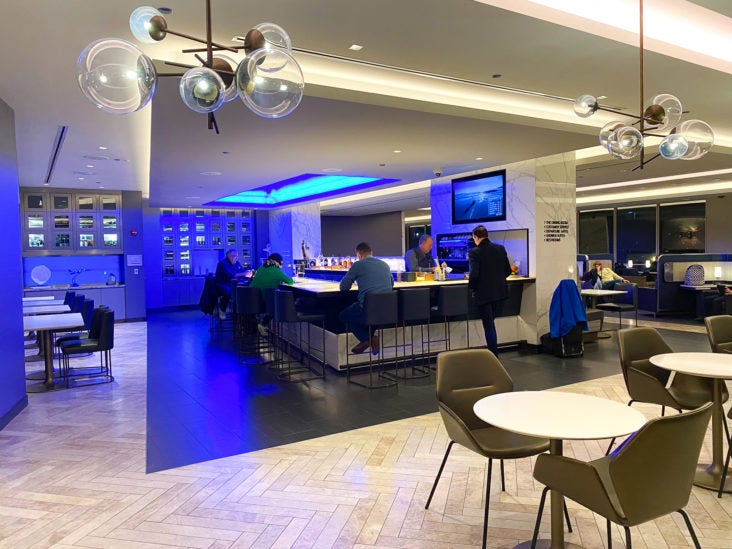 Around the back of the lounge, you will find more of these sofa-style lounge chairs, which may be a quieter option if the lounge is busy.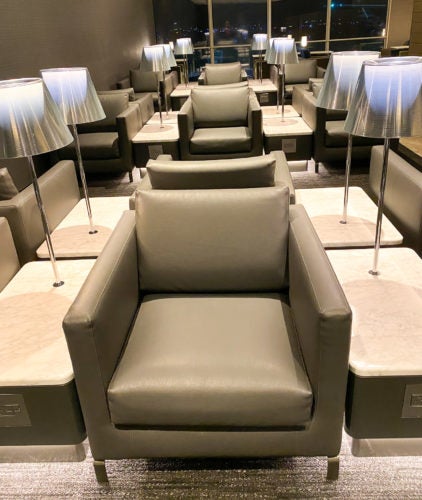 Since I was short on time, the best option for me was actually in the dining room. I opted to take a booth for myself since the lounge was so empty.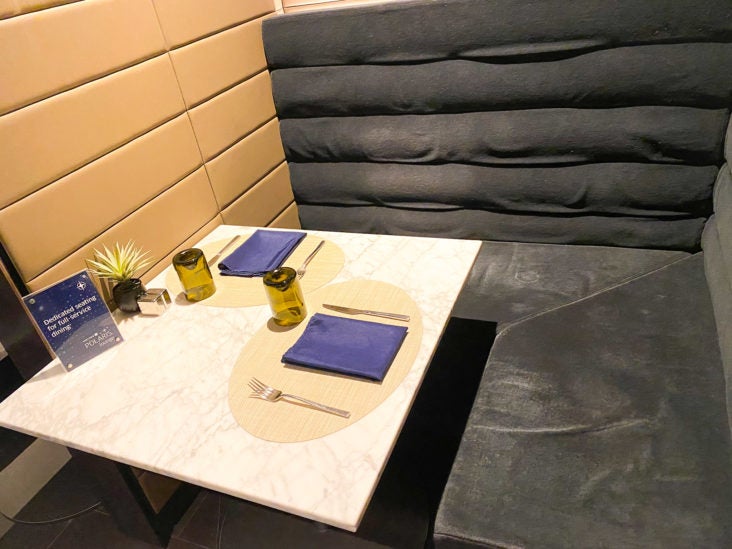 Food and Beverage
For me, the food and beverage was the star of the show at the United Polaris lounge at ORD.
If you are hungry, you have the option to grab something quick at the buffet or sit down in The Dining Room.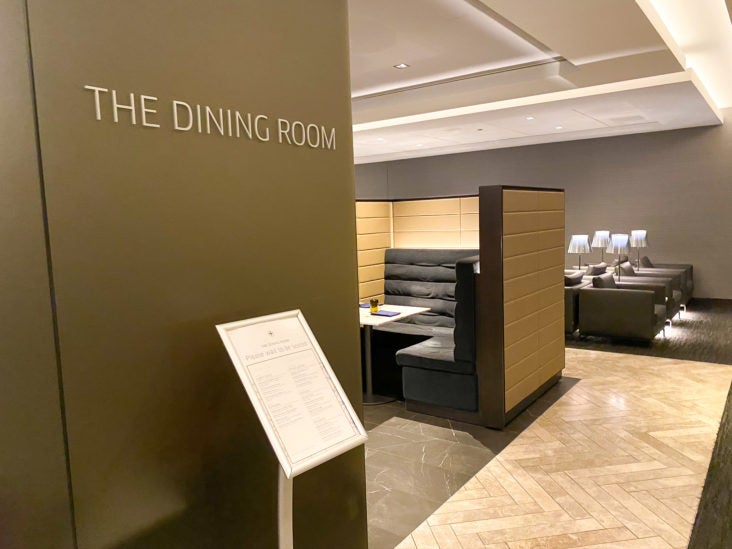 Buffet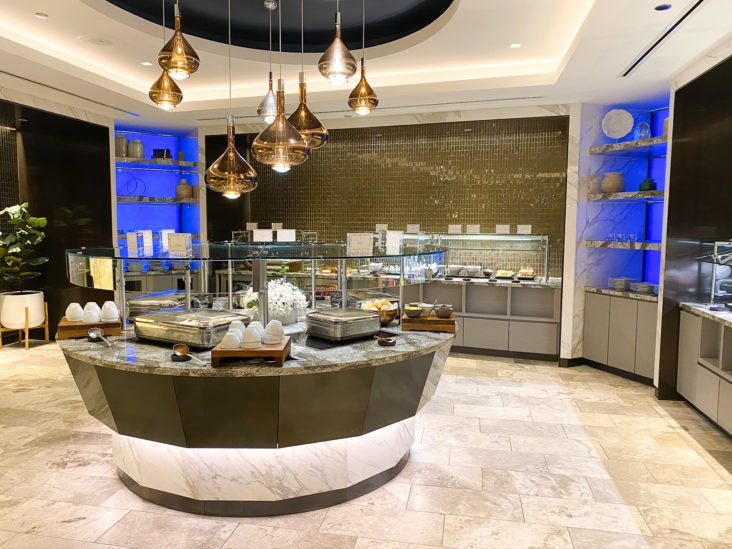 For an American airline lounge buffet, the United Polaris lounge was pretty darn good.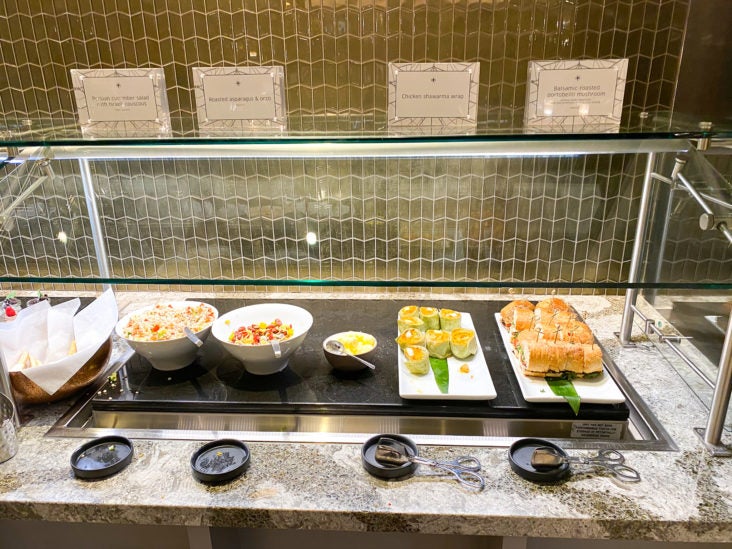 There was an excellent selection of hot options, salads, sandwiches, snacks, and desserts — and they all looked fresh and delicious. A far cry from my recent options in Rio.
But you didn't come here to read about a buffet review, let's check out The Dining Room.
The Dining Room
The Dining Room is a restaurant-inspired, full-service dining option complete with menus and waiters. Any passenger with access to the Polaris lounge can enjoy a meal here for no extra cost.
Passengers can have the option to sit in a private booth or a table with chairs.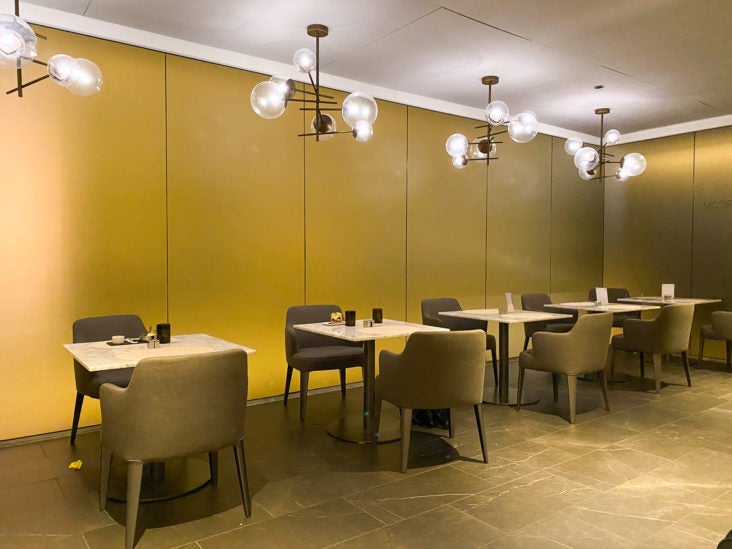 I was immediately greeted by a server who handed me a menu and offered to get me a drink while I looked it over. I kept thinking to myself, "This is a lounge operated by a U.S. airline?!"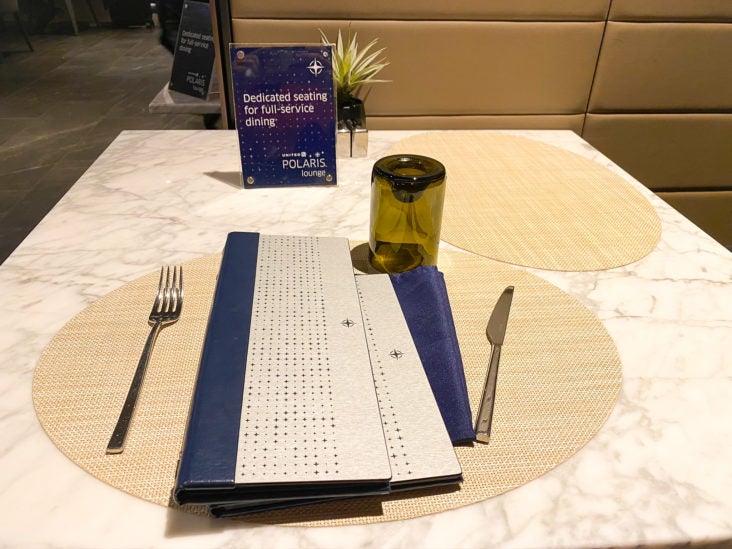 Menu
The menu was very complete with multiple options for drinks, small plates, entrées, and desserts. There were also vegetarian and gluten-free options as well.
The menu sections included:
Cocktails
Wine
Spirits (including WhistlePig!)
Breakfast Light Bites (served until 11 a.m.)
Breakfast Entrées (served until 11 a.m.)
Lunch and Dinner Small Plates
Lunch and Dinner Entrées
Dessert
I started with a glass of Piper-Heidsieck 1785 Cuvée Brut Champagne, which retails for about $50 per bottle.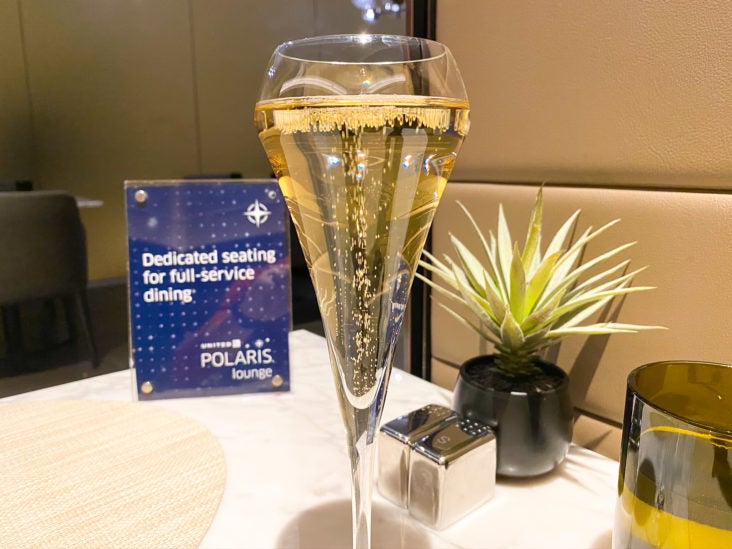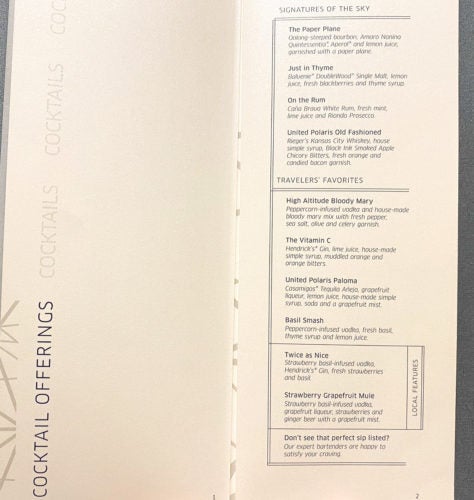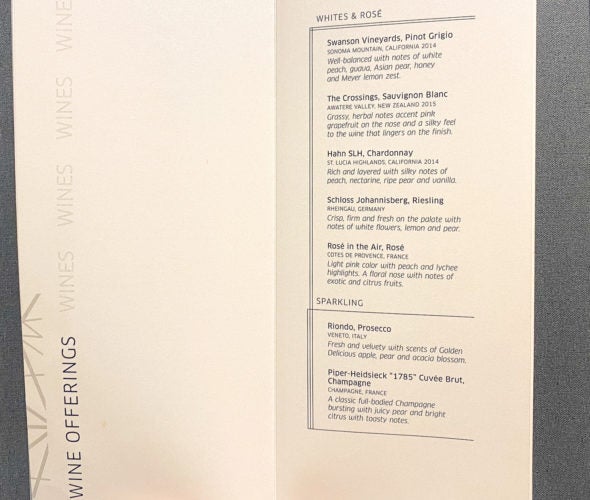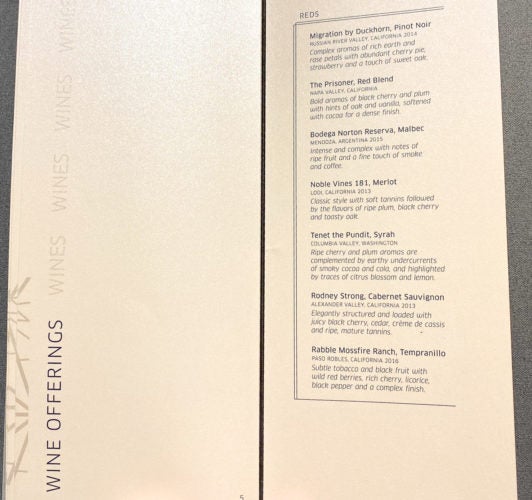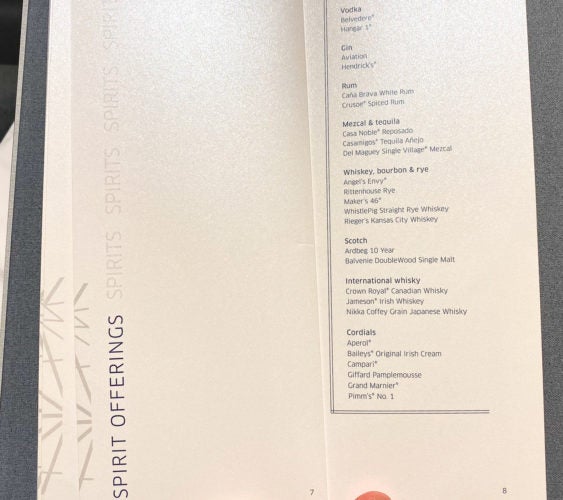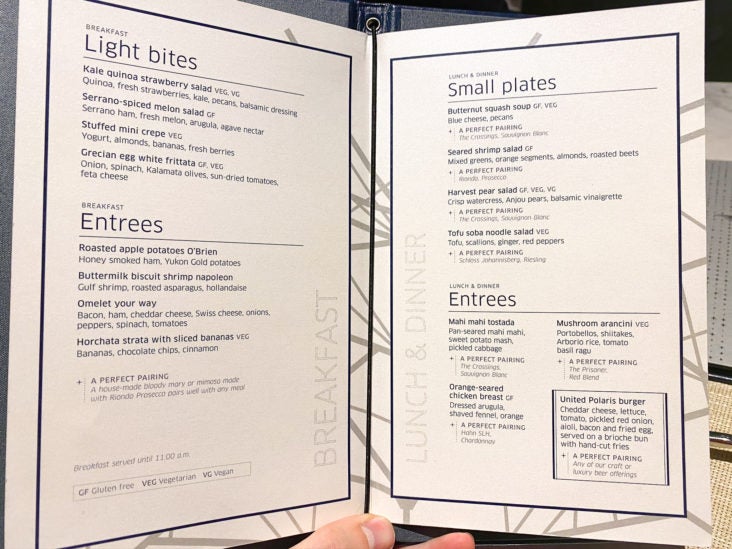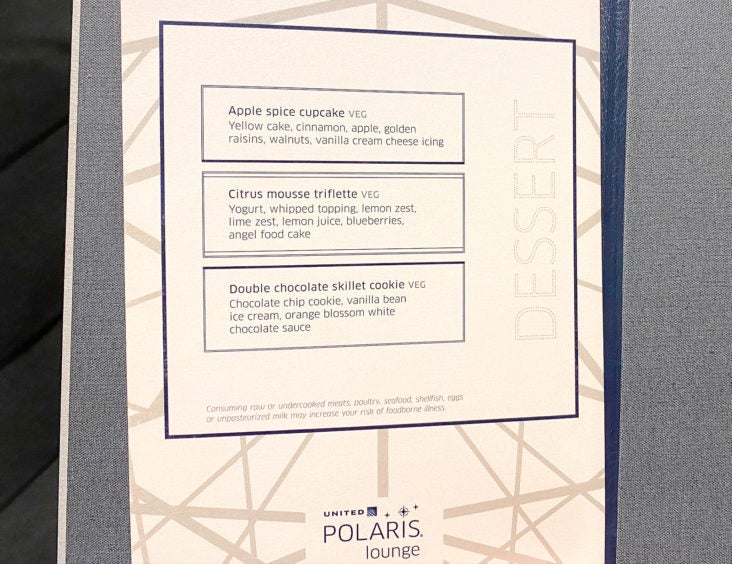 Appetizer
Although the butternut squash soup sounded delicious, I decided to order the harvest pear salad to try and keep things light. I was, after all, still planning on eating on my flight, too!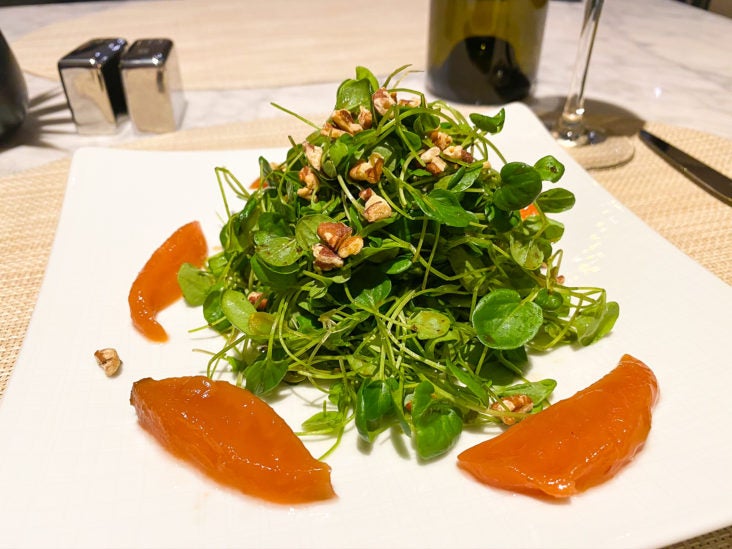 I am happy to report that the salad was fresh and flavorful.
Entrée
While under normal circumstances I would have easily ordered the United Polaris burger and washed it down with a Samuel Adams draft beer, I was showing self-restraint that evening for some reason.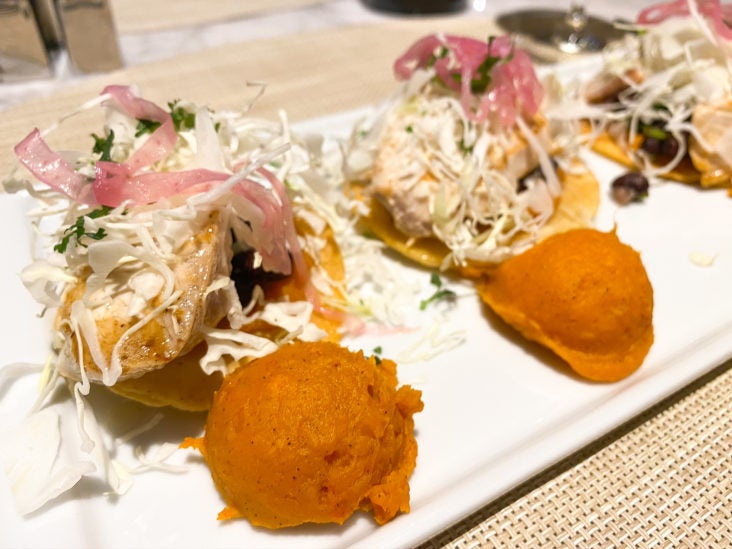 For my entrée, I decided to go with the mahi-mahi tostada with sweet potato mash, which reminded me of fish tacos — which means they were delicious.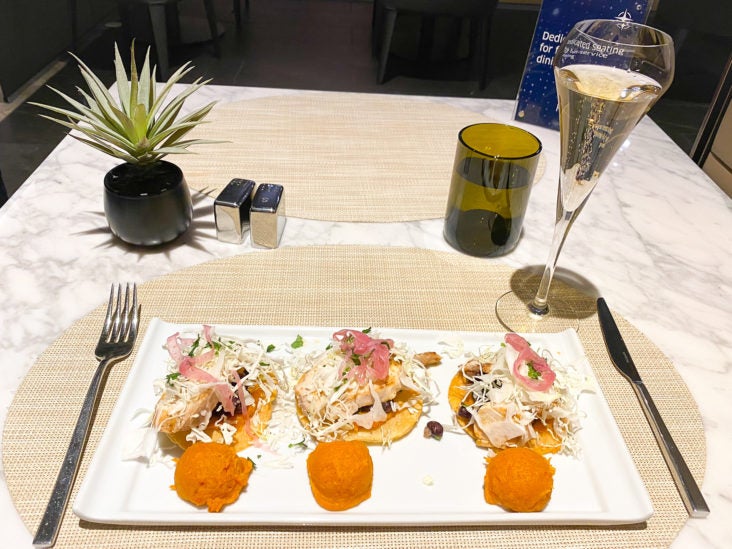 Dessert
Since I had been so restrained for the first 2 courses, there was no holding me back when my waiter described the double chocolate skillet cookie.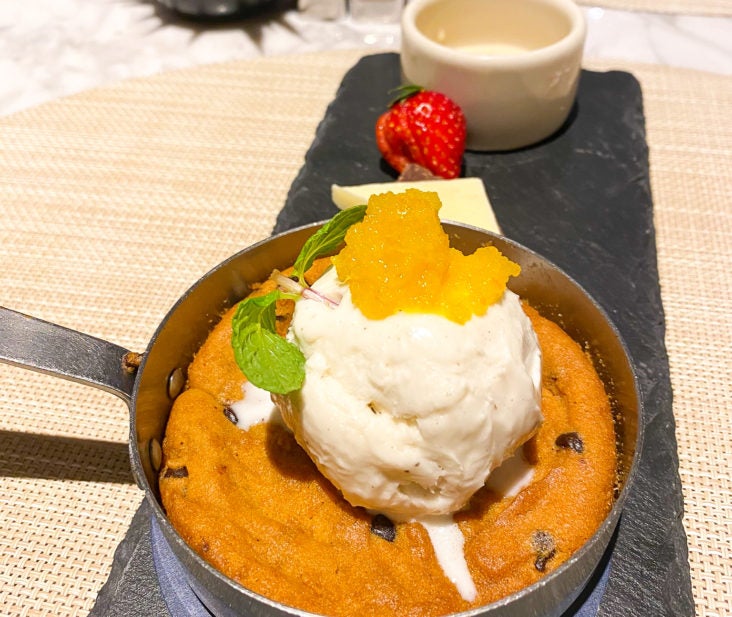 Just typing out that name is enough to make my mouth water.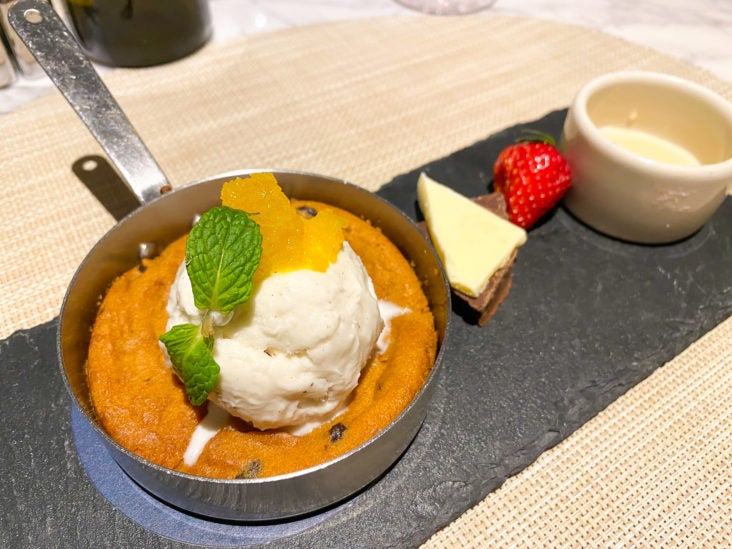 Pictures don't do it justice. It was fresh out of the oven, smelled incredible, and was served with vanilla bean ice cream, orange blossom white chocolate sauce, and some chocolate and a strawberry on the side – so delicious.
I paired that with a glass of Napa Valley red and walked around the lounge so that I wouldn't fall asleep in my booth!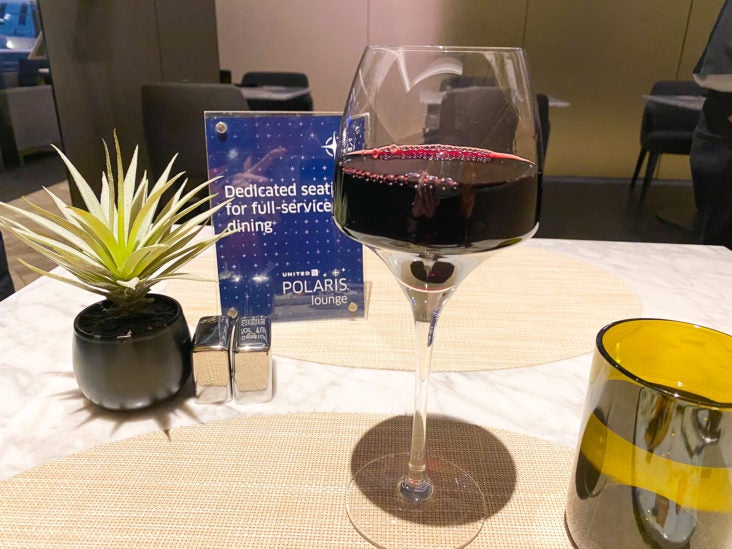 Amenities
As expected, the amenities list at the United Polaris lounge at ORD is quite comprehensive.
Unfortunately, my visit was brief, so I didn't get to test them all as I was clearly focused on the food and beverage. However, here are my impressions of what I did experience.
Wi-Fi
The wireless internet in the Polaris lounge was fast and easy to access. The fact that I don't remember much about it is a good sign because I tend to only remember my struggles with slow internet.
I was only using my phone for social media purposes, so nothing too heavy, but I was able to upload photos and videos with ease.
Workspace Options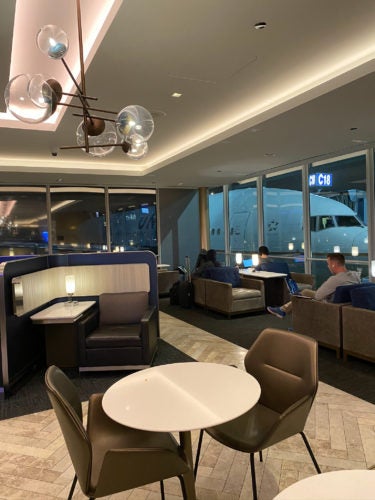 One thing that I did notice was the abundance of excellent workspace options.
If you look closely at the seating photos above, you will notice almost all of them have a nice spot to place a laptop and an outlet nearby.
Pair that with some strong Wi-Fi, and you could spend hours working in this lounge with no issues.
Showers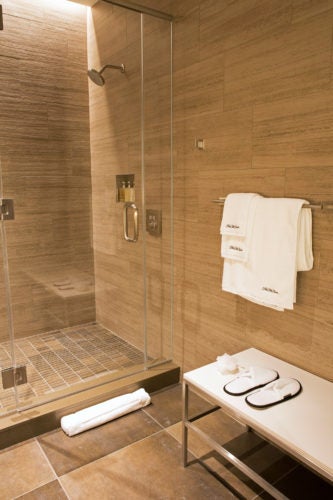 Since I was tight on time, I didn't get to test out the shower. If it is anything like the Polaris lounge in IAH that I used, it was very nice and above average for U.S. airline lounges.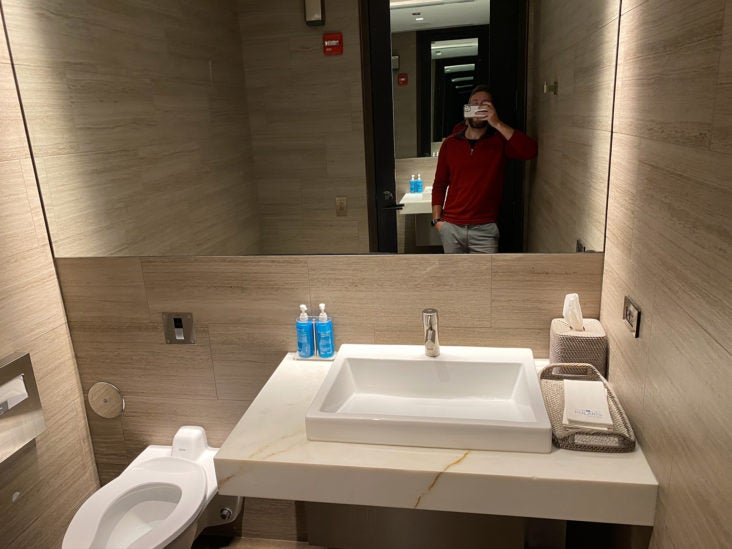 I did check out a bathroom, and it was indeed quite nice — and private.
Daybeds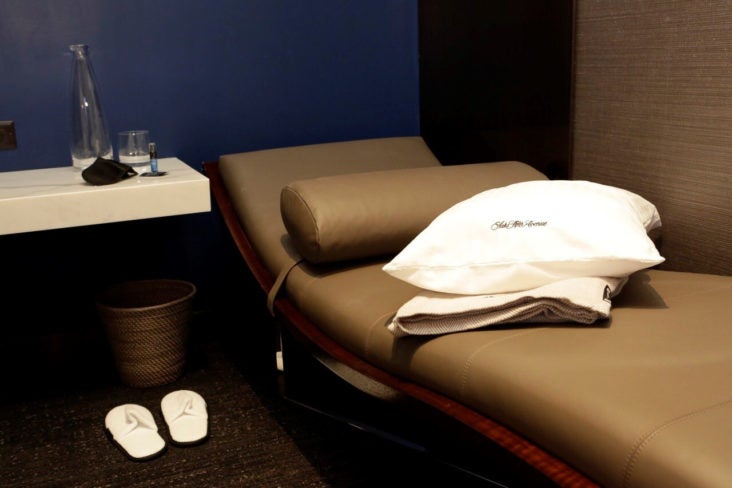 Another nice amenity offered at Polaris lounges is the option to use a daybed.
They aren't real beds, more like a curvy lounge chair, but you can use them in a private room to get some rest before your flight, which is a great perk.
Staff and Service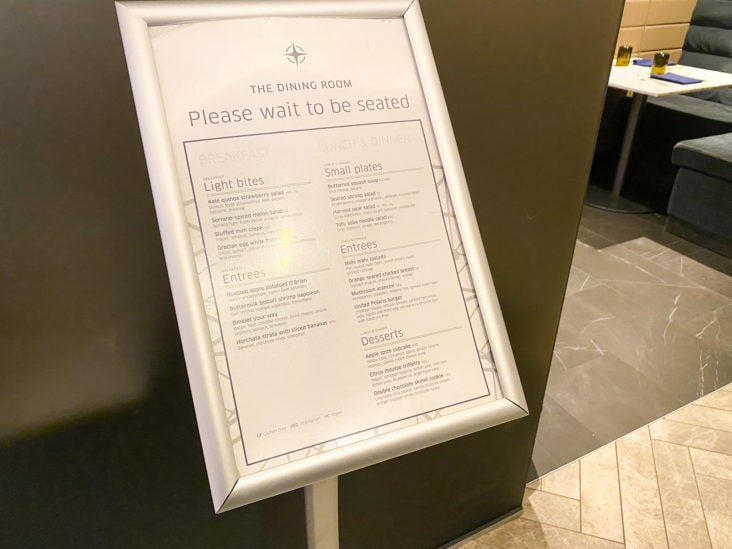 One of the highlights of my visit to the United Polaris lounge at ORD was the service I received from my waiter in The Dining Room.
I honestly felt like I was eating at a fine-dining restaurant. His professionalism, yet casual demeanor, explaining the menu and making suggestions really elevated the dining experience.
If the food was good but the service was bad, I certainly would not have enjoyed my visit as much as I did.
Final Thoughts
Overall the United Polaris lounge at ORD was excellent and I can't wait to visit again.
The design, layout, food, and service were all top-notch and better than almost anything you can find at a U.S. airport run by a U.S. airline — and I didn't even get to experience everything they had to offer!
To me, the sign of a good lounge is if you wouldn't mind getting stuck there for hours if your flight was delayed. And to be honest, I was really hoping my flight would get delayed because I was enjoying myself so much there!
I already have a flight scheduled for next year that will bring me and my family through the lounge and they are looking forward to it as much as I am because I haven't stopped talking about how good the lounge is.
The bottom line is, if you are flying through Chicago O'Hare International (ORD) and have access to this lounge, you should make a point of visiting.