London Heathrow Airport (LHR) Star Alliance Lounges [Reviewed]
Before jetting off on Singapore Airlines' new A380 from London Heathrow Airport (LHR), my partner and I were faced with the decision of which of the 4 Star Alliance airline lounges to visit in the new Queen's Terminal 2 complex: Singapore Airlines, Air Canada, United Airlines, or Lufthansa.
It's possible to visit all of the lounges as Star Alliance dictates that all business class passengers and Star Gold passengers can use any carrier's business class lounges and all first class passengers can use any carrier's first class lounge.
Naturally, I wanted to visit all of them, however, the Lufthansa lounge caters to the shorter European flights and is located in the main 2A terminal building and the other 3 are located in the satellite 2B terminal.
The transit takes at least 18 minutes walking at a brisk pace. Perhaps it's a good way to stretch your legs before a long-haul flight? It also means you'll need to allow at least 3 hours at the airport if you want to experience all 4 lounges. Sadly, we didn't have enough time this visit all of them, so we decided to check out the 3 lounges in the 2B terminal.
The walk between both terminals takes you down a huge escalator under the tarmac, along several moving sidewalks (when traveling on them you can't see where the last one ends) and finally up another long escalator.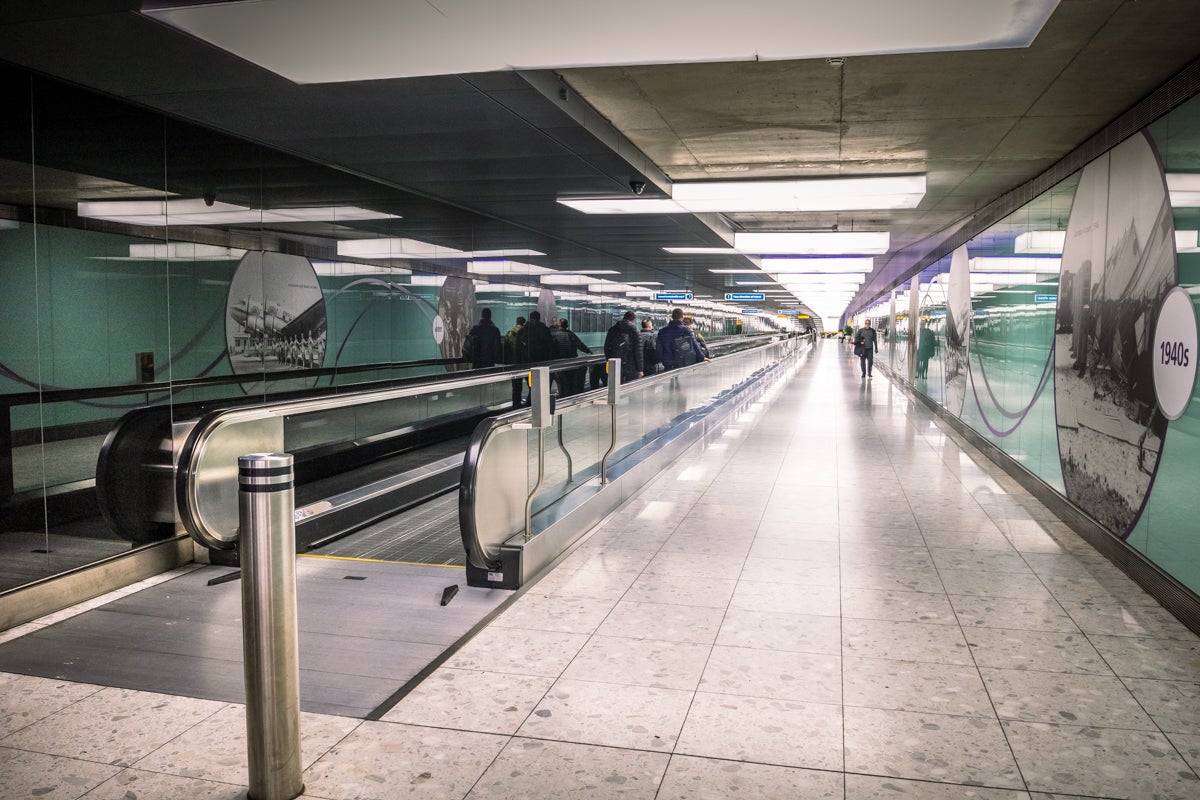 Once you exit the last escalator, the entrance to the Singapore Airlines and Air Canada lounges are close by.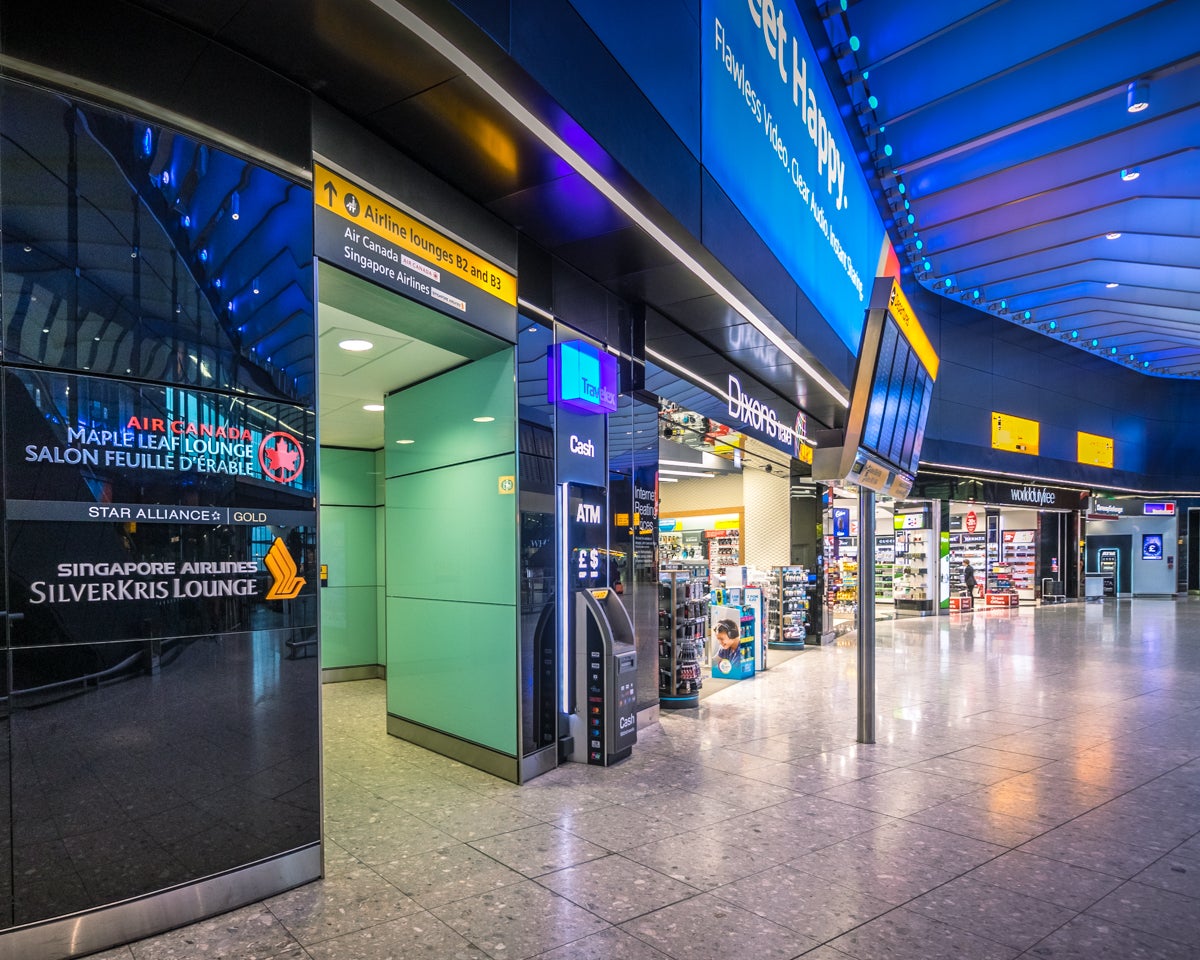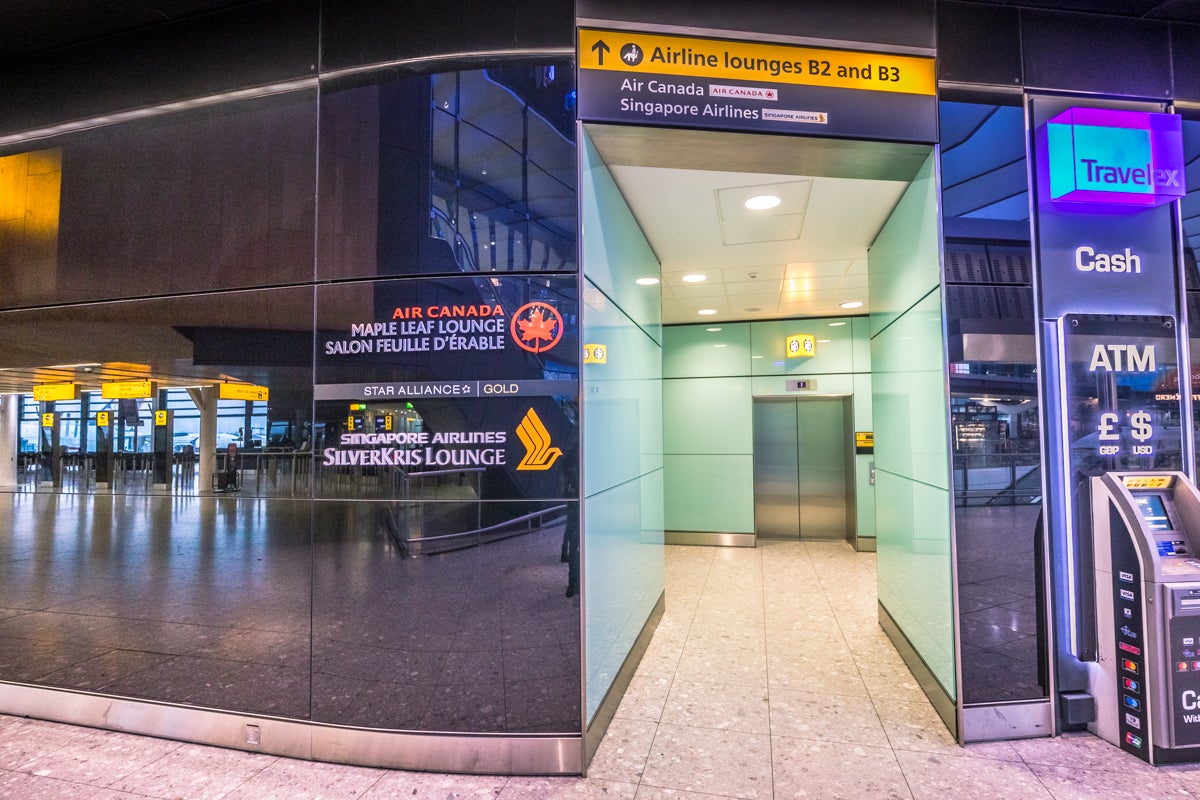 For more information on navigating this large airport, check out this guide on how to get between terminals at LHR.
Singapore Airlines SilverKris Business Class Lounge London Heathrow
Hours: Open daily from 5:30 a.m. – 22:00 p.m.
Closest Gate: B36
Seeing as we were flying Singapore Airlines, we decided to visit the SilverKris lounge first. The airline's signature batik design screen, as found across Singapore's newest lounges, welcomes passengers entering the lounge.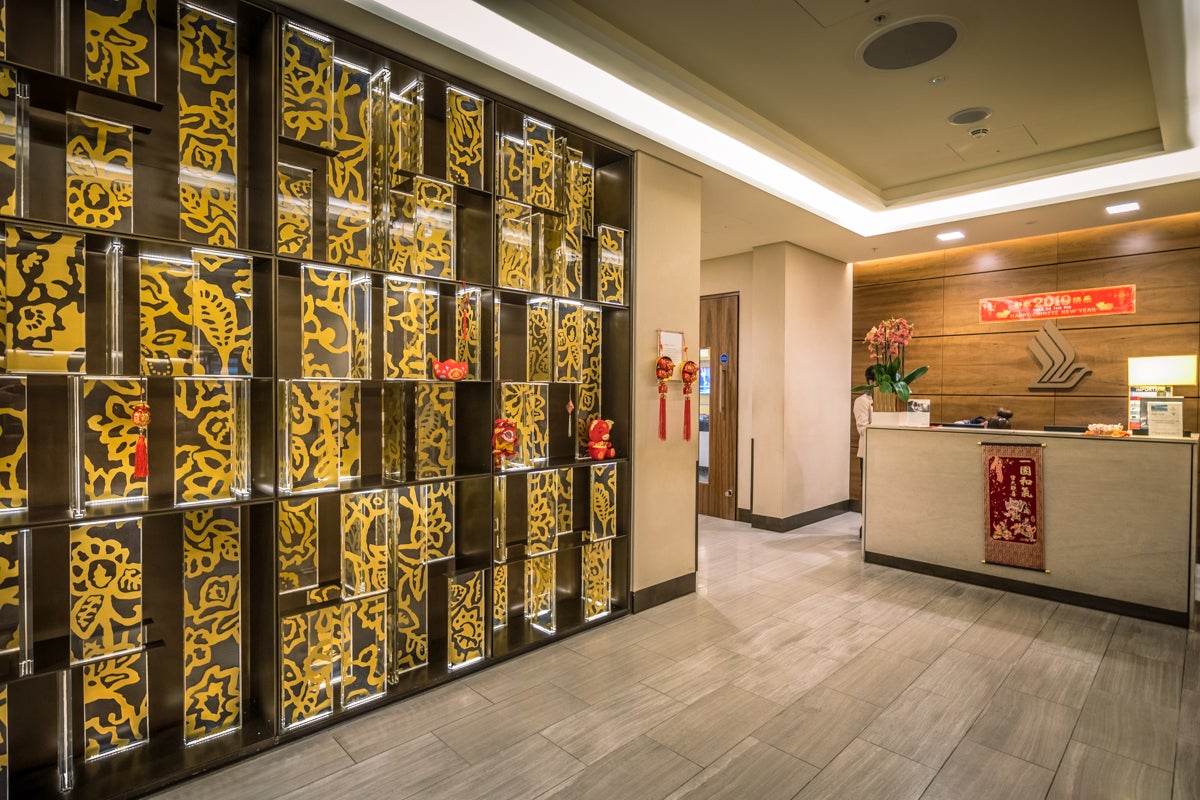 The lounge is split in half — business class passengers enter the lounge to the right of the reception counter and first class passengers to the left, which our class of travel today didn't allow access to.
Singapore currently operates 4 flights a day from LHR with our SQ317 second to depart at 11:25 a.m.
As you enter the business class section, you walk straight past the buffet. It has a decent selection of 5 hot food options.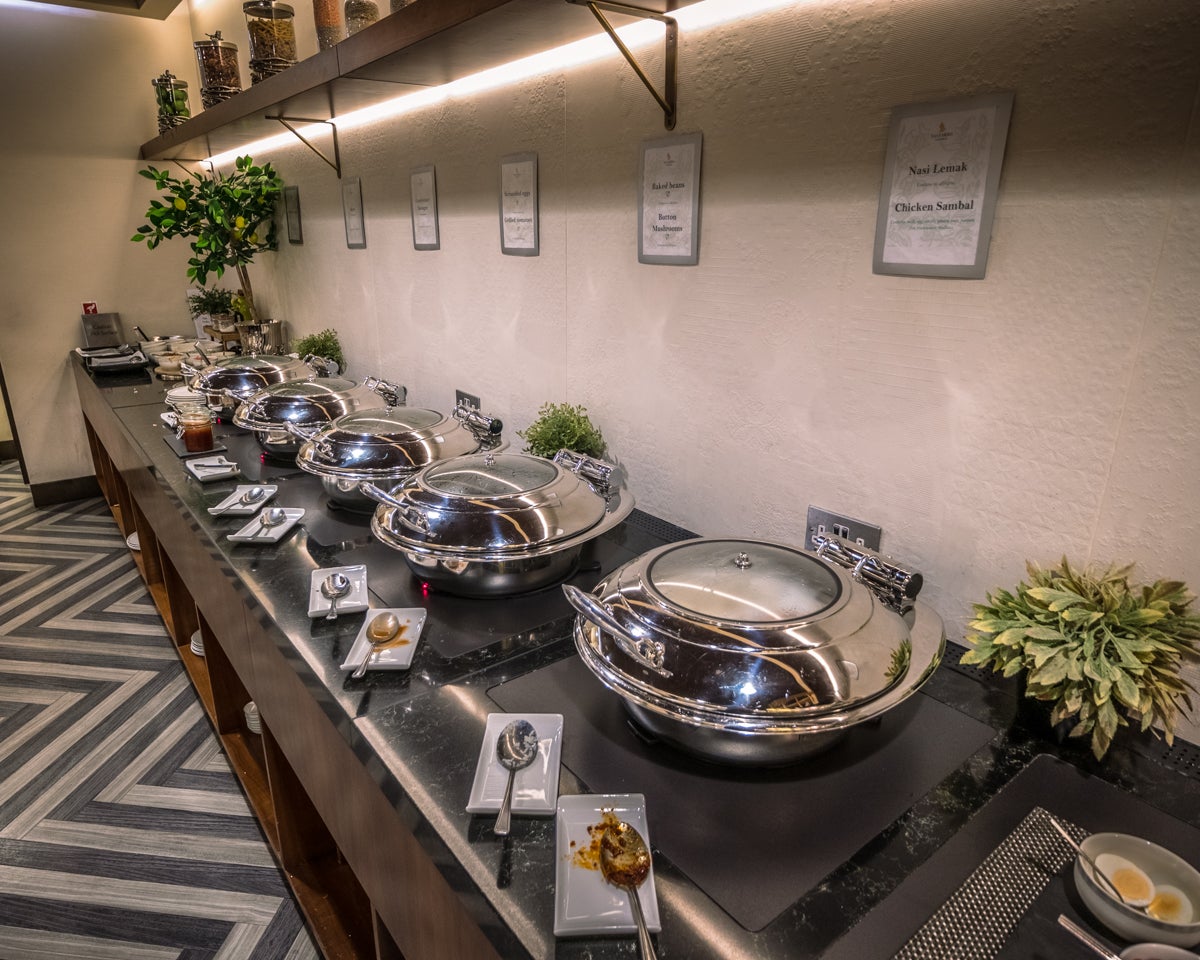 There was a selection of pastries and juices. If it wasn't time for breakfast, I would have tried the Singapore Sling ice cream, which sounded amazing!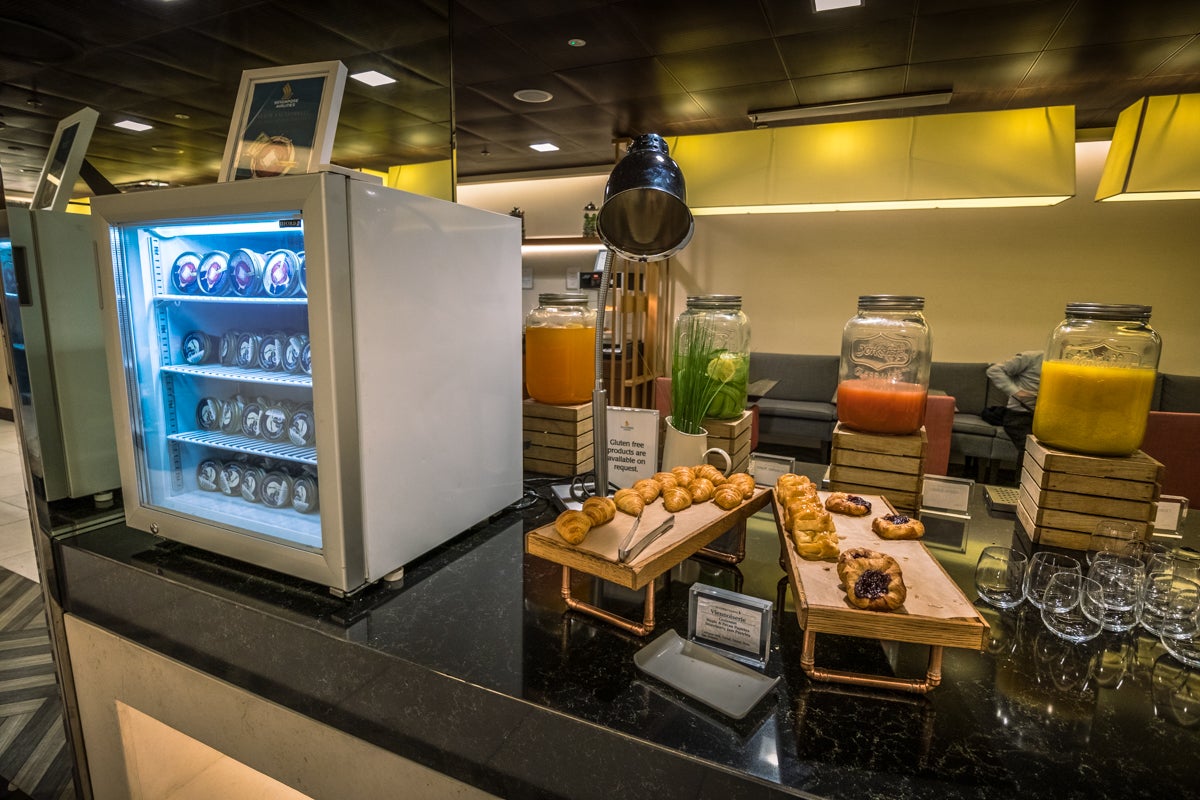 Salads, muesli, smoothies, and yogurt were also available.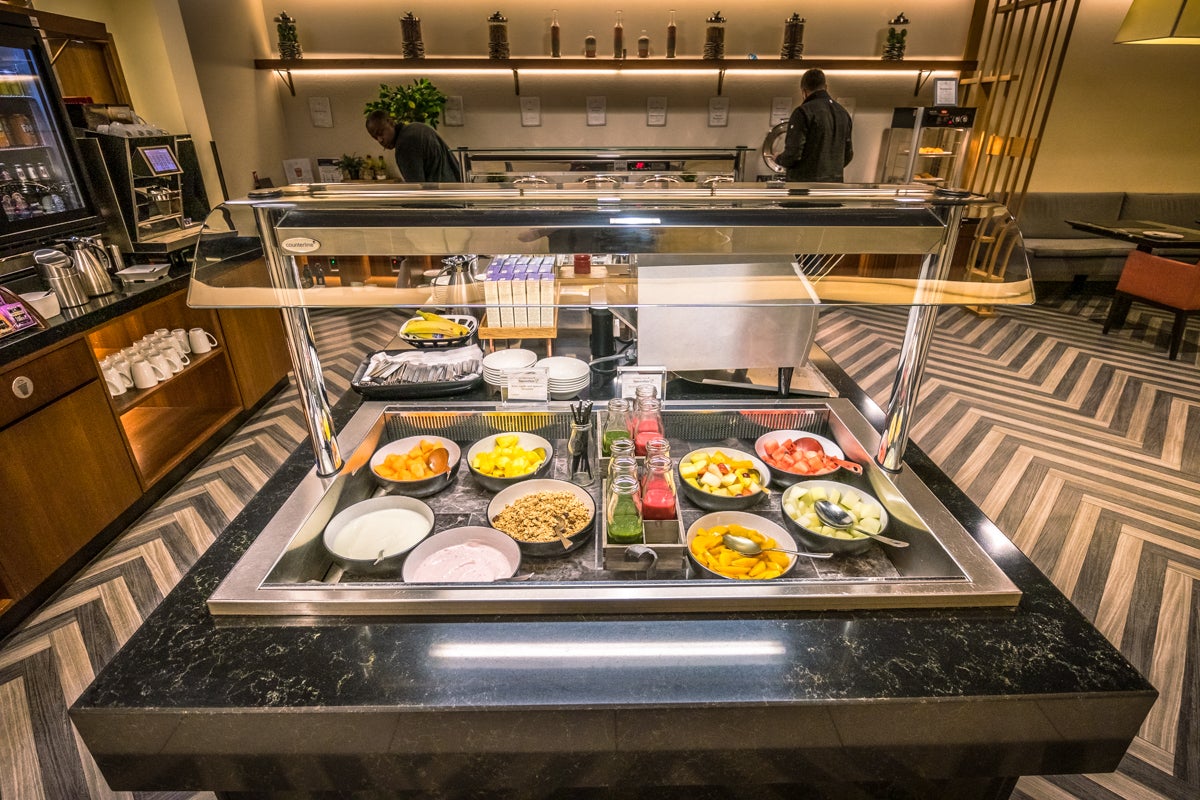 A fully-automatic espresso machine, tea, and fridge of other refreshments were on offer.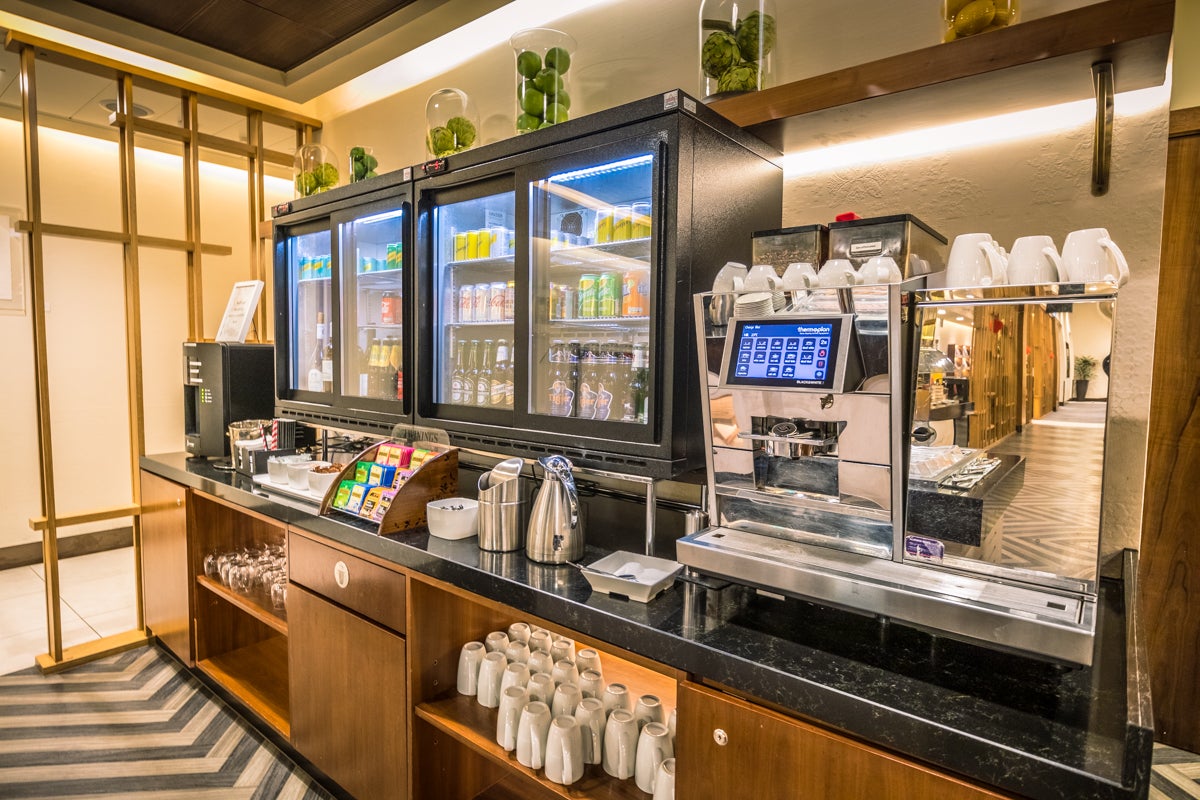 There is a good selection of food for breakfast so I enjoyed a small breakfast here to begin with, however, I passed on the coffee as I had read better coffee was available next door.
Banquette seating and tables run adjacent to the buffet.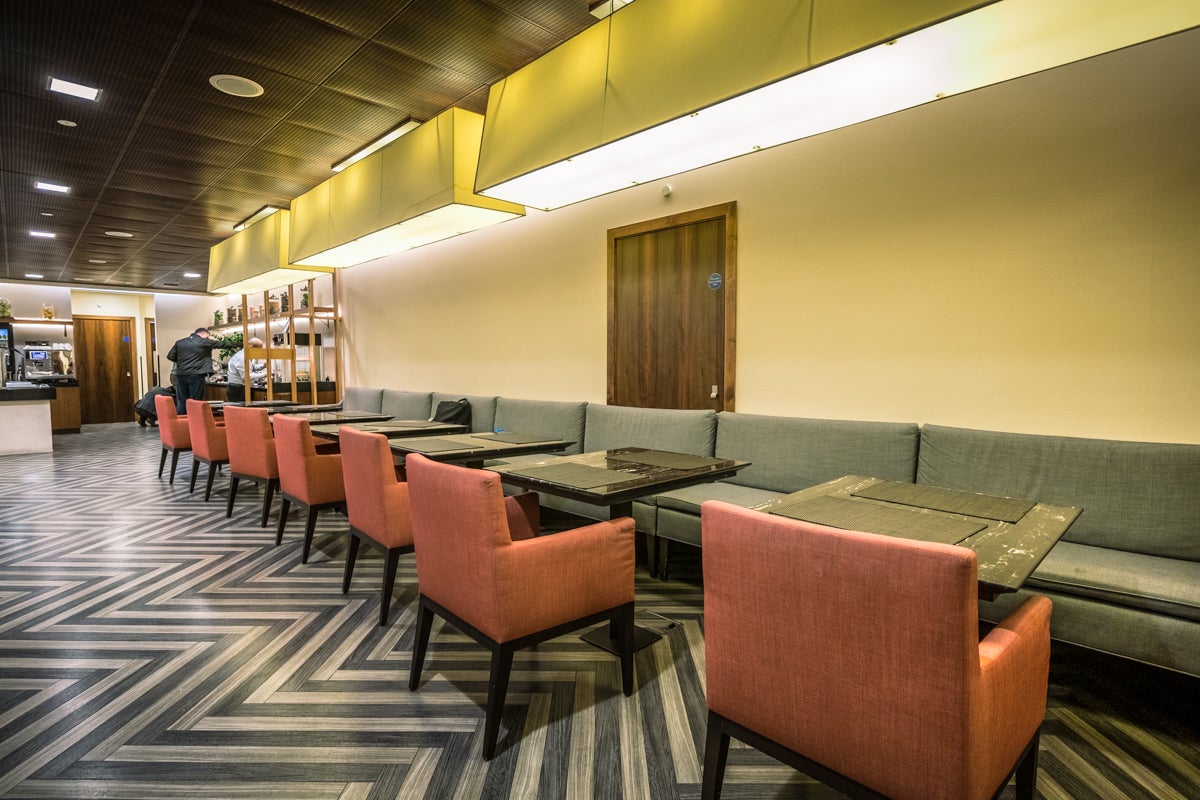 As you walk further into the lounge, you'll find a self-service bar. Roaming staff are available to assist if necessary.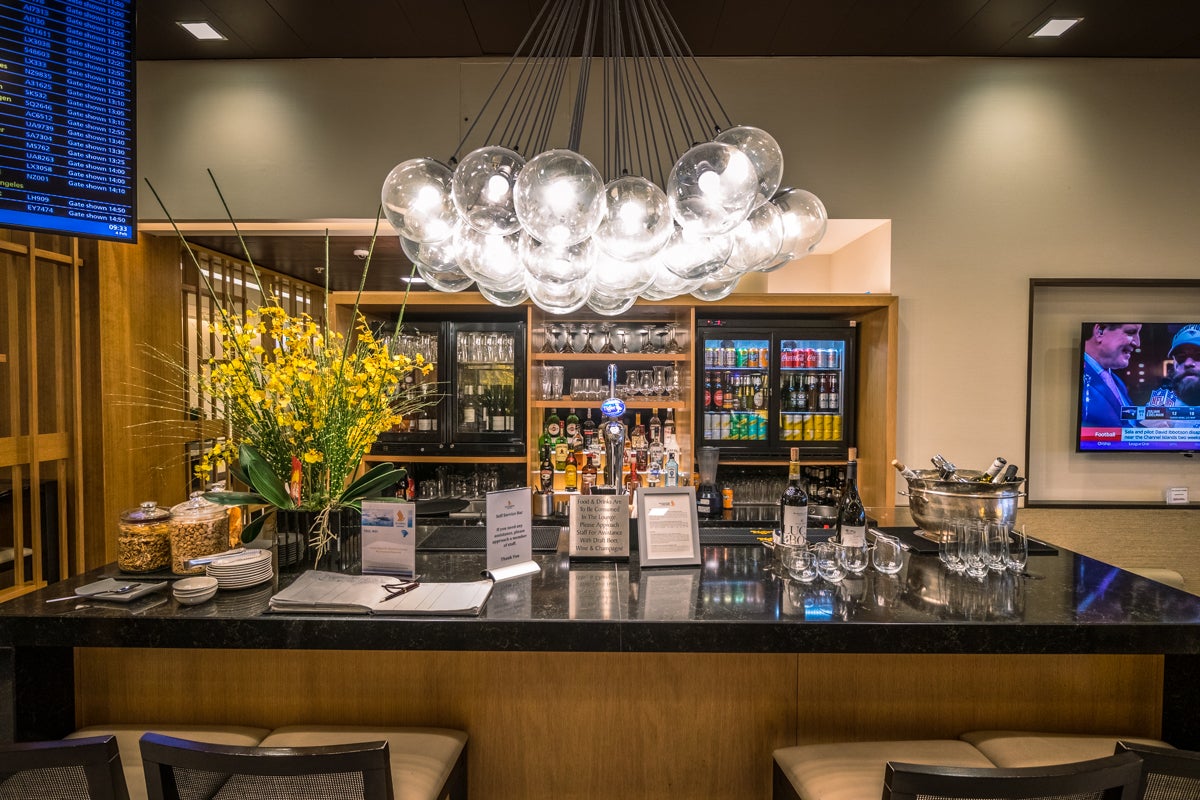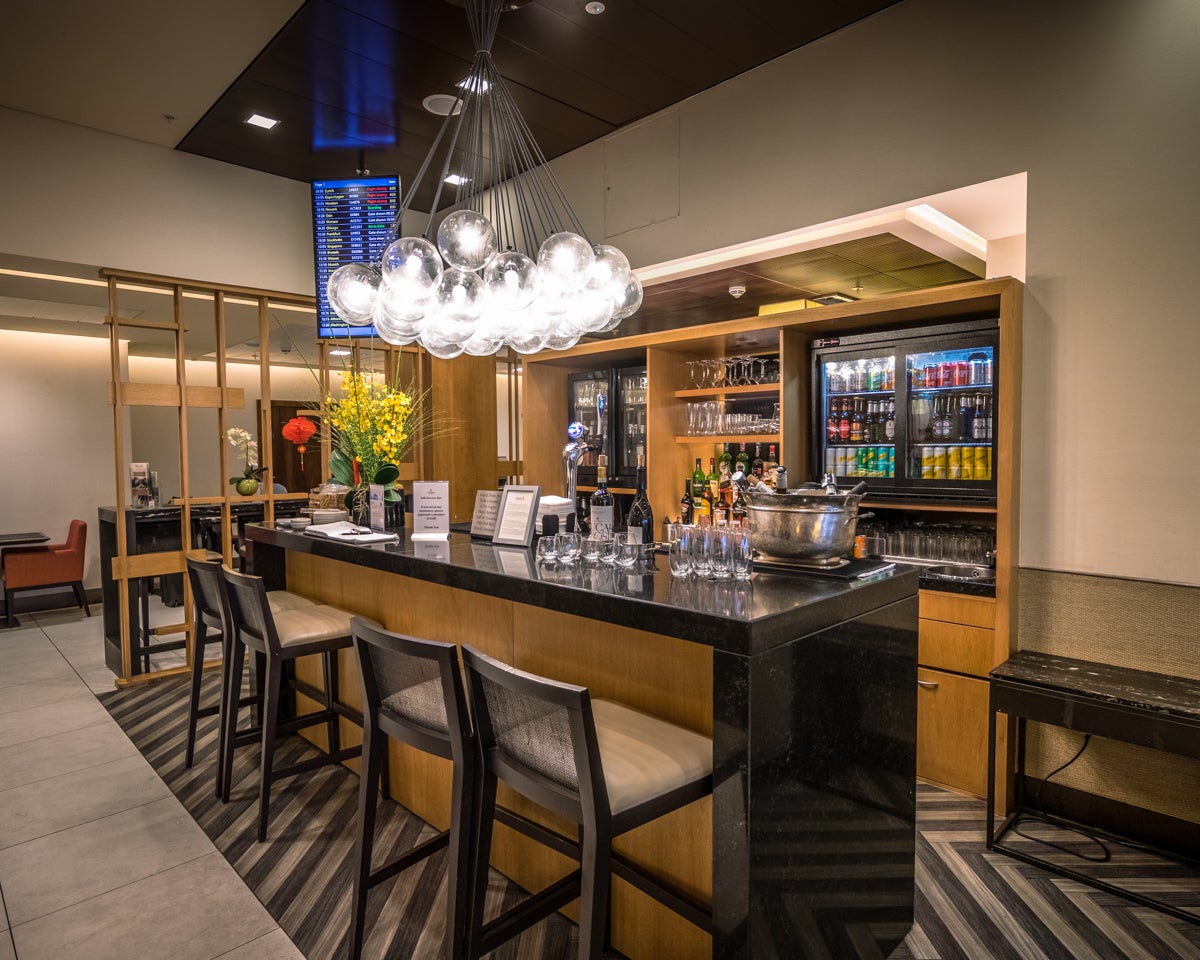 Most of the seating area is adjacent to the windows, with a selection of Singapore Airlines high-back throne seats. Sadly, there is not much of a view due to the ongoing construction at Heathrow.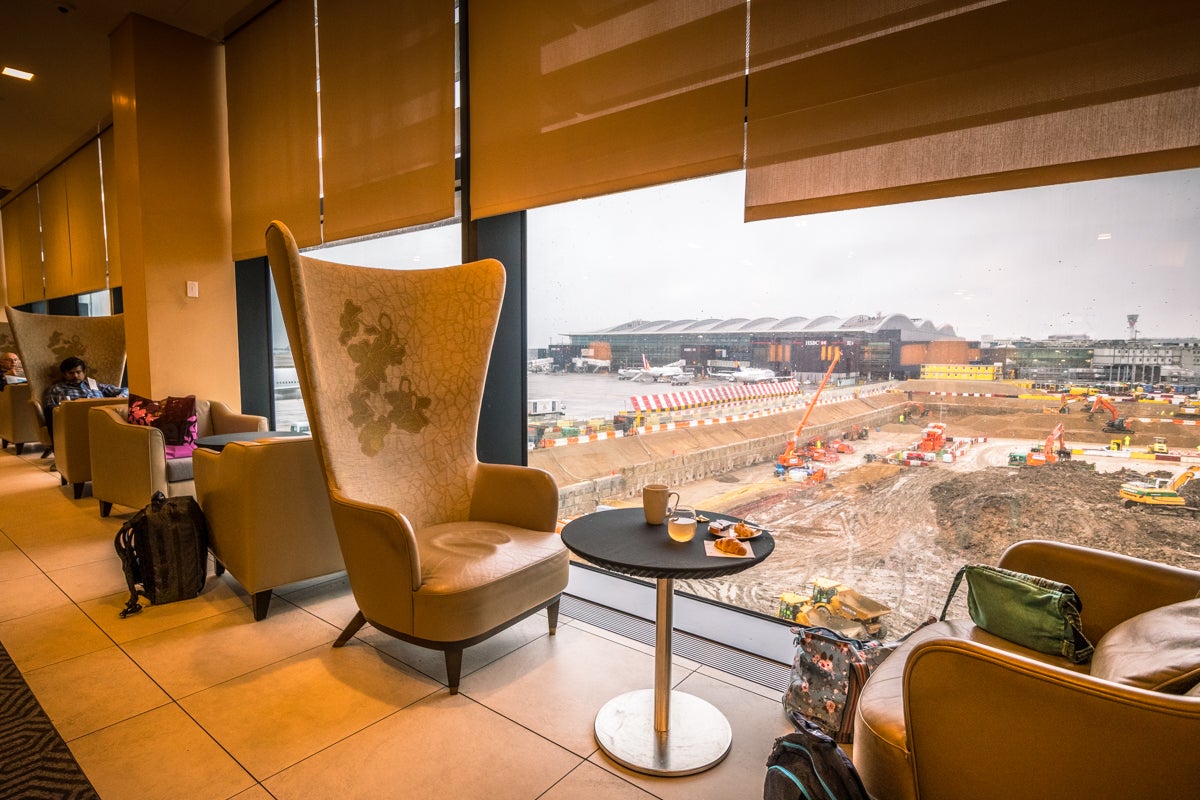 A row of solo workstation pods is positioned in the center of the main seating area.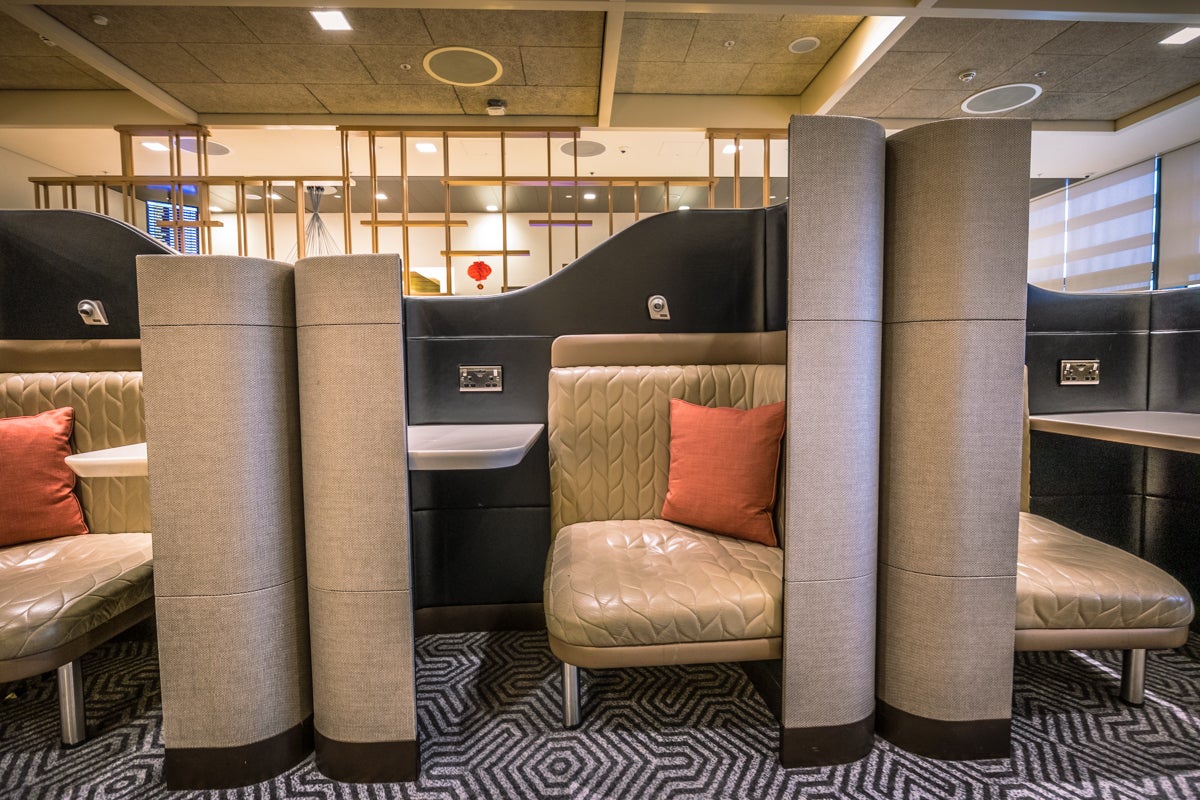 The rest of the armchairs in the lounge are next to coffee tables with integrated power sockets.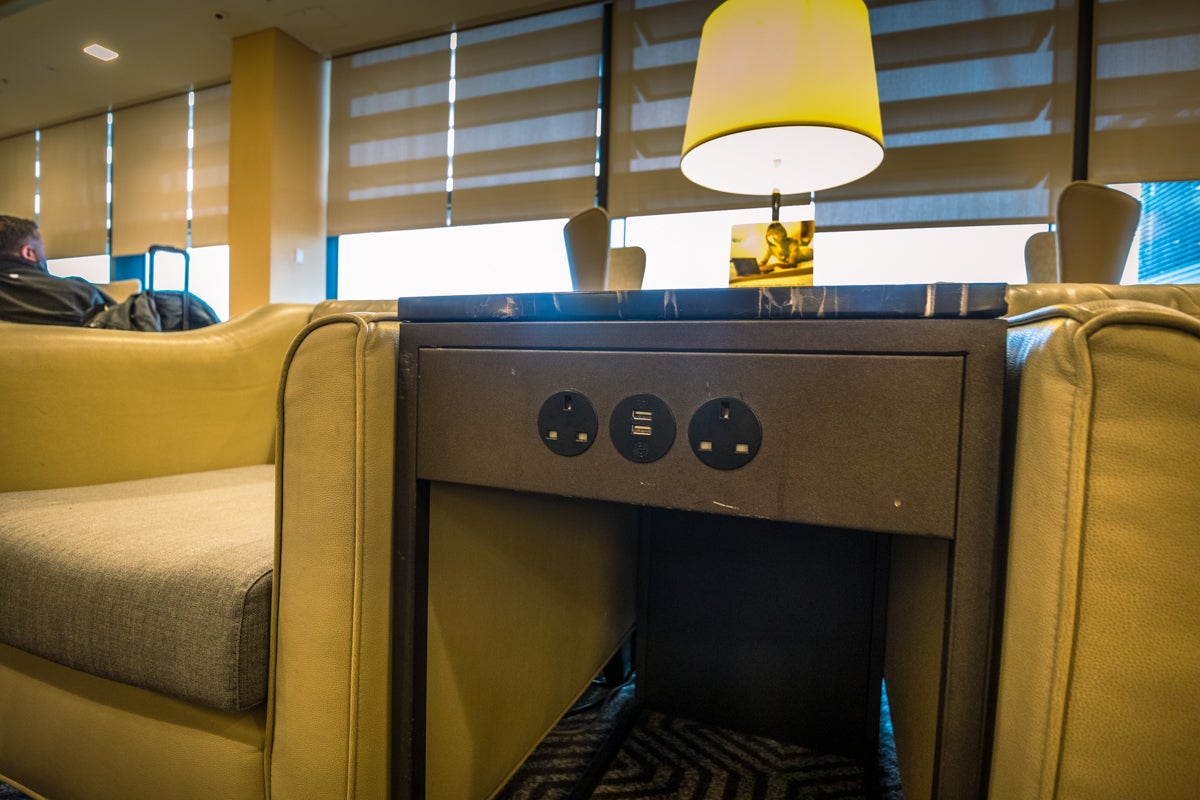 I clocked an acceptable 17.5 Mbps download and 5.5 Mbps upload on the lounge's Wi-Fi.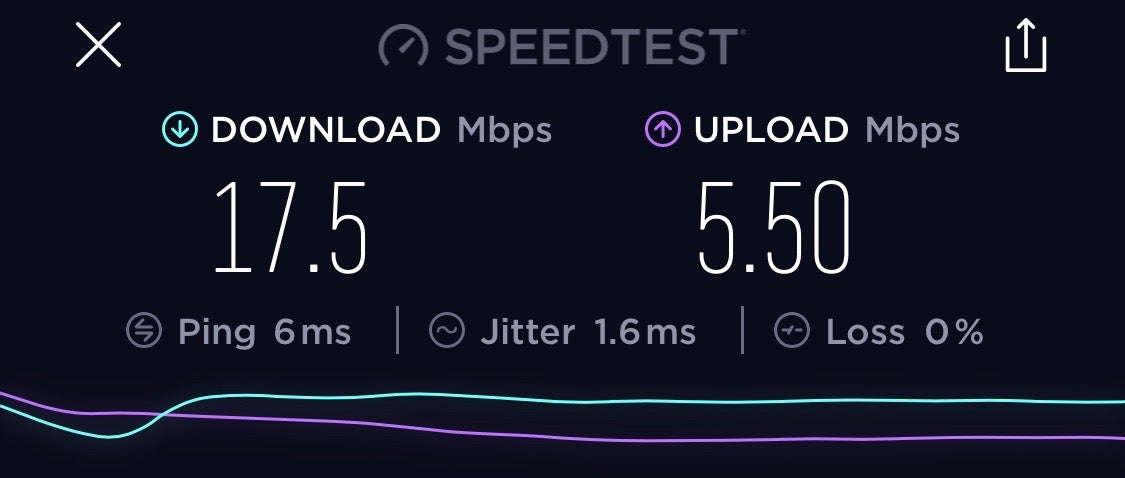 Travelers may utilize 1 of 3 showers or a range of reading material.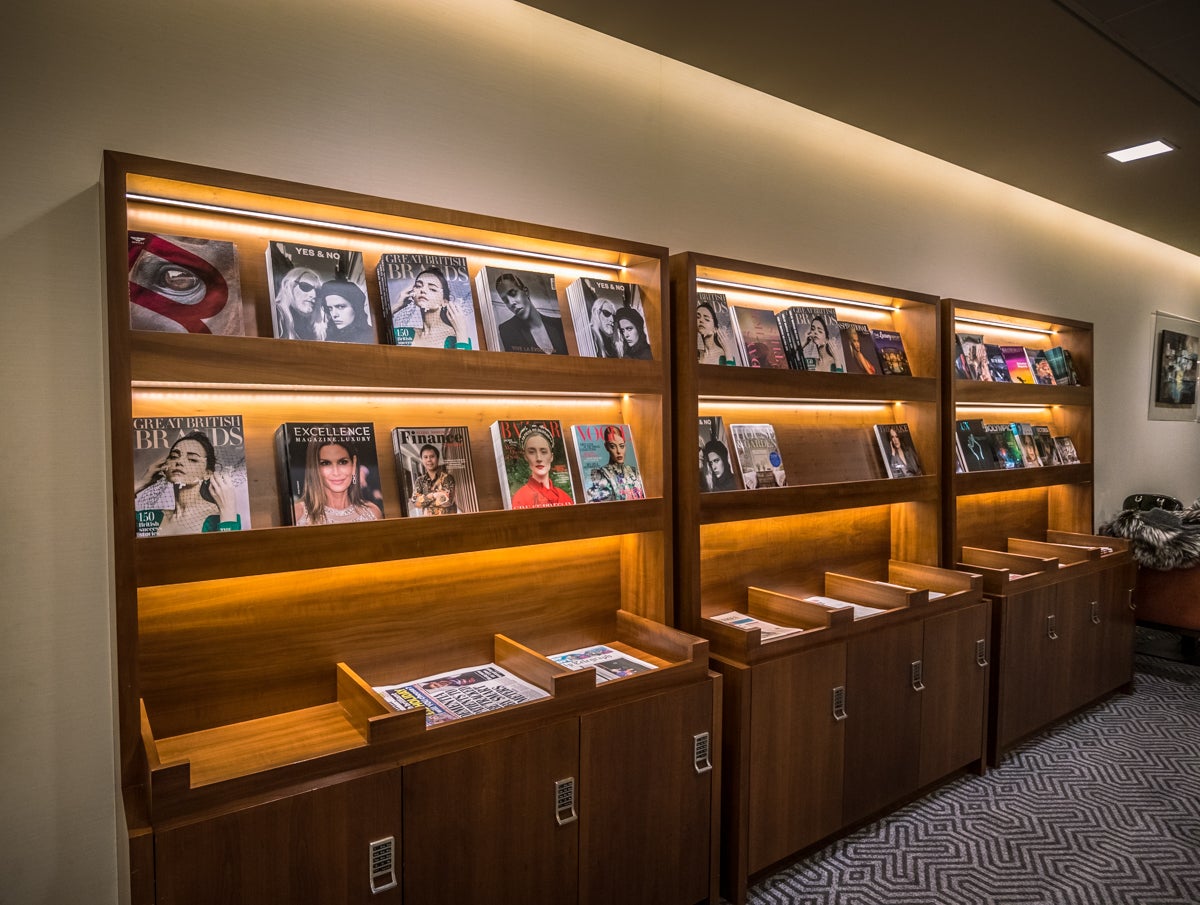 The lounge has been designed by the interior design firm ONG&ONG and is modeled on a residential 'home away from home' feeling. I personally believe Cathay Pacific executes the residential lounge vision better in its newest Ilse Crawford designed lounges.
Although this lounge is relatively new and uses Singapore Airlines' newest design concept, it already feels dated, so I was quite underwhelmed and happy to not spend too much time here.
Air Canada Maple Leaf London Heathrow
Hours: Open daily from 6:00 a.m. – 22:00 p.m.
Closest Gate: B36
After a quick breakfast in the Singapore Airlines lounge, we walked across the hallway to the Air Canada lounge.
Air Canada currently operates up to 9 flights a day from London Heathrow. Upon showing my boarding pass to the lounge receptionist, she saw I was flying Singapore Airlines and suggested I visited that lounge instead. I said I had just come from there and wanted to see the Air Canada lounge next, so she scanned my boarding pass and granted us access.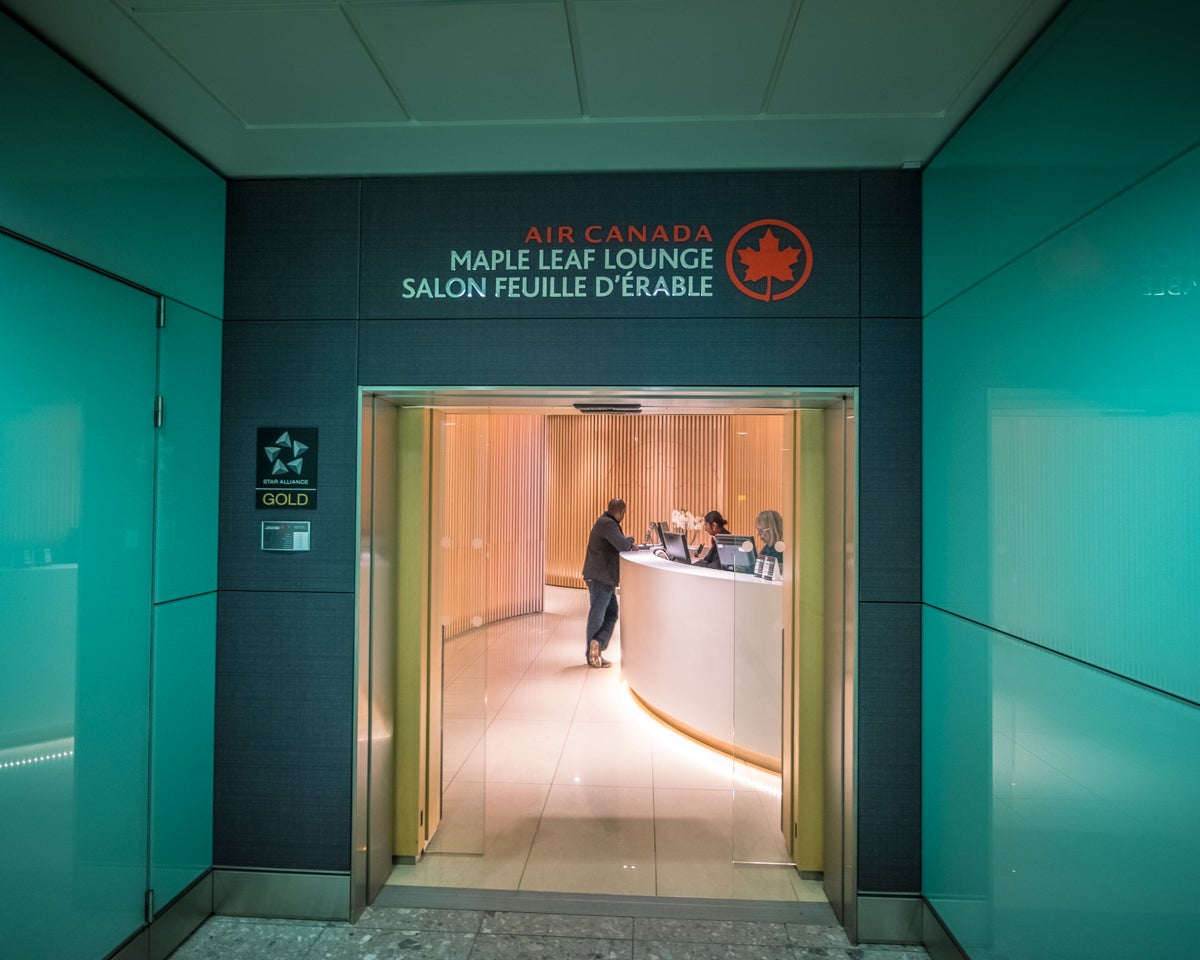 Upon entering the Air Canada lounge, the aesthetic immediately exudes a more premium and modern feel than the Singapore Airlines lounge that we had just come from.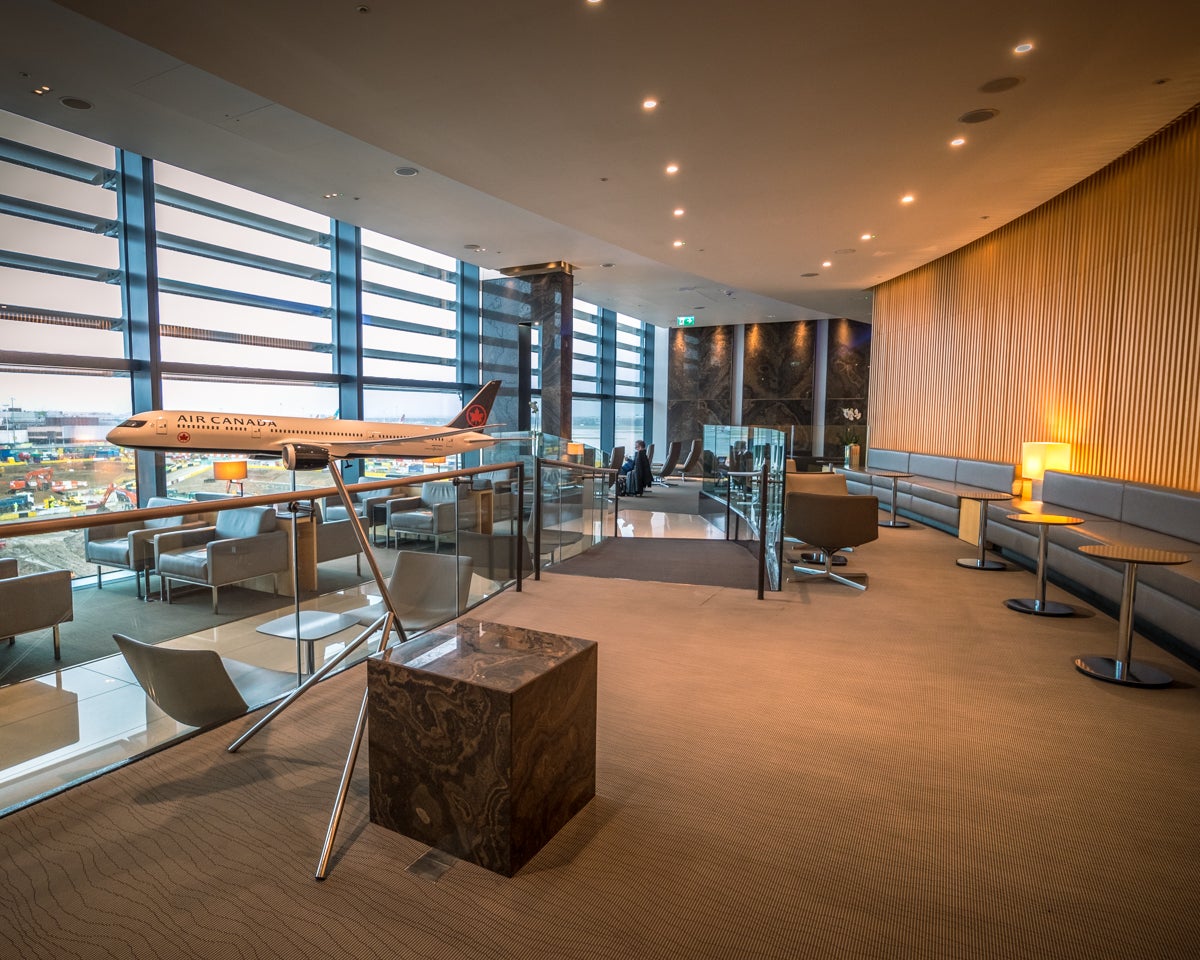 The larger windows in this lounge flood the space with natural light allowing a sweeping, enjoyable view of the tarmac, despite the wet and miserable London day outside. The higher ceiling, with dual-level lounges and banquette seats, made the lounge feel more expansive. At this time of the morning it also wasn't very busy.
The overall styling and furniture selection felt more modern and the vertical timber feature wall added a beautiful warmth to the lounge.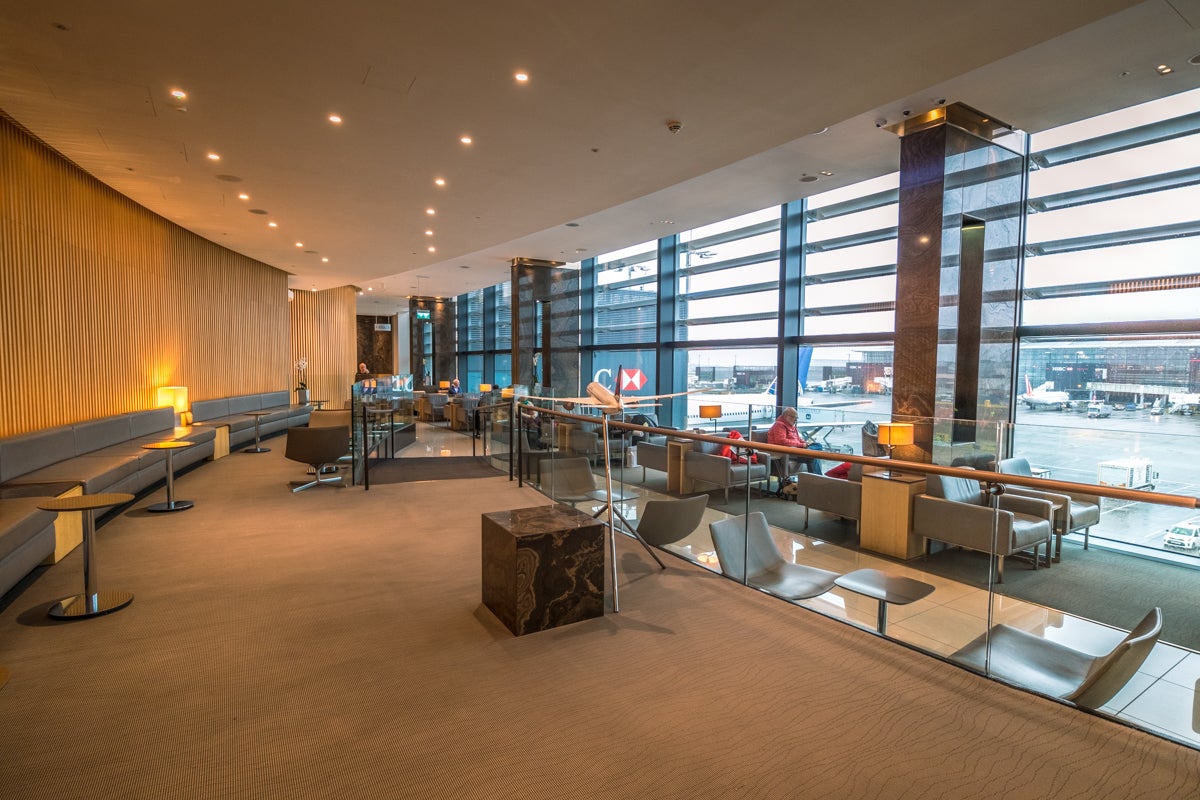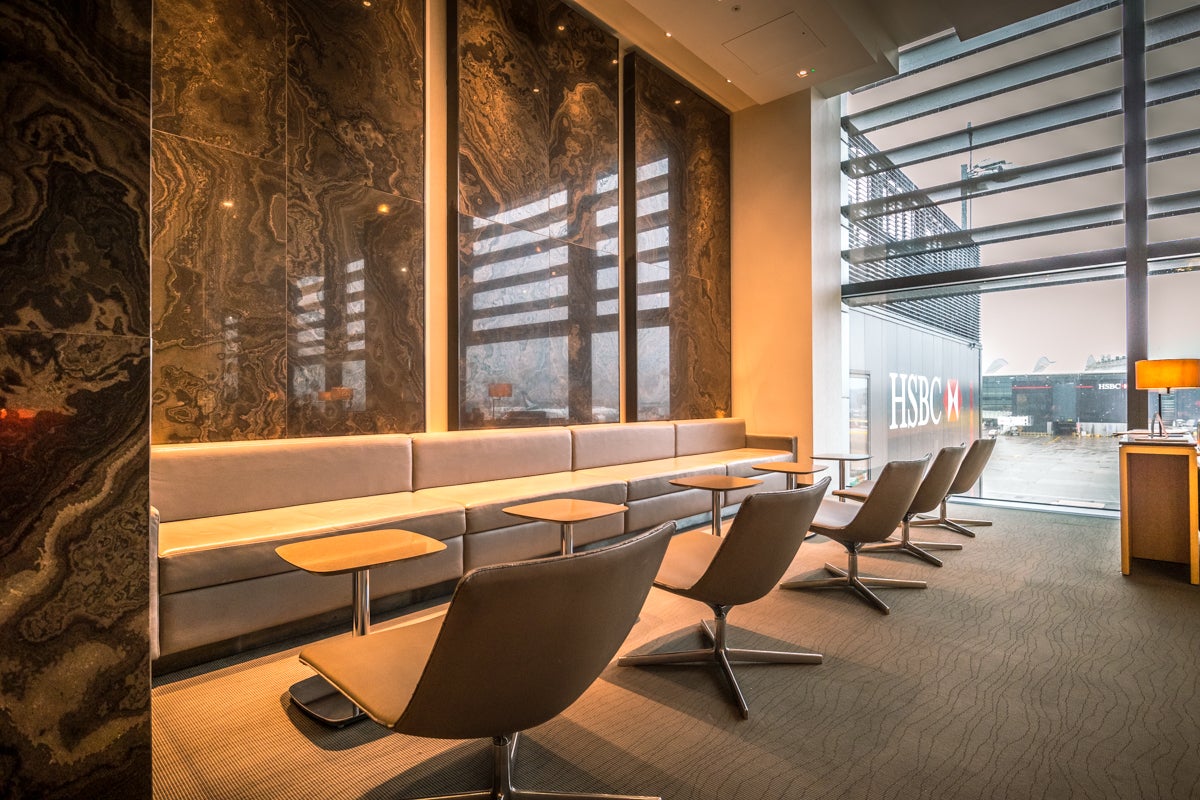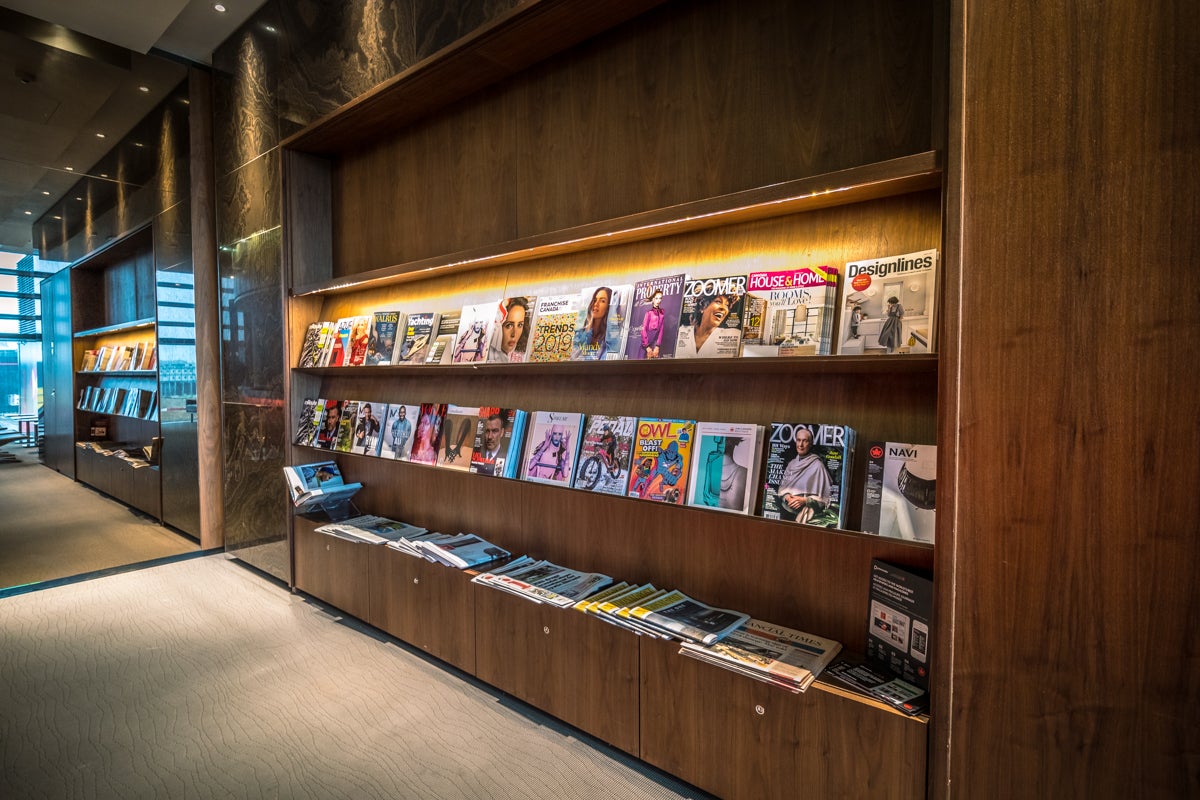 There are several semi-private lounge chairs with personal TVs.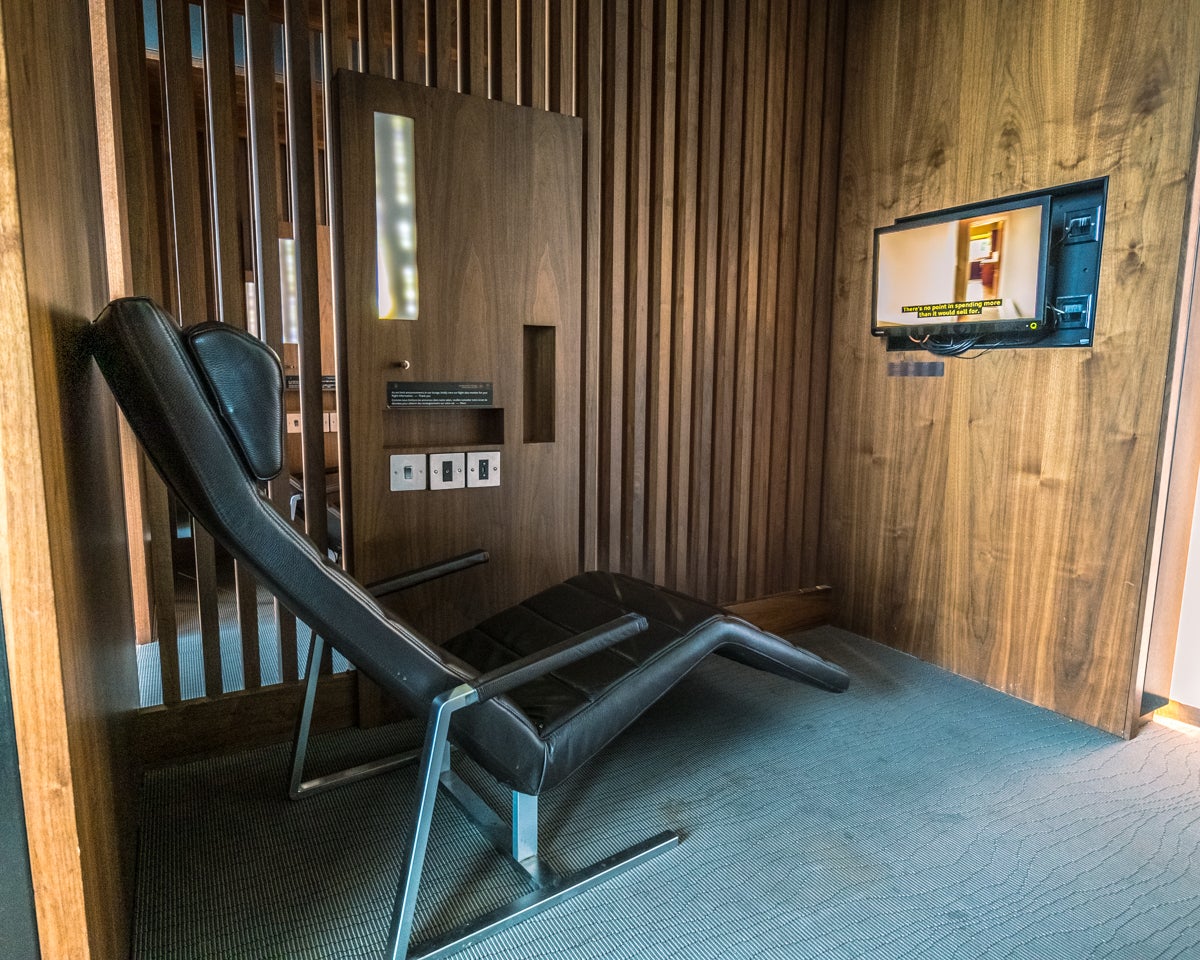 A business center featured a large communal table, PC workstations, and a printer.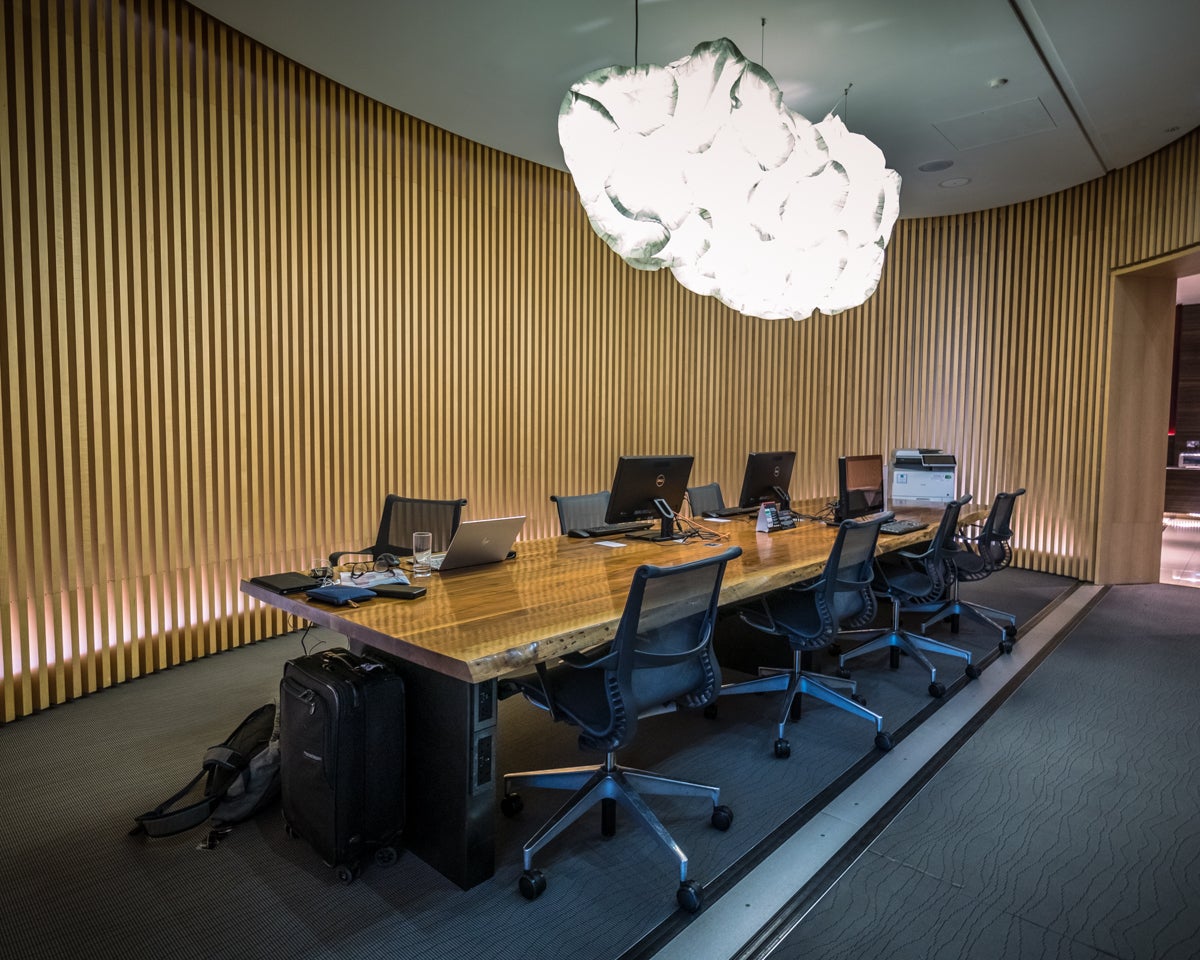 I headed to the, somewhat smaller Air Canada dining area which looked amazing in the signature Canadian red feature wall against the timber-look tiles.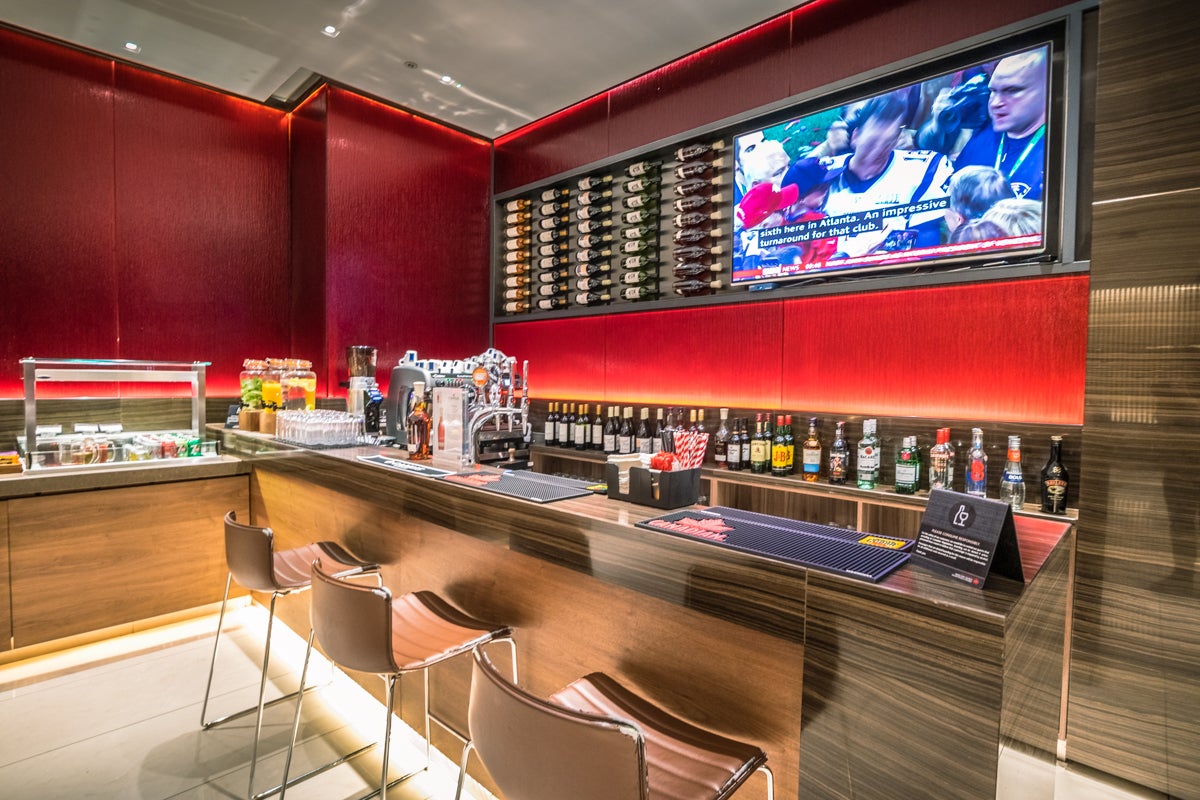 At the tendered bar I ordered an Americano that was made by the barista and was better than what the automatic machine coffee could produce next door.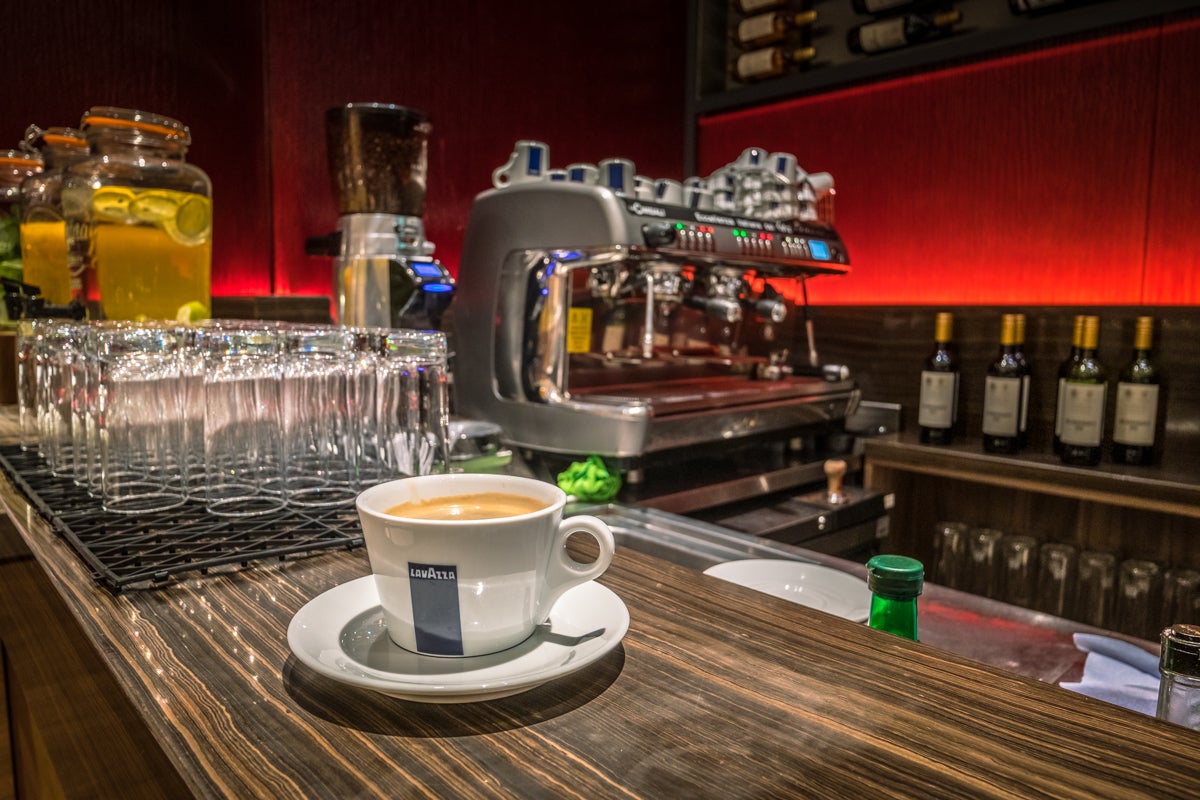 The lounge staff enquired why I was taking so many photos and when I mentioned this review, she insisted I try a fresh hot crepe and waffle which are made-to-order. My sweet tooth couldn't refuse an offer like that! There is a selection of condiments to apply on top. All were delicious!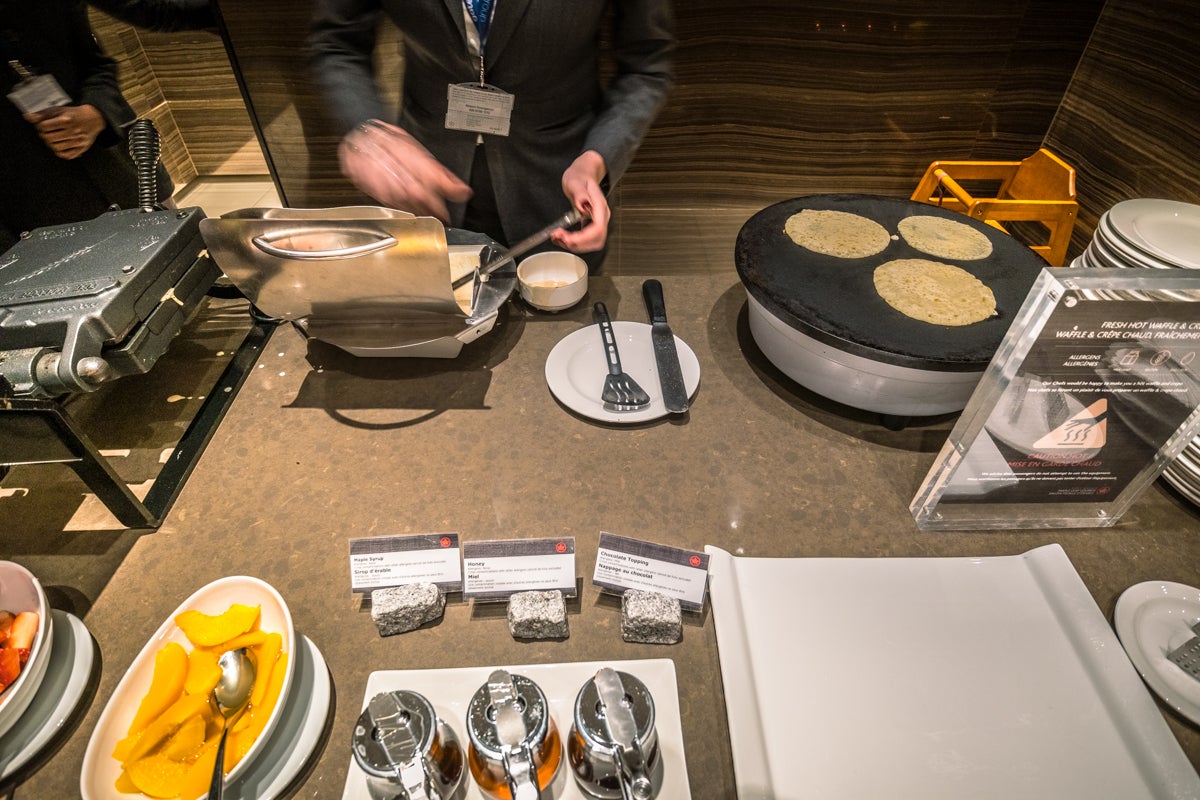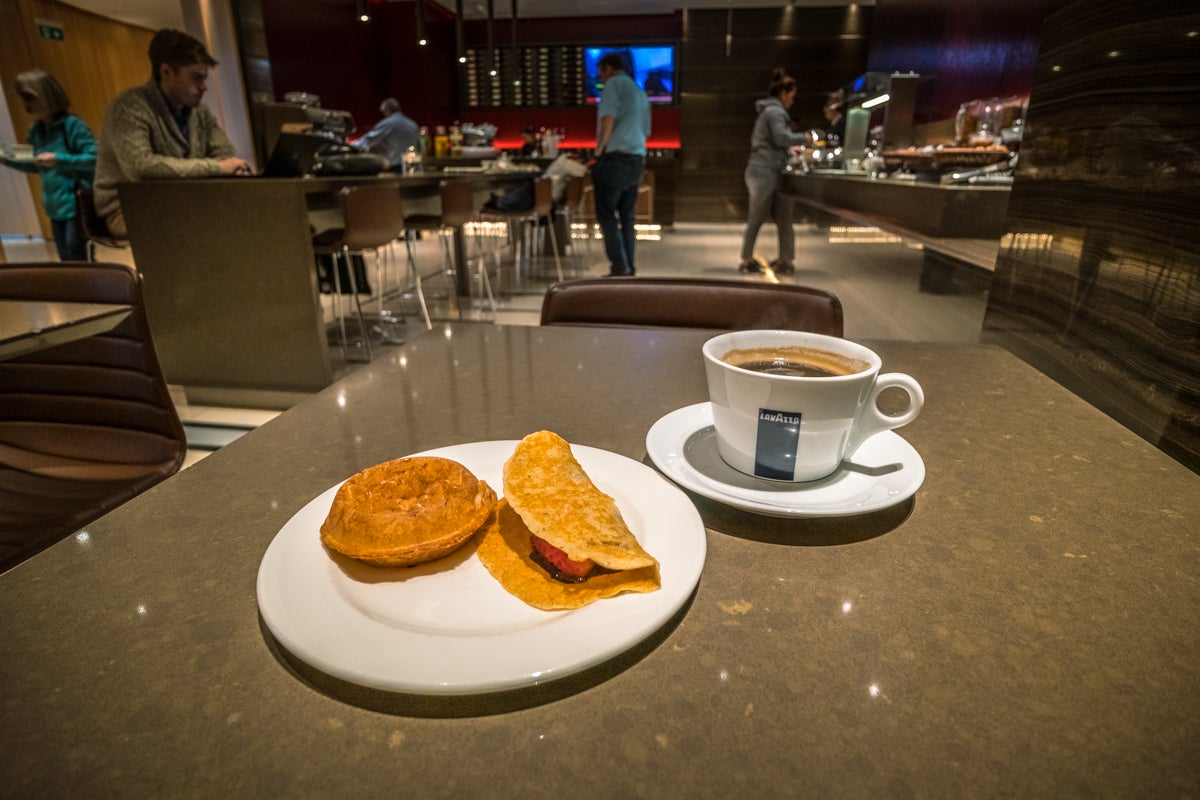 Overall, I was really impressed with the Air Canada lounge and I could have easily stayed there longer, but time was running out and there was 1 more lounge to visit.
The United Club Lounge London Heathrow
Hours: Open daily from 5:00 a.m. – 22:00 p.m.
Closest Gate: B46
The United Club is about a 10-minute walk from the Singapore Airlines and Air Canada lounges, across from gate B46.
I don't usually hear great things about the United experience, so I was instantly surprised entering the United Club. The lounge is larger than both the Singapore Airlines and Air Canada lounges, obviously to cater for the large number of United flights from Heathrow: I counted 7 cities and 15 services on the day we were here.
I really loved the modern design of the lounge. The furniture uses United's signature blues and grey with blue colored glass to create smaller zones in the immense space the lounge occupies.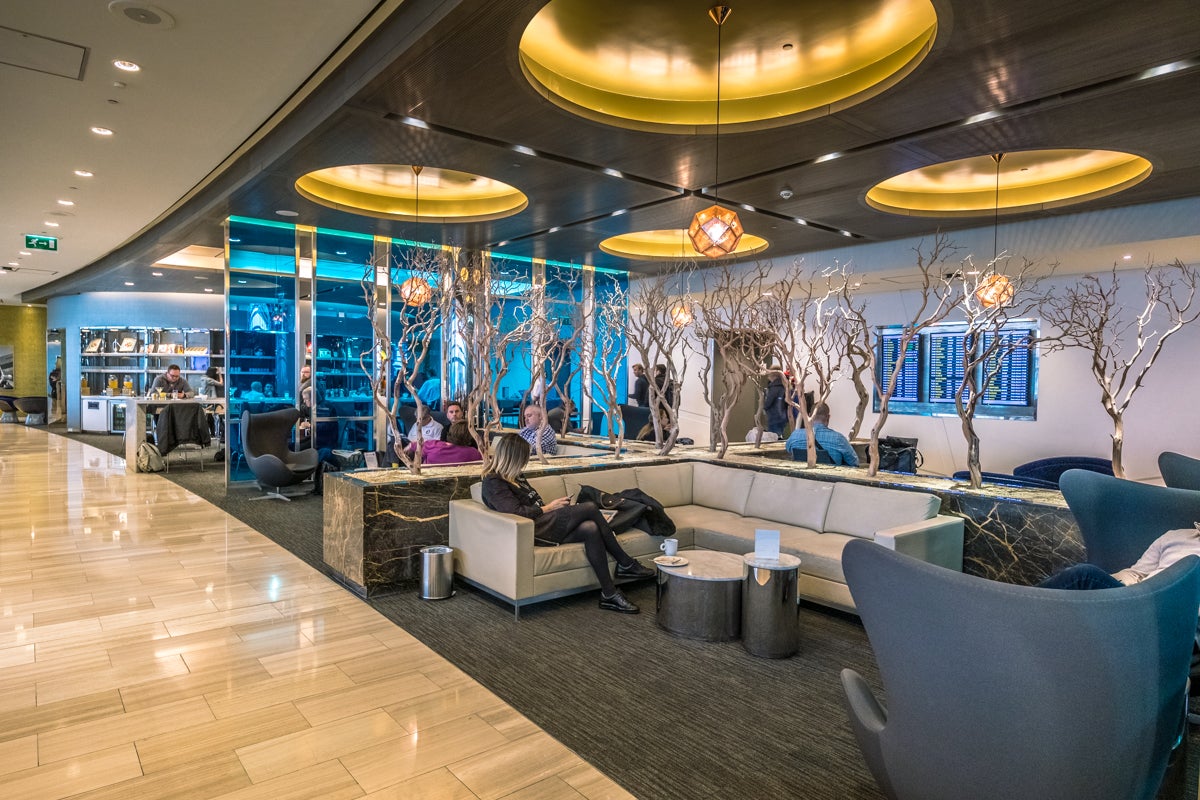 A large window spans the length of the lounge, flooding the lounge with natural light and a similarly large bench runs parallel to the main tendered bar, ideal for solo travelers wishing to recharge devices or work on a laptop.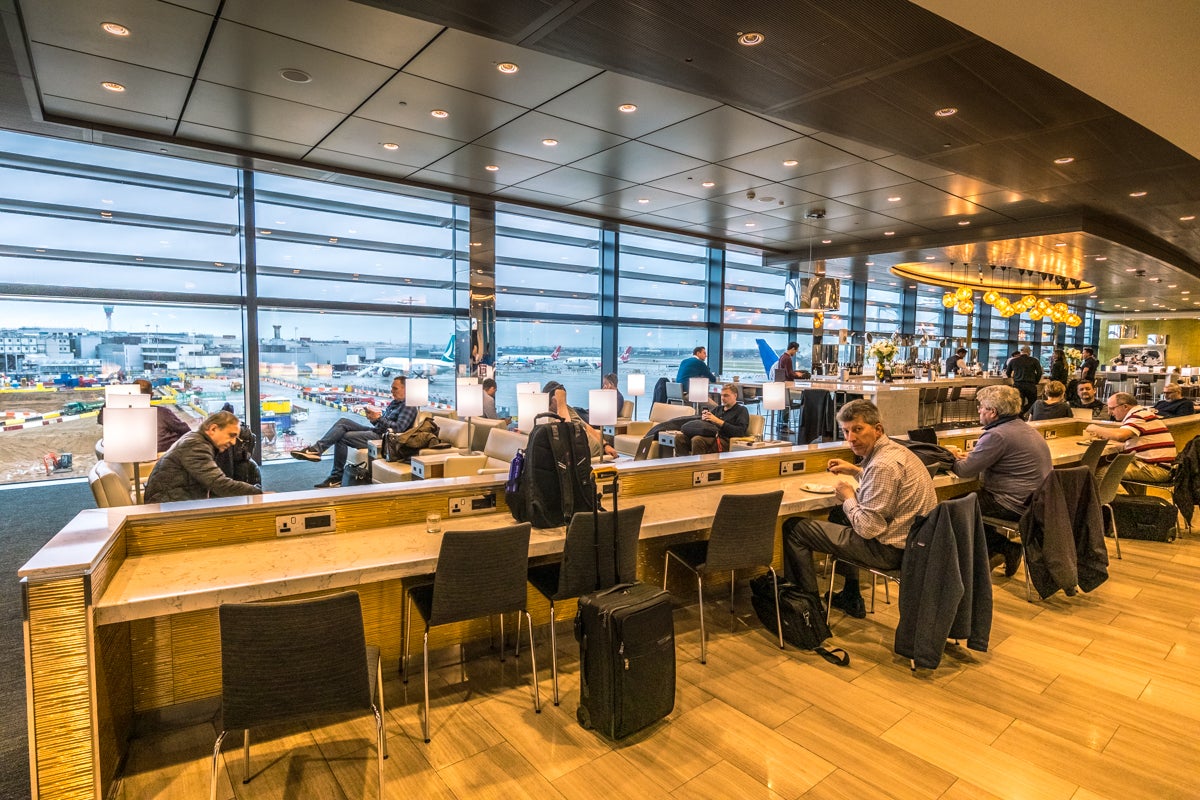 Elsewhere in the lounge are bar tables which also have power outlets and USB ports on the tabletop.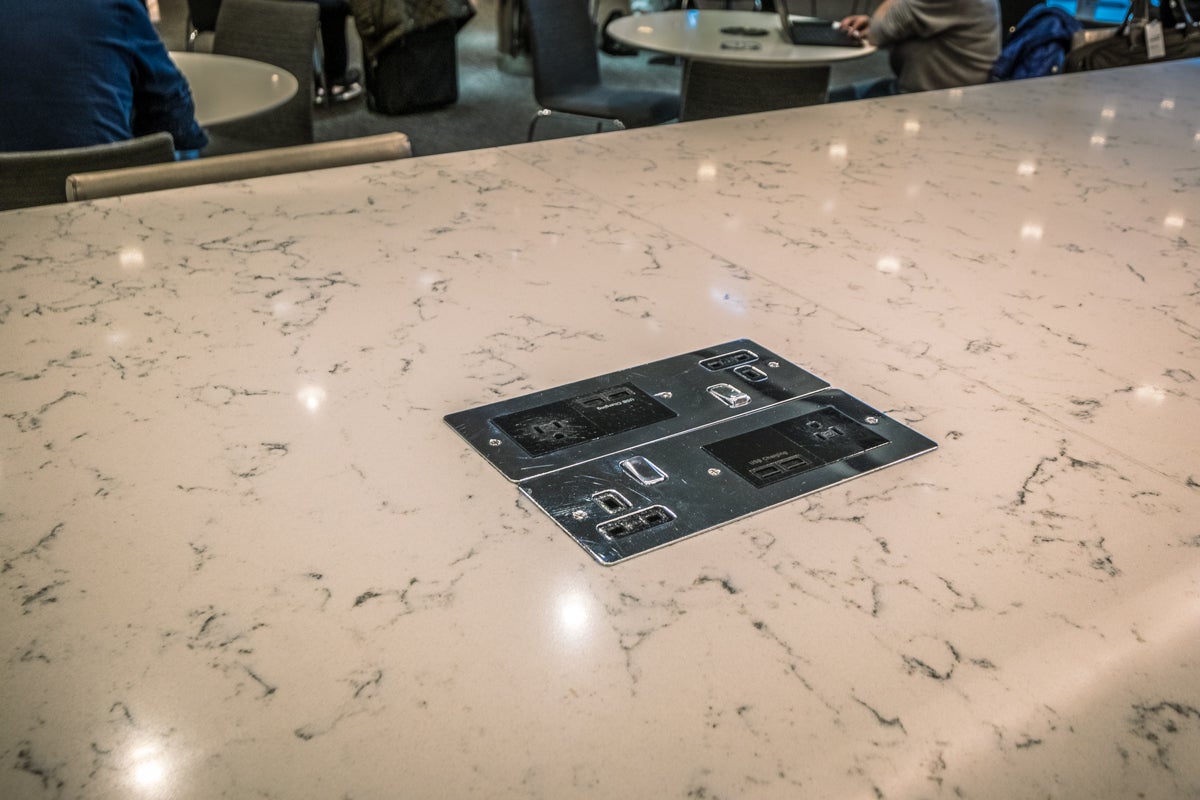 The large long bar sits directly in front of the windows in the center of the lounge and has ample seating. Most guests were using the buffet instead, but we enjoyed a mimosa at the bar.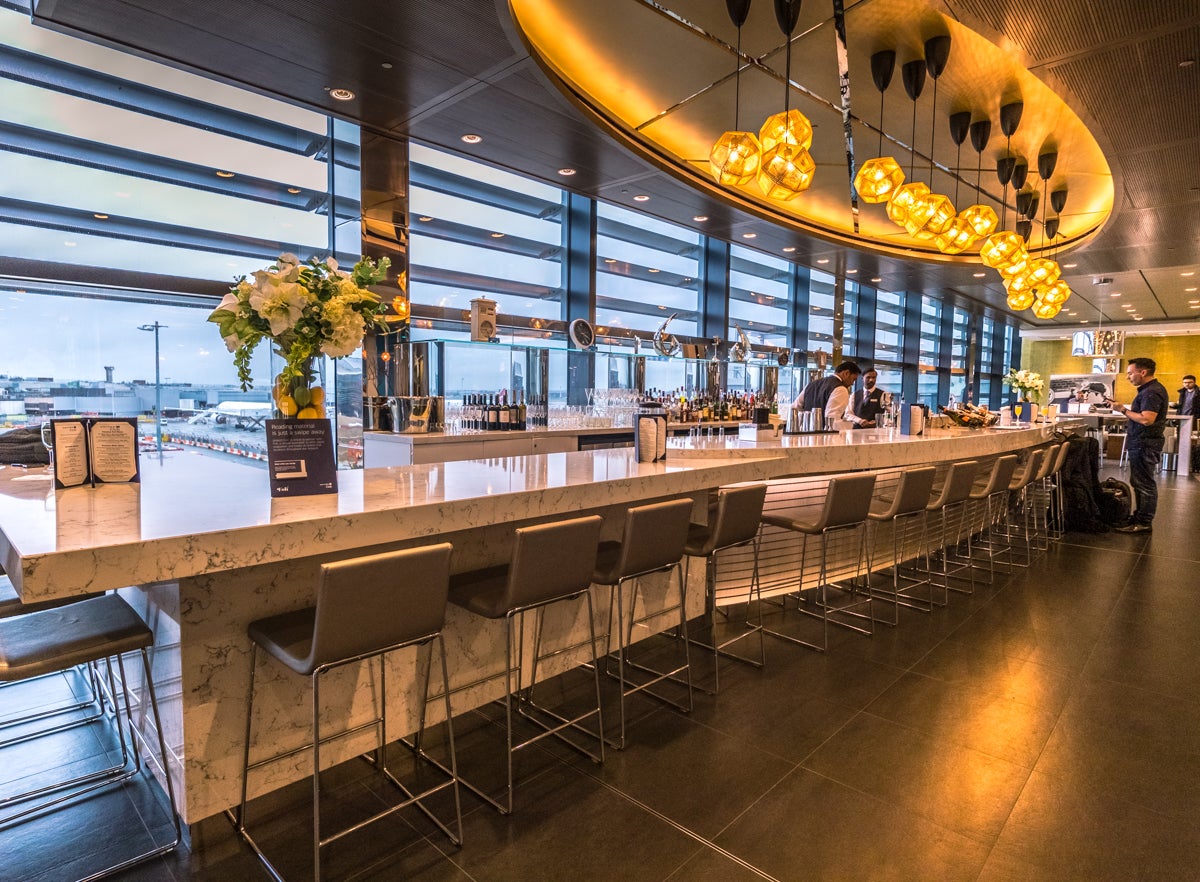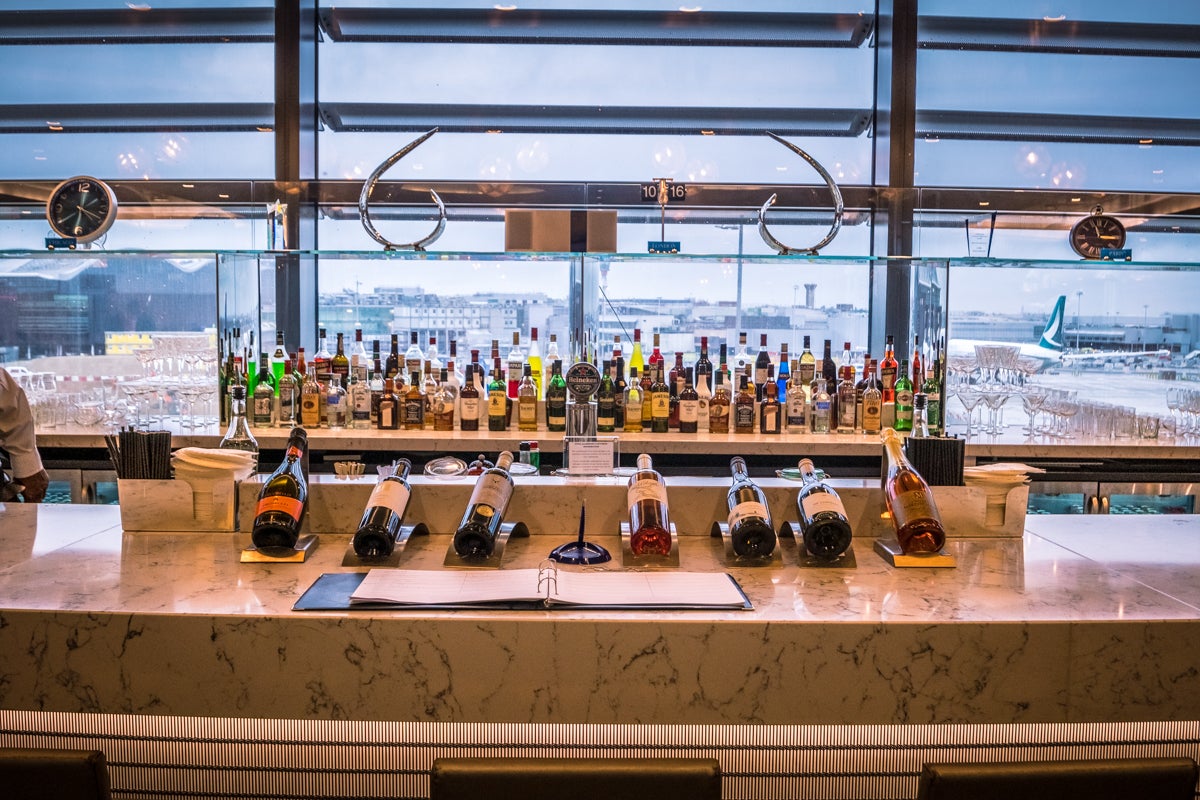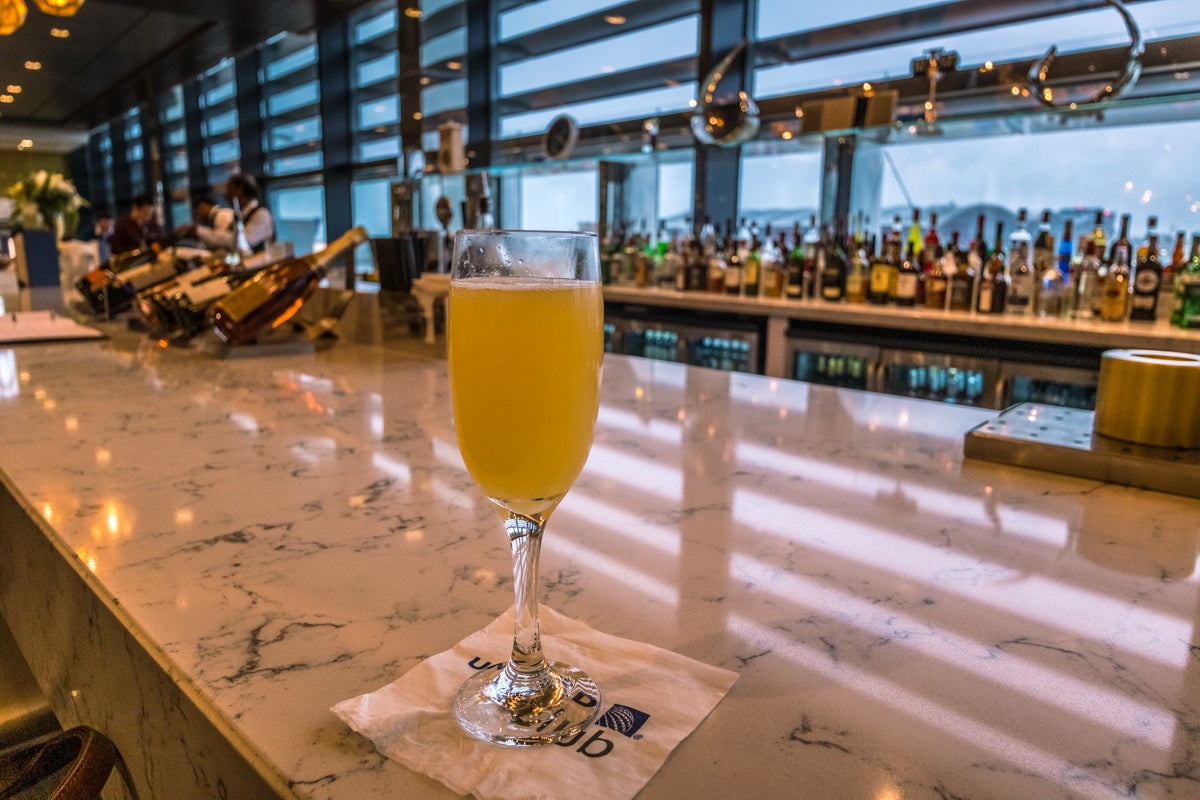 On the far end of the lounge is a large circular refreshment station.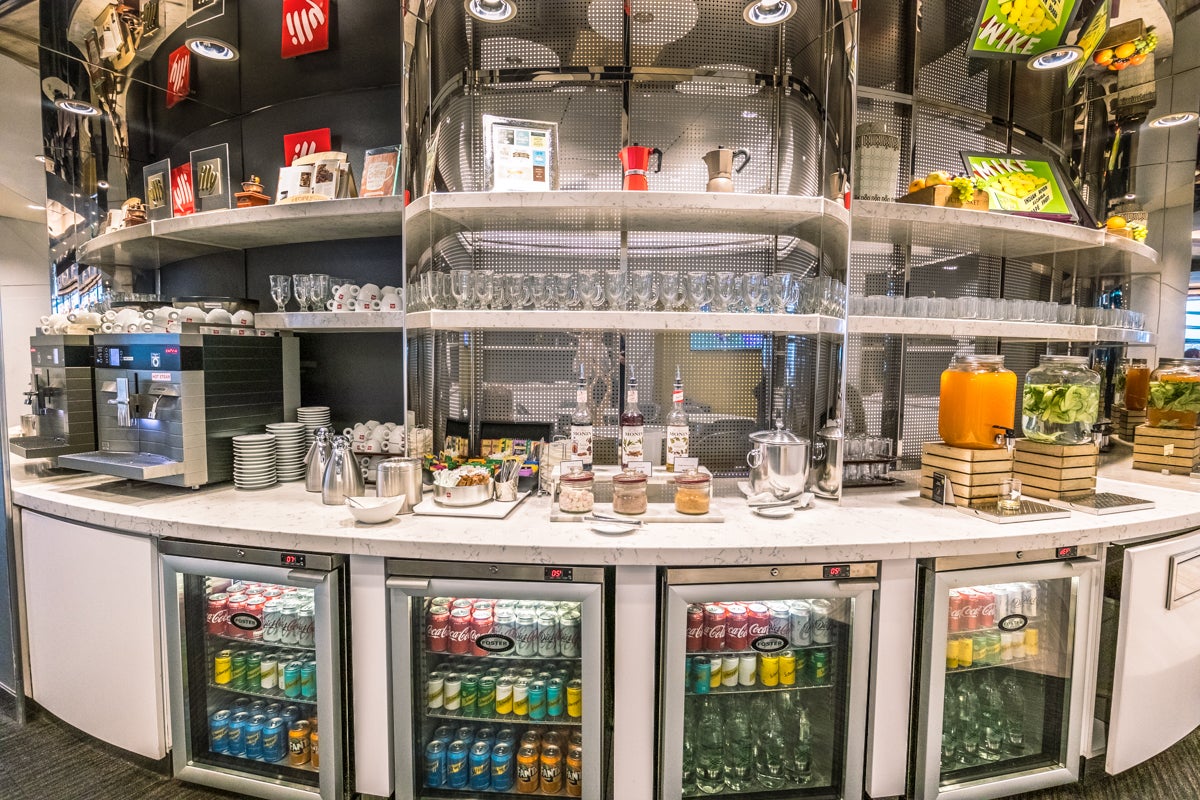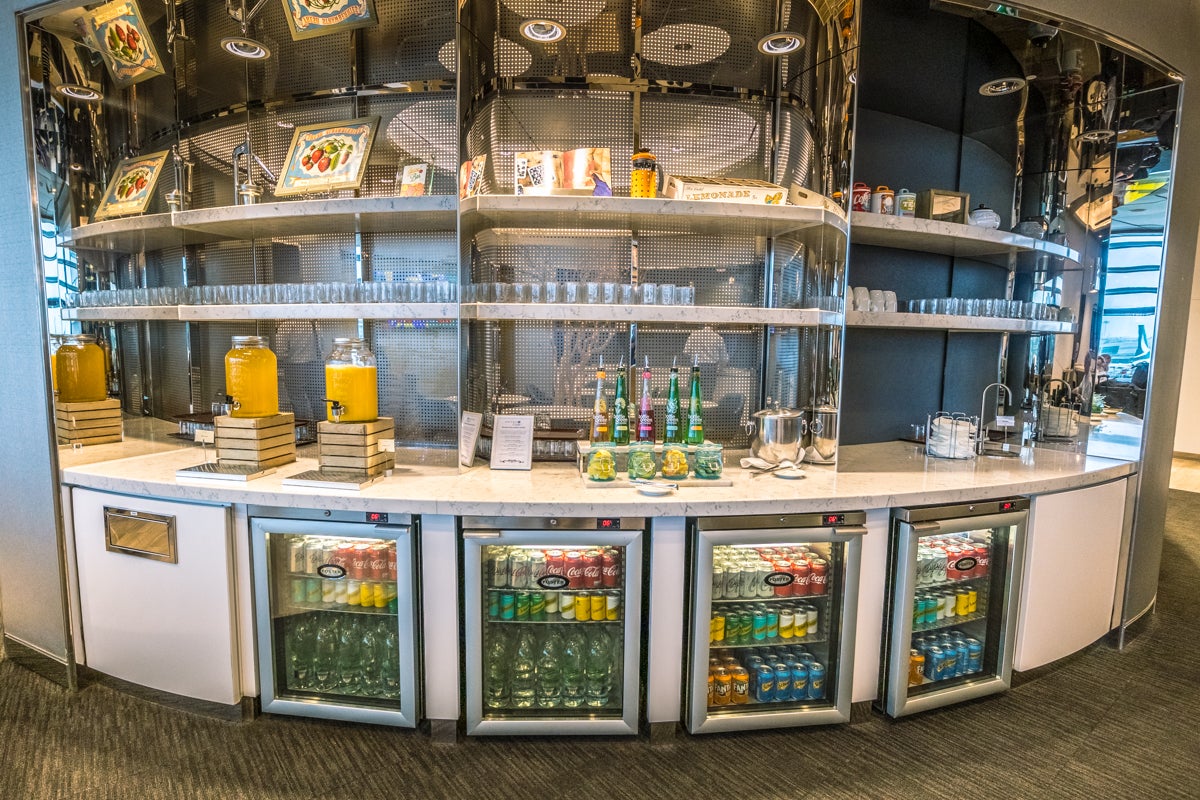 Back towards the entrance of the lounge is the main buffet which had a selection of 7 hot dishes for breakfast.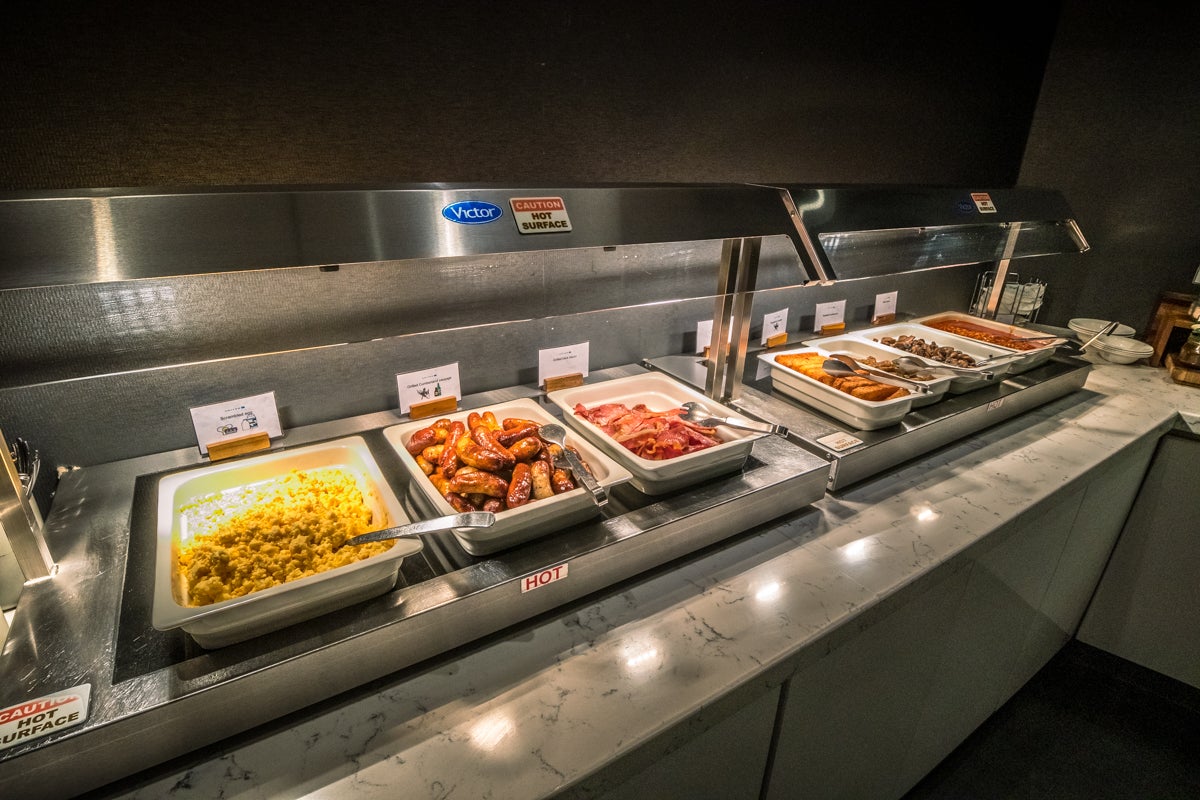 A salad and cold meat section was also available.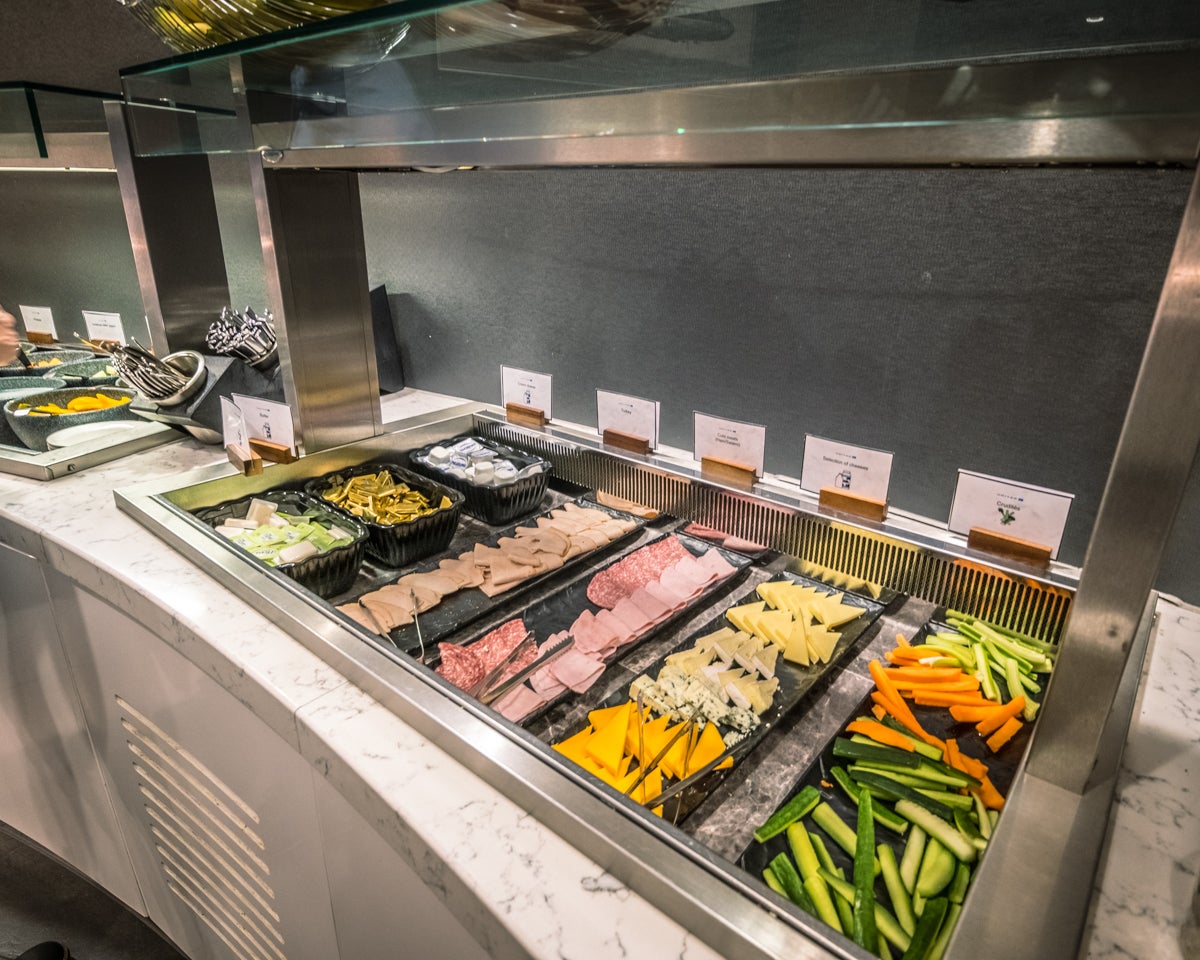 The United Club misses out on barista coffee and instead has several automatic coffee machines.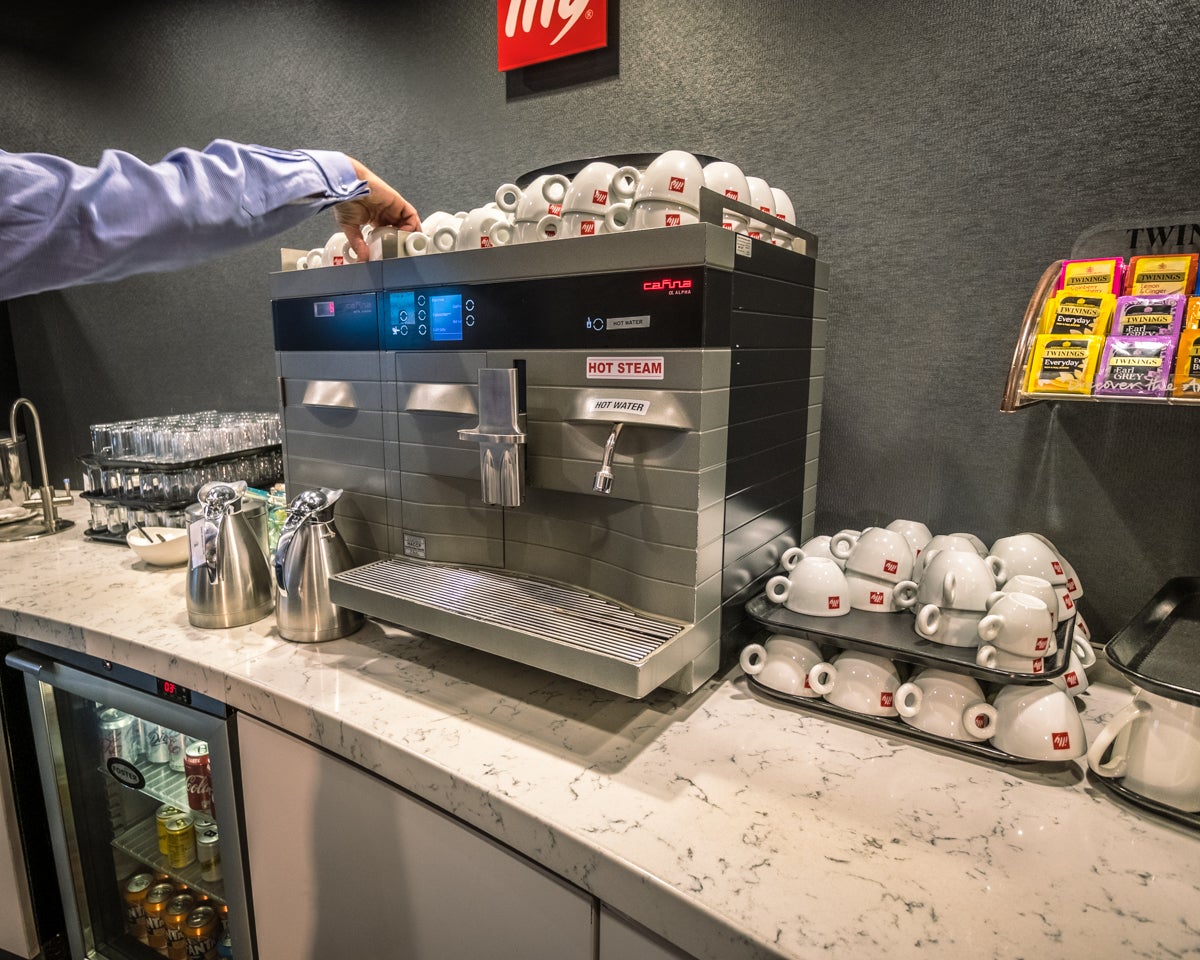 The Wi-Fi was better than the Singapore Airlines lounge, even though the lounge was quite busy, with downloads at 25.3 Mbps and uploads at 30.8 Mbps.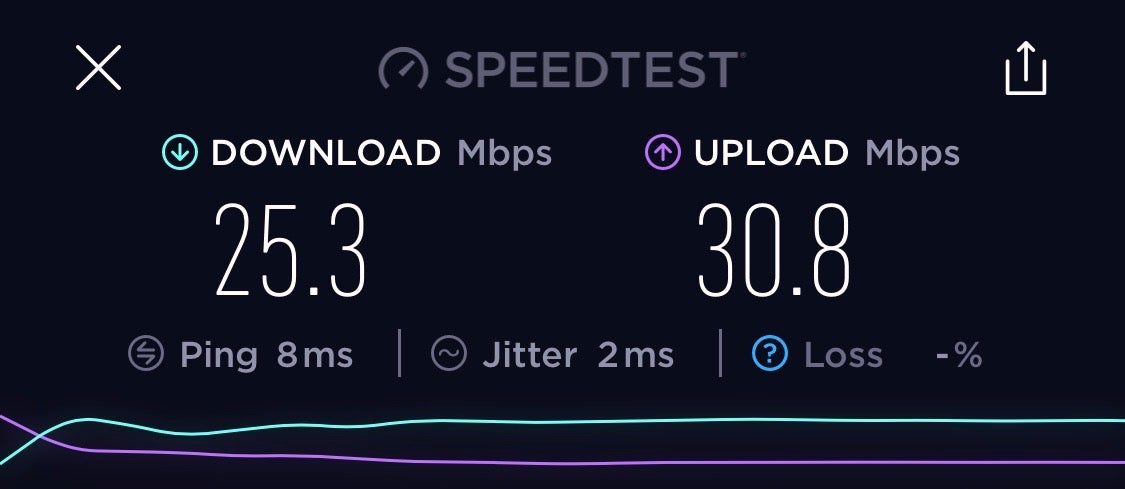 Although our boarding pass said boarding wouldn't commence until 10:25 a.m., I checked the flight information boards at 10:15 a.m. and it had already started boarding so we had to run. I would have loved to have spent more time in this lounge and take some additional photos to share but lucky we ran as we were last to board our A380 at 10:25 a.m. due to a very light passenger load.
Final Thoughts
As the new Queen's Terminal 2 is exclusively used by Star Alliance carriers, it's quite surprising they didn't build a couple of Star Alliance branded lounges like they have done in 8 airports around the world rather than have 4 airline-branded lounges.
When I fly out of Heathrow Terminal 2 again, I would skip the Singapore Airlines lounge as I was unimpressed. Instead, I would divide my time between Air Canada and the United Club.
Both had a nicer ambience, more modern design, and better views through more windows. I would choose the Air Canada lounge for its superior coffee and chef station making waffles and crepes for breakfast—and I've read they make paninis for lunch. After you spend some time in the Air Canada lounge, I recommend you hop over to the United Club for a few drinks at the bar. If time permits the next visit, I would love to check out the Lufthansa lounge that I missed on this visit.
Although the Air Canada lounge seemed much quieter than the United Club, this would obviously change throughout the day depending on the respective carriers' departures.