Apple's AirPods Pro: A Frequent Flyer's In-Depth Review
Noise-canceling headphones have long been a necessity for frequent flyers — and it's easy to see why. Think about it: when you're flying on a long-haul flight from the U.S. East Coast to Japan, the plane engine noise is bound to drive you crazy at some point. And depending on where you're sitting, normal headphones may not block out the sound.
For the longest time, though, noise-canceling headphones were large, clunky, and very expensive. We've seen some massive improvement over the past 10 years, with prices falling and technology improving. But for the most part, these headphones were still large, over-the-ear-style headphones.
In late 2019, though, Apple introduced what may be the most practical and versatile noise-canceling headphones the travel world has ever seen: the AirPods Pro.
This premium update of the AirPods takes an already great design, adds noise cancellation, and makes a few tweaks that make the AirPods Pro near-perfect headphones for frequent flyers.
I know, I know, "near-perfect" is a strong term. But after having the headphones since launch day and taking them on multiple long- and mid-haul flights, I can safely say that these are my favorite headphones for travel. In this article, I'll show you why that is.
I'll start by giving you an in-depth overview of the product, and then move into the review. By the end of the article, you'll have a good idea of if the AirPods Pro are the right truly wireless headphones for you.
Let's dive in!
An Overview of the AirPods Pro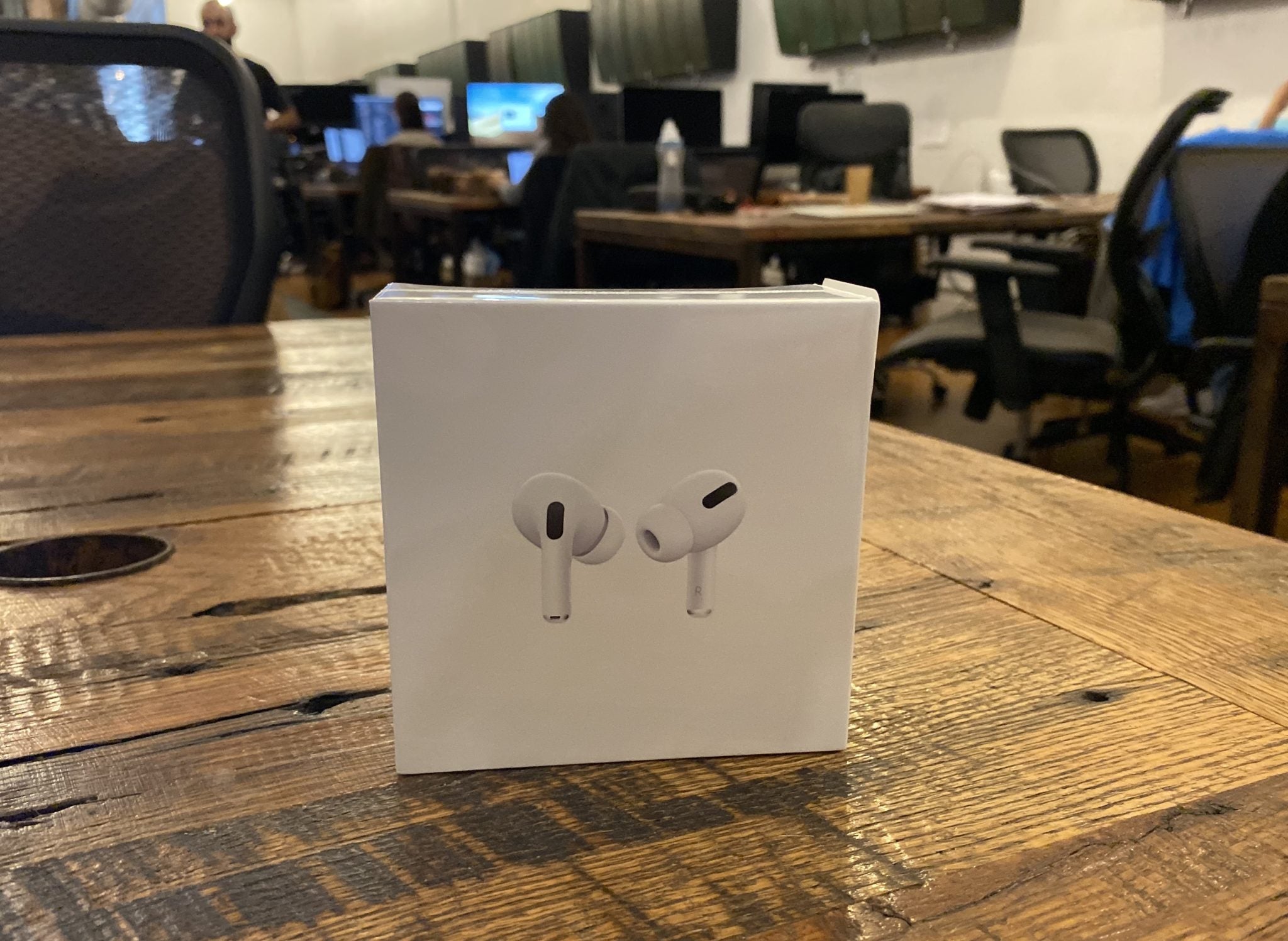 As discussed in the intro, the AirPods Pro are a premium version of Apple's wildly successful, truly-wireless AirPods headphones.
The design has been completely overhauled from the original AirPods — the "stems" are now shorter and the ear tips now feature replaceable rubber tips. The AirPods Pro include 3 sizes of ear tips and has a neat software feature that helps you find which size is right for your ear by using the built-in microphones.
Of course, the AirPods Pro have active noise canceling, too. This means that the microphones actively listen to the ambient noise in the environment around you and generates an exact negative waveform that "blocks" this noise and mixes it with your music.
In practice, this means that your ears will hear less ambient noise and more music. When music isn't playing, you'll hear, well, nothing. Think of them as advanced earplugs that can also play music wirelessly.
On the flip side, the AirPods Pro have another listening mode called Transparency. This does the opposite of noise-canceling mode — it pumps ambient noise into your ears, so you can stay aware of your surroundings while listening to music. This is great for working out, commuting on the subway, or simply walking around a city.
Like other AirPods models, the included case keeps your AirPods Pro safe and charges them. You can charge the headphones through the case using the included USB-C to Lightning cable or by simply placing the case on top of any standard wireless charging pad.
Apple advertises that the AirPods Pro get 4.5 hours of use per charge. This increases to 24-hours of use when you factor in the case's built-in battery case. The good news? Just 5 minutes in the charging case gives for 1 hour of listening time.
Finally, the AirPods Pro has buttons on the bottom of the stems of each earpiece. 1 press pauses music, 2 presses skips to the next song, and 3 presses go back a song. Further, pressing and holding a button will change from noise canceling to Transparency mode.
A Frequent Flyer's Review of the AirPods Pro
While that all sounds great on paper, how do the AirPods Pro actually hold up to daily use? And more importantly, are they good for travel?
Below is my experience using the AirPods Pro over the past month-and-a-half. This includes being used extensively on 3 round-trip flights: New York City (JFK) to Rio De Janeiro (GIG), Vancouver (YVR), and Amsterdam (AMS).
I've broken down my review by section — for example, ease of use, battery life, and noise cancellation. Each of these sections is based on my experience using the headphones in-flight and during my daily life in New York City.
AirPods Pro Are Truly Built for iPhone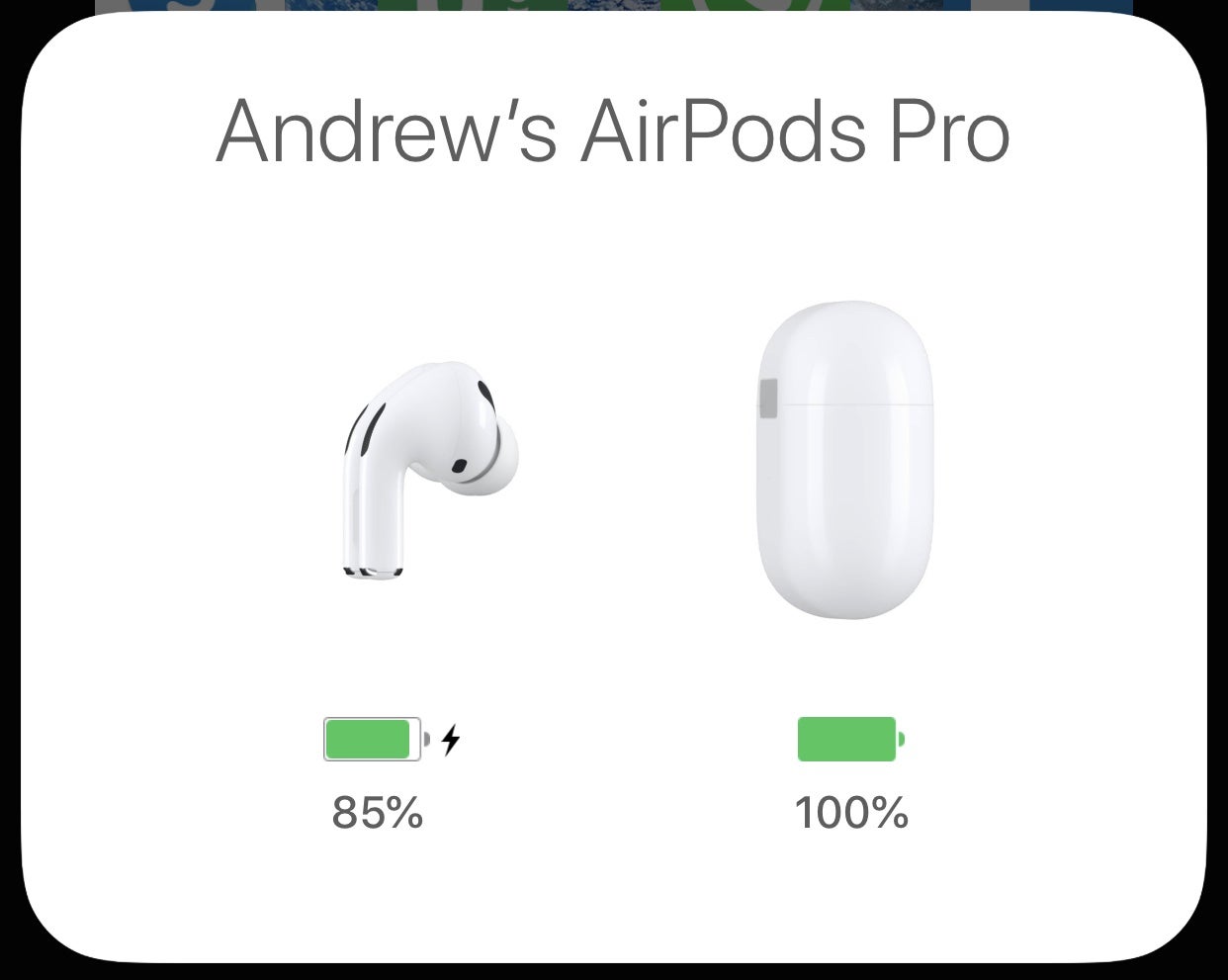 Before we get into the nitty-gritty of the headphones, we need to appreciate how well the AirPods Pro work with iPhones, iPads, Macs, and Apple Watches.
When you take your new AirPods Pro out of the box and place them next to your iPhone, they will automatically pair once you open the lid on the battery case. Even cooler, they'll automatically connect to all of the other Apple devices on your iCloud account like Macs and iPads.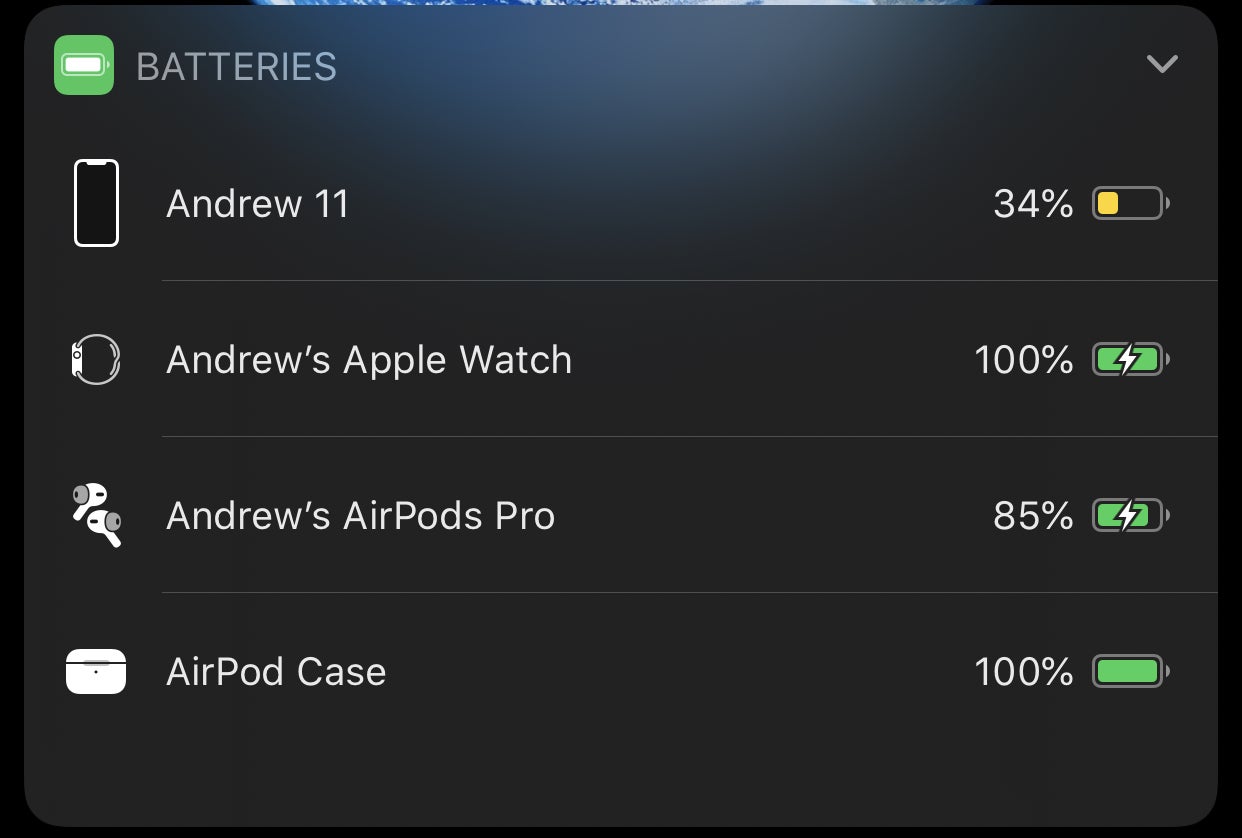 Once paired, you can view the battery status of your AirPods by simply opening the case when the device is next to your iPhone or iPad. Alternatively, you can use the Battery widget on the Spotlight screen of your iPhone.
All of this proves just how integrated the AirPods Pro are with the Apple iOS and macOS ecosystem. No other headphones (aside from Apple-owned Beats) provide this type of integration, giving Apple users a completely seamless experience.
Plus, the headphones just work. I've never had issues with the AirPods Pro connecting to my iPhone, MacBook, or iPad Pro. Switching between devices is remarkably easy, too — something that can't be said for other Bluetooth headphones I've tried. All you have to do is open the AirPods Pro's case near the device you want to connect to.
This is all possible due to Apple's H1 chip. This chip makes connecting the AirPods Pro faster than a standard pair of Bluetooth headphones — and while this may not sound like a huge deal on paper, it makes a huge difference in practice.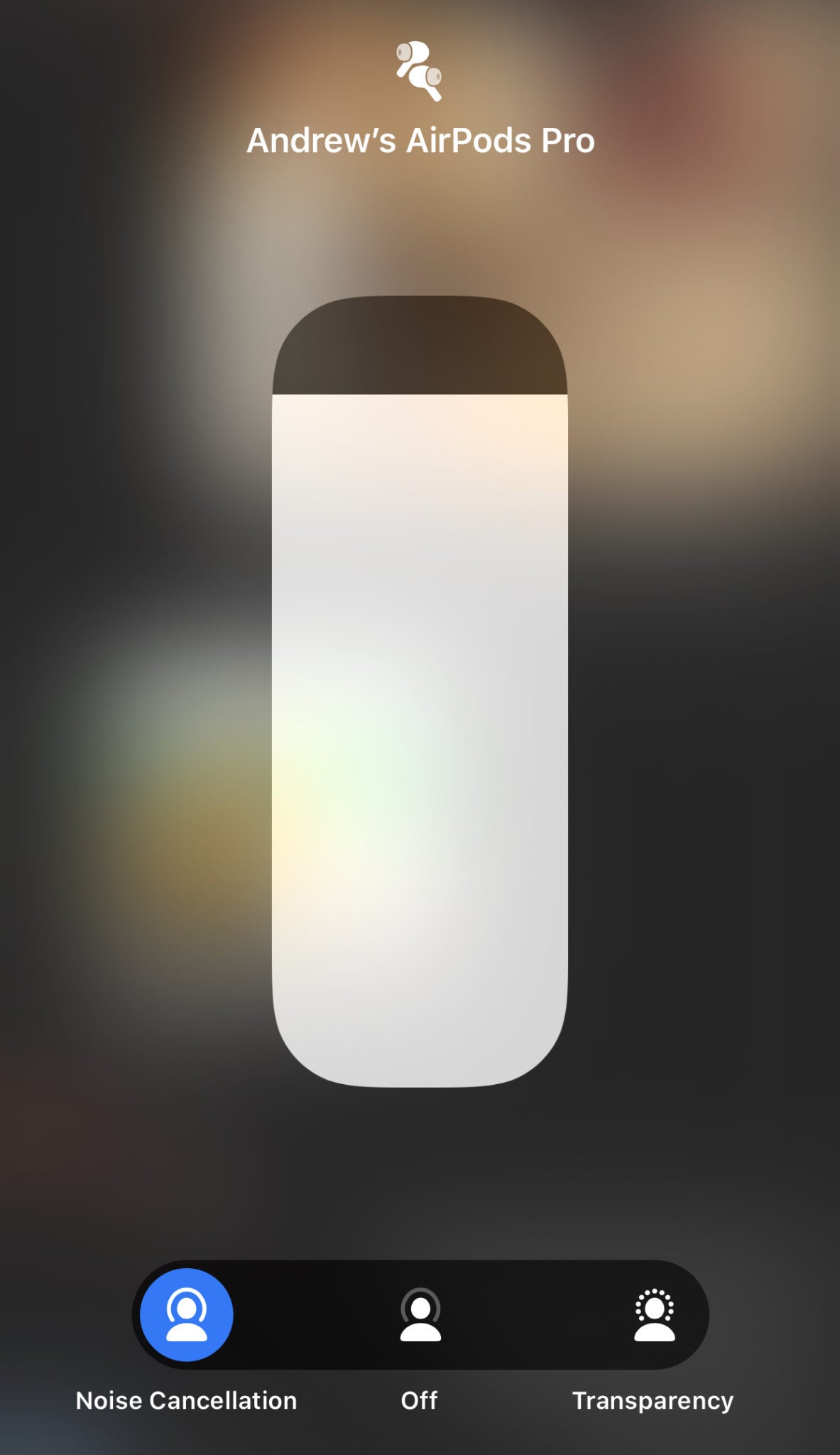 Beyond this, the headphones are integrated right into iOS. You can change listening modes through Control Center, discover what ear tips fit the best through the Settings app, and further customize the headphones right from your phone. This takes the guesswork out of using the AirPods Pro and gives you a much more unified experience.
You can also use Apple's new audio sharing feature with the AirPods Pro. This means that you can temporarily connect your AirPods Pro to another device and listen to content with another person. Think of it like a virtual headphone splitter that makes watching movies with another AirPods user super easy.
In my experience, this feature works really well. I actually used it just a few weeks ago to watch a movie with a travel companion and experienced zero hiccups during use.
While these may seem like small features to note, they make a world of difference and are definitely something Apple users will appreciate.
A Word on Active Noise Cancellation When Flying
I'll be honest with you: the AirPods Pro have great noise canceling, but they're not perfect.
While the headphones have true active noise canceling, they won't be quite up to the same level as the Bose QC 700s or other high-end, over-the-ear-style noise-canceling headphones.
But that's okay. The AirPods Pro are super small and are one of the only pairs of headphones in their class to actually offer true active noise cancellation.
In practice, the AirPods Pro's noise cancellation largely blocks out plane noise, noises in the NYC subway, and coffee shop noise — basically, just enough for me to get through a mid-haul flight or a long remote working session.
However, the noise canceling in the AirPods Pro isn't as strong as over-the-ear noise-canceling headphones. You can still hear some plane and background noise (think: crying babies), so you may want to pack a more heavy-duty pair of noise-canceling headphones for long-haul flights if you're more sensitive to noise.
This might be a good thing for some — we've heard reports of Bose and other over-the-ear headphones causing ear pain for some users. I highly doubt that this would be an issue with the AirPods Pro because of the less drastic noise cancellation.
Bottom Line: These headphones are more than adequate for my daily use and for short- and mid-haul flights. But if I'm flying from the East Coast to Asia, I'm still going to throw a pair of Bose over-ear headphones in my backpack.
Transparency Mode Means You Can Use AirPods Pro Anywhere
I'll admit it: I'm someone that — against my better judgment — listens to music in the airport terminal.
While this is usually no problem when taking a 2 p.m. flight on a Saturday, it can make me a sitting (standing? walking?) duck in airport foot traffic when flying home to New York at 6 p.m. on a Thursday.
Thankfully, the AirPods Pro have remedied this safety issue with Transparency mode.
When enabled, this feature will pump outside noise from your surroundings into your earbuds, essentially making it the opposite of active noise cancellation.
This is extremely helpful for walking around crowded cities, riding the subway, and walking around airports as it lets you listen to your music while still being connected to the outside world.
In Transparency mode, your music sounds like it's simply overlaid over the outside world. You can hear pretty much everything around you so long as you're listening to music at a reasonable volume.
You can turn this feature on by hard-pressing the volume button in Mission Control. The mode-switcher will appear at the bottom of the screen, and you can switch between Transparency, noise cancellation, or standard mode.
I'm a huge fan of this feature and find myself using this feature every day when moving around New York City, traveling, or when using a single AirPod while I ride my bike. To my knowledge, no other truly-wireless earbuds offer a similar feature.
Sound Quality Has Been Significantly Improved Over the Standard AirPods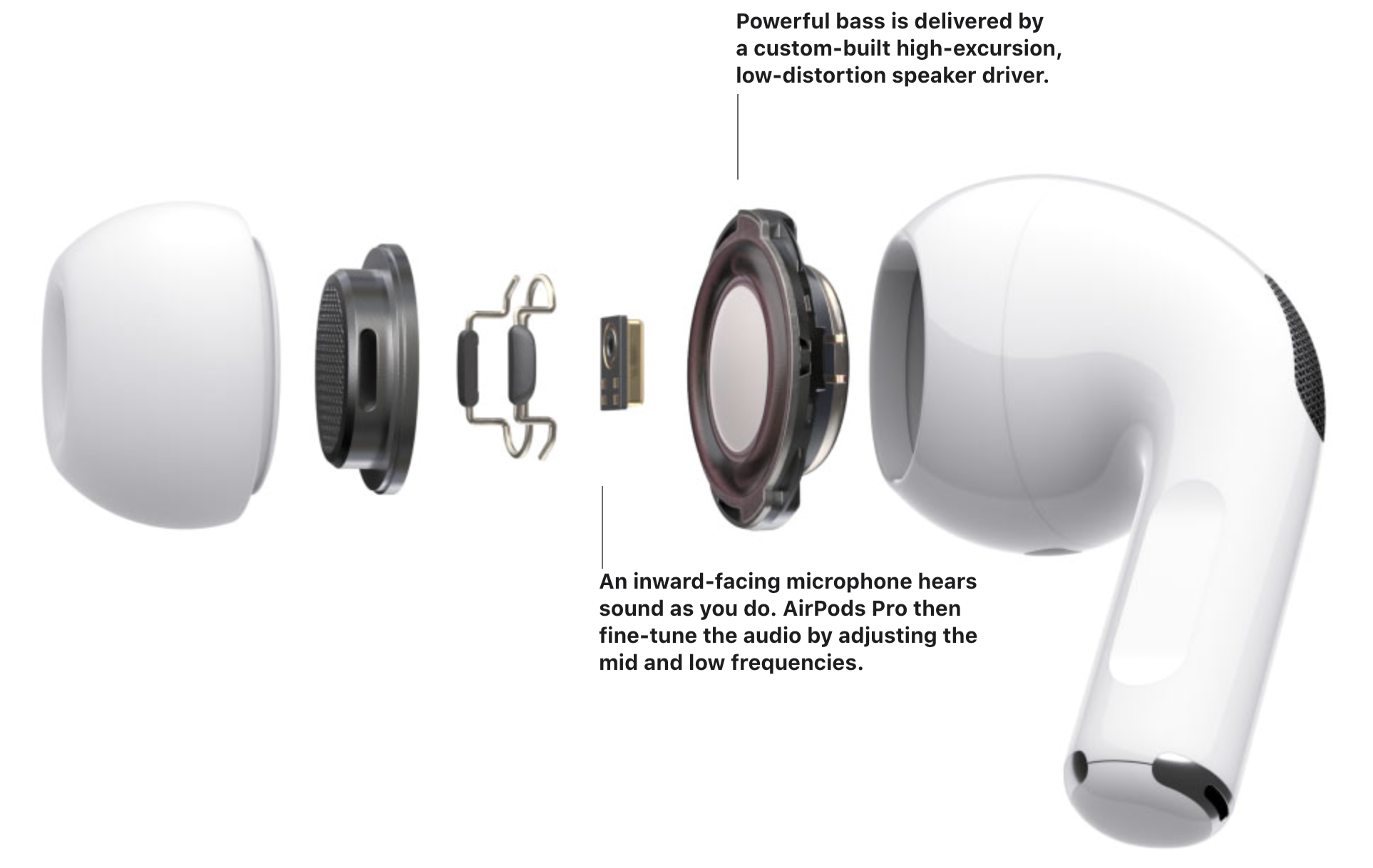 While I've been a music enthusiast for most of my life, I'll admit that I'm not the biggest audiophile on the planet. I love good sound and care about having nice headphones, but I don't know much beyond that. Please excuse my somewhat elementary terminology as we move through this section.
How do they sound, you ask? In my opinion: they're pretty darn good and are miles better than the original AirPods.
The lows are significantly more pronounced than the standard AirPods, but not overpowering. Plus, the highs and mids are also very clear, and you can hear cymbals and other details that weren't possible in the original AirPods.
The bass improvement over the standard AirPods comes from the AirPods Pro moving to an in-ear design and minimizing sound leakage. Apple also redesigned the internals to offer better bass performance by adding a custom made low-distortion speaker driver.
Plus, there's an internal microphone that aids in noise cancellation and adjusts the mid and low frequencies as you listen to music for the best possible sound. These bits of tech are definitely noticeable as you switch music genres, acting as an automatic equalizer of sorts.
This isn't to say that these headphones sound as good as studio-quality in-ear monitors — they don't. But for being truly wireless headphones, they provide a surprisingly well-balanced sound that will be more than adequate for casual listening.
Rubber Ear Tips Mean That the AirPods Pro Actually Fit My Ears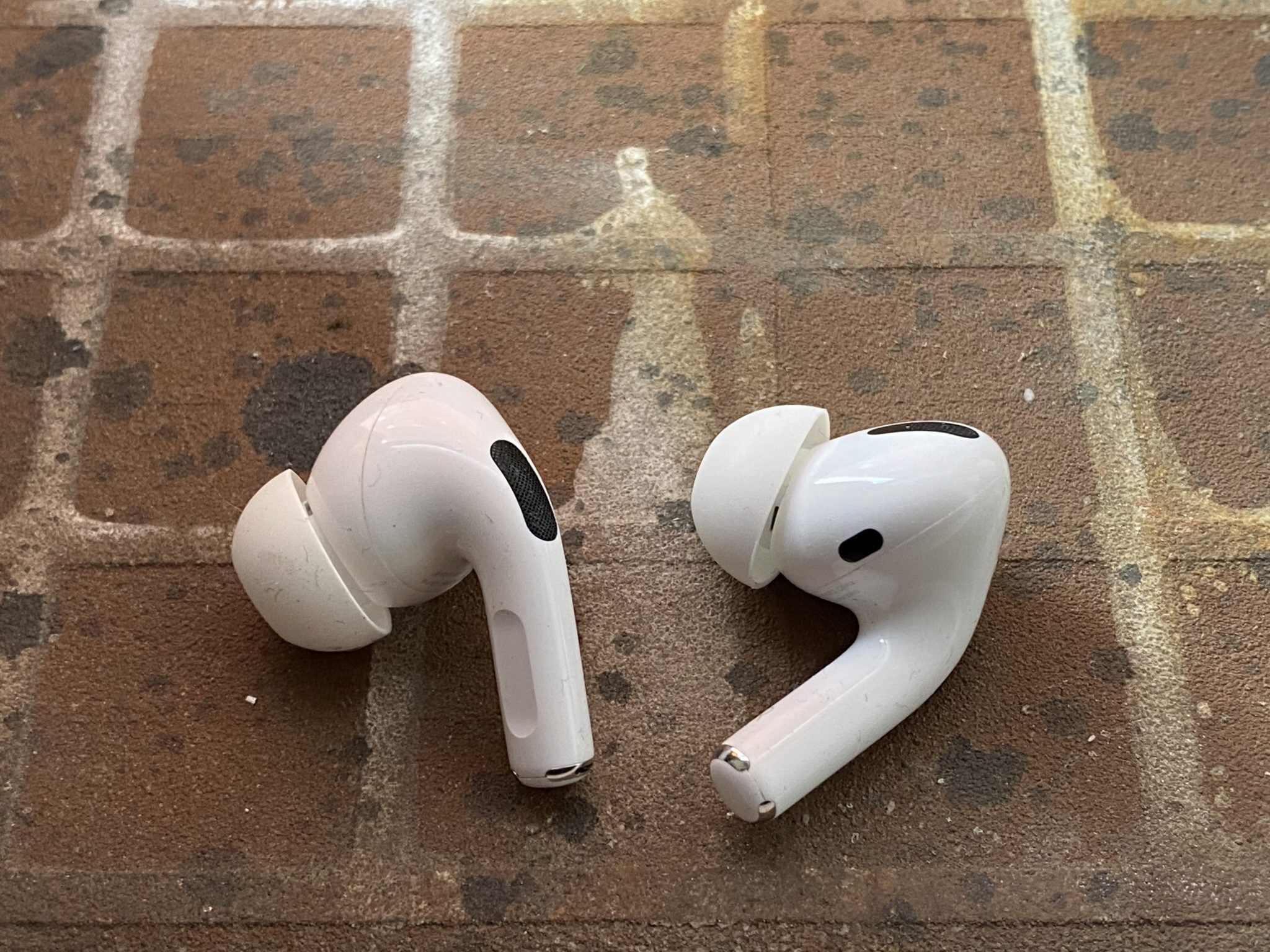 One of the biggest issues I had with the original AirPods was that they didn't really fit in my ears.
I always felt like the previous generation AirPods were constantly falling out of my ears. And when they were actually in my ears, there was no seal as the AirPods' plastic shell had no grip to prevent it from sliding out of place.
Thankfully, all of my qualms have been fixed with the AirPods Pro.
As you can see above, these earbuds have rubber tips that go into your ear canal. Once in your ear, a seal is created that both helps the AirPods Pro stay in your ear and aids the headphone's active noise cancellation.
In practice, this means that the AirPods stay in your ears and that you don't have to worry about them falling out when you're walking, running, or otherwise in motion. This is something that I can't say for the standard AirPods.
The AirPods Pro includes 3 different tip sizes, and there's a built-in sizing tool that will help you find the best fit for you. You can access this tool by navigating to the Bluetooth menu and clicking the information button next to your AirPods Pro. Then, tap the "Ear Tip Fit Test" button and you'll be walked through the steps on-screen.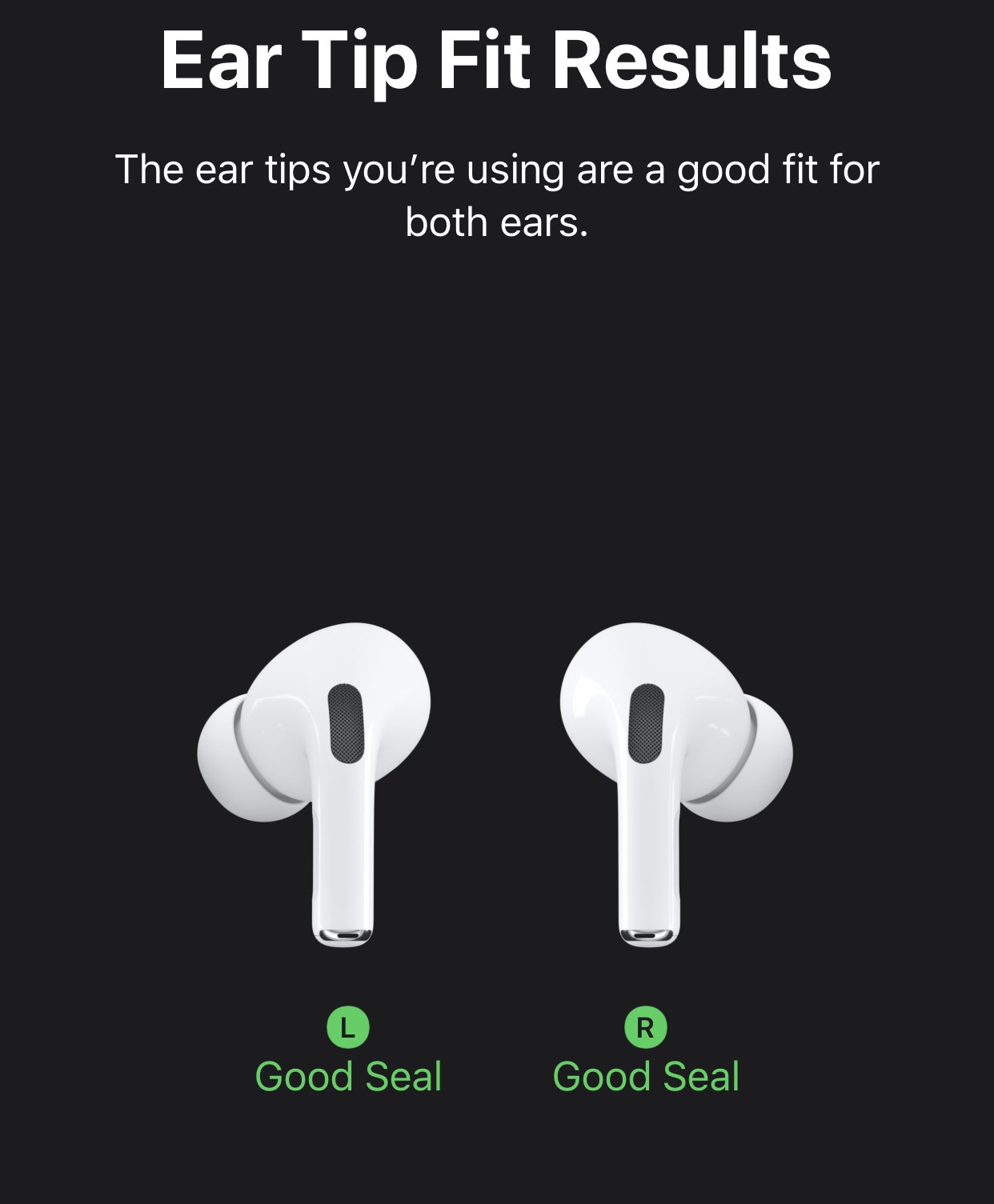 In this test, you'll listen to a sample music track. The microphones on your AirPods Pro will listen, too, and tell you if there's any sound leakage. You can perform this test for all 3 ear tip sizes until you find which size works best for your ears.
This feature is an absolute game-changer. You'll never be left wondering if your AirPods Pro fit correctly and you'll always have the best possible noise-canceling experience.
Hot Tip: Make sure that you're getting the best deal on the AirPods Pro by following our guide to buying Apple products.
Comfort is Second-to-None
Not only do the AirPods Pro fit correctly, but they're also super comfortable in the ear.
I can wear the AirPods Pro for hours without any type of discomfort or fatigue in my ears. This is in large part because of the Ear Tip Fit Test feature we mentioned earlier — since you're finding the right tip using the microphones, you won't have to worry about using a tip that's too big or too small.
The AirPods Pros also have shorter stems than the standard AirPods too, meaning that they put less weight on your earlobes. This not only looks better, but it leaves your ears feeling less tired after a long music listening session.
Hot Tip: The AirPods Pro have a button on each stem. These buttons can be programmed to control your music or change listening modes.
And since the AirPods are in-ear headphones, they fix a huge issue I have with over-ear noise-canceling headphones: heat. When I wear my Bose headphones for hours, my ears get hot — something that's not fun on a plane. This issue is nonexistent with the AirPods Pro because of their small size.
So in the end: the AirPods Pro are hands-down some of the most — if not the most — comfortable headphones I've ever used.
The Battery Life Question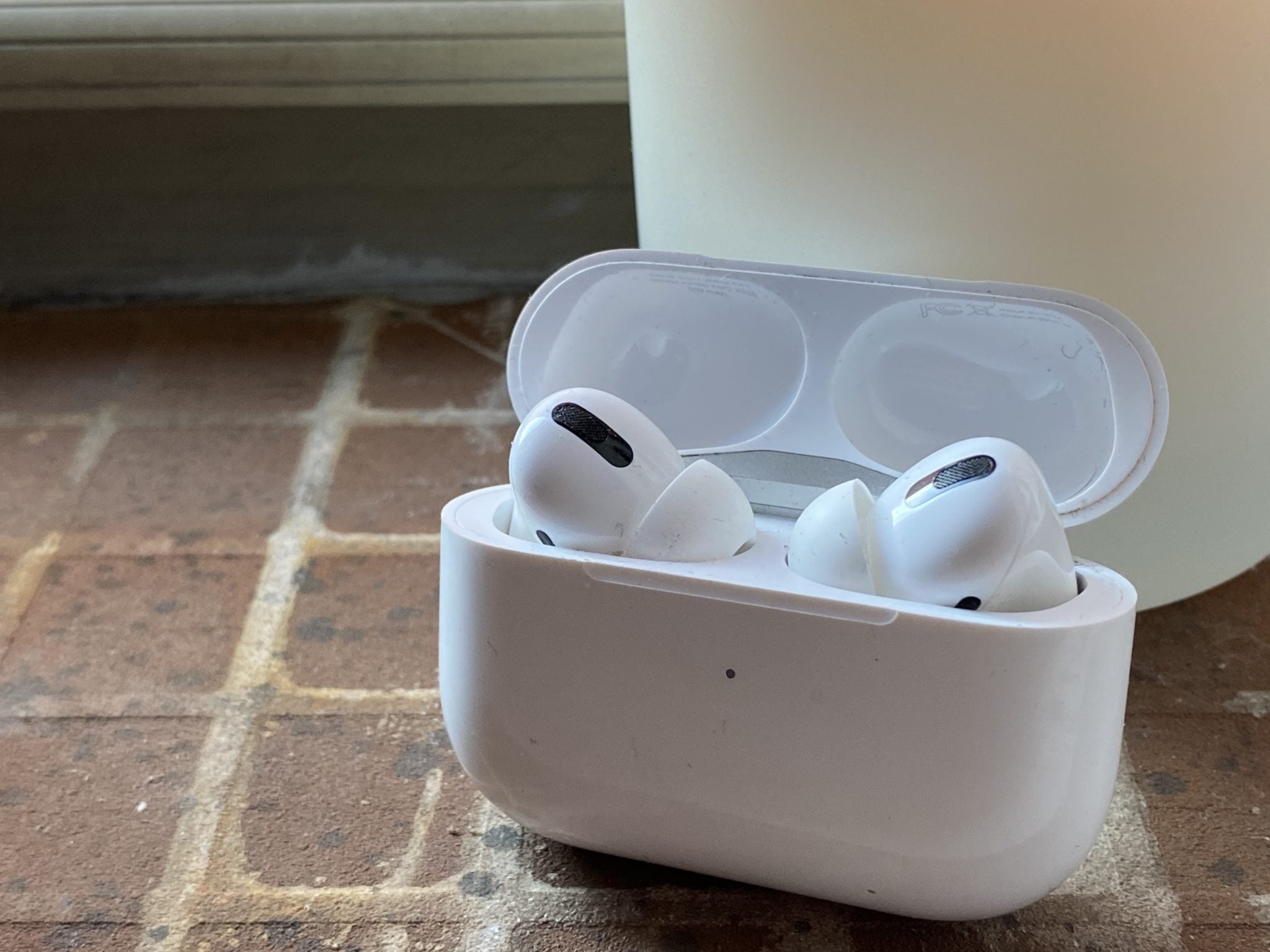 Now, not all is perfect with the AirPods Pro. One of the headphone's major downsides (at least for travelers) is the battery life.
I find myself getting around 4 hours of constant use from the AirPods Pro, just 30 minutes less than the advertised 4.5 hours. This means constant listening with no charging breaks in noise-canceling mode.
This isn't too bad when you consider the size of the headphones. In fact, it's a miracle that such small headphones can pack so much tech inside and still get that good of battery life. However, 4 hours is still super limited when it comes to long-haul flights — especially if you find yourself on an ultra-long-haul like Newark (EWR) to Singapore (SIN).
The good news is that the charging case will power up your headphones pretty quickly. Apple claims that you can get 3 hours of use with a quick 15-minute charge, so it's relatively quick to charge back up. Regardless, though, it can be annoying to do this in the middle of a movie (and have to go 15 minutes without noise canceling on a noisy plane).
This is one of the few reasons that the AirPods Pro won't completely replace my Bose QC 700 for long-haul flights. While much larger, these headphones get a proper 20 hours of battery life, so they can last the duration of just about any flight.
On the other hand, this makes the AirPods Pro perfect for short- and mid-haul flights, but just outside the range of transcontinental U.S. flights. However, if you drop them in the charging case for a few minutes during a bathroom break, you should be able to listen to music or watch movies for the entirety of a flight from JFK to LAX.
Bottom Line: The AirPods Pro are great for short- and mid-haul flights, but you'll find battery life lacking on long-haul flights.
Using AirPods Pro With Inflight Entertainment
Another downside to the AirPods Pro is not being able to use them with inflight entertainment. This is a limitation of all truly wireless headphones and is something that wireless over-the-ear headphones have had a leg up on as they usually have a headphone jack too.
So until inflight entertainment with Bluetooth makes its way to the market, we have found one workaround to this issue: the TwelveSouth AirFly.
This device plugs into inflight entertainment systems (or anything else with a headphone jack) and makes it Bluetooth compatible. You'll be prompted to pre-configure the device with your AirPods on the initial setup, and it will automatically connect whenever you turn the device on.
While this is definitely a Band-Aid solution, it works well for frequent travelers that want to use their AirPods Pro (or other Bluetooth headphones) on the plane. Better yet, the AirFly is frequently on sale on Amazon, so make sure to pick one up before your next flight.
Pros and Cons of Traveling With AirPods Pro
As you can see, I'm a pretty big fan of the AirPods Pro. They're almost everything I've wanted in a pair of truly wireless headphones.
But there's no doubt that these headphones have their downsides too, so I've compiled a list of their pros and cons below.
Pros of the AirPods Pro
Active noise canceling that works for daily tasks and most flights
Solid sound quality with significantly better bass than the original AirPods
Likewise, Transparency mode is helpful for walking on city streets and airports
Comfortable design with no noticeable discomfort in ears
Multiple ear tips that fit most ear sizes, creating a seal that keeps the AirPods Pro in your ears
Includes software that helps you find the right ear tip size for your ear
Seamless integration with iOS and macOS devices
Quick-charging with an included battery case; wireless charging is supported, too
USB-C to Lightning cable included
Cons of the AirPods Pro
4 hours of battery life can be limiting on long flights
No way to connect the AirPods Pro to inflight entertainment without using a third-party adapter
No power adapter included
Final Thoughts
All in all, the AirPods Pro are an extremely comfortable pair of active noise-canceling headphones that I can wear for hours on end — well, at least until the battery runs out.
Plus, they're jam-packed with features like stellar iOS integration, Transparency mode, and customizable ear tips that keep the headphones comfortably in your ears at all times.
To me, the AirPods Pros are near-perfect sans their limited battery life and incompatibility with in-flight entertainment. So while I'll be using them every day for the foreseeable future, they won't replace my Bose QC 700 for long-haul travel. I do, however, see them being my sole pair of headphones on mid- and short-haul flights.
I can highly recommend these headphones to anyone that wants a sleek and small pair of noise-canceling headphones that they can use both in daily life and when traveling.