The 20+ Best Gifts for Travelers (His & Hers Editions)
Have a special someone who loves to travel? Our roundup of the Best Gifts For Travelers is here to save the day!
Plus, we're breaking things down into His & Hers sections to help narrow the selection. From travel gadgets to great bags, fitness aides to cocktail helpers, and everything in between, there's something on these lists for everyone!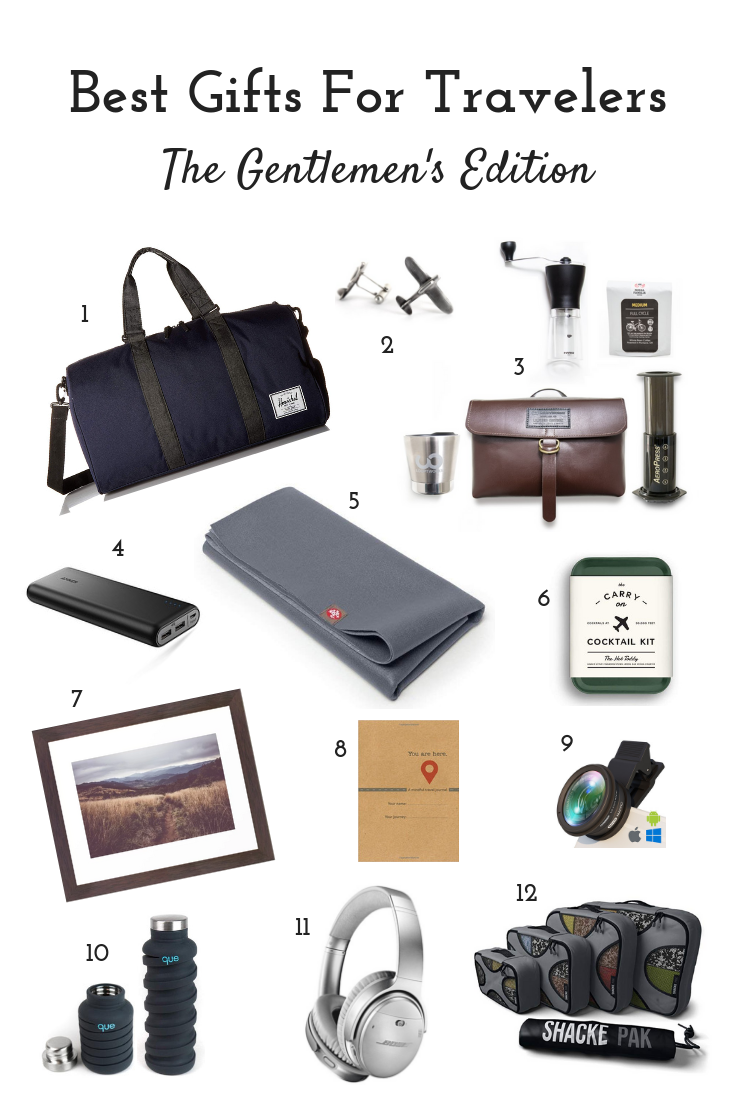 This versatile duffel lands itself on many of the "Top Travel Bags" lists, including those curated by Forbes, Business Insider, and Jetsetter.com.
It's got plenty of room to pack the essentials, a separate shoe compartment (to keep things clean), an easy-to-clean fabric liner, and a removable shoulder strap. Not only is it stylish, but it's also fairly lightweight — a great quality for toting around on your travels.
When choosing your bag, go for one of the options with fabric straps. Reviews from customers who've bought the fabric + synthetic leather combo report the straps not holding up so well.
For more options, check out these styles on our list of the best Herschel bags and luggage.
These aviation-themed cufflinks by MadMen Jewelry are seriously sleek. Handcrafted in Tel Aviv, MadMen aims to bring a bit of urban culture to your style. Dress them up or dress them down — either way, they're sure to make a statement.
Since these cufflinks ship directly from Israel, you'll want to purchase them early so they arrive in time for gifting!
For this stellar travel coffee kit, Looptworks has teamed up with Nossa Familia Coffe to bring you everything you need for a great cup in one handsome bag.
The kit comes chock full of goodies: an Aeropress coffee/espresso maker, a mini hand grinder, an insulated tumbler mug, and some Nossa Familia coffee. The bag itself is made of upcycled leather and has removable straps that can be used to attach your bag to bike handlebars (how hipster is that?).
A portable charger is essential for any traveler. This option from Anker shows up on almost every "Top Portable Charger" list out there, so it's definitely a safe bet!
Its "ultra high capacity" can charge your cell phone up to 5-7 times (depending on the model). Simply plug it in overnight, and it will be recharged and ready to go in the morning!  Plus, it's got an 18-month warranty.
This travel yoga mat is pretty incredible — it's only 1.5 mm thick and weighs just 2 lbs, so it's literally perfect to fold up and take on the go. The mat itself is made of biodegradable non-Amazon harvested natural tree rubber, and Manduka states the closed cell design will not absorb bacteria (also a perk for traveling)!
This mat isn't just for yoga lovers…roll it out for a quick HIIT session, bust out those pilates moves, or simply use it as a barrier between you and that questionable hotel floor when you need to stretch out after a long day of traveling!
Chances are you've seen this genius little tin making its rounds throughout the travel community. With 7 different cocktails to choose from, it's a great way to spice up those inflight beverages.
What's in the kit? The Hot Toddy, for example, includes small-batch ginger syrup, all natural lemon packets, cinnamon sticks, a travel-size bar spoon, a recipe card, and a linen coaster (enough for 2 cocktails worth). All it's missing is that little bottle of whiskey you'll order from the air hostess!
Society6 provides an enormous number of options for beautiful pieces that inspire adventure. We suggest a framed print, but you can also choose from standard art prints, canvas prints, wall hangings, murals, coffee mugs, wall clocks, and even shower curtains.
Simply head to their website, type "travel" or "adventure" in the search bar, and voilà! Literally thousands of options to choose from. The only hard part will be picking the perfect one!
This travel journal is meant to get you off that iPhone and back to the real world…mindfully. With guided activities and writing prompts, 'You Are Here" aims to assist you in thoroughly enjoying your travels and recording memories to last a lifetime.
Their tagline? "Every moment is precious. Every moment is unique. Use this journal to live each moment to the max."
This little 2-in-1 lens packs a big punch. Though it has both an ultra-wide lens and a macro lens, this little clip-on accessory is still small enough to carry in your pocket.
It works with most iOS, Android, and Windows smartphones, and it's pretty foolproof to manage: just clip it on and snap away for wide-angle shots. To utilize the macro lens, simply screw off the top wide-angle lens and you're left with the macro portion. Plus, this puppy ("bully" pun intended) comes with a free photography guide ebook if you want to get your learn on.
If you're really into saving space and squeezing every last inch out of your travel bag, the Que Collapsible Water Bottle may be right up your alley.
The bottle itself is made of 100% FDA and LFGB approved food grade silicone, and it's BPA-free. It's also leak-proof, shock-proof, dishwasher safe, and comes in a 20 oz or 12 oz option.
When we polled our writers to find out what's on their personal "can't travel without" lists, these headphones were mentioned time after time. One contributor even stated he'd cry if he had to fly without them…and we don't think he was joking.
These Bose Quiet Comfort 35 wireless noise-canceling headphones certainly aren't cheap, but they're the gold standard in the industry. Block out crying babies, annoying seat neighbors, the drone of the engine — basically anything you can imagine to help you relax on that flight. And they're now Alexa enabled…because of course they are.
(Also good for road trips, train rides, bus trips, etc!)
These packing cubes are perfect for the disorganized traveler. They're made of high-quality water-resistant nylon and double stitching, so they stand up to even the toughest travels.
These 4 packs (XL, L, M, S) also come with an additional small laundry bag, and they're available in a bunch of colors!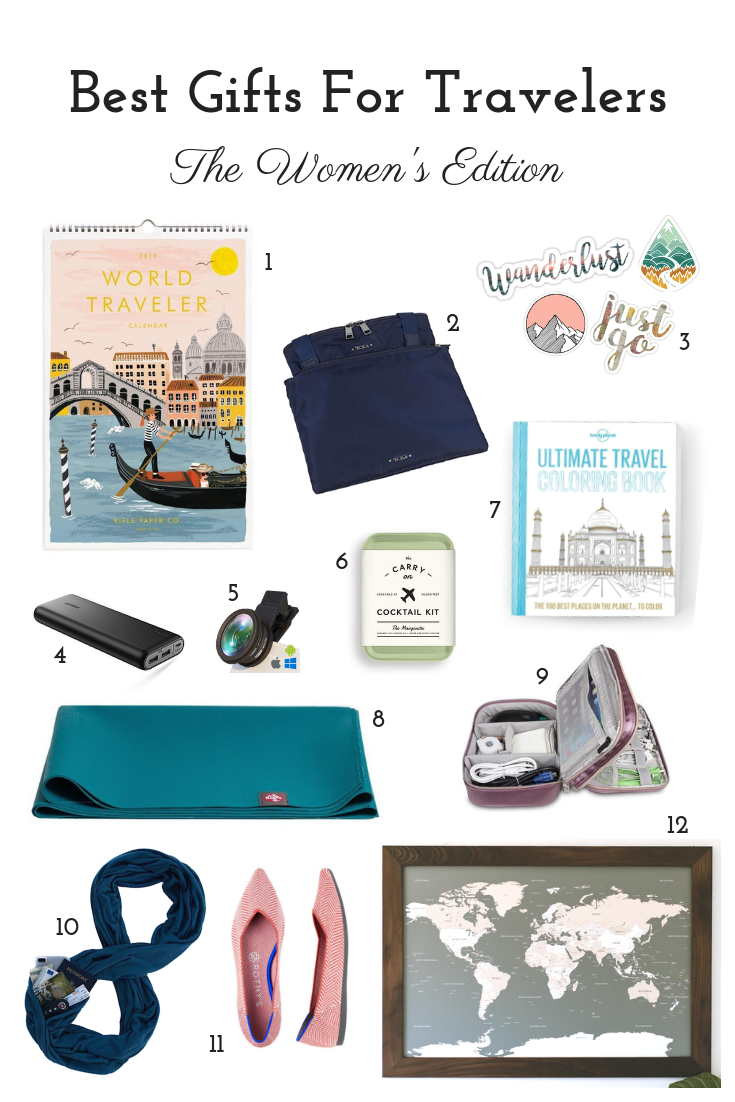 Rifle Paper Co. crafts all sorts of pretty little things, including some travel related must-haves! This 2019 World Traveler Calendar features whimsical yet chic illustrations including a mix of 12 different cities and countries.
The colors and images on this wall calendar are sure to set anyone daydreaming of a fantastic vacation in a  far-off land.
Tumi is certainly a trustworthy name in luggage, but have you seen this "Just in Case" tote?  It's perfect for travelers on the go who might need a bit of extra room in a pinch!
This nylon bag folds down into a compact little pouch for slipping in your suitcase or purse. When you need some extra carrying space, the tote unfolds to measure 9″ x 23″ x 14″. It's got a zippered main compartment and fabric lining to cushion whatever's inside.
Because who doesn't love stickers? These little guys are sure to add that wanderlust feel to any laptop, water bottle, journal, lunch box, etc.
At Redbubble Ltd, the stickers you see are designed by independent artists from all over the world. Plus, they provide a nice perk when you bundle: 25% off 4 small stickers and 50% off 10.
This portable charger lands itself on almost every "Best Portable Chargers" list out there, and it gets great reviews (4.5 stars from 13K+ customers!). Plus, they're so confident in the product, it comes with an 18-month warranty.
The Anker PowerCore 20100mAh power bank can charge your cell phone up to 5-7 times (depending on the model).  When you've used up all its juice, it only takes 10 hours to re-charge…just plug it in overnight!
This lens is perfect for anyone who isn't a pro photographer (or just doesn't want the hassle of carting a big camera around).  The Bully Eyes Phone Lens has 2 lenses: an ultra-wide lens and a macro, all in a gadget small enough to fit in your pocket. Don't worry, there's also a cap so you don't scratch it.
This lens works with most iOS, Android, and Windows smartphones, and it even comes with a free photography guide via pdf.
This little kit is perfect for travelers who want to make that airplane cocktail just a little fancier! With 7 different cocktail types to choose from, there's definitely one here to delight any palate.
For example, the margarita kit elevates your little plastic plane cup with a recipe, margarita mix, rimming salt, a 1/2 oz jigger for measuring, a tiny bar spoon, and a linen coaster. Each kit makes 2 cocktails; all you have to do is order your alcohol from the flight attendant!
This Lonely Planet Coloring Book is chock full of inspiring pages to color away! Choose from scenes inspired by The World's Greatest Places (as voted by Lonely Planet's Travel Experts).
From the Great Barrier Reef to the Great City Walls of Dubrovnik to the hot air balloons in Cappadocia and so many more — whether you're dreaming of that next adventure or keeping yourself busy on the flight there, this coloring book won't disappoint!
Hot Tip: Add a travel pack of colored pencils to complete this gift! 
This mat from Manduka is like no other yoga mat you've ever used! It's legitimately "superlite" at just 2 pounds, yet it measures 68"x 24″ and 1.5 mm thick once unfolded. The beauty of this mat comes when you fold it up — it's so slim, it can fit into virtually any travel bag.
Plus, true to Manduka style, this mat is made from biodegradable non-Amazon harvested natural tree rubber, and it's closed cell design won't absorb bacteria.
Don't do yoga? This mat's also perfect for pilates, a quick HIIT workout, or any time you need to stretch out after a long day of travel.
This cute little cord organizer pack will help keep things tangle-free on your travels. It's a great size at 9.5″ x 7″ x 4″, and it's scratch-resistant, wear-resistant, and water-resistant. Plus, it comes in 4 chic pastel colors plus 2 tried and true neutrals.
Get those chargers, e-readers, GoPros, and computer cables ready! Afraid you won't fill the bag? It works great for makeup, toiletries (if they're sealed to prevent leaks on your cords), hair accessories, etc.
This infinity scarf by Waypoint Goods has as a secret hiding spot for your most sensitive travel items. Nervous about pickpockets getting their grubby hands into your purse or jacket pocket? They certainly won't think to look here!
Made from durable yet buttery soft polyester, Waypoint claims this scarf's pocket is a tad larger than most others (at 8" wide and 7" deep), so it can fit your passport, cash, ID, keys, and other important items that need to be kept safe. Plus, it comes in a variety of colors and prints and has pretty great reviews!
These flats right here are the ultimate go-to travel shoe. They're really lightweight, super comfortable, and definitely durable. Rothy's flats come in a huge variety of colors and even 4 different styles: the flat, the point, the loafer, and the sneaker.
The best part? They can be tossed in the wash when they get dirty, or even washed out in the sink if you're a traveler on the go. Another amazing thing about these shoes? They're uber-sustainable, made from 100% post-consumer plastic water bottles with a carbon-free rubber sole.
Hot Tip: If you need some decent arch support (especially for roaming the streets of your favorite far-off city), these great insoles slip seamlessly into the other Rothy's styles. How do I know? Because I wear them almost daily. If you're not into the insoles, we suggest trying the sneaker style — it's a bit bulkier but also the most supportive.
This push pin travel map is, in our opinion, simply the best out there. The hand-crafted wooden frame and neutral colors make this a simply gorgeous addition to any room in your house. And it's certainly a fantastic conversation starter — not to mention a great way to reminisce about all the crazy adventures you've had (and those yet to come)!
A bit chicer than your standard scratch-off map, it comes in 2 different sizes, 3 color options, and even includes push pins so you don't have to buy them separately. (Although this scratch-off map is great for those with kiddos and the young at heart).
---
Interested in other awesome travel-centered ideas? Check out our Carry-on Travel Essentials For Short and Long Flights.
And don't miss our Complete Travel Packing Checklist post, which includes a handy printable checklist and tons of great tips and tricks for packing!
In a holiday sort of mood?  We've got a fun piece on 9 Creative Cocktails to Elevate Your Holiday Flight!
Finally, if you need more "best of the best" travel products, check out these posts.
Did we miss any of your favorite travel-themed gifts? Let us know in the comments below — we love hearing what's on your wish lists!