The 10 Best Luggage Covers for Travel [2021]
A luggage cover can help protect your suitcase in transit and make it easy to identify at baggage collection. Stand out from the crowd with a luggage cover that suits the needs of your next adventure.
For ease of use, look for one that offers easy access to your belongings, as well as slots or openings for both the wheels and handles.
Why Buy a Luggage Cover?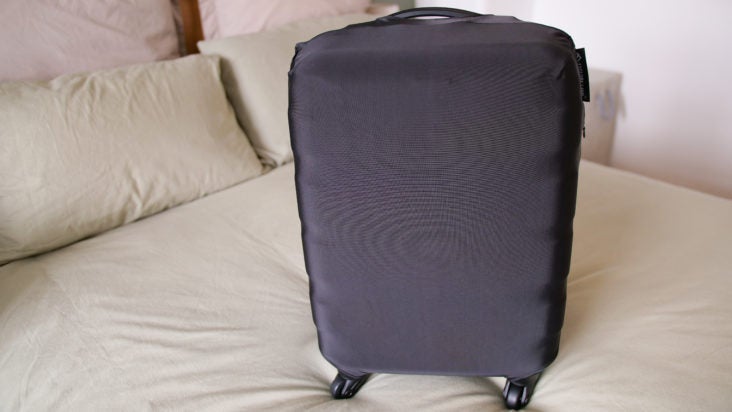 Your shiny new suitcase may claim to be super-tough and resistant to almost anything, but in reality, the rigors of air travel and baggage handlers can eventually take their toll. Luggage covers can help to protect your suitcase from the bumps and knocks of flying, as well as to keep dirt, dust, and other debris away from your neatly packed belongings.
A well-wrapped case can also act as a deterrent to light-fingered thieves, as a break in the wrapping is a sure sign that it has been tampered with during transit.
While some airports do offer wrapping stations that allow you to cover your own case in cling wrap, the excessive use of single-use plastic is alarming and not environmentally sustainable.
Bottom Line: Reduce your carbon footprint while keeping your gear well-protected by investing in your own reusable and easily identifiable luggage cover.
Do Luggage Covers Work?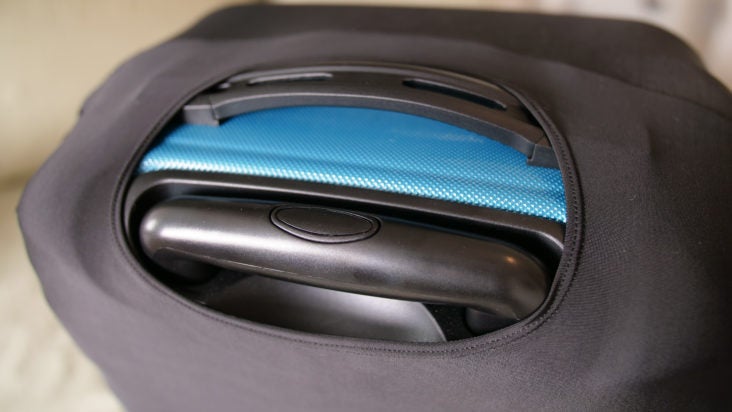 If you use a flimsy case or one that's practically an antique, it is entirely possible that nothing will protect it from harm in transit. But for more modern and durable cases, luggage covers can offer an extra layer of protection that is certainly worth considering.
At the very least, a luggage cover can protect your bag from the dirt and grease of the luggage carts and belts, as well as keeping zip pulls and handles from being snapped or ripped off. They will also help you to instantly identify your case at arrivals, meaning you can be out of the airport far quicker than your fellow travelers.
PVC vs. Spandex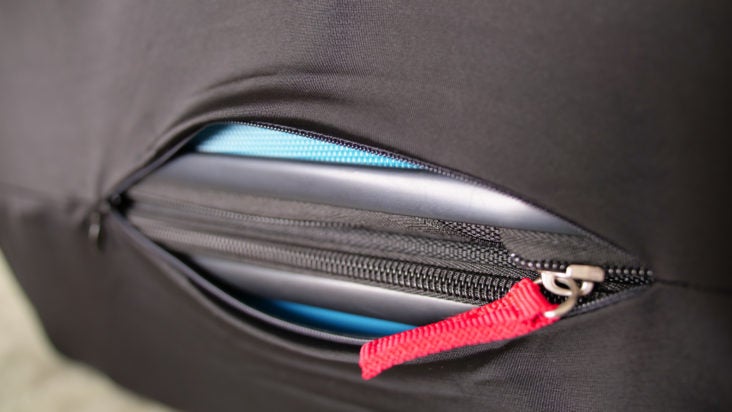 Some more expensive cases come with a PVC cover thrown in, but you can also buy these separately. Spandex covers are also a popular choice and come in a wide range of colorful designs for super-speedy baggage collections.
PVC covers are thick and waterproof without adding weight and usually come with clever cut-outs that allow you to slide the cover over your upright suitcase while still allowing for supersmooth rolling and easy access to your handle.
They won't draw attention to your case and simply act as a dust and waterproof layer for your belongings. However, they don't always fit exactly as they should, leaving corners of your case vulnerable to the knocks and damage you are trying to protect it from.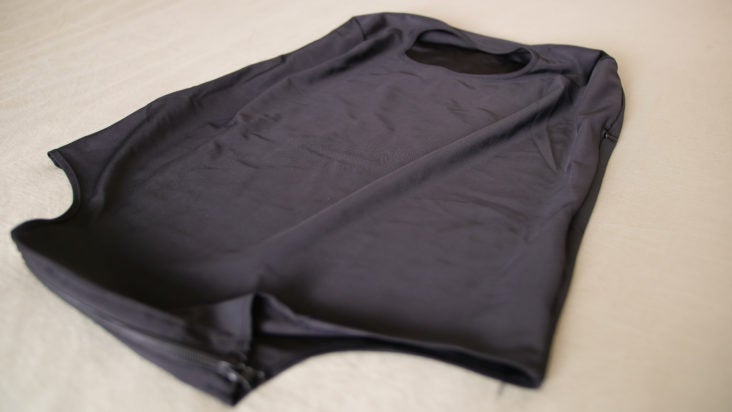 Spandex covers, however, are designed to act like a T-shirt for your suitcase and offer a tight, stretchy fit that molds to the shape of your case. Complete with cut-outs for the wheels and handles, these types of covers are available in a range of colors and designs, and you can even have them printed with an image of your own face to ensure that your case never ever goes astray!
Hot Tip: The downside of spandex cases is that you can't access the contents of the case without removing it fully.
Airport Security and TSA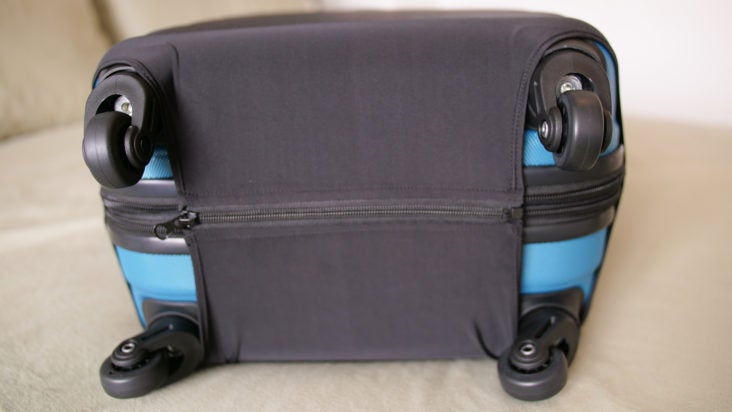 The TSA is there to open and inspect any luggage pieces as and when it deems necessary. This means that no suitcase is immune to a potential inspection and that your luggage cover, no matter how special it is, will not prevent the TSA from gaining access.
If you use a PVC cover with a zip, it is possible that they will open the case more carefully, but cling wrap will be cut right through and no longer useful, while spandex cases will be removed without any care or attention.
Bottom Line: While there is no real way to prevent security agents from damaging your luggage cover, packing your case without any prohibited items will make it less likely to be searched in the first place.
The Best Luggage Covers
Because not all luggage covers are created equal, here are some of the most beautiful and the best out there.
The Best Transparent Suitcase Cover
Yotako Clear PVC Suitcase Cover Protectors
Available in 20-, 24-, 28-, and 30-inch options, this transparent luggage cover is designed to protect your case in transit. Made from high-quality materials, this case cover can be used time and time again to keep your suitcase safe from knocks, dents, stains, dirt, and even moisture on the go.
With an easy-to-use hook and loop closure, you can slide this luggage cover over your cases in an instant, while the cutaway areas allow your wheels to roll freely and your handle to be accessed as usual.
What We Like
Transparent to easily identify luggage
What We Don't Like
Velcro closure isn't the most durable
Spot Your Suitcase From a Distance With Brightly-Colored Designs
HoJax Spandex Travel Luggage Cover
Available in a choice of sleek black or brightly patterned colorways, this super-stretchy luggage cover is available in 4 sizes to fit small, medium, large, and extra-large suitcases measuring from 19 to 32 inches. Super-vivid patterns and designs make it easy to spot your luggage on the belt, and this cover can be washed after every adventure, allowing you to use it time and time again.
Double-stitched for extra durability, this luggage cover will help to protect your suitcase from dents and scratches, as well as dirt and dust that could potentially get inside and soil your belongings.
What We Like
Machine washable in between trips
What We Don't Like
Can snag and rip with harsh treatment
Super-Stretchy Protection for Your Suitcase
Explore Land Travel Luggage Cover Suitcase Protector
Offering 4 separate size options designed to comfortably cover small, medium, large and extra-large suitcases, these stretchy suitcases covers are perfect for cases ranging from 18 to 32 inches.
Available in a choice of sleek solid colors or bold, bright patterns, your case will stay well-protected against scratches and stains while still being incredibly easy to spot on the conveyor belt. The double-stitched, high-elastane material will hold your case shut, while the bottom zipper ensures that the cover stays put, even in transit.
Complements Your Briggs & Riley Suitcase Perfectly
Briggs & Riley Sympatico-Luggage Cover
Designed to complement the upscale Briggs & Riley Sympatico range of suitcases, this cover has the capacity to comfortably cover the case, even when it is fully expanded.
Made of sleek black Lycra material with the Briggs & Riley logo on 1 side, the premium look and feel of this cover perfectly match the quality of the case inside.
With an adjustable Velcro closure on the bottom for a snug fit and a deep pocket on the back that offers easy access to keys and small items, this luggage cover not only protects your suitcase — it also enhances it.
Super-Cute Designs for Trendy Travelers
Showudesigns Printed Luggage Cover
Available in a choice of "sloth" or "flower" designs, these super cute luggage covers are bright enough to spot even on the busiest of luggage conveyor belts while also being strong enough to offer extra protection against the elements.
Made from polyester and spandex material, this thick and durable suitcase cover will keep your case safe from dents and scratches as well as dirt and dust, and the unique digital print will definitely ensure that your case stands out from the crowd.
These covers are available in 3 sizes to fit small, medium, and large cases and are incredibly easy to remove and fit.
Retro-Style Design Paired With Modern-Day Protection
Samsonite Printed Luggage Cover, License Plate
Featuring a gorgeous retro-style license plate design, this luggage cover can fit suitcases measuring up to 28 inches in size.
Made from a durable blend of spandex and polyester, this cover can easily stretch and fit your Samsonite suitcase while offering an extra layer of protection against dust, dirt, stains, and scratches.
If you are looking for a different style, you can also choose from sleek black or bold acid pattern designs to add personality to your luggage at the airport.
Stylish, Washable Covers for the Discerning Traveler
OrgaWise Luggage Covers
This stunning luggage cover adds protection and wonder to your suitcase and is available in a choice of 3 different sizes to fit suitcases from 23 through to 32 inches.
Available in 2 stylish designs, this cover is an excellent choice for frequent flyers and travel enthusiasts.
Offering protection against dust, scratches, dents, and damage, the luxurious-feeling thick spandex and polyester material fit your suitcase perfectly, while the superstrong zipper closure is designed to last for many miles of repeated use.
Funky Covers for Epic Adventures
Anti-Scratch Baggage Cover
Choose from a range of bright and modern designs to personalize your luggage while resting safely in the knowledge that your suitcase is well-protected.
Keeping your case safe from scratches, dust, dirt, and even moisture, these funky luggage covers will add an extra layer of protection to your cases.
Instantly recognizable wherever you are headed, this cover has bottom, top, and side openings for wheels and grab and trolley handles, as well as a zipper and adjustable buckle to ensure it stays tightly fitted in transit. Chose from S, M, L, or XL sizes and spot your suitcase from a mile away!
Supercool Designs in a Choice of Sizes
Travelkin Luggage Cover Washable Suitcase Protector
Available in a wide range of bright colors and fashionable designs, these luggage covers have a youthful feel about them while still offering an extra layer of protection for your belongings.
Made from thick and durable spandex and polyester material, these covers are more than capable of keeping your case safe from dust, dirt, dents, and scratches on the go. Choose from S, M, L, or XL sizes, fitting cases from 18 to 32 inches, and enjoy the quality of these covers that includes top and side zipper openings for easy access to your trolley grab handles on the go.
Breathable and Washable Protection for Your Suitcase
Luggage Cover Protector, HIMI Elastic Protective Suitcase Cover
Made from durable polyester with a spandex air layer, this clever suitcase cover offers a double opening for easy access to your belongings. Available in small, medium, large, and extra-large sizes, this cover is easy to fit and completely removable in seconds.
Available in a variety of colors, this luggage cover offers an extra layer of protection against scratches and damage while also being water-resistant and washable for use time and time again.
Final Thoughts
Give your suitcase an instant glow up while also keeping your belongings protected against dust, dirt, and moisture on the go. Prolong the life of your favorite luggage with a suitcase cover and be the first to see it come around the carousel.
While some makes and models can be a little fiddly to take on and off, and the TSA may not return them to you in the condition in which they found them. On the whole, a luggage cover is a great way to keep your cases looking fresher for longer.