The 20 Best Travel Sandals for Men & Women [2021]
When the weather heats up, keep your feet feeling cool with a pair of comfortable and practical travel sandals. Designed to effortlessly handle long, hot summer days, these lightweight, open-toed, and incredibly airy summer shoes are still able to offer excellent support and comfort all day long.
Whether you opt for a simple slider for use straight out of the pool or a sturdy strappy sandal that can be worn on all types of terrain, these travel sandals for men and women are some of the best that you'll ever have the pleasure of slipping your feet into.
Sweat-free, slip-free, and designed to minimize blisters, say goodbye to savage sandals that shred your toes and invest instead in any of these little beauties for your next adventure.
Things To Consider With Sandals
Because not all summer travel sandals are created equal, here are some things to consider before you buy:
Weight and Portability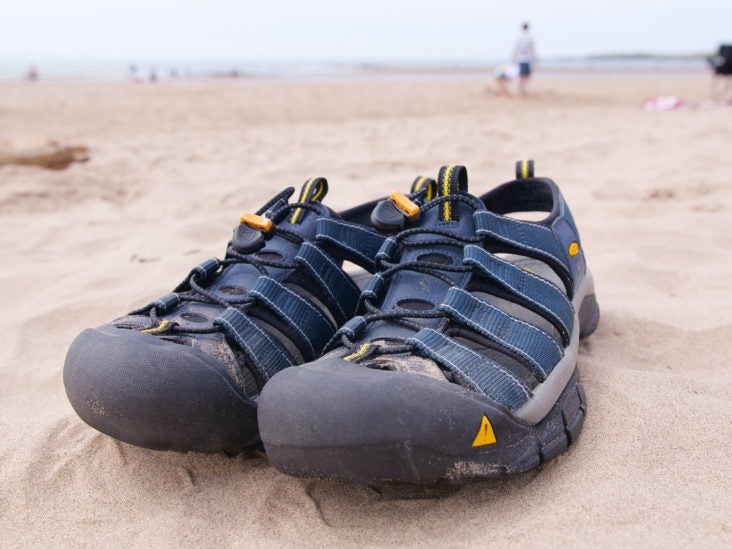 Sandals, sliders, and slip-on summer shoes should all be super lightweight and make you feel like you are walking on air. Leave your heavy hiking boots at home and opt for sandals with EVA, cork, or rubber soles and durable fabric uppers to ensure that they give you that authentic barefoot feeling in the sun.
Your travel sandals should also be lightweight and compact enough to carry with you. For your convenience, sliders fit nicely inside of each other for easy packing, and without the worry of bulky soles or rigid uppers, you can easily fit several pairs in your suitcase without taking up too much space.
Comfort
While all footwear should be comfortable, some specific areas should be considered when investing in a new pair of sandals. Even though your feet are not closed in, making sure you buy the correct size sandals to fit them is still incredibly important. In the warmer weather, your feet are likely to swell, so be sure to factor that in when buying.
Toes hanging over the front of the sandals are not just uncomfortable but also unsightly, and the toe box should be wide enough to hold the width of your entire foot at all times.
Bottom Line: Contoured midsoles that mold to the shape of your foot are incredibly popular, and some sandals even come with increased cushioning for pillow-soft comfort even while you are enjoying a wide range of outdoor activities.
Material and Durability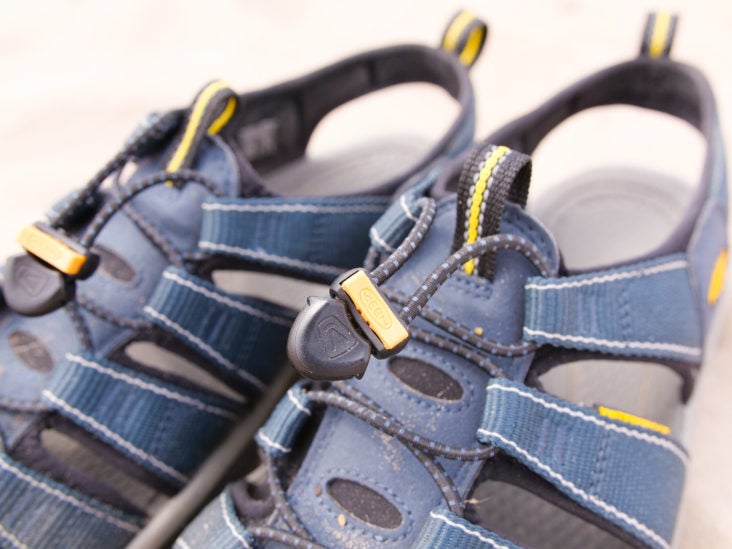 Lightweight and laid-back don't need to mean poor quality. Your sandals will need to be able to cope with saltwater, pool water, sand, dirt, and other conditions to ensure that they are durable enough to last for many summers to come.
Look for sandals that feature high-quality webbing straps that won't fray or break, while still being soft enough not to cut your feet to ribbons or leave nasty blisters, no matter how far you walk in them.
From beaches to the backcountry, your sandals will also need to have soles that can handle the ground's ebb and flow beneath you, making flexible materials like rubber a more attractive option and increased traction a must-have feature.
Use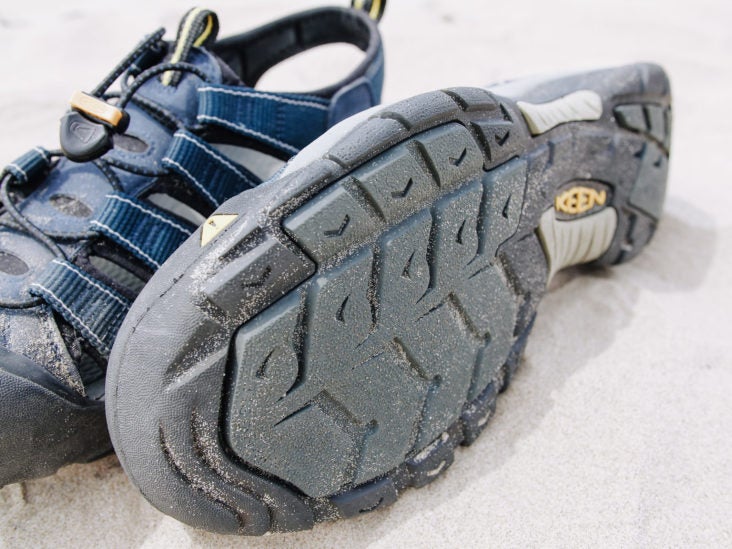 Following on from the various styles of sandals that are available, different shoes are better suited to different situations. If you are planning on staying super active while you are away, choose nothing less than a heavy-duty sandal that comes with adjustable waterproof uppers and rugged soles for excellent traction, even in wet conditions.
Suppose you are planning on enjoying a more laid-back kind of vacation. In that case, your biggest concern should be comfort in the first instance, followed by non-slip soles for safe walks around the pool, and the durability you need to ensure that they will last for many miles of urban adventures.
Style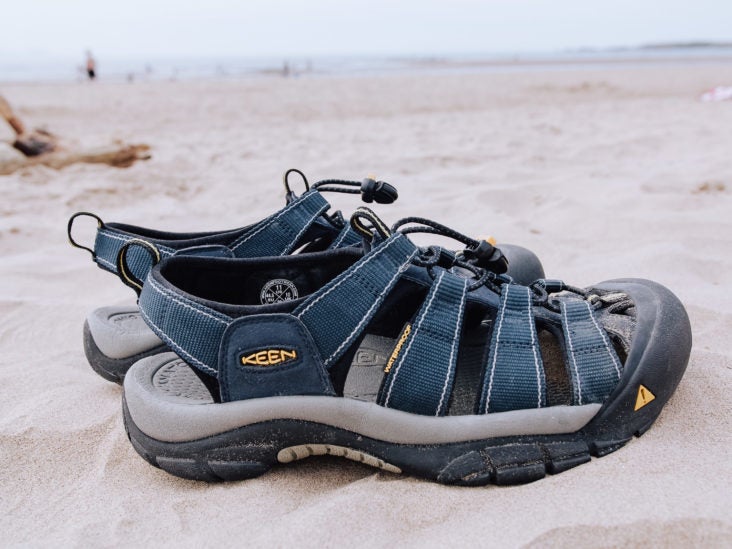 From flip-flops to hiking sandals and everything in between, there are plenty of different styles of travel sandals to choose from. Whatever you are planning to do on your vacation will also directly affect the suitability of your sandals, with some styles being better suited to the great outdoors than others.
Sliders and slip-ons are perfect for use on the beach or around the pool, and footbed sandals add the comfort and support you need to enjoy long days spent taking in the sights.
For more adventurous expeditions, structured hiking sandals with rugged soles and sturdy uppers will keep your feet better protected. If you are planning on being in or around water while you are away, be sure to choose a pair of sandals that won't be stained by saltwater or ruined if they get wet.
Bottom Line: If you are just going on vacation to catch a few rays and spend your evenings on the dance floor, comfort and good looks will be your most pressing concerns, and there are lots of super trendy sandals out there.
The Best Travel Sandals for Men
Combining ease and comfort with durability and practicality, these awesome men's travel sandals are suitable for almost every kind of adventure.
Best All-Around, Everyday Men's Sandal
KEEN men's Newport H2 Sandal
Enjoy incredible comfort no matter how hard the terrain with these awesome all-weather water shoes. Featuring washable webbing uppers and super grippy soles, these sandals are perfect for use when hiking, fishing, camping, and even just for wearing on the beach. An excellent choice for outdoor-loving adventurers, these sandals are just right for everyday wear, wherever you are headed.
With a quick and easy bungee lacing system and a rear pull-on loop, these shoes can be popped on and kicked off in an instant, and the machine-washable webbing straps are easy to wipe clean or throw in the machine when you need to.
A contoured arch and increased metatarsal ridge support provide the optimum support to suit the natural cycle of your gait while still allowing your feet to breathe.
The multi-directional flex grooves on the outside and non-marking rubber outsole with razor siping grip ensure that these sandals will keep you upright even on wet and slippery terrain, and the compression-molded EVA midsole helps to protect your feet from the pain caused by hard floors and sharp objects.
What We Like
Great for watersports as the material dries quickly
What We Don't Like
Stitching can sometimes come apart near the heel
Best for Rugged Terrain
ECCO Men's Offroad 4-Strap Sandal
These high-quality performance sandals have upscale Nubuck leather uppers with a stretch fit that is designed to remain comfortable and prevent unwanted blisters. With a dual-density, Agion-treated footbed, you can enjoy many hours of outdoor activities without having to worry about the build-up of bacterial growth or odors, and the PU midsole features full-length receptor technology.
Lightweight yet still incredibly supportive, these sandals are perfect for everyday use, both on and off the trails and with a broad range of colors to choose from. They offer unobtrusive and long-lasting comfort on city streets, rocky terrain, and even on or around the water.
Easy to adjust to find the perfect fit for your foot, these sandals promote a healthy environment for your feet, and with a tough rubber sole with deep lugs, they are strong and sturdy enough to offer excellent traction, even on wet and slippery terrain. These are perfect for day hikes in hot conditions.
What We Like
Shoes stay smelling fresh with an Agion-treated footbed
What We Don't Like
No wide fit option available
Best Sport Sliders
Adidas Men's Adilette Comfort Slide Sandals
These simple yet super comfortable sliders are perfect for wearing around the pool, on the beach, at the gym, and even on the city's mean streets. Make a real fashion statement with these sleek sliders that are available in a solid black colorway that will go perfectly with any outfit.
With an injected EVA outsole for incredible comfort and a lightweight feeling underneath your feet, these sliders are suitable for use straight out of the water. With a contoured footbed and cloud foam technology, these sliders will help you to recharge your energy with pillow-soft cushioning that will feel amazing underneath your feet all day long.
Waterproof and easy to clean, these sliders are lightweight enough to carry everywhere with you for a quick change of footwear, and with a discreet and fashionable Adidas design, they will make a statement wherever you wear them.
What We Like
Incredibly comfortable cushioned soles
What We Don't Like
The top band isn't adjustable
Great for Stylish Strolling
Dockers Men's Newpage Sandal
These chic-looking men's sandals are just right for casual strolls in warmer weather and are guaranteed to look super-stylish when paired with your favorite shorts. Offering a wealth of comfort features, these shoes will ensure a more comfortable walk wherever you are headed.
Featuring distressed man-made uppers and Velcro closures, these sandals have a relaxed yet generous fit, making them suitable for men of all sizes. With a memory foam insole that shapes to your feet, they offer instant comfort and support for your feet, and the patented fusion footbed will add an additional layer of cushioning to ensure your feet never get tired or sore, even on long walks.
With a durable rubber outsole, these sandals offer a fair amount of traction, even on wet surfaces, and have been beautifully built to be used on a wide variety of everyday terrains while being able to protect your feet from the impact of rocks and stones.
What We Like
Available in wide fit and with adjustable straps
What We Don't Like
Best Easy-Fit Adjustable Slider
IZOD Men's Stephen Adjustable Sport Slide Sandal
Your feet will definitely thank you for purchasing a pair of these supersoft sliders, and the relaxed good looks and simple styling will work well in a wide variety of settings. Wear them around the pool, on the beach, or even back at home, and enjoy sumptuous comfort from the minute you step into them.
Available in a choice of medium, large and extra-large sizes, these sliders are built with a full-length memory foam footbed that provides deep cushioning from your toes to your heel, and the adjustable Velcro strap makes it super easy to find a customizable fit for your foot. With no toe posts or buckles to worry about, you can step in, slip on, or slide into these sandals in an instant.
Available in a selection of stylish colorways, these sliders have a rugged rubber sole that is resistant to splitting, and the lug design helps to ensure better traction, even in wet conditions.
What We Like
Has a cushioned, memory foam footbed
What We Don't Like
Can make a noise when walking
Great for Fishermen Everywhere
Dr. Scholl's Shoes Men's Gaston Fisherman Sandal
Made by the world-famous foot aficionados at Dr. Scholl's, these men's travel sandals offer laid-back styling and superior comfort. With leather uppers and a casual caged design, these are perfect for everyday wear, both at home and when you are traveling.
The top-quality leather uppers are beautifully crafted and designed to last you for many years to come, while the adjustable instep with Velcro closure makes it easy to find a customized fit to suit the size and shape of your foot. With a neoprene lining, your feet won't sweat on the go, and the memory foam insole offers exceptional cushioning, even on sharp terrain.
The rugged outside is there to ensure excellent traction, even in damp and wet conditions, and the traditional fishermen-style closed-toe design will protect your feet from pebbles and stones.
What We Like
Stylish and made from 100% leather
What We Don't Like
Doesn't provide much arch support
Laid-Back Beach Sandal
Chaco Men's Z1 Classic Sport Sandal
Lightweight and easy on the feet, these sandals are great for wearing on the beach or around the pool and are strong and sturdy enough to last all summer long. With a unique design that wraps around the foot to offer increased comfort and support, your feet can breathe easily, even on the hottest of days.
The polyester jacquard webbing upper runs through the midsole of the shoe and can be easily adjusted to offer a customized fit. With adjustable and durable high-tensile webbing heel risers, you can also rest assured that these sandals will fit the size and shape of your foot perfectly.
The molded PU midsole creates a snug fit, and the insoles have been treated with an antimicrobial application for increased odor control, no matter how hard you work them.
As laid-back and easy-going as these sandals may seem, they are also surprisingly solid underfoot. With a 3.5-millimeter deep lug on the non-marking sole, these superb summer sandals offer impressive traction, even when you are close to the water.
What We Like
Excellent grip, even in wet conditions
What We Don't Like
Sole is durable but a little stiff
Sandal With Bouncy Footbed
Skechers Men's Tresmen-Garo Open Toe Water Sandal
These relaxed summer sandals offer long-lasting comfort and laid-back good looks. Perfect for everyday wear during the warmer months, these rugged men's sandals offer all of the support and foot protection that the Skechers brand is so famous for.
On the inside, the cushioned luxe foam insole makes you feel like you are walking on air, and the roomy comfort fit that surrounds the toe and forefoot ensures that your feet never feel scrunched up during your natural walking cycle. With durable synthetic uppers available in a choice of attractive colors, these sandals also come with a sporty ankle strap with a hook and loop closure for a customized fit.
With extra shock-absorbing capabilities built into the midsole and a 0.75-inch heel, you can traverse easily over any terrain, and the chunky lugs and non-slip soles help you stay upright, even in wet conditions.
What We Like
Adjustable Velcro straps and non-slip soles
What We Don't Like
Rugged Walking Sandals
Teva Mens M Katavi 2 Sport Sandal
With Velcro fastenings that allow for a tailor-made fit, these men's walking sandals are comfortable, practical, and built to last. The leather and textile uppers won't rub against your skin and offer excellent protection and support.
With easy-to-use hook and loop closures, these sandals can be slipped on and off in an instant, and you can enjoy the perfect fit for the size and shape of your feet. With a contoured EVA footbed, you can keep your arches happy while helping to alleviate foot and ankle pain, no matter how far you travel in them.
Other features include a nylon shank that stabilizes and supports your foot even on uneven terrain, and the rugged rubber outsole offers incredible traction while being designed to remain slip-free, even in wet weather.
What We Like
Quick-drying and great for watersports
What We Don't Like
Soles can get a bit smelly from sweating
Ultra-Lightweight Sandal To Keep Your Feet Feeling Free
Xero Shoes Z-Trail Lightweight Hiking and Running Sandal
These minimalist travel sandals are lightweight on your feet while still offering excellent support on uneven terrain. Complete with an impressive 5,000-mile warranty, these sandals promise to feel over 75% lighter than your other sports sandals while still being perfect for wearing while hiking, walking, running, jogging, and even working out.
Flexible enough to be rolled up and popped in your pocket, these sandals feature a zero-drop, non-elevated heel that encourages natural posture. The Z-style webbing comes in a variety of colors and designs and can be adjusted to offer a customized fit while still offering surprisingly impressive support.
Easy to slip on and off super quickly, these sandals are a great choice when you want to let your feet breathe, and the fast-drying, water-resistant material means you can even wear them in and around the water. With super-slim yet durable soles, you can enjoy excellent grip and traction, and the innovative design makes these lightweight enough to throw in your backpack or travel bag.
What We Like
Lightweight and portable, weighing just 5 ounces
What We Don't Like
The Best Travel Sandals for Women
Look great and feel comfortable with these super-stylish and incredibly practical women's sandals that combine fashionable good looks with increased durability.
Everyday Sandal for Urban Adventurers
Teva Women's Tirra Sandal
These awesome women's summer sandals come in a huge variety of gorgeous colorways and promise excellent comfort and support on the go. With sporty good looks and multiple straps to keep your feet held in place, they are stylish, practical, and perfect for wearing on the beach, at the park, or even on your daily commute.
With 100% water-ready synthetic and polyester webbing, these sandals are more than capable of handling wet conditions with ease. The rubber sole is designed to stay slip-resistant slips on wet flooring, and with a 0.5-inch platform and a 1.5-inch heel, they will easily support your natural gait when you walk.
With hook and loop closures, you can enjoy an almost tailor-made fit, and the shock pad in the heel and compression-molded EVA midsole both help to keep your feet protected against rough terrain and uneven surfaces.
Featuring an EVA top sole with Microban zinc coating, these sandals will stay odor-free for longer, and the traction outsole with water-channeling lugs ensures that they keep you stable, even around the water.
What We Like
What We Don't Like
Ankle straps can cut in on some people
Comfortable Footbed for Everyday Adventures
Birkenstock Unisex Arizona Essentials EVA Sandals
Offering all the comfort and designer styling that the Birkenstock brand is so famous for, these EVA sliders are super comfortable and incredibly easy to wear. Available in a choice of colors, their anatomically correct design will keep your feet feeling cool and comfortable all day long.
Waterproof enough to be worn on the beach, at the pool, and even in the water, these superb sandals have 2 adjustable buckle straps that can be tightened to fit the shape of your foot.
The patented Birkenstock footbed has been developed to offer maximum comfort and support, despite their minimalist design, and the ultra-lightweight construction means you can wear these fresh out of the water or throw them in your bag to take with you.
Easy to wash clean with soap and water, these EVA sandals can be slipped on and off in an instant, and their iconic looks make them suitable for wear on a daily basis.
What We Like
Available in standard and narrow fit
What We Don't Like
Straps can rub and cause blisters if fastened too tight
Best Designer Slider
Adidas Women's Adilette Aqua Slide Sandal
Designed sliders are no longer just a summer sandal to wear around the pool, and these little beauties have become a style icon all on their own. Wear these with socks or without, and choose from a variety of different colors and patterns to stand out on the beach, at the pool, or even on the hot sticky streets of the city.
Made from 100% EVA material, these sliders are easy to clean, and the single-bandage synthetic upper is incredibly durable without ever feeling harsh against your skin. With a cloud foam footbed, they will make you feel like you are walking on air, and the synthetic design means they will dry out super quickly, even after being fully submerged in water.
With a tough platform sole that measures 0.5 inches, they offer just the right amount of bounce and protection on all types of terrain, and the slip-on styling means you can step straight into your sliders even when you are fresh out of the water.
What We Like
What We Don't Like
Sandals are quite wide, so won't suit narrow feet
Best Sandals for Feeling Zen
Yoga Sling 2 by Sanuk
If you like your feet to feel as free as possible, then these yoga shoes offer minimalist styling and an almost barefoot feeling. With a comfortable toe post and a simple wide strap that is made from a super soft blend of cotton and polyester, these sandals are perfect for wearing when practicing yoga, relaxing in the backyard, or even just around your home.
The 2-way stretch knit upper softly cradles your foot and ankle to offer an element of support and to keep the sole from slipping as you walk. With a yoga mat footbed and a sealed edge, these sandals will feel as comfortable as walking barefoot, and the Happy U sponge rubber outsole will keep both your feet and your carbon footprint satisfied as it is made from recycled EVA and straw.
Lightweight enough to throw into your travel bag for a quick change of footwear in transit and offering all the comfort of a barefoot yoga session, these sandals feel simply divine.
What We Like
Available in a range of stylish colors
What We Don't Like
Sole can be slippy with water or sweat
Oiled Leather Traditional Footbeds
Birkenstock Women's Mayari Sandals
Another great pair of sandals from the experts at Birkenstock, these beautiful footbeds are on trend and super comfortable. With oiled leather cross straps that are securely woven into the midsole and an innovative toe post design, these sandals will keep your feet well-supported while still being soft enough to not rub against your toes or your feet on the go.
The patented cork flatbed is ergonomically designed to comfortably support your foot's shape, and the simple buckle design allows you to tighten the straps to offer you a fully customizable fit. Perfect for everyday use in warmer weather, the shape of the midsole enables your body weight to be evenly distributed across the whole foot, offering increased comfort and support even when worn all day long.
On the bottom, the deep lugs and rubber-coated sole offer a moderate level of traction, and the streamlined design ensures that these sandals cope admirably with uneven terrain.
What We Like
Doesn't take long to break them in
What We Don't Like
Leather straps can mark easily
Luxury Women's Walking Sandals
Viakix Walking Sandals for Women
These beautiful and luxurious walking sandals come in a selection of colors and designs and offer supreme comfort that your feet will love. Made with soft and stretchy webbing that molds to the shape of your foot, these sandals are versatile enough to accommodate wider widths for those who like a little bit of extra wiggle room.
Made with high-quality materials throughout, these sandals feature a proprietary arch stabilizer that provides ergonomic support for your feet to help eliminate any pain while walking. Designed to fully support the full length of your foot while you walk, these sandals offer generous sizing, while the lightweight outsole offers all the support you need when enjoying outdoor activities.
Made from water-resistant materials, they are perfect for walking on the beach, around the pool, or even while boating, kayaking, or camping, and the fashionable good looks and superior comfort will make them one of your favorite pairs of shoes in no time at all.
What We Like
Comfortable soles with excellent arch support
What We Don't Like
Not an easy sandal to put on quickly
Super-Soft Footbeds for Fashionable Travelers
CUSHIONAIRE Women's Lane Cork Footbed Sandal
Footbed sandals are a popular choice for wearing in hot weather, as their ergonomic design and fashionable good looks ensure that they work well with every outfit. Available in a huge variety of colors and designs, these sandals feature premium uppers that are quick drying and easy to clean.
Featuring 100% genuine suede insoles, these footbed sandals for a perfect contour to the shape of your foot as you wear them in. This ensures that they become even more comfortable every time you wear them. The cork footbed is also highly flexible, meaning that you can enjoy a full range of movement without worrying about them cracking or splitting during wear.
The EVA outsole offers a good amount of traction even on slippery surfaces, and the 1.25-inch platform helps to maintain your natural gait as you walk.
What We Like
Great value alternative to Birkenstocks
What We Don't Like
Best for Beach Fans Everywhere
Teva Women's Original Universal Sandal
Perfect for women of all ages, these bright and funky summer sandals come in a wide selection of colors and patterns and are lightweight and easy to wear. Whether you are surfing, swimming, sunbathing, or simply stepping out in the sun, these sandals are easy to slip on and off, and the soft, flexible rubber sole will always feel soft underneath your feet.
With quick-drying and fully adjustable straps that are made from 100% recycled plastic and an easy-to-use universal strapping system that is designed to support your foot, these sandals will last you through many adventures to come. The easy hook and loop closure system helps you to find the perfect fit for your foot, and the EVA footbed ensures enhanced comfort for all-day wear.
Suitable for vegans, these gorgeous sandals are created using entirely synthetic and plant-based materials, and the flexible rubber outsole ensures that they remain lightweight while still offering enhanced durability and traction.
What We Like
Made from recycled plastic
What We Don't Like
Soles are flat with little support
Sporty Good Looks and Comfort
Chaco Women's Z1 Classic Sport Sandal
The gorgeous-looking sandals come in a wide range of colors and patterns, each one as eye-catching as the next. With polyester jacquard webbing straps that wrap neatly around your feet, they offer excellent support and a customized fit.
Highly adjustable to suit the size and shape of your foot, the high tensile webbing heel risers help to ensure an even gait, and the PU midsole has been specifically designed to suit the contours of the female foot. With an antimicrobial application for long-lasting odor control, these funky travel sandals can be worn year after year on the beach and around the pool.
The non-marking ChacoGrip rubber outsole features a 3-millimeter deep lug that adds extra traction and stability, making them an excellent choice for wearing all summer long.
What We Like
Regular and wide fit available
What We Don't Like
Straps are quite thick and long
Bouncy Sole Skechers Sandals
Skechers Women's ON-The-GO 600-16259 Slide Sandal
Made from soft woven fabric with a metallic finish, these awesome sliders will add a bit of sparkle to your day while keeping your feet comfortable and well-supported. Featuring high rebound cushioning with responsive feedback, these sporty sliders come with a casual cross strap design and striking good looks.
With a Goga Mat contour footbed, these sliders also feature the patented Skechers GOrun 600 design sole that ensures they are responsive enough for wearing, even on uneven ground. The injection-molded midsole has memory retention capabilities to ensure that the shoe molds to the shape of your feet, and the thick bouncy sole makes you feel that you are walking on air.
These superb sliders also offer an excellent level of traction, and with their fashionable good looks and lightweight feel, you won't ever want to leave home without them.
What We Like
Quick and easy to slip on
What We Don't Like
Non-adjustable top straps will be too tight for some people
Final Thoughts
From simple sliders for use around the pool to rugged walking sandals, your feet can feel comfortable in any setting.
Lightweight enough to take anywhere with you while still being practical and attractive enough for use back at home, all of our favorite travel sandals will make all the difference to your outdoor experience in hot or wet conditions.